If you are located in South Africa and want to buy shares online, eToro is our number one recommended broker.
The user-friendly stock broker is super-popular with local investors, not least because it allows you to purchase shares without paying any commissions. This broker is packed with exciting features like social and copy trading, offers a great range of payment methods, and has one of the best investment apps on the market.
But, is the broker right for you? In our eToro review South Africa, we take an in-depth look at every aspect of this broker. We cover everything from fees, commissions, tradable shares, payments, features, and regulation.
What is eToro South Africa?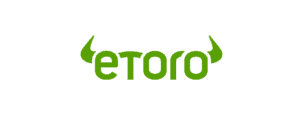 eToro is an online broker that offers a range of asset classes – both in terms of traditional ownership and CFDs. Regarding the former, you will have access to over 800 shares from 17 different markets. This includes popular exchanges like the NYSE and LSE, as well as less liquid markets. You can also invest in ETFs and cryptocurrencies and own the asset outright.
In terms of its CFD instruments, you can access everything from stocks, indices, bonds, digital currencies, hard metals, and energies. All CFD products come with leverage facilities and the ability to short-sell. One of the most appealing features at eToro is that it allows South African investors to buy shares on a commission-free basis.
This means that the only fee that you need to take into account is the spread. The broker offers a range of social trading tools, too. At the forefront of this is its copy trading feature. This allows you to pick a trader that you like the look of, and then copy their portfolio at the click of a button. The eToro platform itself was first launched in 2007. It is now home to over 23 million traders, which makes it one of the most utilized brokerage sites in the space.
Ever wondered what the best ETF app in South Africa is? We recommend using eToro as it's fully regulated, supports copy trading, and offers low fees.
In terms of regulation, eToro is licensed on three fronts. This includes the FCA (UK), ASIC (Australia), and CySEC (Cyprus). As we cover in more detail later, eToro is suitable for investors of all skill sets. This is because the platform is super-easy to use, and requires no prior investment experience. Even if you're a seasoned investor, eToro will be suitable if you simply want access to a plethora of shares, ETFs, and cryptocurrencies without paying any commissions.
What Assets Can You Trade on eToro South Africa?
Our eToro review found that the broker is home to heaps of financial instruments across several asset classes. These include:
Stocks and Shares
If you want to build a portfolio of shares at the click of a button – eToro will be for you. This is because the broker gives you access to 17 different stock exchanges. In total, this covers over 800 shares. With that said, eToro constantly adds new shares to its platform – especially those that have recently gone through the IPO process.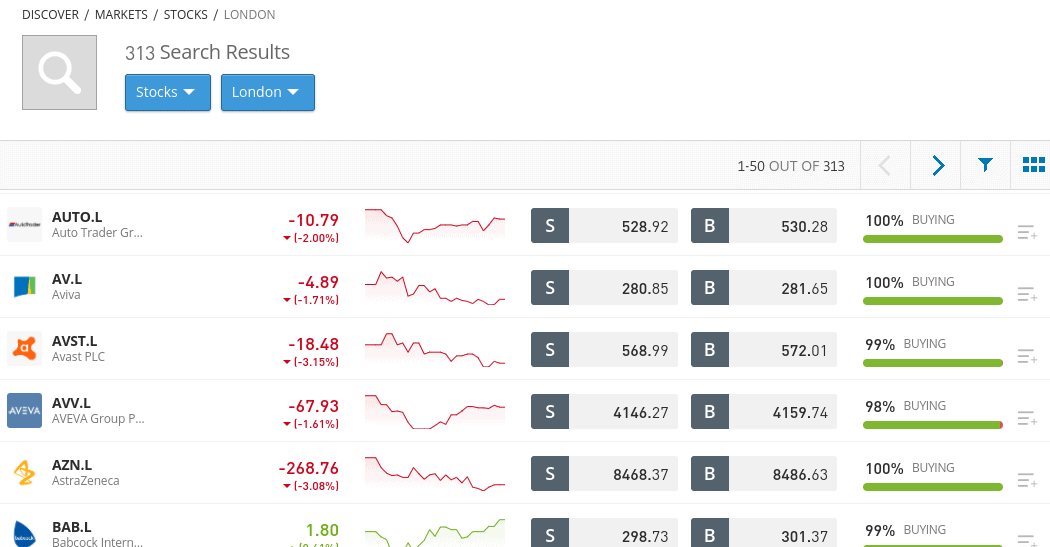 Nevertheless, below you will find the 17 stock exchanges that eToro covers:
Amsterdam
Brusells
Copenhagen
Frankfurt
Helsinki
Hong Kong
Lisbon
London
Madrid
Milan
NASDAQ (US)
NYSE (US)
Oslo
Paris
Saudi Arabia
Stockholm
Zurich
As you can see from the above, you will have ample choice when it comes to buying shares at eToro. On the flip side, it should be noted that eToro  is yet to offer support for South African equities.
ETFs
On top of a highly comprehensive shares department, eToro also allows you to invest in ETFs (Exchange-Traded Funds). This is ideal if you are looking to enter the stock market for the first time, but you don't know which shares to buy. After all, the ETF that you choose will buy and sell a selection of shares on your behalf.
This is also suitable if you want to create a highly diversified portfolio of shares at the click of a button. At the time of writing, eToro offers South African residents over 150 different ETFs. This covers a full range of target markets – such as dividend stocks, FTSE 100 stocks, emerging market stocks, and blue-chip stocks.
Cryptocurrencies
As a new-age online broker that strives to stand out from the crowd, eToro also gives you access to digital currencies like Bitcoin. Much like stocks and ETFs, you can invest in cryptocurrencies and retain full ownership. Once again, you can this on a commission-free basis.
This makes eToro one of the cheapest cryptocurrency brokers in the online arena. In total, there are 96 markets in the available in the eToro crypto department. This includes over a dozen coins that you can buy in the traditional sense, and then heaps of crypto-to-fiat and crypto-to-crypto pairs that you can trade. The broker even offers a proprietary eToro Bitcoin wallet and cryptocurrency wallet in which you can securely store your coins.
CFD Instruments
While the above three asset classes can be invested in at eToro, the online broker offers trading facilities, too. That is to say, you can access your chosen marketplace via CFD (Contract-for-Different) instruments. For those unaware, CFDs track an asset class like gold, oil, and stocks. This then allows you to speculate on the asset in a cost-effective manner without you taking ownership. At eToro, this comes with two benefits in particular:
You can apply leverage – meaning you can trade CFDs with more money than you have in your account
You have the option of going short – meaning you can speculate on the value of the asset going down
Regarding the second point, this essentially means that you can profit in the event a stock goes down in value. In other words, if you think that a stock is overvalued or it has troubled times ahead of it, eToro offers a simple marketplace to make gains from this. The CFDs that you can trade at eToro South Africa are:
Stocks: All of the stocks that you can buy in the traditional sense can also be traded via CFDs
Indices: eToro offers a wide selection of indices – such as the FTSE 100, NASDAQ 100, and S&P 500
Cryptocurrencies: As noted above, you can trade cryptocurrency CFDs via crypto-to-fiat and crypto-to-crypto pairs
ETFs: All 150+ ETFs can be traded via CFDs
Bonds: Several government securities like US Treasury Bills can be traded via CFDs
Forex: eToro is also a forex broker and offers close to 50 currency pairs
Commodities: Heaps of commodities are supported such as oil, natural gas, gold, and silver
As a side tip, if you want to gain exposure to one of the above asset classes but you don't feel comfortable trading CFDs, then it might be worth considering an ETF that tracks your desired market. For example, instead of trading an oil CFD instrument, you can opt for an ETF that buys shares in companies that operate in the oil and gas arena!
eToro Market Hours
The market opening and closing times at eToro depend on the asset class you're trading. You can take a look at the market hours for each asset class available on eToro here.
eToro South Africa Fees and Commissions
As we briefly noted earlier, one of the main reasons that eToro is now home to over 12 million investors is because of its industry-leading pricing structure. With that said, we still need to break down each and every fee so that you have a firm grasp of what you will be paying.
Dealing Charges
In a nutshell, if you are buying shares, ETFs, or cryptocurrencies – you will not pay a single rand in commission. Best of all, you will retain full ownership of the asset. This is in stark contrast to other South African stock brokers out there – especially when it comes to accessing international markets.
Let's take the popular South Africa broker Asba Stock brokers as a prime example. We'll say that you wish to buy $200 worth of shares in Apple.
At Asba Stock brokers, you would be charged a fee of $25 to access to NASDAQ exchange – which is where Apple shares are listed.
At eToro, you would pay nothing.
As such, while buying Apple shares at Asba would equate to a commission of 12.5% in real terms, the process at eToro would be free.
CFD Fees
Firstly, it is important to note that you will only benefit from zero-dealing charges at eToro if you are buying the asset without leverage. As such – whether its stocks, ETFs, or cryptocurrencies – applying leverage or short-selling the asset will mean that you are trading CFDs and thus – you will need to take additional fees into account.
Technically speaking, eToro doesn't charge any commissions per-say on CFDs. However, you will need to pay an overnight financing fee for each day that you keep the position open. This can vary widely at eToro as it really depends on the specific financial instrument you wish to trade.
The good news is that you can view what fees you will be charged when you set up the order. This is displayed as a per-day rate, so it's easy to build the costs into your trading targets. With this in mind, it's best to check the fees for your required asset class by heading over to the eToro website.
Spreads
Regardless of what you are trading at eToro, you will always need to take the spread into account. If buying shares, this is simply the difference between the 'bid' and 'ask' price of your chosen stock. The 'tighter' the spread, the better it is for you and your trading costs.
At eToro, the spreads are actually very competitive when you are trading major stocks. This is especially the case when buying shares in companies listed on the NASDAQ, NYSE, and LSE. But, if you are planning to buy shares from less liquid markets like France, Hong Kong, or Sweden – then you should expect to pay a wider spread.
Non-Trading Fees
Our eToro review found that on top of the core trading fees mentioned above, there are several other costs that you need to take into account when using eToro in South Africa.
First and foremost, all deposits will come with a 0.5% currency conversion fee. For example, if you deposit 5,000 rands, then you will pay a fee of 25 rands. The good news is that once you pay the currency conversion fee, you can invest in all 17 stock markets without needing to worry about ever-changing exchange rates.
When it comes to withdrawals, eToro charges a small fee of $5. This is charged per transaction and is simply deducted from the amount you wish to withdraw.
Finally, eToro also charges an inactivity fee of $10 per month. This only kicks in when your account has been dormant for 12 months. Take note, if you are holding shares on a long-term basis, you won't be charged an inactivity fee. This is only on cash account balances – so eToro is still suitable for a 'buy and hold' strategy.
Leverage at eToro South Africa
eToro has a major presence in Europe, meaning that it is fully compliant with ESMA regulations on leverage. Put simply, this limits European traders to leverage of 1:30. However, South Africans are not covered by these restrictions, so it is likely that you will get significantly more.
eToro notes that it offers leverage of up to 1:400 – albeit, this is for professional traders. As such, the amount of leverage that you are able to get will depend on:
The type of asset class you are trading. Major forex pairs come with the highest limits, and cryptocurrencies with the lowest.
Whether you are a retail or professional client.
When you go through the eToro South Africa sign up process, the broker will ask you a range of questions about your historical trading experience. This is with the view of gauging whether you have the required skill-set to trade with leverage.
eToro Trading Platform
eToro does not offer support for any third-party trading platforms like MT4, MT5, or ZuluTrade. On the contrary, it has built its own proprietary platform from the ground up. Put simply, the eToro trading platform is super-easy to use, and in truth – more suitable for newbies than it is advanced traders.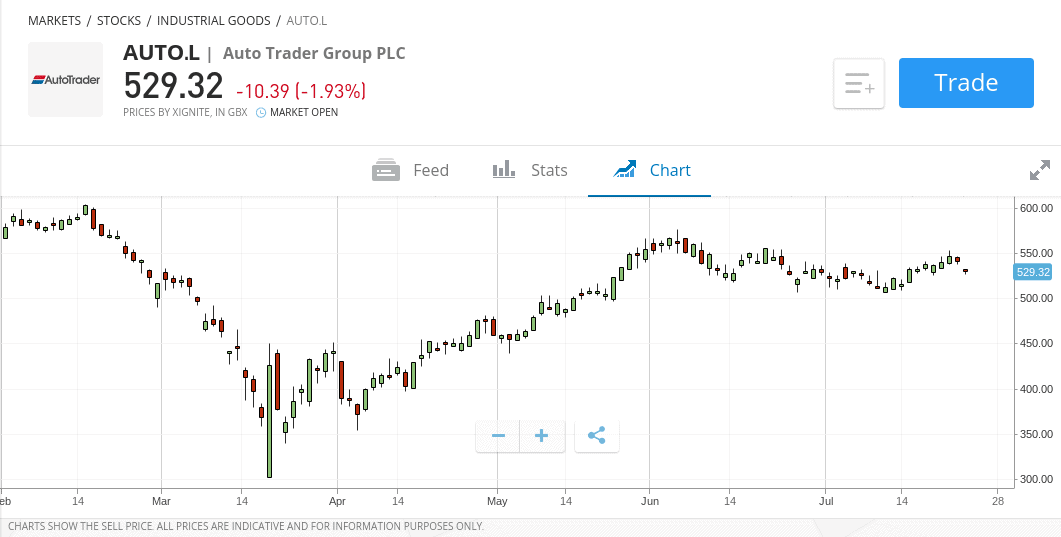 As a result, if you are a seasoned trader that is looking for a highly sophisticated suite of tools and features – you might be somewhat disappointed with eToro.
Nevertheless, the eToro platform still comes with a range of order types that allows you to customize your investment endeavours.
This includes:
Limit Orders
Market Orders
Trailing Orders
Stop-Loss Orders
Take-Profit Orders
On top of having access to several order types, you can also make use of real-time pricing charts. You can change the time-frame from just 1 minute up to 1 week. This allows you to perform entry-level technical analysis on your chosen instrument.
With that said, eToro isn't very strong in the technical indicator department either. Once again, if this is something that you want to make use of, you'll need to use a more advanced trading platform.
eToro App
While most South African investors choose to use eToro through their standard web browser, some like the option of being able to trade on the move. If this sounds like you, then you will be pleased to know that eToro South Africa offers a fully-fledged trading app. The mobile application can be downloaded free of charge, and it is compatible with both Android and iOS devices.
The eToro app allows you to perform virtually every feature as found on the main desktop website. This includes the ability to:
Buy, sell, and trade assets
Deposit and withdraw funds
Set up market/limit orders
Check the value of your portfolio
If you don't have a supported device, you can still access eToro via your mobile phone. However, you will need to do this via your mobile web browser.
eToro Account Types for South Africans
Unlike other online brokerage firms, eToro likes to keep things simple when it comes to account types. Our eToro review found that there are just three account options offered.
Standard Accounts
Professional Accounts
Corporate Accounts
Unless you are deemed a professional trader, then by default you will be put on to a standard account. While having a professional account will give you access to much higher leverage limits, you will need to provide documents to prove that you meet the required threshold.
Corporate accounts are also available if your company wants to access investment products.
One of the stand-out features of using eToro in South Africa is that you will have access to innovative social and copy trading features. In the case of the former, this works much like a social media platform – but for investments. For example, traders can post investment ideas and market insights, which in turn, you can can 'Like' and comment on.
Everything is 100% public, so there is an attractive social feel to it. You can even add your favourite investors to your 'Friend List'. In doing so, you will receive a notification every time they post something on the platform.
With that being said, nothing quite beats the eToro copy trading feature, which we explain in more detail below.
eToro Copy Trading
In its most basic form, eToro allows you to copy other traders. That is to say, you will have access to thousands of investor profiles, and you can choose one that you like the look of. The broker even suggests eToro top traders with strong records that you can copy. Then, you can copy their entire portfolio at the click of a button.
For example:
Let's say that your chosen investor has a portfolio that consists of shares in Apple, Facebook, and Ford Motors
They have $20,000 invested in Apple (20%), $25,000 in Facebook (25%), and $55,000 in Ford Motors (55%)
You decide that you want to invest $1,000 into this particular copy trader
This means that $200 (20%) will consist of Apple shares, $250 in Facebook (25%), and $550 in Ford Motors (55%)
As you can see from the above, it doesn't matter how much the copy trader has personally invested. Nor does it matter how much you personally choose to invest. This is because your portfolio will simply be 'weighted' like-for-like. In other words, as the copy trader has 20% of their portfolio in Apple shares, you will also have 20% in Apple shares!


Best of all, eToro does not charge South Africans any additional fees for utilizing the copy trading feature. You will, however, need to invest at least $200 into each trader that you copy. This is reasonable, as it ensures you can diversify across several investors. For example, if you have $2,000 to invest, you can copy 10 different portfolios! eToro is our top pick for a best robo advisor due to the vast amount of automated trading options that the platform offers.
Ongoing Trades
You can also elect to copy the trades of your chosen investor moving forward. This means that every time they buy and sell an asset, your personal portfolio will mirror it like-for-like. Sticking with the same example as above, let's suppose that the investor sells their shares in Apple. Not only will this mean that you also sell your shares in Apple, but your portfolio will be re-weighted to reflect this.
Copy Portfolios
On top of its core copy trading feature, eToro South Africa also offers a CopyPortfolio tool. This actually operates in a different way to the previously discussed feature, insofar that the portfolios are professionally managed. In fact, those behind the portfolios will utilize cutting-edge technologies such as AI and machine learning.
This option is best suited for those of you that want to invest in the stock markets in a truly passive manner. Take note, you will need to invest at least $5,000 if you wish to utilize the CopyPortfolio feature – which is about 83,000 rands.
Research and Education at eToro South Africa
On the one hand, eToro is great for its social trading offering – as you can bounce ideas off of millions of active investors. However, it must be noted that eToro isn't overly comprehensive when it comes to research and analysis. For example, you won't have access to fundamental news stories, which is crucial if you plan to invest in stocks and shares.
On the flip side, eToro South Africa has partnered with TipRanks – which shows you the market sentiment of expert investors, traders, and hedge funds. Ultimately, you will need to obtain fundamental developments from an external source – which in truth, isn't too much of a hassle.

In fact, utilizing several research websites is something that you should be doing anyway, as this will ensure you do not miss any key market developments. On the flip side, eToro is very useful when it comes to educational resources. This does make sense when you consider that the platform is tailored to newbie investors.
For example, there are user-friendly guides on how to implement trading strategies, and explainers on things like interest rates and liquidity. eToro also runs regular webinars. This allows you to listen to the views of an experienced trader and even ask questions.
eToro Demo Account
If you want to try out eToro before putting your money on the line, you can do so via the eToro demo account. This demo provides $100,000 in paper money and offers the full functionality of the eToro platform, including its copy trading features, so it's a great way to get to grips with things.
eToro Minimum Deposit and Banking
An additional selling point of using eToro in South Africa is that you can deposit and withdraw funds with heaps of convenient payment methods. These include:
Debit cards
Credit cards
Paypal
Skrill
Neteller
South Africa Bank Account
Take note, unless you are transferring funds from your local bank account, all deposit methods are credited instantly. Moreover, there are no deposit fees other than the previously discussed 0.5% currency conversion rate.
The eToro minimum deposit is $200, which equates to around 3314 rands.
eToro South African Regulation and Licenses
When choosing an online brokerage firm to buy and sell shares with, it is crucial that you explore what safeguards are in place to keep your funds safe. At the forefront of this is ensuring you choose a regulated broker. eToro South Africa holds three tier-one licenses.
This includes:
Financial Conduct Authority (FCA)
Australian Securities and Investments Commission (ASIC)
Cyprus Securities and Exchange Commission (CySEC)
Now, you might notice that the Financial Sector Conduct Authority (FSCA) of South Africa is not listed above. Should you be worried? Absolutely not. The above three bodies are highly reputable in the global investment arena, not least because they all have strict demands on the brokers they issue licenses too.
For example:
Irrespective of where you are located, all eToro customers must upload a copy of their ID and a proof of address. This ensures that eToro complies with anti-money laundering laws.
All client funds at eToro are held in segregated bank accounts. This means that it cannot use your money to fund its own business expenses.
eToro will have its books audited by all three of the above licensing bodies.
All in all, you should have no concerns about the safety of your funds at eToro.
eToro Customer Service South Africa
When it comes to customer support, our eToro review found that the broker allows you to speak with an advisor at the click of a button. The easiest way to do this is to utilize the live chat facility. However, you will need to have an account status of at least 'Silver; to be able to use this feature. If not, you have to send eToro an email. Telephone support isn't yet offered at eToro South Africa.
How to Get Started on eToro in South Africa?
So now that we have covered the fundamentals, we are now going to show you how you can get started with an account at eToro. By following the guidelines discussed below, you could have an account set up in just a few minutes.
Step 1: Open an Account
First and foremost, head over to eToro and begin the account opening process.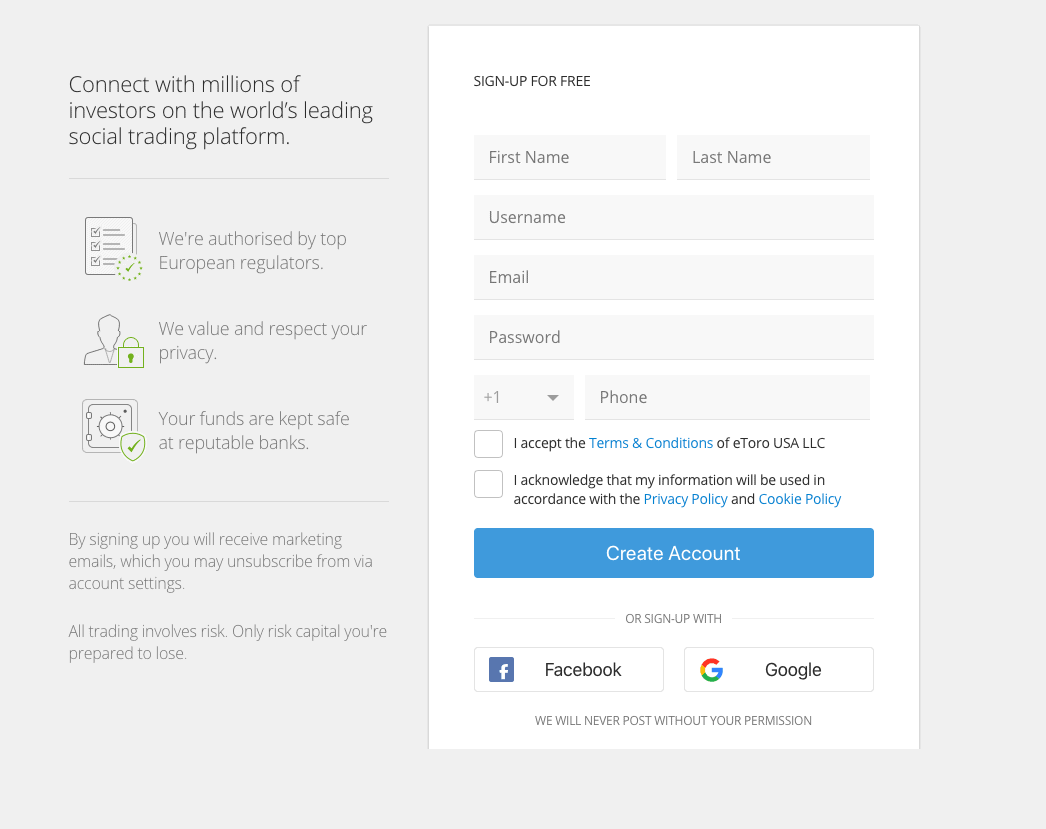 You will need to provide some personal details, such as:
Full name
Home address
Date of birth
South African tax number
Mobile phone number
Email address
You'll need to choose a username and password, too.
Step 2: eToro Login and Verify Your Identity
Confirm your email address and mobile number, before using your eToro log in details. As we discussed earlier, eToro is a heavily regulated broker. As such, you will now need to upload some ID.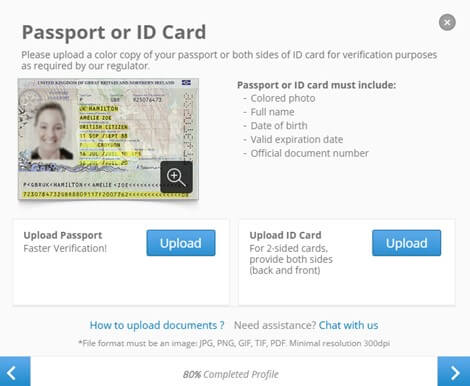 This includes:
Your South African passport or driver's license
A proof of address such as a recent utility bill or bank account statement
Step 3: Deposit Funds
You will now need to deposit some funds. Choose from a South African debit/credit card, bank account, e-wallet.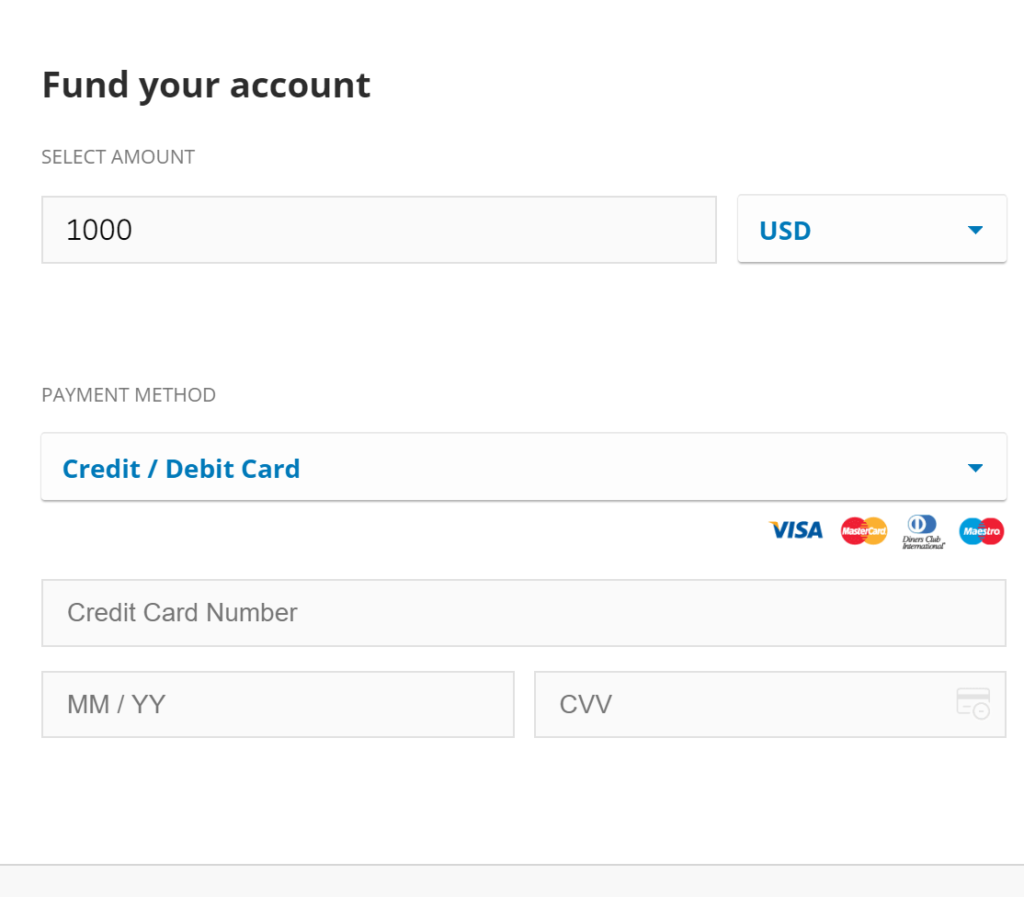 Once you have made a deposit, you can then proceed to make an investment. If you do not know which stocks you want to to buy, have a look through the eToro asset library. You can filter your selection by the industry (technology, financial, etc.) or exchange (NYSE, NASDAQ, etc.).
Alternatively, you can search for your chosen box to be taken straight tot he respective trading page.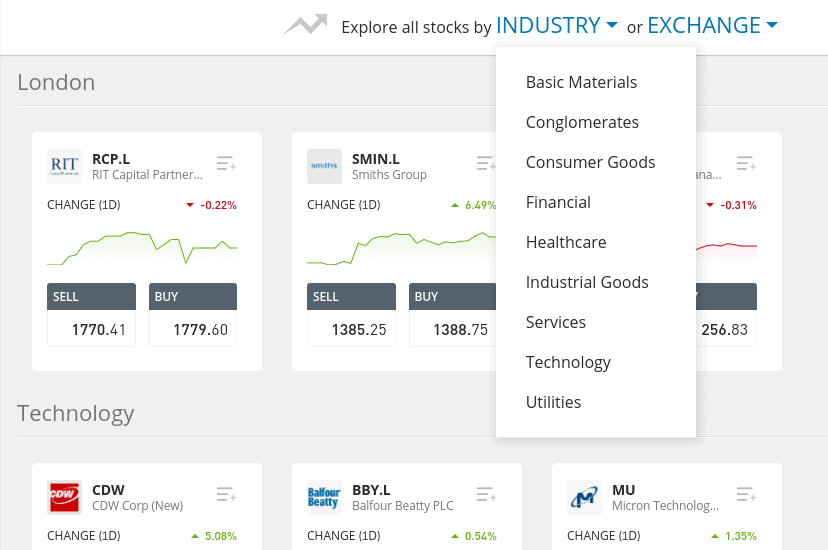 Once you find a stock that you want to invest in, click on the 'Trade' button. The example below, we are buying shares in Nike.

Then, all you need to do is enter the amount that you wish to invest (in USD, not rands). The eToro minimum investment is just $50, so here we are buying $50 worth of Nike shares.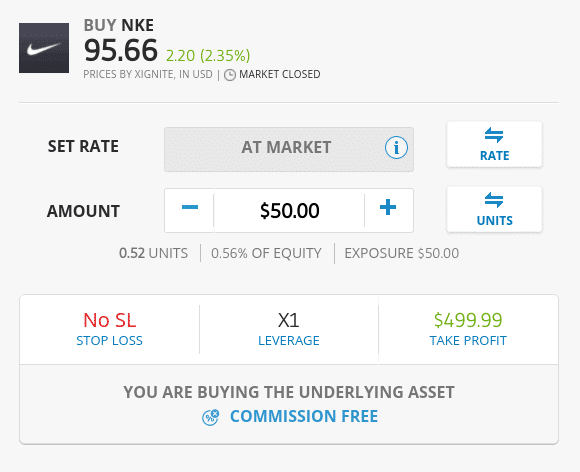 Finally, click on the 'Open Trade' button to complete your investment. And that's it – you've just bought shares on eToro without paying a single rand in commission!
Note: If buying your chosen shares outside of standard market hours, you will need to click on the 'Set Order' button. Your trade will be completed once the markets re-open. 
eToro South Africa Pros and Cons
Pros
Buy shares without paying any dealing charges
No annual fees
More than 800 shares to choose from
Copy and social trading features
Buy shares or trade CFDs
Access international stocks
Very user-friendly
Supports debit/credit cards, e-wallets, and bank accounts
Minimum share investment of just $50
Cons
0.5% currency conversion fee when you deposit
Limited research and analysis department
eToro vs Capital.com
Understandably, eToro's stellar reputation will mean that many people will be interested in using them to facilitate investments. They undoubtedly have an attractive trading platform that will appeal to many, although there are some areas that they fall down on. To look into this further, we'll compare eToro to another popular broker in South Africa – Capital.com.
Firstly, let's take a look at the pricing structure of both. As noted earlier, eToro offers 0% commissions when placing trades – this structure is also offered by Capital.com, putting them neck and neck in this regard. However, Capital.com pull ahead of eToro as they offer full support for MT4, which is crucial for traders who are interested in the forex market.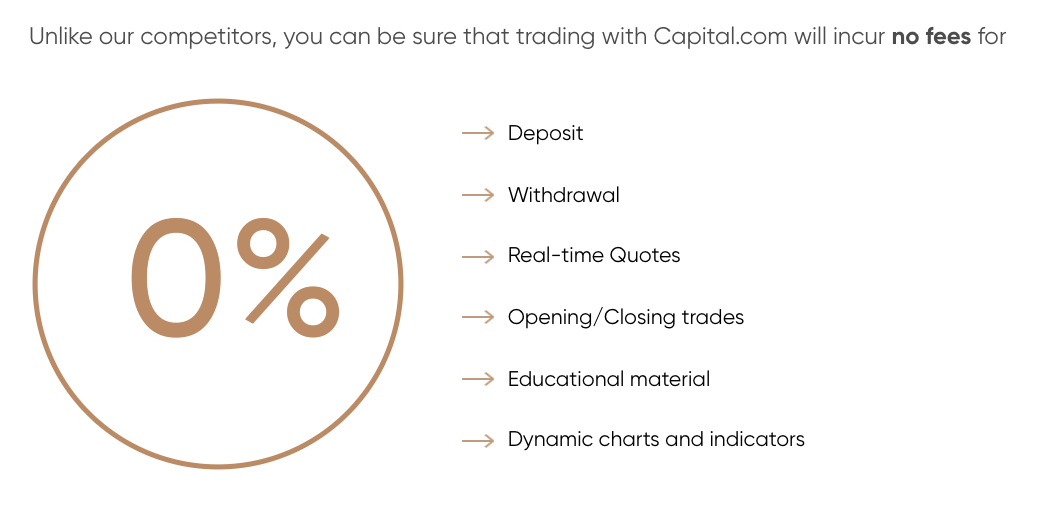 Furthermore, Capital.com offer better spreads for users who are interested in trading currencies. Spreads can often be up to 50% less with Capital.com than with eToro – which equates to large savings for active traders. Furthermore, Capital.com have a larger selection of currencies to choose from.
Both Capital.com and eToro are regulated by top entities, which ensures they provide a safe and stable trading environment for users. In terms of deposits, Capital.com have the advantage here as their minimum deposit is only $20 (277 ZAR) compared to eToro's $200 (2770 ZAR).
Finally, Capital.com and eToro both do not charge any deposit fees which is great. However, Capital.com go one step further and do not charge any withdrawal or inactivity fees; this is in contrast to eToro as they charge both.
The Verdict
In summary, if you're based in South Africa and wish to buy shares online in the easiest, cheapest, and safest manner, it's certainly worth considering eToro. Not only will you have access to 17 international stock markets at the click of a button, but all share investments are commission-free. On top of that, eToro is heavily regulated, offers a fantastic range of payment methods, and is the number one broker for social and copy trading.
However, through our experience, Capital.com offer the best trading setup for users based in South Africa. Capital.com hold multiple top-tier licenses and are regulated by the FCA and CySEC. What's more, Capital.com offer a 0% commission structure along with fee-free deposits and withdrawals. Finally, Capital.com does not charge any inactivity fees whatsover and allows deposits from as little as $20 (around 277 ZAR).

75.26% of retail investor accounts lose money when spread betting and/or trading CFDs with this provider.
FAQs
Is eToro available in South Africa?
No. While eToro used to be available in South Africa, it no longer is. We recommend Capital.com at the ideal alternative due to its low fees and excellent trading tools
Is eToro safe?
Yes, eToro is in possession of three regulatory licenses. This includes the FCA, CySEC, and ASIC.
What South African payment methods does eToro support?
eToro supports South African debit/credit cards, bank accounts, and e-wallets.
Does eToro offer a mobile app?
Yes, you can access your eToro account via the eToro app. This is available on iOS and Android devices.
What is the eToro minimum deposit?
You will need to deposit at least $200 to get started at eToro. This amounts to about 3,300 rands.
Does eToro support MT4?
No, trading on eToro can only take place on the broker's own proprietary platform.
Does eToro pay dividends for share CFDs?
When you buy shares or invest in ETFs at eToro, you will be entitled to dividends. Once the respective company distributes the funds, this will be transferred to eToro. In turn, eToro will update your cash account. You can then withdraw the dividends out or re-invest them into other investment opportunities.