African Rainbow Capital is a 100% black-owned and managed investment vehicle.  It focuses on South African and African financial services opportunities to deliver a solid return on equity for shareholders. You may never have heard of them, however, African Rainbow capital is the leading black economic empowerment company in South Africa.
In this guide, we are going to take an in-depth look at How to Buy African Rainbow Shares in South Africa. We will be taking a closer look at the ARC share price history, the companies investment approach, its financials, and finally how you can add African Rainbow Capital shares to your portfolio whilst paying no commission.
If you're looking to grab African Rainbow Capital shares for your portfolio, we have devised 4 easy steps in order to do so. You will be set up and ready to go before you know it.
Step 1: Open an account with Libertex – Head over to the Libertex website and click on the 'Open an account' button on the top right-hand corner. Fill in your full name, email address, country of residence, phone number, and password to get started.

Step 2: Upload ID – Verify your identity by uploading a copy of your driver's license or government-issued ID card. A copy of your utility bill or recent bank statement for proof of address will also be needed.

Step 3: Fund your account – You will need to deposit a minimum of €10, and you can fund your account through a bank wire transfer, credit/debit card, and e-wallet solutions like Neteller.

Step 4: Buy African Rainbow Capital – To buy African Rainbow Capital shares, type 'ARC' into the search bar. You will be redirected to the order page, where you can fill in the amount you want to invest. Once you are done, click on the 'Open Trade' button to complete the process.

Now we have shown a quickfire guide on how to buy African Rainbow Capital shares, lets delve deeper into selected brokers, share price history, and much more.
75.3% of retail investor accounts lose money when trading CFDs with this provider.
Step 1: Choose a Stockbroker
One of the most important things to consider when pursuing any investment is which broker you choose to trade with. There are many share dealing platforms out there, all offering different services and fees. It is important to pick a broker that compliments your investment style and minimizes your costs.
To help you out, we have selected our top two favorite brokers for trading in South Africa. Both these brokers offer low costs, are easy to navigate around, and allow you to purchase African Rainbow Capital shares from the comfort of your own home.


Avatrade is another broker we would highly recommend. Avatrade has both a domestic presence in South Africa and being popular elsewhere around the world. The platform offers a broad range of stocks, shares, indices, and ETFs to add to your portfolio. It is also regulated by the FSCA, which is South Africa's financial regulatory body. This means the broker is highly reputable and gives investors added security whilst trading.
Another great point about Avatrade is the fact it charges zero commission on its trades. Avatrade makes its money by charging fixed fees on its tight spreads. In addition to this, investors can trade with up to 5 times leverage, which is a great tool for increasing returns. However, as explained above, proper risk management should be employed when leveraging positions.
The minimum deposit on Avatrade is $100 which equates to 1433 ZAR at current conversion rates. The platform does not charge you anything to deposit these fees, however, a conversion fee may be charged if your deposit is in ZAR. These payments can be added through a variety of payment methods including credit/debit cards, bank transfers, and e-wallets like Neteller and Skrill. Avatrade does not charge withdrawal fees either which makes it a great broker to trade with.
Pros:
0% commission
Tight spreads
FSCA Regulated
No deposit/withdrawal fees
Cons:
Your capital is at risk.

Our number one pick to trade African Rainbow Capital Shares in South Africa is Capital.com. One of the best things about this broker is the fact it charges zero commission and has no hidden costs. Capital.com offers exclusively CFD trading, which is great if you want to take up short positions in stocks. In addition to this, the site offers access to over 3000 financial assets including, stocks, shares, commodities, indices, and some of the best ETFs on the market. Capital.com also gives investors access to an extensive 142 Forex pairs!
If you are only wanting to open a small position in African Rainbow Capital, Capital.com could be a great option. This is because it only requires a $20 minimum deposit (around 396 ZAR at current conversion rates). However, investing in a fund like ARC, it can be wise to open a larger position and these funds are designed to give investors steady annual returns as opposed to volatile spikes in share price.
With Capital.com you can also open leveraged positions, which can be great for allowing higher future returns. Whilst all investors want large returns, they should also be aware of the added risk that comes with leveraging positions in stocks. If beginner investors want to open leveraged positions, we advise looking at the online courses that Capital.com provides and using their virtual accounts to safely practice leveraged trading.
These online courses cover a plethora of trading fundamentals, risk management, financial ratios, and much more. The platform also gives traders free daily market insights which can be great for spurring new investment ideas. Capital.com's integration with TradingView allows more advanced investors to confidently perform more technical analysis, which can help predict future trends and stock performance.
Capital.com is regulated by both the CySEC and the UK Finacial Conduct Authority (FCA). These regulations mean your funds are covered by the FSCS, meaning you will be liable for compensation if you encounter any withdrawal problems with your broker. If you ever need to get into contact with Capital.com, the platform offers 24/7 customer support via phone, email, and live chat function.
Pros:
Zero commission and zero hidden fees
Access to over 3,000 different assets
142 Forex pairs
Regulated by the FCA and CySEC
Free access to educational resources and risk management tools
Cons:
75.26% of retail investor accounts lose money when spread betting and/or trading CFDs with this provider.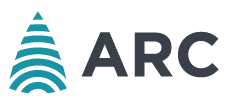 Now we have taken a look at the best South African stockbrokers it is important to research African Rainbow Capital shares in more detail. It is important to conduct research on any stock before purchasing it to better understand the company and its direction.
In order to save you some time, we have conducted our own ARC research to give you a better insight into the company. We have broken this down into share price history, investment approach, and financials. We will then cover if we believe ARC is a good buy.
What is African Rainbow Capital?
Firstly, it is important to understand who the company is, and what they do. Formed in 2015, African Rainbow Capital is a fully black-owned investment fund. This means that retail traders invest in ARC, which invests this capital into other financial assets/projects to make a return. ARC primarily invests in South African financial services but also diversifies its investments into non-financial services.
African Rainbow Capital is a subsidiary of Ubuntu-Botho Investments (UBI), which is a larger black-owned and controlled company created in 2004. UBI's primary aim is to build black capital and ARCs' primary aim is to improve the lives of ordinary South Africans. This makes ARC a very socially beneficial project, especially considering South Africa has had a particularly divisive racial history. If as a trader you are passionate about helping companies that aim to make real-world social advancements, then investing in African Rainbow Capital could be a great way to fulfill this.
African Rainbow Capital was founded by billionaire South African Patrice Motsepe. Motsepe originally founded African Rainbow Minerals in 1994 and later expanded the business into mining coal, copper, and platinum. He then formed UBI in 2004.
Delving deeper into the African Rainbow Capital share price, we can certainly see some interesting trends. ARC was listed on the Johannesburg Stock Exchange in 2017, with the aim of raising 3bn ZAR in capital to deliver returns to investors. The stock IPO'd at 840 ZAR in September 2017 and immediately began to drop, falling just under 10% by the end of the year. The stock has since almost halved in value, currently sitting at 398 ZAR.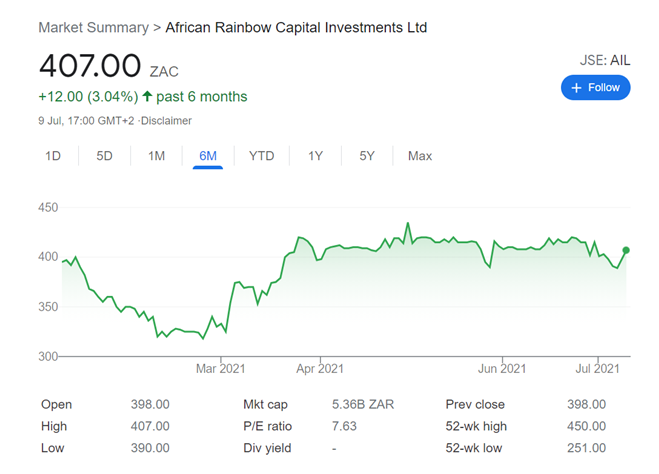 Whilst this may seem like a red flag for investors, there are actually some key takeaways from the ARC share price history. Notably, the stock performed extremely well whilst recovering from the pandemic. In March 2020, the share price reached an all-time low of 254 ZAR, but recovered immensely, finishing the year over 72% higher at 446 ZAR. These are the sort of numbers investors dream of and are especially uncommon for a 'slow burner' investment fund such as ARC. This share price recovery highlights the effective management of the company which is something all traders love to see in their investments.
The share price has since fallen back to just under 400 ZAR, which still marks a 57% increase from the March lows.
African Rainbow Capital Financials
A great place to get an idea of how a stock will perform is from the annual report the firm issues. In the most recent report, African Rainbow Capital highlighted some encouraging metrics. The value of the fund's portfolio had been increased by 537m ZAR between June and December 2020. This extra equity increases the potential for larger returns for investors.
In addition to this, TymeBank, an ARC-owned company signed 2.7m new users in this period. The progression of ARC-owned businesses will likely encourage future share prices to rise. In addition to this, the company's cash flow grew 16% in 2020 compared to only 6% in 2019. A companies ability to effectively generate cash really reflects the quality of its management.
Another important point investors should look for in an annual report is the profit (or loss) the company has made for the year. African Rainbow Capital made a 757m ZAR profit in 2020 which is extremely encouraging considering in 2019 the fund only made 230m. This marks a year-on-year increase of 230%!
These points from ARC's most recent report are very encouraging and point towards great growth in the company. At current low share prices, it could be a great chance to add ARC to your portfolio as it seems to have great growth potential. Hopefully, this will be reflected in a rising share price in years to come.
It is also worth noting the structure of African Rainbow Capital. As mentioned previously, ARC is 100% owned by UBI. ARC then funds ARC Investment, which is the vehicle used to invest in diversified investments and financial services through the ARC Fund. If this sounds complicated, take a look at the simple diagram below.

Is African Rainbow Capital a Buying Opportunity?
Now we have had a closer look at the company, its share price, and its financials, we must now decide if it is a good buy. Regardless of the falling share price, there are many reasons to be bullish about this stock's future. Its pandemic recovery coupled with its encouraging financials highlight the firm's proficient management. A firm with a solid management team behind it tends to make better decisions which can help increase the share price in the future. In addition to this, ARC's diversified portfolio of investments vastly reduces its risk level. This could help ensure solid returns in the future.
Therefore, at current prices, ARC seems to be a solid buy opportunity. The current low price may offer a 'discounted' way to get some shares to add to your portfolio.
Now we have covered all the relevant information on African Rainbow Capital, you may have decided you want to buy shares. In order to connect you to a stock exchange, you need to trade through a broker. We covered our top two brokers at the beginning of this article and will now show you a step-by-step guide on how to purchase commission-free shares with Capital.com.
Step 1: Open a Capital.com Account
The first step is to head over to Capital.com's website. Then navigate to the 'Trade Now' button in the top right-hand corner. From here all you have to do is enter your email address and password to set up your account. This step can also be completed via the Capital.com mobile a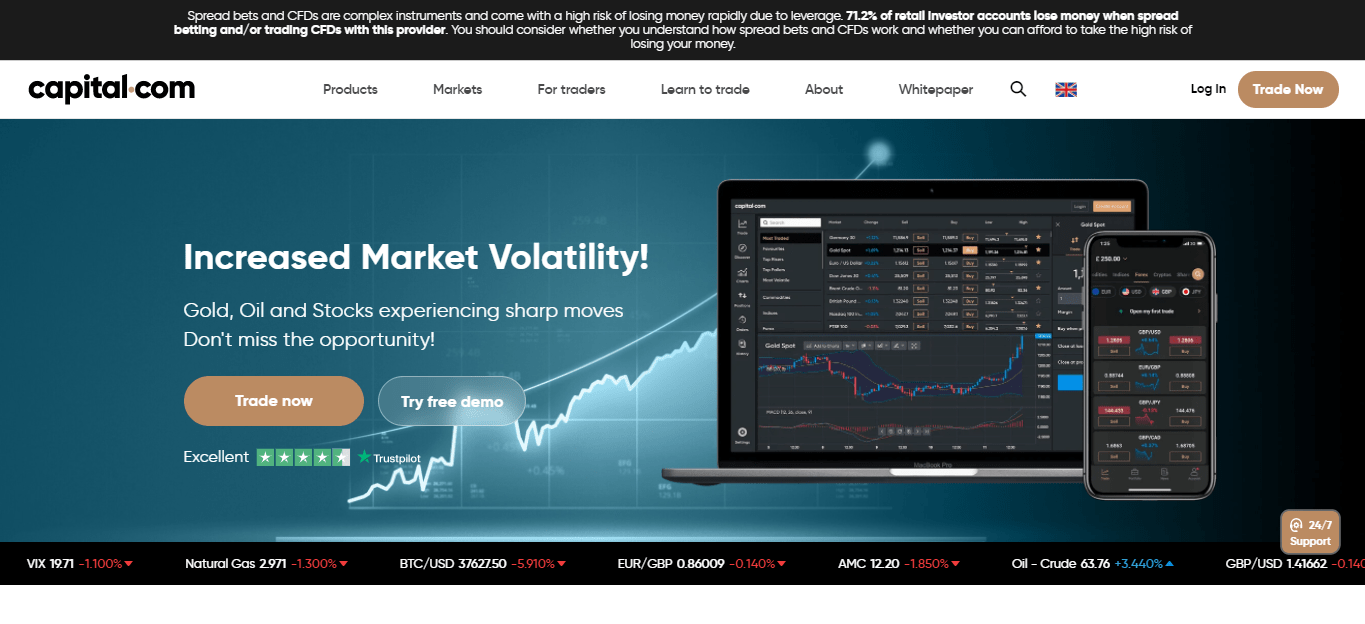 Step 2: Verify Your Account 
Before you begin to trade ARC shares, you must verify your account. Verifying your account is quick and easy to do. All you need to do is provide proof of ID which can be done using a copy of your passport or driver's license, and a proof of address, which can be done using a copy of a recent utility bill or bank statement. These documents will usually be processed in minutes.
Step 3: Fund Your Account
Now you have created and verified your account, you can fund it in order to buy shares. Capital.com only requires a minimum deposit of $20, which equates to around 285 ZAR at current conversion rates. This is great for investors who are wishing to invest small amounts of money, however, when investing in a fund such as ARC it can be wise to invest a larger sum. This is because they are designed to deliver small, stable annual returns. Capital.com offers a variety of payment options including credit/debit cards, bank transfers, and e-wallets such as Neteller and Skrill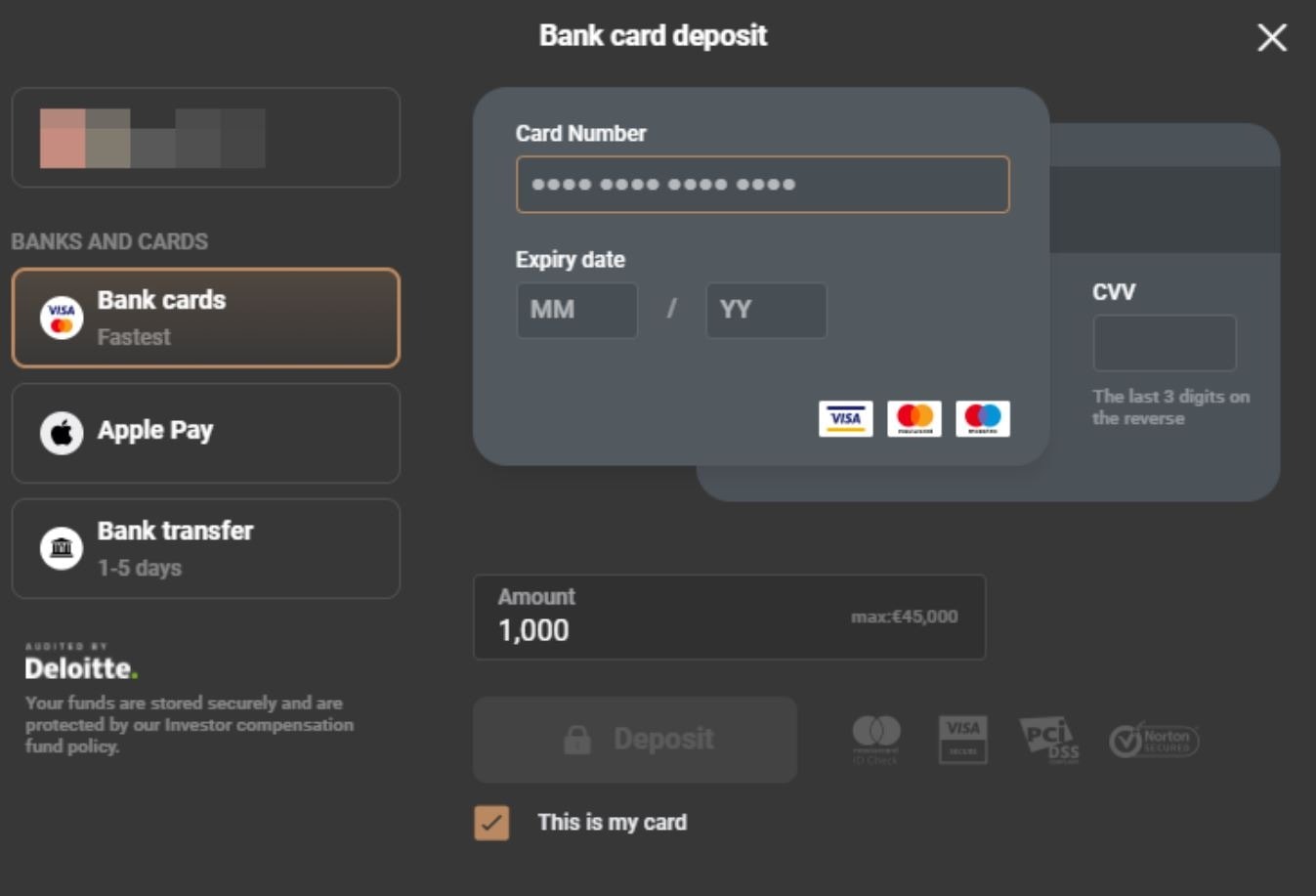 The final step is to add ARC shares to your portfolio. Simply navigate up to the search bar and type in 'African Rainbow Capital'. Then click the orange 'Buy' button next to the ARC option in the search results. This will then open an order box. Here, you must select the number of shares you wish to purchase. You can also choose to set a stop loss or leverage your position at this stage. Once you have chosen your preferred options, simply click the 'Place Order' button to complete the transaction and open your position in African Rainbow Capital.
And there you go! You have just opened a commission-free position in African Rainbow Capital!
African Rainbow Capital Buy or Sell?
Overall, are ARC shares a good buy or an easy sell? We believe the former. Although the ARC share price has significantly declined since its IPO, there are still many reasons to buy now and hold for the future. The diversified portfolio of the company is a great way to lower your risk exposure. It is also good for the company as if one investment is not delivering the desired returns then they have others to make up for it.
The pandemic recovery is also another reason to be bullish about this stock. Delivering a huge spike in late 2020, ARC rocketed 72% higher than its March 2020 lows. This is a hugely impressive feat for any stock to achieve! This spike was also in the face of the pandemic-induced recession in South Africa in 2020, which saw GDP shrink by an estimated 7.3%. The current share price may be undervalued as a result of this and could therefore offer investors a discounted chance to buy-in.
Another great reason to buy African Rainbow Capital is the fact that it has a great investment ethos. It aims to change the lives of ordinary South African people and invests only in African projects. If you are looking to add a stock to your portfolio where your money can really change lives, then ARC is a great choice. In addition to this, the fact that many of ARC's investments are in developing countries also offers high growth opportunities.
Finally, the company annual report highlighted some great points. An increase in portfolio value means more investments can be made and on a larger scale. An increase in cash flows highlights the firm's management. In addition to this, the high increase in profit is a key takeaway to potential investors. All these points point towards a strong buying case for African Rainbow Capital shares.
In conclusion, ARC shares offer a great growth opportunity. The company has a great South African presence and is really striving to makes a difference in many African lives. Although the share price has been falling, the company's financials place it in a position primed for growth. At current prices, therefore, it may be a good time to add ARC to your portfolio.
If do want to purchase ARC shares, we recommend using Capital.com as a broker. The setup process is quick and easy, and you only have to deposit a $20 minimum transaction. In addition to this, the platform has no hidden fees and charges 0% commission. Trades can also be leveraged to increase returns. If you want to get started now, simply click the link below!

75.26% of retail investor accounts lose money when spread betting and/or trading CFDs with this provider.
FAQs
Where do African Rainbow Capital invest?
Does African Rainbow Capital pay a dividend?
Who is the CEO of African Rainbow Capital?
What are some of African Rainbow Capitals' investments?
Will the African Rainbow Capital share price keep falling?