How to Buy Moderna Shares in South Africa – With 0% Commission
Moderna is an American pharmaceutical and biotechnology company that focuses on vaccine technologies. The company developed the second COVID-19 vaccination to receive US authorization for deployment nationwide. In this guide, we'll show you how to buy Moderna shares in South Africa with 0% commission and explore why Moderna stock is a buy today.
How to Buy Modern Shares South Africa – Quick Guide 2021
Step 1: Open an Account with Capital.com – Capital.com is our top-rated broker to buy Moderna shares in South Africa. Head to the broker's website and click 'Trade Now' to get started.
Step 2: Upload ID – Capital.com requires you to verify your identity before you start trading. You just need a copy of your passport or driver's license to complete this step.
Step 3: Deposit – You'll need to make a minimum deposit of $20. You can pay by debit card, credit card, or bank transfer.
Step 4: Buy Moderna Shares – Search for 'Moderna' and click 'Buy' when it appears. Enter the amount you want to invest and confirm your trade.
Step 1: Find a South Africa Stock Broker That Offers Moderna Shares
To buy Moderna stock, you'll need a South African stock broker that offers trading on US shares. The good news is that Moderna is a large company that's listed on NASDAQ, so the shares are carried by most South African brokers.
However, when it comes to deciding on the best stock broker, though, there's a bit more to think about. Your broker will impact how much it costs to trade, what tools you have access to, and more.
To make your choice easier, let's review two of the best 0% commission South African stock brokers to buy Moderna shares:
1. AvaTrade – Trade Moderna Share CFDs with 0% Commission


AvaTrade is the best alternative for online traders. AvaTrade is a popular South African CFD broker that offers over 600 stocks to traders including Modern shares.
AvaTrade is a global forex and CFD brokerage firm that allows traders to trade 55 different FX currency pairs, 17 commodity CFDs, 20, equity indices, 14 cryptocurrencies, and CFDs for 500 individual stocks and shares.
The online broker is suitable for both beginners and experienced traders. Newer traders can use the default trading engine on AvaTrade to buy and sell Moderna stock. They also get numerous features including technical studies and price alerts. For experienced traders, AvaTrade offers MetaTrader 4 and 5 integration, which offers PRO traders the ability to create custom indicators from scratch, along with customizable alerts.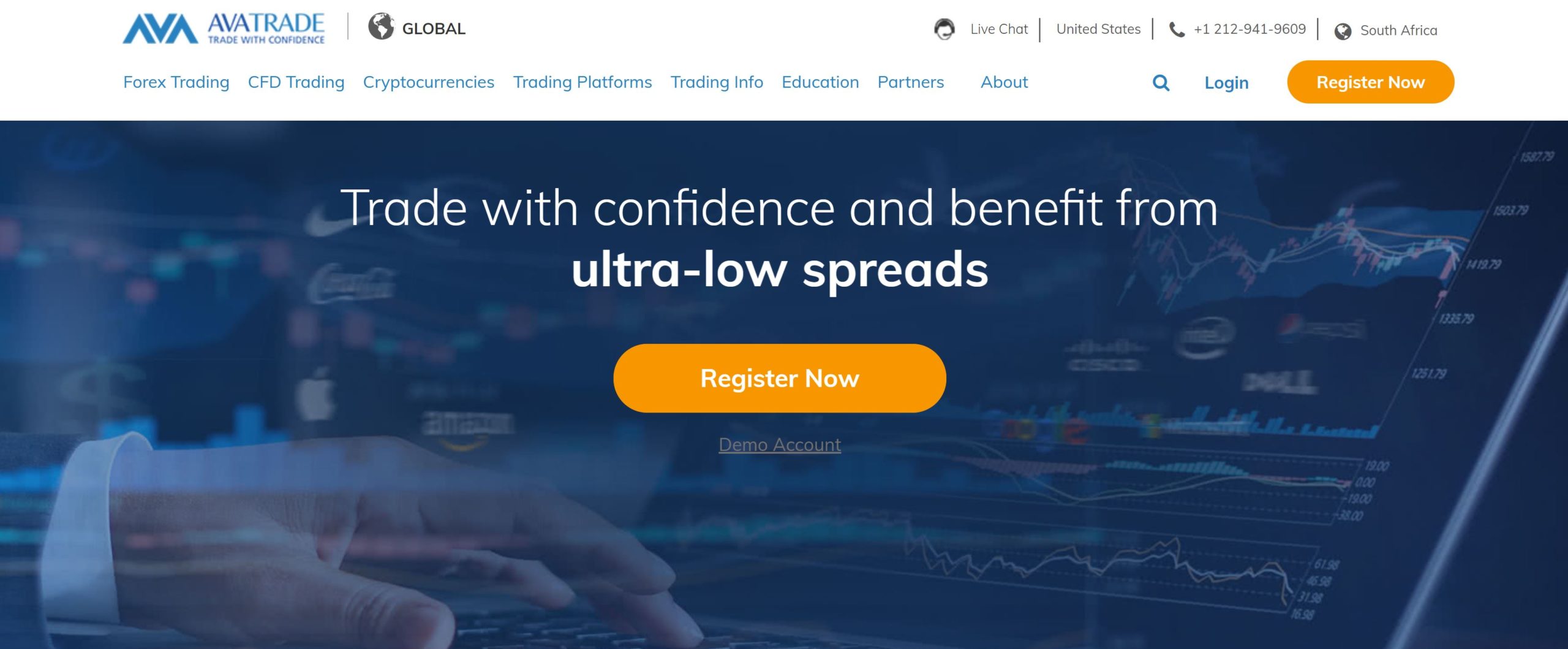 AvaTrade is regulated by the Financial Sector Conduct Authority (FSCA) in South Africa and the FCA in the UK, as well as in several other countries. Looking at its fee structure, AvaTrade provides commission-free trades. The platform requires a minimum deposit of $100 to get started on the platform. Users can fund their accounts easily using their credit card, and bank wire transfer. If you need help with your account, AvaTrade's customer support is responsive and available 24/5.
Pros:
Buy Moderna shares with zero commission
Regulated by South African authorities
MetaTrader 4 and 5 integration
Wide range of assets to choose from
Supports copy trading
24/5 customer support
Cons:
Limited selection of global shares
Inactivity fees
Your capital is at risk.
2. Capital.com – Overall Best Broker to Buy Moderna Shares in South Africa

Our #1 pick to buy Moderna shares in South Africa is through Capital.com. This online CFD broker is the perfect place to buy and sell shares of US companies. It offers over 3,000 shares from companies in the US, UK and other parts of Europe. Trading Moderna stock on Capital.com is 100% commission-free.
What this means is that you won't be charged exorbitant fees for buying or selling shares on the platform. The online broker uses a rock-bottom spread model for share trading. Trading on Capital.com is easy, straightforward, and user-friendly. The platform comes packed with technical charts, price alerts, news feeds, and more.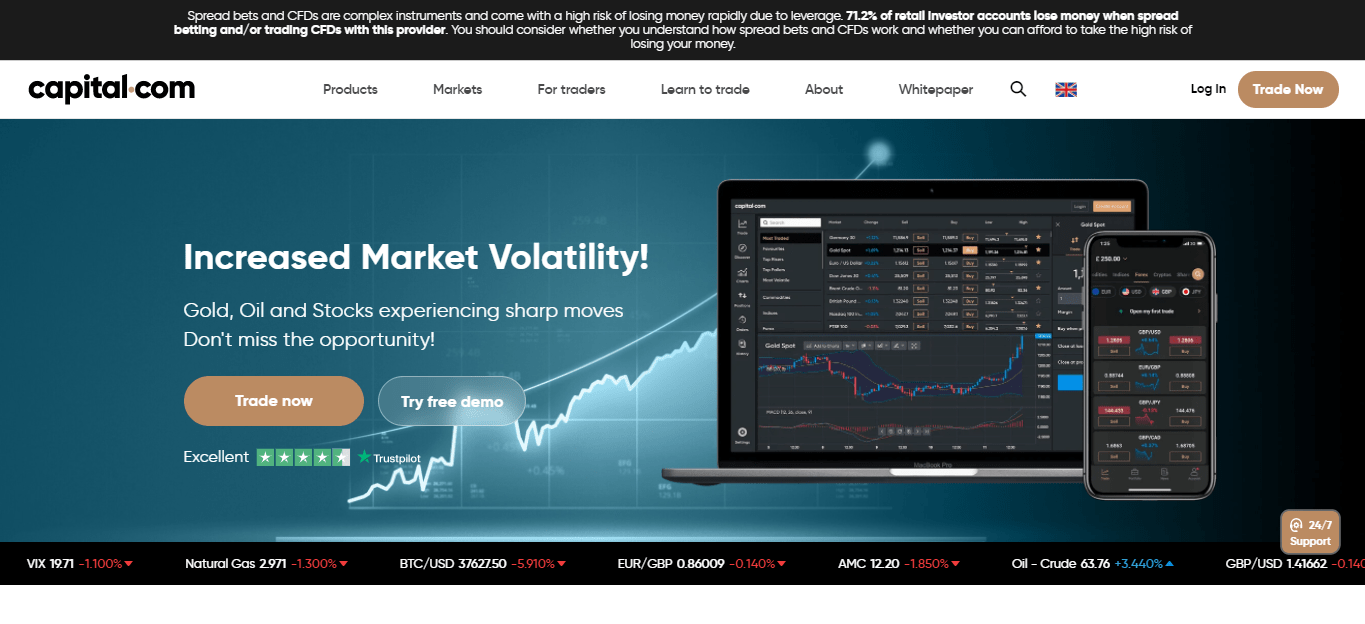 New traders have access to educational resources through its Investmate platform. Capital.com requires a minimum deposit of $20, which is equal to around 300 ZAR. Using this exciting share trading platform, users can make free deposits using their debit/credit card, and bank transfers. South African traders can also use e-Wallet providers like Trustly, Sofort, ApplePay, amongst others. In addition, withdrawal on Capital.com is also free. Capital.com is fully regulated by top regulatory bodies like the Financial Conduct Authority (FCA) in the UK and the Cyprus Securities and Exchange Commission (CySEC) making it a safe platform to store your funds and details.
Pros:
zero commission share trading
No deposit and withdrawal charges
Support multiple payment options
Great educational resources for beginners
$20 minimum deposit
24/7 customer support
Cons:
Price alerts are only available through the mobile app
Limited analyst research on stocks
75.26% of retail investor accounts lose money when spread betting and/or trading CFDs with this provider.
Step 2: Research Moderna Shares
Moderna is an American pharmaceutical company that was founded in 2010. Moderna went public in 2018 in what was described as the biggest initial public offering in biotech history.
Before you decide to buy shares, it's important to carry out extensive research on the company. We'll cover everything you need to know about Moderna and help you decide whether you should buy or sell Moderna shares today.
What is Moderna?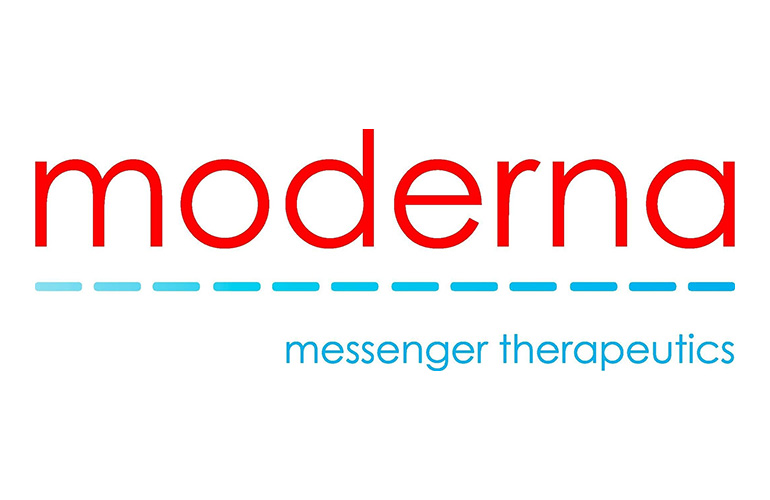 Moderna is a multi-national pharmaceutical and biotechnological company based in Massachusetts, United States. The company focuses on vaccine technologies based on messenger RNA (mRNA). Moderna does this by injecting nucleoside-modified mRNA into human cells while using a coating of lipid nanoparticles.
Moderna has only one commercially accepted product and that is its Covid-19 vaccine. Aside from this, the company also has candidates for seasonal flu, HIV, Nipah virus, and a second coronavirus vaccine that will be easier to store and administer on patients. Moderna has a forward price-to-earnings (P/E) ratio of $11.23 with a trailing ratio of $139.57. Its market cap stands at $83.61 billion and its profitability margin for the most recent quarter is 21.88%. Revenue was put at $2.73 billion with quarterly revenue growth of 3960.8% year-over-year.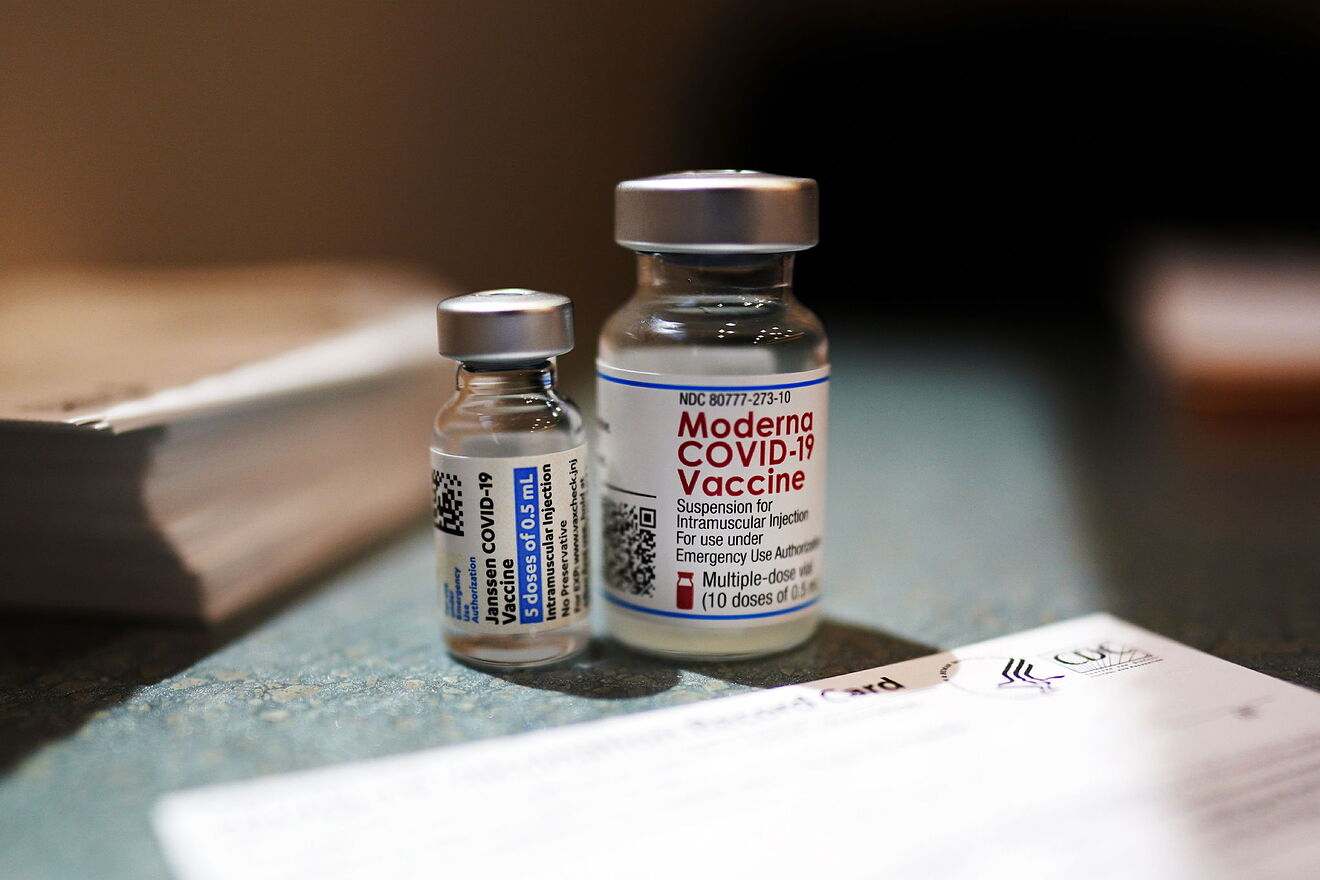 Moderna is listed in Nasdaq under the ticker symbol MRNA and has a current price action of $208.24. Even though Moderna cannot challenge the likes of Johnson & Johnson, the success of its Covid-19 vaccine has seen investors pay close attention to the company. The US-based company is planning to boost its vaccine production by 50% through its recently acquired plant in the Boston suburb of Norwood.
This is in a bid to triple the annual vaccine output to 3 billion does up from its 1 billion this year. According to company Chief Stephane Bancel, Moderna is planning to export its vaccines to the rest of the world, once it satisfies the US market. And the company seems to be on a roll.
Moderna announced last week the US was buying another 200 million doses of covid-19 vaccines. The exact details of the purchase weren't revealed, but if we're using the previous figure of $15 per dose, that deal could be valued at $3 billion. This new sale follows the last shipment of 300 million doses of Moderna vaccines to the U.S government. This new arrangement makes the US the company's biggest customer so far. Most investors remain bullish about Moderna's finances, even as the coronavirus variants like the delta variant starting to creep into the US, the biotech company might continue to receive orders from the government.
Moderna Shares Price
Moderna shares have rallied 200% due to the success of its vaccine but it is 12.5% below its 52-week high of $227.71. However, it is higher than its 52-week low of $54.21 currently trading at $220.24.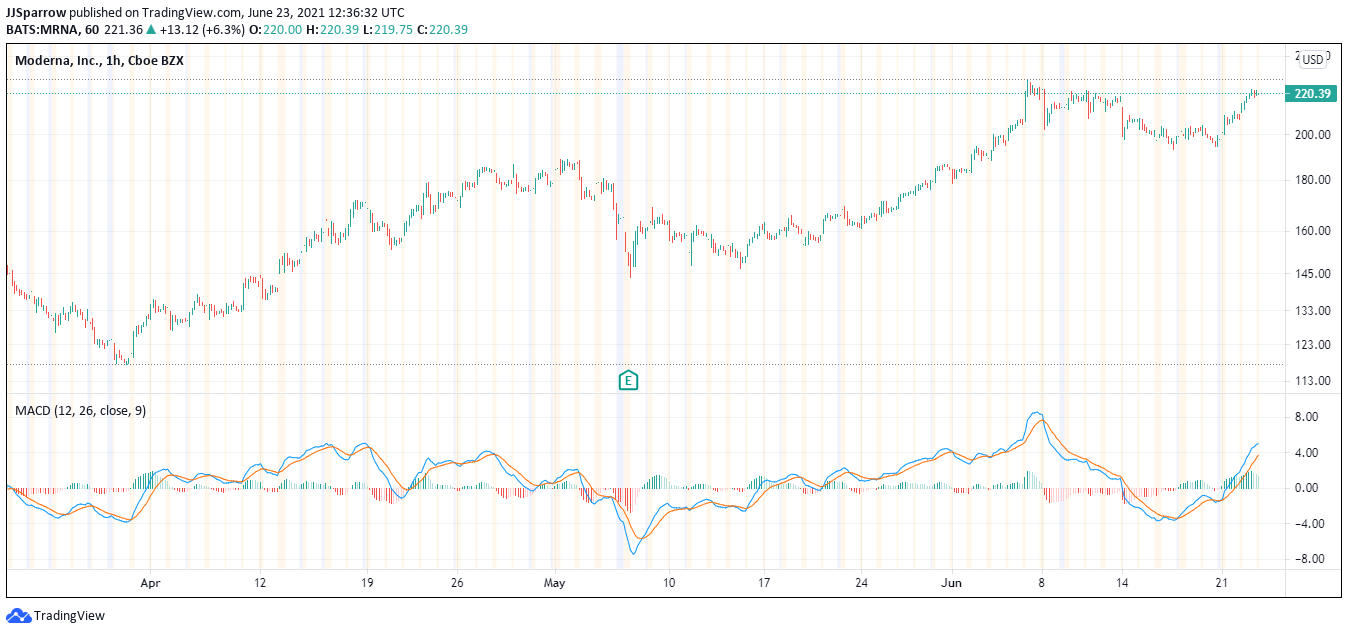 In terms of sales performance, Moderna has been able to see an increase of 6347.1% for the ongoing quarter and a projected 7189.7% for the next. The company's growth estimates for the ongoing quarter and the next stand at 2048.4% and 1439%, respectively.
Its P/E ratio is estimated at $11.23 and its earnings per share (EPS) is $2.84 for March up from $0.35 from September 2020.
Moderna Shares Dividends
Another important metric you should look at before investing in a company is its dividend payment system. This is important as well for Moderna and any other company you may be interested in. However, Moderna does not pay a dividend and does not offer a dividend reinvestment plan (DRIP) to investors, at press time.
Are Moderna Shares A Good Buy?
Should you buy Moderna shares? Yes, we think so. Even though Moderna may seem like a one-season show, the company is set for higher growth as the world battles with the covid outbreaks. Here are a few reasons why you should look into buying Moderna shares:
Growth Prospects of mRNA
Moderna is at the forefront of the COVID-19 vaccine space. The company's vaccine has had an impressive 94.5& efficacy rate in a large late-stage trial. With its subsequent production expansion, Moderna could be at the forefront of the fight against the coronavirus. Also, it is working on a more effective variant of its mRNA-1273 vaccine which will make it easy to store and administer. This will make it reach more countries thereby boosting its revenue growth.
Covid-19 Still Has No Known Cure
Moderna's vaccines can also be shipped and stored at more reasonable temperatures than Pfizer's and the other rivals. This head start had been key to Moderna's growth. The company also expects to ship about 1 billion doses worldwide in 2021, which should give Moderna stranglehold in valuable territories. And with the recent suspension of Johnson & Johnson vaccines in the US and Pfizer shipment delays in Canada, Moderna could easily dominate the space.
Step 3: Open an Account and Deposit Funds
Ready to buy Moderna shares now? We'll show you how to open an account with Capital.com, which offers zero commission trading on Moderna stock and over 3,000 shares from around the globe.
To get started, visit the Capital.com website and click 'Trade Now.' Enter your email and a password or sign up using your Google or Facebook account details.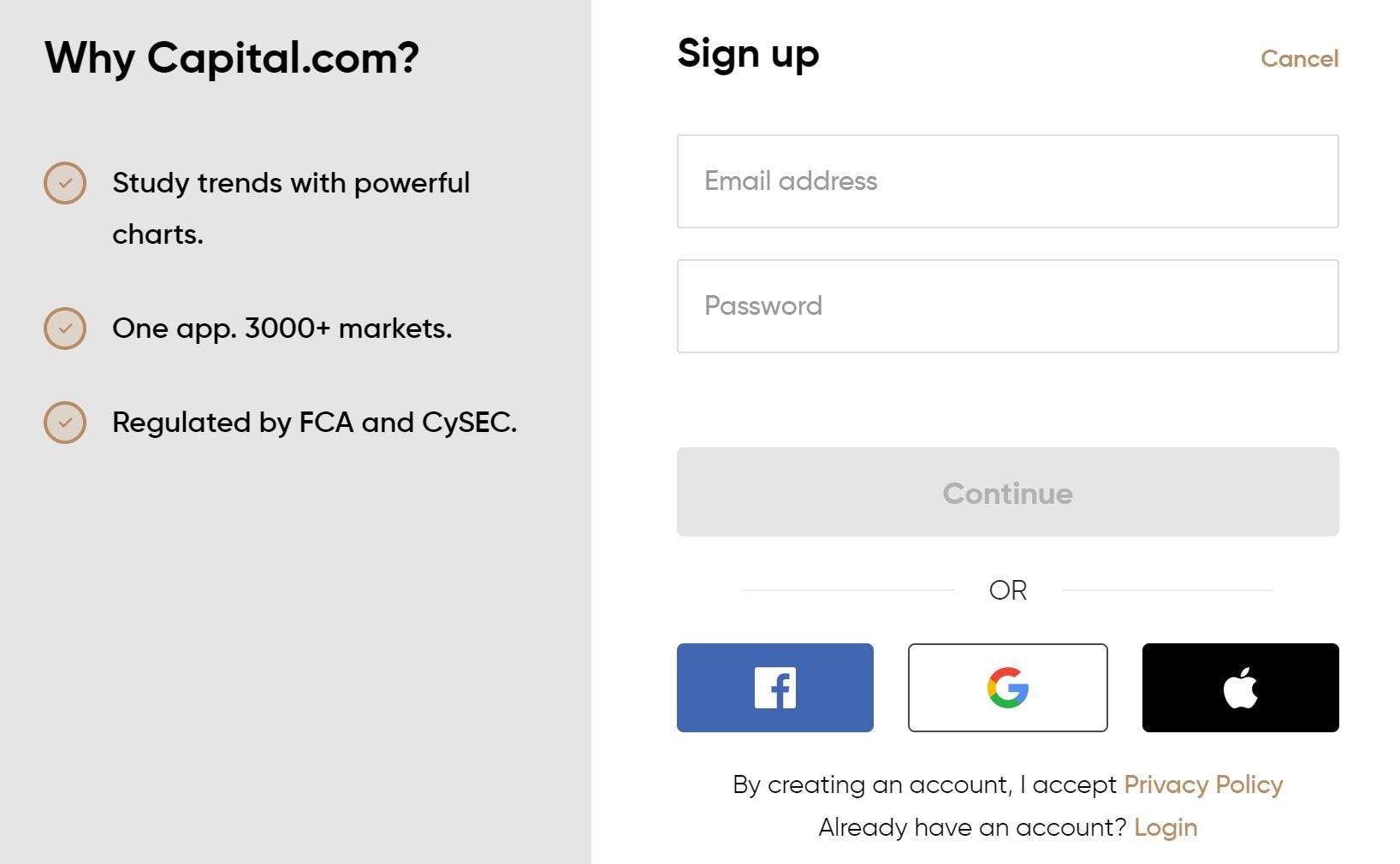 Before you begin trading, you need to verify your identity on Capital.com to comply with global and local Know Your Customer (KYC) rules. You can complete this step online in a few minutes by uploading a copy of your driver's license or passport. You'll also need proof of address, which can be a financial statement or utility bill.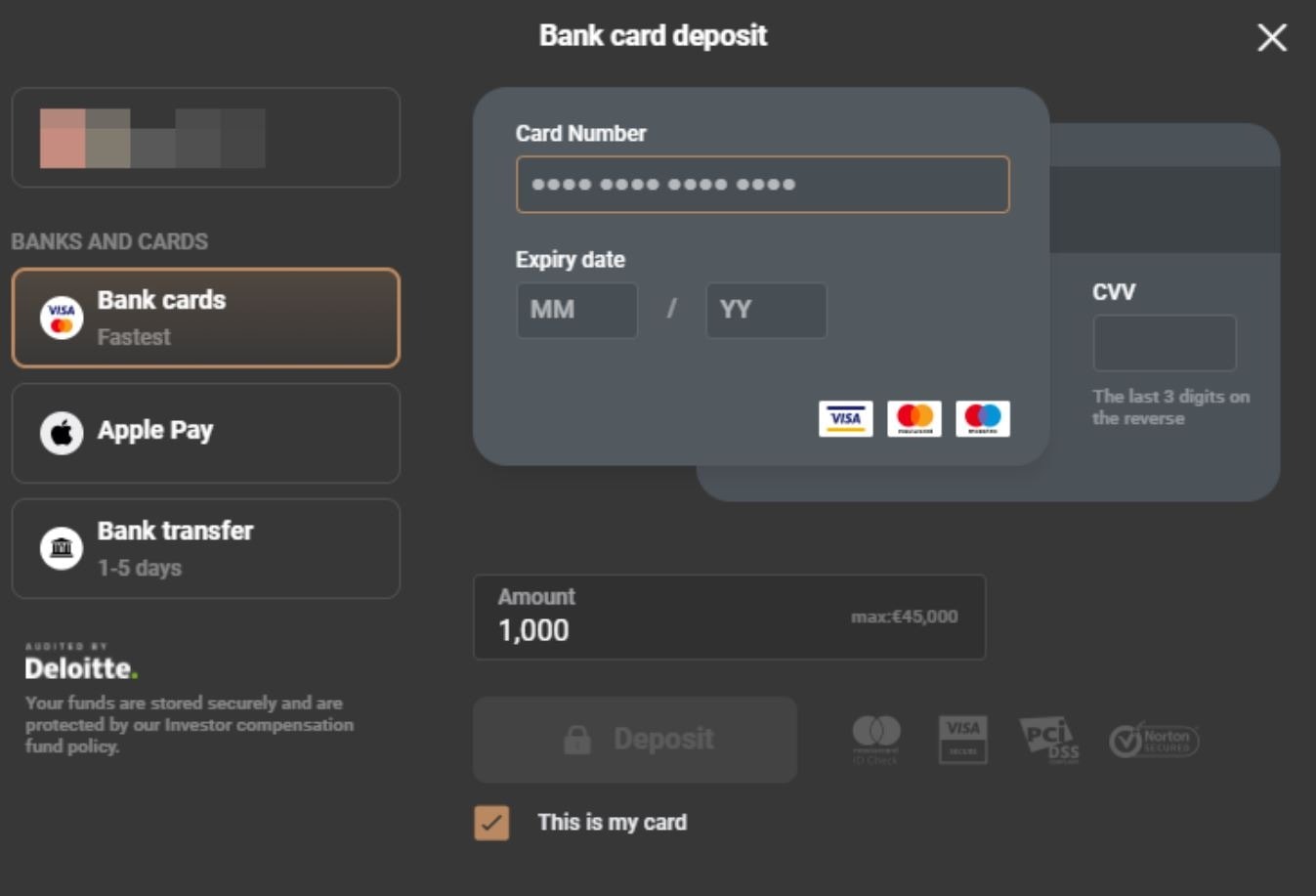 After this, the next step is to fund your account. Capital.com requires a minimum deposit of $20 (about 300 ZAR). You can fund your trading account using a credit card, debit card, or bank transfer. For instant trading, we recommend using credit or debit card payment options. Bank transfers can take a few days to reach your account.
Step 4: Buy Moderna Shares
Once your account is all set up, find the search bar at the top of the Capital.com dashboard and enter 'Moderna.' When the shares appear, click on them and then click 'Buy.'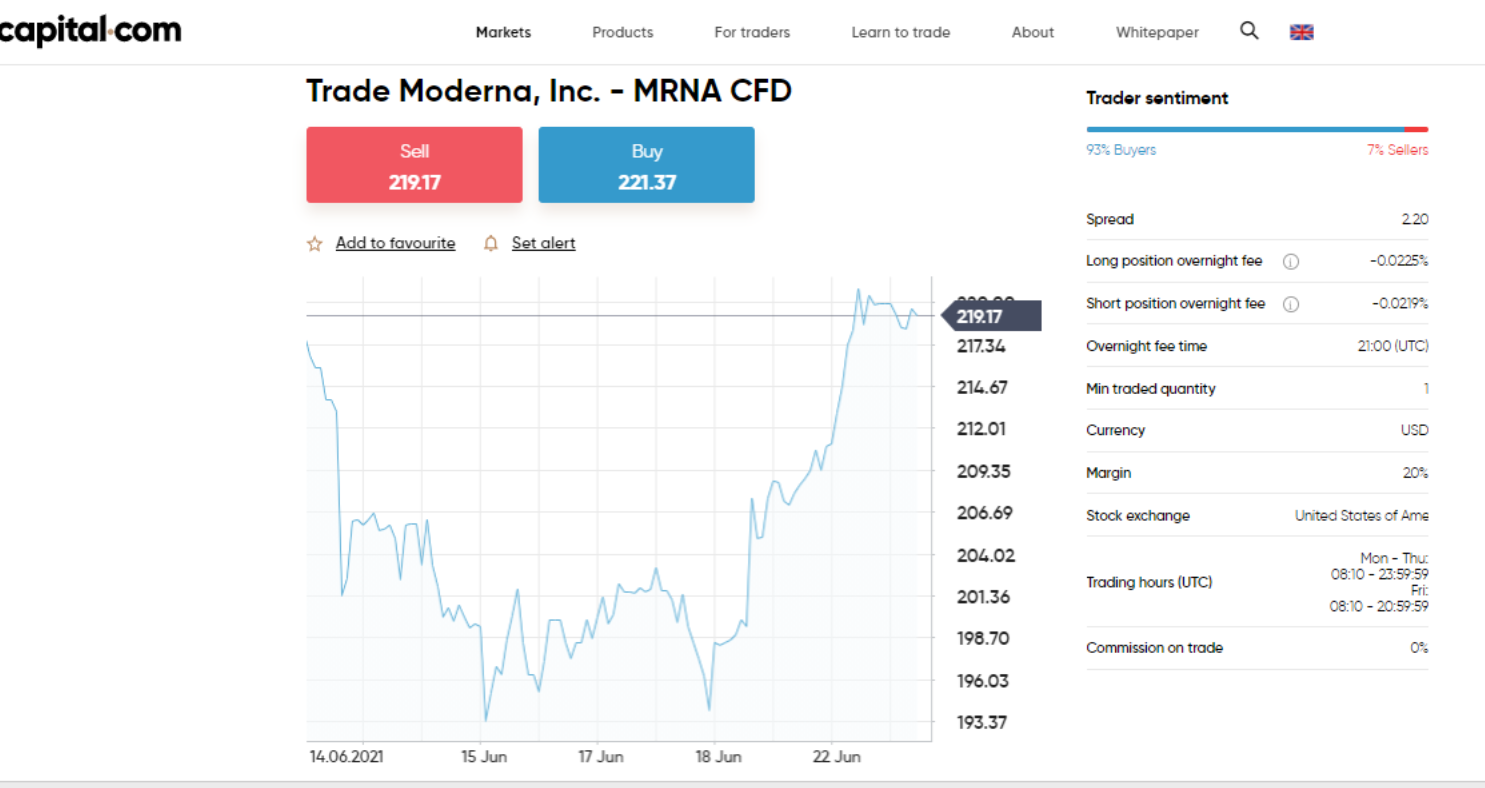 In the order form, enter the amount you want to invest in Moderna in US dollars. You can enter additional order details like a stop loss or take profit level if it makes sense for your trading strategy. When you're ready, click 'Open Trade' to buy Moderna shares with Capital.com.
Capital.com – Buy Moderna Shares in South Africa With 0% Commission
In this how to buy Moderna shares South Africa guide, we have revealed the long-term prospects of this company and why you should buy Moderna now. If you want to buy Moderna stock, we recommend using Capital.com for its zero commission trading platform. The trading platform is also a regulated broker. It's loaded with advanced charting features, educational resources for newbies, and responsive 24/7 customer support.
If you're ready to buy Moderna shares, click the link below to get started with Capital.com and pay nothing in commissions.

75.26% of retail investor accounts lose money when spread betting and/or trading CFDs with this provider.
FAQs
How much does it cost to buy Moderna shares?
Does Moderna pay dividends?
What is the minimum number of Moderna shares I can buy?