With thousands of stocks to choose from, knowing which shares to buy can be super-difficult. This is especially the case if you are just starting out in the world of stocks and shares. After all, seasoned investors will never purchase shares without first performing in-depth research and analysis.
With that in mind, here we discuss some of the best shares to buy in South Africa right now. Not only do we profile the best South African shares, but we provide a step-by-step guide on how you can purchase shares for yourself today!
If you're looking to invest in the best South African shares, then you will need to find a broker that gives you access to the Johannesburg Stock Exchange (JSE). Your share purchase will be priced in South African rands, which makes it easy for you to assess the viability of the investment. Let's take a look at the best JSE shares to buy in South Africa. in 2020
British American Tobacco (JSE)
Although British American Tobacco has its primary listing on the London Stock Exchange, the cigarette giant also has a listing on the JSE. Under the ticker symbol BTI, the firm is actually one of the largest stocks on the JSE for market capitalization. In terms of its current share price, a single stock in British American Tobacco will cost you 56,947 ZAC.
As you can see from the chart below, British American Tobacco enjoyed a hugely successful upward trajectory until 2017. Since then, the stocks have somewhat flattened. However, there is much to like about the tobacco market leader – including juicy dividend yields of over 7%, which is why it's one of the best dividend paying shares on the JSE.
Then, you need to consider that British American Tobacco products fall within the remit of 'staple goods'. This means that demand for its products remains relatively unaffected during times of economic uncertainties. Most importantly, this particular JSE stock pick has extremely strong free cash flows. This leaves the company open for acquisitions as and when an opportunity arises.
Gold Fields Limited (JSE)
An additional JSE share that is worth considering is that of Gold Fields Limited, one of the best performing shares on the JSE. As the name suggests, the company is involved in gold mining farms. On the one hand, its shares are largely dependent on the global value of gold. After all, this is the company's primary commodity, so higher prices mean higher operating margins.
With that being said, institutional investors will typically flock to gold during times of uncertainties, which is why the stock makes our list. In terms of where the shares are right now, Gold Fields Limited is currently in all-time high territory. In fact, its shares have been on a parabolic run since early 2018. Back then, you would have paid just 3,600 ZAC
Fast forward to July 2020 and the very same shares are valued at 20,627 ZAC. As such – and making the assumption you entered the market in early 2018, you would now be starring at gains of over 427%, so it's easy to see why Gold Fields is one of the best JSE shares to buy now. It remains to be seen just how high Gold Fields Limited can go in the long term. But, with gold prices booming at present, this looks like an interesting selection in the short run.
CFD Service. Capital at risk.
So now that we have discussed the best JSE shares to consider, we now need to look at dividend-paying companies. This will allow you to earn regular income – which is typically settled on a quarterly basis. As and when you receive your dividends, you can then invest them into other shares. This will allow you to benefit from compound interest.
BP (LSE)
BP is a major oil and gas supplier that has its headquarters in the UK. As a result, its shares are listed on the London Stock Exchange (LSE). This shouldn't be an issue for you as a South African investor, as platforms like eToro allow you to access UK stocks on a commission-free basis.
Nevertheless, the reason that BP makes our list as one of the best dividend-paying shares is that its most recent distribution yielded over 10%, making it one of the best dividend paying shares. There is still speculation that the oil giant might decide to reduce its yield, as per its recent stock price struggles. However, some analysts disagree with this viewpoint – taking into account the recovery of global oil prices.
For example, while oil hit lows of just under $16 per barrel in Q1 2020, current prices are hovering over $40. This is especially crucial for BP, which has a reported break-even price of $35. On top of the potential to earn attractive dividends, BP shares can be purchased on the cheap, not least because at 305p (July 2020), this is far short of its 52-week high of 556p.
75% of retail investor accounts lose money when trading CFDs with this provider.
Legal & General (LSE)
An additional dividend-paying stock that is also worth considering is that of Legal & General. The financial services company is listed on the London Stock Exchange. It recently paid a trialling dividend yield of 8%, which is huge. The firm in question has a strong market capitalization of £13 billion, and it appears to be recovering its losses from the wider COV-19 market crash.
For example, the stock hit lows of 138p in March 2020. But, at the time of writing in July 2020 – the shares are priced at 228p. This translates into a stock value increase of over 65% in just 4 months.
Additional gains could be in the making – especially when you look at the firm's 52-week high of 324p. If it is able to get back to these levels, you would be looking at a further increase of 42%. This means that Legal & General could be useful as both a dividend-paying and high-growth stock.
75% of retail investor accounts lose money when trading CFDs with this provider.
When we talk about the best shares in South Africa for long-term growth, these are companies that are typically still in the very early days of corporate life. While there are several domestic firms that could potentially make the cut, we would argue that the US-based NASDAQ exchange might be worth a closer look. In particular, Tesla and Netflix both look likes stocks that still have a considerable amount of upward trajectory to come.
Tesla (NASDAQ)
Tesla is one of those frustrating investment opportunities that many of us missed out on. For example, when the electric car manufacturer had its IPO in 2010, it raised just $226 million. We say "just", as this is a drop in the ocean in comparison to its fellow tech counterparts.
For example, the likes of Uber, Twitter, and Facebook each raised billions of dollars in their respective fundraising campaigns. Nevertheless, at the time of the IPO, Tesla shares were priced at just $17 each. Fast forward to July 2020 and the very same shares are priced at $1,592.
This works out at a 10-year increase of over 9,200%! So that begs the question – is it too late to invest in Tesla? Well, we would argue the contrary. After all, Tesla as an organization is still in its infancy. In fact, the firm only began reporting a profit recently, so the company has the potential to grow by a significant amount and is still one of the best shares to buy in South Africa in 2020 for growth.
75% of retail investor accounts lose money when trading CFDs with this provider.
Netflix (NASDAQ)
As we noted above, Netflix is another high-growth stock that takes our fancy. Much like in the case of Tesla, many investors in South Africa feel that they have potentially missed the boat. For example, its IPO in 2002 priced its shares at just $15. And now? In July 2020 those very same shares are worth over $548.
However, the returns are actually much higher than this. After all, Netflix has initiated 2 separate stock splits since its launch – one at 2-for-1 and the other at a whopping 7-for-1. As such, its end-to-end stock journey is now looking at gains of 43,000%. In terms of its viability as a long-term growth stock, there are two key things to bear in mind.
Firstly, Netflix is still reporting year-on-year growth in subscriber numbers – with much of this down to the firm's focus on original and more profitable content. Secondly, there is every chance that in the near future, Netflix will begin to pay dividends. As a result, it could be a very bright future for the content streaming market leader and we consider Netflix one of the best shares to buy in South Africa in 2020.
75% of retail investor accounts lose money when trading CFDs with this provider.
While most investors in South Africa opt for strong and stable companies, some of you might be looking for much higher returns. And what comes with higher returns is a higher level of risk. At the forefront of this is penny shares. For those unaware, penny shares are typically very small companies that carry a micro-market capitalization.
In the UK, they are classed as penny shares when the stock is worth less than £1. In the US, penny shares are those that trade at less than $5. Nevertheless, the key characteristic that all penny shares possess is that of a high-risk, high-return ratio. As such, keep your stakes low when buying penny shares in South Africa.
Macfarlane Group (AIM)
Macfarlane Group is a British packaging company that is listed on the Alternative Investment Market (AIM). This is where you will find the vast majority of UK penny stocks. Nevertheless, the reason that Macfarlane Group could be an interesting selection is because of just how quickly the stock was growing before the COV-19 pandemic came to light.
For example, the stocks grew from 41p in 2015 to 110p in Q1 2020. This translates into an attractive increase of over 168% in just three years. The pandemic stopped the company in its tracks, albeit, the shares are still priced at 83p. As such, the fallout hasn't been overly significantly, meaning there is still plenty of upside potential left and that this remains one of the best penny shares to buy in South Africa.
Your capital is at risk.
Powerhouse Energy Group (AIM)
If you are a firm believer that renewable energies like solar power are likely to play a major role in the future, then most companies operating in this space are still in their infancy. One such example of a solar-focused penny share is that of Powerhouse Energy Group. Much like the previously discussed Macfarlane Group, Powerhouse is listed on the UK's AIM.
The firm in question has been growing at an exponential rate in recent months – and it now boasts an impressive market capitalization of over £133 million.  For example, Powerhouse Energy Group shares were priced at 0.42p at the turn of 2020. As of July 2020, they are priced at 3.80p.
This means that the stocks are up a staggering 800%+ in 2020 alone. It remains to be seen just how big this company will get. At the time of writing this article, the stocks are already up 8.5% in the first few hours of trading. With that being said, penny shares like Powerhouse Energy Group can drop in value just as quickly as they can rise – so do tread carefully.
Your capital is at risk.
If you want to buy shares in one of the picks we have discussed in this article, you will need to use a top-rated online stock broker. While there are many to choose from, we would have to point you in the direction of eToro.
This is because:
The broker is heavily regulated – including tier-one licenses with the FCA, ASIC, and CySEC
You will have access to over 800 shares across 17 stock exchanges
The platform is super-easy to use – which is perfect if you have no experience of buying shares online
Irrespective of which shares you buy, you will never pay a single rand in commission
You can use eToro's innovative social and copy trading tools
You can easily deposit and withdraw funds with a local debit/credit card, bank account, or e-wallet
You can invest in your chosen shares from just $50
Taking all of the above into account, we are now going to show you what you need to do to buy the shares with eToro.
Step 1: Open an Account
You will first need to visit the eToro website and open an account. This will require some personal information from you, such as your:
Full name
Home address
Date of birth
National tax number
Contact details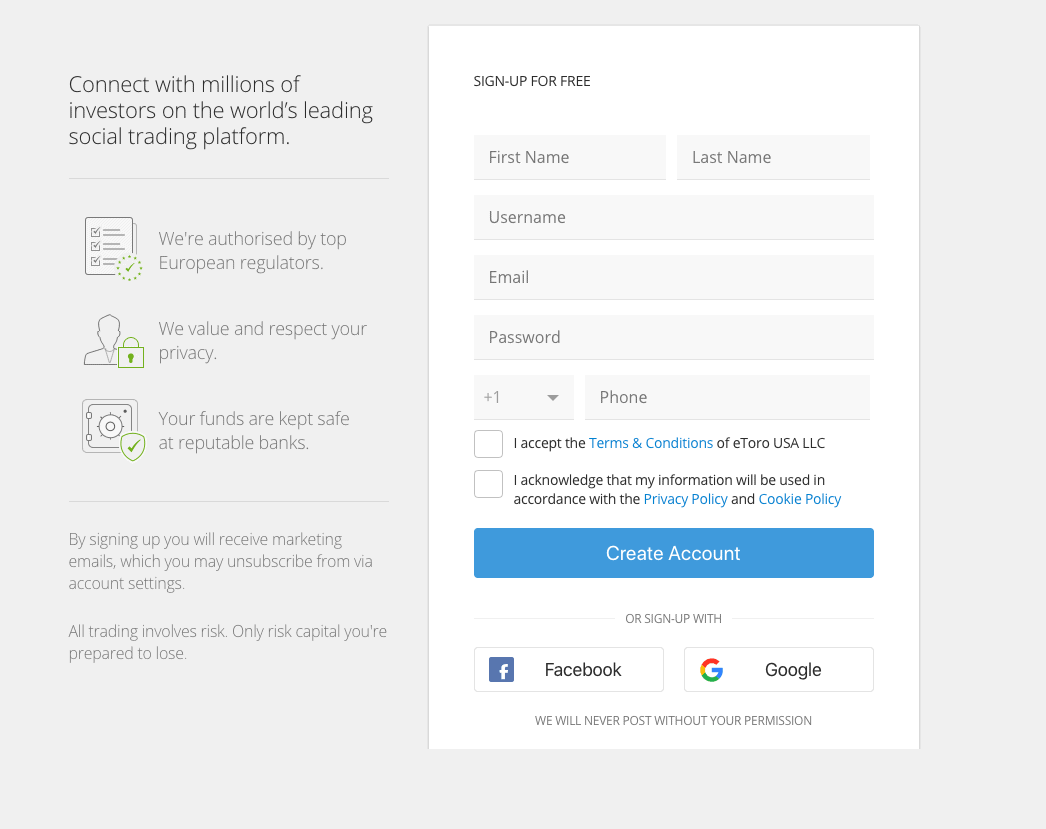 You will also need to create a username and password.
Step 2: Upload ID
As noted above, eToro is heavily regulated. As such, you will need to quickly upload some ID. This includes:
South African passport/driver's license
Recent banks account statement or utility bill
While eToro is checking your documents, you can proceed to deposit some funds.
Step 3: Deposit Funds
Funding your account at eToro is easy, and requires a minimum deposit of just $200. You can do this with a debit or credit card, bank transfer, PayPal, Skrill or Neteller.
Don't forget, as your deposit will be converted from rands to US dollars, you will incur a small conversion fee of 0.5%.
Step 4: Buy Shares
Once you have opened an account and deposited some funds, you can buy your chosen shares. Enter the name of the company into the search box at the top of the screen. Whether you want to invest in the best South African shares to buy now or overseas companies, eToro has plenty to choose from. In our example, we are buying shares in high-dividend paying stock BP. Once the company pops-up from the search box, click on the 'Trade' button.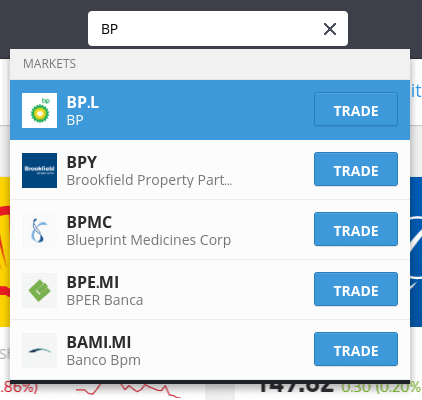 You will then see an order box. All you need to do is enter the amount of shares that you wish to buy in USD. In our example, we are buying $500 worth.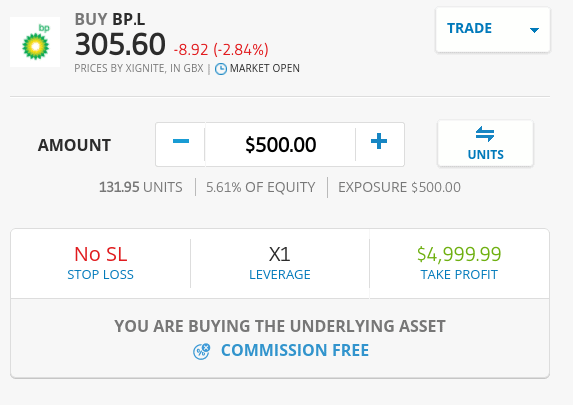 Finally, click on the 'OPEN TRADE' button to complete your investment. If buying shares outside of standard trading hours, your order will be processed as soon as the market re-opens.
It must be noted that the best performing shares listed on this page are merely the subjective views of the author. With that being said, you now have a selection of stocks to consider. Whether that's shares that pay dividends, high-growth stocks, or top-performing JSE companies – we have you covered.
If you have chosen which shares you want to purchase, eToro allows you to do this at the click of a button. In fact, you can instantly deposit funds and then buy your chosen shares without paying any commissions or fees.  Simply click on the link below to get started now!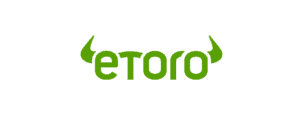 75% of retail investor accounts lose money when trading CFDs with this provider.