Best Shares to Buy in South Africa – What To Buy Right Now
With thousands of stocks to choose from, knowing which shares to buy can be super-difficult. This is especially the case if you are just starting out in the world of stocks and shares. After all, seasoned investors will never purchase shares without first performing in-depth research and analysis.
With that in mind, here we discuss the best shares to buy in South Africa right now. Not only do we profile the best South African shares, but we provide a step-by-step guide on how you can purchase shares for yourself today!
---
Top 10 Best Shares to Buy Right Now
Before we take a closer look at the best shares to buy in South Africa right now, here are our top 10 picks:
You can trade all of these top shares, as well as many others if you register now on eToro.
---
1. British American Tobacco (JSE) – Best Long-term Shares to Buy
Industry: Cigarette Manufacturing
Current price: 52,217 ZAC
Market value: £57.96 billion
Dividend yield: 7.64%
YTD return: -5.11%
Although British American Tobacco has its primary listing on the London Stock Exchange, the cigarette giant also has a listing on the JSE. Under the ticker symbol BTI, the firm is actually one of the largest stocks on the JSE for market capitalization. In terms of its current share price, a single stock in British American Tobacco will cost you 56,947 ZAC.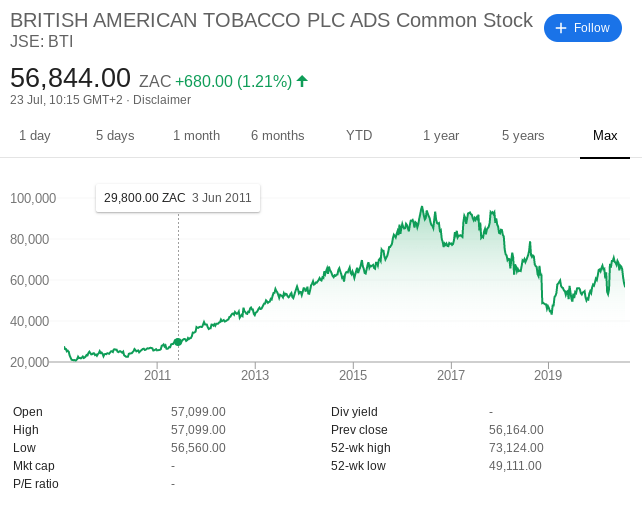 As you can see from the chart below, British American Tobacco enjoyed a hugely successful upward trajectory until 2017. Since then, the stocks have somewhat flattened. However, there is much to like about the tobacco market leader – including juicy dividend yields of over 7%, which is why it's one of the best dividend paying shares on the JSE.
Then, you need to consider that British American Tobacco products fall within the remit of 'staple goods'. This means that demand for its products remains relatively unaffected during times of economic uncertainties. Most importantly, this particular JSE stock pick has extremely strong free cash flows. This leaves the company open for acquisitions as and when an opportunity arises.
Crypto assets are highly volatile and unregulated in EU countries. No consumer protection. Tax on profits may apply.
---
2. Naspers (JSE) – Best South African Shares for Positive Returns
Industry: Publishing
Current price: 249,398 ZAC
Market value: $70.38 billion
Dividend yield: 0.23%
YTD return: -17.88%
Naspers is ranked by Forbes as the third largest company in South Africa, and it's clear to see why. With headquarters in Cape Town, Naspers has a diverse business model that focuses on areas such as publishing, retail, and venture capital investing. Through these avenues, Naspers has grown to the point where the company is comfortably generating over $22 billion per year in revenue.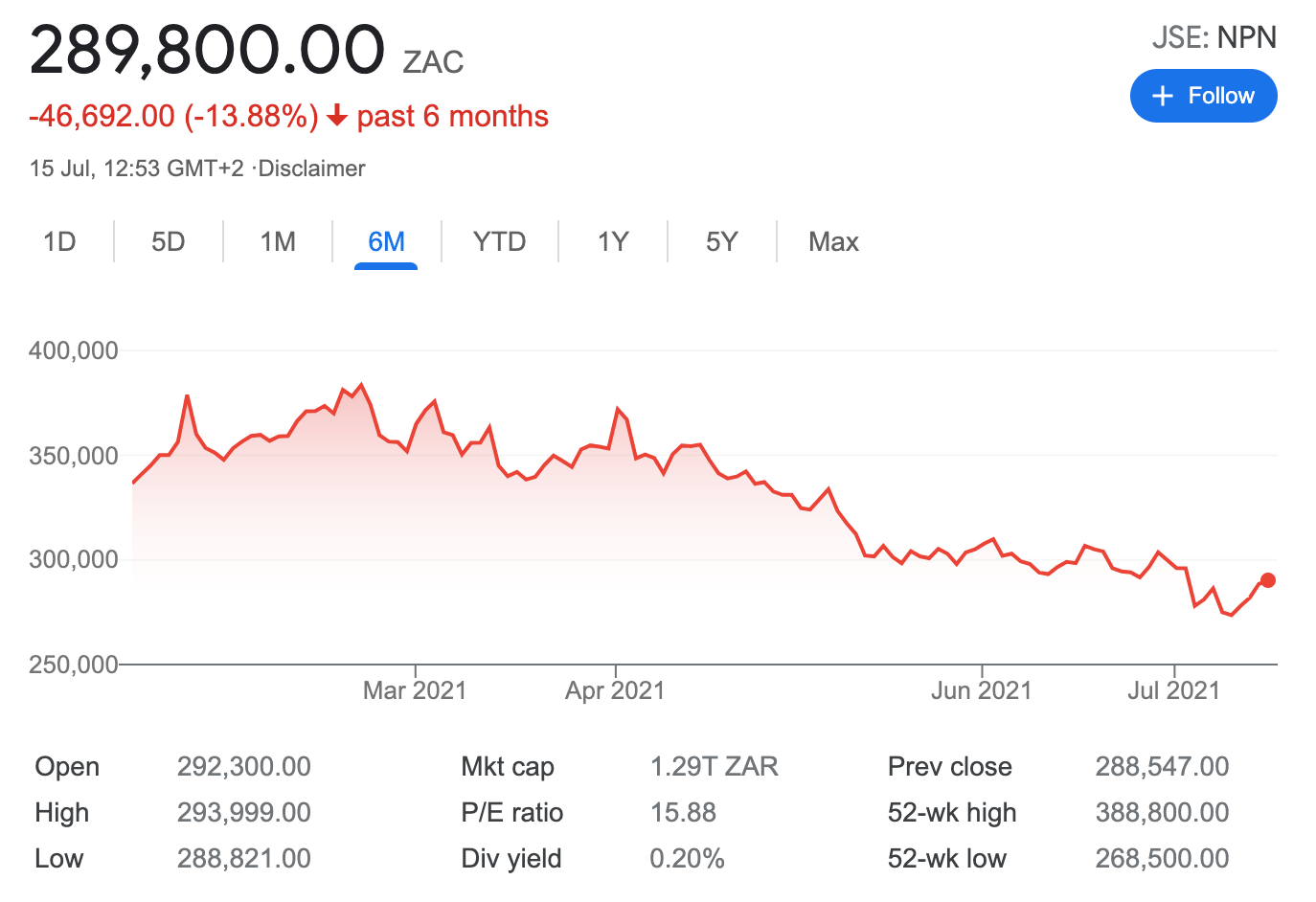 As you can see from the price chart above, Naspers is actually down over the past six months, and is down by around 9.19% from the same date last year. Although this may seem like a negative, this decline actually provides a good opportunity to invest in Naspers at a great price. One of the key selling points for an investment in Naspers is the company's 31% stake in Tencent – worth approximately $250 billion in today's market!
Naspers actually sold about 2% of their Tencent stake back in April, netting the company $14.6 billion. This has provided ample free cash flow to invest in areas such as e-commerce and food delivery, which are high growth areas globally. Furthermore, with Naspers consistently adding further investments through the venture capital arm, it puts the company in a great position for the remainder of the year – and beyond.
radius="0″]Sign Up & Buy Solana Now[/su_button]
Crypto assets are highly volatile and unregulated in EU countries. No consumer protection. Tax on profits may apply.
---
3. Netflix (NASDAQ) – Best Shares with Global Studio and a Growing Audience
Industry: Video Streaming
Current price: $603.35
Market value: $271.38 billion
Dividend yield: N/A
YTD return: +15.39%
Netflix is another high-growth stock that takes our fancy. Much like in the case of Tesla, many investors in South Africa feel that they have potentially missed the boat. For example, its IPO in 2002 priced its shares at just $15. And now? In July 2020 those very same shares are worth over $548.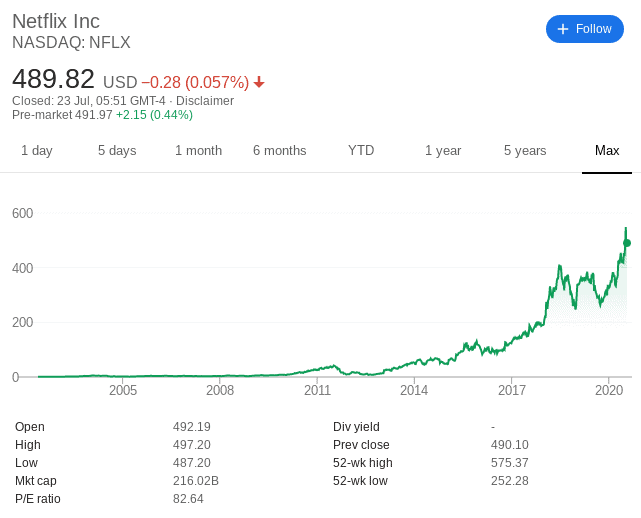 However, the returns are actually much higher than this. After all, Netflix has initiated 2 separate stock splits since its launch – one at 2-for-1 and the other at a whopping 7-for-1. As such, its end-to-end stock journey is now looking at gains of 43,000%. In terms of its viability as a long-term growth stock, there are two key things to bear in mind.
Firstly, Netflix is still reporting year-on-year growth in subscriber numbers – with much of this down to the firm's focus on original and more profitable content. Secondly, there is every chance that in the near future, Netflix will begin to pay dividends. As a result, it could be a very bright future for the content streaming market leader and we consider Netflix shares one of the best shares to buy in South Africa in 2020.
Crypto assets are highly volatile and unregulated in EU countries. No consumer protection. Tax on profits may apply.
---
4. Shoprite (JSE) – South African Company With Huge Growth Plans
Industry: Food Retail
Current price: 18,270 ZAC
Market value: 104.60 Billion ZAR
Dividend yield: 2.98%
YTD return: +39.58%
Shoprite is the largest food retailer in Africa, with more than 2800 stores across 14 different countries. At the time of writing, Shoprite has a team of over 140,000 employees, making them one of the largest employers in Africa. The company is best known for its low-cost consumer goods – and even owns various brands, including MediRite pharmacies and LiquorShops.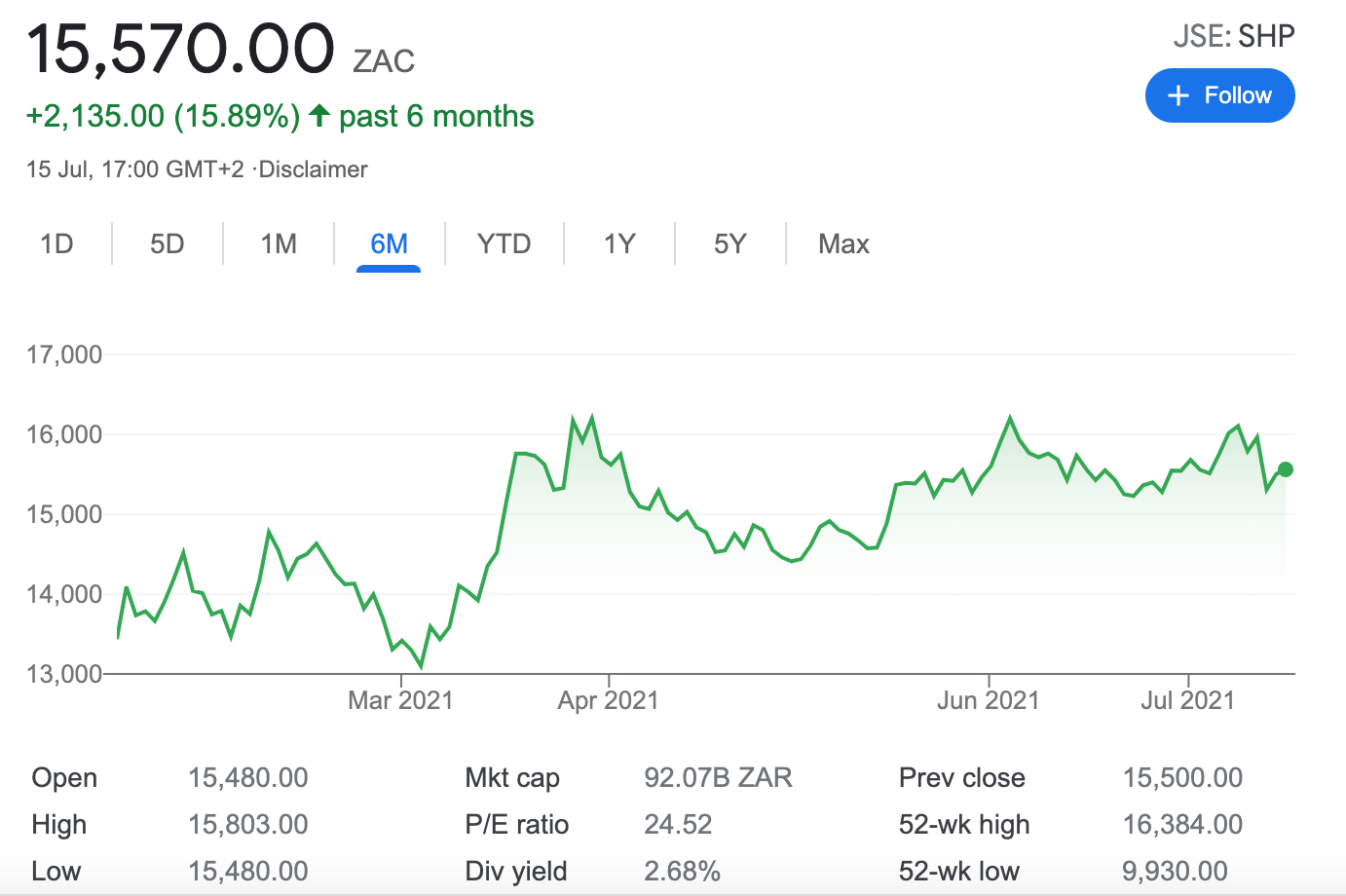 Shoprite's shares are currently up around 11.86% since the turn of the year and are up 47.83% since this time last year. Much of this growth can be attributed to increased consumer demand brought about by lockdowns easing; furthermore, due to Shoprite stores' accessible nature, the increased footfall in major cities has prompted increased sales.
We feel that Shoprite is a good investment opportunity at present as consumer spending in Africa is set to increase drastically over the next few years, reaching $2.1 trillion by 2025. Shoprite is well-placed to benefit from this spending increase due to its established brand image and efficient supply chain. Furthermore, company revenues are growing year on year, with EBIT figures also increasing. Combined with Shoprite's consistent dividend, these factors make the company a great buy opportunity at current levels.
Crypto assets are highly volatile and unregulated in EU countries. No consumer protection. Tax on profits may apply.
---
5. Gold Fields Limited (JSE) – Top-performing South African Shares to Buy
Industry: Gold Mining
Current price: 12,449 ZAC
Market value: 108.90 Billion ZAR
Dividend yield: 4.26%
YTD return: -16.93%
Another JSE share that is worth considering is that of Gold Fields Limited, one of the best performing shares on the JSE. As the name suggests, the company is involved in gold mining farms. On the one hand, its shares are largely dependent on the global value of gold. After all, this is the company's primary commodity, so higher prices mean higher operating margins.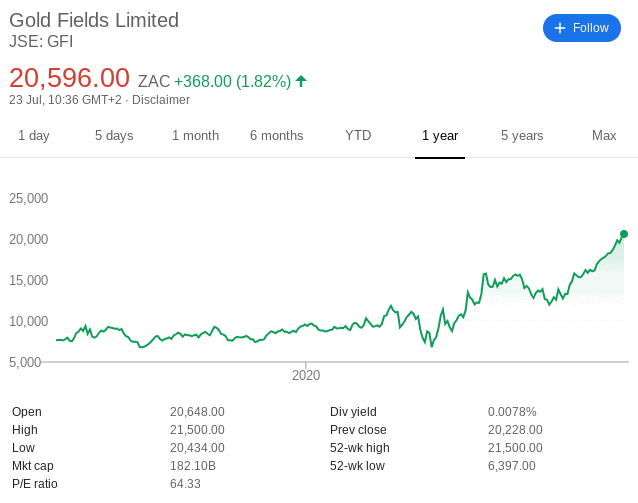 With that being said, institutional investors will typically flock to gold during times of uncertainties, which is why the stock makes our list. In terms of where the shares are right now, Gold Fields Limited is currently in all-time high territory. In fact, its shares have been on a parabolic run since early 2018. Back then, you would have paid just 3,600 ZAC
Fast forward to July 2020 and the very same shares are valued at 20,627 ZAC. As such – and making the assumption you entered the market in early 2018, you would now be starring at gains of over 427%, so it's easy to see why Gold Fields is one of the best JSE shares to buy now. It remains to be seen just how high Gold Fields Limited can go in the long term. But, with gold prices booming at present, this looks like an interesting selection in the short run.
Crypto assets are highly volatile and unregulated in EU countries. No consumer protection. Tax on profits may apply.
---
6. Anglo American PLC (JSE) – Great Time to Buy This Stock For Large Returns
Industry: Metals and Mining
Current price: 52,983 ZAC
Market value: $47.45 billion
Dividend yield: N/A
YTD return: +3.15%
Anglo American has had a rough couple of weeks, down by 24% from August's highs. Much of this decrease can be attributed to the falling price of iron ore, which has affected all mining stocks negatively. However, now might be a great time to buy Anglo American stock due to the low price.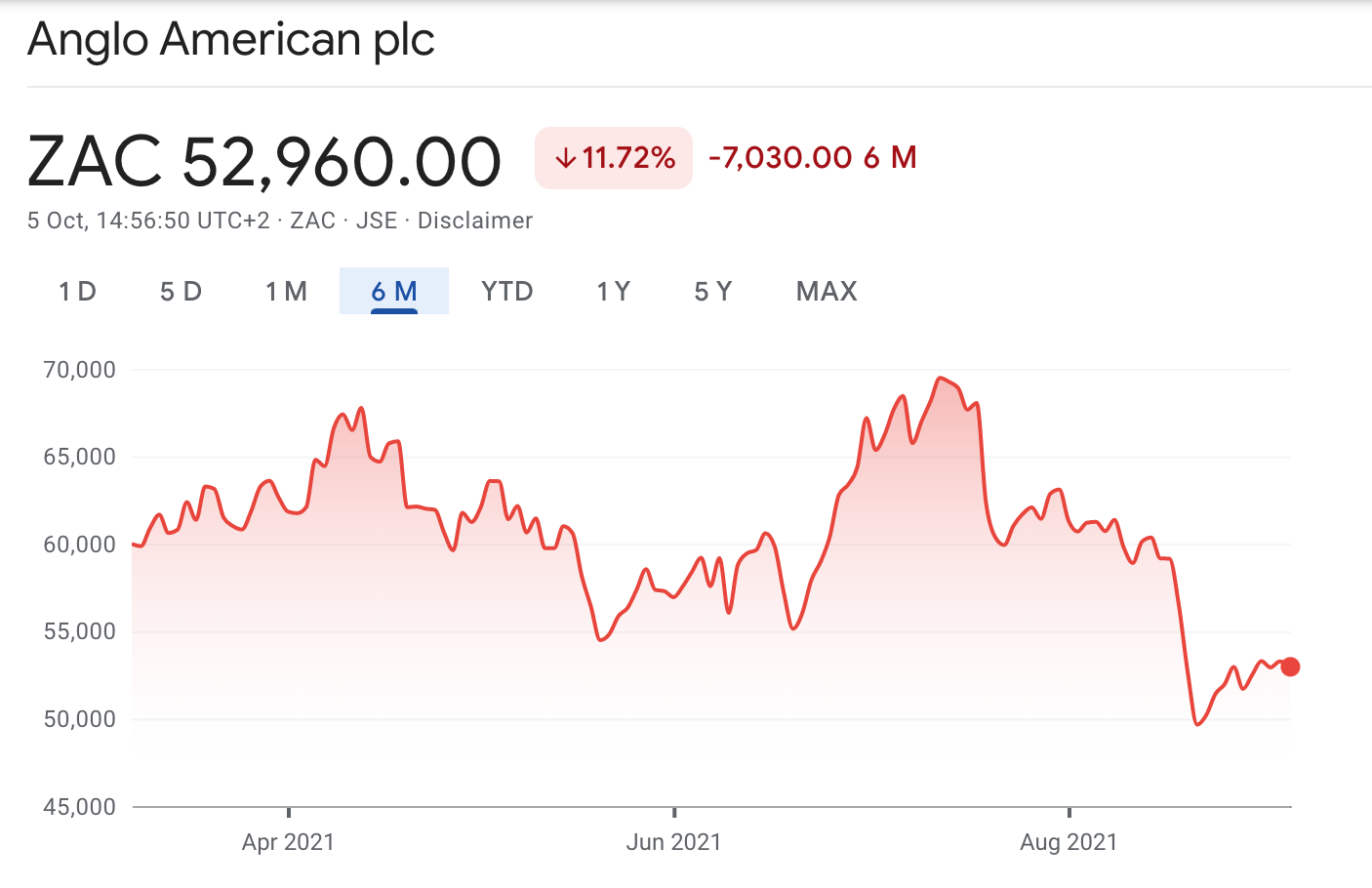 Iron ore prices tend to be positively affected when the economy is booming and large infrastructure projects require materials. As life gets back to normal following COVID-19, we may see an uptick in construction activity, leading to price increases for iron ore. This will translate to better performance for Anglo American.
Operating margins are still over 18%, and the company has reduced its debt levels by $3.6 billion, strengthening its foundation. Furthermore, revenues were more than double what they were in 2020, according to the most recent trading update ending in June. For these reasons, we believe that Anglo American will bounce back and provide significant returns in the months ahead.
Crypto assets are highly volatile and unregulated in EU countries. No consumer protection. Tax on profits may apply.
---
7. Richemont (JSE) – Best Luxury South African Share to Invest In
Industry: Luxury Goods
Current price: 16,113 ZAC
Market value: 836.90 billion ZAR
Dividend yield: N/A
YTD return: +19.68%
Richemont (full name Compagnie Financiere Richemont SA) is the name of the holding company that owns numerous luxury brands in the realms of jewellery, pens, watches, leather goods, and more. Some of Richemont's most well-known brands include Montblanc, Cartier, Lancel, Roger Dubuis, and Chloe. Richemont was founded by a South African entrepreneur named Johann Rupert, who acts as Chairman of the company.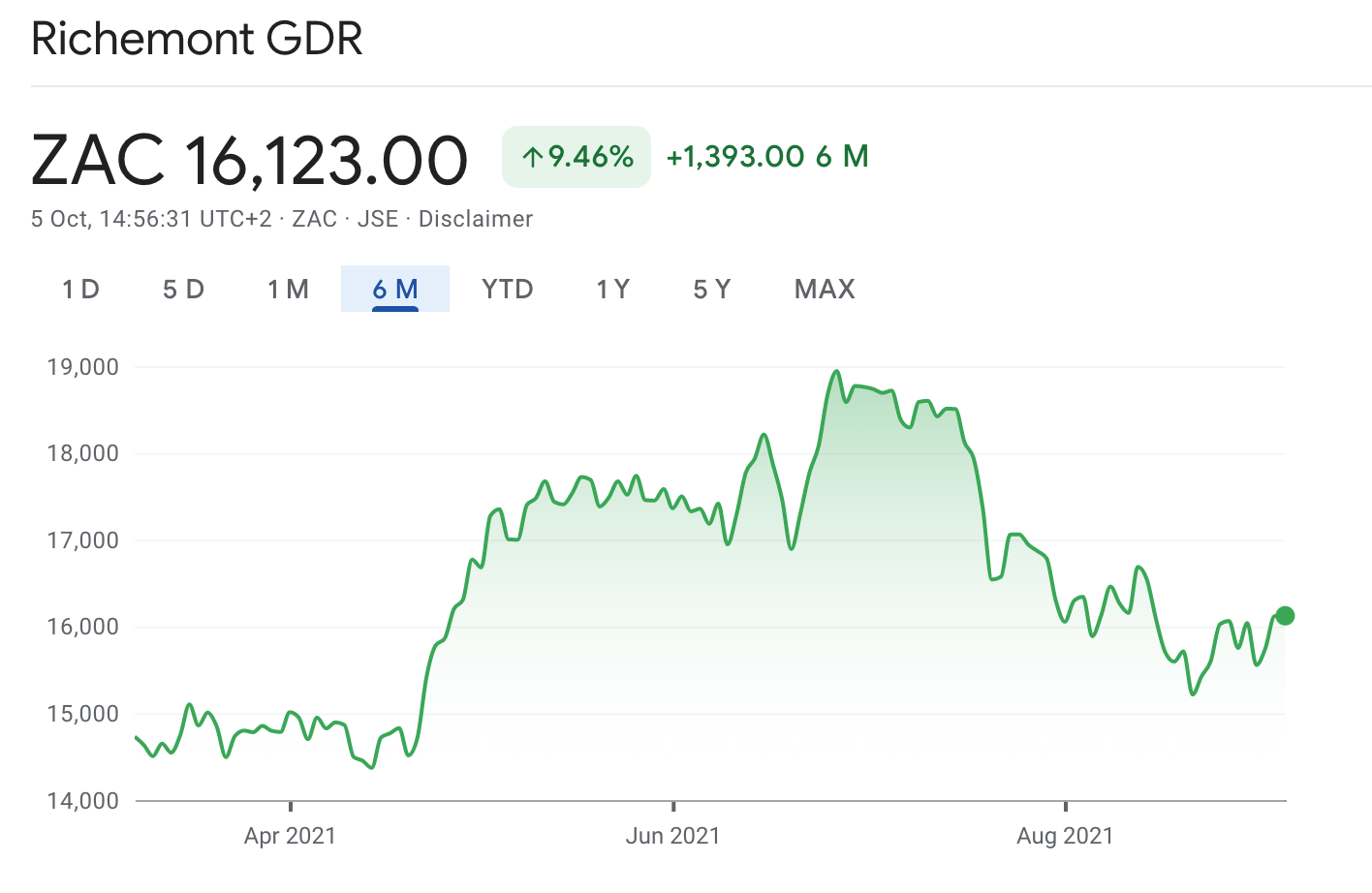 We like the look of Richemont as the stock has been rising steadily since March 2020. Furthermore, the financial side of things still looks healthy, with results from the latest fiscal year noting that Richemont's net income rose an impressive 39%. This is after an 8% decrease in revenue, highlighting how high the company's margins are.
Free cash flow is still high, posted around €3.2 billion according to the most recent fiscal results. Finally, Richemont's P/E ratio is substantially higher than the industry standard, sitting at 40.29 at the time of writing. Due to these strong metrics, combined with the company's impressive brand portfolio, we see no reason for the stock to stop growing in the years ahead.
Crypto assets are highly volatile and unregulated in EU countries. No consumer protection. Tax on profits may apply.
---
8. Airbnb (NASDAQ) – Hottest Travel Company Post-COVID
Industry: Lodging
Current price: $164.50
Market value: $103.41 billion
Dividend yield: N/A
YTD return: +18.22%
Airbnb's IPO was one of the most talked-about events in the stock market in the last months of 2020. The stock jumped 113% on its first day of trading, and it gained another 40% over the following month.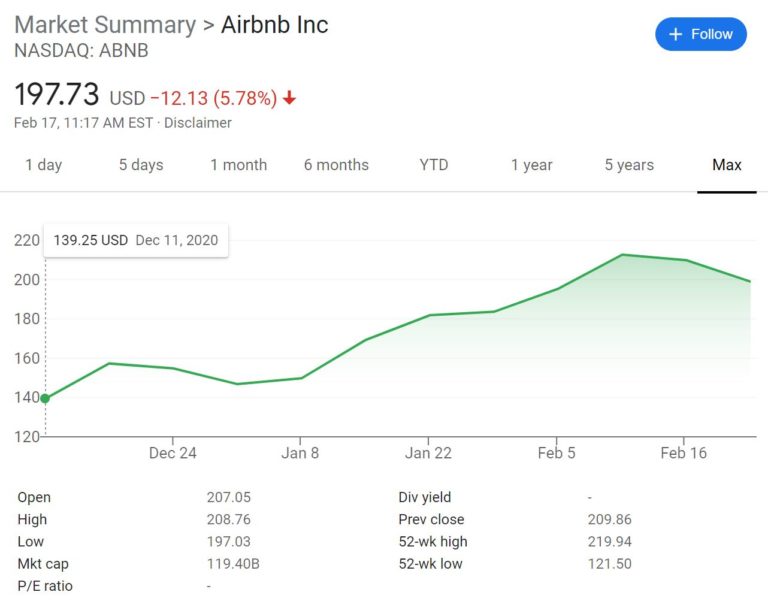 It's not too late to get in on Airbnb, though. We think this company is still undervalued, in large part because the 'new normal' for travel in the post-COVID world hasn't fully taken shape yet. Airbnb is better poised than any hotel chain to adapt to changing travel patterns and to take advantage of increased staycations – trips in which people stay close to home and explore different parts of their own cities.
To be sure, Airbnb shares are pricey, especially since the company has only been profitable in a handful of quarters. But we don't think you'll ever get a better opportunity than right now to invest in this growth stock.
Crypto assets are highly volatile and unregulated in EU countries. No consumer protection. Tax on profits may apply.
---
9. Legal & General (LSE) – A Dividend Stock with Growth Potential
Industry: Financial Services
Current price: 281.90 GBX
Market value: £16.84 billion
Dividend yield: 6.32%
YTD return: +8.17%
An additional dividend-paying stock that is also worth considering is that of Legal & General. The financial services company is listed on the London Stock Exchange. It recently paid a trialing dividend yield of 8%, which is huge. The firm in question has a strong market capitalization of £13 billion, and it appears to be recovering its losses from the wider COV-19 market crash.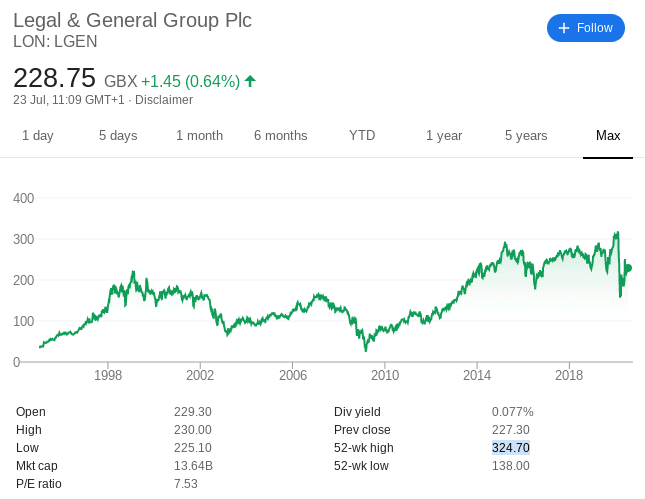 For example, the stock hit lows of 138p in March 2020. But, at the time of writing in July 2020 – the shares are priced at 228p. This translates into a stock value increase of over 65% in just 4 months.
Additional gains could be in the making – especially when you look at the firm's 52-week high of 324p. If it is able to get back to these levels, you would be looking at a further increase of 42%. This means that Legal & General could be useful as both a dividend-paying and high-growth stock.
Crypto assets are highly volatile and unregulated in EU countries. No consumer protection. Tax on profits may apply.
---
10. Powerhouse Energy Group (AIM) – Shares with Strong Bet on Renewable Energy
Industry: Renewable Energy
Current price: 3.82 GBX
Market value: £155.76 million
Dividend yield: N/A
YTD return: -57.59%
If you are a firm believer that renewable energies like solar power are likely to play a major role in the future, then most companies operating in this space are still in their infancy. One such example of a solar-focused penny share is that of Powerhouse Energy Group. Much like the previously discussed Macfarlane Group, Powerhouse is listed on the UK's AIM.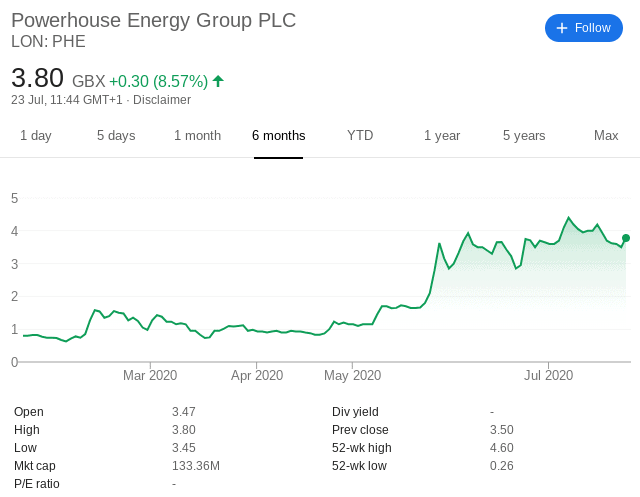 The firm in question has been growing at an exponential rate in recent months – and it now boasts an impressive market capitalization of over £133 million.  For example, Powerhouse Energy Group shares were priced at 0.42p at the turn of 2020. As of July 2020, they are priced at 3.80p.
This means that the stocks are up a staggering 800%+ in 2020 alone. It remains to be seen just how big this company will get. At the time of writing this article, the stocks are already up 8.5% in the first few hours of trading. With that being said, penny shares like Powerhouse Energy Group can drop in value just as quickly as they can rise – so do tread carefully.
Crypto assets are highly volatile and unregulated in EU countries. No consumer protection. Tax on profits may apply.
---
How to Buy the Best Shares Now in South Africa
If you want to buy shares in one of the picks we have discussed in this article, you will need to use a top-rated online stock broker. While there are many to choose from, we would have to point you in the direction of eToro.
This is because:
The broker is heavily regulated – including tier-one licenses with the FCA and CySEC
You will have access to over 3,000 shares across 17 stock exchanges
The platform is super-easy to use – which is perfect if you have no experience of buying shares online
Irrespective of which shares you buy, you will never pay a single rand in commission
You can easily deposit and withdraw funds with a local debit/credit card, bank account, or e-wallet
You can start investing with a minimum deposit of $20
Taking all of the above into account, we are now going to show you what you need to do to buy shares with eToro.
Step 1: Open an Account
You will first need to visit the eToro website and open an account. This will require some personal information from you, such as your:
Full name
Home address
Date of birth
National tax number
Contact details
You will also need to create a username and password.
Step 2: Upload ID
As noted above, eToro is heavily regulated. As such, you will need to quickly upload some ID. This includes:
South African passport/driver's license
Recent banks account statement or utility bill
While eToro is checking your documents, you can proceed to deposit some funds.
Step 3: Deposit Funds
Funding your account at eToro is easy, and requires a minimum deposit of just $20. You can do this with a debit or credit card or bank transfer.
Don't forget, as your deposit will be converted from rands to US dollars, you will incur a small conversion fee.
Step 4: Buy Shares CFDs
Once you have opened an account and deposited some funds, you can buy your chosen shares. Enter the name of the company into the search box at the top of the screen. Whether you want to invest in the best South African shares to buy now or overseas companies, eToro has plenty to choose from. Once your chosen company pops-up from the search box, click on the 'Trade' button.
You will then see an order box. All you need to do is enter the amount of shares that you wish to buy in USD.
Finally, click on the 'OPEN TRADE' button to complete your investment. If buying shares outside of standard trading hours, your order will be processed as soon as the market re-opens.
---
How Do We Decide Which Shares Are Best
Figuring out which shares represent a good investment opportunity involves in-depth research and knowledge of the stock market. Our equity research team employs a comprehensive process that helps identify companies with good upside potential, ensuring you have the best stock picks every week. The sections below present some of the essential elements of the stock-picking process:
Fundamental Analysis
One of the most important things our team does is estimate a company's fundamental analysis. Put simply, fundamental analysis helps to determine the intrinsic value of a stock. Once the intrinsic value has been determined, the team then compares this to the company's current market position to determine whether the stock is undervalued or overvalued. 
Fundamental analysis involves researching the broader economy, the sector the company operates in, and the current strength of the company in question. If it turns out that the intrinsic value of a stock is higher than its current price, then that stock is undervalued. Buying undervalued stocks is a great way to generate capital returns over the longer term, as stocks tend to gravitate towards their 'true' valuation. 
Technical Analysis
In addition to fundamental analysis, the team also incorporates technical analysis into their stock picks. Technical analysis focuses on the price chart of a company's stock, looking for patterns that can indicate where the stock price may go. Our team looks for reliable trends that can determine whether the stock price looks set to increase or decrease – adding validity to the stock picks presented. 
Technical analysis also provides a way to determine price targets. Having a target in mind will ensure you can invest effectively and get the most out of your trades. By combining technical analysis with fundamental analysis, our team ensures that the investment ideas presented on this page have a good chance of succeeding. 
Analyst Expectations
It's also important to consider the ratings given by professional analysts. These analysts work for top banks on Wall Street such as JPMorgan and Morgan Stanley, sharing their opinions on where they feel a company's stock price may go in the future. Great emphasis is placed on analyst expectations – and these expectations can even affect the stock price if they are not met!
Through our research, we tend to formulate our own opinion on a stock and then compare this to analysts' expectations. Much of the time, our estimations tend to line up with the overall sentiment; however, we explain why this may be and why we feel our analysis is the most accurate in cases where it does not. 
News Developments
Finally, our equity research team will keep tabs on the latest developments in the market, ensuring the analysis considers any relevant news. News developments can have huge impacts on a company's stock price – and this isn't just limited to company news. Economy-wide announcements, such as data releases and speeches from prominent figures, can also impact the stock price. 
As you can see, there are various factors to consider when researching stock picks. Using just one of the above elements is not enough to provide an accurate buy or sell recommendation; that's why our experienced team will incorporate all of these strategies to ensure that the picks presented on this page are high-quality and give you the best chance of generating a positive return. 
---
Best Shares to Buy Today – The Verdict
It must be noted that the best performing shares listed on this page are merely the subjective views of the author. With that being said, you now have a selection of stocks to consider. Whether that's shares that pay dividends, high-growth stocks, or top-performing JSE companies – we have you covered.
If you have chosen which shares you want to purchase, eToro allows you to do this at the click of a button. In fact, you can instantly deposit funds and then buy your chosen shares with low fees.  Simply click on the link below to get started now!
eToro – Buy the Best Shares with Low Fees
Crypto assets are highly volatile and unregulated in EU countries. No consumer protection. Tax on profits may apply.