Best Oil Shares in South Africa – Invest with 0% Commission
The oil price is making new 30-month highs, which means oil stocks are back in the spotlight. Most oil stocks are still trading a long way below their all-time highs, which suggests there could still be substantial upside ahead for these stocks.
Since South Africa doesn't have an oil industry to speak of, investors need to look offshore. We've put this post together so you will know how to buy oil shares in South Africa, what to look for, and a few of the best stocks to consider.
How to Buy Oil Shares in South Africa – Quick Steps
If you want to know how to buy oil shares in South Africa, you'll be happy to know the process is actually very easy. Simply follow these four steps to get started in a matter of minutes:
Open an Account with Capital.com: If you want to buy shares in oil companies, we recommend Capital.com as a good choice of broker. Go to the website, click 'Trade Now,' and follow the prompts.
Upload ID: Once you have opened an account you will need to verify your identity. To do this you can upload a copy of an official identity document and a utility bill. The Capital.com team will then verify your account within a few minutes.
Deposit Funds: For South African investors, the minimum amount you need to get started is $20, which is about R300. Depositing funds into your account is very straightforward and there are several ways to so. Credit and debit card deposits are the fastest, but you can also use a bank transfer.
Buy Oil Shares: Search for the oil share you want to invest in using the search bar at the top of the home page. When you find it, click on 'Trade' and you will be directed to an order entry page. From there you can follow the prompts to execute your trade. And that's it – you now know how to buy shares in oil.
Choose a Stock Broker
To buy shares in oil companies in South Africa you will need an account with an international investment platform or broker. There are local brokers with access to offshore markets, but the range of shares you can buy is typically quite limited.
Besides a good range of shares and other assets, you should consider the trading fees a broker charges and whether the broker is properly regulated or not. To make your life a little easier, we have reviewed our two favorite brokers. After these reviews, we will go into more detail on how to buy shares in oil companies.
1. AvaTrade – Top Oil Shares CFD Broker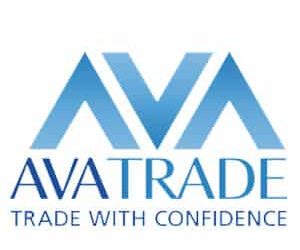 AvaTrade is another CFD broker that South African traders can use to buy oil shares. This platform offers trading on thousands of shares from around the world, along with forex, commodities, cryptocurrencies, and more.
All share trading with AvaTrade is 100% commission-free. The platform isn't quite as cheap as Capital.com, but it's close – you won't find many brokers in South Africa that can match AvaTrade's competitive spreads. AvaTrade also doesn't charge deposit or withdrawal fees, although you will want to watch out for the pricey inactivity fee that kicks in after 3 months without trading.
AvaTrade has its own custom trading platform, which we found to be very comprehensive. You can access a news feed, economic calendar, and dozens of technical indicators to track price movements. If you want even more technical firepower, you can trade with the popular MetaTrader 4 and MetaTrader 5 platforms. All 3 platforms are available for the web and on iOS and Android mobile devices.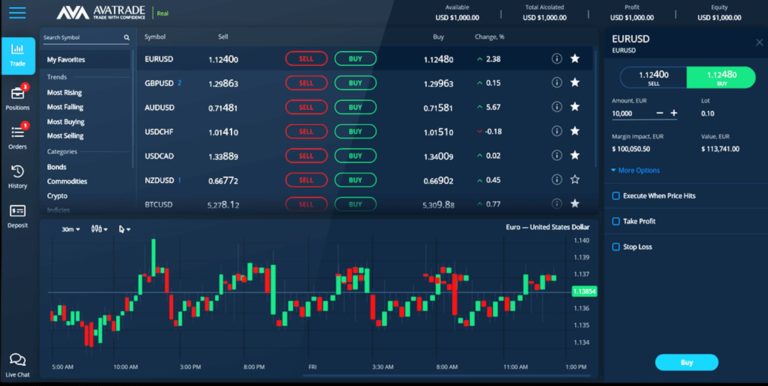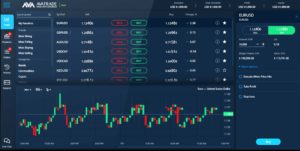 This broker also has its own social trading network, which you can access through the AvaSocial app. This is a great way to connect with other oil and share traders from South Africa and around the world. You can even find more experienced traders to copy, which makes it simple to put your portfolio on autopilot.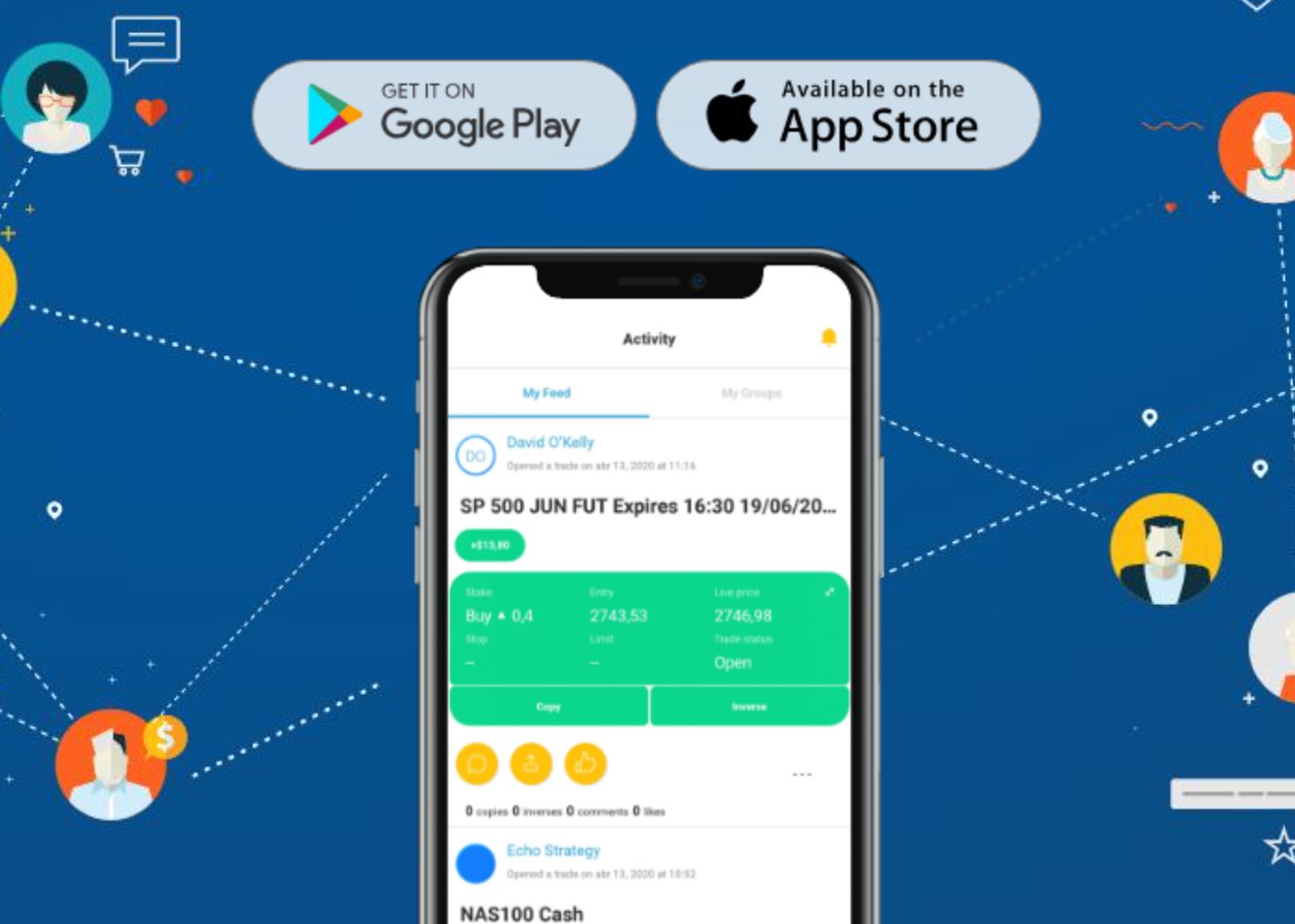 AvaTrade is regulated by the UK FCA and the Australian Securities and Investment Commission (ASIC). The broker requires a $100 minimum deposit to get started and you can fund your account with a debit card or credit card.
Pros:
Trade thousands of global shares
100% commission-free CFD trading
Integrates with MetaTrader 4 and 5
Social trading and copy trading
Regulated by FCA and ASIC
Cons:
High inactivity fee after 3 months
Your capital is at risk.
2. Capital.com – Best Broker to Buy Oil Shares South Africa – 0% Commission

Capital.com is a CFD broker offering a very wide selection of shares, ETFs, and other instruments. As a CFD platform, it is not strictly speaking a share trading platform as positions take the form of contracts for difference rather than the shares themselves. For most investors, there is little difference between owning shares or CFDs, and there are actually some advantages. CFDs are also an easy way to use leverage (up to 5 to 1 on Capital.com) and to short sell stocks.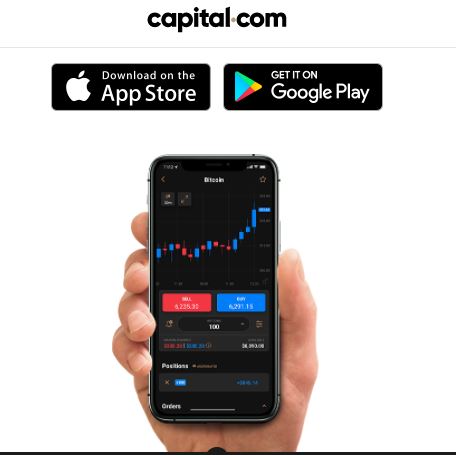 This CFD broker is well known for its competitive spreads and overnight fees. Capital.com also give you a choice of several platforms to suit your trading needs. In most cases the proprietary Capital.com platform has all the functionality you will need. However, if you are looking for more advanced features, you can link your trading account to MetaTrader 4 too. And, for those who prefer to stay mobile, apps are available for iOS and Android devices.

If you want to buy oil shares, there are over 100 shares listed in the energy sector, as well as several crude oil futures contracts. Besides shares and commodities, you can trade indices, forex pairs and cryptocurrencies on the platform.
The minimum deposit for South African clients is just $20, which is about R300. Capital.com is regulated by the FCA in the UK and by CySec in Cyprus.
Pros:
Competitive spreads
Leverage of 1:5 available on stocks
Minimum deposit of just $20
AI assistant identifies weak points in strategy
Extensive educational section
No deposit fees
Regulated by FCA and CySec
Cons:
All positions are held as CFDs
75.26% of retail investor accounts lose money when spread betting and/or trading CFDs with this provider.
Find the Best Oil Shares
South Africa doesn't have an established oil industry, so there are no JSE oil shares. The best you can do on the JSE is to buy Sasol shares, – Sasol is involved in the gas, coal, and chemicals industries around the world although it is not a true oil producer.
The following five shares are all well-positioned in various parts of the oil industry.
Royal Dutch Shell plc (RDS.A): Overall Best Oil Stock in 2021
Royal Dutch Shell is one of the world's oil giants and has a market value of over $240 billion. As an integrated oil company, Shell is involved throughout the value chain in the oil and gas industries.
With tens of thousands of service stations around the world, Shell is perhaps the strongest brand in the industry. Shell is headquartered in the Netherlands and incorporated in the UK. The Shell Oil company in the US is owned by Royal Dutch Shell.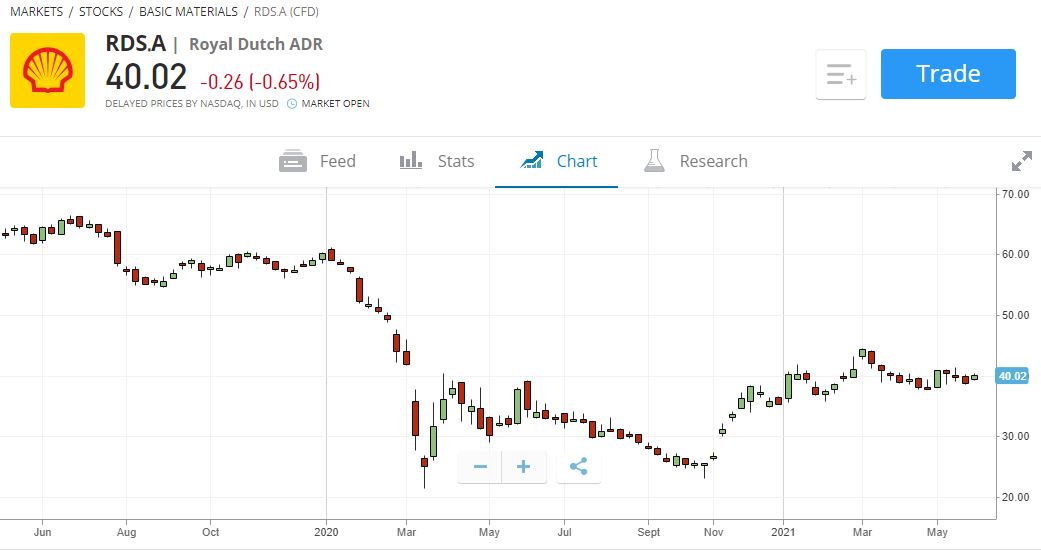 RDS is slightly smaller than Exxon Mobil and Chevron, but trades on a lower valuation despite its similar growth and profitability. Shell was recently ordered to lower emissions by a court in the Netherlands, which is one of the reasons it has underperformed its peers. In truth, all oil companies will face challenges similar challenges in the next few years, and for Shell these challenges are already in price.
75.26% of retail investor accounts lose money when spread betting and/or trading CFDs with this provider.
Cenovus Energy Inc (CVE): Best Midcap Oil Stock
Smaller companies often have more growth potential, so it's worth considering the mid-sized integrated oil companies. Cenovus is a Canadian oil producer with a market capitalization of $18 billion, so approximately 10% of the size of companies like Exxon and Shell.
Cenovus has crude oil extraction, oil sands and natural gas operations in Canada. It also operates refineries in the US and elsewhere, and markets and distributes petroleum products. The company trades on a forward PE of 9 and is forecast to see a steep rise in free cash flow this year.
The company is more sensitive to the oil price than its larger peers. As a result, the stock price fell as much as 80% in March 2020. The stock price is now poised for further gains and should outperform its peers if the oil price continues to rise.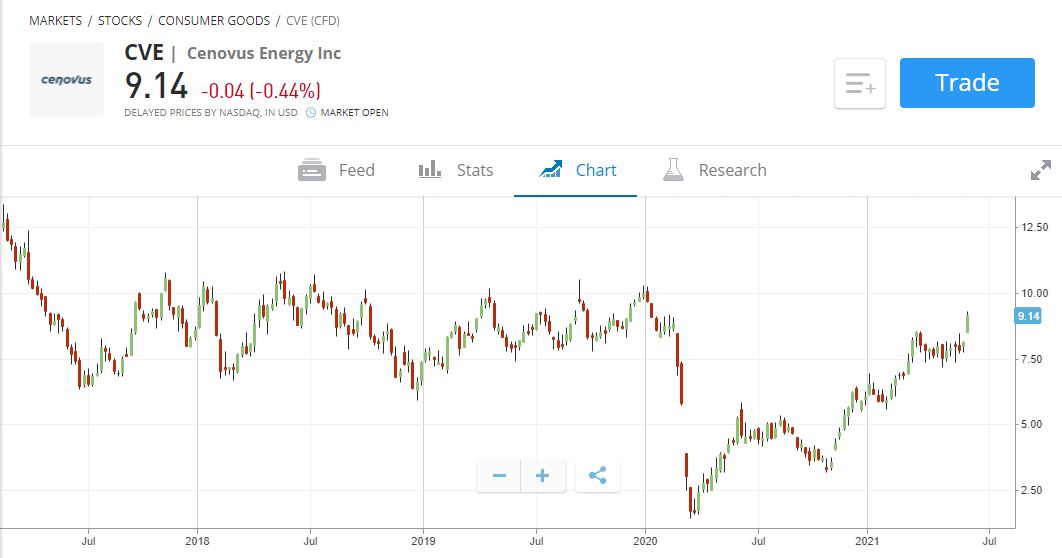 75.26% of retail investor accounts lose money when spread betting and/or trading CFDs with this provider.
Marathon Oil Corp (MRO): Top Oil Exploration and Production Stock
Marathon Oil is a midcap exploration and production company. The company operates in the United States and Equatorial Guinea. Marathon has a market value of $10 billion and has exhibited strong growth and price momentum over the past year. In addition, to the potential for capital gains, Marathon pays a 1% dividend.
The stock price fell hard in 2020 but is already trading above where it was at the end of 2019. In 2015 the stock price traded as high as $40, which is 200% above the current price. This is another stock that should perform well if the oil price remains strong.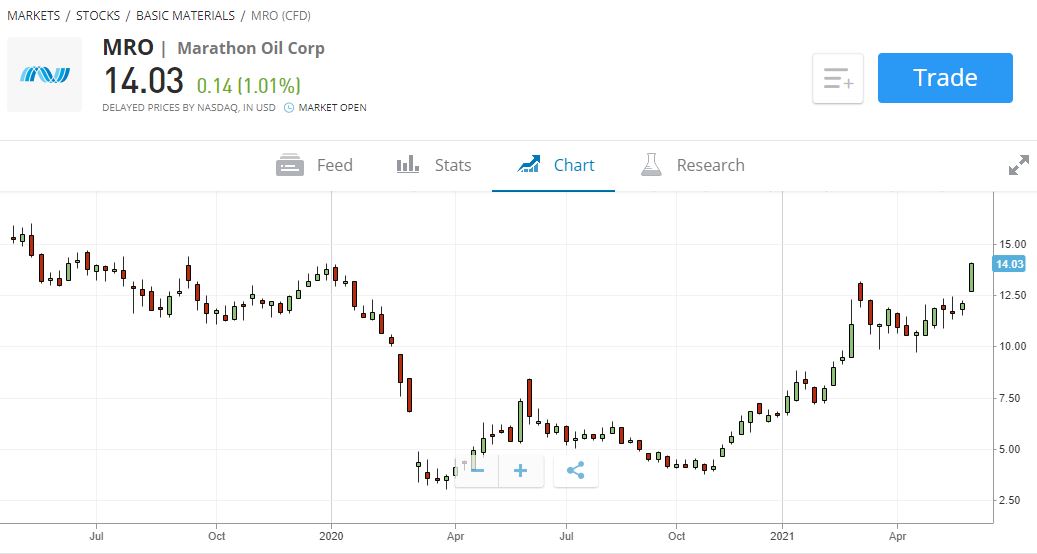 75.26% of retail investor accounts lose money when spread betting and/or trading CFDs with this provider.
Enbridge Inc (ENB): Top Oil Transportation Stock
Enbridge is an oil infrastructure company, primarily involved in transporting oil and gas via pipelines in North America. As a midstream company, Enbridge is more exposed to the volume of oil produced and consumed than it is to the oil price. This company also has very good margins and has managed to grow its earnings at 34% over the last five years. These attributes make Enbridge a more defensive pick in the oil sector.
As you can see from the chart, the price of Enbridge shares fell less than 50% in 2020 while many of the producers share prices fell as much as 85%. Nevertheless, the stock price is still well below the price it traded at in 2015, and would need to gain 44% to regain those levels.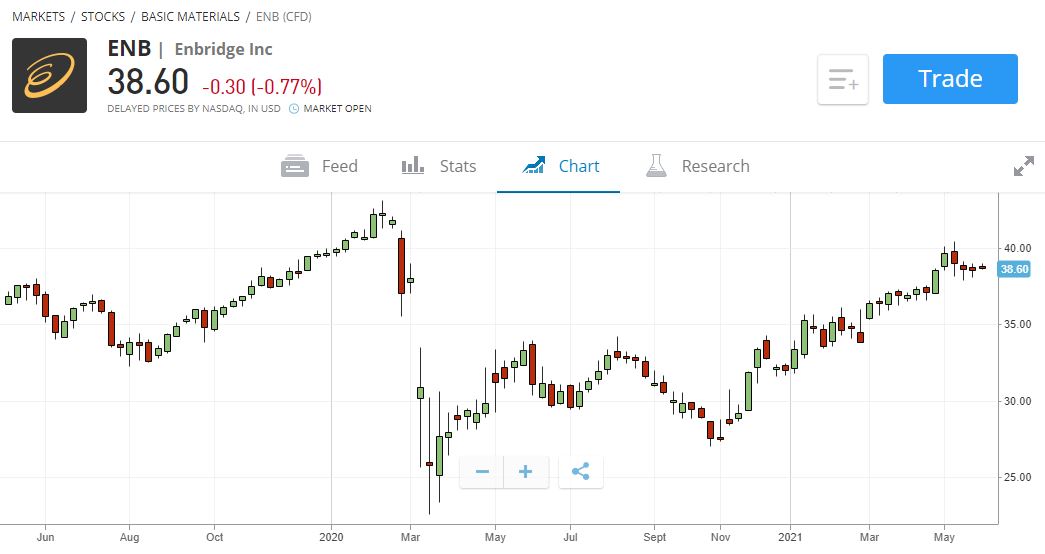 75.26% of retail investor accounts lose money when spread betting and/or trading CFDs with this provider.
SPDR S&P Oil & Gas Exploration & Production ETF (XOP): Best Oil and Gas ETF in 2021
If you are wondering how to buy shares in oil in a more diversified manner, you can consider an ETF. The SPDR Oil & Gas Exploration & Production fund 52 oil and gas exploration and production companies. The fund is still exposed to many of the oil stocks with the most upside potential, but the risk is spread across a large number of shares. This means that if  one stock runs into trouble, the effect on the fund will be minimal.
The largest three holdings are Range Resources, Devon Energy, and Antero Resources – all with weightings at around 3.3%. This ETF has an annual expense ratio of 0.35%, which includes all the management and fund fees for a year. In practice the fee is spread over the entire year.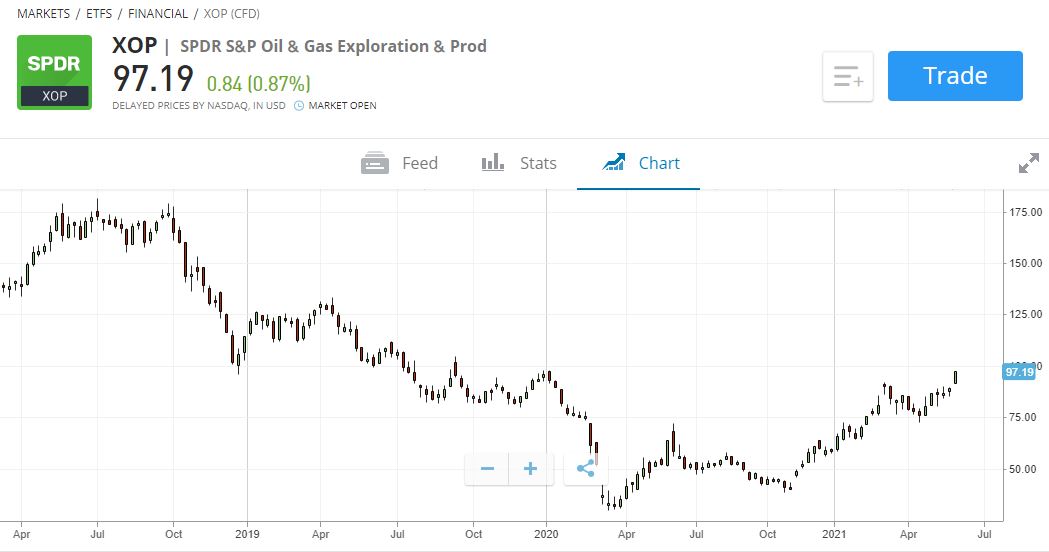 75.26% of retail investor accounts lose money when spread betting and/or trading CFDs with this provider.
Research Oil Investment
In this section, we will point out some of the aspects of oil shares you'll want to be aware of when considering investing in the sector. 
Are Oil Shares a Good Investment?
Energy, in its various forms, has been essential to human progress for 1000's of years. First it was firewood, then coal, then oil and natural gas. The world is now turning to renewable energy sources like solar and wind energy. However, oil consumption is still likely to rise for at least the next decade. Over 80% of the world's energy is still generated from oil, gas and coal. Energy consumption is also likely to rise faster than renewable energy projects come online. The bottom line is that oil will still be in demand for the foreseeable future.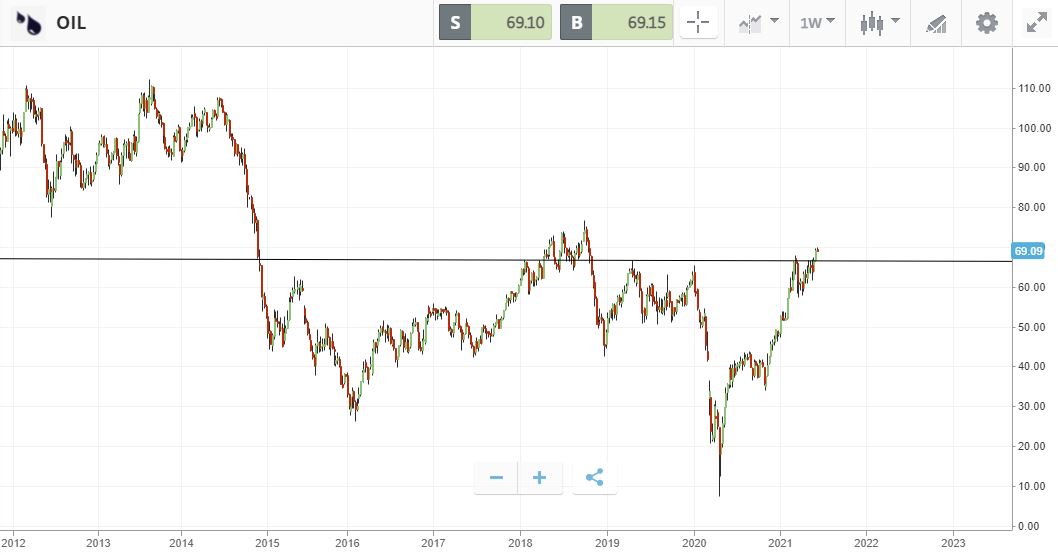 Like all commodities, oil and oil stocks is cyclical. That means prices rise and fall over time, and there are times to hold oil stocks and time to stand aside. That said, there are a lot of reasons to own oil stocks in 2021.
First of all, the oil market is emerging from a very challenging period spanning the last 12 years. Supply has increased faster than demand, which has kept pressure on the price. The final nail in the coffin was the COVID-19 pandemic in 2020 which severely dampened demand for oil.
Thigs are now looking up for the parts of the economy that use the most energy, and analysts expect demand to rise steadily in the coming years.
Another reason to buy oil shares that is often overlooked is the fact that they act as an inflation hedge. Energy is a major component of inflation – when oil prices rise, inflation rises. So, investing in oil shares will mean your investment gains can help to offset the impact of rising prices on your budget.
Things to Look Out for When Investing in Oil Companies
There's a little more to energy investing in energy than simply knowing how to buy oil shares in South Africa. Three important factors to know about an oil company are their position in the oil industry, their production costs, and the amount of debt they carry.
Types of oil companies
There are several types of oil shares to consider investing in. The companies that explore for new oil reserves and extract oil are known as upstream producers. These companies are very sensitive to the oil price.
Midstream companies are responsible for transporting oil to refineries and end-users. These are the companies that operate tankers and pipelines. They are sensitive to the oil prices as well as volumes and inventories.
Downstream oil companies are responsible for refining and distribution. Some downstream companies also convert oil into other products like chemicals and plastics.
Most of the well-known oil companies are involved in the entire process from upstream to downstream. These companies are known as integrated producers, and they are sensitive to volumes, inventories, and the oil price.
Cost of production
Each oil producing company, and particularly those with exposure to the upstream part of the process, has a cost of production. If the oil price is higher than their cost of production they can make a profit, but if it is lower, they will lose money. The higher the cost of production, the more sensitive the company's stock price will be to changes in the oil price.
Producers with a high cost of production are known as marginal producers. The stocks of these companies are very volatile and risky, but significant gains can be made when the oil price rises.
Debt
Oil production is very capital intensive and producers often use debt to finance their operations. This is fine when the oil price is higher than a company's cost of production. However, when the oil price is too low, oil companies struggle to service their debt and sometimes face bankruptcy.
Debt makes marginal oil producers even more sensitive to the oil price. Oil producers with high levels of debt should be avoided when the oil price is in a downtrend, or very volatile.
How To Buy Oil Shares in South Africa – Capital.com Tutorial
You should now have a good idea of what to look for when you are considering how to buy shares in oil. In this section, we will go into a little more detail on how to buy oil shares in South Africa. We recommend that you open an account with Capital.com, and this detailed guide will take you through the process.
Step 1: Open a Capital.com Account
Start off by navigating to Capital.com's homepage and clicking on the 'Trade Now' button. You'll be asked to enter your email address and choose a username and password. You will then need to provide some more information and verify your mobile number and email address.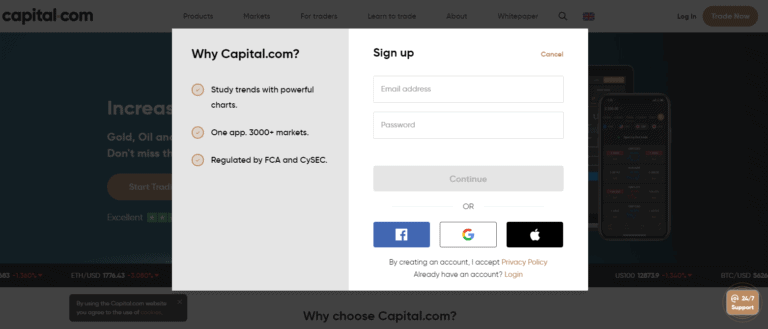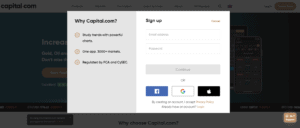 Step 2: Verify Your Account and Your Identity
To comply with FICA regulations, brokers need to verify the identity of all their clients. In order for Capital.com to do this, you will need to upload a copy of an official identity document and a utility bill with your address on it. Once you have uploaded these documents, the team should have the account verified within a few minutes.
Step 3: Deposit Funds into Your Account
Now that your account has been verified, you can fund your account and begin investing. For South African investors the minimum you'll need to deposit is $20, which is a little less than 300 ZAR.
There are several ways to deposit funds into your account, but debit and credit cards are usually the fastest.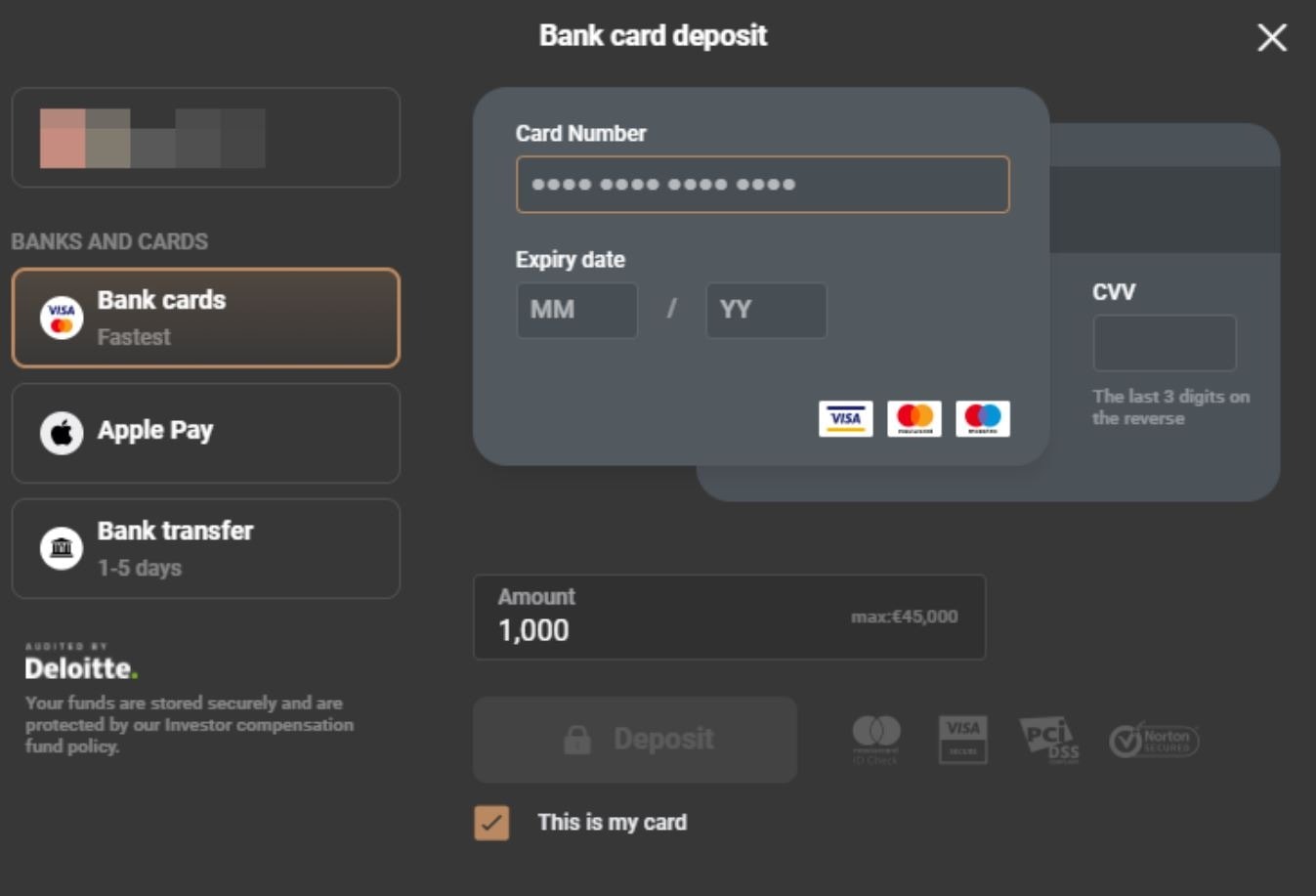 Step 4: Find the oil shares you want to invest in on the platform
The easiest way to find the shares you want to buy is by using the search bar at the top of the Capital.com website. Simply type part of the company name or the ticker code into the search bar and the share will appear. Then click on the name and page with information about the stock will open. Click on the 'Trade' button to enter an order.
Step 5: Invest in Oil Shares
Once you have a trade ticket open you can click 'Trade' to trade at the current price or 'Order' to enter an order at a limit price. You can also choose between entering a dollar amount or the number of shares and select a take profit and stop loss level. Remember to select 'Buy' before submitting the order.
Once your trade has been executed, the position will appear on the portfolio page where you can monitor all your positions.
Capital.com – Best Broker to Buy Oil Shares in South Africa
Hopefully, having read this guide you will have a good understanding of how to buy oil shares in South Africa, as well as a few of the things to consider when considering oil stocks to invest in. If you do want to invest in oil stocks or any other global assets, we recommend opening an account with Capital.com, as you will find a very wide selection of instruments – and you'll be able to invest without paying commission.

75.26% of retail investor accounts lose money when spread betting and/or trading CFDs with this provider.
FAQs
What JSE oil shares are there?
South Africa is not an oil-producing country so there are no proper oil shares listed on the JSE. However, Sasol is involved in the oil, gas, and coal industries around the world, so it is an oil company of sorts.
How to buy crude oil shares in South Africa?
If you want to buy oil shares you will need a trading account with a platform with a good selection of global shares. We recommend Capital.com as the platform lists most of the world's prominent oil shares. The platform also charges no commission on trades.
What is the largest oil company in the world?
At the time of publication, the most valuable oil company in the world is Exxon Mobil Corporation, with a market value of $259 billion. When measured by revenue, China Petroleum & Chemical Corporation earned the most revenue in 2020, with sales of $330 billion. Some regard Saudi Aramco as the largest oil company by value and revenue. However, most of the shares are held by the government of Saudi Arabia so the true value is difficult to determine.
Are oil shares a better investment than oil futures?
Investing in oil futures can be risker than investing in oil shares. If you invest in the oil price your profit will depend entirely on the direction of the oil price. Oil companies can still make profits when the oil price declines, although their profit may be lower.
Is the oil cheap or expensive now?
At the time of writing both West Texas Oil and Brent Crude Oil are trading at close to $70. This is the highest oil has traded since 2018 and at the top end of the range it has traded in between 2014 and 2020. However, between 2008 and 2014 the average price was around $90. Demand is rising, so the price will now depend on whether oil production rises or not.