Luno Review 2022 – Fees, Supported Coins, Safety & More
With more than 7 million users around the world, the Luno crypto exchange is now a leading player in the global crypto market and is the largest digital asset exchange in South Africa. This UK-based company offers an easy way to buy and sell cryptocurrencies through its web-based platform and intuitive mobile app.
If you are based in South Africa and looking for more details about Luno exchange before opening an account, in this Luno review, we'll provide the answers you need. We'll cover the exchange's fees, platforms, features, wallet, mobile app, user experience, and more. We'll also show you how to use the Luno app and suggest an alternative platform in case you do not want to continue the account creation process with Luno app.
What is Luno?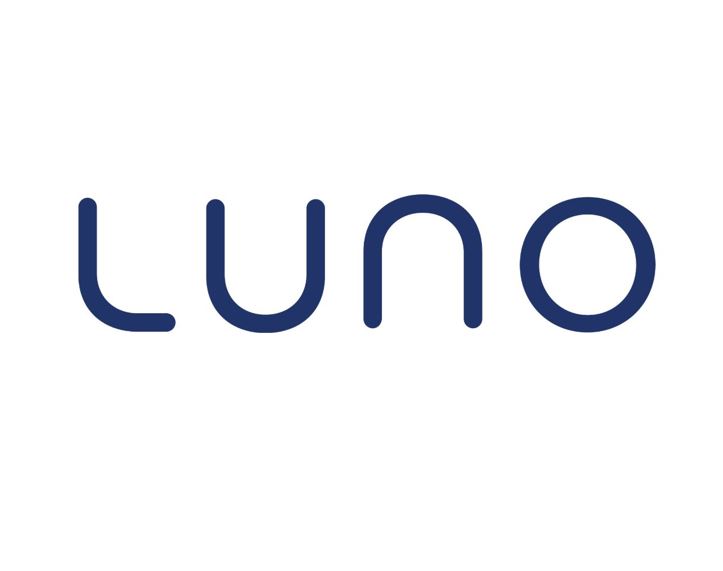 Founded in 2012, Luno is a UK-based cryptocurrency exchange that operates in more than 40 countries, including South Africa. Originally, the exchange was founded as BitX, and in 2016, it was rebranded to Luno, partly because the firm had a goal to expand to the European market. Presently, Luno is an international exchange with more than 7 million customers from all over the world and has offices in the United Kingdom, Singapore, South Africa (Cape Town and Johannesburg), Malaysia, Indonesia, Nigeria, and Australia.
Simply put, Luno is a crypto to fiat and crypto to crypto trading platform that connects buyers with sellers who want to trade digital assets. It is mostly known as a popular platform in emerging markets due to the low fees, and the ability to trade digital assets versus local currencies.
Luno Pros & Cons
Pros
Based in South Africa
Allows users to trade with ZAR
Great trading platform and mobile app
Offers crypto savings plans – passive income
Low trading fees of 0.1%
Safe and secure
Offers fiat-to-crypto and crypto-to-crypto
Cons
Very limited selection of coins
Limited selection of payment methods
Does not offer an extensive customer support service
Not regulated by any major regulator
Supported Coins
At present, Luno South Africa supports the following cryptocurrencies:
Luno Fees
At Luno, the fees and charges vary depending on the location of the client. Generally, it charges a fee for sending and receiving cryptos, deposit fees, and most importantly, trading fees. That said, for South African investors the exchange does not charge any fees for receiving crypto coins to a digital wallet.
The most notable fee charged by Luno (and any other crypto exchange) is the trading fee. Luno uses a maker-taker fee schedule that can be significantly reduced when a trader increases the 30-days trading volume. Overall, the Luno exchange is very competitive as it does not charge any maker fee and the maximum taker fee stands at 0.10%, which is below the average in the industry of 0.2%-0.5%.
Below, you can find a table showing Luno trading fees based on a 30-day trading volume:
Tier
Volume
Maker
Taker
1
Between
ZAR 0.00 – ZAR 4,999,999.99
0.00%
0.10%
2
Between
ZAR 5,000,000.00 – ZAR 9,999,999.99
0.00%
0.09%
3
Between
ZAR 10,000,000.00 – ZAR 19,999,999.99
0.00%
0.08%
4
Between
ZAR 20,000,000.00 – ZAR 39,999,999.99
0.00%
0.07%
5
Between
ZAR 40,000,000.00 – ZAR 79,999,999.99
0.00%
0.06%
6
Between
ZAR 80,000,000.00 – ZAR 119,999,999.99
0.00%
0.05%
7
Between
ZAR 120,000,000.00 – ZAR 159,999,999.99
0.00%
0.04%
8
More than
ZAR 160,000,000.00
0.00%
0.03%
Another fee you need to take into consideration is the fee for sending cryptocurrencies from your wallet to another wallet. For that matter, Luno charges the following fees.
| | | |
| --- | --- | --- |
| Currency | Method | Fee |
| BTC | Send to Bitcoin address | Dynamic |
| BTC | Send to an email address or mobile number | Free |
| BCH | Send to Bitcoin Cash address | Dynamic |
| ETH | Send to Ethereum address | Dynamic |
| XRP | Send to Ripple address | 0.03% |
| LTC | Send to Litecoin address | Dynamic |
| USDC | Send to USD Coin address | Dynamic |
As you can see from the table above, the only fixed fee for sending coins is when you send cryptos to XRP address (this is because Ripple does not use the blockchain network). Otherwise, the fee varies dynamically based on the traffic on the blockchain network. In that matter, we have found some reviews online from users who claim they were charged at Luno's exchange with excessive fees. However, this fee is not charged directly by Luno. Instead, it is a fee that goes to the blockchain network and can be very expensive at times of high traffic, particularly for the Ethereum blockchain network.
Finally, another fee that Luno charges is the deposit fee, however, this fee is applicable only if you are using ETF instant as a payment method.
Luno Buying Limits
Much like most self-regulated crypto exchanges in the industry, Luno app has some limitations for the minimum and the maximum number of coins a user can purchase. Below are the buying crypto to fiat pairs limits for South African investors:
| | | |
| --- | --- | --- |
| Market | Minimum/Maximum – Number of coins | Minimum/Maximum ZAR |
| BCH/ZAR | BCH 0.001 – BCH 20.00 | ZAR 1.00 – ZAR 1,500,000.00 |
| BTC/ZAR | BTC 0.0001 – BTC 5.00 | ZAR 1.00 – ZAR 1,500,000.00 |
| ETH/ZAR | ETH 0.001 – ETH 100.00 | ZAR 1.00 – ZAR 1,500,000.00 |
| LTC/ZAR | LTC 0.001 – LTC 200.00 | ZAR 1.00 – ZAR 1,500,000.00 |
| USDC/ZAR | USDC 1.00 – USDC 30,000.00 | ZAR 1.00 – ZAR 1,500,000.00 |
| XRP/ZAR | XRP 0.10 – XRP 80,000.00 | ZAR 1.00 – ZAR 1,500,000.00 |
Luno Wallet
In addition to being a crypto marketplace, Luno also offers an easy-to-use crypto digital wallet that allows you to store, send and receive digital coins. Overall, the Luno wallet is extremely easy to use and features the most basic functionality of a digital wallet.
Crucially, it is also important to understand that Luno offers a hot digital wallet service. This means that the wallet works online through platforms that provide the Luno company a storage service, and as such, is not as safe as a hardware cold wallet.
Luno Mobile App
Luno also has an impressive mobile app that is available on Android (Google Play) and iOS (Apple Store). In general, the Luno mobile app offers the same tools and features as the web-based version, including the exchange itself.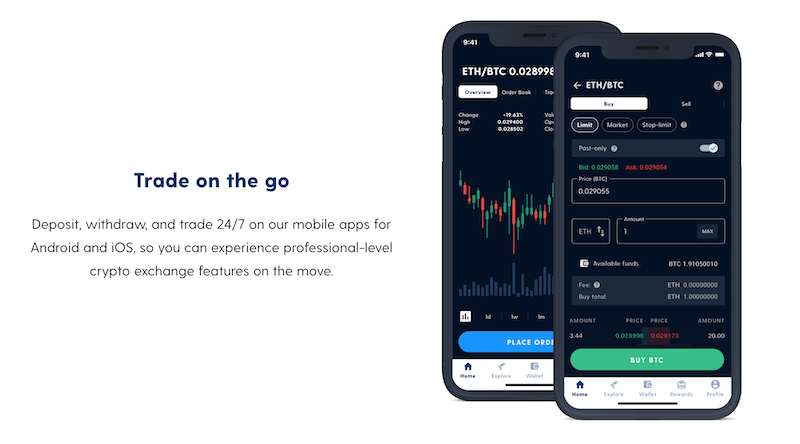 In terms of user reviews online, the Luno mobile has a good rating on both app stores – a rating of 4.3 from 79,201 reviews on Google Play and 4.4 from 3296 reviews on the Apple Store.
Luno User Experience
In general, one of the main attractions of Luno exchange is the clean user interface on the website and on its mobile app. The company not only has developed an easy way to sign up and add funds to the account but also created a user-friendly interface that enables users to buy cryptos directly from the dashboard and store the coins on its built-in wallet.
When you enter the platform, you get into a dashboard where you can access the trading screens, features, the wallet, blog, and help center. Then, the buying process at Luno's application can be done in two ways. The first way is straightforward for every type of user, including those who don't have technical and trading skills.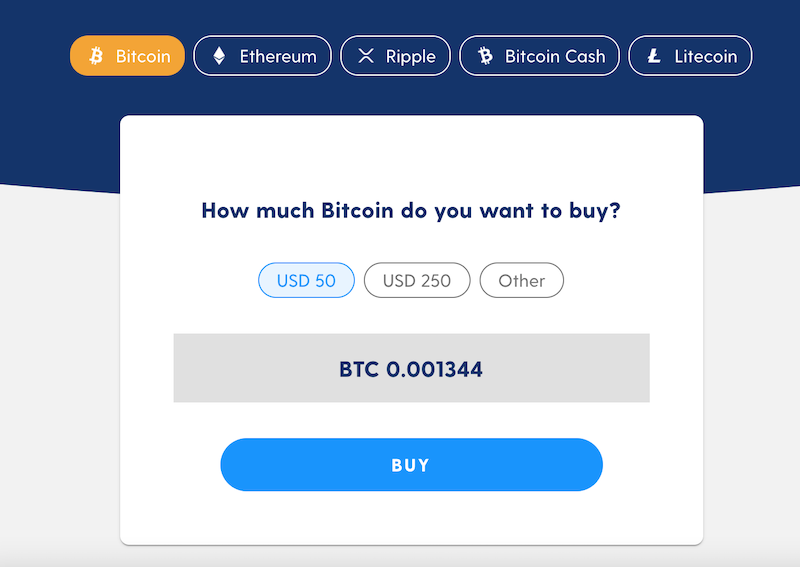 The other option to trade on Luno app is vis the exchange. From there, you get access to a real marketplace where you can view live bid and ask quotes, the level 2 order book, charting package, and a great section of crypto insights. Notably, Luno integrates with TradingView, which is one of the most popular charting platforms in the world and comes with many technical analysis indicators and drawing tools.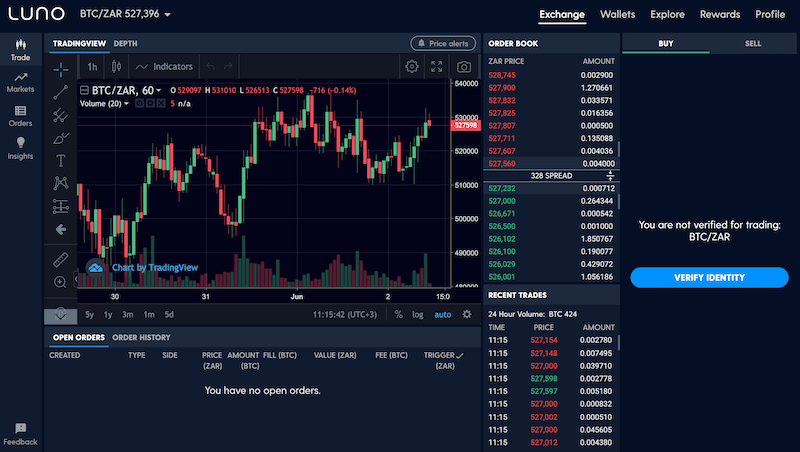 Further, the design of the website is very trendy and everything works very well on the Luno app. The only issue we found on this platform is the lack of customer support as well as the ability to engage with other users – something that is very popular on most crypto exchanges.
Luno Trading Tools and Features
Luno has certainly developed one of the most smooth and clean crypto exchanges and mobile apps in the market. But in order to differentiate the service it provides from other competitors in the industry, Luno exchange South Africa also offers the following tools and features.
Luno Savings – Passive Income
Much like other large crypto exchanges in the industry, Luno offers staking/savings with up to 7.6% annually with no hidden fees and unlimited deposits and withdrawals. This means you can basically stake your coins and receive a fixed interest rate in a process that works similarly to bonds and other fixed-income assets.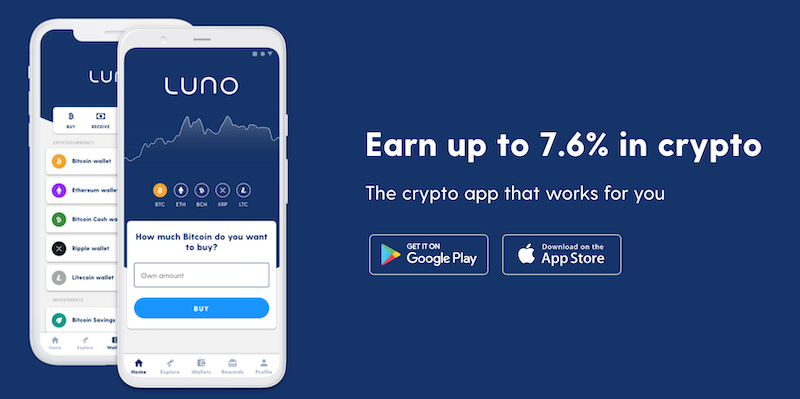 Crypto Insights
One of the features we really liked in Luno's exchange is the Crypto Insights, which is a very effective screen that provides lots of information about each crypto pair. From this page, you'll be able to view the market sentiment on a certain crypto asset, concentration by large holders, holders making money at the current price, and more.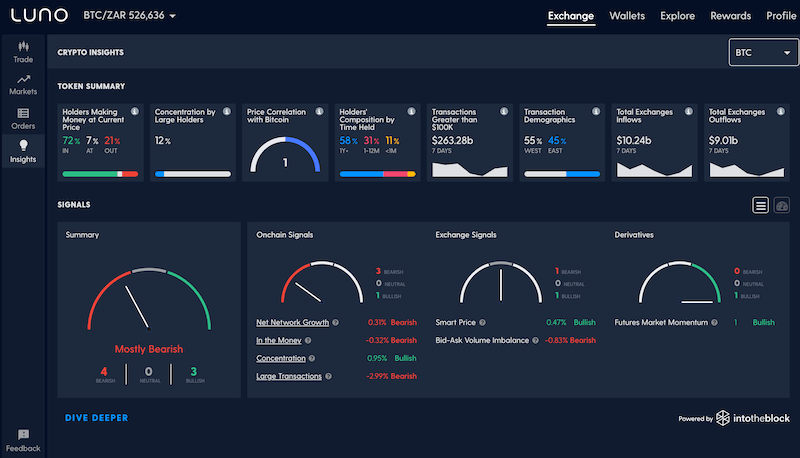 News Section/Learning Portal
Luno also offers a great news section on its website, that is also available as an email newsletter. This includes daily briefings, market updates, news, and opinion articles. Additionally, the exchange has a learning portal where users can understand the basics of all the cryptos supported on its network.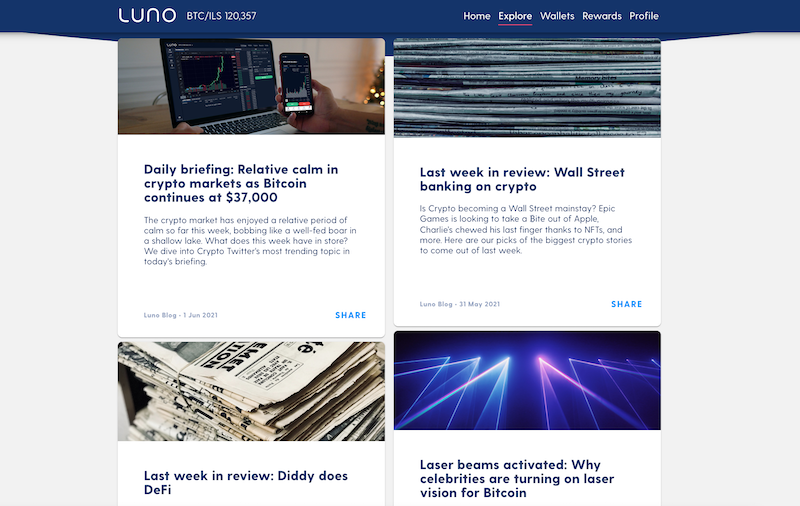 Luno Payments
For South African investors, Luno offers Electronic Funds Transfer (EFT) and Instant EFT as payment methods. In terms of the deposit fees – you will be able to make a free deposit when using EFT as a payment method. If choosing EFT Instant, you'll have to pay a fee of 1.4%. Take note that in case you make a deposit with cash or cheques, your deposit will be delayed and you'll have to pay a very expensive fee of 20 ZAR and 5%. For withdrawals, however, Luno does not charge any fees in South Africa.
Luno Minimum Deposit
According to Luno's terms of use, the minimum deposit requirement currently stands at $10 or the equivalent in your Local Currency.
Luno Regulation & Licensing
In general, Luno is considered a safe and secure digital asset exchange. So far, this exchange has never faced a serious security incident, and it uses the most advanced technologies to ensure clients' funds are safe.
That said, Luno is not yet regulated by any major entity and is, in fact, a self-regulated cryptocurrency exchange. The company states on its website that it applies AML and CFT procedures and follows the laws and regulations of every region in which it operates. Further, the company is actively pushing forward into getting new partnerships and licenses. For example, Luno has recently signed a partnership agreement with Notabene to become travel rule compliant.
Luno Contact and Customer Service
As we mentioned throughout our Luno South review 2022, this exchange offers a great service, however, in terms of customer service support – we were disappointed during our Luno exchange review. First, the company does not display a contact page where you can get the communication channels. Also, Luno does not offer a live chat service, which is a standard feature these days.
Essentially, it seems that Luno offers only two ways to contact the support team – via email or via their Twitter page that has 13.2k followers. That said, the exchange does have a useful help center where users can get answers to their queries.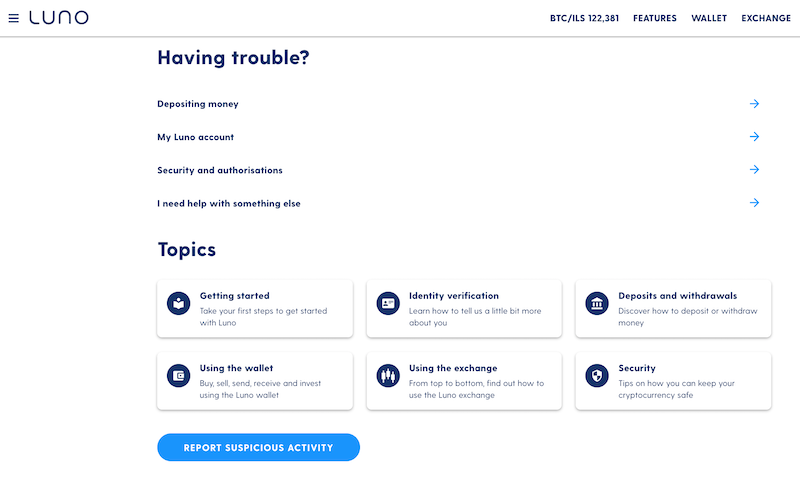 How to Use Luno
If following our Luno exchange review, you still want to get started with Luno, we are now going to show you a short tutorial that will help you make the account creation process with no mistakes.
Step 1: Open an Account
First, visit Luno exchange and open an account by clicking on the Sign Up button and then submitting your email address and password. Otherwise, Luno also allows you to sign using your Apply, Google, or Facebook accounts.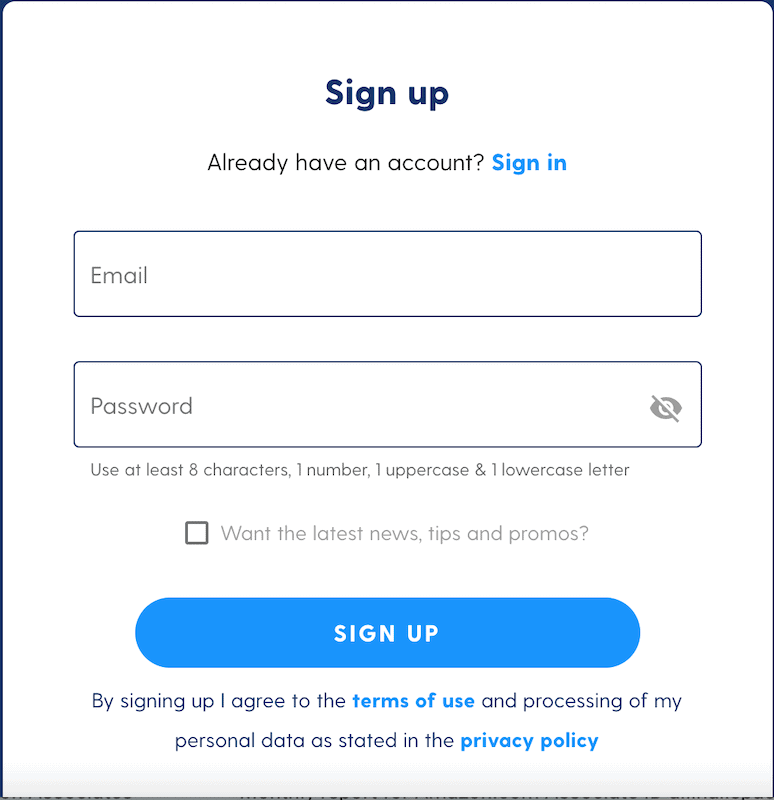 You will then receive an email asking you to confirm your email address. Then, you simply need to enter your email address and password and insert a 4-digit code sent to your email inbox.
Step 2: Verify Your ID
The next thing you need to do is to verify your identity. Luno has different account levels, and deposit and withdrawal limitations vary to each level. In order to be able to make a deposit, you need to fulfill the requirement of level 1. This means you need to submit personal details and confirm your phone number.
With level 1 verification, you'll be able to deposit and withdraw 15,000 South African Rands.

Step 3: Add Funds to Your Luno Account
At this point, you can add funds to your Luno account. As previously mentioned, South African investors can use EFT or Instant EFT to make a deposit of at least $10 to Luno. To make a deposit, you'll have to open the app and navigate to your wallet. From there, simply click on the deposit button, choose the payment option, and insert the amount you want to deposit.
Step 4: Buy Cryptos
One of the key points of Luno is the fast processing of deposits and withdrawals. As such, you'll be able to see the funds within several minutes or hours in your Luno account (if there's low traffic on the Blockchain network). Then, once the funds have been deposited in your account, you can make a purchase of one of the Luno's supported crypto coins.
As mentioned above, there are two ways to buy cryptos on Luno's exchange. The first way is to simply buy cryptos on the homepage after you have completed the sign-up and verification process. This process is straightforward and you will be guided throughout the entire process.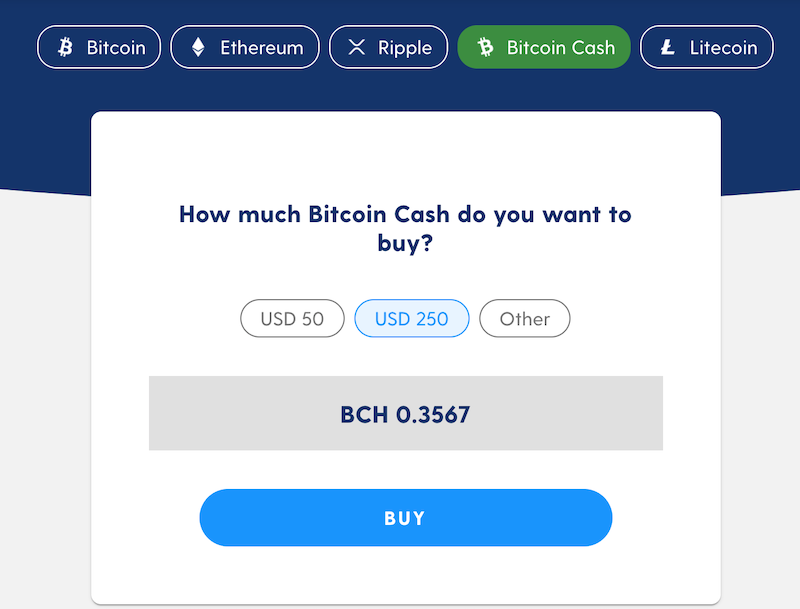 The second option is to buy cryptos on the Luno exchange. This way is a bit more complicated but the functionality through the exchange is much better. To do that, you need to navigate to the exchange, choose the coin you want to buy, choose the type of order (market, limit, or stop order), and place the order in the market.

Luno vs eToro
Our Luno review 2022 found that this is a solid crypto and Bitcoin exchange, featuring all the basic tools for those who want to find an easy way to buy cryptocurrencies. Further, it is also an ideal crypto application for South African clients that prefer to buy and sell digital assets with ZAR. However, when we take all the factors into consideration, Luno is not the best crypto platform for all types of users.
For that reason, we think that eToro might be a better platform, especially for active traders that want to speculate on a larger variety of crypto coins. From our comparison, there are several reasons why eToro might be more suited for active traders that want to get involved in high volume and diversify cryptocurrency trading.
First, unlike Luno that charges fixed trading fees, eToro has a different pricing structure that does not include fixed trading fees. Instead, the broker simply charges a bid and ask spread. Other than that, you can see the full fee comparison between eToro and Luno in the table below.
Crypto Dealing Fee
Deposit and Withdrawal fees
Inactivity Fee
Margin Fee
eToro
Commission Free
Deposit – Free of charge

Withdrawals – withdrawal requests are subject to a $5 fee

$10 per month after 1 year
None
Luno
A volume-based structure fee – no maker fee and taker fee ranges between 0.03%-0.10%
No withdrawal fee.

Deposit with EFT – Free, Deposit with EFT Instant – 1.4%

None
Margin trading is not available
Luno is also not the ideal platform for all types of trades because it supports only 6 crypto coins. So, if you have any plans to trade the most trendy crypto coins and follow market news to get trading ideas, then it would be best to trade on another like eToro that supports 23 crypto coins, or Binance that supports 150 coins. Additionally, while Luno gives users access to 6 crypto coins only, eToro offers trading on other markets such as shares, commodities, currency pairs, Exchange Traded Funds (ETFs), stock indices, and cryptocurrencies.
Then, another reason why eToro is a better crypto platform than Luno is that it offers margin trading and a variety of unique features. As such, it means you'll be able to trade with leverage of 2:1 on cryptocurrencies, a factor that is very beneficial for any type of trading, especially for active high-volume traders. Plus, the popular CFD broker, which is the largest social trading in the world, offers investors to use the CopyTrade tool. This famous feature allows you to select top traders and copy their trades with one click of a button.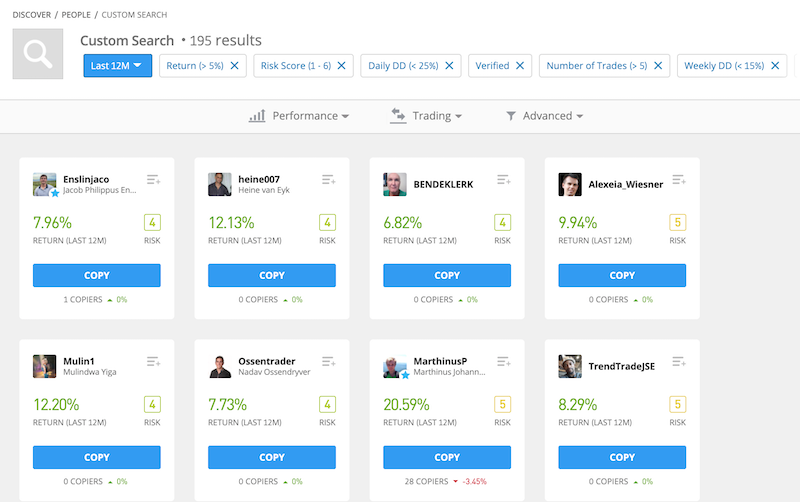 Past performance is not an indication of future results
Finally, eToro is regulated by the Financial Conduct Authority (FCA), CySEC, and ASIC. Therefore, if you have any concerns to deposit funds to an unregulated entity, then eToro is clearly a better platform than Luno.
The Verdict
All in all, Luno is one of the largest and most popular crypto exchanges in South Africa and ranks 145 as the most visited website in the country according to SimilarWeb. From this Luno review 2022, we can conclude that this exchange is ideal for those who want to make a one-time purchase or those who are looking to actively trade one of the 6 supported crypto coins versus the South Africa Rand. This is, in part, because of the low fees and the user-friendly platform offered by Luno that is similar in many ways to another popular crypto exchange, Coinbase.
However, eToro stands above Luno in case you are looking for a cost-effective and more robust platform for trading. Not only it enables SA users to buy Bitcoin with credit and debit cards, and PayPal, but it also provides an innovative social trading platform and a secure and safe wallet.
eToro – Our Number One Recommended South Africa Cryptocurrency Broker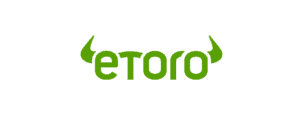 67% of retail investor accounts lose money when trading CFDs with this provider.
FAQs
Is Luno legal in South Africa?
Even though cryptocurrency trading in South Africa is currently unregulated, Luno is completely legal in South Africa and operates as a self-regulated cryptocurrency exchange.
What is the Luno minimum deposit in South Africa?
Luno has the same minimum deposit requirement for all the regions in which they operate - a $10 or the equivalent in your local currency.
How long does it take to withdraw money from Luno?
According to Luno, if you request to withdraw funds between Monday to Friday during Luno's withdrawal processing times, it takes about 15 minutes for the funds to reach your bank account.
Is Luno safe?
Yes, Luno appears to be a safe and legit crypto exchange as it is self-regulated and ensures you get all the necessary security features such as email 4-digit code, two-factor authentication, and encrypted digital wallet technology.
What is the maximum withdrawal limitation at Luno?
For the level 2 verification, the maximum withdrawal per month stands at 50,000 ZAR.
Does Luno support Dogecoin and Tether (USDT)?
No, Luno does not support Dogecoin nor USDT. The UK-based crypto exchange supports only 6 digital currencies in South Africa - Bitcoin, Bitcoin Cash, Ethereum, Ripple, Litecoin, and USDC.