How to Buy MTN Shares Online in South Africa
MTN Group is one of the largest telecom providers in the world, with nearly 250 million subscribers across Africa and Asia. The company is particularly well-established in South Africa and Nigeria, which together make up more than one-third of MTN Group's total revenue.
This communications company recently made its first foray into the 5G market and announced that it's expecting better than predicted revenue results. So, is now the right time to buy MTN Group shares?
In this guide, we'll explain everything you need to know about how to buy MTN shares online in South Africa. We'll cover top online brokers and take a closer look at MTN Group's business model to help you decide whether it's a good investment for your portfolio.
Step 1: Find a South African Broker That Offers MTN Shares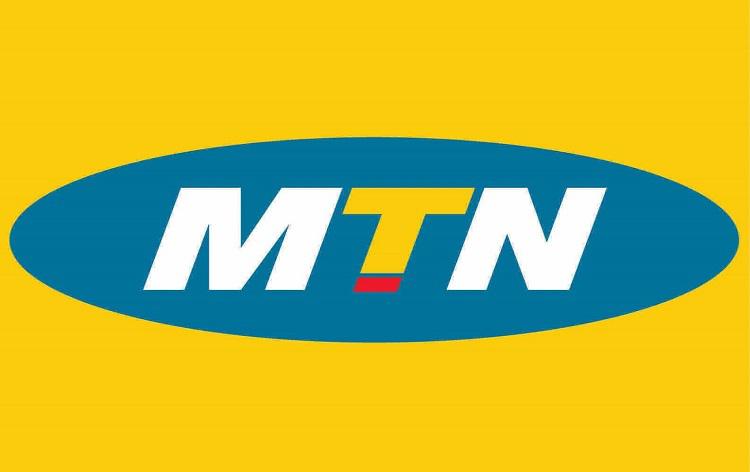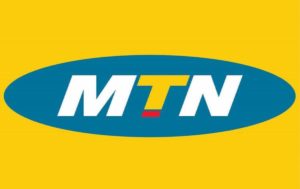 When it comes to buying shares in MTN, you'll first need an online stock broker in South Africa. MTN Group trades on the Johannesburg Stock Exchange, so your broker should give you access to this local stock market.
There's more to choosing a broker than just finding one that offers MTN Group for trading, though. Your broker impacts everything from how much trading will cost to the research and analysis tools that will be at your disposal. So, it's essential that you pick the right share broker for your needs.
The number of online brokers operating in South Africa has swelled in recent years, and some are much better than others. In order to help you find the best broker for buying MTN Group shares quickly, we'll highlight two of our top recommendations.
1. Plus500 – Low-cost CFD Trading for South African Shares

Plus500 is one of our favorite brokers in South Africa. This broker offers 0% commission on all trades, as well as some of the lowest spreads for share trading in the industry. On top of that, Plus500 doesn't charge any account fees other than an inactivity fee, and that's easy to avoid simply by placing a trade every few months.
This broker is also nice because you can trade more than just MTN shares. Plus500 offers trading on a handful of shares from the Johannesburg Stock Exchange through contracts for difference (CFD), in addition to hundreds of other shares from other exchanges, including many of the best shares to buy.
With CFDs, you can buy or sell shares of companies, all at leverage up to 1:5. Plus500 also has CFDs for a huge number of international stocks – in total, the broker offers trading on more than 600 global companies.
Plus500's research and analysis platform are suitable for advanced traders who might find themselves wishing for more features. The broker's trading platform offers an economic calendar, price alerts, and fairly comprehensive charting capabilities. However, you cannot create your own custom indicators or backtest a new trading strategy. Plus500 also lacks features like social trading or trading signals.
Pros:
0% trading commissions and low spreads
Very limited account fees
More than 600 stock CFDs
Trade with leverage up to 1:5
Cons:
No custom indicators or backtesting
Doesn't support social trading
CFD Service. Your capital is at risk.
2. IG – Established Brokerage with Global Market Access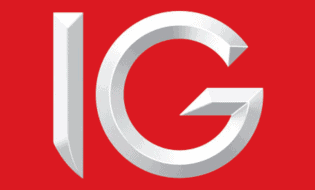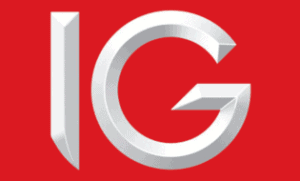 If you're looking for access to not just the Johannesburg Stock Exchange, but also markets globally, it's worth considering IG. This well-established brokerage offers CFD trading on hundreds of stocks from the US, UK, Europe, Asia, and around the world. Of course, you can buy top South African stocks like MTN Group and Sanlam. Plus, you can diversify your portfolio by taking advantage of forex trading, commodity trading, and cryptocurrency trading through IG.
IG has a relatively advanced trading platform, which is a plus for intermediate and experienced share traders. The ProRealTime software offers comprehensive charting in an easy-to-use online interface. There are more than 100 technical indicators, all of which can be modified to fit your trading style. You can also create custom studies and trading signals, which enables you to automate your trading strategy or generate highly tailored alerts.
IG, like Plus500, offers 0% commission on all trades. IG's spreads are generally much higher for share trades, particularly for South African stocks. But don't let this put you off. Most traders won't notice the higher spreads, and IG doesn't charge any costly account fees like some other online brokers.
Pros:
Trade hundreds of global stocks through CFDs
ProRealTime charting software
Create your own custom technical indicators
Supports trading signals
0% commission on all CFD trades
Cons:
Higher than average share CFD spreads
Step 2: Research MTN Shares
MTN shares have taken investors on something of a wild ride over the past decade. So it's important to know what you're getting into before you decide to buy.
To help you better understand this telecom giant and it's prospects for the future, let's take a deep dive into MTN Group Shares.
MTN Share Price History
MTN Group has business not just in South Africa, but across Africa and the Middle East. The company has nearly 250 million users in total. Around 28 million of those users are located in South Africa, while more than 64 million are located in Nigeria. In fact, telecommunications in Nigeria makes up more than one-third of MTN Group's revenue even though this company is based in South Africa.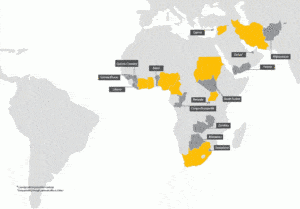 Notably, MTN Group also has a significant business interest in Iran through the government-backed telecom company Irancell. MTN Group controls 49% of Irancell and Iranian users make up 21% of MTN Group's subscriber base. MTN Group has gotten in hot water with the US over potential sanctions violations in the past, although this has not had a significant effect on the company's share price over the long term. However, you should keep this in mind when evaluating MTN Group as in investment.
The MTN share price has been on the downswing for several years. The share price appreciated slowly from 2,980 R at the start of the millennium to a high of 24,440 R by 2014. However, since 2014, MTN Group has slowly fallen behind some of its telecom competitors in Africa in the eyes of investors.
The share price has slowly but steadily dropped and sat at a level of around 8,700 R prior to the coronavirus pandemic. MTN Group's share price crashed with the global market when lockdowns were declared in March 2020, but it has since recovered to around 6,000 R.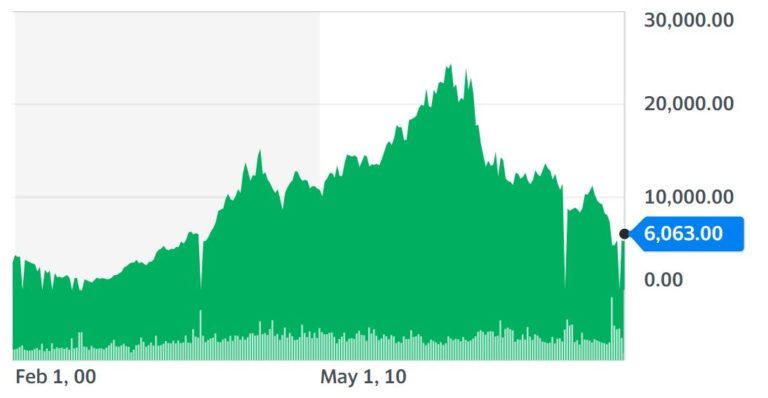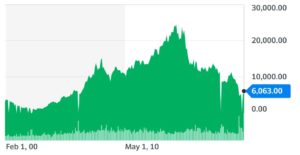 MTN Share Dividends
MTN Group has historically paid a generous annual dividend to investors. In 2020, the dividend was 550 R per share – equivalent to a dividend yield of 9.07%. That alone could make MTN Group worthwhile for many investors if the share price were to remain constant.
Notably, MTN Group has also been increasing its dividend yield over time. The yield was 8.3% in 2018, and just 5.2% as recently as 2017. MTN Group's payout per share has been decreasing each year, but as the share price has fallen the yield has increased.
MTN's dividend is paid out just once per year. The ex-dividend date is typically in April of each year. Importantly, MTN Group has already paid out its 2020 dividend and has not made any announcements about the 2021 payout. Presumably, given the company's recent success (more on that below), the dividend will remain consistent or even grow in 2021.
Should I Buy MTN Shares?
The MTN share price has been dropping slowly over the past few years, but the MTN shares dividend yield has been more than compensating in the meantime. In addition, MTN Group has been buffeted by coronavirus-related lockdowns in many countries in which it operates and has been working on a massive roll-out of 5G cellular service.
So, is now the right time to buy MTN shares? Analysts are almost uniformly bullish about this South African telecom company, which is a good sign. Let's take a look at the bulls' case for why MTN Group is a worthwhile investment.
Strong Performance During the Pandemic
Investors originally fled MTN Group at the start of the coronavirus pandemic, as they did just about every other stock. The concern was that the lockdowns would cripple MTN Group's business and slow down demand for cellular devices and service.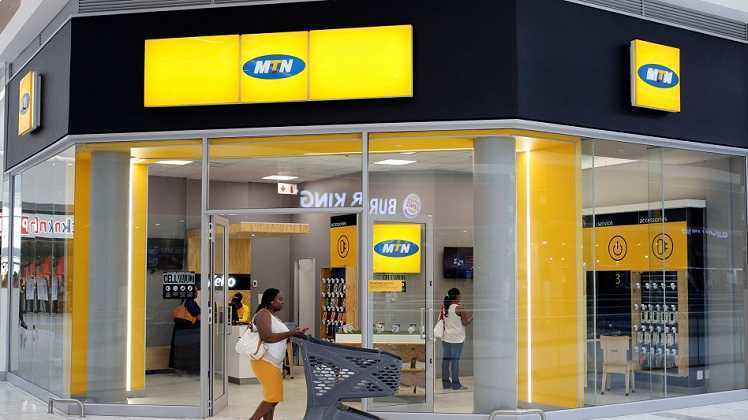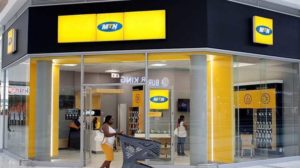 Any slowdown in some markets, though, has been more than compensated for by increased demand for cellular data across the board. The company announced in late July that it is expecting its first-half sales to double.
That's huge news, considering analysts were relatively bearish prior to the announcement. MTN Group is estimating headline earnings per share at 65 R, compared to analyst expectations of just 45 R. MTN Group's competitor Vodacom Group also reported in increase in revenue driven by demand for voice and data service.
While it's not certain that MTN Group's sales will remain high going into the second half of the year and beyond, it's strong sales during the pandemic are an encouraging sign. In addition, most of MTN Group's customers are subscribers – the hardest part of generating new revenue is bringing in new customers, not keeping them.
Spreading 5G Across Africa
In June of this year, MTN Group announced its long-awaited launch of 5G service in South Africa. The next-generation cellular network is available in parts of Johannesburg, Pretoria, Cape Town, Port Elizabeth, Durban, and Bloemfontein. MTN Group has plans to expand 5G service to more than 10 million people by mid-2021 and hopes to eventually achieve 96% network coverage across South Africa.
MTN Group hasn't made any explicit announcements about launching 5G service in other African countries in which it operates – most notably, Nigeria. But the company could be sitting on top of an enormous market if the South African rollout proceeds smoothly.
Investors are generally aware that demand for 5G will be high, especially as the Internet of Things takes off in the coming years. However, a 5G explosion hasn't apparently been priced into MTN Group's shares just yet. The company is still trading at less than eight times earnings. Depending on your take on the telecom company's potential for spreading 5G across Africa and beyond, the share price could be mightily undervalued.
Excellent Dividend Yield
Regardless of what happens to MTN Group's share price, the company's dividend is extremely attractive. A 9% yield is a dividend investor's dream, and MTN Group has a history of raising its dividend yield rather than lowering it.
Importantly, while the dividend is never guaranteed, it's a relatively safe bet that MTN Group will make its 2021 payout as scheduled. The company hasn't been hoarding cash during the coronavirus pandemic and, as we discussed above, it just announced a huge increase in sales. So, there's a little risk – especially compared to historically strong dividend stocks in the face of the pandemic – that MTN won't pay out to shareholders.
Step 3: Open an Account and Deposit Funds
Think MTN Group shares are right for you? The next step on the path towards buying shares is to open and fund a brokerage account.
We'll show you how the process works using Plus500 as an example. We like Plus500 because it offers 0% commission, trading on more than 600 stocks through CFDs, and a user-friendly trading platform. However, if you decide to use another brokerage, the process should look similar.
To create an account with Plus500, head to the broker's website and click 'Start Trading Now.' You will be prompted to create a username and password as well as enter details like your name, birth date, and address. Plus500 also requires you to upload a copy of your driver's license or passport and a copy of a recent utility bill or financial statement. This is to comply with government regulations that help prevent identity fraud.
Once your account is created, you need to deposit funds. You can make a payment using several methods, including:
Debit card
Credit card
Bank transfer
Wire transfer
PayPal
Skrill
Note that Plus500 requires a minimum deposit of 1,500 R. If you deposit at least 4,000 R, you'll get a trading bonus of 800 R or more. Funds are available for trading immediately if you pay by debit card, credit card, or e-wallet.
Step 4: Buy MTN Shares
Now you're ready to buy or sell MTN shares. In Plus500, click on 'Instrument Categories' then 'Shares' Enter 'MTN Group' in the search box and click on the company when it appears to find the MTN Group shares page. Click 'Buy' to open an order form. The order form is what you'll use to tell Plus500 how to execute your order for MTN shares. Enter how many shares of MTN Group you want to buy, and enter a stop loss or take profit level if desired. You can also opt to apply leverage of up to 1:5 to your trade. We recommend that beginner traders tread carefully with leverage, as it increases your trading risk and carries additional fees.
When you're ready to complete your trade, click 'Buy' to buy MTN Group shares.
The Verdict
MTN Group is one of the largest telecom providers not just in Africa, but in the entire world. The company has a massive footprint in South Africa and Nigeria, and it's just begun rolling out 5G coverage in South Africa's major cities.
Analysts are excited about MTN Group at the moment, particularly since the company announced a massive revenue beat over expectations. MTN Group's sales have increased rather than stagnated during the coronavirus pandemic, which is a potentially good sign for the company's future.
The only major downside to buying MTN shares is that the share price has been in a long-term decline since 2014. However, this decline has been offset by increases in the annual dividend. As of 2020, MTN Group paid a yield of more than 9%. That makes this telecom giant particularly suitable for long-term dividend investors.
Ready to buy MTN shares? Create an account with Plus500 today to get started!
Plus500 – Trade MTN Shares With No Commission

80.5% of retail investor accounts lose money when trading CFDs with this provider.
FAQs
What is MTN Group's ticker symbol?
MTN Group trades on the Johannesburg Stock Exchange under the ticker symbol 'MTN.'
What countries does MTN Group operate in?
MTN Group operates in more than 20 countries in Africa and Asia, including: South Africa, Nigeria, Libya, Iran, Ghana, Uganda, Ivory Coast, Sudan, South Sudan, Cameroon, Botswana, Zambia, Syria, Benin, Afghanistan, Rwanda, Yemen, Guinea, Republic of Congo, Liberia, Eswatini, and Guinea Bissau.
Where is MTN Group headquartered?
MTN Group's headquarters are in Johannesburg, South Africa. The company has offices in Nigeria and several other African nations as well.
Does MTN Group have any competitors?
MTN Group has a number of competitors, including Millicom, CellC, Vodafone, Telkom, and Airtel. Many of these companies operate not only in South Africa but also in MTN Group's lucrative market in Nigeria.
Can I collect MTN Group dividends when trading CFDs?
Yes, you are eligible to collect MTN Group dividends when trading CFDs. You must still own the CFDs by the ex-dividend date in April, as you would need to when buying stocks outright. Note that if you short sell CFDs, you are responsible for paying the dividend payout.