Back in 2017, Cardano was one of the many cryptocurrencies that received recognition and reached its previous all-time highs of $1.24 per coin. Since then, for nearly three years, Cardano was trading at a narrow range of $0.02-$0.10 per coin and the future did not seem very bright for the open-source decentralized cryptocurrency.
But, the cryptocurrency market is a different story, with ups and downs and plenty of recoveries. From the start of the year, Cardano has gained over 525%, outperforming the majority of other digital assets in the market including Bitcoin, Ethereum, and many more. This has lead Cardano to become the fifth-largest cryptocurrency in the world with a market capitalization of over $37 billion at the time of writing.
If you are wondering how to buy Cardano in South Africa, this guide will help you find the answer. We'll explain about the ADA coin, analyze the Cardano historical price performance, suggest the top brokers in SA that offer you to trade ADA, and show you the full process of opening an account and buying Cardano.
How to Buy Cardano South Africa – Beginner's Guide
If you want to want to get the fastest way to buy Cardano in South Africa without reading our full guide, simply follow the quick tutorial below:
Open an account with Libertex – First, you need to open a trading account with an online trading platform that supports Cardano. eToro is one of the few marketplaces in SA that support the coin, in addition to 250 tradable assets.  

Verify your account – Nowadays, the vast majority of brokerage firms require new users to verify their identity as a condition of trading. As such, you'll have to submit your personal information and upload documents to verify your identity. 
Deposit Funds – Next, you can add funds to your account. Libertex supports a large variety of payments including SEPA bank transfers, credit and debit cards, as well as a range of banking solutions including eWallet payment methods. To get started, the broker maintains a minimum deposit requirement of just $10.
Buy Cardano – That's it. Now that your account is approved and funded, all you need to do is to search for Cardano on eToro's crypto trading platform and place a buying order.
What is Cardano?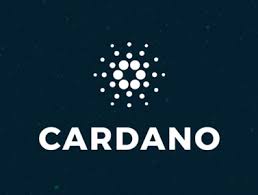 Cardano is a public blockchain network for smart contracts that enables users to build smart contracts and create decentralized applications and protocols. The Cardano network is the first blockchain platform that was built through peer-reviewed research, and it aims to solve various problems such as scalability, interoperability, and sustainability that exist on other blockchain networks. Cardano is a proof-of-stake blockchain, meaning that the validation of new blocks is made by users who are staking their coins in the network.
Its cryptocurrency, known as ADA, allows users to make transactions on the network. And, much like any other cryptocurrency, Cardano (ADA) is a digital asset that can be used to store value or transfer funds.
Cardano was founded in 2015 by Charles Hoskinson, which was a co-founder of the Ethereum network. The network was launched in 2017, and In its ICO in 2018, the Cardano group has managed to raise $62.2 million when the maximum supply of ADA was set at 45 billion coins and a price of $0.0024.
Why Buy Cardano? Cardano Analysis
There are a number of reasons why Cardano is booming since its launch in 2017, and in particular since mid-2020. Most important of all, the main catalyst for the rise in Cradano's price is the Shelley hard fork upgrade that was released in July 2020. This update has a huge impact on the Cardano network as it has transformed the system to a proof-of-stake (PoS) protocol, which means users can now hold coins on the ADA network and receive rewards (much like other fixed-income assets).
Recently, Cardano has also launched a new hard fork update called "Mary" that enables developers to issue custom cryptocurrencies on top of the blockchain. The 'Mary' upgrade is part of Cardano's roadmap known as "Goguen", which aims to compete with its biggest rival in the industry, the Ethereum network. Following the recent updates, it appears that Cardano is currently much faster than Ethereum in terms of TPS (Transaction Per Speed). The ultimate goal of Cardano's team is to create a blockchain network that will process a large number of transactions at a lower cost than its competitors.
Another reason to buy Cardano is the hype around Defi (decentralized finance) projects. As such, Cardano has a list of partnerships and collaborations that include IOHK, The Cardano Foundation, Emurgo, IBM, PwC, New Balance, Sirin Labs, and many more.
Cardano Price – How Much Does it Cost to Buy Cardano?
Since mid-2020, Cardano's price has been on an incredible run, rising from $0.05 in late May 2020 to its all-time high of $1.33 on February 27th, 2021. Since then, Cardano dropped nearly 12%, largely due to the mini sell-off in the crypto market. At the time of writing, Cardano is trading at $1.16 per coin.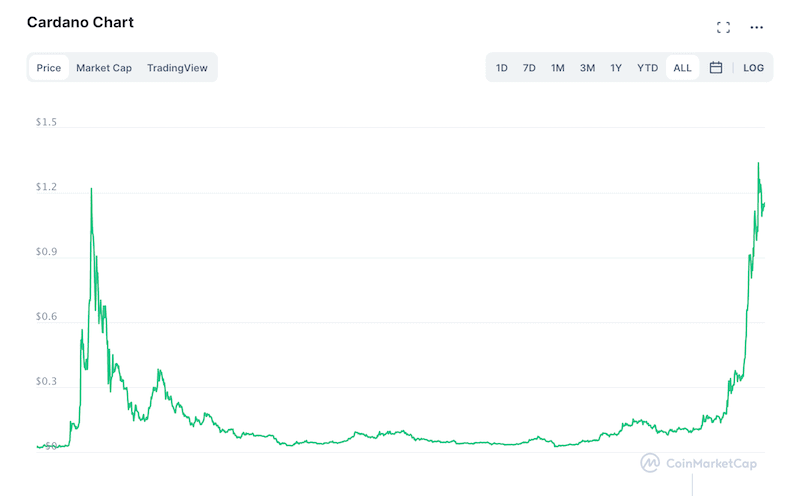 In the past year, Cardano has become the most decentralized blockchain network on the market, and thus, one of the used blockchain networks and most traded tokens. Ultimately, it is no wonder that Cardano is now the fifth-largest cryptocurrency in terms of market cap with a total valuation of more than $37 billion at the time of writing.
Ways of Buying Cardano
Essentially, there are three ways to buy Cardano. Every method of payment has its own strong points and weaknesses – by using bitcoin as a payment method, you can significantly reduce the trading costs, however, many people prefer using a credit/debit card or PayPal to buy digital coins like Cardano. With that in mind, let's take a look at how to buy Cardano in South Africa via the most used payment methods.
Buy Cardano with Debit/Credit Card
Arguably, the easiest way to buy Cardano is with a credit or debit card. Even though not all cryptocurrency trading platforms accept credit and debit cards as a payment method and it might cost you a bit more, it's still the most commonly used way of payment when buying cryptocurrencies.
Fortunately, both eToro and Libertex accept credit and debit cards as a payment method so you have the option to choose between the two. With eToro, the process is extremely simple. First, you'll have to visit eToro's homepage and sign up for an online account. Then, you'll be required to complete a short verification process and deposit funds. As you can see from the image below, eToro accepts a variety of payment methods that include credit/debit cards, PayPal, bank wire transfer, and other electronic payments. Once the funds reach your account, search for Bitcoin and place a buying order.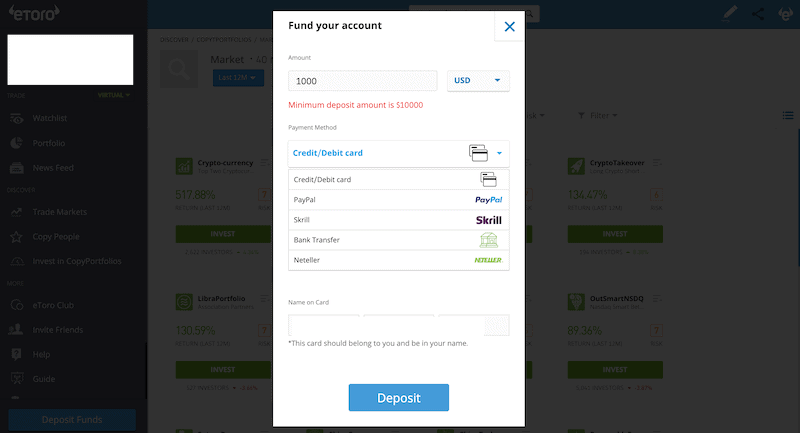 The second option to buy Cardano in South Africa with a credit or debit card is via Libertex. To do that, simply follow the step below:
Open an account with Libertex and verify your identity.
Click Buy Crypto at the top menu bar and select Credit/Debit Card (Visa, Mastercard).
Insert the amount you want to invest and type in ADA.
Enter the details of your credit card
Click on the Buy ADA button.
Buy Cardano with PayPal
Our recommended broker eToro enables you to buy Cardano when using PayPal as a payment method. This brokerage firm is not a pure cryptocurrency exchange. Rather, it is a CFD platform that offers a wide range of crypto assets including Cardano. At eToro, you can simply deposit funds with PayPal and then buy Cardano in the form of CFDs. This will allow you to speculate on the price of Cardano with a leverage ratio of 2:1 and without paying fixed trading commissions.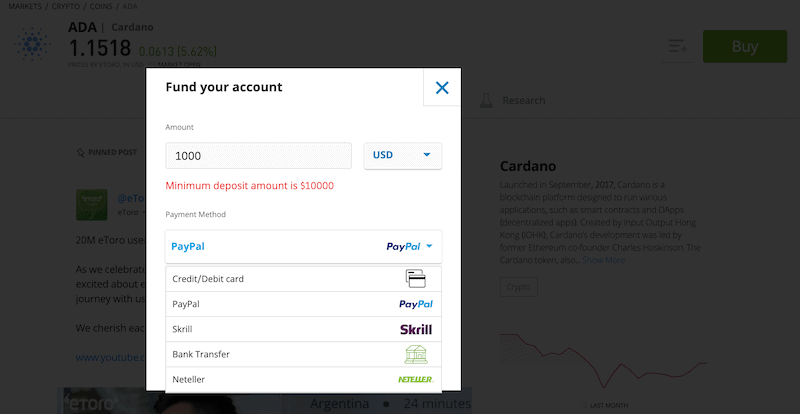 Buy Cardano with Bitcoin
For those who already hold bitcoin and looking to buy Cardano with the most widely used digital currency in the world, Binance is the best option. To make a purchase with Bitcoin, navigate to the Trade tab on the top menu and choose convert.

Then, simply enter the amount in Bitcoin you wish to convert, and exchange the coins.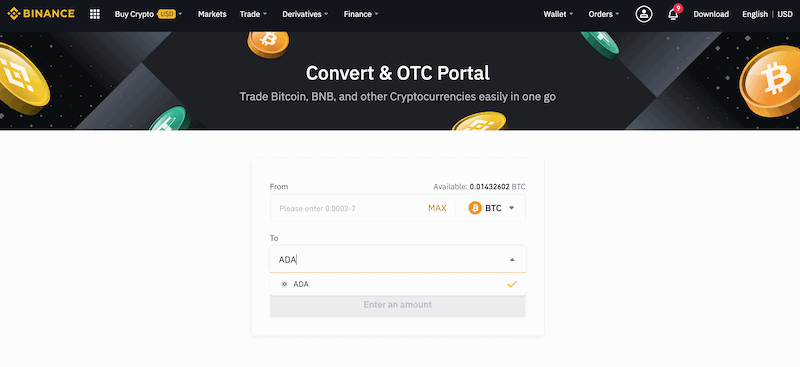 Where to Buy Cardano in South Africa
Cardano is a very popular cryptocurrency and thus, you'll find many cryptocurrency exchanges and online trading platforms in South Africa allowing you to buy and sell the digital coin. But you want to make sure you find the trading platform that meets your needs and your financial budget. Generally, there are two options to buy any cryptocurrency – via CFD platforms like eToro and Libertex.
It is important to understand the difference between buying Cardano with an online broker or cryptocurrency exchange. While buying a coin via an exchange enables you to physically purchase the coin, a CFD broker allows you to speculate on the price of the asset without actually owning and exchanging it. Some of the additional differences between online brokers and exchanges include the pricing structure, the leverage ratio, and the trading platforms and tools provided.
1. eToro – Overall Best Cryptocurrency Platform in South Africa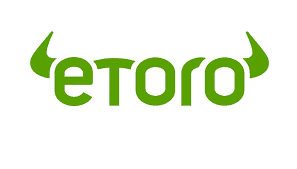 For several reasons, eToro is our favorite brokerage firm in South Africa that is offering investors to buy and sell cryptocurrencies. eToro is also a stock broker that allows you to buy shares in hundreds of companies,First and foremost, eToro is the largest social trading platform in the world with over 17 million members that have the option to connect with other members, view posts, and copy the trades of other investors using the CopyTrade tool.
Secondly, eToro is a commission-free trading platform, which means you do not have to pay any fixed fees when you buy and sell cryptocurrencies. This is a major advantage when compared to cryptocurrency exchanges that typically charge around %0.2-%0.5 for every trade you make. Instead, eToro simply charges a spread between the bid and ask price of a digital asset. In that regard, the spread at eToro for buying and selling Cardano stands at 2.9%.
The selection of cryptocurrencies at eToro includes 18 cryptocurrencies. The broker offers the most popular digital assets in the market. You can buy Bitcoin, Ethereum, Ripple, Bitcoin Cash, DASH, IOTA, Litecoin, EOS, Tron, Binance Coin, Cardano, and more. Crucially, if you decide to buy Cardano via eToro, you'll be able to trade the coin with a leverage ratio of 2:1.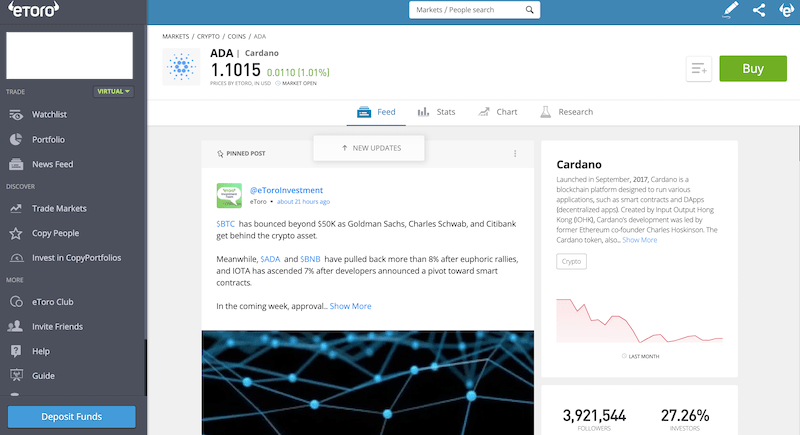 Another great feature that eToro offers is the ability to invest in CopyPortfolios. These are essentially a bundle of assets based on a predefined strategy. You'll get access to various built-in portfolios including the CryptoPortfolio that collects the most top-performing digital assets in the market, much like any other index. Other than that, users get access to a variety of portfolios that include the CryptoTakeOver (long crypto short banks), gaming, driverless, renewable energy, China tech, future payment, food tech, big tech, fashion, and many more.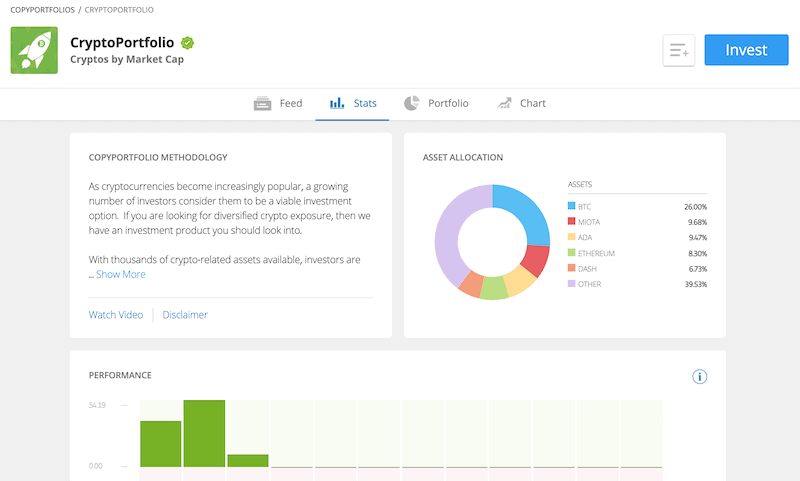 Though eToro is not directly regulated in South Africa, it is considered safe due to its licenses from the FCA in the UK and ASIC in Australia. To get started, there's a minimum deposit requirement of $200 (around ZAR 3000).
Pros
Zero commission trading platform
Largest social trading platform in the world with 17 million users
Offers investor to buy Cardano with a leverage ratio of 2:1
Accepts a variety of payment methods, including PayPal
Supports copy trading tools
Fully regulated in South Africa
In addition to cryptocurrencies, eToro supports a variety of markets and products
Cons
Charges a withdrawal fee of $5
Not suitable for advanced day traders
Cryptoassets are highly volatile unregulated investment products. No EU investor protection.
2. Libertex – Buy Cardano in South Africa with Low Fees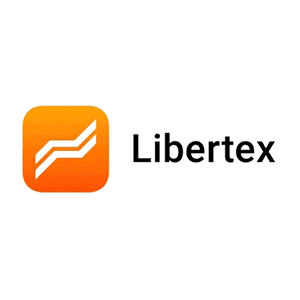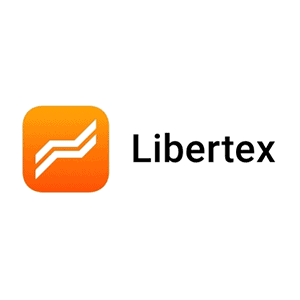 Another excellent choice for SA users looking to buy Cardano coin is Libertex, a Russian-based popular CFD platform that was founded in 1997. On this platform, traders get access to a huge range of CFD products across different markets that include currencies, shares, indices, ETFs, metals, oil and gas, agriculture, and cryptocurrencies. Crucially, Libertex is one of the few commission-free online trading platforms in the market that currently enables users to trade the Cardano coin. On top of that, Libertex has a huge selection of 52 cryptocurrencies on its platform.
But unlike other brokerage firms in the market, Libertex is ideal for experienced investors that want to get access to more professional trading platforms. Apart from its own web-based proprietary trading platform, Libertex also provides access to the MetaTrader4, which is one of the most popular trading platforms in the market. More than that, it offers a suite of research features and analysis that include a market sentiment tool on all products, news, signals, automated trading tools and the option to trade on a demonstration account.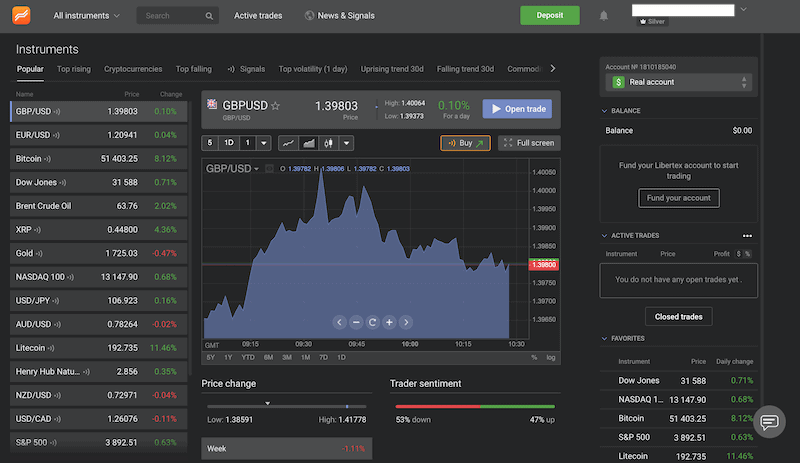 When it comes to trading fees, Libertex is one of the most cost-effective trading platforms in South Africa. For example, if you decide to trade Cardano, you'll have to pay a variable spread of around 3-6 pips. Another benefit of trading with Libertex is that you can actually trade without paying any spreads with a minimum deposit of just $100. 
Though Libertex is not FCA-regulated, it is regulated by the Cyprus Securities and Exchange Commission (CySEC) with CIF Licence number 164/12 and accepts clients from South Africa. All in all, Libertex is one of the best platforms for South African investors to buy Cardano coin.
Pros:
Commission free trading platform
Very competitive spreads
One of the few commission free platform that supports Cardano coin
Founded in 1997, and is regulated CySEC
Offers a wide range of products and markets
Supports the Meta Trader4
Plenty of tools and features
Cons:
Only CFDs
Not a social trading platform
83% of retail investors lose money trading CFDs at this site.
How to Buy Cardano (ADA) Tutorial
By now, you should enough information in order to decide if you want to buy Cardano coin. As mentioned previously, Binance is one of the best options to buy Cardano in South Africa, and as such, we are now going to show the full process of opening an account and placing a buying order on the Binance exchange.
Step 1: Open an Account
The first action you need to take is to register and open an account with eToro. To do this, you'll have to visit eToro, enter your email address, and create a password in the registration form.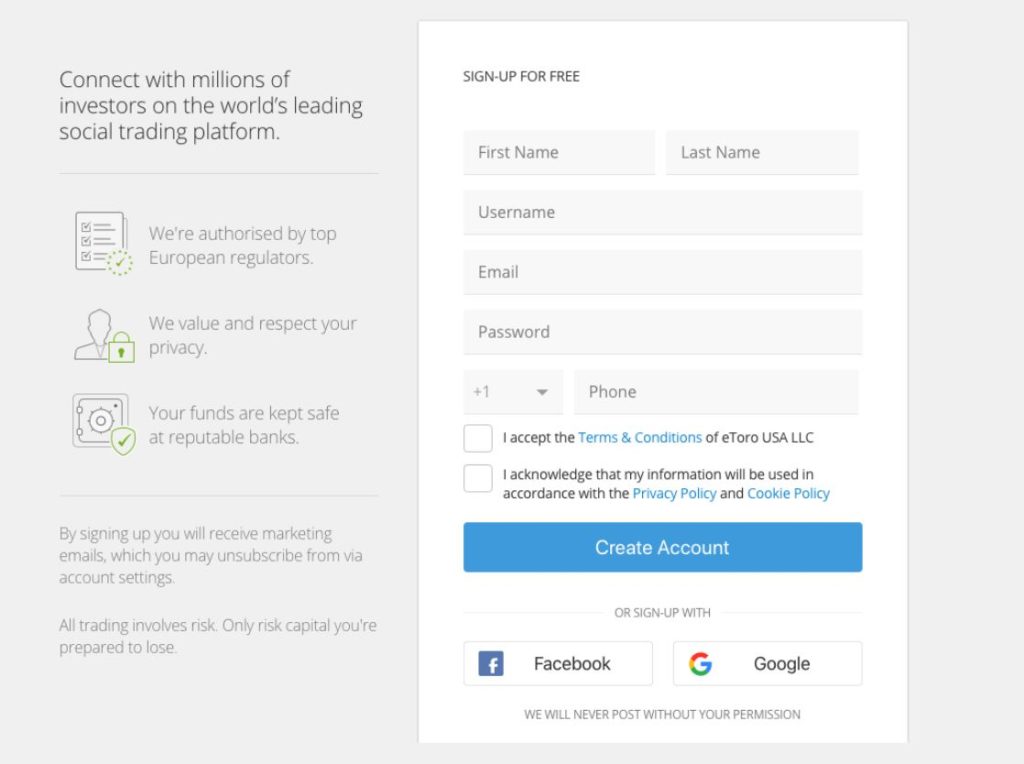 Then, in order to complete your account opening, you'll be asked to verify your email address on the email sent to you by eToro.
Step 2: Verify Your Identity
Before you can start to buy cryptocurrency on eToro, you must first verify your identity. To start the verification process, log in to your account and click on the identification button under your profile logo.
On the next page, click on the Verify button next to the Personal Details box. Next, you need to enter the personal details as registered on your passport or ID and upload the document (front and back pages).
Step 3: Deposit Funds
You can easily deposit into your eToro account using a debit/credit card or e-wallet such as PayPal. Just remember that the minimum deposit is $200 (about 2982 rands).
Step 4: Buy Cardano (ADA) Coin
Once you have completed the verification process and funded your account, you can trade the Cardano coin on eTprp. The best way to this is to navigate to 'Markets' and search for ADA at the search bar
Once you click on it you'll be taken t the Cardano trading dashboard. There, you can analyze the coin using the charting package. Whenever you are ready to place an order, enter the amount (in USDT) you want to buy and choose the type of order (market or limit).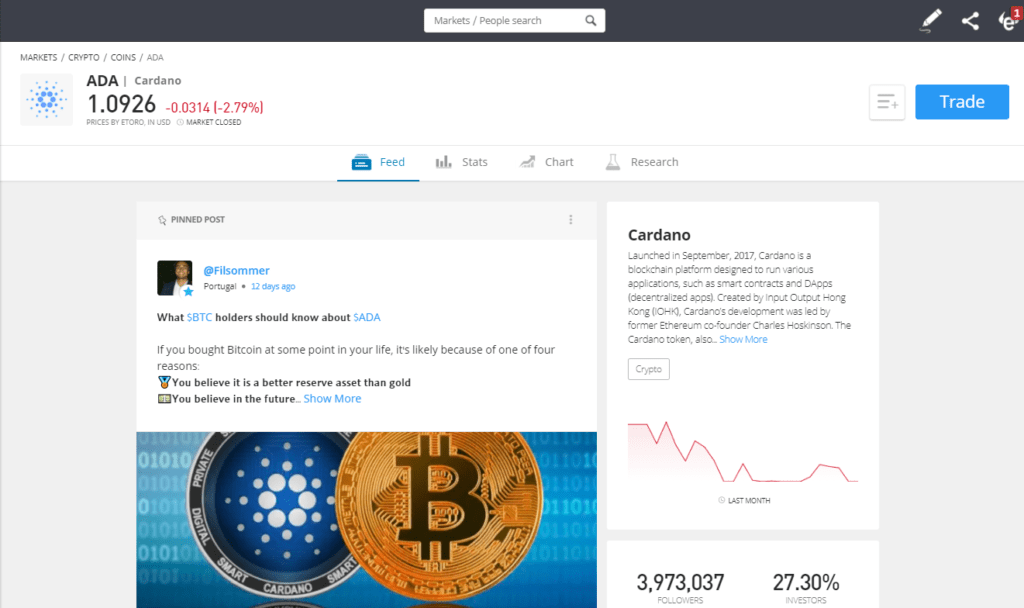 To complete your purchase, click on the Buy ADA button.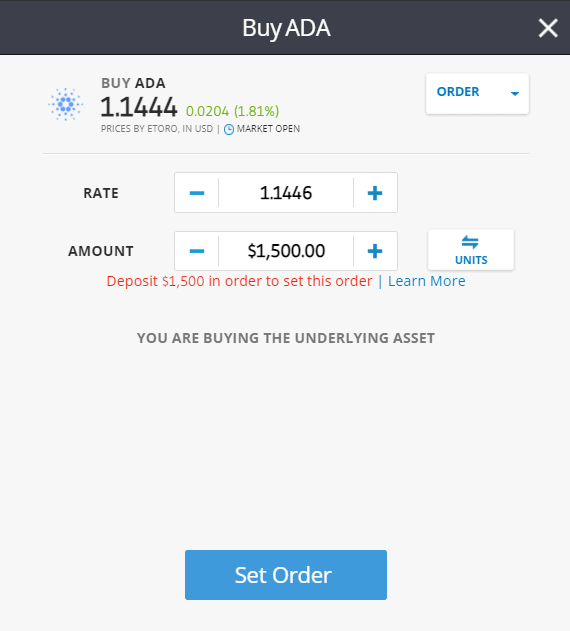 Conclusion
Cardano's goal is clearly to become the largest smart contract platform in the world. The process is not simple and the competition is very fierce at this level. But, there's something special about Cardano – the ADA network is unique as it is built on scientific philosophy and is based on peer-reviewed research. Consequently, the long-term outlook for the Cardano project as well as for the ADA token is very positive.
Cardano is a very popular cryptocurrency these days with a limited supply, and as such, the vast majority of platforms enable you to trade the coin. So, if you are ready to buy ADA, it's all about finding the exchange or brokerage firm that will work best for you. In our view, eToro is the ideal CFD platform that supports Cardano. As for a cryptocurrency exchange, eToro is the best option for SA investors that wish to buy and sell Cardano.
eToro – Best Broker to Buy Cardano South Africa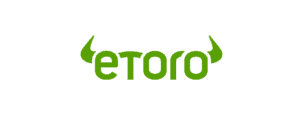 FAQs
Should I buy Cardano?
Overall, Cardano is one of the best blockchain and smart contract projects in the crypto space. The Cardano coin (ADA) is also one of the top-performing digital coins in the market in the past year and the outlook for Cardano is obviously very bullish, particularly given the fact that the group has made several important updates and is planning to launch more updates and improvements soon. All things considered, Cardano has huge growth potential in the upcoming years.
How can I buy Cardano instantly?
In order to instantly buy Cardano, you'll have to find an online broker or a crypto exchange that does not require a long registration process. For that matter, the fastest way to do it is via eToro. This can be done via various payment methods including bank transfer, credit/debit card, PayPal, Neteller, and Skrill.
How can I buy Cardano anonymously?
Buying cryptocurrencies anonymously is not an easy task these days. The only way to do this is to buy Bitcoin in person or via a crypto marketplace that does not require you to verify your identity, but this is risky and may not be secure.
What can I buy with Cardano?
Even though the ADA coin can be used as a transfer of value much like cash other cryptocurrencies, it is not yet widely accepted in the outside world. As such, you'll be able to use the coin on the Cardano network or on a cryptocurrency exchange like Binance.
What are the risks of buying Cardano?
There are two to consider when you buy Cardano. First, Cardano is a volatile and unpredictable asset and the future of the project, much like the crypto market in general, is very unclear. Hacking is another risk of investing in ADA, though Cardano has its own wallet called Daedalus, and its network features mathematically verifiable security mechanisms against hackers.
Is it safe to buy Cardano?
Yes. In general, Cardano is much safer than other cryptocurrencies. Also, the coin has an intrinsic value that is derived from its successful network. Regardless, if you buy the ADA coin on a cryptocurrency exchange and store it on a hardware wallet, then rest assured that your funds are completely safe.