How to Buy NFT Tokens – Beginner's Guide
Over a decade and 884 million views later, the video entitled 'Charlie Bit My Finger' that went viral on YouTube was sold for £500,000 as an NFT token. Here's everything you need to know about how to buy NFT tokens in 2022.
In this beginner's guide, we'll cover all the key metrics from what Non-fungible tokens are, to which crypto exchange to choose that'll suit your trading needs and preferences. 
How to Buy NFT Tokens in South Africa – Quick Steps 
Open an account with Binance
Binance is a top-rated cryptocurrency trading platform that offers 0.1% commission to buy and sell cryptos. Simply head over to the Binance.com website, tap on 'Register Now' and set up a new account.
Purchase Ethereum
The majority of NFTs are part of the Ethereum blockchain, which means to buy NFTs you'll need to purchase ETH tokens. To buy ETH tokens on Binance simply login into your account and tap on Buy Crypto.
From there you'll be taken to an order page where you can specify how many ETH tokens you want to buy. You can pay with a SWIFT bank transfer, credit/debit card, P2P trading, and third-party payments including Simplex, Banxa, and Paxos. 
Connect to an NFT marketplace
NFT marketplaces are platforms where NFTs are stored, issued, generated and traded. At the top of the Binance.com website click on NFTs at the top of the screen and then Marketplace to connect to an NFT marketplace.
Buy NFT tokens
Buying an NFT crypto token in an instant sale is quick and simple. After you've found the NFT crypto token you want to purchase, just tap on Buy Now to pay the full asking price. 
For an in-depth analysis of this top-rated cryptocurrency exchange, be sure to also read our Binance review.
Step 1: Sign Up to Binance to Purchase Ethereum

Binance is a cryptocurrency exchange with one of the highest trading volumes in the digital asset space. You can buy, sell, and trade hundreds of pairs at low commissions, and you can fund your account with a debit/credit card depending on where you live.
Binance is a cryptocurrency exchange founded in 2017 by Changpeng Zhao that allows you to buy, sell, and trade digital currencies from the comfort of your own home. The platform supports hundreds of crypto assets, including both large-cap and small-cap coins and tokens.
Binance is now the largest trading exchange in terms of volume, with tens of billions of dollars passing through the crypto trading platform every day. In fact, at the time of writing this guide the 24-hour trading volume exceeded $90 billion. 
Binance offers a variety of popular products in addition to traditional cryptocurrency exchange services. Leveraged cryptocurrency derivatives, such as Bitcoin futures and options, fall under this category. Binance also offers P2P exchanges and savings accounts where you may earn interest on your cryptocurrency assets.
Binance is popular for its low commission offering. This starts at just 0.1 percent per side, but you can reduce it even more if you trade in large volumes or hold BNB tokens. You may be able to deposit funds via a debit/credit card or a bank transfer, depending on where you live.
Your capital is at risk. 
Supported Coins and Markets
When it comes to supported coins and markets, Binance is home to hundreds of cryptocurrencies and NFT crypto tokens. Most of the crypto pairs come in the form of crypto crosses. This means that you'll be trading one crypto for another. You can also access currency crosses such as BTC/USD and ETH/USD. Additionally, you can buy cryptocurrencies and NFT crypto directly with a debit or credit card.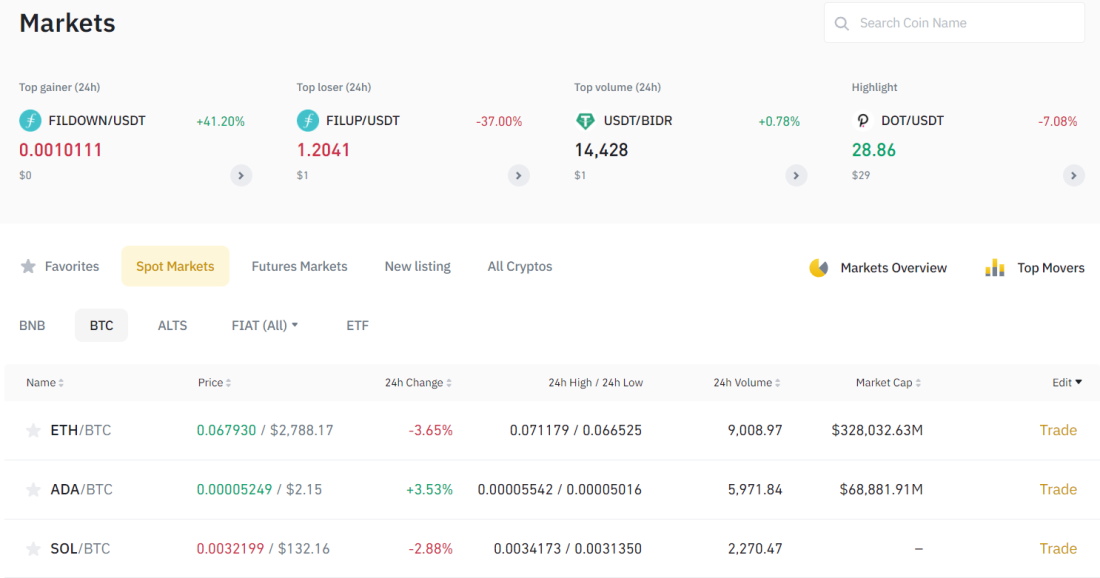 For the avid, experienced trader, Binance also offers crypto derivatives. This trading market is better suited to advanced users who understand the risks of leveraged, speculative financial instruments. This means you can access several Bitcoin futures markets, choosing between long and short positions. 
Binance Fees
In the UK, debit/credit cards come with a 1.8% deposit fee while other countries are charged fees over 3%. As such, you'll need to check the specific fees before signing up. If you choose a wire transfer this is typically free at Binance but this depends on the country you're based in. Withdrawal fees on cryptocurrencies and NFT crypto also vary depending on your location. 
The standard trading commission is 0.1% per side, meaning you'll pay 0.1% when you enter a position and 0.1% again when you close the trade. 
Here's a quick breakdown of the key Binance fees you need to be aware of:
| | |
| --- | --- |
| Direct Debit/Credit Card Purchase | 1-4% depending on country of residence |
| Bank Transfer Deposit | FREE in many countries |
| Crypto Deposit | Blockchain fee only |
| Standard Commission | Starts at 0.1% per slide |
| Futures Trading | Starts at 0.04% per slide |
| Margin Rate | Depends on coin |
Opening an account with Binance
The onboarding process is simple. Just visit the Binance website and click on the button marked 'Register Now'. 
You'll be prompted to enter your email address and create a strong password at first. If you just intend to deposit funds using cryptocurrency, you do not need to submit any other information.
Depositing funds into your Binance account
If you want to deposit funds using cryptocurrencies, go to the deposit page from your account dashboard. Find your preferred digital asset and click the 'Deposit' button. You'll then see your unique wallet address. 
Start Trading with Binance
If you're looking to buy NFT art, or NFT crypto then you'll need to either bid in an NFT auction, or buy a fixed-price NFT. 
If you've found some NFT art, or NFT crypto tokens for sale using the Auction sale method, you'll need to place a bid to stand a chance of winning. The highest bid at the time of the auction's close is the price at which the NFT crypto art will be bought.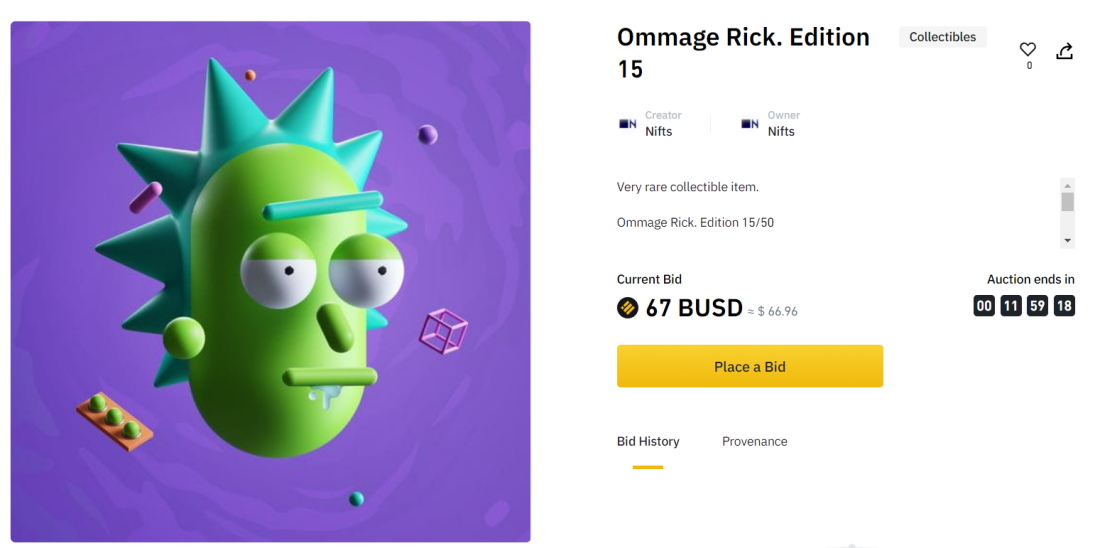 On the other hand, buying a fixed-price NFT is a much simpler ordeal. After you've picked the NFT that you want to purchase, simply tap on the Buy Now button to instantly buy at the seller's asking price. 
Step 2: Connect to an NFT MarketPlace
Most NFTs are based on the Ethereum blockchain, which means the vast majority of marketplaces only support ETH tokens as a viable payment method. Once you've opened your account with Binance you can buy and transfer ETH tokens to either the Binance crypto wallet or a third-party cold or hot wallet. 
Connect to the Binance NFT Marketplace
The easiest way to connect to an NFT marketplace is to use the in-house one. Simply click on the NFT tab at the top of the screen and tap on marketplace. From there you will be able to browse through the NFT art and other NFT coins that are available. 
Connect to secondary marketplaces such as OpenSea
OpenSea is an NFT marketplace that runs on the Ethereum blockchain. Users can exchange NFTs for other digital assets. OpenSea offers a range of digital collectibles from NFT video games to NFT art. To use this platform you'll need a crypto wallet that supports ERC20 tokens. Once you've connected your crypto wallet you'll be able to browse the NFT marketplace, placing bids and buying NFT art with the click of a button. 
Step 3: Browse NFT Tokens to Buy 
As well as minting NFTs, Binance NFT Marketplace enables you to purchase newly generated and deposited Non-fungible tokens. All sales follow a fixed price or auction format, payable in a range of different cryptocurrencies. 
Step 4: Complete Your Purchase
NFT purchases are subject to a straightforward fee structure that supports both NFT depositors and creators. NFT creators who mint non-fungible tokens earn a 1% royalty payment from all trading, in addition to those who deposit third-party NFTs into the Binance NFT Marketplace. 
Purchasing an NFT requires a Binance account. Luckily, opening an account takes under five minutes and is fully digital. 
How to buy NFT tokens that have a fixed price – buying an NFT via an instant sale is arguably the easiest way to purchase NFTs on Binance. Once you've found the NFT you want to purchase, just tap on the Buy Now button to pay the fixed asking price. You can buy NFTs and NFT crypto tokens on Binance with ETH, BUSD, and BNB.
What are NFT Tokens?
NFT explained – What are NFTs and what does NFT stand for? A non-fungible token is a unique digital asset that can be traded like any other financial security, but which has no tangible form of its own.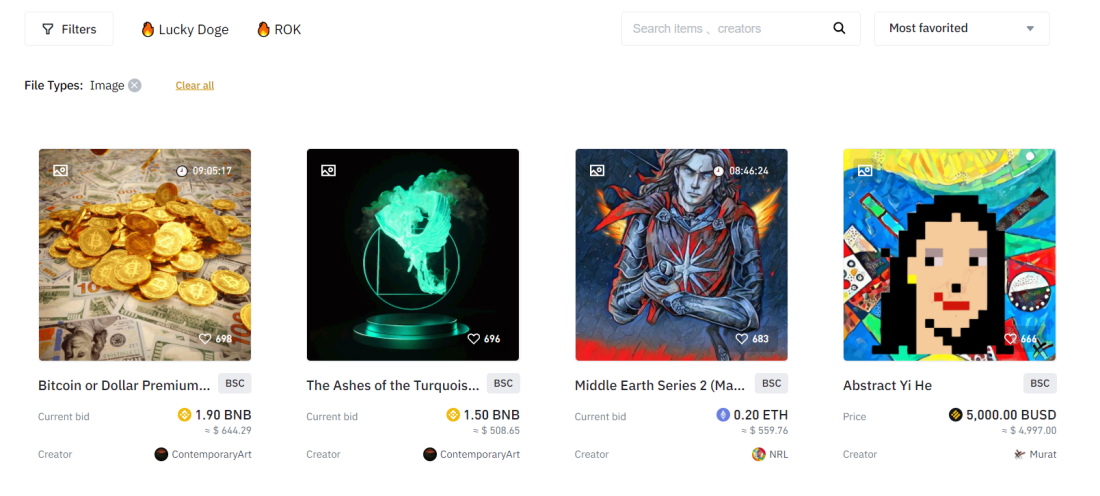 In terms of economics, fungible assets have units that can be instantly interchanged – like fiat currencies. With cash, you can exchange a $20 bill for two $10 bills and still have the same intrinsic value. 
On the flip side, a non-fungible asset has one-of-a-kind properties meaning it cannot be exchanged with something else. This could be a picture or a viral video, as we mentioned in the beginning with the YouTube example. You can take a screenshot of the picture or buy a copy but there will only ever be one original. 
NFT tokens can therefore be regarded as ownership deeds for digital assets such as NFT art and NFT crypto tokens.   
How Are NFTs Created?
Do you have some cool digital artwork that you're willing to sell as an NFT online? Let's look at how to make an NFT on Rarible, since it's a low-cost option and also connects to OpenSea.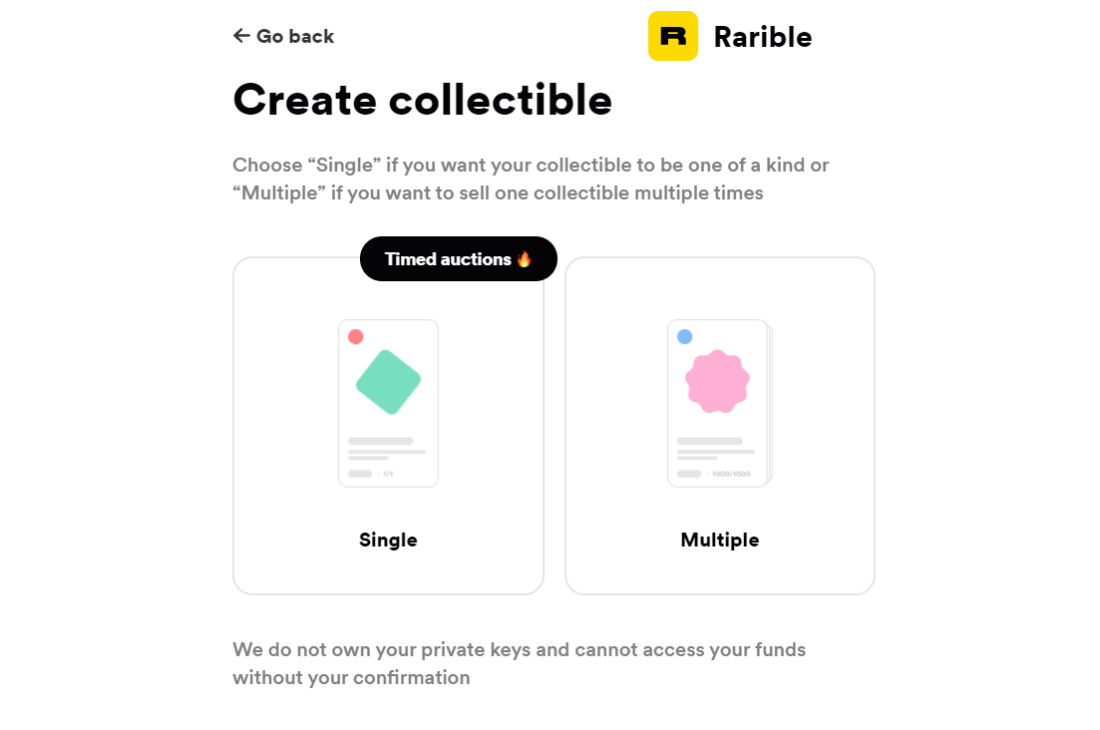 Head over to Rarible.com and click on the button marked

Create

at the top right-hand corner of the screen. 

Generate a single or multiple collectible – the latter being best suited for a collection of stamps or Pokemon cards. 

Click on 'choose file' to upload a GIF, JPEG, PNG, or other file types. Keep in mind that the maximum upload size is 30MB. 

Next, specify the price you would like to sell the NFT for, and a name and description.

Set up royalties. This means you'll continue to earn royalties every time it resells on NFT marketplaces. 

Tap on 'connect wallet and create'.

Pay the gas fee, tap on start to authorize the sell order and then click on 'Sign' to list your newly-created NFT. 
Best NFT Crypto Tokens to Buy
Let's cover the best NFT protocols and tokens you can buy right now. We've based our research on large-cap NFTs according to coinmarketcap.com. 
THETA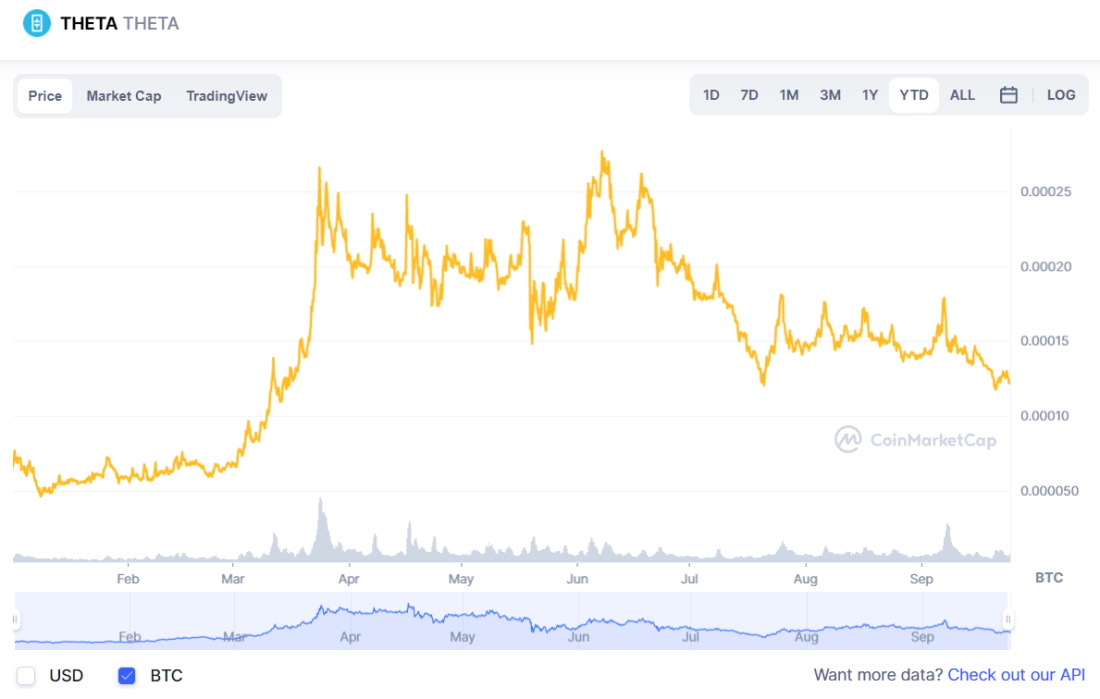 Image source: coinmarketcap.com
THETA – with a market cap of $5.3 billion and a 24-hour trading volume exceeding $264 million, Theta is the best NFT protocol you can buy in 2022. Theta is a blockchain-powered network that was designed to offer video streaming services. Founded in March 2019, the Theta mainnet works as a decentralized network allowing clients to share bandwidth and computing resources on a peer-to-peer basis.
Co-founder of YouTube, Steve Chen, and co-founder of Twitch Justin Kan, both work on the Theta project. Theta has its own native NFT crypto token dubbed THETA which acts as a governance token. Additionally, global companies like Google, Binance, Blockchain ventures, and Sony Europe are all validators. At the time of writing, THETA's market price is $5.21. 
Tezos (XTZ)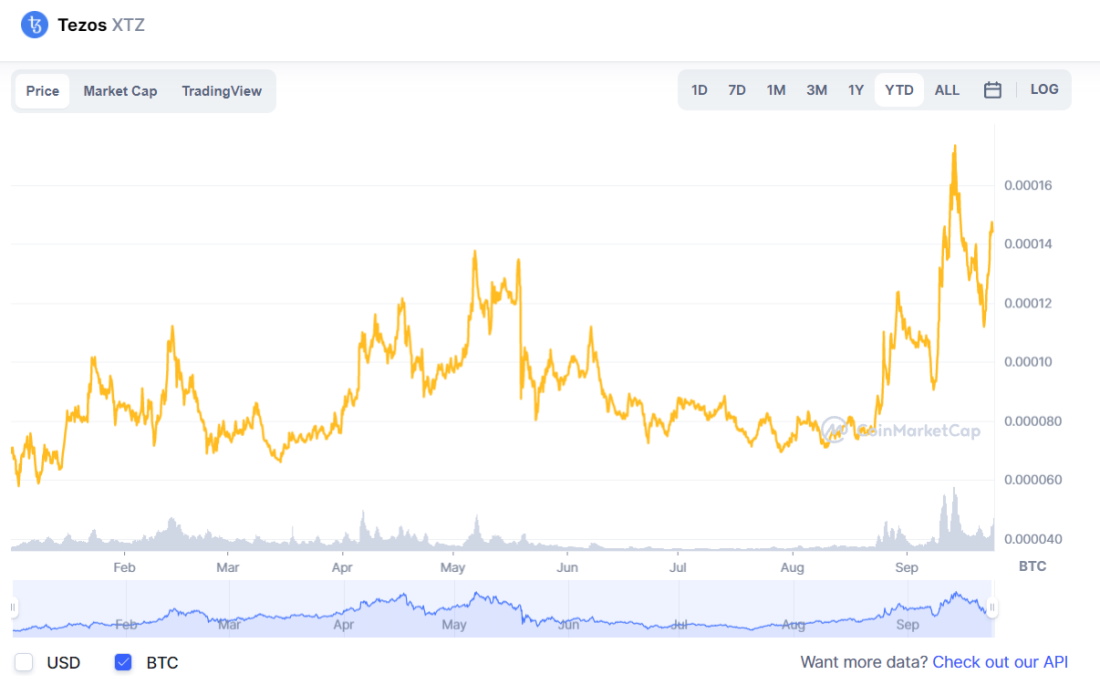 Image source: coinmarketcap.com
Tezos (XTZ) – the current Tezos market price is $6.03, the market cap is $5.2 billion and it has a 24-hour trading volume of $1.2 billion. These values are subject to change based on market volatility and liquidity levels.
Tezos is another top-rated NFT crypto token to buy in 2022. Tezos is a blockchain network that runs on smart contracts, much like Ethereum. But, Tezos aims to provide better infrastructure that can develop and improve as time progresses without the risk of a hard fork. XTZ holders can vote on proposals for protocol upgrades. 
Axie Infinity (AXS)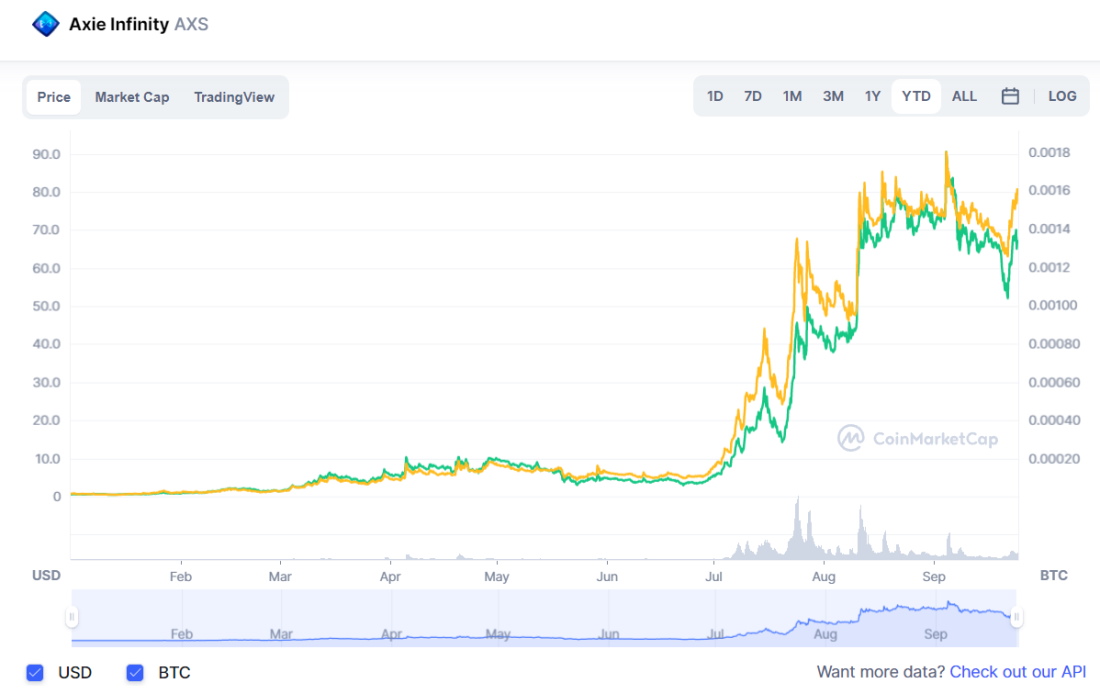 Image source: coinmarketcap.com
Axie Infinity (AXS) – The live Axie Infinity price at the time of writing is $66.12 with a 24-hour trading volume of $705,890,828 and a market cap of $4.027 billion.
Axie Infinity is a trading and battling digital game that's based on blockchain technology, and is partially owned and controlled by its users. Taking its inspiration from the likes of Pokemon and Tamagotchi, Axie Infinity enables users to manage, raise, breed, trade and collect token-based digital creatures referred to as Axies. Each Axie is an NFT and can be bought and sold on the Axie marketplace. 
Chiliz (CHZ)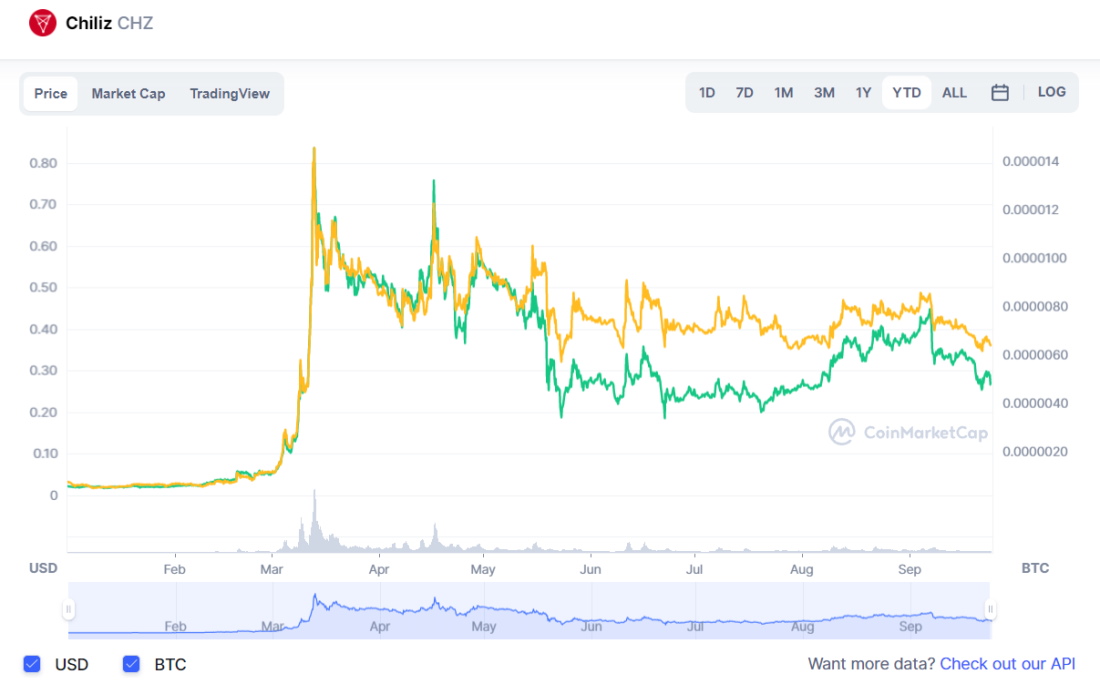 Image source: coinmarketcap.com
Chiliz (CHZ) – The live Chiliz price at the time of writing is $0.270192 with a 24-hour trading volume of $248,563,764, and a market cap of $1.6 billion according to coinmarketcap.com. Chiliz (CHZ) is one of the leading NFT crypto tokens for sports and entertainment, powering the planet's first blockchain-based fan engagement & rewards platform Socios.com.   
Decentraland (MANA)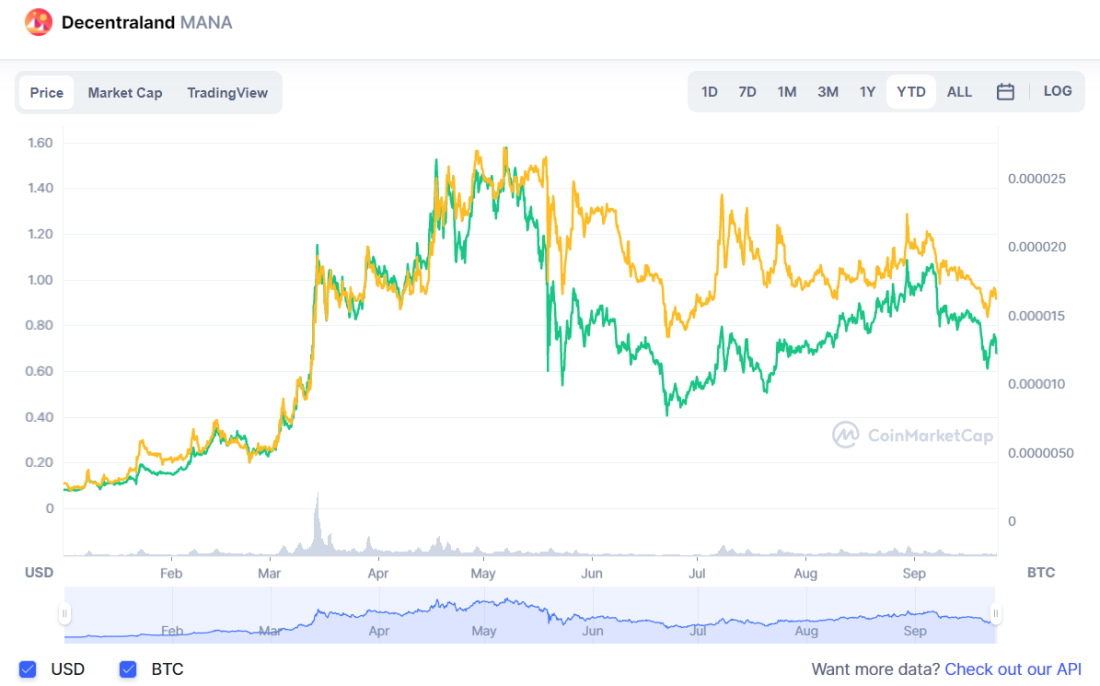 Image source: coinmarketcap.com
Decentraland (MANA) – According to coinmarketcap.com, the live Decentraland price at the time of writing is $0.674598 with a 24-hour trading volume of $109,070,654, and a market cap of $1.2 billion. Decentraland (MANA) describes itself as a virtual reality platform powered by the Ethereum blockchain, where users can create, experience, and monetize content and applications.
NFT Marketplaces
Want to buy NFTs but don't know where to start searching? From digital memes and viral videos, to NFT art and sports collectibles, here are the top five best NFT marketplaces to get your hands on some trending NFTs. 
OpenSea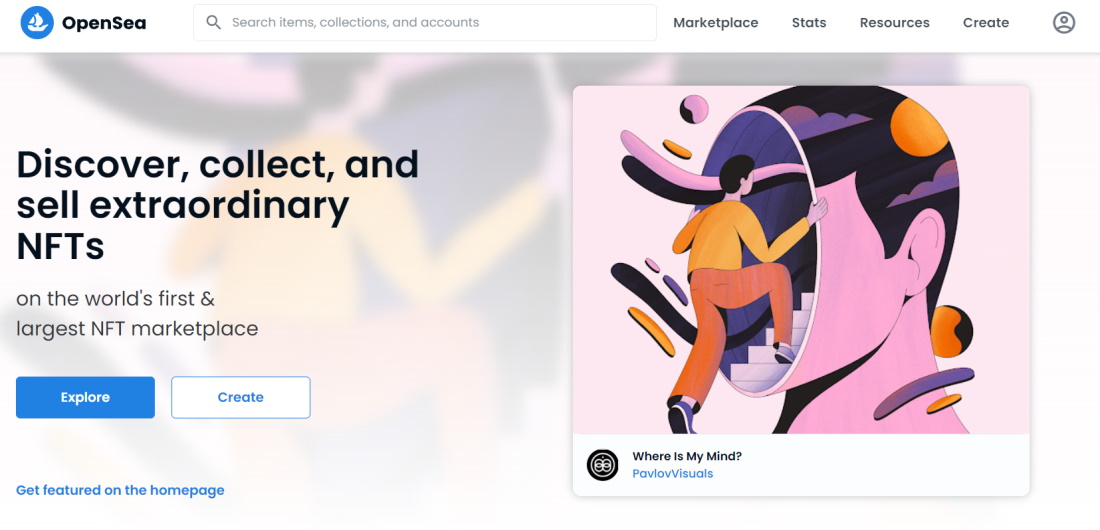 OpenSea is one of the first and leading P2P (peer-to-peer) NFT marketplaces allowing you to sell NFTs and own NFTs. At the time of writing it has an average trading volume of more than $6 billion, providing NFTs of all categories including collectibles, art, music, memes, GIFs, just to name a few.
The onboarding process is quick and easy, and you can connect your digital wallet with the click of a button. Once you've connected, purchasing and selling NFTs is a walk in the park. Just browse through the endless NFT offerings, select something you like and make a bid. 
Axie Marketplace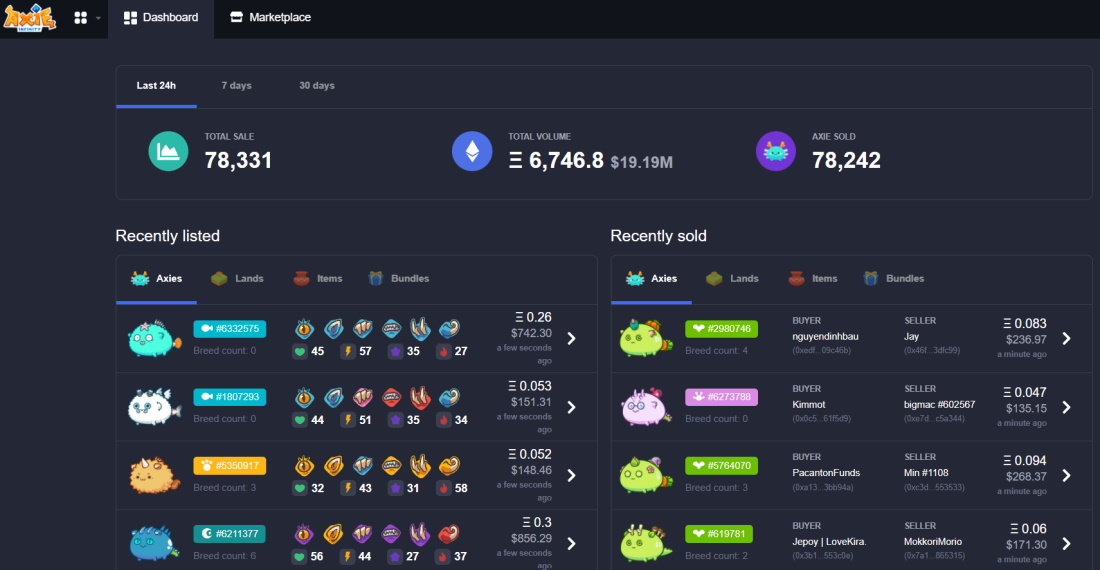 NFT-powered digital game Axie Infinity hosts one of the largest NFT marketplaces across the board, with a 24-hour trading volume of $705 million according to coinmarketcap.com. It trades only in Axies: digital creatures which players breed, trade and customize on the Axie Marketplace. Axie Infinity is a rather complicated NFT service to use, especially for beginner NFT enthusiasts.
As well as an Ethereum wallet such as Binance or MetaMask, you'll need to create a Ronin wallet, deposit ETH tokens to Ronin, and purchase at least three Axies from the Axie Infinity Marketplace, setting you back a couple hundred dollars. That's not the best scenario for a casual beginner, but it's not beyond the limits of an experienced crypto trader. 
CryptoPunks/Larva Labs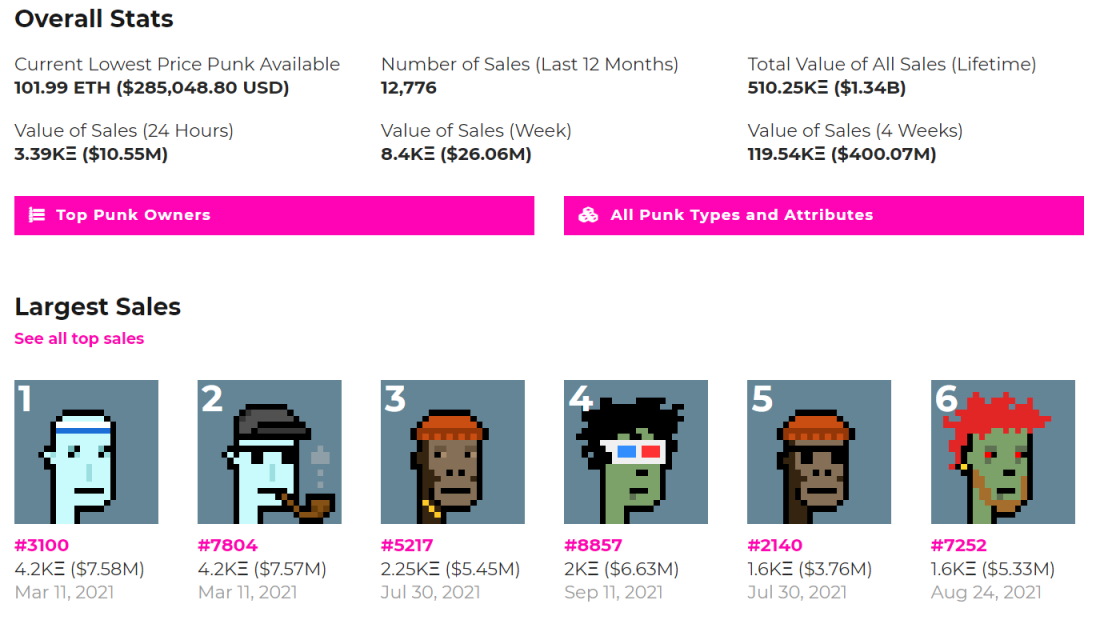 Among the first iterations of NFTs on the Ethereum network, CryptoPunks is a basket of thousands of randomly developed characters using an abstract pixel art format and Minecraft-like appeal. Despite being free to begin with, the only way to take ownership of one today is to spend cryptocurrency. This means navigating to the Larva Labs Marketplace. The cheapest CryptoPunk will cost you more than 90 ETH.
To get the ball rolling, simply link your crypto wallet, browse through the offering of Punks and enter your offer. The biggest challenge is convincing yourself that these digital pixel characters are worth an astronomical amount of money. But perhaps the beauty of an NFT is in the eye of the beholder after all. 
NBA Top Shot Marketplace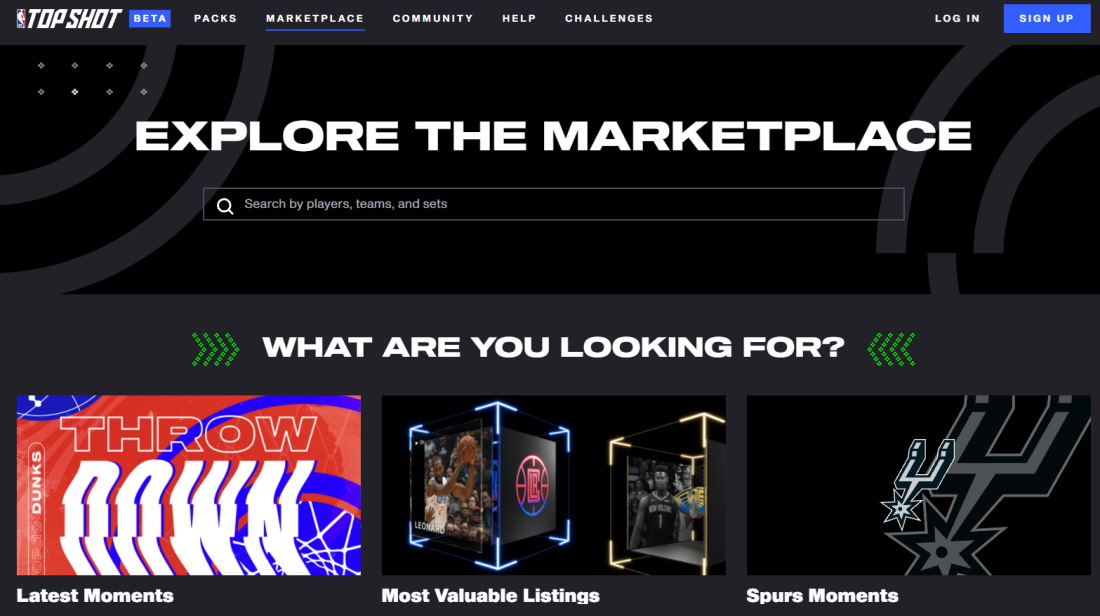 One of the earliest NFT series to grab the attention of the general public, NBA Top Shot is a collection of digital trading cards consisting of NBA video clips. After purchasing a pack of trading cards, clips are held in your crypto wallet, where you can watch and sell them on the NBA Top Shot Marketplace. Adding to NBA Top Shot's success is that its developers Dapper Labs have made getting started a seamless experience for the mainstream user. 
Rarible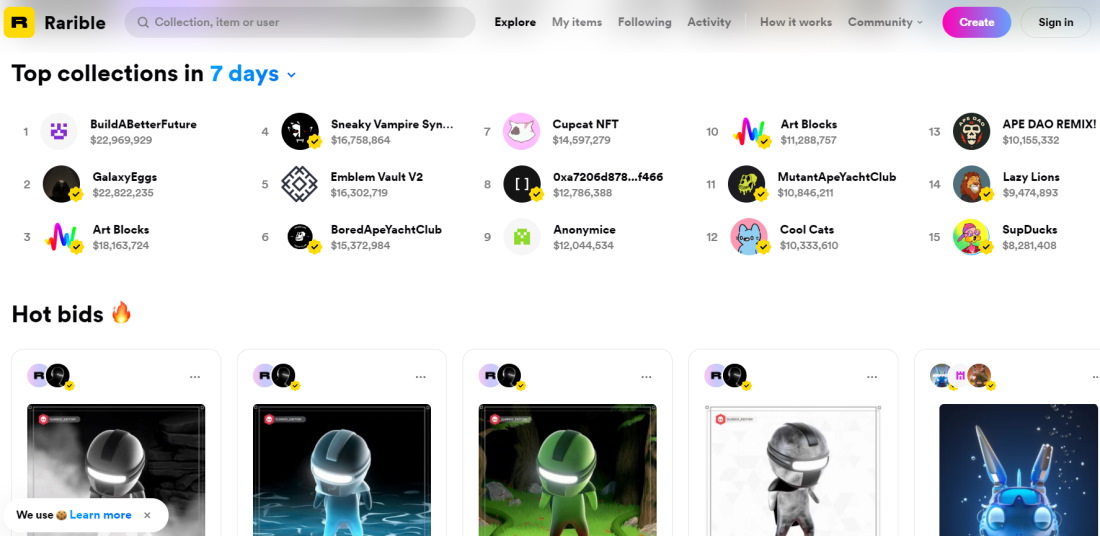 A leading NFT marketplace that runs on the Ethereum network, Rarible is a community-owned digital platform that offers a range of NFT art and collectibles. Like OpenSea, Rarible allows you to buy and sell an array of media.
Creators and depositors can create multiple NFTs for a single image. Rarible's user interface is straightforward to use, and you can log in using a range of crypto wallets. Once you've signed in, you can use the funds in your crypto wallet to purchase, or even deposit funds into your account with fiat currency using a wire transfer or debit card. 
Are NFT Tokens a Good Investment?
NFTs are another outcome of the recent cryptocurrency boom. More than $250 million worth of non-fungible tokens was traded last year, according to statistics from NonFungible.
According to statista.com "From April 12 to September 15, 2021, the number of sales involving non-fungible tokens (NFTs) in the art segment fluctuated. As of April 12, 2021, roughly 23.7 thousand NFTs were sold in the art segment during the previous 30 days. In September 15, 2021, the aggregated number of sales over 30 days reached approximately 94.5 thousand."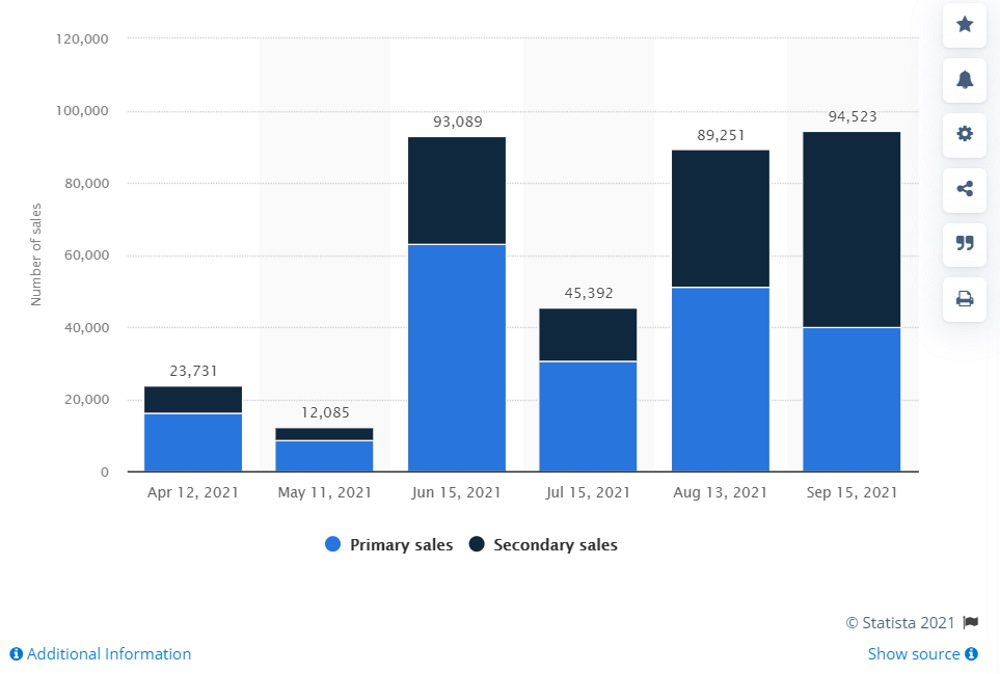 Image source: statista.com
This rise of just under 300% compared to 2019 is prompting budding crypto enthusiasts to ask themselves: should I buy NFTs? 
Buying NFT tokens right now is a risky investment to say the least. NFTs are a volatile piece of a much larger volatile crypto puzzle. Furthermore, even conventional art and collectibles are difficult to value, which makes this newly developed digital art form even more nefarious.
You also shouldn't just invest in NFTs if you're fuelled by FOMO (the fear of missing out). Like all investments there are risks involved, but falling for the get rich quick schemes is never a good idea. There are positive indications that suggest the NFT market could grow and NFT assets could therefore appreciate. As a result, you should only invest money that you can afford to lose and ensure that you are using a top-rated and trusted crypto wallet to make your NFT purchases. 
Some have even gone as far as to say that buying NFTs doesn't make any logical sense. Former Christie's auctioneer, Charles Allsopp, told the BBC that the idea of purchasing NFTs made "no sense". Additionally, author of Attack of the 50-foot Blockchain, David Gerard also warned that "There are some artists absolutely making bank on this stuff… it's just that you probably won't."
Choosing an Ethereum Wallet for Buying NFTs 
If you're eager to start collecting NFTs, you'll need to acquire a top-rated Ethereum wallet. 
Firstly, you'll need a top-rated crypto wallet, like the Binance Chain Wallet. Depending on the NFT Marketplace you choose to buy your NFTs from, you'll need to buy some cryptocurrencies like Ether, BNB, and BUSD. You can also buy crypto with a bank transfer, or a debit card, and a credit card on the Binance exchange.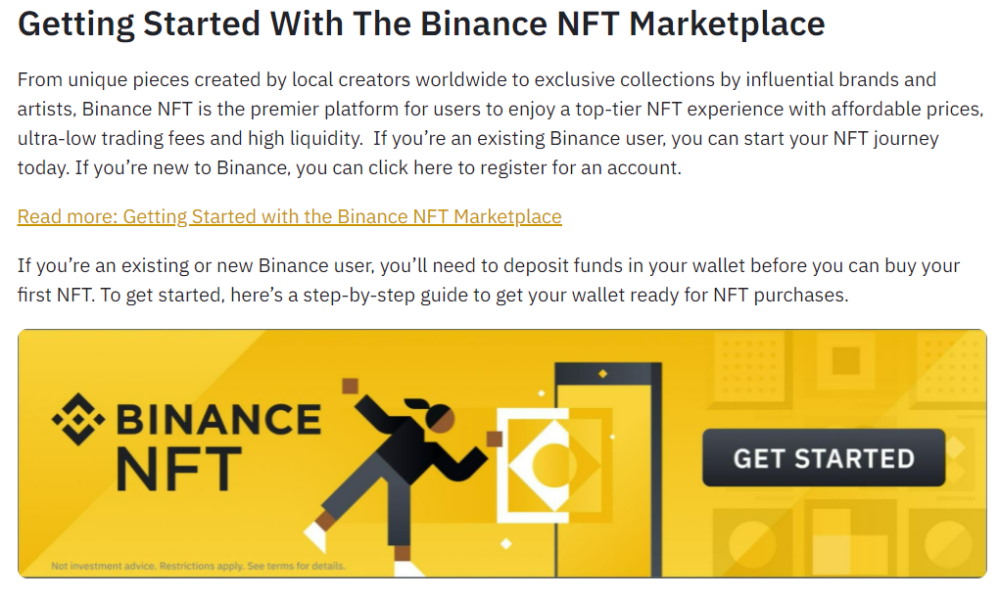 You'll need to keep fees and commissions in mind as you conduct your research. The best crypto exchanges charge a trading commission when you buy and sell cryptocurrencies. 
Binance also offers the convenience of a mobile app. This means you can trade ETH and other altcoins on the move by downloading the Binance crypto trading app. One of the leading crypto apps across the board, the Binance app gives you access to ETH and 150+ cryptocurrencies anytime and anywhere. It is also compatible with iOS Apple and Android mobile devices.
Pros & Cons of Investing in NFTs
Pros
New source of revenue for artists working in a digital arena.
NFTs are non-fungible meaning they can't be replicated if their authenticity is verified on the blockchain. 
The key component of blockchain technology, smart contracts make automatic trade executions a possibility. For instance, if an NFT owner resells his/her NFT art for a profit and the creator attached a royalty rider within the contract, the NFT creator gets their share of the royalties instantly.
Can be bought and sold using Ether tokens, BNB tokens, and BUSD on the Binance NFT Marketplace
NFTs could potentially appreciate, leading to huge potential returns 
Cons
NFTs are purely speculative assets that are relatively new to the trading scene. This makes it difficult to forecast their value and worth as a long-term hodl investment. 
With climate change an ever-growing issue in modern politics and society, there's a huge question mark hovering over how sustainable NFTs are. 
Creating and selling NFTs use a lot of electricity, as do blockchain technologies. 
Conclusion – Expert Verdict
NFTs are under the spotlight, with crypto enthusiasts and NFT collectors flocking to gain exposure to this new digital asset. By reading this beginner's guide you'll know how to buy NFT tokens with ease. 
If you want to buy NFT tokens for yourself, we recommend getting started by buying Ethereum on Binance and then connecting to one of our profiled marketplaces where you can buy top tokens today.
Binance – Best Exchange to Buy Ethereum for NFTs

Your capital is at risk.
Frequently Asked Questions on NFT Tokens
What are the best NFT tokens?
Where can I buy NFT art tokens?
Are NFT tokens a good investment?