How to Buy Naspers Shares in South Africa – With 0% Commission
As one of the largest companies in South Africa, Naspers is understandably a popular addition to many investors' portfolios. Through intelligent investments over the past decade, Naspers' share price has grown exponentially – and there's every chance this upside momentum could continue over the next few years.
In this guide, we discuss How to Buy Naspers Shares in South Africa – exploring the company and its business model in great detail and showing you how to invest in Naspers without paying any commissions whatsoever.
How to Buy Naspers Shares in South Africa – Step by Step Guide 2021
Step 1: Open an account with Plus500 – Head over to Plus500's homepage and click 'Start Trading'. Enter a valid email address and choose a password for your account.
Step 2: Upload ID – Verify your account by uploading proof of ID (copy of passport or driver's license) and proof of address (copy of bank statement or utility bill)
Step 3: Deposit – Deposit via credit/debit card, bank transfer, or e-wallet.
Step 4: Buy Naspers Shares – Search for Naspers on the Plus500 trading platform and click 'Buy' in the order box. Next, enter the number of shares you'd like to buy and click 'Buy' again'.
Step 1: Choose a Stock Broker
One of the most important aspects of investing is choosing a reliable stock broker. These brokers help facilitate buy and sell orders in the market, allowing users to make trades and purchase shares. These days there is an abundance of options to choose from, so it's vital you do your research and make the best decision for your situation.
To help you out with this, the section below discusses our recommendation for where to buy Naspers shares in South Africa.
1. Plus500 – Overall Best Broker to Trade Naspers Shares in South Africa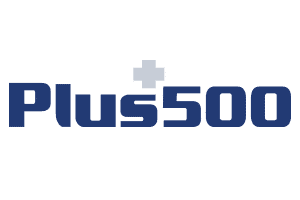 Our number one pick for which broker to buy Naspers shares in South Africa with is Plus500. Plus500 was founded in 2008 in Israel, meaning they are well established in the brokerage scene. Primarily focusing on CFDs, Plus500 is regulated by top-tier entities such as the FCA and ASIC – and are even listed on the London Stock Exchange.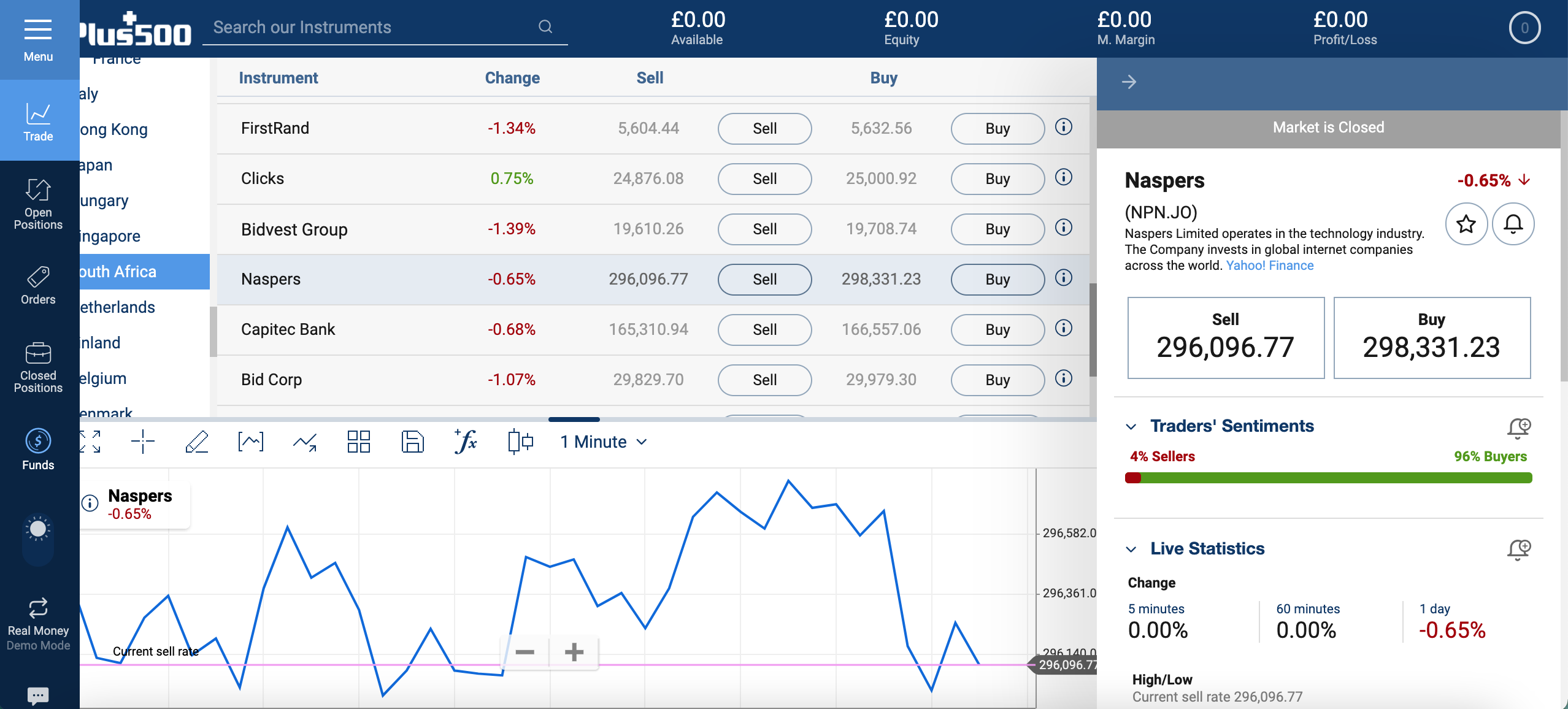 Plus500 ensure users have various trading options at their disposal by offering a vast selection of CFDs to choose from. These include 1900 stock CFDs, 26 index CFDs, and a wide array of ETFs, commodities, and currencies too. Furthermore, Plus500 also provide 14 different cryptocurrencies to trade, including Bitcoin, Ethereum, Litecoin, and Cardano.
In terms of fees, Plus500 offer a trading environment that will suit most traders. Notably, Plus500 does not charge a commission when you place a trade. Instead, all fees are incorporated into the spread, which is the difference between the buy and sell prices on an asset. As a result, this spread remains competitive with other CFD providers but can widen during times of volatility or low liquidity.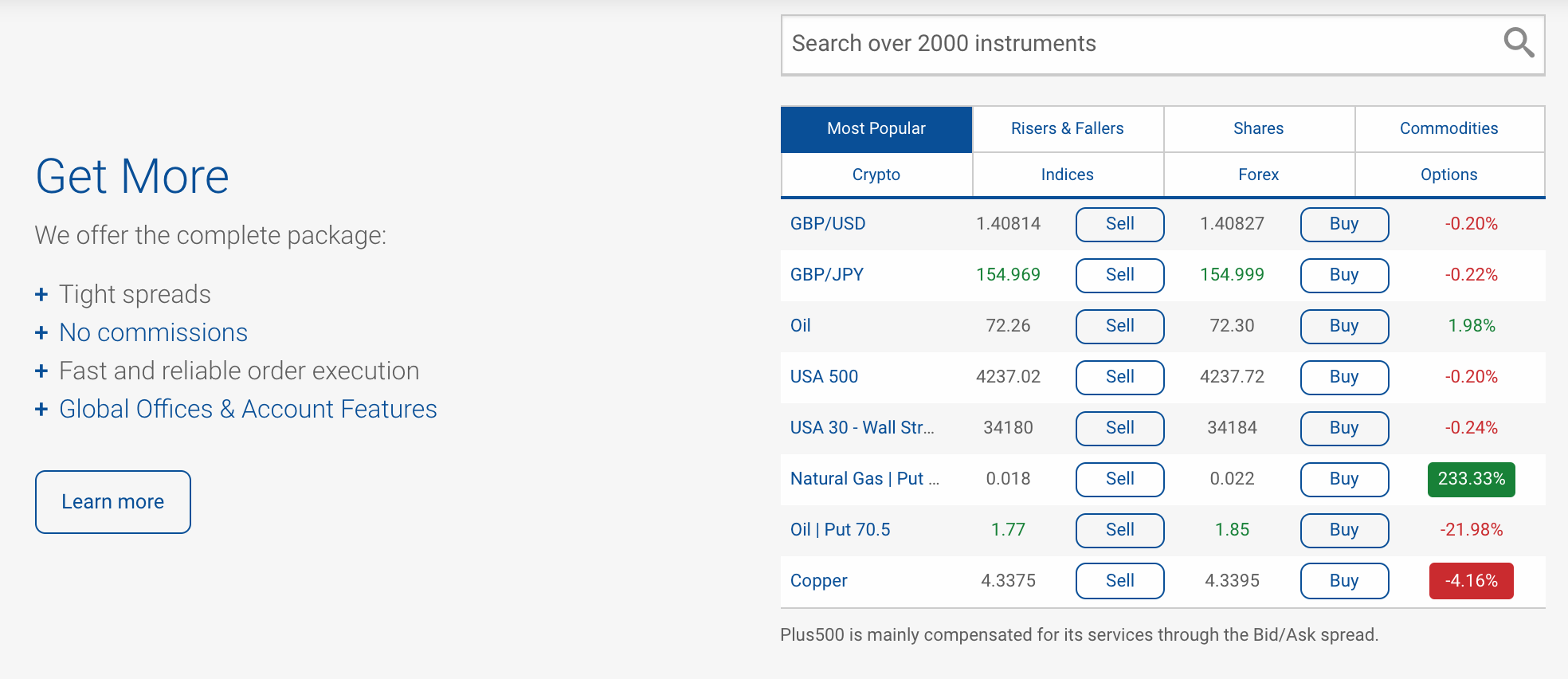 Another great thing about Plus500 is that they do not charge any deposit or withdrawal fees. Users can make deposits via credit/debit card, bank transfer, PayPal, or Skrill. Furthermore, the minimum deposit is only $100 – which equates to approximately 1377 ZAR.
Finally, Plus500 offer an excellent trading platform for users, complete with advanced charting capabilities and a handy newsfeed. They also provide a helpful sentiment tool for each asset, showing whether traders are leaning towards a buy or a sell position. Plus500 also offers a demo account for users – ideal for beginner traders looking to become familiar with the platform before trading for real.
Pros:
Regulated by the FCA and ASIC
Huge selection of assets to trade
0% commissions when placing trades
No deposit or withdrawal fees
Advanced charting capabilities
Sentiment tool for analysis
Handy demo account feature
Cons:
Some inactivity fees charged
72% of retail CFD accounts lose money.
Research Naspers Shares
If you're looking to buy Naspers shares in South Africa, it's a good idea to analyse the company and its financials beforehand to ensure it's a wise investment. Areas such as the Naspers share price and the company's business model are things to examine so that you can get an idea of the outlook for the stock going forward.
To help you out with this, the sections below explore some of the critical things you should pay attention to when you decide to buy shares in Naspers.
What is Naspers?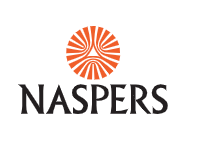 First and foremost – what is Naspers, and what do they do? Naspers is a South African internet company based in Cape Town that offers services related to online classified ads, fintech, payments, and food delivery. The company was founded in 1915 and initially operated as a printer and publisher for newspapers and magazines. A few years later, Naspers also added book publishing to its list of services, and the business model remained this way for the next 65 years.
In the 1980s, Naspers began to transition into digital media and launched their own subscription TV service in South Africa. Over the next few decades, Naspers began acquiring various smaller companies to create the portfolio of brands it owns today. These brands all operate under the umbrella of Naspers' investment arm called Prosus.
Prosus is an essential aspect of Naspers' business model as it allows them to invest in various market sectors in a targeted fashion. Brands owned under the Prosus umbrella include PayU, AutoTrader ZA, Takealot.com, Stack Overflow, and many more. In addition, through Prosus, Naspers also have investments in large companies such as Tencent, Mail.Ru, and Delivery Hero.

In addition to the internet companies Naspers owns through Prosus, the company also owns various other companies through its dedicated media arm, Media24. Brands owned through Media24 include the well-known News24 publication, along with Die Burger, City Press, You, and more.
Putting all of this information together, Naspers can be thought of as the head of all these investments, with Prosus and Media24 being the arms. Through Prosus and Media24, Naspers aim to invest in industries and countries across the world that have long-term potential and that have a positive impact on local communities. This is evidenced by the recent investment by Prosus in GoodHabitz, an online employee-training company based in Europe. This investment totalled around €212m (3.5bn ZAR) according to News24.
Naspers is currently listed on the Johannesburg Stock Exchange in South Africa and has a secondary listing on the London Stock Exchange through the medium of American Depositary Receipts (ADR). The company has a market cap of $90.14bn – making it one of the largest firms in South Africa by market capitalisation.
Naspers Share Price
When stock trading, it's essential to look at the price history of the company's shares and its financials to get a sense of what the upside potential is going forward. In Naspers' case, the Naspers share price is currently 298,684 ZAC at the time of writing – representing a 2% decrease since the beginning of the year. Shares were actually up by 28% at the end of January; however, since then, the Naspers share price has been on a downwards trajectory to its current level.
Shares are up 4% from this date last year, although that statistic doesn't tell the whole story. Looking at the price chart, it's clear that the Naspers share price has spiked on numerous occasions but has always returned to this price range. Usually, when price is in this area, a bullish run soon follows – which adds validity to the assertion that Naspers has excellent upside potential in the future.

72% of retail CFD accounts lose money.
In terms of the company's financials, Naspers' annual report for 2020 highlighted yearly revenues of $22.1bn – up 23% from the previous year. In addition, trading profits totalled an impressive $3.7bn, which was an increase of 13% from 2019. Much of the revenue increase is attributed to outstanding performance from Naspers' food delivery and e-commerce businesses, with the former growing revenues by 99% over the past year. Furthermore, Naspers' stake in Tencent also rewarded them as the company grew revenues by 16%.
Looking more closely at Naspers' finances, it's a good idea to check out their earnings per share (EPS) and price-to-earnings (P/E) ratio. In terms of the former, this metric indicates the firm's profitability. According to data from MacroTrends, Naspers' EPS for 2020 was $1.40. This represented a slight decrease from the $1.90 figure experienced in 2019; however, this was during the midst of the Coronavirus pandemic, so some adverse effects are to be expected.
The P/E ratio is a good indicator of the value of a company's stock – the higher the ratio, the more value that investors feel it has. At the time of writing, Naspers' P/E ratio is currently 36.93 – the highest it has been since March 2017. The fact that the company's P/E ratio has been growing year on year is a positive sign for the stock and its value. Furthermore, Naspers' P/E ratio is far higher than other companies in the industry, which again highlights the stock's value.
Naspers Shares Dividends
If you're wondering how to invest money to generate a passive income stream, investing in a dividend-paying stock is a good method. In terms of Naspers, the company currently pays an annual dividend which is typically delivered in either September or November. The ex-dividend date is usually a week before payment – so if you are a shareholder before this date, you'd be eligible to receive a payout.
Although Naspers pays a consistent dividend, the yields are not the highest. The most recent dividend in 2020 had a yield of only 0.19% – this is around the same level showcased in previous years. The average dividend yield in South Africa is 3.26%, so Naspers is well below this benchmark.

However, it's worth noting that Naspers' business model is focused on investments and company growth – therefore, profits are typically reinvested rather than paid out as dividends. So, if you were to buy Naspers shares in South Africa, it's unlikely that dividend yields would ever grow to a high level. Having said that, it's still a great bonus each year to have, especially if you have a significant stake in the company.
Are Naspers Shares a Good Buy?
Putting everything together, let's take a look at whether it's a good idea to buy Naspers shares in South Africa. There are various elements to consider, which we will explore in this section.
Diversification Benefits
As noted earlier in this guide, Naspers' business model revolves around investing in companies operating in a diverse range of industries in the hope of achieving consistent long-term growth. Due to this business model, shareholders get the indirect benefit of diversification – both across sectors and across countries. One country that Naspers have a great deal of focus on is China through their huge investment in Tencent.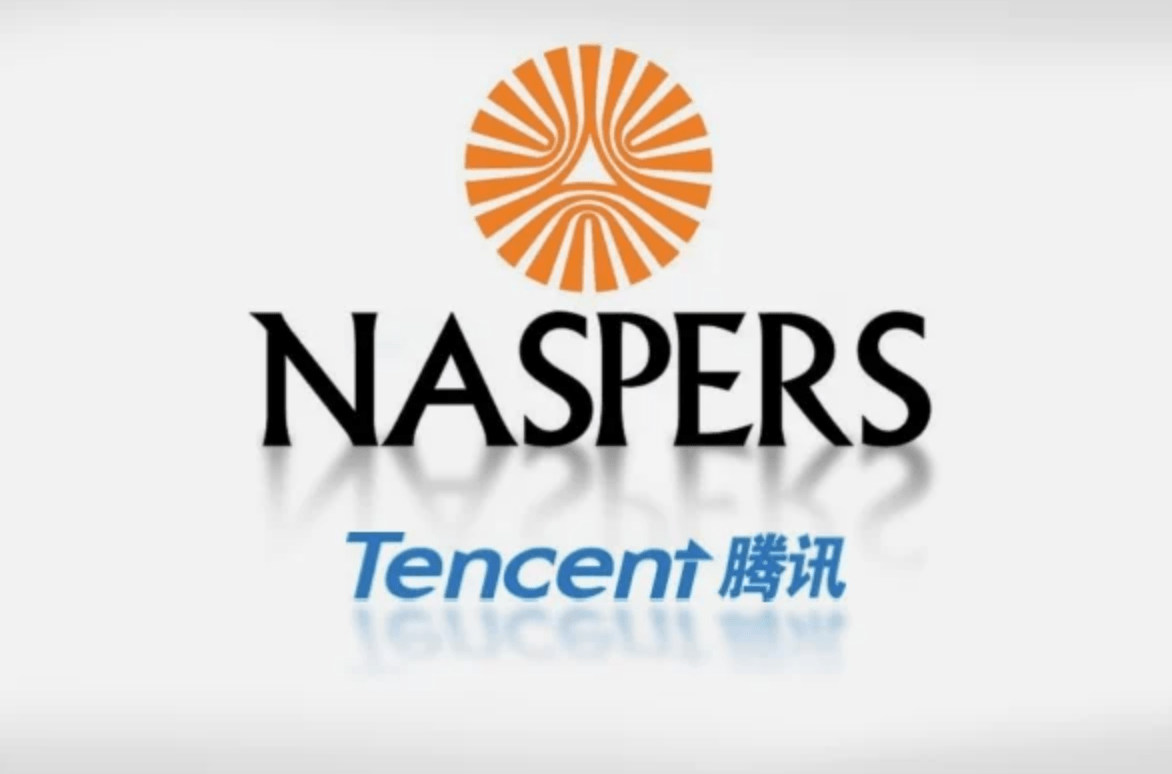 Naspers had the foresight to invest in Tencent back in 2001, and the company's 31% stake is now worth approximately $250bn. Tencent is one of the most popular Chinese companies to invest in as they operate in various industries such as video games and fintech. As such, Tencent generates enormous amounts of revenue each year, which benefits Naspers and the share price.
Aside from Tencent, Naspers also has investments in countries such as India and Brazil and have a significant stake in Delivery Hero, which is a food delivery service based in Berlin. These diverse investments allow shareholders to gain exposure to various industries and locations, which is an attractive benefit of owning Naspers shares.
Potential Value Increases for Shares
Another reason to buy Naspers shares in South Africa is the upside potential that the company's shares have. Reuters reported that Naspers's investment arm, Prosus, was planning to buy back around $3.6bn worth of Naspers shares. Companies tend to buy back their shares when they are cash-rich and feel that the stock market will experience a bullish run. Furthermore, when companies buy their shares, it tends to boost the stock price as investors see it as a positive signal.
In addition to the share buyback, Naspers sold 2% of their stake in Tencent in April, which generated $14.6bn in cash. This cash is now available to invest in other high-growth companies, which will provide the potential for increased revenue streams.

Finally, Bloomberg recently reported that Naspers and Prosus are planning a 'share swap' scheme that sees Prosus shares swapping its shares for shares in Naspers. Although this may seem complicated, the aim is to optimise Naspers' weighting on the Johannesburg Stock Exchange, making the stock more attractive to investors, increasing the Naspers share price.
In summary, the ability to indirectly invest in Tencent (and therefore China) is a great benefit to owning Naspers shares. Moreover, Naspers are still the major shareholder in Tencent by some distance, which means that Naspers shareholders will reap the rewards if Tencent continues to grow at the rate that they are. In addition to this, the recent financial restructuring looks set to add further value to Naspers' shares. All in all, these factors combine to make it a solid idea to buy Naspers shares in South Africa in the near future.
Open an Account & Buy Shares
If you want to buy Naspers shares in South Africa today, you'll need to sign up with a reliable and secure broker to facilitate your investment. Through our experience and research, we've found Plus500 to be one of the best share trading platforms available for South African traders. So, in the steps below, we'll show you how to buy Naspers shares with Plus500 – all without paying any commissions.
Step 1: Create a Plus500 Account
To create a Plus500 account, head over to the broker's website and click the 'Start Trading' button on the homepage. You'll then be prompted to choose between a real account or a demo account – choose the former and then enter an email address and password for your account.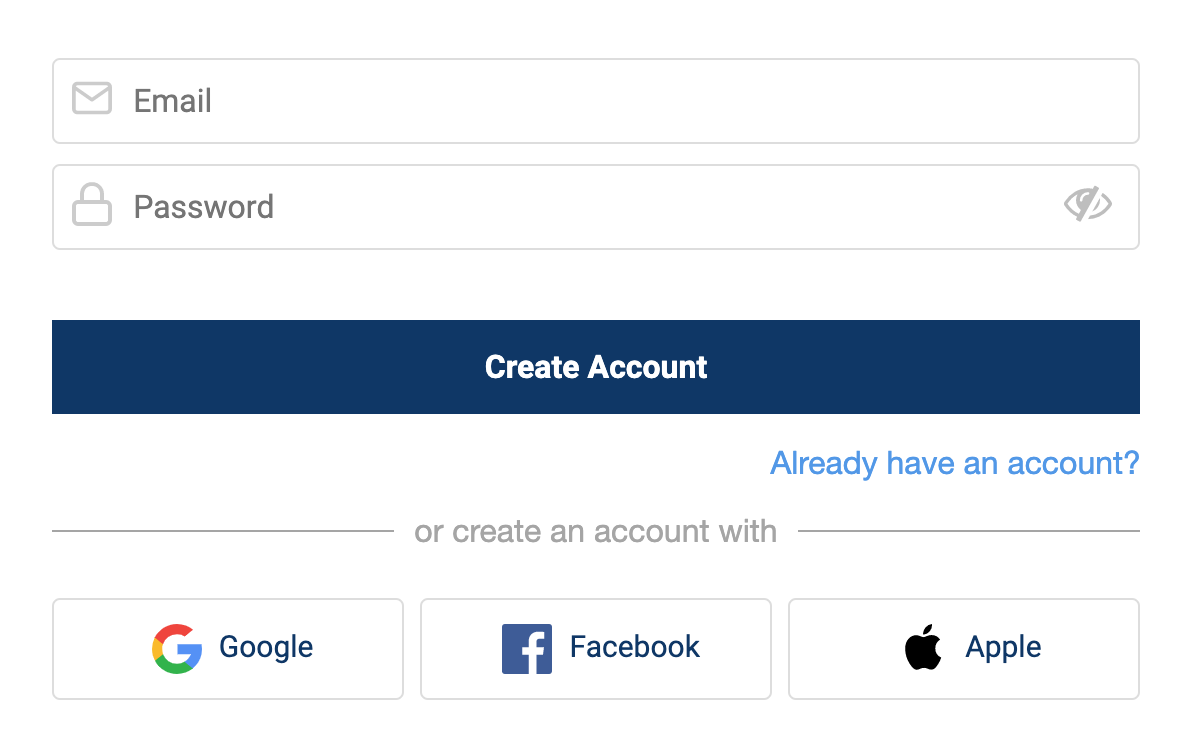 72% of retail CFD accounts lose money.
Step 2: Verify your Account
As the FCA and ASIC regulate Plus500, new users must verify themselves before being able to trade. Plus500 make this super easy to do and usually only takes a few minutes. First, head to your account information and upload proof of ID (a copy of your passport or driver's license) and proof of address (a copy of a bank statement or utility bill). Plus500 will then check your documents – once checked, you can move onto the next step.
Step 3: Make a Deposit
Plus500 allow fee-free deposits in several currencies, with the minimum deposit amount being only $100 (1374 ZAR). In terms of deposit methods, you have the following options available to you:
Credit card
Debit card
Bank transfer
PayPal
Skrill
Step 4: Search for Naspers shares
Once you have funded your account, head on to Plus500's online trading platform and type 'Naspers' into the search bar in the top left corner. When you see it appear in the search results, click 'Buy'.

Step 5: Buy Naspers Shares in South Africa
An order box will appear on the right-hand side of the screen in which you can enter the number of shares you'd like to purchase. You can also opt to use a stop loss or leverage if you wish. Once you are happy with everything, click 'Buy'.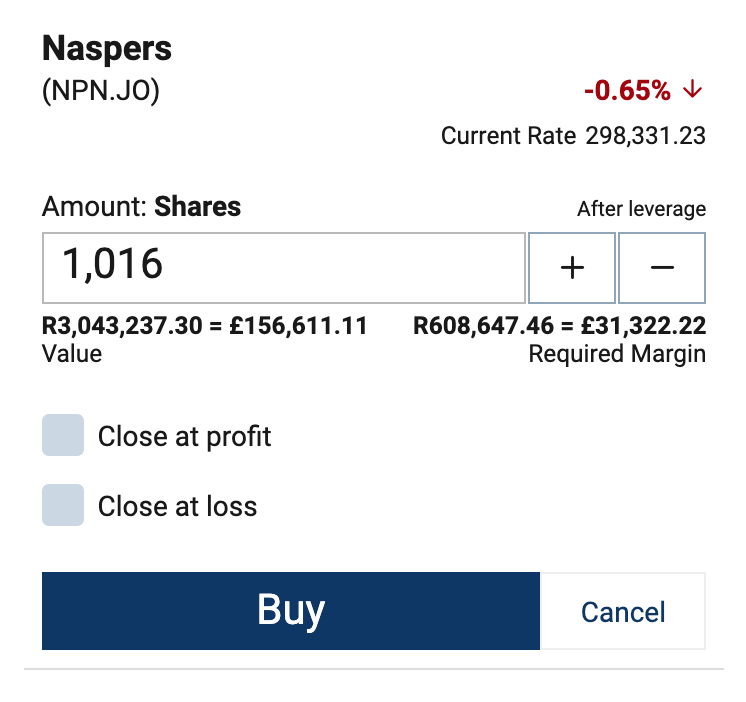 Congratulations! You are now officially invested in Naspers – all without paying any commissions or transaction fees!
72% of retail CFD accounts lose money.
Naspers Shares Buy or Sell?
Overall, can Naspers shares be considered a buy or a sell opportunity? We believe it is the former, as the company has a fantastic business model and excellent growth prospects going forward. Naspers' intelligent investment in Tencent two decades ago has set them up well for future growth – and with a massive windfall of cash recently generated from selling a 2% stake, Naspers now have the resources to boost this growth further.
The company's annual report for 2020 highlighted how well some aspects of the business are doing, specifically the e-commerce and food delivery companies. The nature of life post-pandemic will mean that these two areas look set to grow exponentially as social distancing policies show no signs of disappearing.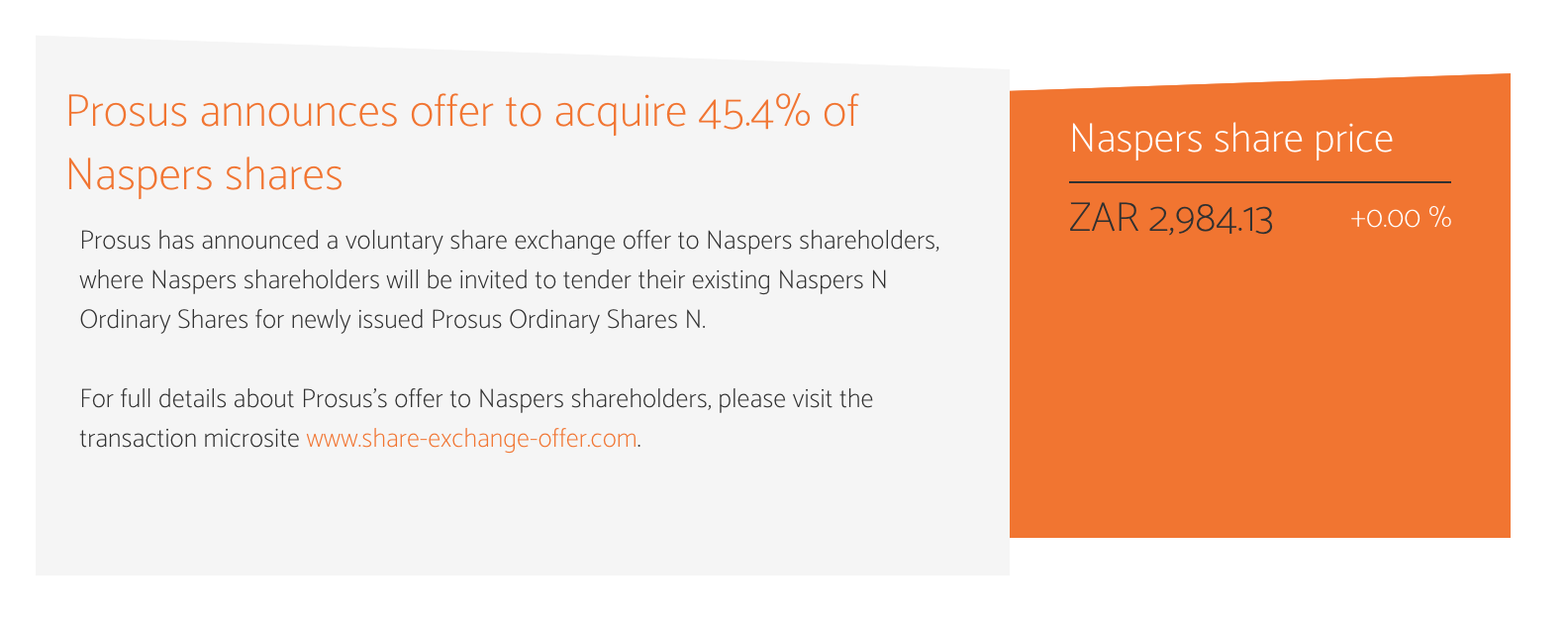 Aside from these areas, Naspers also has interests in fintech and classified ads – two sectors that are predicted to increase in popularity over the next few years. These intelligent investments by Naspers mean that if the companies they own grow over the short-to-medium term, Naspers will benefit from increased revenues. Furthermore, there's always the scope to sell parts (or all) or these companies down the line for a tidy profit.
Although Naspers' dividend isn't the greatest, it's still better than having no dividend at all. Moreover, with the rate that profits are increasing, there is always a chance that upper management may decide to increase this dividend in the future. This is another reason to consider Naspers shares as an investment.
So, to summarise, we certainly feel that an investment in Naspers is a solid idea for investors looking for returns over the next few years. Due to the well-established and diverse nature of the company's business model, volatility shouldn't be a concern for investors. Moreover, if Naspers can continue adding to their portfolio of companies in a savvy manner, there's no reason why the share price can't showcase some bullish momentum in the months and years to come.
How to Buy Naspers Shares in South Africa – Conclusion
Throughout this guide, we have explored Naspers in detail, discussing its business model and highlighting its current financial state. Naspers shares have done extraordinarily well over the past decade – and even though there has been a slight pullback in recent months, we still feel Naspers shares represent a good investment going forward.
If you're looking to trade Naspers right away, we'd recommend using Plus500. Plus500 is regulated by top-tier institutions, which ensures a safe and reliable trading environment for all users. Furthermore, Plus500 does not charge any commissions when you buy shares in a company – and also allows you to sign up and be ready to invest in under ten minutes.
Plus500 – Buy & Sell Naspers Shares With Zero Commission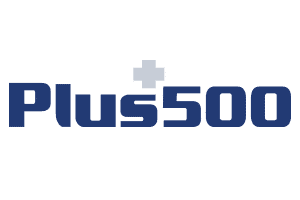 72% of retail CFD accounts lose money.
FAQs
Should I buy Naspers shares?
Does Naspers pay a dividend?
How much are Naspers shares worth?