Altcointrader Review 2022 – Fees, Supported Coins, Safety & More
If you're based in South Africa and looking for a simple way to buy and sell cryptocurrency domestically, you might be considering Altcointrader. The online cryptocurrency exchange supports a number of leading digital coins and allows you to deposit and withdraw funds in ZAR.
This Altcointrader Review 2022 will help you ascertain whether the platform is right for you – by covering everything from fees and commissions, payments, supported coins, safety, and more.
What is Altcointrader?
Altcointrader is an online cryptocurrency exchange based in South Africa. With a specific focus on the domestic marketplace, Altcointrader is one of the few platforms that allows you to buy and sell cryptocurrency in ZAR. Ordinarily, you would need to exchange ZAR for USD to invest in digital assets, as this is the benchmark currency utilized in the space.
By opening an account with Altcointrader, you will have access to a variety of digital coins. This covers large-cap projects like Bitcoin and Ethereum, as well as lesser-known cryptocurrencies such as Namecoin and DAI. Although at first glance the Altcointrader website looks basic, it can be a bit cumbersome to navigate.

The team at Altcointrader aim to make the cryptocurrency investment process simple for those in South Africa by supported several payment types. This includes local bank transfers, credit card deposits via Zapper, and instant EFT (OZOW). Although Altcointrader does not list a physical address, it does provide a domestic telephone number should you wish to speak with a member of the team.
Altcointrader Pros & Cons
Pros
Based in South Africa
All crypto markets are priced in ZAR
Deposit funds with a debit/credit card or local bank transfer
Support for a wide range of digital coins
Cons
No physical address listed
Website looks super-outdated
Fees on the high side
No standout tools or features
Regulatory status is unclear
Supported Coins
Below you will find a full list of each and every cryptocurrency that our Altcointrader came across.
BTC – Bitcoin
ETH – Ethereum
XAU – Krugerrand
BCH – Bitcoin Cash
COMP – Compound
XMR – Monero
BSV – Bitcoin Satoshi Vision
DASH – Dash
LTC – Litecoin
ZEC – ZCash
BTG – Bitcoin Gold
NEO – Neo
XAG – Silver
LINK – Chainlink
DOT – Polkadot
GAS – Gas
ADA – Cardano
NMC – Namecoin
XRP – Ripple
USDT – Tether
DAI – DAI
BAT – Basic Attention Token
XLM – Stellar Lumen
DOGE – Dogecoin
TRX – TRON
BTT – BitTorrent
SHIB – Shiba Inu
Crucially, our Altcointrader review found that all of the supported crypto assets listed above are priced in ZAR. Once again, this means that you do not need to worry about exchange rates.
Altcointrader Fees
Our Altcointrader review found that fees and commissions will vary depending on a number of factors – such as the payment method you wish to use.
To ensure you have a full breakdown of what fees you will be liable for when using Altcointrader, check out the sections below.
Easy Buy
Our Altcointrader review found that the exchange offers a service called Easy Buy. In a nutshell, this allows you to purchase your chosen cryptocurrency by simply entering the amount you want to invest in ZAR. For example, you want to buy 6,000 ZAR worth of Bitcoin, you can state this in the 'Amount; box.
The fees to use the Easy Buy service amounts to 0.75% per slide. This means that you will pay 0.75% of the transaction amount when you purchase a digital currency.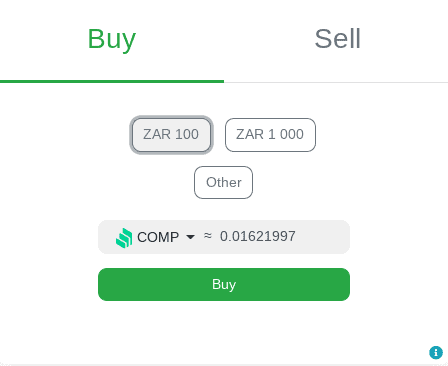 For example, an investment of 6,000 ZAR would result in a commission of 45 ZAR. You will also need to pay 0.75% when you sell your digital assets at Altcointrader. For example, if your Bitcoin investment was worth 9,000 ZAR at the time of the sale, your commission would amount to 67.50 ZAR.
Standard Commission
If you plan to use the platform to trade digital currencies, our Altcointrader review 2022 found that a standard commission of 0.1% applies. This is actually very competitive and mirrors the commission charged by Binance.  However, unlike Binance, it is not possible to reduce your commission by trading larger volumes.
Payment Fees
When it comes to payment fees, this will depend on the deposit method you elect to use.
Cash or EFT deposits attract a fee of 0.5%. The maximum fee charged is 95 ZAR.
If you want to deposit funds with a debit or credit card, you will pay 2% plus VAT.
OZOW deposits made in ZAR will cost 1.4%
There is no charge on cryptocurrency deposits
Baring in mind that the most convenient way of funding your cryptocurrency trading account is with a debit or credit card, a fee of 2% plus VAT is on the high side. Other platforms in this space, such as Capital.com, will not charge you any fees.
In terms of withdrawals, doing this via EFT will cost also cost you 0.5% (maximum 95 ZAR). Withdrawals via debit/credit card or OZOW are not possible – which is a major drawback.
Altcointrader Buying Limits
Our Altcointrader review found that the platform has a buying limit of 1 BTC per trade. You can, however, place as many orders as you wish throughout the day.
Altcointrader Wallet
Altcointrader does not offer a native cryptocurrency wallet that can be downloaded to a mobile or desktop device. When you purchase a digital currency through the platform, it will be stored in the Altcointrader web wallet. This means that you can view your balance at any time and withdraw the coins to a private wallet of your choosing.

With that said, our Altcointrader review found that you can also earn interest on your purchased cryptocurrency by utilizing the Easy Save feature. This is compatible with six digital currencies – each of which pays a different rate of interest.
Bitcoin – 4%
South African Tether 5.23%
TRON – 10.44%
Tether – 7.32%
Ethereum – 4.40%
Cardano 5.08%
The key problem that we identified with the Altcointrader wallet is whether or not your capital is actually safe. For example, the only potential safeguard that we could identify was that Altcointrader claims to keep "all crypto in cold storage".
It's highly unlikely that all clients funds are held offline, as the platform wouldn't be able to facilitate withdrawals or provide its exchange with much-needed liquidity. Furthermore, there is no mention of key security features like two-factor authentication or IP address whitelisting. As a result, by entrusting Altcointrader with your digital funds, you are arguably taking a huge risk.
Altcointrader App
Our Altcointrader exchange review found that the platform offers a mobile app on both iOS and Android devices. Both versions of the Altcointrader app allow you to buy and sell digital currencies on the move.
However, the Altcointrader app has very poor reviews on both stores. For example, it is rated just 3/5 on the App Store and 3.4/5 on Google Play. Perhaps this is why the mobile app isn't readily accessible directly on the main Altcointrader website.
Altcointrader User Experience
As we briefly noted earlier in this Altcointrader review 2022, the website itself is a bit clunky and most certainly outdated. Even when you are in basic mode, you are presented with a pricing chart that to the average trader – would not add any value. The basic segment of the website also presents a list of buy and sell offers – which is not too dissimilar to a live order book.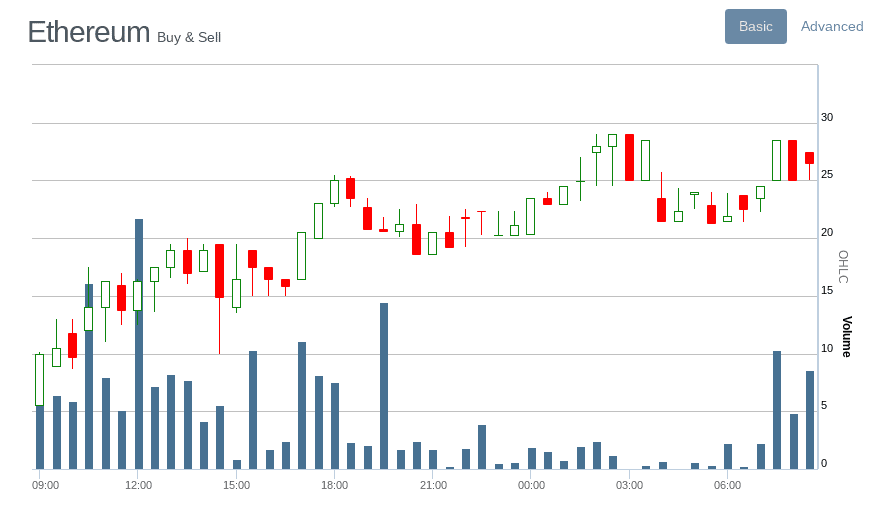 However, once again, a newbie trader would likely find this data somewhat intimidating. Perhaps the process of investing in a digital currency at Altcointrader is relatively straightforward when using the Easy Buy tool. This simply requires you to select the cryptocurrency you want to buy and enter your investment amount in ZAR.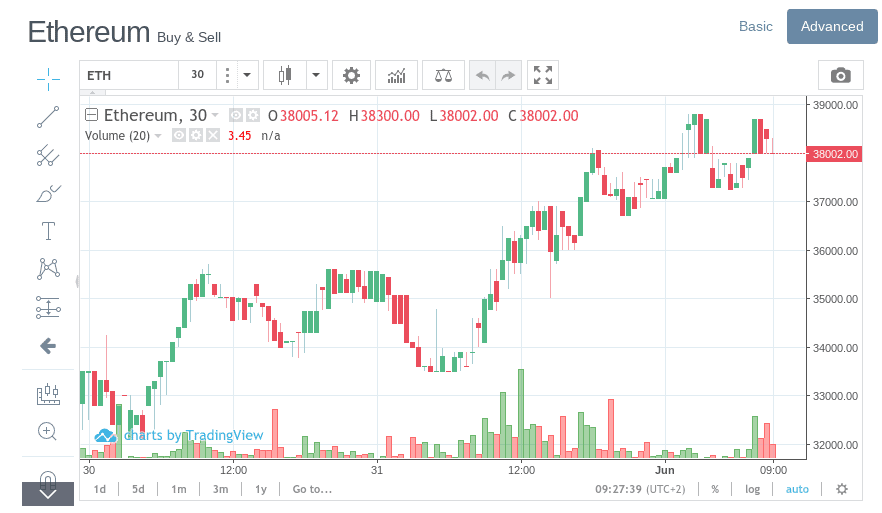 When switching over to advanced mode, the homepage presents a more comprehensive pricing chart. This comes packed with additional tools and features, such as being able to deploy technical indicators. You can also access chart drawing tools, customize the colour scheme, and switch between different timeframes.
Altcointrader Trading Tools and Features
Make no mistake about – Altcointrader offers a skin and bones service. Sure, you can buy, sell, and trade digital currencies from the comfort of your home – but that's about it. If you want to perform advanced technical analysis, you can use the chart features available in advanced mode. With that said, this likely won't be comprehensive enough if you are a seasoned trader.
Altcointrader Payments
When it comes to payment methods, you have several options at Altcointrader. This includes the option of depositing funds with a debit or credit card. Payments are processed via Zapper – a third-party provider. As noted earlier, debit/credit card payments will attract a fee of 2% plus VAT – which is expensive.
Additionally, you won't be able to withdraw funds back to your card, which is a major flaw. You might consider depositing funds via OZOW. However, this is also costly at 1.4% per transaction and much like debit/credit cards – withdrawals are not supported.
The other option is to facilitate your deposit via EFT – which does support withdrawals. This will cost you a more reasonable 0.5% up to a maximum of 95 ZAR.
If you were hoping to buy Bitcoin with Paypal, you will be out of luck. This is because our Altcointrader review found that there is no support for any e-wallets at all. Paypal is, however, supported at popular crypto brokerage site Capital.com.
Altcointrader Minimum Deposit
Perhaps the saving grace in the Altcointrader payments department is that there is no minimum deposit required.
Altcointrader Regulation & Licensing
This section of our Altcointrader review 2022 is potentially the most important. After all, when you deposit funds into a cryptocurrency exchange – you need to feel comfortable that your capital is in safe hands. Although the platform is registered with the Financial Intelligence Centre of South Africa, it does not hold any regulatory licenses.
In particular, the exchange is not authorized by the FSCS. We also mentioned earlier in our Altcointrader exchange review that there are major questions regarding internal security features. Once again, there is no 2FA, device whitelisting, or specific cold storage numbers.
Taking all of this into account, we would strongly suggest that you tread with caution when using Altcointrader. If the worse happens and the platform is hacked or the management team itself engages in malpractice – it is all but certain that you will have nowhere to turn.
Altcointrader Contact and Customer Service
The Altcointrader customer service team works Monday to Friday between the hours of 9 am and 4.30 pm. You can send an email to [email protected] or telephone the contact centre on 011 568 2684. There is no live chat facility.
How to Use Altcointrader
Although we would suggest considering another cryptocurrency exchange – if you want to use Altcointrader today simply follow the step-by-step walkthrough outlined below.
Step 1: Register an Account
The first step is to visit the Altcointrader website and click on the 'Register' button at the top of the page. You will initially need to enter your email address and create a username and password.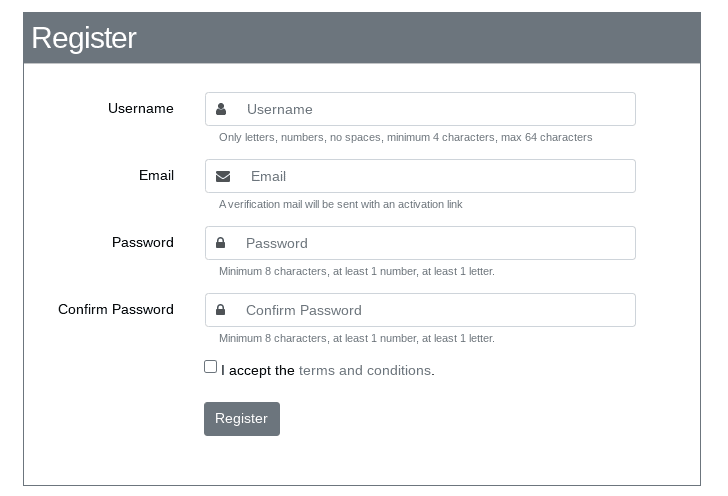 Step 2: Account Verification
As Altcointrader is registered with the Financial Intelligence Centre of South Africa, you will need to go through an account verification process. This can be a bit cumbersome at Altcointrader, as the documents need to be checked manually. During busy times, there is no knowing how long this will take.
Nevertheless, the documents that you will need to upload are:
Proof of identity
Proof of residence
A picture of you holding your government-issued ID
Personal information such as your full name and home address
You will also need to verify your cell phone number.
Step 3: Deposit Funds
Once your ID documents have been checked and approved, you will receive an email from Altcointrader. Now you can proceed to make a deposit. For a list of supported payment methods and applicable fees – you can scroll up to the relevant section above.
Step 4: Buy Crypto
Now that your Altcointrader account has been funded, you can complete the Bitcoin investment process. First, First, click on the 'Easy Buy' button at the top of the page.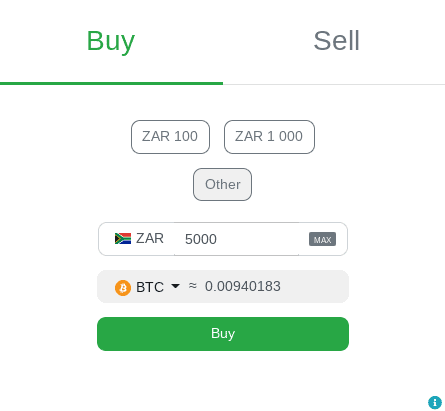 Then, click on the digital currency that you wish to purchase from the drop-down list. Next, click on the 'Other' button and enter the amount you wish to buy in ZAR. Finally, click on the 'Buy' button to complete your purchase.
Altcointrader vs Capital.com
This Altcointrader review concluded that although it is notable the platform supports cryptocurrency purchases in ZAR, the provider falls short in virtually all departments.
Whether that's in terms of fees, safety, features, or user-friendliness, there are plenty of better cryptocurrency exchanges available to those in South Africa. At the forefront of this is regulated online broker Capital.com, which a favourite of brokers around the world.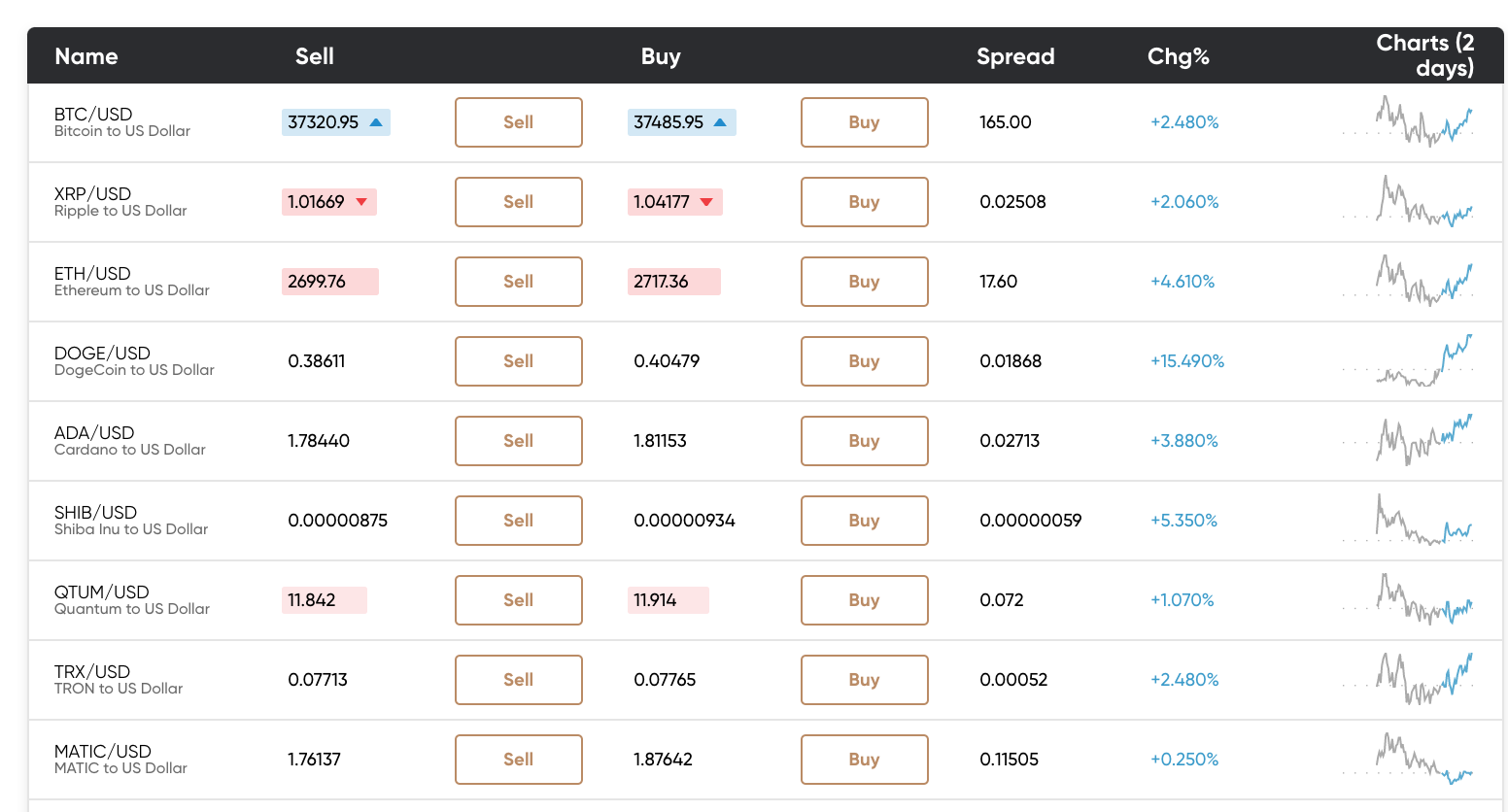 Here is why Capital.com is the best option on the table for your cryptocurrency trading needs:
Regulation and Safety
Let's start with the most important factor – regulation. As we discussed earlier, Altcointrader is not authorized or approved by any reputable financial body. This means that you can never be sure how safe your money is on the platform.
At the other end of the scale, Capital.com is regulated by some of the most reputable bodies globally – including the FCA, CySEC, and MiFID.
Fees
When it comes to making a deposit, you'll pay 2% to use your debit or credit card at Altcointrader. At Capital.com, you will not have to pay any deposit fees at all, regardless of which deposit method you choose.
Assets and Markets
Our Altcointrader exchange review found that the platform offers a relatively good blend of digital currencies. However, if you were hoping to diversify into other asset classes, you will be left disappointed. Over at Capital.com, not only does the platform support a wide variety of cryptocurrencies, but thousands of other financial instruments. This is inclusive of stocks, ETFs, indices, forex, and commodities.
Educational Material
Capital.com also ensure new traders are catered to by offering a wide range of educational materials. This includes guides, a glossary, webinars, and even quizzes to ensure that beginner traders can trade effectively and efficiently.
Capital.com – Best Cryptocurrency Broker in South Africa
This Altcointrader review 2022 has left no stone unturned. We have covered tradable markets, supported payment types, fees and commissions, fees, and more. All in all, we found that across the board, Altcointrader falls short in virtually every department. This is especially the case when it comes to the safety of your funds.
As such, we much prefer regulated brokers like Capital.com – which is approved and licensed by top regulatory bodies. You can easily deposit funds with a debit/credit card or e-wallet without having to pay any fees at all. On top of dozens of cryptocurrency markets, you'll also have access to stocks, forex, commodities, and more.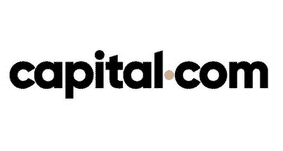 75.26% of retail investor accounts lose money when spread betting and/or trading CFDs with this provider.
FAQs
How to withdraw Ripple from Altcointrader?
In order to withdraw Ripple from Altcoinradar, you will need to paste in the wallet address that you want the funds sent to. Upon confirming the withdrawal, you should see the funds arrive in less than 20-30 minutes.
How to withdraw ZAR from Altcointrader?
If you have ZAR in your Altcointrader account, you only have one option when it comes to withdrawals - a bank transfer.
How long does it take to withdraw money from Altcointrader?
If you are looking to withdraw ZAR from your Altcointrader account, the provider processes payments three times per day. The withdrawals times are 9 am, 1 pm, and 4 pm. Withdrawals are only processed Monday to Friday.
Is Altcointrader safe?
Altcoin is not regulated by a reputable financial body - so your capital always remains at risk. Instead, the safer option is to use a regulated cryptocurrency broker like Capital.com.
What are the Altcointrader fees?
Altcointrader charges an Easy Buy commission of 0.75% per slide. Standard cryptocurrency commissions amount to 0.1% per slide.
Does Altcointrader support Dogecoin?
Yes, Altcoin traders allows you to buy and sell Dogecoin.