AvaTrade Review – Features, Platform, Fees, Pros and Cons Revealed
AvaTrade is a popular broker in South Africa that offers trading on a wide variety of assets through contracts for difference (CFDs). With this brokerage, you can trade international shares, forex, commodities, cryptocurrencies, and more.
AvaTrade stands out for offering 0% commission on all trades and tight spreads for most transactions. Plus, it's suitable for more advanced traders since it integrates with MetaTrader 4 and 5 in addition to offering its own trading platform.
There's a lot to like about AvaTrade, but is this broker right for you? In our AvaTrade review, we'll take a closer look at this broker's features, platform, fees, and more to help you decide.
What is AvaTrade?
AvaTrade is an online CFD broker established in 2006. It's part of the Ava Group of financial companies, which has offices in Japan, Australia, Ireland, and the British Virgin Islands. AvaTrade accepts clients from South Africa and around the world and currently has more than 200,000 users.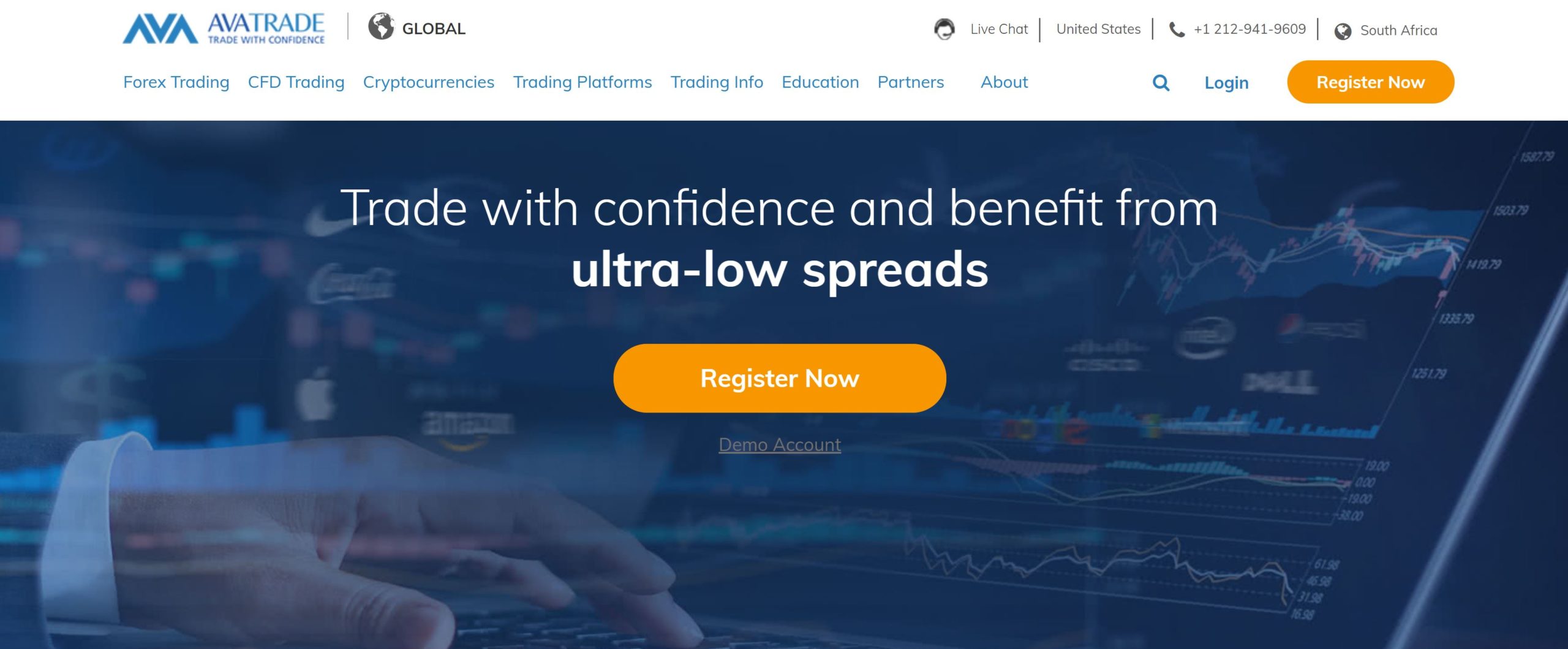 AvaTrade South Africa offers its customers a lot of flexibility. You can trade a wide variety of assets through CFDs, including less commonly traded assets like bonds, forex options, and second-tier cryptocurrencies. In addition, the broker offers two different trading platforms to cater to both new and highly experienced traders.
One thing to keep in mind when considering AvaTrade is that it only offers standard investment accounts. There are no options for retirement or trust-based annuity accounts through this broker.
What Assets Can You Buy on AvaTrade South Africa?
Our AvaTrade review found that the broker offers CFD trading on a huge variety of assets. Let's take a detailed look at everything you can trade.
Shares
AvaTrade offers stock CFD trading for around 630 shares. That's in line with what many other top online brokers, such as eToro, are offering. Most of the available stocks are for US and UK companies, including many of the best shares to buy, although you will also have the ability to buy shares of prominent companies on the Tokyo Stock Exchange and on European exchanges.
When trading share CFDs on AvaTrade, you have the option of applying 1:20 leverage. However, bear in mind that the broker doesn't let you set an intermediate leverage amount – it's all or none for share CFD trades.
ETFs and Indices
AvaTrade South Africa also offers exposure to the stock market through ETF and index CFDs. There are currently more than 20 indices available for trading that cover the US, UK, and global markets. However, AvaTrade only has less than a dozen ETFs. On the whole, these offerings are far less robust than what other stock brokers offer and the lack of ETFs can limit your ability to take a position on global markets or individual market sectors.
Commodities
AvaTrade's commodity CFD offerings are more robust. You can trade most major products, including gold, silver, corn, soybeans, Brent crude, wheat, and more. In all, the platform lets you access 17 different commodity markets and trade with leverage of up to 1:200.
Forex Trading
AvaTrade is particularly well-suited for South African forex traders. This forex broker offers a whopping 56 currency pairs – that includes all the major and minor pairs, plus a handful of exotics. In particular, you can speculate on the rand through the USD/ZAR and JPY/ZAR forex pairs.
The leverage you can use for forex trading with AvaTrade is also impressive. This broker lets you trade on margin up to 1:500 for major currency pairs.
One of the unique things about AvaTrade is that you can also trade vanilla options around forex. This enables you to speculate not only on the direction of a currency pair's price change, but also the magnitude and timing of that price change. Vanilla options are particularly suitable for experienced traders since they enable custom strategies like hedging.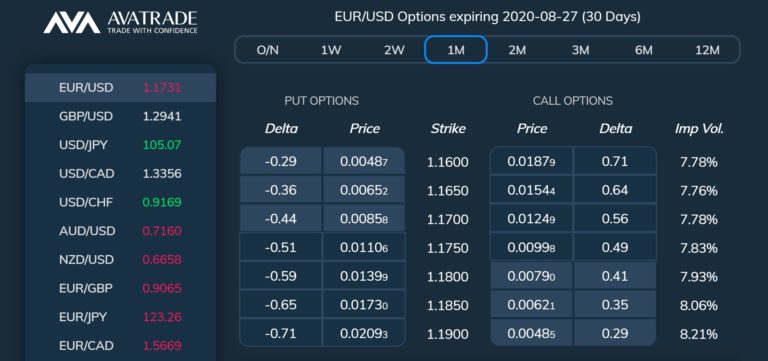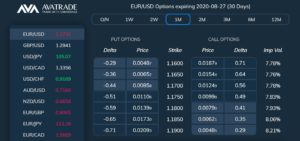 Cryptocurrencies
Finally, AvaTrade South Africa offers trading on a handful of popular cryptocurrencies. You can trade not just Bitcoin and Ethereum, but also Litecoin, Ripple, and Bitcoin Cash. There are 17 cryptocurrency CFDs available on AvaTrade – significantly more than many competing online brokers in South Africa. Cryptocurrencies can be traded with leverage up to 1:2.
AvaTrade Leverage
AvaTrade offers the following leverage ratios:
Stocks – 1:20
Commodities – 1:200
Forex – 1:500
Crypto – 1:2
AvaTrade Account Types
There are just two types of accounts available at AvaTrade. The standard account is open to anyone but has lower leverage limits, while the professional account requires you to apply and then be approved before you can start trading. You'll need a portfolio of over $500,000 in order to qualify as a professional trade on the AvaTrade platform.
AvaTrade Fees and Commissions
AvaTrade is a 0% commission brokerage, meaning that you never pay a flat fee for your trades. That's true no matter what assets you trade on AvaTrade.
However, AvaTrade isn't completely fee-free. You do pay a spread on every trade. Thankfully, these are typically well below the industry average, particularly for stock and index CFD trades. For example, trading a CFD for S&P 500 futures costs just 0.05% per trade.
AvaTrade's forex and cryptocurrency trading spreads are slightly higher, but still very reasonable. The popular EUR/USD forex pair trades with a spread of 0.09%, for example. We would consider a spread of 0.10% or greater to be on the high side for this currency pair. Spreads for some minor currency pairs can be at or greater than the average among competing online forex brokers.
Thankfully, AvaTrade doesn't charge any deposit or withdrawal fees on your account. There's an inactivity fee of 825 R ($50 US) per month, but this only applies if you haven't placed at least one trade in a span of three months.
AvaTrade Platform and Trading Tools
AvaTrade South Africa offers one of the better trading platforms that we've seen, in no small part because it integrates with the popular MetaTrader software. In all, AvaTrade offers five different trading interfaces:
Webtrader, the broker's proprietary trading platform
MetaTrader 4, designed for forex trading
MetaTrader 5, designed for all assets
AvaOptions, a platform for vanilla forex options
AvaTradeGo, a mobile-friendly charting and trading platform
Webtrader
Webtrader is AvaTrade's built-in charting and trading platform available through the web. The interface is fairly simple and easy to use. You can create portfolios and watchlists to keep an eye on assets you trade frequently, and the Webtrader dashboard automatically finds the biggest gainers and losers of the trading day for you.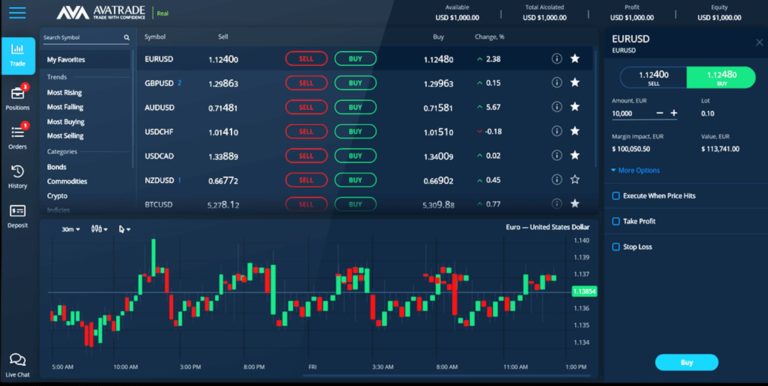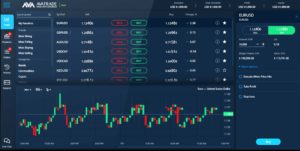 Our AvaTrade review found that the charting tools reasonably robust and you get access to around 90 technical studies as well as one-minute candlestick bars. We found ourselves wishing for more serious drawing and chart annotation tools, but the interface is fine for taking a quick look at an asset's price history.
Perhaps the biggest disappointment to the Webtrader platform is that you cannot set price alerts. This makes it much less useful as a quick solution for keeping an eye on volatile assets throughout the trading day.
AvaTrade MT4 and MT5
The AvaTrade integrations with MetaTrader 4 and 5 are completely seamless. In fact, it's the integration with this highly popular technical analysis software that enables AvaTrade to stand out for more experienced traders. MetaTrader 4 is specifically designed for forex trading and doesn't support other asset classes, while MetaTrader 5 supports forex, stocks, indices, commodities, and more. Both software platforms are available on web, desktop, and mobile.
There are several major advantages to using MetaTrader over AvaTrade's Webtrader platform. First, the charts are far more customizable. The software ships with more than 100 technical indicators and studies, and you can easily modify any of them to create your own trading strategy. You can also build or download trading signals in MetaTrader, which can be used to set alerts or to automate your trades.
Importantly, MetaTrader 4 and 5 also give you more risk management options when placing trades. You can use basic market, stop, or limit orders, in addition to good-till-cancelled or good-till-time orders. The integration with AvaTrade South Africa also means that it's easy to keep track of your full trading history and fees through the MetaTrader platform.
AvaTrade Demo
AvaTrade offers a demo account that you can use for free to get to grips with the platform and see whether it's too your taste. You'll have $100,000 worth of paper money, so you'll have plenty of time to practice your trading strategies. We recommend trying to maintain realistic trading habits when using the AvaTrade demo so that you don't get unrealistic expectations when it comes to using your AvaTrade real account.
AvaTrade Mobile Trading
AvaTrade also has a mobile-friendly version of its Webtrader platform, AvaTradeGo. This app is available for iOS and Android devices and has a few key differences from Webtrader.


First, there is one more order type – AvaProtect. This works like a stop loss order in that AvaTrade will automatically exit your position if the asset falls below your purchase price. However, it's distinct in that, in exchange for a higher spread, AvaTrade will actually guarantee you against losses. Since AvaProtect costs extra, it should only be used in cases where you expect the market might drop overnight. It's a neat feature, though, and one that you won't find at most other brokers.
Compared to Webtrader, you do lose quite a bit of charting functionality with AvaTradeGo. You can access basic price charts, but they're hardly customizable at all and there are very few technical studies to overlay. If you're looking for more robust charting on mobile, we recommend using the MetaTrader mobile app with AvaTrade.
Otherwise, AvaTradeGo is well laid-out and straightforward to use. We especially liked that the mobile app supports price alerts, which can be pushed to your device's home screen.
Research and Analysis at AvaTrade
Our AvaTrade review found that this broker does a very good job when it comes to research. To start, the charting software that's built into Webtrader is easy to use and covers a lot of ground. You can change between multiple chart types and access around 90 technical studies as overlays. The chart annotation tools aren't as in-depth as we'd like, but this isn't a problem for most traders. In any case, if you find that you need more technical analysis power, you can always switch over to MetaTrader for charting and indicator development.
One of the things we liked best about AvaTrade South Africa is that the Webtrader platform comes with trading ideas built in. These are based on technical trading signals, so they're not always accurate. But they provide an excellent place to start if you're looking for profitable opportunities. AvaTrade doesn't have a technical scanner tool, but the trade ideas help fill this gap.


You can also access an economic calendar that can be filtered by country and event importance to find new trading ideas. This is helpful to keep an eye on, although there's no way to set alerts for specific event types. Unfortunately, AvaTrade doesn't offer much fundamental data for stocks or other assets.
AvaTrade Bonus Offers
Like some other South African brokers, AvaTrade regularly offers bonus deals to entice new customers. The most common bonus offers are deposit deals, where you deposit a certain amount and get some bonus trading funds in return. However, there have also been AvaTrade no deposit bonus broker offers from time to time, meaning you can bag a bonus for free.
Just always remember to read the terms and conditions of AvaTrade bonus deals so you know the requirements surrounding the bonus.
AvaTrade Minimum Deposit and Payments
AvaTrade accepts common payment methods like debit card, credit card, e-wallet (Neteller, Skrill, and WebMoney), and bank transfer. If you fund your account by debit, credit, or e-wallet, the AvaTrade minimum deposit is just 1,650 R ($100 US). However, the minimum balance jumps to 8,275 R ($500 US) when funding by direct deposit. If you fund your account with at least 16,550 R ($1,000 US), AvaTrade will assign you a dedicated account manager to help you get started.
Customer Service at AvaTrade South Africa
AvaTrade falls just short of the mark when it comes to customer service. In theory, you can get in touch with the company by phone, email, or live chat. It's not clear what hours the customer service team operates, though, and in our experience it's not 24/7. The South Africa-specific support phone number listed on the website was not answered after several minutes of holding, although we were able to get a representative through the live chat box right away.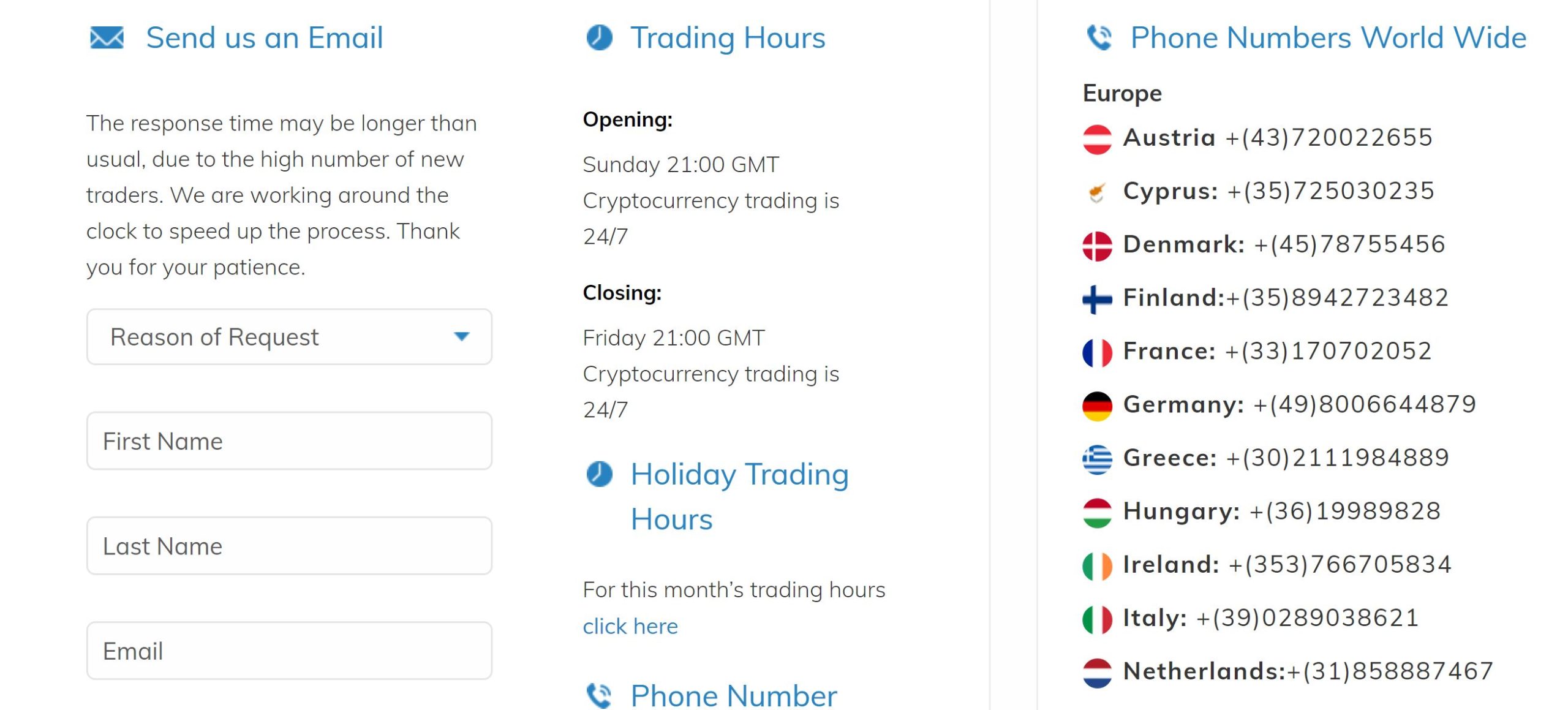 Customer service representatives were knowledgeable, but curt. To some questions, they simply replied with a link rather than a complete answer to our questions.
AvaTrade contact number: +(27)105941353
AvaTrade address: Dublin Exchange Facility, International Financial Services Centre (IFSC), Dublin 1, Ireland
Is AvaTrade Safe?
AvaTrade is highly regulated since it operates in numerous countries around the world. This broker comes under the purview of widely respected regulators like the UK Financial Conduct Authority and the Australia Securities and Investments Commission. It's also regulated by the Financial Sector Conduct Authority in South Africa.
Unfortunately, AvaTrade only provides account guarantees and negative balance protection for EU clients, not clients in South Africa. However, the fact that it provides these guarantees at all is a good sign that this broker can be trusted. It's also encouraging that AvaTrade has been around since 2006 – it survived the 2008 financial crisis and has been on a growth streak since then, so chances are high that it's financially healthy.
AvaTrade South Africa Pros and Cons
Pros
Huge range of assets for trading
Offers vanilla forex options
High leverage for share, commodity, and forex trades
No commission and low to moderate spreads
Integration with MetaTrader 4 and 5
Seamless mobile trading through AvaTradeGo
Built-in charts offer more than 90 technical studies
Trade ideas based on technical indicators
Widely regulated and relatively trustworthy
Cons
Limited chart annotation tools
No price alerts through Webtrader
High minimum balance for bank transfers
Inactivity fee after three months
Customer service could be improved
The Verdict
AvaTrade is a high-quality brokerage with a lot to offer. This platform gives South African traders access to the global stock market as well as the forex and commodities market. While the relatively limited breadth of ETF and index CFDs can be problematic for some traders, forex traders will appreciate having access to vanilla forex options through AvaTrade.
AvaTrade keeps costs for trading low and offers 0% commissions. The spreads for stock and forex trades, while not the lowest we've seen, are generally below the industry average. Traders will want to tread carefully around the inactivity fee, but there are no other account charges to worry about.
What really sets AvaTrade apart from the pack is its integration with MetaTrader 4 and 5. This is a huge advantage for experienced traders who need the flexibility to create and test custom strategies or want highly advanced charting capabilities. While AvaTrade isn't the only brokerage to integrate with MetaTrader, it's one of the cheaper options for traders looking for access to this software.
Want to get started trading with AvaTrade? Sign up for an account by clicking the link below!
AvaTrade – Buy Shares, Forex, and More with 0% Commission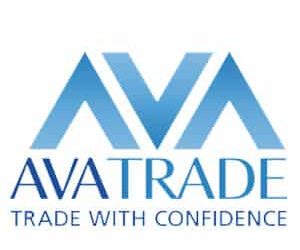 79% of retail investor accounts lose money when trading CFDs with this provider.
FAQs
Does AvaTrade offer educational materials?
Yes, AvaTrade has an education section on its website that includes tutorial videos, educational articles, and strategy guides. You can also open an AvaTrade demo account to practice trading or try out a new strategy.
Can I set price alerts with AvaTrade?
You can set price alerts for any asset using the AvaTradeGo mobile app, but not using the Webtrader platform. You can also create custom alerts using trading signals within MetaTrader 4 or 5.
Does AvaTrade accept payments by e-wallet?
AvaTrade enables you to use some e-wallets, including Skrill, Neteller, and WebMoney. However, you cannot fund your account using PayPal at this time.
Can I collect dividends when trading with AvaTrade?
If you buy stock CFDs for companies that pay dividends, you are eligible to collect these payouts through AvaTrade. You must hold the stock CFDs on the ex-dividend date. AvaTrade will automatically credit dividends to your account.
Are there any account fees on AvaTrade?
AvaTrade doesn't charge account fees that are common at other brokers. There is no annual maintenance fee and no deposit or withdrawal fee. The only potential fee to worry about is an inactivity fee, which is charged if you do not place any trades for a three-month span.