Best Long Term Crypto Investment in South Africa
Cryptocurrencies are among the most popular financial assets today, but they're also well known for their volatility. This can make picking the right crypto coins for long term investment somewhat tricky.
If you're looking to add cryptos to your portfolio, you've come to the right place. This guide reveals the best long term crytpo investments for South African investors. We also cover where you can buy these cryptocurrencies with the lowest fees.
Key Points on Long Term Crypto Investment
 

The cryptocurrency market capitalization hit $3 trillion this year. It's expected to get beyond $4 trillion in 2022 as crypto looks to become more mainstream – new crypto coins have something to smile about.

 

Investors should look forward to being spoiled with the choice given the fact that over ten new crypto projects launch every day – perhaps investors could capitalize on colossal price swings.

 

Volatility is not good news in the crypto market; therefore, before investing in a new crypto launch, do some research.

 

There are several crypto investment platforms to consider, but we think eToro

 stands out for its low fees and wide range of assets.
The Best Long Term Crypto Investments South Africa List
There's no denying that the market can be volatile, but extensive research and observation can be a crucial factor in driving profit in the long term. Therefore, if you're looking for cryptocurrencies that you can invest in the long-term, then you're in the right place!
Here's a list of the legit crypto investment you can make on a long-term basis;
Bitcoin (BTC)

–

a decentralized cryptocurrency and a master of all – Invest now
Ethereum (ETH) – the most extensive blockchain network for decentralized applications – Invest now
Binance Coin (BNB) – arguably the best crypto exchange and compatible with all smart devices – Invest now
Solana (SOL) – dubbed the Ethereum killer with layer 1 protocol
Cardano (ADA) – another "Ethereum killer," and all love is not lost yet
79.17% of retail investor accounts lose money when trading CFDs with this provider.
A Closer Look at the Best Long Term Crypto Investments South Africa
The crypto market has been making headlines almost every single day, and rightly so, most coins are breaking their all-time high each passing day. However, each crypto comes with a unique proposition. So, here's everything you need to know about the top five best long-term crypto investment options.
1. Bitcoin – Overall Best Long Term Crypto Investment
Apparently, the most popular crypto in the crypto market world, Bitcoin, keeps hitting all-time highs. It's decentralized crypto that hit the market in 2009 as the first crypto coin by Satoshi Nakamoto. Like other top cryptocurrencies, Bitcoin runs on a ledger logging transaction that's distributed across a network of several computers or simply a blockchain.
Interestingly, multiple companies across the globe in various sectors have already integrated Bitcoin payment systems, which means it has an immense growth potential going forward. In fact, El Salvador became the first country globally to make BTC a national currency. As things stand, it looks like going forward, things are shaping up for Bitcoin to be adopted even by more countries – who knows!
Bitcoin has over $880 billion market capitalization, accounting for about 40% of the overall crypto market cap. Bitcoin's current price is approximately $46,000. The crypto reached its all-time high in April 2021, which was about $64,000, which meant there many people who made money with Bitcoin.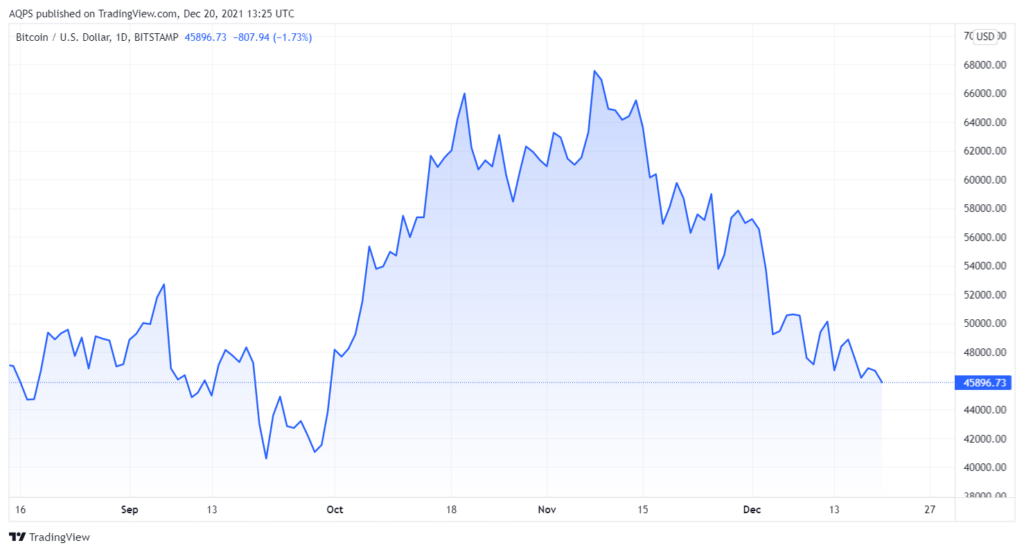 Bitcoin is also used as a store of value, more of an inflation-proof asset just like gold. Moreover, given that it doesn't have ties with the world financial system, buying Bitcoin is suited for micro-investments.
For the long-term investors, BTC still is on the rise, and with the past prolog, the severe pullbacks should serve as buying opportunities.
73.81% of retail investor accounts lose money when trading CFDs with this provider.
2. Ethereum (ETH) – The Most Prominent Blockchain Network for the Decentralized Applications
Arguably the best cryptocurrency to consider for long-term investment, Ethereum ranks as the next big thing to Bitcoin, thanks to its impressive smart contracts. It runs on smart contracts, which work like paper contracts which are only executed when all conditions have been met without a third-party option such as a middleman or a bank.
Most developers use the ETH network for several offerings like Decentralized Exchanges (DEXs), security tokens, Non-Fungible Tokens (NFTs), and creating new cryptocurrencies with an ERC-20 token. That is why it's arguably the most-used blockchain across the world and network of choice for the booming decentralized finance (DeFi).
Ethereum has been dubbed as the only coin with the potential of surpassing Bitcoin dominance in the future. For those that hold Ethereum, staking is probably an excellent income generator at about 8% per annum.
Ethereum's price stands at about $3,800, with a market cap of almost $470 billion.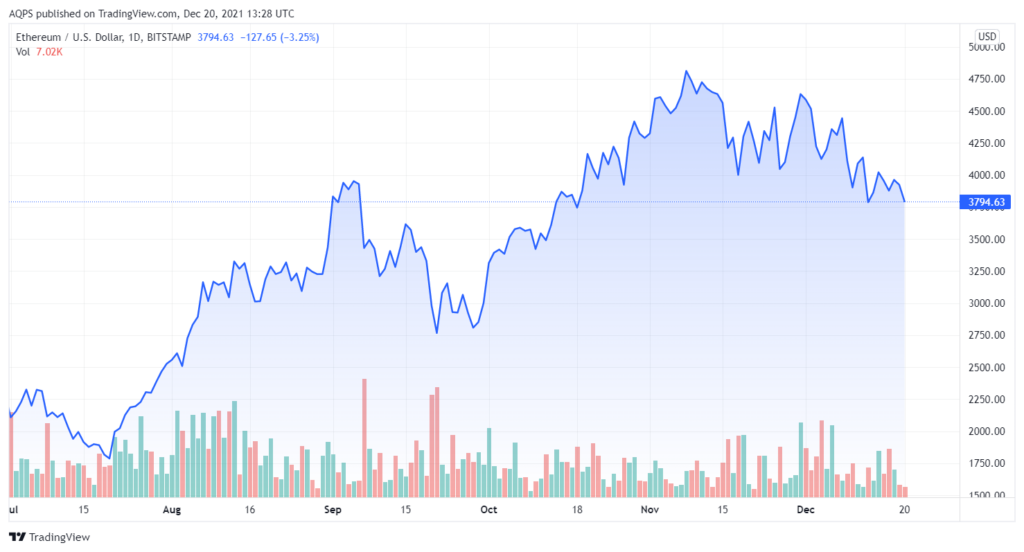 Interestingly, Ethereum's blockchain can host other cryptocurrencies (tokens) via the ERC-20 compatibility standard. Therefore, it's easy to say that given all the potential within the Ethereum network, going forward, who knows it might outperform Bitcoin one day.
Ethereum dominance clocks in at over 21% of the crypto market, which means slowly but surely, the cryptocurrency is gaining momentum for the long term. In fact, during the volatile 30-days between Nov. 5 and Dec. 5, 2021, Ethereum was the most dominant crypto as it went from 19.6% to about 21.6% of the total crypto market. 
73.81% of retail investor accounts lose money when trading CFDs with this provider.
3. Binance Coin (BNB) – Arguably the Best Crypto Exchange and Compatible with all Smart Devices
Binance coin is the third-largest crypto by market cap at about $89 billion and with a current price of around $515. It's an excellent ecosystem of decentralized as well as blockchain-based networks. Over time, the CZ-led crypto exchange has become a leading cryptocurrency exchange in several countries. Not to forget, its side organizations are gathering immense interest as well.
Binance's drive for development is its significant competitive advantage. Currently, Binane coin commands about 4.1% of the crypto market, meaning there's still room to move further up the market in the future.
Binance is a native coin for the increasingly popular blockchain, Binance Smart Chain. BNB can be used to trade and pay fees on Binance, which is one of the biggest crypto exchanges as noted already. Moreover, it can be traded as well as exchanged for other cryptocurrencies like BTC and ETH on numerous other exchanges worldwide.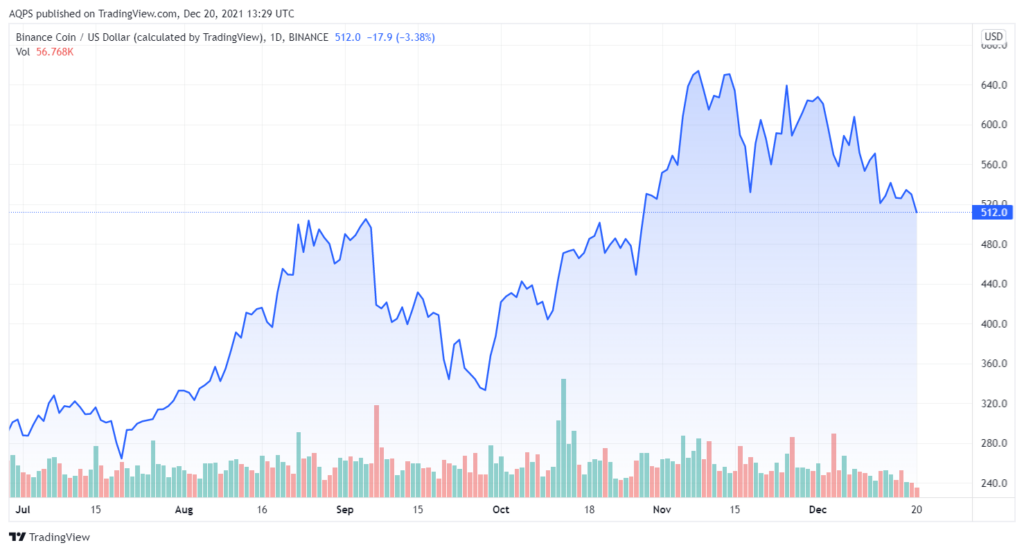 Predictions point out that the coin could go beyond $1000 in the near future. Unlike when it was launched in 2017 for merely trading purposes, presently, it has a broad array of applications and benefits, which is one of the reasons many crypto traders have chosen to buy Binance Coin.
Furthermore, major projects are expected to launch on the Binance exchange, meaning its coin's price could only go upward with an ever-increasing demand. Apparently, those are some of the things you should be looking for when researching for the best long-term crypto investment.
73.81% of retail investor accounts lose money when trading CFDs with this provider.
4. Solana (SOL) – dubbed the Ethereum killer with layer 1 protocol
Solana (SOL) is a layer 1 token with an immense potential to be dubbed as the Ethereum killer.
To be ranked that highly is not a walk in the park; it means SOL boasts immense potential in real. Initially, it was developed to assist power decentralized finance uses, smart contracts, and Dapps.
Its hybrid nature makes it unique crypto as it uses both proof-of-history as well as proof-of-stake mechanisms to process transactions more quickly and securely.
SOL might be the new crypto in town; it launched merely in 2017, but it peaked last month after surging beyond $210.
The main reason behind its existence is to take down the slow speed issues experienced with Ethereum. In fact, the SOL network can process up to 65,000 transactions per second, which has attracted attention from investors as well developers.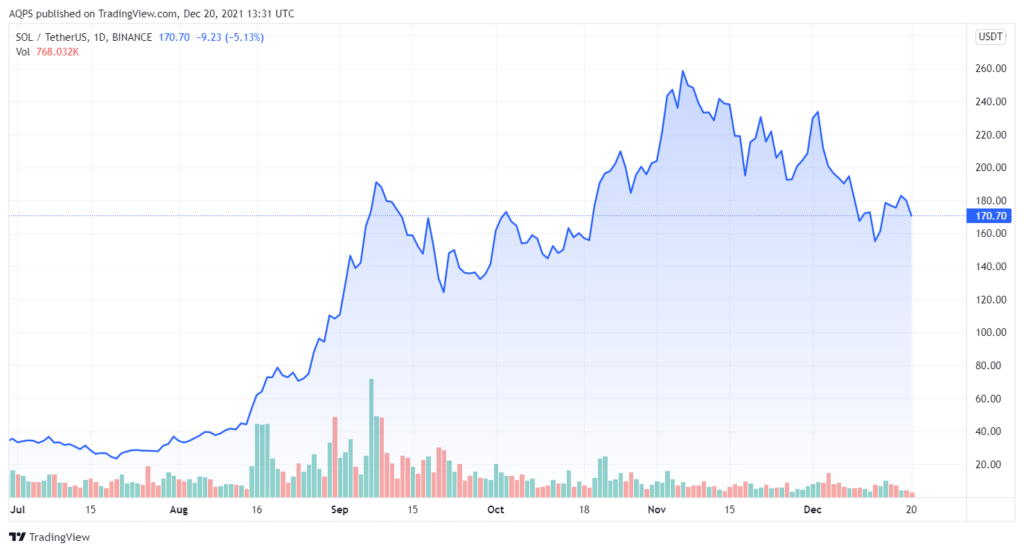 Solana is the fifth-biggest crypto by market cap of about $55 billion and a current price of about $175. This year, Solana has had a great ride surging by over 8000%, and the recent drop is also meager when compared with the other cryptos. That implies the coin is dependable and it could prove to be excellent long-term crypto to invest in. Given that it has been around for less than two years, it should be said that it's one of those to have an eye on going forward.
73.81% of retail investor accounts lose money when trading CFDs with this provider.
5. Cardano (ADA) – Another Potential "Ethereum Killer," and All the Love is Not Lost Yet
Most crypto investors look at Cardano as one of the cryptocurrencies with fantastic potential in the future. And they are not wrong. Cardano is well known for its tremendous proof-of-stake validation. Moreover, it reduces the energy usage and environmental impact, removing the problematic aspect in verifying transactions usually present in other platforms such as Bitcoin.
Also, it enables decentralized applications and smart contracts that are powered by ADA, the native coin of Cardano. Ideally, Cardano looks to help create a more secure, transparent, and fair society.
Furthermore, the ADA token has been designed to ensure that owners can participate in the network's operations, whereby those holding the crypto can vote on proposed changes in the network too.
Cardano is the sixth-ranked crypto with a market cap of about $42 billion and it currently trades at around $1.2. After the launch of Alonzo hard fork in August 2021, its price was on the road going up and gained up to 116% in the following month (September 2021).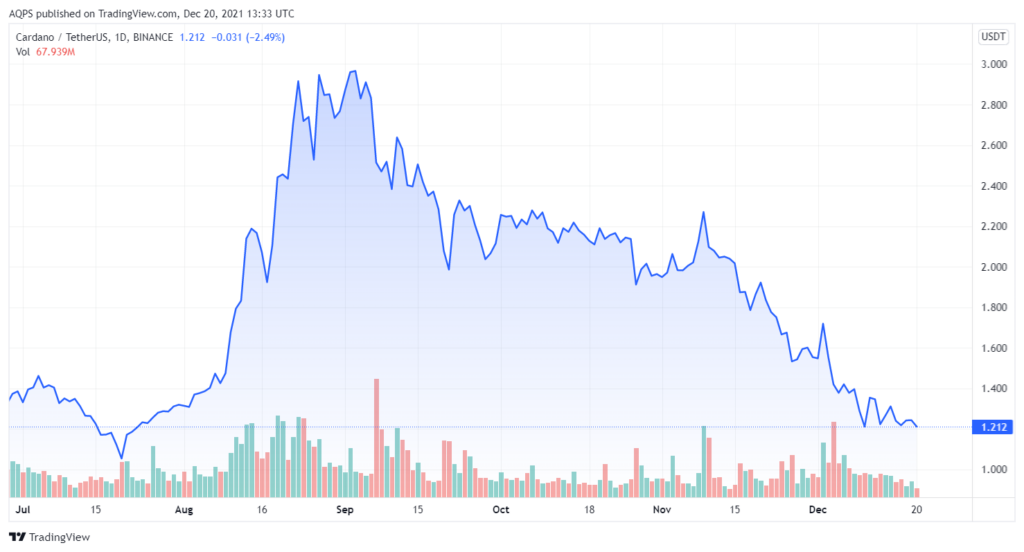 Most agricultural companies have found Cardano to be an exciting prospect, whereby they use it to track their fresh produce. In addition, other products built on the network allow educational information to be stored in a tamper-proof way. Retailers can also clamp down easily on any counterfeit goods. Therefore, there's every reason for Cardano to be a good investment in the future.
73.81% of retail investor accounts lose money when trading CFDs with this provider.
Best Crypto Investment Platforms
There's a plethora of crypto investment platforms across the globe waiting to provide you access to several cryptocurrencies. However, the one that suits you will depend on the features that matter the most to you.
The two most recommendable brokers that you can consider are;
1. Crypto.com – Best Crypto Broker South Africa
If you're looking for a broker you can trust, you don't have to look further; Crypto.com can be your ideal option. It stands out due to its quality research, innovative web platform, and strong educational content.
The broker offers thousands of different crypto assets including major coins such as Bitcoin and Ethereum as well as smaller tokens such as Cardano and Ripple.
As the name suggests, Crypto.com is specifically designed for cryptocurrency trading. This means that the platform offers everything that you need to navigate the market and execute successful trades.
Furthermore, Crypto.com also offers crypto staking, NFTs and wallets. Therefore, users can conduct everything in one easy-to-use place. The platform has its own native crypto token, CRO. Owning this token will unlock lower trading fees and higher staking rewards. 
The platform has a transparent fee structure, and it doesn't charge deposit, withdrawal, or inactivity fees. In addition, the platform includes a mobile app that will allow you to trade on the move. Its apps are available on both iOS and Android. 
73.81% of retail investor accounts lose money when trading CFDs with this provider.
2. Libertex – Trade Crypto CFDs with Zero Spreads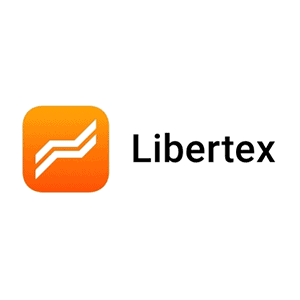 With an array of experience in the trading industry, Libertex stands out among the rest as the best go-to platform for investors today. The platform provides a seamless experience on almost all web browsers with an easy-to-use interface that facilitates trading.
Libertex platform allows trading across a variety of markets. However, it must be noted that the instruments that will be available will depend on your country of residence. Libertex offers over 50 crypto coins, including many of those with the best investment prospects.
Libertex is very rare among CFD brokers in that it doesn't apply spreads, but instead charges very tight commissions across trading instruments. However, the spreads vary by market and asset.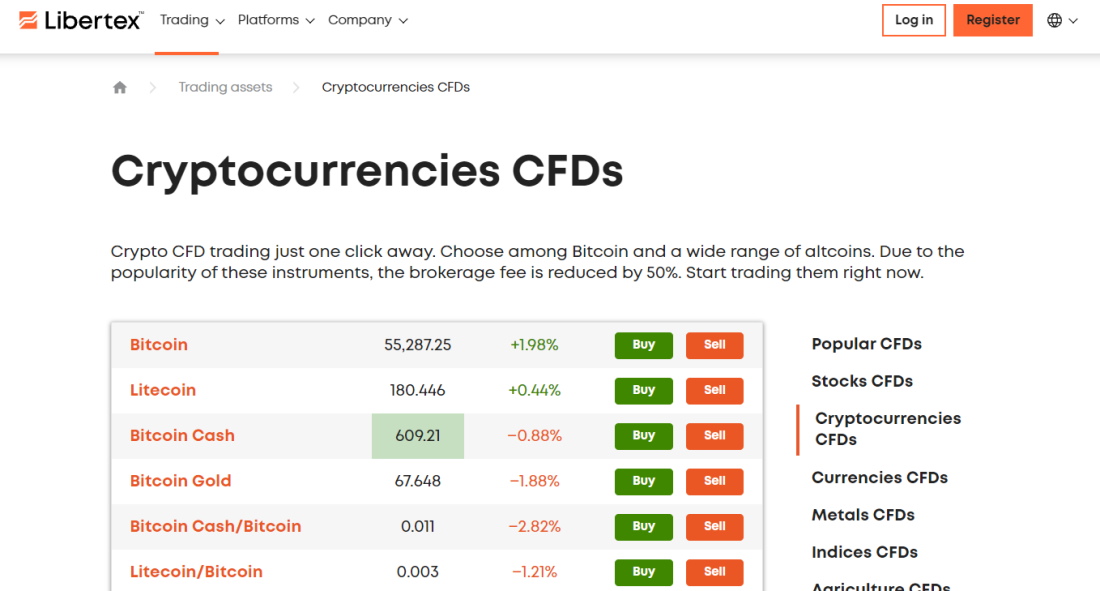 Interestingly, Libertex doesn't deposit apply fees. The minimum deposit is $100, with deposits and withdrawals being absolutely free.
The leverage rates on this crypto broker CFD platform can change depending on trades you consider; however, the maximum leverage is 1:30.
Funding the account is done over various methods, and regardless of your location, you'll be able to find a way of your choice. The methods available include, Skrill, Bank transfer, Neteller, Trustly, Debit/credit card, and GiroPay.
Most payments get processed almost instantly while bank transfers take several hours. The minimum deposit is $20 for a real account.
75.3% of retail investor accounts lose money when trading CFDs with this provider.
How We Selected the Best Long Term Crypto Investments
Like any investment, long-term crypto investment requires that you get everything correct before you commit. Therefore, to ensure that you get your investment right, we followed strict criteria. Here are some of the ways to help you select the best long-term crypto investment;
Transaction Volume
How often do folks transact that cryptocurrency? How's the trend; has the amount been increasing over time? Those are some of the questions that you must ask yourself. Over time, an increase in the number of users tells you that the crypto is being adopted and, hence, is a good long-term investment.
Market Share
Where does this crypto stand in the market share; how much does it have against the other currencies? If it has a significant market share, it shows the crypto has a dominant position. However, ensure that you compare that crypto with similar competitors as some might not be competing with each other.
Market News
The market news is one of the main factors to determine long-term crypto to invest in. What does the news say? Is there any possible problem that might affect your profitability in the long term? Ensure that you stay up-to-date on all developments for a healthy and informed investment choice.
Utility Value
Does crypto have a use? Do users have a market? What purpose does it look to solve? A purposeful and helpful product will more likely be widely adopted, and therefore, it's an excellent long-term crypto investment.
Long Term Crypto Investment Strategy
You must be well aware of the investment objectives before you start investing in any field. When it comes to long-term crypto investment, there are some strategies you must be well aware of. They include:
How will you sell; in parts over different times or everything at once?

Will you sell once your crypto hits a given price point, or will it be after a specific time?

Will you trade long-term investment for a short-term opportunity? This could come into consideration if new laws enter the market that might affect the long-term prices of the investment – so will you reconsider selling?

Have you done enough research? You should ensure that before you invest in any crypto, you do enough research to decide on the most convenient option for the long term.
How to Make a Long-Term Crypto Investment on Crypto.com
Perhaps, you're ready to start investing in your best long-term crypto, right? Crypto.com is the best platform to start your journey, and here's a step by step guide on how you need to go about it.
1. Create Your Account
To purchase a crypto asset, first, you need to open an account with a broker — Crypto.com is the best one out there. Then, all that's required is to fill an application form with personal details. That's because the platform needs to know about you, so you'll be required to provide your full name, date of birth, mobile number, and residential address.
Also, you'll be required to provide a valid email address to be associated with your account. Understandably, a secure and memorable password is a must.
2. Verify Identity
All regulated brokers must get your information to establish identity. Therefore, before you can start buying your crypto, you must upload a copy of your national ID (both front and back sides). Besides, you can opt to use your passport or a driving license.
Your residential address must be verified as well, whereby you're required to provide a copy of a utility bill or even a recent bank statement.
 3. Deposit Funds
Up to this point, a confirmation email should have been sent from crypto.com about opening your account. So, now is the time to fund the account. The good news is that there are several methods of payment that you can consider.
4. Invest in Your Crypto
Perhaps, the moment you've been yearning for is here – investing in your long-term crypto. The process is merely a walk in the park. You simply search the cryptocurrency of your choice on the platform and then start the trade.
Conclusion
There's no denying that the crypto market keeps booming, and that's why looking for long-term crypto to invest in is a no-brainer. However, to have a successful investment journey, you need to choose the best crypto platform, and none would fit your needs better than Crypto.com.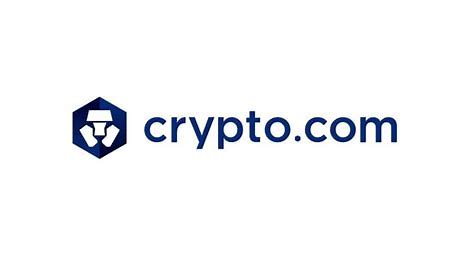 75.26% of retail investor accounts lose money when trading CFDs with this provider.
Frequently Asked Questions on Long Term Crypto Investment
What is the best long-term crypto for investment
Is Bitcoin investment a good option in South Africa?
What are the best long-term cryptos to invest in?