Best Forex App South Africa – Top Apps Revealed
Looking for the best app to trade forex from anywhere in South Africa? Then this guide is for you.
We'll highlight five of our top recommended forex apps in South Africa today. Plus, we'll dive deep into what you need to look for when choosing a forex app and show you how to start trading today.
Best Forex Trading Apps in South Africa
There are dozens of online brokers offering forex apps in South Africa, but getting the best app is key to a high-quality trading experience. Which forex app you use will impact everything from what currencies you can buy and sell to how much it costs to trade.
With that in mind, let's take a closer look at five of the best forex apps for South African traders.
1. eToro – 0% Commission Forex App with Social Trading Network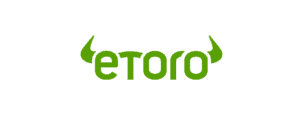 eToro is the broker behind our most highly rated forex app in South Africa. With eToro's app, you can trade 47 different currency pairs, including the USD/ZAR and JPY/ZAR pairs.
Even better, forex trading with eToro comes with 0% commission. There are no flat fees and no monthly account fees. Just pay the spread, which is highly competitive – for the popular USD/EUR trading pair, for example, eToro charges around 2.5 pips. While that isn't the lowest spread we've seen, it's noteworthy that eToro doesn't charge significantly more for exotic pairs.
eToro's mobile app is extremely user friendly. You get access to an interactive charting interface that's streamlined for mobile and offers nearly 100 different technical studies. Plus, you can take advantage of eToro's built-in social trading network. Start discussions with other traders, gauge sentiment on popular forex pairs, and follow experienced traders. You can also use copy trading to automate your forex positions – in that case, eToro will mimic the positions of a professional forex trader in your account.
The eToro app is also a great choice if you want to buy shares as well as trade forex, as it allows you to buy many of the best shares on the market with 0% commission.
Pros:
Trade 47 different forex pairs
0% commission and competitive spreads
Seamless mobile charting software
Built-in social trading network
Supports copy trading on mobile
Cons:
Deposit and withdrawal fees
75% of retail investor accounts lose money when trading CFDs with this provider.
2. Plus500 – Low-Cost Mobile Forex App

If you're looking to trade CFD on the go for the lowest costs possible, check out Plus500's CFD app. This commission-free CFD broker offers South African traders access to more than 60 currency pairs. Plus, the spreads are some of the lowest we've seen. The USD/EUR trading pair, for example, typically trades at 0.7 pips or less.
Plus500 doesn't skimp on its mobile platform despite being inexpensive. The iOS and Android forex apps come with excellent charting capabilities and access to several dozen technical indicators. We particularly liked that Plus500's mobile charts were easy to customize and view on a small smartphone screen. Helpfully, you can also set price alerts from the app that are pushed to your home screen to help you stay on top of the market.
The only thing that might hold some traders back from Plus500 is that the charts aren't advanced enough. You cannot create custom technical indicators, screens, or trading signals using the mobile app (or the desktop platform, for that matter). So, Plus500 is suitable for experienced South Africa forex traders only.
Pros:
Commission free trading on 60 currency pairs
Extremely tight spreads
User-friendly mobile charting platform
Supports mobile price alerts
Very few account fees
Cons:
Doesn't offer trading signals or custom indicators
3. AvaTrade – Mobile Forex App With MetaTrader 4 Integration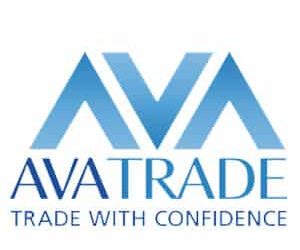 AvaTrade offers trading on more than 50 currency pairs. This broker is ideal for traders who want to bet big, since it offers a whopping leverage of 400:1 for major currency pairs and 50:1 for exotics. In addition, AvaTrade is one of the only online brokers to offer vanilla forex options, which give you more options for hedging and speculating on the timing of price movements.
What really sets AvaTrade apart is that it integrates with MetaTrader 4, the highly popular and very advanced forex platform. You can use the MetaTrader 4 app for iOS and Android to create custom technical studies and backtest a strategy. We think the app is even easier to use than the MetaTrader 4 desktop interface, although it's worth noting that you cannot set up price alerts through the app.
If you want a simpler interface for quick charting and analysis, AvaTrade also offers its own mobile app. This comes with streamlined charts, nearly 100 technical studies, and a news feed and economic calendar.
Forex trading with AvaTrade is commission free and spreads are generally below the industry average. The USD/EUR currency pair, for example, trades at an average spread of 0.9 pips.
Pros:
Commission free trading on 50+ currency pairs
400:1 leverage for major pairs
Integrates with MetaTrader 4
Offers MetaTrader 4 and native mobile apps
Supports trading signals and custom indicators
Cons:
No price alerts through MT4 mobile app
4. FXCM – High Leverage for Mobile Forex Trading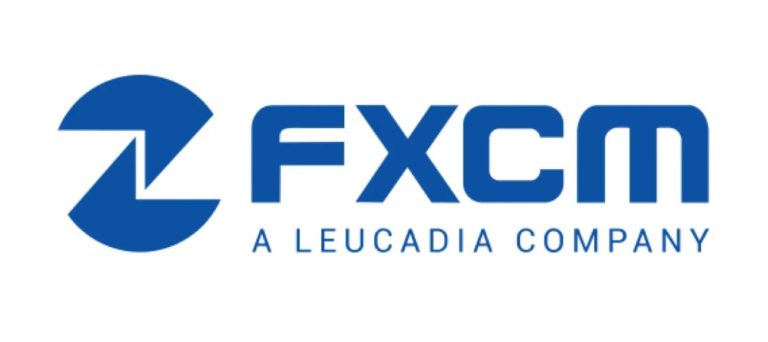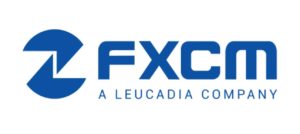 FXCM differentiates itself by providing South African traders with high levels of margin. With this forex app, you can increase your effective position by up to 400:1 for major currency pairs and by up to 200:1 for many minor pairs. The catch is that the minimum deposit required by FXCM is rather high – you must deposit $360 (6,200 R) to open an account, and FXCM doesn't support ZAR as a base currency.
FXCM doesn't have the widest selection of forex pairs (there are 39 in all), but the broker makes up for this by offering custom-made forex baskets. These are essentially funds of currencies that give you exposure to, say, the Australian dollar, British pound, Euro, and Japanese Yen at the same time. FXCM's forex baskets are an innovative way to get exposure to the forex market while keeping risk to a minimum.
Another point in FXCM's favor is that it offers access to mobile apps for MetaTrader 4, NinjaTrader, and ZuluTrade. The MetaTrader 4 and NinjaTrader apps include advanced charting capabilities, trading signals, and custom indicators. Meanwhile, you can use the ZuluTrade app for social trading and copy trading.
Pros:
Leverage up to 400:1 for major currencies
Offers unique forex baskets
Integrates with MetaTrader 4 and Ninja Trader mobile apps
Social trading through ZuluTrade app
Commission free with low spreads
5. Capital.com – Forex App With AI-generated Trade Ideas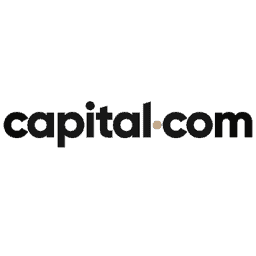 Capital.com is a CFD broker and distinguishes its mobile forex app from the pack by demonstrating the power of artificial intelligence. The mobile app, for iOS and Android, scans the forex market each night looking for trading opportunities based on technical signals. You can take or leave these signals depending on your strategy, but for most traders they provide a holistic look at the market to help you prepare for the coming trading day.
Another benefit to Capital.com's AI technology is that it can actually help you improve your win rate. The mobile app will automatically analyze your trades to correlate wins and losses with factors like how long you hold a position, the day of the week, and other actionable factors. From there, Capital.com's forex app will even suggest ways you can modify your risk management to increase your profitability.
While the AI tools cater towards more advanced forex traders, Capital.com also has a few tricks up its sleeves for beginners. You'll find numerous articles and video guides on the mobile app to help you get started with currency trading and learn new strategies. In addition to its main app, Capital.com also has an education-specific mobile app that offers interactive training for popular trading strategies.
Pros:
Generates trading ideas using AI
Adaptive risk management from AI
Dedicated trader education app
More than 171 forex pairs
Commission free trading and moderate spreads
Cons:
Doesn't offer many exotic forex pairs
75.26% of retail investor accounts lose money when spread betting and/or trading CFDs with this provider.
What is a Forex App?
A forex app is a mobile app provided that allows you to trade currencies on the go. Forex apps are typically provided by brokers, since you need an online forex broker in order to execute any currency trades that you place through the app. You can use a third-party forex app like MetaTrader 4, but you'll need to integrate the app with a forex account through a broker in order to place any trades.
Having access to the forex market around the clock from anywhere in the world through a mobile app is critically important for traders. That's because the forex market rarely sleeps. Currencies trade 24 hours a day, 5 days a week through a global network. More than $5 trillion in currency is traded every single day.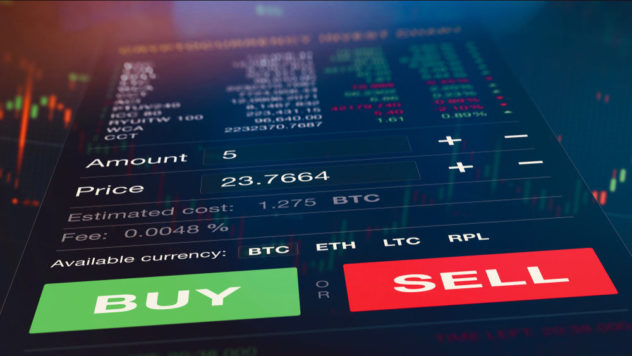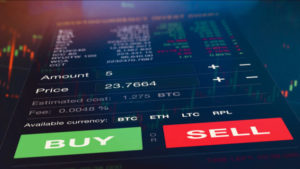 One of the important things to know about trading forex with a brokerage app is that currencies trade in pairs. When you buy the USD/EUR forex pair, for example, you profit if the price of the US dollar rises relative to the Euro. If both currencies rise in value and their relative worth remains the same, you won't make any money.
Why Use a Forex App?
There are several reasons to use a forex trading app. The most important for many traders is that without a mobile app, you would need to be glued to your desktop throughout the trading day.
Successfully trading forex requires watching the markets for at least several hours each day. A mobile app lets you go about your day while still tracking price fluctuations and placing buy and sell orders at key moments. In the absence of a mobile app for trading on the go, you'd have to sit at your computer for the majority of each day.
Another, related, benefit to forex apps is that many brokerage apps support price alerts. These can be pushed to your smartphone's home screen so that you know immediately if a currency has reached its price target or a key support level has been breached. With price alerts, you can tune in to critical moments for trading without the need to constantly monitor price charts.
Importantly, there are very few downsides to trading on the go with a forex app. Most forex  apps provide all the same functionality as desktop and web trading platforms. For example, you get access to charts, news feeds, advanced order types, and more. So, a forex apps has all the same benefits as a traditional brokerage platform, except that you can access it from anywhere using your smartphone.
Best Forex App for Android
Android device users in South Africa will find plenty of forex app options available. Since Android dominates the mobile market, almost every major online brokerage makes an Android-friendly app. If you want to jump ahead to trading, we'd recommend the eToro forex app for Android users – it's 100% commission free, offers dozens of currency pairs, and supports social trading right on your smartphone.
To get a forex app on Android, you'll need to go through the Google Play Store. Just search for the name of your broker to find its app. Once you've downloaded the forex app, you can set up a new trading account on your phone or link an existing trading account simply by logging in.
Best Forex App for iPhone
You can also choose from a wide range of forex apps for iPhones, iPads, and other Apple devices. In almost all cases, brokers design their iPhone apps to have the same functionality and layout as their Android apps. So, if you switch back and forth between devices, you won't face a learning curve.
We recommend eToro as the best forex trading app for iPhone. To download the eToro app or another broker's forex app, just head to the Apple App Store and search for the name of your desired broker. Once the app is installed, create a new trading account or link an existing account to start watching the currency market on your device.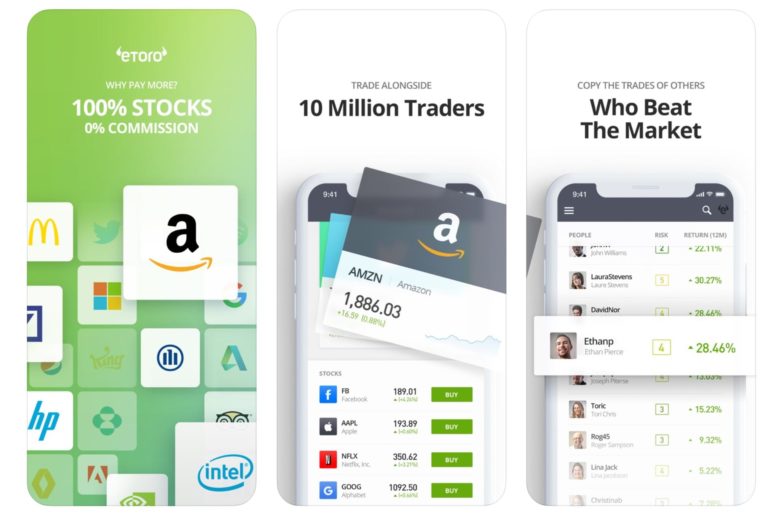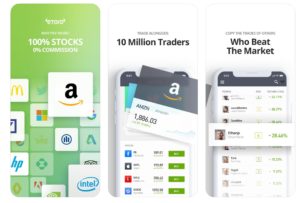 Best Forex Trading App for Beginners
First-time forex traders will have a few specific demands from their trading app. First and foremost, it needs to be user-friendly. Clean navigation windows for finding top forex pairs and seamless mobile charting interfaces are essential. Instead of opting for an app that provides custom technical indicators at the expense of simplicity, look for a forex app that offers several dozen of the most widely used studies built in.
Another thing beginners should consider when choosing a forex app is social trading. Only a handful of brokers offer this feature, but it can make a huge difference when you're just starting out. Social trading gives you an opportunity to ask questions and learn from other traders, as well as to simply see how more experienced forex traders respond to specific market news or price action.
Educational articles and videos are also a plus. Many brokers offer some degree of educational resources, but they may or may not be available through the mobile app. Ideally, the forex app you choose will also come with a free demo account. A demo account is a good way to safely practice trading forex before you start committing real money to the market.
Finally, don't forget to check on costs. It's easy to rack up commissions when trading forex, which is why we recommend that beginners stick to commission-free forex apps. Even spreads that are higher than the industry average won't cost that much unless you're trading high volumes of currency.
With all that in mind, what's the best forex app for beginners? We recommend eToro. eToro's app is seamless for both iOS and Android users and includes a straightforward charting interface that's easy to get started with. On top of that, eToro support social and copy trading, offers a free demo account on mobile, and doesn't charge any trade commissions.
Best Forex Trading Demo App
The best way to break into trading forex is by using a demo account. With a demo, you get live access to the market but trade simulated money instead of real money. So, using a demo is a risk-free way to practice trading forex and build a successful strategy.
We highly recommend that all new forex traders start out with a demo account before moving to live trading. Thankfully, many brokers offer free access to demo trading through their mobile forex apps.
While it might be tempting to pick any app since you won't be committing real money, you should use the forex app that you plan to use for live trading. The demo account features the same trading tools, charting interface, and risk management options as the live account on the same app. Practicing in one demo account only to switch to an entirely different app for live trading won't do you much good.
Our favorite forex demo app comes from eToro. You get access to social trading and streamlined charts just as you would for the broker's live account. Plus, you can reset the demo at any time if you want to try an entirely new trading strategy.
That said, we also like Plus500's and FXCM's demo accounts. Plus500's demo offers price alerts pushed to your mobile, so you can practice incorporating these alerts into your trading strategy. FXCM's demo app lets you practice trading with high leverage, which can be confusing for many first-time forex traders.
Best Forex News App
News is one of the biggest drivers of the forex market. Changes in government policy, economic announcements, and more all play a big role in pushing the price of currencies around. Getting access to market news quickly is key to making trading decisions in real time and staying one step ahead of the forex market.
All of our recommended forex apps come with news feeds, but some are more robust than others. We think FXCM offers the best forex news app, since the feed pulls stories from FXStreet and Investing.com. Better yet, news stories are automatically tagged by forex pair. So, it's easy to sort your FXCM news feed according to the currency pairs you're currently trading.
Best Forex Signals App
Forex signals are custom sets of conditions – based on price, technical studies, trading volume, and more – that you can use to create price alerts or automate your trades. Forex signals are routinely used by advanced traders to make trading more efficient, to identify profitable setups in the moment, and to take some of the emotion out of trading.
Since forex signals are generally only used by experienced forex traders, they are not available through every trading app. Of the top forex apps we covered, only AvaTrade and FXCM offer trading signals. We would recommend AvaTrade as the best free forex signals app, since it has a slightly more seamless integration with MetaTrader 4. You'll use the MetaTrader 4-AvaTrade app to download, create, and apply forex signals.
How to Choose a Forex App
We've highlighted the best forex trading apps for South African traders in specific categories, but how do you decide which forex app is best for you more broadly? Here, we'll take a look at some of the top factors you should consider when picking a forex app in South Africa.
Regulation
Whether you're using a forex app or a stock app, you're going to deposit money to your forex broker through your trading app and rely on that broker to execute trades honestly on your behalf. To make sure your broker is trustworthy, it's worth looking at whether they are regulated and by whom.
Major online brokers should be regulated by one of the world's top-tier regulatory authorities. That includes the UK Financial Conduct Authority, the Australian Securities and Investment Commission, and the Cypress Securities and Exchange Commission. These regulatory agencies ensure that brokers are operating in the best interests of clients and, in some cases, offer protections for your trading account in case the broker goes out of business.
It's also worth checking whether a broker is regulated by South Africa's Financial Services Board. Many are not, although this isn't necessarily a red flag. In that case, South African traders are typically covered by one of the overseas regulators we mentioned.
Currency Pairs
Forex apps offer access to different currency pairs. In general, there are three types of forex pairs:
Major Pairs: There are seven major currency pairs – EUR/USD, USD/JPY, GBP/USD, USD/CHF, USD/CAD, AUD/USD, and NZD/USD. Almost all South Africa forex apps offer trading on these pairs.
Minor Pairs: There are more than 20 minor currency pairs involving crosses between the non-US currencies in the major pairs and between the US dollar and less widely traded currencies. Most trading apps offer all minor currency pairs for trading.
Exotic Pairs: There are dozens of exotic forex pairs, which are currency crosses that are infrequently traded. USD/ZAR and JPY/ZAR are exotic pairs. Not all forex apps offer exotics trading, and those that do vary widely in which specific pairs they offer.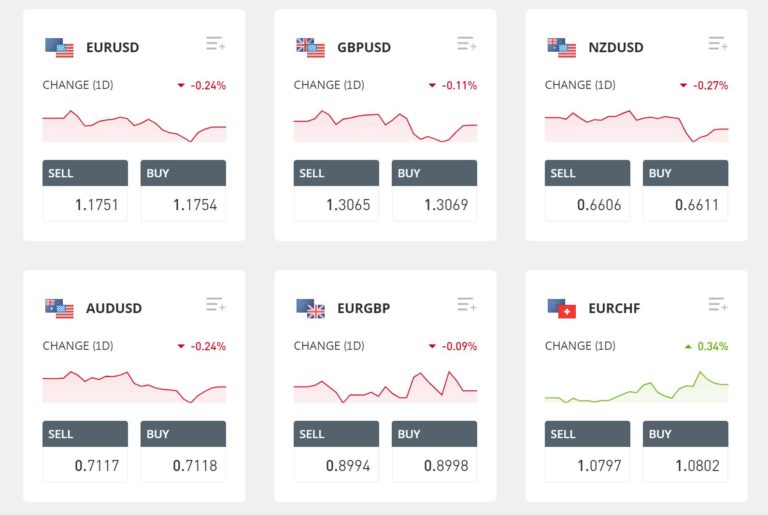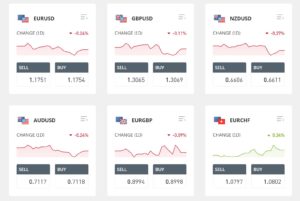 Mobile Trading Experience
When it comes to deciding on a forex app, the mobile experience is obviously pretty important. Mobile trading should feel as seamless as trading on a computer at home. Menus should be easy to navigate, charts should be easy to customize, and you should be able to load price data and news stories without delay.
On top of that, the mobile app should offer all the same features as the web and desktop platforms for the same broker. That means you should get access to the same set of technical studies for charting, the ability to set price alerts, and advanced order types for risk management. If your broker offers social trading like eToro does, you should be able to access the social network features through the mobile app as well.
Fees
The cost of trading currencies is another major factor to consider when choosing a forex app. There are several ways in which brokers charge fees:
Commissions: Commissions are flat or percentage-based fees applied to every trade, regardless of the volume of currency you're trading. Commissions can add up very quickly for most traders, so we recommend sticking with a commission free forex app.
Spreads: The spread is the difference between the bid and ask price for a currency pair. It's essentially a percentage-based fee on your trade. Spreads can vary widely between brokers and forex pairs, so look carefully at this fee. For reference, a broker is considered to have low spreads if major currencies trade for less than 1 pip (0.01%).
Account Fees: Some brokers charge monthly account fees, deposit fees, withdrawal fees, or inactivity fees. Often, these fees can be avoided with careful account management. However, be sure to know what the terms are and how much you might pay for your trading account.
Trading Platform & Tools
The trading platform is also an important component of any forex broker. In addition to a mobile app, you should have access to desktop and web interfaces. Even when the features are identical, it can be helpful to access charts on a larger screen.
There are numerous trading tools to look for, and it's up to you to decide which are most important to you. Some brokers like eToro provide social trading networks, while others like Capital.com offer AI-generated trade ideas. News feeds, price alerts, and economic calendars are all important tools to consider when choosing a forex app.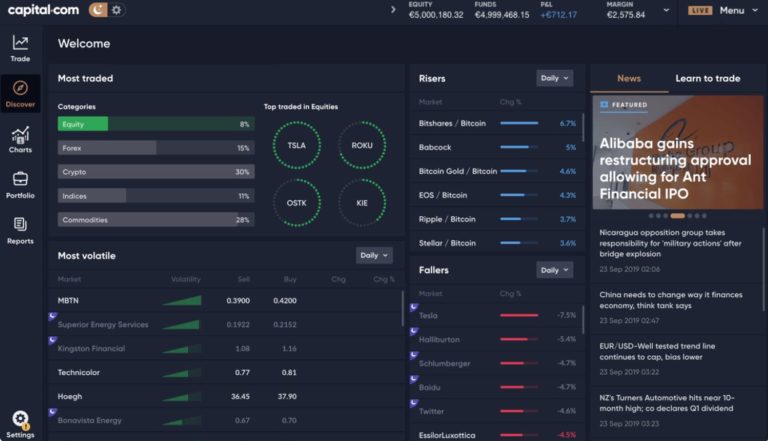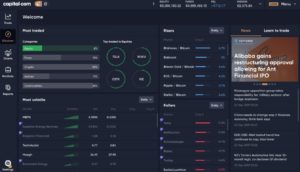 Education
Many any brokers offer articles and videos to help beginner forex traders navigate the complex world of currency trading. Note that there are plenty of educational guides available for free outside your broker, so this generally won't be the most important factor when choosing a forex app.
Payment Methods
How do you fund your trading account? Look for forex apps that accept simple payment methods like debit and credit cards. Many online brokers also accept e-wallets like Neteller, Skrill, and PayPal.
Customer Service
The forex market operates 24/5, so your forex broker should provide 24/5 service or close to it. While you may never need help with your account, it's critical that support is there right away when you need it. Make sure to check whether multiple support channels, such as phone, live chat, and email, are available.
How to Download a Forex App & Start Trading
Ready to get started with a mobile forex app? We'll walk you through the process of signing up and placing your first trade with eToro.
Step 1: Download Mobile App
Download the eToro mobile app from the Google Play Store (Android) or the Apple App Store (iOS). The app is free and installs in less than a minute. Just search 'eToro' to find the app in the marketplace for your device.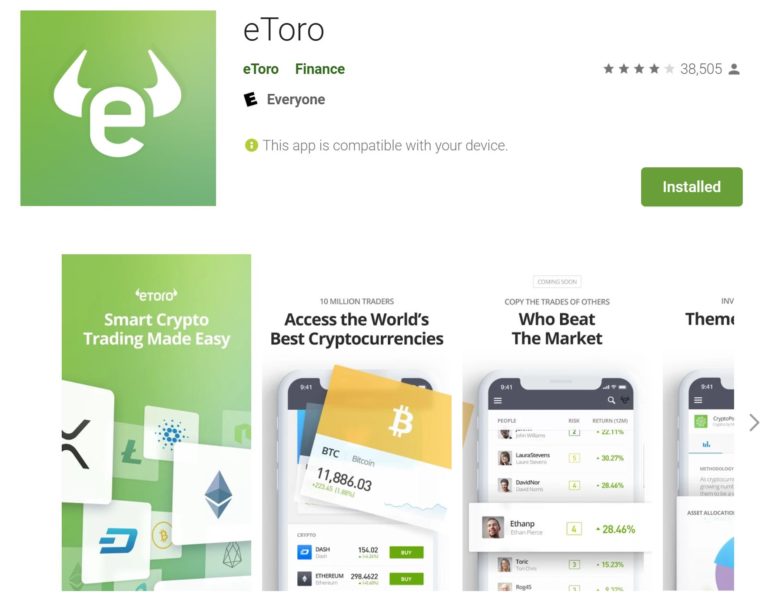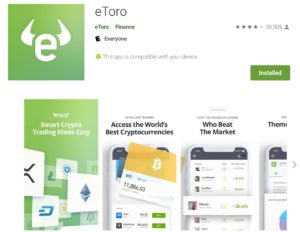 Step 2: Create a Trading Account
Open up the eToro app on your smartphone and click 'Join Now.' You'll be prompted to create a new username and password. Then enter your personal details including your name, birthdate, and address.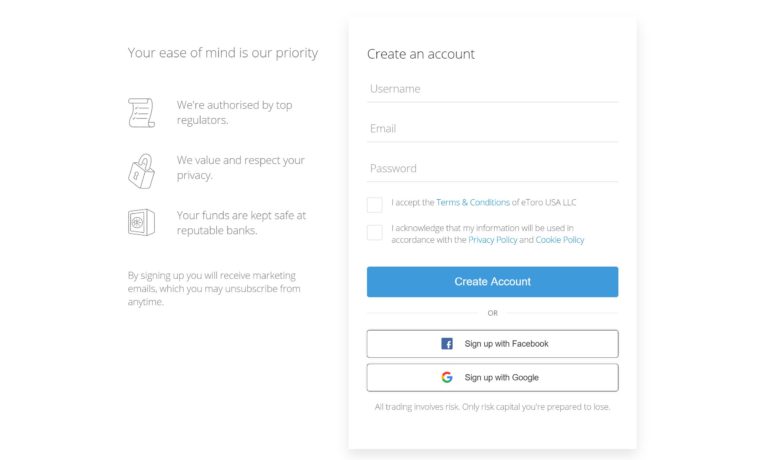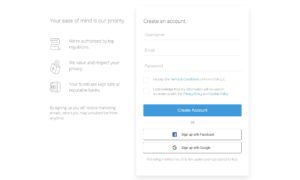 eToro requires you to verify your identity to comply with government regulations. You can snap a photo of your passport or driver's license and a photo of a recent bank statement or utility bill to upload it to the broker. Verification only takes a few minutes.
Step 3: Fund Your Account
Before you can start trading, you need to fund your account. eToro accepts a wide variety of payment methods, including debit or credit card, Neteller, Skrill, PayPal, and direct deposit. Note that you must convert your money to US dollars before depositing or else you'll be charged a currency conversion fee.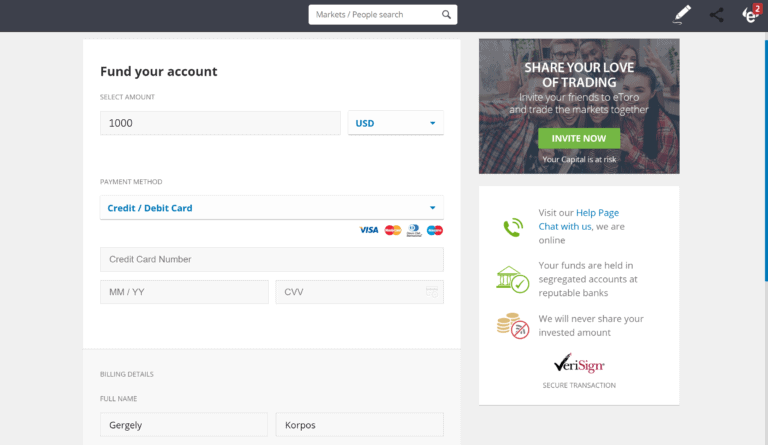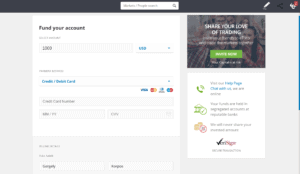 Step 4: Place Your First Trade
Now you're ready to place your first forex trade through the eToro app. From the menu, select 'Currencies' and then search for the name of the currency pair you want to trade. Click 'Trade' to open a new order form.
In the order form, you'll specify how much money you want to trade and whether you want to buy or sell the currency pair. You can also set a stop loss or take-profit price if desired and choose how much leverage you want to apply to your trade, if any. Beginners should be cautious about trading with leverage since it incurs additional risk and fees.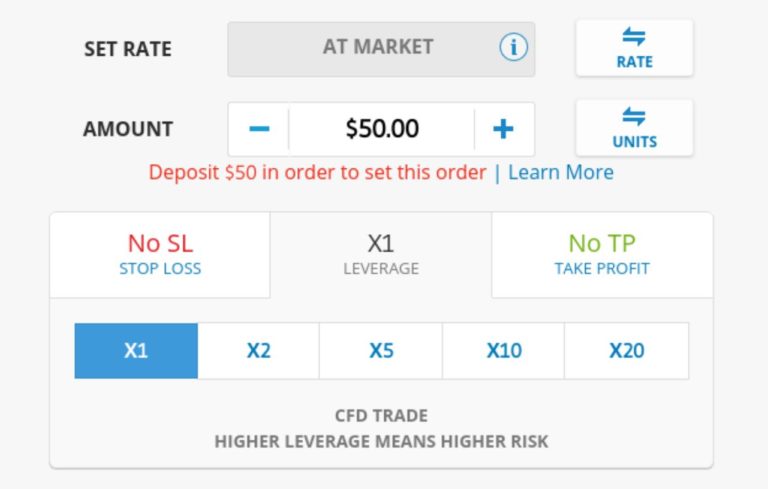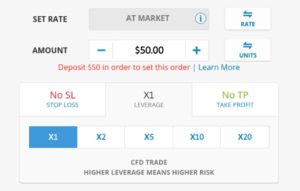 When you're ready to complete your trade, click 'Buy' or 'Sell.'
Conclusion
South African traders have access to a rich variety of forex apps. With the best forex app, you can monitor the currency market, interact with other traders, and execute orders on the go.
Ready to get started trading forex? Sign up for an account with eToro today to place your first trade – just click the link below!
eToro – Best 0% Commission Forex App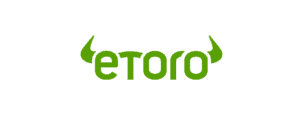 75% of retail investor accounts lose money when trading CFDs with this provider.
FAQs
What is the best forex trading app?
The best forex app depends on the tools and features you need. For most South African traders, we recommend eToro. It offers 0% commission forex trades and a user-friendly app with social trading and advanced charts.
How do I download a forex app?
The forex trading app download process is simple. All you have to do is search for the forex app from the Apple App Store (for iOS devices) or from the Google Play Store (for Android devices), click download and you're done.
What is considered a low spread for forex?
In general, forex brokers with spreads of less than 1 pip (0.01%) for major currency pairs are considered inexpensive.
Who regulates forex apps?
The forex brokers that offer trading apps are regulated internationally by government agencies. Top-tier regulators include the UK Financial Conduct Authority, the Australian Securities and Investment Commission, and the Cypress Securities and Exchange Commission.
Can I deposit ZAR into my trading account?
Many forex brokers don't support ZAR as a base currency, meaning you'll need to convert your money to USD or another supported currency before deposit. Often you can deposit ZAR, but you will be charged a currency conversion fee by your broker.
How does leverage work for forex?
With leverage, you borrow money from your broker to increase the effective size of your trade. For example, with 100:1 leverage, you can buy $1,000 worth of forex with just $10 in your trading account. Keep in mind that leverage increases your risk and typically comes with additional fees.