How to Buy Chainlink South Africa – Beginner's Guide
The cryptocurrency market is on the rise since mid-2020 and in particular since the start of 2022. And, with the recent re-hype around the crypto market, new coins emerge in the crypto space day after day. One crypto coin that has been on fire since the start of the year is Chainlink, a token of a decentralized oracle system that aims to connect smart contracts on any blockchain network.
Since mid-2020, Chainlink has been on a long rally, rising from around $4 per coin in June to its current price of around $26 per one coin. As of early March, Chainlink's market cap sits at $11 billion, making this coin the tenth largest cryptocurrency in the world, and one of the most promising project in the crypto space.
In this guide, we'll help you find the best ways to buy Chainlink in South Africa. We'll suggest top cryptocurrency exchanges that support the coin, analyze Chainlink's price performance and show you how to buy Chainlink in SA.
How to Buy Chainlink South Africa – Step by Step Guide 2022
If you want to buy Chainlink instantly without complication and a long verification process with our best recommended broker Libertex, just follow these four steps below:
Open an account with Libertex – To buy Chainlink coins in the easiest way in South Africa, you need to open an account with Libertex. This is a CFD platform that allows you to buy and sell Chainlink without any trading commissions. 
Upload ID – Before you can make any trade, you'll have to verify your identity by uploading your passport or any other national ID. 
Deposit Funds – Make a deposit using one of the eligible payment methods.
Buy Chainlink – Now that your account is verified and funded, search for Chainlink or LINK at the search bar, insert the amount you wish to invest, and click on Buy LINK. 
What is Chainlink?


Chainlink is a decentralized oracle network that connects real-world data to smart contracts on the blockchain. By doing that, the Chainlink project can solve one of the biggest problems of smart contracts, which is the integration of the blockchain network to real-world data outside of the network. This includes events, payments, price feeds, flights, personal data, and more.
For those unaware, a decentralized oracle network is a group of self-supporting blockchain oracles that provide data to a certain blockchain. In that regard, Chainlink is a decentralized network of nodes that transfer data from off-chain sources to smart contracts on a blockchain via oracles. The reason why Chainlink is so important is that it provides a necessary resource to the market, and it could be a vital technology for big organizations such as banks, financial feed data providers, governmental organizations, hospitals, and many more.
Chainlink was officially founded in 2014 by Steve Ellis and Sergey Nazarov and the Chainlink's ICO was conducted in September 2017. Initially, ChainLink raised $32 million on its public offering with a billion LINK tokens that were issued to the market. Currently, the number of LINK coins or tokens that are publicly available and circulating in the market stands at 410,000, or 41%. The symbol for the Chainlink coin is DOT/USD.
Why Buy Chainlink? Chainlink Analysis
Generally, there are many reasons to buy Chainlink right now. Besides the high returns and the optimism towards cryptocurrencies and blockchain technology, Chainlink has recently added some major benefits to its network and for investors. First, while staking is currently not available in the Chainlink network, the team has released an announcement revealing the plan to add the staking feature within 2022. For those unaware, staking in cryptocurrencies is a process that is very similar to bonds or fixed-income assets – users can lock their cryptocurrencies in order to receive a fixed interest rate.
In addition, Chainlink has recently launched a major upgrade for its system, which is expected to change the way oracles aggregate data and significantly reduce the costs of transactions on its network. The team promises that the network's speed will become 10-time faster than the current version.
So far this year, Chainlink has gained 136% and the 1-Year return stands at 466% at the time of writing. From the start of the year, Chainlink outperformed other altcoins including Ethereum (ETH), Ripple (XRP), Cardano (ADA), Bitcoin Cash (BCH), Dogecoin (DOGE), EOS, Litecoin (LTC) and more. In that matter, one of the few digital coins that outperformed chainlink is Polkadot, which gained over 300 since the beginning of the year. The forecast for Chainlink's future price is optimistic with price targets at $100, $200, and even higher. And, despite a decline of over 20% over the past week, the Chainlink bullish run is expected to continue.
Chainlink is on the verge of getting broad acceptance by conventional investors. If it achieves this goal, it has the potential to become one of the most dominant cryptocurrencies in the market.
Chainlink Price – How Much Does it Cost to Buy Chainlink?
At the time of writing, Chainlink is trading at around $26.5 per coin in what looks like a profit-taking sell-off over the past trading days. Just two weeks ago, Chainlink was trading at its all-time high of $34.5, before dropping over 20%. Nonetheless, the coin is still ranked as the 10th largest cryptocurrency in the world, with a market cap of nearly $11 billion.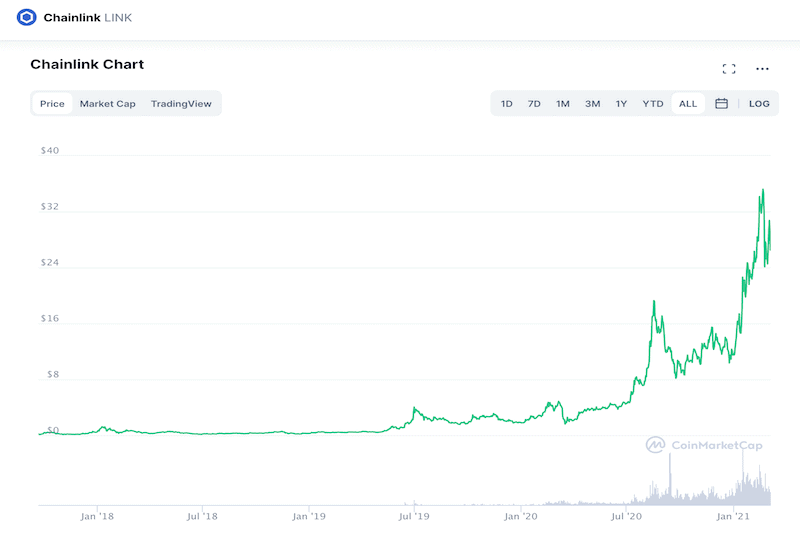 In terms of the fees involved, this depends on the trading platform you choose to use. Libertex, for instance, is allowing you to make a purchase at no cost as it offers Chainlink CFDs. Otherwise, if you prefer buying Chainlink via a cryptocurrency exchange like Binance, you will have to pay a fixed fee that varies depending on the form of the transaction (credit/debit card, PayPal, or Bitcoin).
Ways of Buying Chainlink
Today, buying Chainlink can be done in many ways. Some cryptocurrency exchanges allow you to directly buy Chainlink with fiat currency (credit/debit card), or you can use Bitcoin as a payment option. Some exchanges and online trading platforms even allow you to make a purchase with PayPal or any other electronic payment option.
The vast majority of new investors in the crypto market choose a cryptocurrency exchange or a brokerage firm based on the payment methods offered. To get all the available options, below we cover the various ways of how to buy Chainlink in South Africa.
Buy Chainlink with Debit/Credit Card
When choosing how to buy Chainlink, the quickest and simplest method is via a credit/debit card. If opting for this method, you can choose between Libertex and Binance though the first option is obviously easier.
Once you have completed the registration process at Libertex, login to the trading dashboard and click on the Deposit button. From the drop-down menu, choose debit or credit and deposit the amount you want to invest in Chainlink.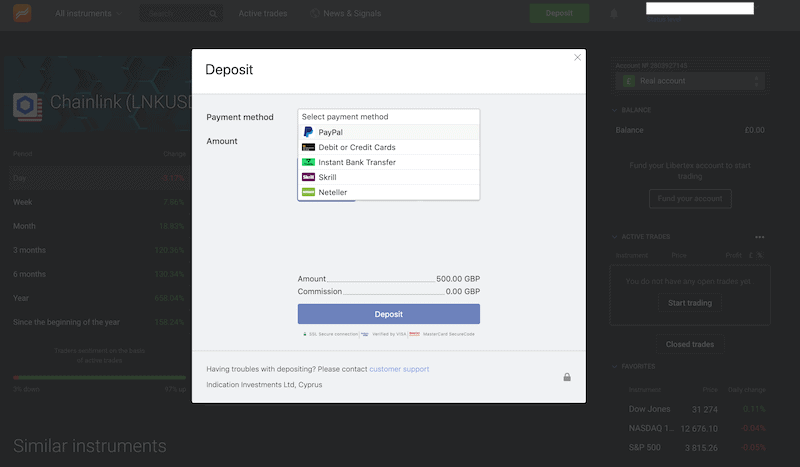 As soon as the funds have reached your Liberetex account, type in LINK at the search bar and place a buying order on Chainlink's instrument page. Do not forget that Libertex allows you to leverage your position, so you'll have to calculate the number of coins to purchase when taking into account a leverage ratio of 2:1 on cryptocurrencies.
The second option to buy Chainlink coin with a credit/debit card is through Binance, one of the largest and most popular cryptocurrency exchanges in the world. Notably, Binance is a bit more complicated for beginner investors, largely due to the very long verification process required to open an account. Nonetheless, Binance has many advantages over most of the other exchanges and online trading platforms, including the ability to easily buy digital assets with a credit/debit card.

To get started with Binance, you'll first have to register for an account on its website. Binance will then send you a verification email asking you to verify your email address. At this point, you'll be prompted to enable two-factor authentication to secure your digital accounts.
Next, Binance will ask you to verify your identity by submitting some additional personal information and uploading pictures of your ID documents. Once your account is approved, you can move on to buy Chainlink – Simply navigate to the 'Buy Crypto' at the top menu bar, choose credit and debit card in the drop-down menu and insert the amount you want to invest in Chainlink.
Buy Chainlink with PayPal
If you want to buy Chainlink with PayPal in South Africa, you first need to find a reliable trading platform that accepts PayPal as a payment method or peer-to-peer (P2P) marketplace on a reputable cryptocurrency exchange. Fortunately, Libertex is an online trading platform that recently added PayPal as a payment option for its operation.
The second option is to find a cryptocurrency exchange in South Africa that provides a P2P marketplace. Binance has a peer-to-peer platform that lets clients gain more access to various crypto coins and use PayPal as a payment option.
Buy Chainlink with Bitcoin
If you already have Bitcoin on another cryptocurrency exchange or in a wallet, you can also use it to buy Chainlink coin. This is actually the cheapest way to buy Chainlink as you simply trade the DOT/BTC pair. To do that, you'll have to register for an account with Binance, and then navigate to the Markets. From there, you need to choose BTC markets and entee DOT at the search bar.

Once you click on the result that pops up, you'll be transferred to DOT/BTC where you can place a buying order. Enter the number of Chainlink coins you want to buy and insert the price in BTC (otherwise, you can choose to place a buying order at market price).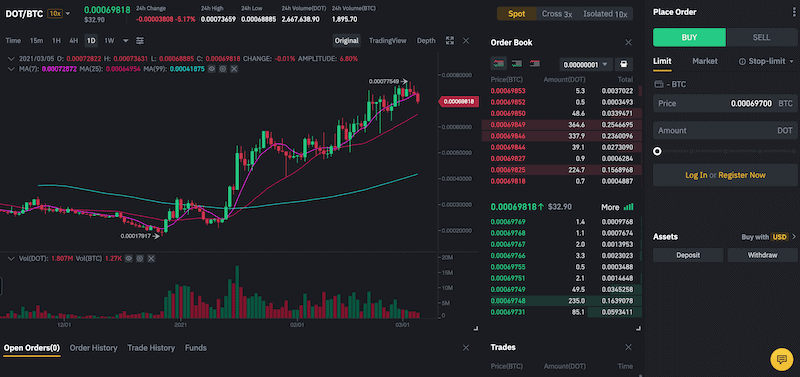 Where to Buy Chainlink South Africa
Generally, there are many factors to consider when you buy a digital coin on a cryptocurrency exchange or via an online brokerage firm. This includes the selection of assets, the costs of making a trade, the verification process, and the trading tools and features that are available on the platform.
Chainlink tokens are available on a number of cryptocurrency exchanges but you want to make sure you find the most cost-effective and easy-to-use trading platform to make your LINK coins purchase. To help you pick the best platform that enables you to buy Chainlink instantly, let's take a closer look at two of the top digital assets exchange platform in South Africa:
1. Libertex – Buy Chainlink South Africa with Low Fees and Competitive Spreads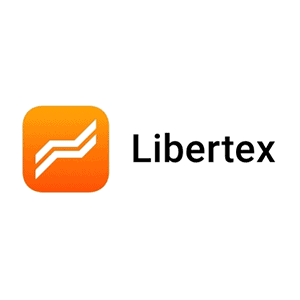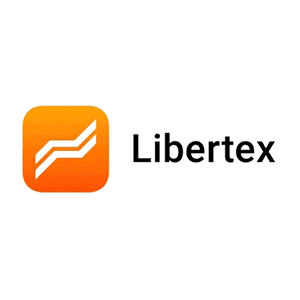 Libertex is our top pick platform for South African investors looking to buy Chainlink. This online trading platform offers more than 50 cryptocurrency pairs including Chainlink. Crucially, unlike other cryptocurrency exchanges in the market, Liberetx is a Russian-based brokerage firm that gives users the possibility of buying and selling a derivative financial instrument called a Contract for Difference (CFD), which is simply an agreement between two parties to exchange the difference in the value of a particular asset without exchanging the asset.
While it is important to remember that you will not be 'physically buying' crypto coins at Libertex, there are many advantages of choosing to trade CFDs rather than buying digital assets directly on a cryptocurrency exchange. First and foremost, you'll be to trade with a leverage of 2:1 for cryptocurrencies. Then, CFDs are much more flexible and easy to understand than any other derivative contract. Lastly, CFDs are a cost-effective way to gain exposure to cryptocurrency markets.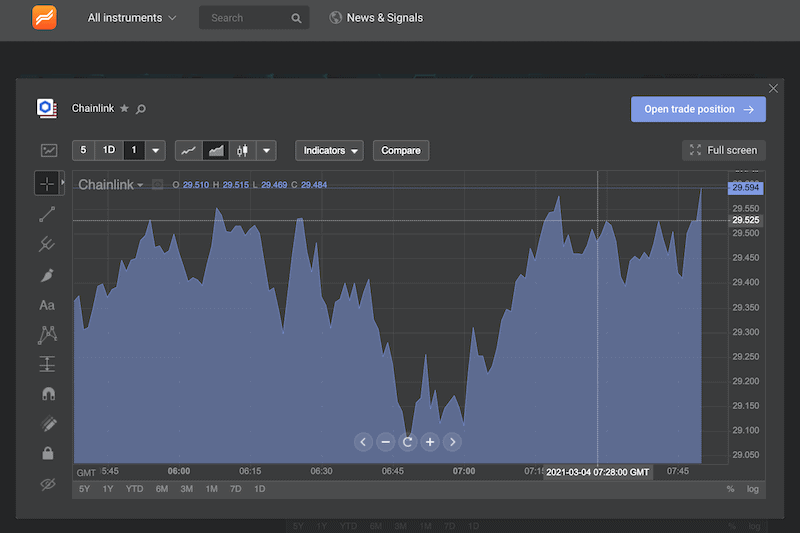 Among the huge selection of available cryptocurrencies, Libertex offers users to buy and short sell Chainlink. Additionally, If you want to expand your trading activity beyond Chainlink, Libertex offers CFDs on more than 250 instruments. This includes shares, stock indices, commodities, forex pairs, and ETFs. The broker also supports the MetaTrader 4 and enables users choosing an account type to trade with zero spreads.
To get started, Libertex requires you to deposit a minimum of $10 or equivalent. To make a deposit, the broker supports a variety of payment methods that include bank wire transfer, credit and debit card, and eWallets including PayPal. A demo account is also provided for potential traders who want to test the platform as well as the broker's support team before risking real capital.
Pros:
Commission free trading platform
Very competitive spreads
One of the few commission free platform that supports Polkadot coin
Founded in 1997, and is regulated CySEC
Offers a wide range of products and markets
Supports the Meta Trader4
Plenty of tools and features
Cons:
Only CFDs
Not a social trading platform
75.3% of retail investor accounts lose money when trading CFDs with this provider.
2. Binance – Largest Cryptocurrency in the World in terms of Trading Volume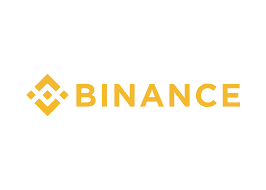 While Libertex offers you the best way to easily buy Chainlink in SA, Binance is another option worth considering. This cryptocurrency exchange, which was founded in 2017 and has an estimated net worth of over $2 billion, allows users to buy and sell over 150 digital coins, including Chainlink. Notably, Binance is an ideal platform for experienced investors that want to trade a wide range of digital assets and engage in high-frequency trading.
Binance offers various trading pairs of Chainlink that include LINK/USDT, LINK/BUSD, LINK/EUR, LINK/TRY, LINK/GBP, and more. The Binance platform is also among the best in the market as it provides a level 2 order book, which shows you a list of the best bid and ask prices from buyers and sellers. This tool is more useful for active day traders who want to make a large number of transactions and closing them in a short period of time. In general, when using the Binance platform, you can switch between the classic mode, which is best for beginner investors that want to get access to a user-friendly trading dashboard, or, you can choose the advanced trading mode that enables you to open multiple positions and get access to professional trading tools.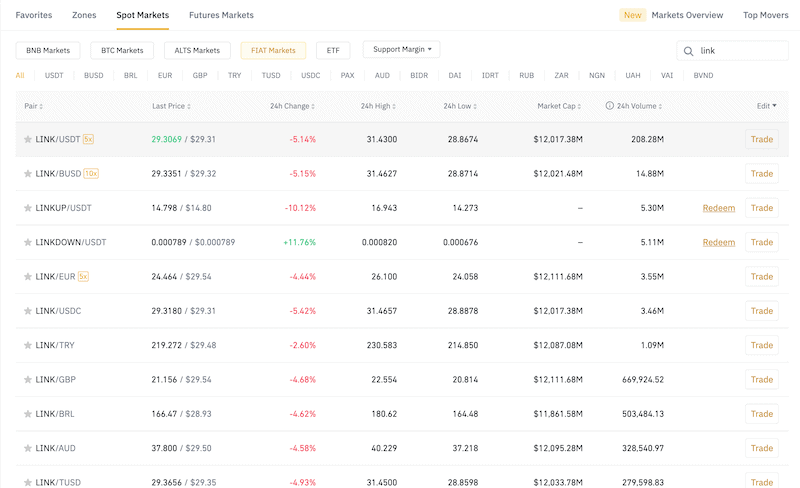 The benefit of purchasing Chainlink coin via Binance is that you can easily buy this coin with a credit/debit card though you have to take into account a fee of 3% and 1% is using a Visa card. If you want to choose this option, you'll have to navigate to the Buy Crypto on the top menu bar, and then choose Credit and Debit card.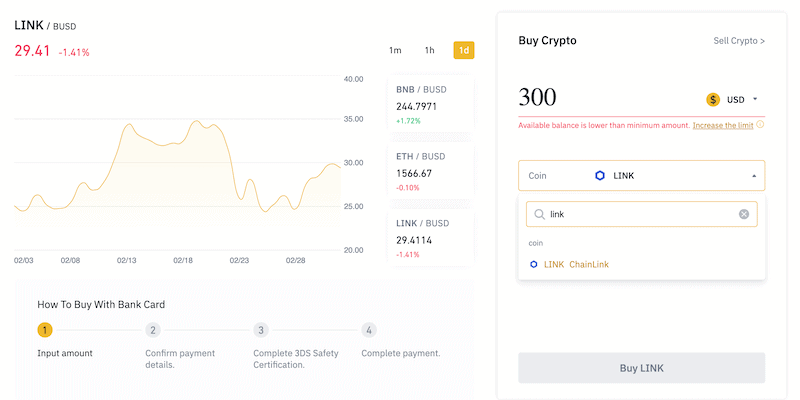 Finally, Binance also provides a digital wallet that can be used to store various digital assets. This is the official mobile wallet of Binance, which is safe and easy to use. All in all, Binance is one of the best cryptocurrency exchanges that support the LINK coin and accepts clients from South Africa.
Pros
The largest cryptocurrency exchange in the world in terms of trading volume
Supports more than 150 cryptocurrencies
Low trading commission
Ideal for experienced traders
Offers users to use the BNB coins and reduce trading costs
Safe and secure cryptocurrency exchange
Cons
The platform is a bit complicated for beginner investors
Cryptoassets are highly volatile unregulated investment products. No EU investor protection.
How to Buy Chainlink (LINK) Tutorial
So now that we have analyzed the Chainlink coin and suggested the best platforms in South Africa to buy LINK, we are going to walk you through the process of opening an account with Libertex and place a buying order in the market.
Step 1: Open an Account
To open a Libertex account, head over to the broker's homepage and click on the Register button. At first, Libertex asks you to submit your email address and create a password.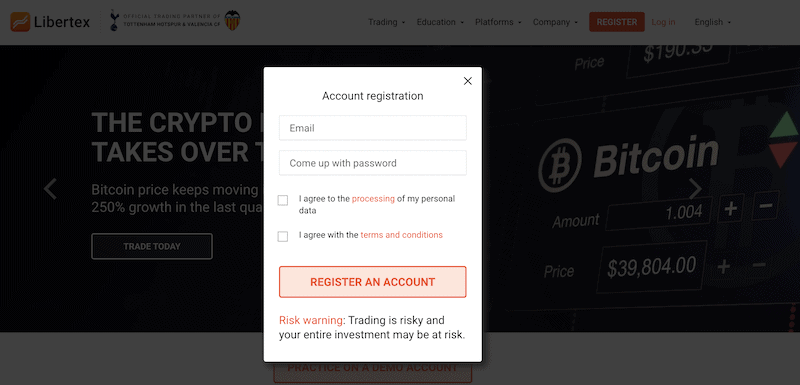 Now, you'll be transferred to Libertex's web-based platform. From there, you can start testing the platform on a demo account and manage your account settings.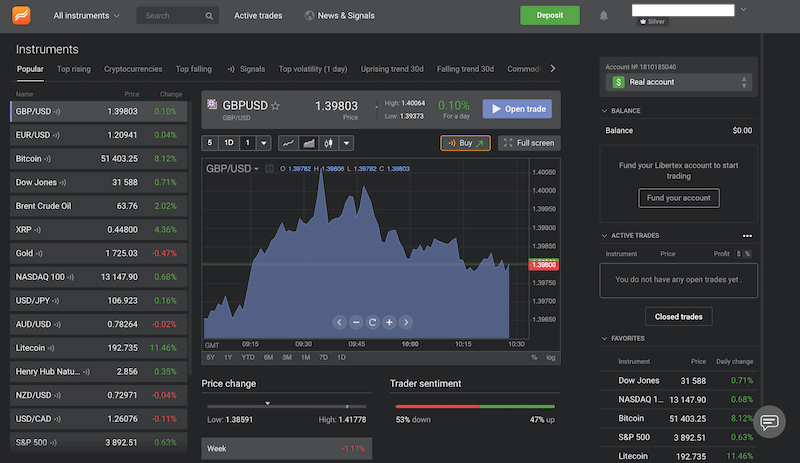 Step 2: Verify Your Identity
Libertex does not allow you to start trading until you verify your identity. This is because the broker is regulated by CySEC and must apply KYC (Know Your Customer) to all of its clients. To complete this step, you'll be required to submit some more personal information and upload a double-page scan colored copy of your open passport or any other ID that verifies your identity. Additionally, Libertex asks you to upload a copy of a utility bill or bank statement issued within the last 6 months.
Step 3: Add Funds to Your Online Account
At this point, you can add funds to your account using one of the supported payment methods. Libertex maintains a minimum deposit of just $10, which is among the lowest minimum deposit requirements in the online CFD trading scene. To make a deposit, you simply have to click on the deposit button and choose the payment method.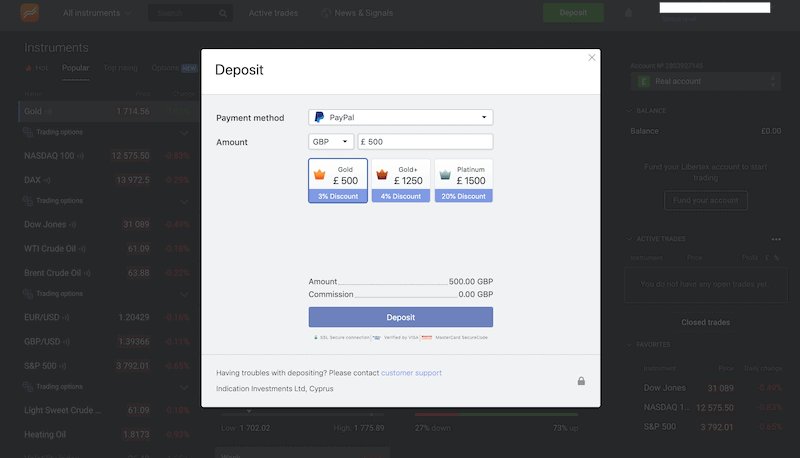 Step 4: Buy Chainlink (LINK) Coin
To buy Chainlink coin on Libertex's platform, you need to search for Chainlink at the search bar at the top of the screen. When the LINK instrument page appears, you can analyze the coin using the interactive chart, the market sentiment tool, and the plethora of news and signals sources from Libertex.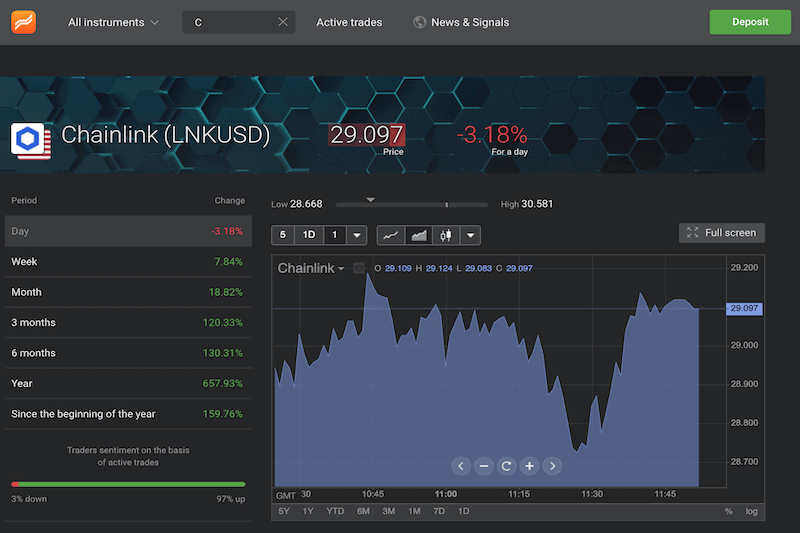 Whenever you are ready to buy the Chainlink coin, simply insert the amount you wish to invest, set the multiplier to 2:1, and click on the Buy LINK button.
Conclusion
In conclusion, Chainlink is one of the most promising projects in the cryptocurrency space.  This crypto coin has the potential of being applied across various industries and applications, and it might even make a huge impact on how quickly the world will adopt blockchain technology. The latest upgrade, which simply means more on-chain at a lower cost, is another catalyst for the growth of the Chainlink coin.
Overall, it seems that Chainlink is a good long-term investment and one of the true cryptocurrencies in the market that have inherent value. So, if you are based in South Africa and interested in buying Chainlink, you have enough information from this detailed guide of all the ways to buy Chainlink in South Africa. Libertex is an excellent option if you want to buy Chainlink instantly with a credit/debit card or PayPal. Otherwise, if you already own bitcoin, Binance is the best place to exchange BTC for DOT.
Libertex – Best Broker to Invest In Crypto CFDs
75.3% of retail investor accounts lose money when trading CFDs with this provider.
FAQs
Should I buy Chainlink?
If you're following cryptocurrency news and the development of smart contracts and blockchain, you'll immediately understand that Chainlink is not like the others. Chainlink is a vital part of the entire blockchain ecosystem, and as such, it might be an integral part of the cryptocurrency market and the global economy in general in the future. With that said, it does not necessarily mean that Chainlink's price is going to keep rising. Despite the forecasts that Chainlink is expected to reach $50 and $100 by 2025, it is important to remember that cryptocurrencies are extremely volatile and unpredictable and it's best to keep your stakes low when it comes to digital assets.
How can I buy Chainlink instantly?
If you want to buy Chainlink but don't want the hassle of opening an account on a cryptocurrency exchange, the best way to buy Chainlink instantly is to use a CFD platform like Libertex.
How can I buy Chainlink anonymously?
You can buy Chainlink anonymously if you use bitcoin as the base currency. This means you'll have to buy bitcoin in cash or in person. The best way to do that is via the Binance Peer-to-Peer (P2P) platform that supports cash transactions and then exchange bitcoin with Chainlink on the Binance platform.
What can I buy with Chainlink?
Chainlink token is a cryptocurrency that powers the Chainlink protocol, however, it is not expected to be used as a store of value or to be recognized as an accepted currency in the online world. Looking ahead, the Chainlink team has recently announced that they believe the staking feature will likely be added within 2022, meaning you'll be able to get a fixed income for storing your Chainlink coins proof-of-stake blockchain.
What are the risks of buying Chainlink?
Like any other cryptocurrency investment, there's a risk that Chainlink will become irrelevant in the near or distant future. Chainlink is a great company and platform that could make a huge transformation in smart contracts technology. Evidently, Google is partnering partner with Chainlink in order to be able to integrate data from external blockchain sources. But, much like blockchain technology and the crypto market, the future of Chainlink is not yet clear so there's a risk in investing in this coin.
Is it safe to buy Chainlink?
Yes, as long as you store your Chainlink coins on a hardware wallet (also known as a cold storage device), your funds are safe and secure. The second option is to buy Chainlink via the CFD market, which means you are not physically buying the tokens but simply speculate on the price of the asset. In this case, you must ensure that the broker is regulated and hold your funds in segregated accounts.