How to Buy Bitcoin in South Africa – Beginner's Guide
If you're wondering how to buy Bitcoin in South Africa – the process could not be easier. All you need to do is open an account with a trusted cryptocurrency broker, deposit funds with a local debit/credit card – and then choose how much Bitcoin you wish to purchase.
Best of all, there are now platforms in South Africa that allow you to invest in Bitcoin from just $25 upwards – which is about 380 rands.
In this guide, we show you how to buy Bitcoin in South Africa in the cheapest and most cost-effective way. We also discuss the best online brokers to do this with.
How to Buy Bitcoin in South Africa – Step by Step Guide 2022
Looking to buy Bitcoin in South Africa right now from the comfort of your home? If so, this quickfire guide will show you how to buy Bitcoin in South Africa commission-free in less than 10 minutes!
1. Open an Account with eToro  – Pay 0% Commission on Crypto
To get the ball rolling, you'll need to sign up with a regulated online broker that sells Bitcoin. eToro is the best option here, as the provider allows you to buy Bitcoin from just $25 without paying any commission.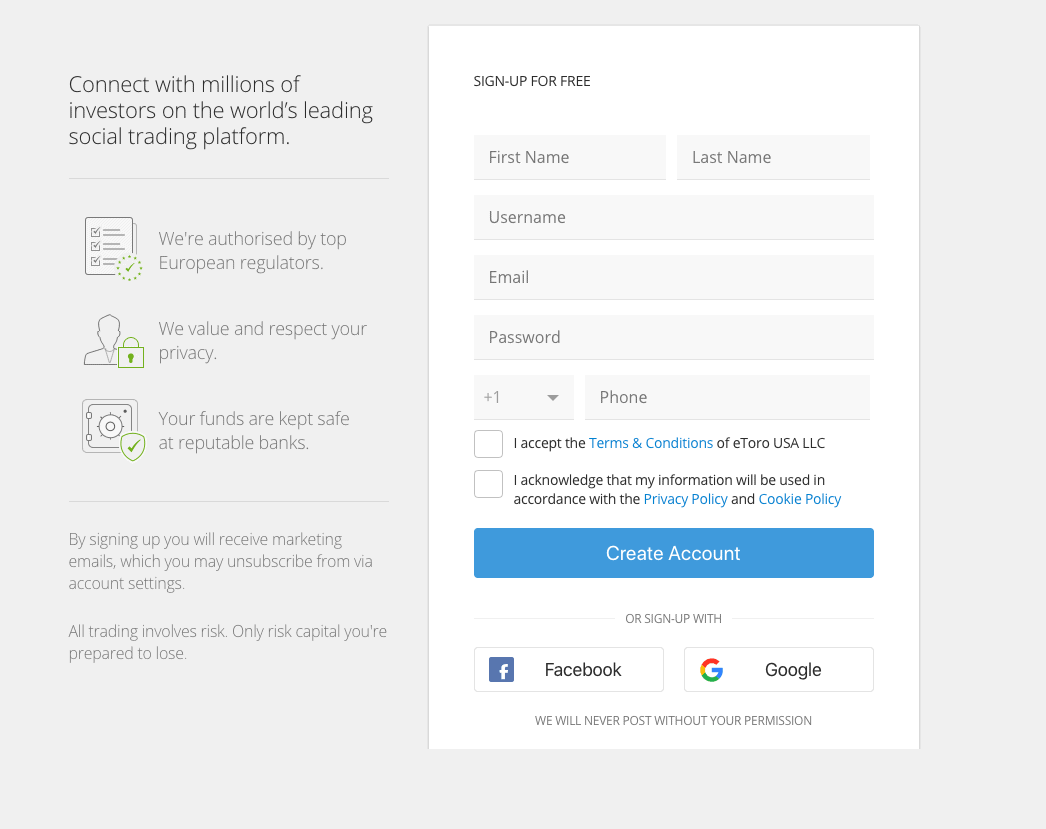 So, visit the eToro website and click on the 'Join Now' button. Follow the on-screen instructions by entering your personal information and contact details. This is standard procedure, as eToro must comply with anti-money laundering regulations. Before moving on to the next step – you'll also need to confirm your email address and mobile number.
2. Upload ID
As is the case with all regulated brokers that allow you to buy Bitcoin with rands – you will need to upload a copy of your government-issued ID. This can be a passport or driver's license.
Additionally, eToro also needs a document that verifies your residency status. This can be a recently-issued bank account statement or a utility bill. Once you've uploaded the documents – eToro should be able to verify them in less than a couple of minutes.
3. Deposit
Now it's time to deposit some funds into your eToro account. Ensuring that you meet the minimum stipulated by the broker, you choose from the following payment methods:
Visa
MasterCard
Maestro
Neteller
Skrill
Bank Wire
Take note, eToro charges a 0.5% FX fee on deposits made in rands. This is much cheaper than Coinbase – which charges 3.99%.
4. Buy Bitcoin
As soon as your deposit is credited to your account – you can then proceed to buy Bitcoin. At the top of the page, you will see a search box. Enter 'Bitcoin' and click on the result that loads up. Then, click on the 'Trade' button.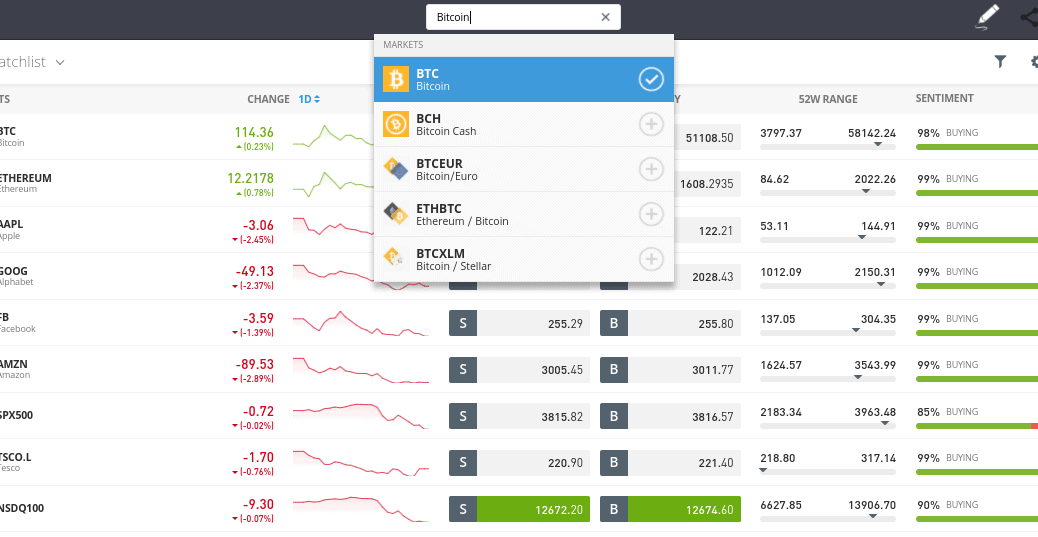 You will then see a 'Buy BTC' box on your screen. Automatically, this is set as a 'Market Order', so all you need to enter is enter the amount of Bitcoin that you wish to buy. The minimum is $25.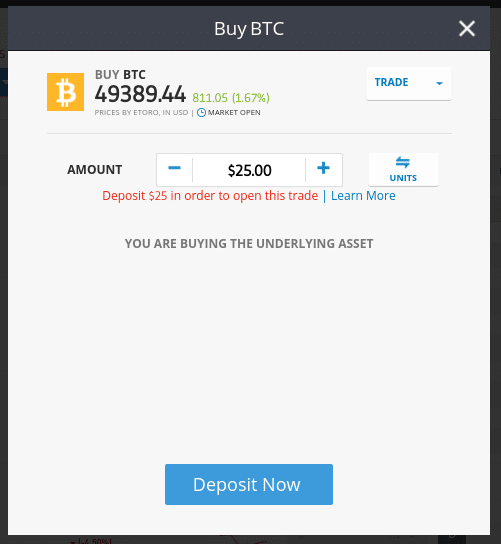 To complete your commission-free Bitcoin purchase, click on the 'Open Trade' button. The coins will then be added to your eToro portfolio. You leave them there until you decide to cash out or withdraw them to a private Bitcoin wallet.
What is Bitcoin?
It's always a good idea to understand the asset you are investing in before taking the financial plunge. This is especially the case with an innovative technology like Bitcoin.
In its most basic form, Bitcoin is a cryptocurrency. Although there are now over 8,000 cryptocurrencies in the market – Bitcoin is by far the most recognized. Not only this, but Bitcoin has by far the largest valuation in the cryptocurrency scene – recently hitting a market capitalization of $1 trillion.
In terms of what Bitcoin actually is, the easiest way to view this asset class is as a digital currency.
That is to say, Bitcoin allows you to send and receive funds digitally – with no requirement for a third-party. This means that the technology is decentralized – meaning that no single person or entity owns it.
Additionally, unlike traditional currencies such as the rand, dollar, or pound – Bitcoin is not backed or controlled by a central bank or government.
Instead, transactions are anonymous and are sent wallet-to-wallet. If you send Bitcoin to another person – irrespective of where they are based the transaction will take just 10 minutes.
Fees are super-low too, often amounting to the equivalent of $1 or less.
Although the underlying technology is revolutionary – most people in South Africa buy Bitcoin on a speculative basis. After all, the value of Bitcoin will rise and fall like a stock or currency – so it presents an interest investment opportunity. Crucially, and as we cover shortly, Bitcoin has gone from a value of less than 1 cent to over $58,000 in the space of just 12 years.
Why Buy Bitcoin?
There are many reasons why South Africans are turning to Bitcoin – all of which we elaborate on in more detail below. This will allow you to evaluate whether a Bitcoin purchase is right for you and your financial goals.
Unprecedented Financial Returns
Bitcoin is traded across hundreds of public exchanges – meaning that its value will rise and fall throughout the day. This works much the same as a traditional stocks and shares investment. But, unlike traditional assets, Bitcoin has grown in value by an unprecedented amount since the technology was launched in 2009.
For example, back then, Bitcoin wasn't really worth anything – as very few people had heard of it. Fast forward to 2011 and Bitcoin surpassed the $1-mark. And now? Well, in early 2021 Bitcoin surpassed a value of $58,000 per coin. This means that in just 10 years of trading – the digital currency has grown by over 5.7 million percent.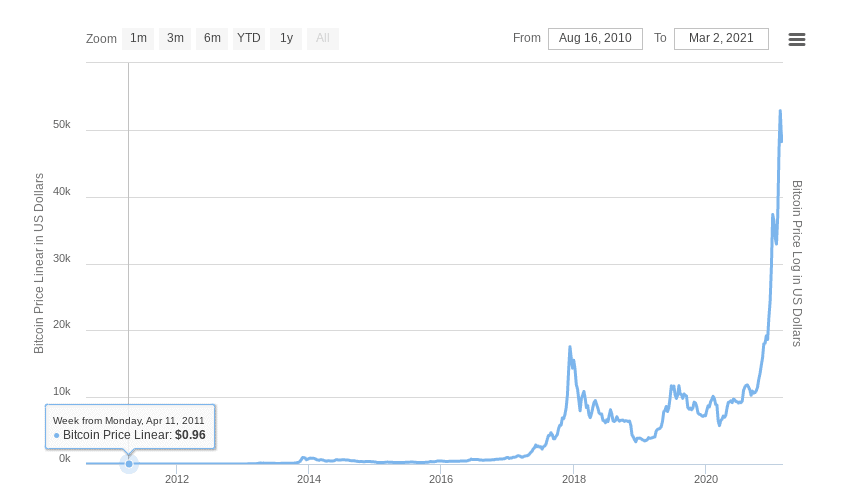 To put these numbers into perspective – let's supposed that you invested 1,000 rands in Bitcoin back in 2011 on a whim. If you held on to your digital funds for the following 10 years, your 1,000 rands would now be worth almost 58 million rands. Although Bitcoin will never go back to such lows – those who entered the market as recently as 12 months ago are also looking at huge gains.
For example, Bitcoin hit 52-week lows of about $5,000 in March 2020. Just 11 months later the digital currency surpassed $58,000 – so that's gains of over 1,000% in less than a year of trading. Nobody can predict what the future really holds for the value of Bitcoin – but many argue that at current prices, it's still worth just a fraction of its true potential.
Solves Many Issues Found in the Remittance Industry
Remittance payments into and out of South Africa now represent a multi-billion dollar industry. The key problem is that the current framework is extremely cumbersome.
Not only are fees exorbitant, but it takes many days for the funds to reach their final destination. This is where Bitcoin and underlying blockchain technology fits. By sending a payment from your Bitcoin wallet to another user, the funds will arrive in 10 minutes.
This is the case irrespective of where the end-user is located. Plus, the transaction fee associated with a Bitcoin transaction is normally less than $1 – so remittance payments aren't eaten away at by third-party players.
Hedge Against Rising Inflation and a Devaluation of the Rand
The South African economy has a long-standing history of above-average inflation levels. For example, this stood at 3.3% in 2020 and 4.15% in the year prior. As recently as 2017 this breached the 7% mark.
As a result of this, your purchasing power gets weaker and weaker as each year passes. This is why many South Africans are looking to ditch low-interest rates offered by banks and instead hedge into Bitcoin.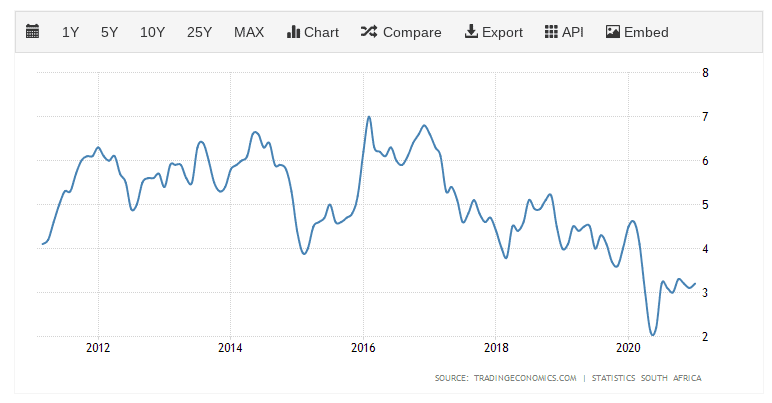 Additionally, Bitcoin has also served as a great financial instrument for South Africans to hedge against the rand losing value against major currencies like the US dollar.
Bitcoin is a Store of Value
When we talk about stores of value – we typically refer to the likes of gold, silver, real estate, and even fine art. However, Bitcoin also possesses the characteristics of a conventional store of value, too.
At the forefront of this is the fact that there will only ever be 21 million Bitcoins in existence. This cap is expected to come to fruition in the year 2140. This means that the cap supply is reached, no more Bitcoins will be issued.
This is why Bitcoin is often compared to a store of value like gold – as there is only so much of the precious metal that can be mined. In turn, stores of value are expected to appreciate indefinitely – as demand significantly outweighs supply.
You can Buy Bitcoin in Small Quantities
Those with little to no knowledge of how Bitcoin works are often under the impression that you need to buy a full coin. If this was the case, then this means a total capital outlay of $58,000 based on recent highs. This works out at about 875,000 rands.
Fortunately, Bitcoin is a digital asset class – meaning that it can be split into smaller fractions. As such, you can invest small amounts into Bitcoin without needing to break the bank.
When using top-rated cryptocurrency broker eToro – you can buy Bitcoin from just $25 upwards. This is an inconsequential amount that allows you to enter the market at sensible levels.
Bitcoin is Super-Liquid
Perhaps another great advantage of buying Bitcoin in South Africa is that this digital asset class is super-liquid. In simple terms, this means that you can cash out your Bitcoin back to rands whenever you see fit. In fact, unlike the traditional financial markets – Bitcoin is traded 24 hours per day, 7 days per week.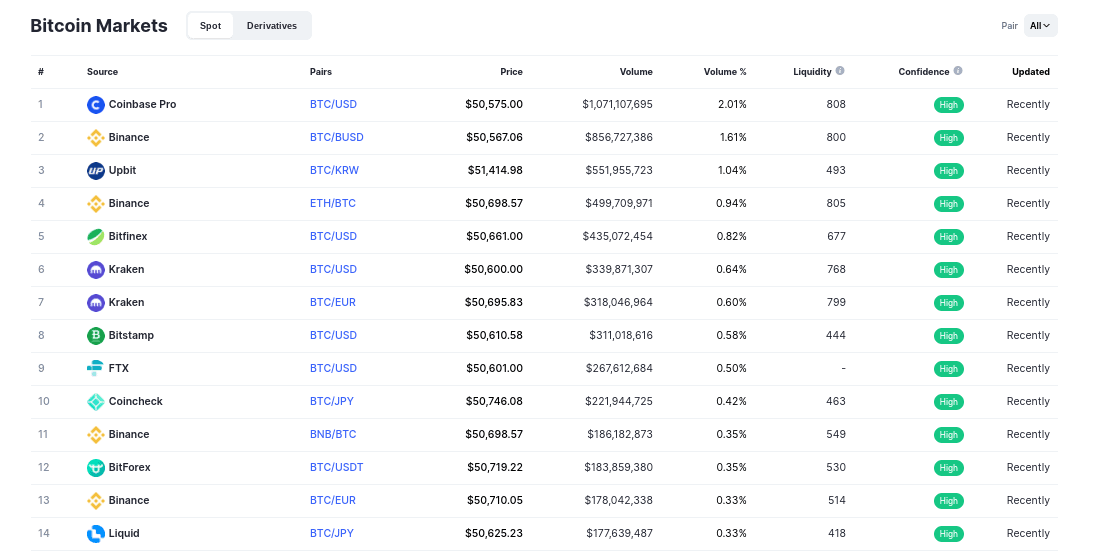 Plus, you will never struggle to find a buyer when you decide to sell – as trading volumes and liquidity levels are often higher than major stock exchanges. For example, more than $58 billion worth of Bitcoin/USD has been traded in the 24 hours prior to writing this article alone!
As such, if you are holding Bitcoin but you need access to fast cash – all you need to do is sell it back to your brokerage in which you made the purchase. Then, it's just a case of withdrawing the proceeds back to your South African bank account or debit/credit card!
Bitcoin Price?
If you're wondering how Bitcoin prices work, it's actually very simple. First and foremost, Bitcoin can be traded against various currencies, albeit, the US dollar dominates this space.
This is no different from trading commodities like wheat, oil, gold, or silver – all of which are denominated in USD. As such, when you are performing analysis on Bitcoin, always do so in US dollars as opposed to rands. This is because there are certain 'psychological' Bitcoin price zones – such as when it breached its previous high of $20,000.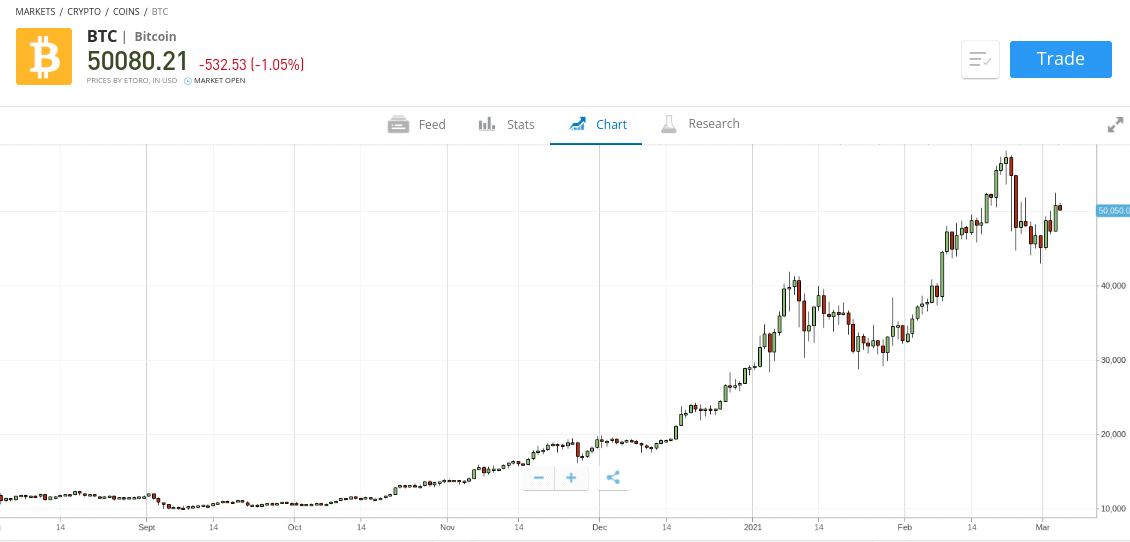 In terms of what influences Bitcoin prices, this is largely down to conventional demand and supply. That is to say, as more and more people buy Bitcoin, the price will naturally increase.
There are, of course, certain factors that can drive demand and supply – such as positive news surrounding Bitcoin. However, many argue that Bitcoin's rapid rise to fame is also dictated by FOMO (Fear of Missing Out).
How to Buy Bitcoin With Paypal
When it comes to payment methods, very few online platforms allow you to buy Bitcoin with Paypal. Most of the Paypal-accepting providers that we came across operate on a peer-to-peer basis – meaning that you need to transfer the funds before you receive the coin. This can be dangerous, as peer-to-peer platforms are known to attract scammers.
With that said, our top-rated broker eToro – which is regulated by three tier-one financial bodies, allows you to buy Bitcoin with Paypal. Plus, the platform supports other e-wallets like Skrill and Neteller.
Here's a quickfire walkthrough of- how to buy Bitcoin in South Africa with Paypal:
Open an account with eToro and upload a copy of your ID
Deposit your chosen amount with Paypal – paying a small fee of just 0.5%
Buy Bitcoin – meeting a minimum investment of $25
Withdraw your Bitcoin to a private wallet or keep the coins at eToro
When you get around to cashing out, eToro will send the funds back to your Paypal account at a fee of just $5.
How to Buy Bitcoin With Debit Card


Although some South Africans will look to buy Bitcoin with Paypal, most opt for a traditional debit card.
Whether you are a holder of a Visa or MasterCard, there are now dozens of cryptocurrency trading platforms that supported this payment method. However, you need to be very mindful of how much the platform charges in deposit fees.
For example, you will be charged 3.99% to use your Visa/MasterCard at Coinbase. Thinking of using Coinmama? Well, you'll pay even more when using a debit card, at 5% of the transaction amount.
Once again, eToro stands out here as the best platform to buy Bitcoin with a debit card – as the broker charges just 0.5% when you deposit with rands. This will instantly be converted to US dollars – so you can buy Bitcoin as soon as the transaction is completed.
How to Buy Bitcoin With Credit Card
Many popular exchanges – such as Coinbase, no longer allow you to buy cryptocurrency with a credit card.
This is from an 'investor protection' stance, insofar that it's somewhat risky to invest in a speculative asset like Bitcoin with borrowed funds.
After all, the value of Bitcoin could just as easily take a turn in the opposite direction, but you'd still need to pay the credit card back in full.
With that said, if you do want to buy Bitcoin with a credit card, both Visa and MasterCard is supported by eToro. The same fee of 0.5% applies, which is great. You should, however, check with your credit card issuer whether a cash advance fee will apply when depositing funds at an online broker.
How to Buy Bitcoin with Luno
If you're wondering how to buy Bitcoin with Luno – the process is very straightforward. In fact, this popular cryptocurrency trading app supports local payment method EFT.
Here's what you need to do:
Open an account with Luno
Provide your personal information and upload a copy of your South African ID
Deposit funds with EFT
Enter the amount of Bitcoin you wish to buy and complete the transaction
In terms of fees, you can deposit funds with EFT for free and then pay a commission of 0.10% on your Bitcoin purchase. But, if you want to buy Bitcoin instantly via EFT, then a 1.40% charge will apply.
South Africa Bitcoin Regulation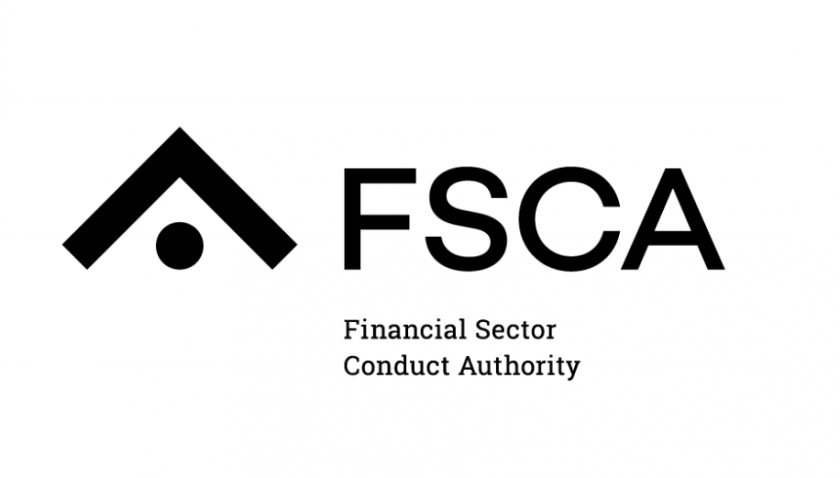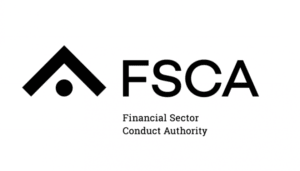 Bitcoin regulation in South Africa is somewhat complex – as various institutions – such as the Financial Sector Conduct Authority (FSCA) and the South African Reserve Bank (SARB) have issued several guidance notes in recent years.
This is largely focused on creating investor protections and a need for retail clients to understand the risks of investing in Bitcoin.
However, the fact of the matter is this – buying, selling, and trading Bitcoin in South Africa is perfectly legal.
With that said, the FSCA has since issued a draft declaration notice that aims to create a more regulated ecosystem in the South African cryptocurrency arena. This is mainly centered on Bitcoin exchanges and brokers that are domestically-based – so it shouldn't impact you as a buyer.
Crucially, the one piece of regulation that you do need to be made aware of is with respect to taxation. That is to say, Bitcoin and other cryptocurrencies as viewed in the same light as other investment classes like stocks and forex.
This is means that you will be liable to pay capital gains on any profits you make from your Bitcoin investment. As always, speak with a qualified tax professional to find out what obligations you have.
Risks of Buying Bitcoin
It's easy to look at how Bitcoin has performed over the past few years and subsequently get carried away with an investment of your own. However, like all asset classes, Bitcoin isn't without its risks. In fact, this digital asset carries a lot more risk than traditional investments like stocks and ETFs.
As such, make sure you consider the following risks before you buy Bitcoin in South Africa.
Volatility
When you buy blue-chip stocks – the risks are relatively low. This is because companies like Coca-Cola, Johnson & Johnson, British American Tobacco, and Disney have gone through many economic cycles – and likely continue to do so for many years to come.
However, Bitcoin is a new and somewhat unproven asset class that has been around for a little over a decade. As a result of this, the price of Bitcoin is considerably more volatile than traditional asset classes. For example, it's great that Bitcoin has seen gains of over 1,000% in the past year alone.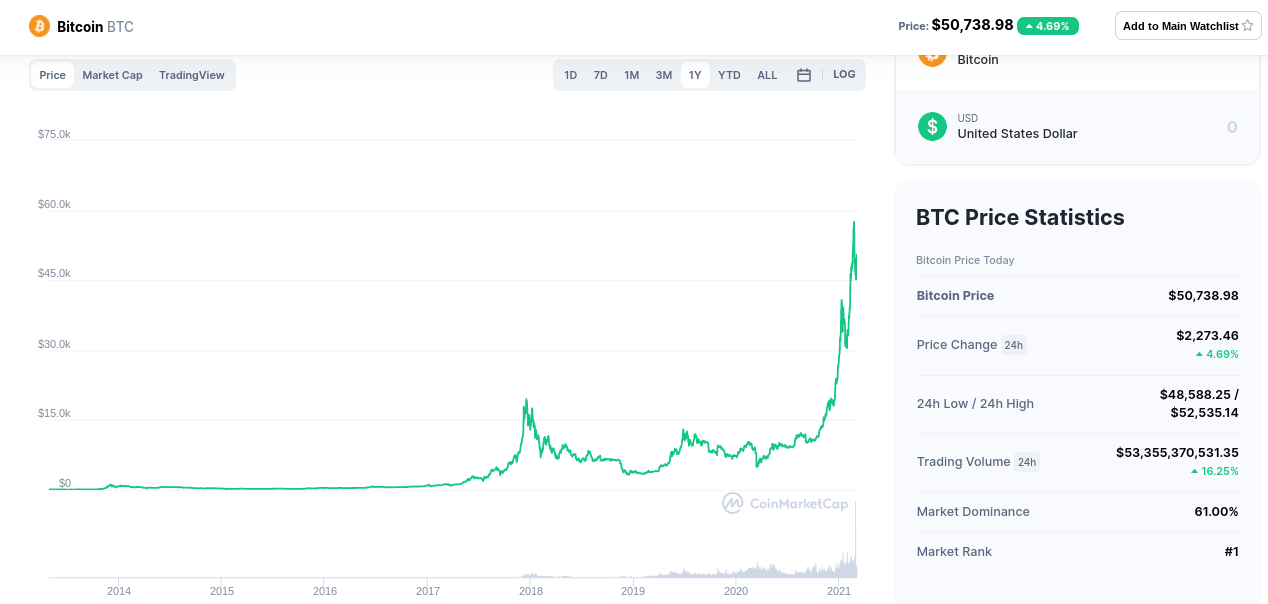 But, look what happened in early 2020. The price of Bitcoin went from over $10,000 to $5,000 in the space of a couple of weeks. That's a rapid downfall of over 50%.
Ultimately, if you are looking to buy Bitcoin as a long-term investment – then you need to be prepared for a bumpy ride along the way. Double-digit gains and losses over a 24-hour period are still not uncommon, so you need to be ready for this.
Storage
Another risk that needs to be taken into account when buying Bitcoin is that of storage. As you may know, Bitcoin isn't stored in a bank account like traditional money. Instead, Bitcoin is stored in a 'wallet'. This can come in the form of an online wallet, mobile wallet, desktop wallet, and even a hardware wallet.
The key point here is that when you store your Bitcoin in your own private wallet, you are 100% responsible for its safekeeping.
This means that you have nowhere to turn should the worst happen and your device is remotely hacked or stolen.
Plus, if you were to send your Bitcoin to the wrong wallet address, this would also result in you losing your funds.
This is why newbie investors in South Africa are wise to consider storing their Bitcoin funds at a heavily regulated online broker. For example, as eToro is regulated by the FCA, ASIC, and CySEC – you can rest assured that it utilizes institutional-grade security to keep your digital funds secure.
Regulation
We should also remind you that regulation in the Bitcoin and blockchain technology arena is still thin on the ground. This means that at present, the industry is somewhat 'self-regulated'. However, considering that Bitcoin alone has since surpassed a market valuation of $1 trillion – it's all-but-certain that regulation is on its way.
Although governments cannot prevent you from buying and selling Bitcoin per-say─ they can restrict access to fiat currency facilities. That is to say, if the government creates legislation preventing South Africans from purchasing Bitcoin with rands – this will be problematic.
Where to Buy Bitcoin in South Africa
So now that we have covered the potential risks and rewards of this innovative digital asset, we are now going to explore where to buy Bitcoin in South Africa. Put simply, there are hundreds of online exchanges that allow you to buy and sell Bitcoin from the comfort of your home. But, most of these are unregulated.
As such, below we explain where to buy Bitcoin in South Africa in the safest and most cost-effective way.
1. eToro – Overall Best Platform to Buy Bitcoin South Africa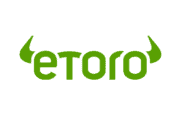 Make no mistake about it – if you're wondering how to buy Bitcoin in South Africa with the best provider of 2022 – look no further than eToro as one of the best bitcoin brokers. First and foremost, this platform is now home to over 23 million clients – which in itself speaks volumes. It is regulated by three reputable bodies – namely the FCA, ASIC, and CySEC.
Once you've opened an account, eToro allows you to buy Bitcoin in the most simple way possible. All you need to do is deposit some funds with your preferred payment methods – which includes South African debit/credits, bank transfers, and e-wallets like PayPal.
Then, it's just a case of meeting a $25 minimum Bitcoin investment. This is great, as it allows you to buy Bitcoin with a small amount of capital. Best of all – you don't need to worry about being charged an exorbitant trading fee, as eToro does not charge any commissions. In terms of deposit fees, this stands at just 0.5% across all of the aforementioned payment methods.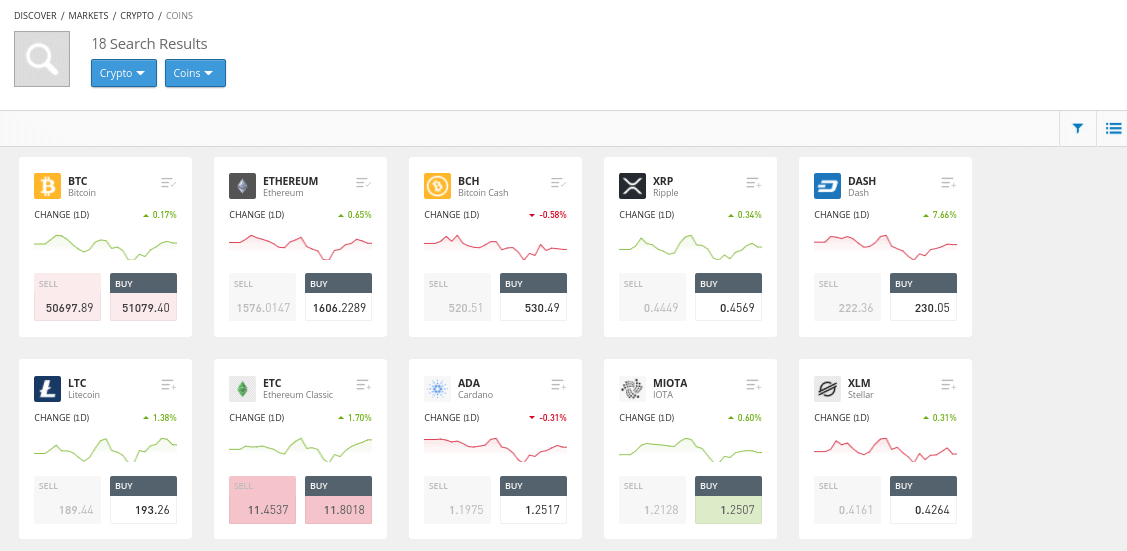 Once you have completed your Bitcoin purchase, you can leave the coins in your eToro portfolio, transfer them to the eToro mobile wallet, or withdraw them to a private wallet of your choosing. We should also note that eToro isn't home to just Bitcoin. On the contrary, you can invest in 40+ other cryptocurrencies – covering the likes of Ripple, Bitcoin Cash, Ethereum, and EOS.
Additionally, eToro also offers an innovative cryptocurrency basket through its CopyPortfolio tool. This contains a full range of digital assets – subsequently allowing you to invest in the wider crypto industry in a diversified manner. There is also a Copy Trading feature, which allows you to copy the trades of an expert Bitcoin investor, like-for-like.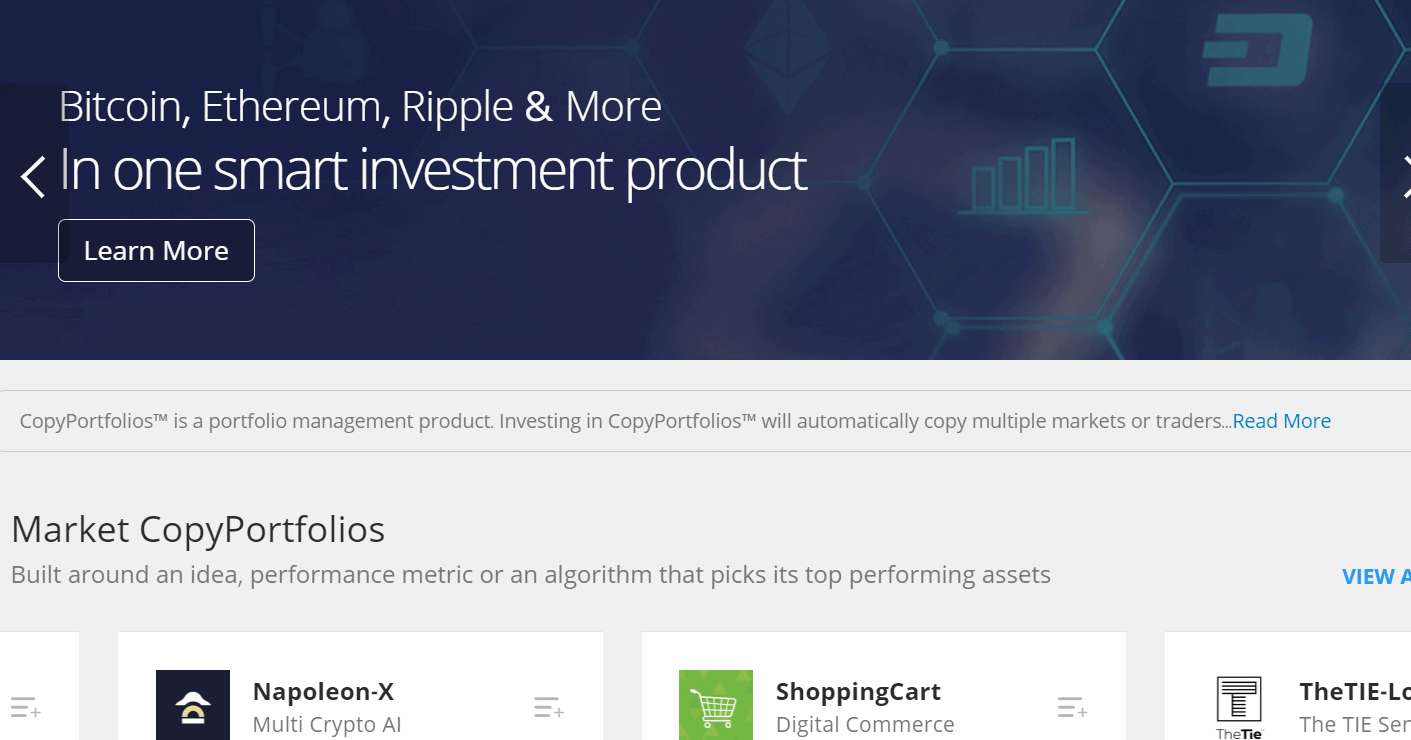 Finally, if you are also looking to invest in other asset classes, eToro has you covered. This is because the broker supports more than 2,400 stocks from 17 international markets. It also gives you access to a plethora of ETFs, hard metals, energies, forex, and indices.
Pros
Offers Bitcoin and 17 other top cryptocurrencies
Buy Bitcoin 100% commission-free
More than 17 million people using the platform
Accepts debit/credit cards, e-wallets, and bank transfers
Minimum investment of just $25
Supports copy trading to automate your Bitcoin trades
Fully regulated by the FCA, ASIC, and CySEC
Over 2,400 stocks and 250+ ETFs
Cons
Small withdrawal fee of $5
Platform operates in US dollars
Cryptoassets are highly volatile unregulated investment products. No EU investor protection.
2. Binance – Largest Bitcoin Exchange for Trading Volume and Liquidity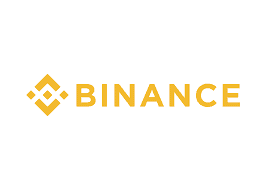 Binance is a hugely popular trading platform that specializes exclusively in cryptocurrencies. Its low-fee policy and support for hundreds of crypto-pairs has resulted in the provider boasting the largest trading volume in the industry.
Oftentimes, this averages a whopping $10-$20 billion per day. Nevertheless, if you wondering how to buy Bitcoin at Binance, the process is relatively simple. This is because the provider accepts deposits in the form of a South African bank transfer.
You will first need to open an account and then digitally provide some ID. Once your account is verified, Binance will give you the bank account details that the funds need to be sent to. On the one hand, this is somewhat cumbersome, as you'll need to wait up to 48 hours for the deposit to arrive, excluding weekends and public holidays.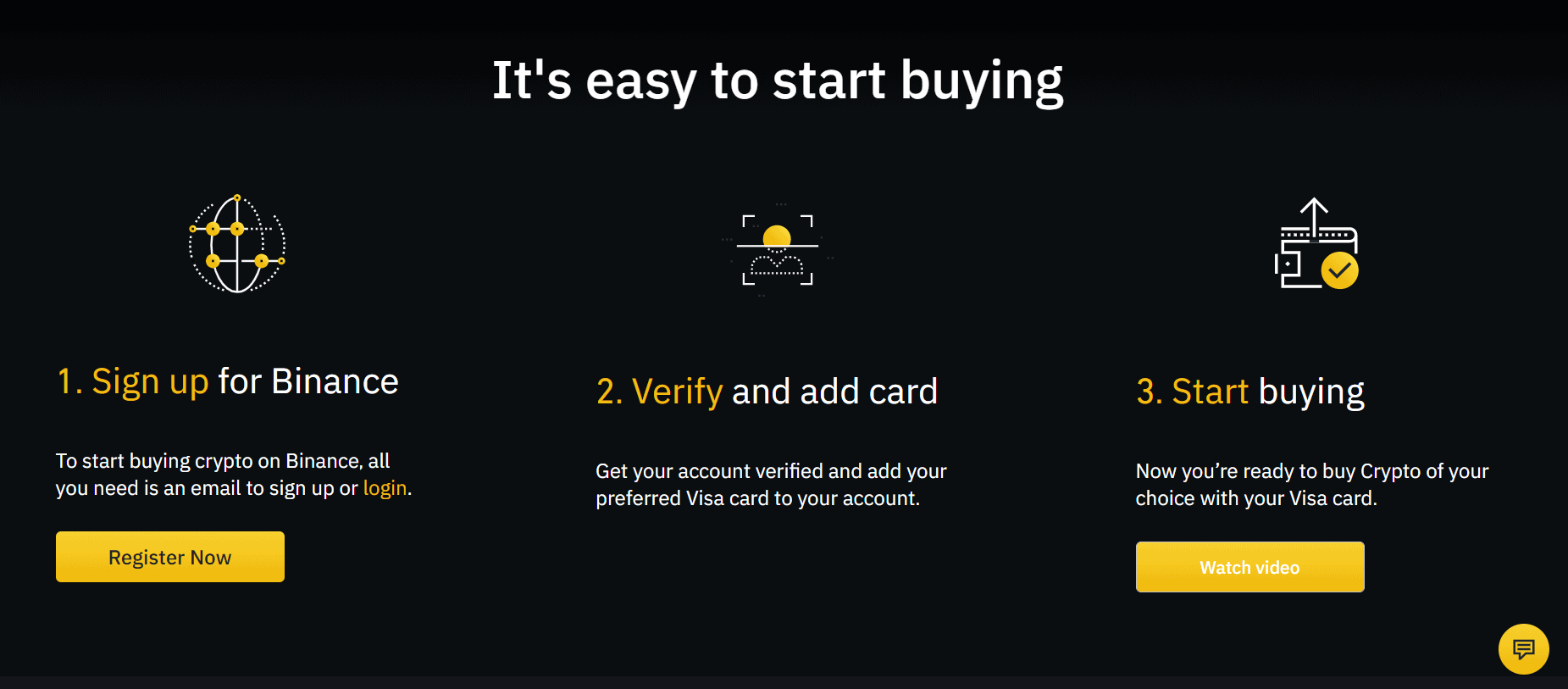 However, there is no charge to deposit funds with your bank account at Binance, which is great. Once the funds do arrive, it's then just a case of choosing how much Bitcoin you want to buy. The trading fee on this transaction is just 0.1% – which you'll also pay when you get around to cashing out. Withdrawals out Binance and back to your bank account cost just 7.50 rands.
If you're looking to buy Bitcoin with a debit/credit card this is also supported by Binance. The payment process is facilitated by third-party Silvergate. Irrespective of how much Bitcoin you buy, the deposit fee on debit/credit cards is a flat $10 (about 150 rands).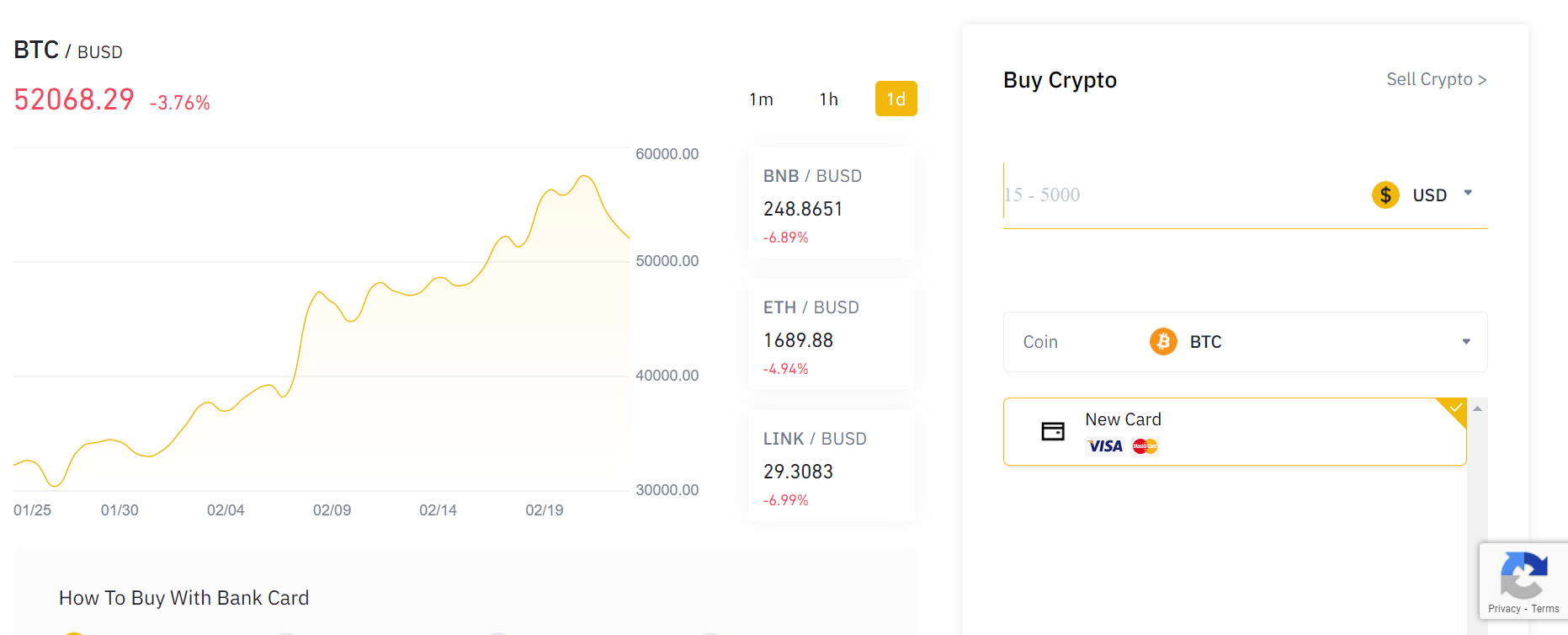 Once you have completed the Bitcoin purchase, you can leave the coins in your Binance web-wallet for convenience. In doing so, you will benefit from several safeguards. For example, Binance requires all account holders to set up two-factor authentication (2FA). You will also have access to email notifications and wallet address whitelisting.
Pros
Largest cryptocurrency exchange in terms of trading volume
Hundreds of cryptocurrency pairs supported
Trading commission of just 0.1%
Supports debit/credit cards and bank transfers
Great reputation in the cryptocurrency scene
Ideal for advanced traders that seek sophisticated tools and features
Cons
Not great for newbie investors
Bank deposits are slow
Cryptoassets are highly volatile unregulated investment products. No EU investor protection.
3. Coinbase – User-Friendly Bitcoin Exchange With Over 35 Million Customers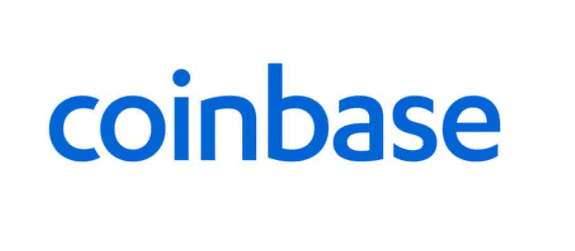 In terms of popularity, Coinbase is now the largest cryptocurrency broker with more than 35 million customers using the platform to buy and sell Bitcoin. The main reason for this is that Coinbase is really simple to use, making it perfect if you are buying Bitcoin for the first time.
Coinbase also has a trusted reputation in this space, not least because it has been offering cryptocurrency trading services since 2012. In terms of how to buy Bitcoin at Coinbase, you can easily do this with your Visa or MasterCard. In fact, the transaction will be processed instantly as soon as you have verified your account.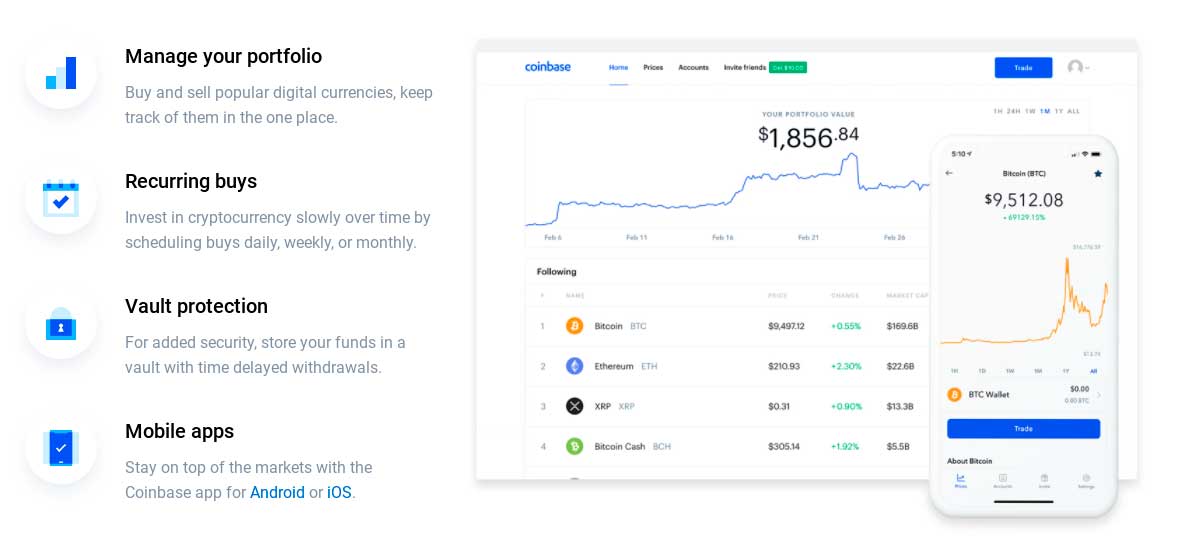 The key problem here is that Coinbase is expensive. For example, when using your debit card, you'll pay an Instant Buy fee of 3.99%. Then, when you get around to selling your Bitcoin back to cash, Coinbase will charge you a commission of 1.49%. Although bank account deposits are free, you will still need to pay the 1.49% when you buy and sell Bitcoin.
Nevertheless, Coinbase is also a good option if you are planning to create a diversified portfolio of crypto-assets. This is because the platform supports dozens of pairs – all of which you can buy at the click of a button. Security is also good at Coinbase, with 98% of client funds kept in cold storage, alongside the option of setting up 2FA.
Pros
Over 35 million customers and a great reputation
Very user-friendly
Dozens of cryptocurrencies supported
Deposit funds with a debit card or via bank transfer
Ability to withdraw your coins out to a private wallet
Handy mobile app
Cons
3.99% fee on debit card deposits
1.49% Bitcoin trading fee
Cryptoassets are highly volatile unregulated investment products. No EU investor protection.
How to Buy Bitcoin South Africa – Conclusion
In summary, if you're looking at how to buy Bitcoin in South Africa in the safest and most cost-effective way – you are best advised to stick with a regulated online broker. In doing so, you'll be able to buy Bitcoin with a South African-issued Visa or MasterCard.
eToro is a great option in this respect, as the platform not only supports debit/credit cards and bank account transfers – but e-wallets like Paypal and Neteller.
This heavily regulated broker is also the best option for those of you seeking a low-cost way of buying Bitcoin, as eToro doesn't charge any commissions. And, the minimum Bitcoin investment starts at just $25 upwards!
eToro – Best Broker to Buy Bitcoin South Africa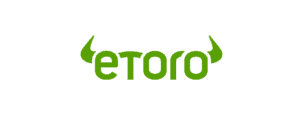 Cryptoassets are highly volatile unregulated investment products. No EU investor protection.
FAQs
Should I buy Bitcoin?
Whether or not you decide to buy Bitcoin should be based on your own independent research - much like any other asset class. Sure, Bitcoin has enjoyed tremendous success since it was launched in 2009. But, this digital asset is volatile and speculative - so you need to consider both the risks involved.
What can I buy with Bitcoin?
If you are holding Bitcoin and looking to buy products and services, this is now possible. For example, many online stores now accept payment with Bitcoin, so all you need to do is transfer the funds from your private wallet. Alternatively, there are several pre-paid debit cards that support Bitcoin - meaning you can withdraw cash from an ATM or pay for goods online and in-store.
Where to buy Bitcoin in South Africa?
Buying Bitcoin in South Africa could not be simpler. There are many exchanges and online brokers that accept South Africans, so be sure to check what the platform is like in terms of safety, fees, and payments. As per our own findings, we found that eToro is the best option in the market, as you can buy Bitcoin at a minimum investment of just $25 and you won't pay any trading commission.
How much is Bitcoin in South Africa?
Bitcoin is a global asset class that rises and falls in value throughout the trading day. In terms of of how much you will pay in South Africa, this is dependent on the current market price of Bitcoin. Taking its recent high of $58,000 as a prime example, this could translate into about 875,000 rands. Of course, there is no requirement to invest that much, as you can buy a fraction of one Bitcoin at eToro (minimum investment $25).
Can you trade Bitcoin against the South African rand?
Bitcoin is primarily traded against the US dollar - much like gold, oil, and other commodities. However, Binance supports the pair BTC/ZAR, meaning that you can trade the future value of Bitcoin against the rand.
How do you sell Bitcoin South Africa?
When it comes to selling Bitcoin in South Africa, the methods available to you will depend on how you initially made the purchase and where you are storing the digital funds. For example, if you used eToro to buy Bitcoin, you could keep the coins in your portfolio and sell them back to cash whenever you see fit. But, if you've withdrawn the coins to a private wallet, you will first need to transfer them to a cryptocurrency exchange. Then, you'd need to sell your Bitcoin back to cash, and then withdraw the funds back to your bank account.