Binance Review South Africa 2022 – Pros & Cons Revealed
For cryptocurrency traders in South Africa, finding the best crypto exchange is incredibly important. Your cryptocurrency exchange will determine everything from what coins you can buy and sell, what trading tools you have access to, and whether your digital currency is stored in safe hands.
Binance is one of the most widely used cryptocurrency exchanges in South Africa. This trading platform offers a wide range of cryptocurrencies, flexible payment methods, crypto derivatives trading, mobile apps, and more.
So, is Binance the best cryptocurrency exchange for your needs? We'll cover everything you need to know in our Binance review South Africa.
What is Binance?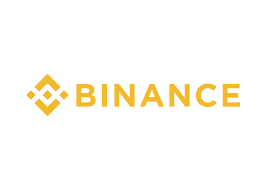 Binance is a global cryptocurrency exchange founded in Hong Kong in 2017. The company offers trading on over 500 popular digital currencies, including Bitcoin, Ethereum, Ripple, Litecoin, and more. Binance became the world's largest cryptocurrency exchange by trading volume in 2018.
The company has gradually expanded its presence around the world. It now has offices in Taiwan, Japan, Bermuda, and Malta, as well as operates an independent entity in the UK known as Binance Jersey.
While Binance began as just another cryptocurrency exchange, the platform has expanded its offerings in the past several years. The service now offers both a simplified exchange for one-time cryptocurrency investors as well as Binance Pro, an advanced trading platform designed for day trading digital currencies.
Binance has also launched its own stablecoin – a cryptocurrency designed to remain at a set price over time – known as BNB. Another unique aspect to Binance is that the company offers cryptocurrency derivatives, such as leveraged coins and futures contracts.
The service continues to expand its cryptocurrency finance offerings, including crypto loans and savings accounts.
Binance Pro
For the first few years that Binance existed, Binance Pro was simply the Binance trading platform. Recently, though, Binance introduced the Lite trading platform – so, users can now choose between Binance Lite vs. Binance Pro.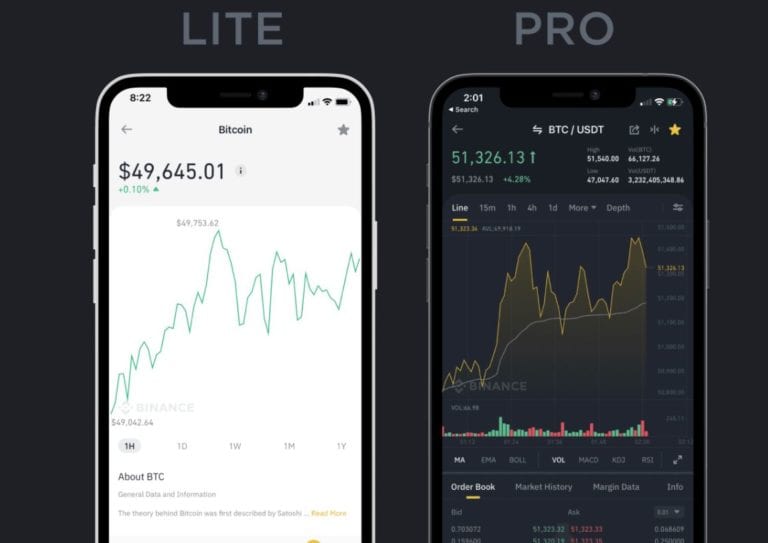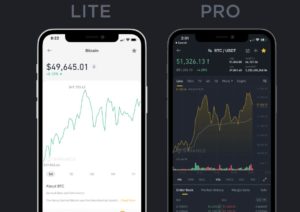 Binance Pro is meant to be used by experienced cryptocurrency traders who want to dive into technical analysis and active trading. This interface offers highly customisable technical charts, access to the exchange's order book, and information about trading depth for any coin.
Just as important, Binance Pro unlocks the full range of services that Binance offers. You must use the Pro interface to trade cryptocurrency futures, for example, or to access peer-to-peer trading and margin orders.
Binance Lite, on the other hand, offers non-technical price charts and a simplified user interface. It is meant primarily for use by first-time cryptocurrency traders and anyone who wants to buy Bitcoin once and then hold it without diving into detailed analysis.
You can switch between Binance Lite and Binance Pro anytime within the mobile app or desktop trading platform. Both platforms offer trading on all 45 cryptocurrencies that Binance carries.
Supported Coins
Binance offers trading on more than 500 of the most popular cryptocurrencies, including:
All digital currencies supported by Binance can be traded against the US dollar. In addition, 9 cryptocurrencies can be traded directly against Bitcoin.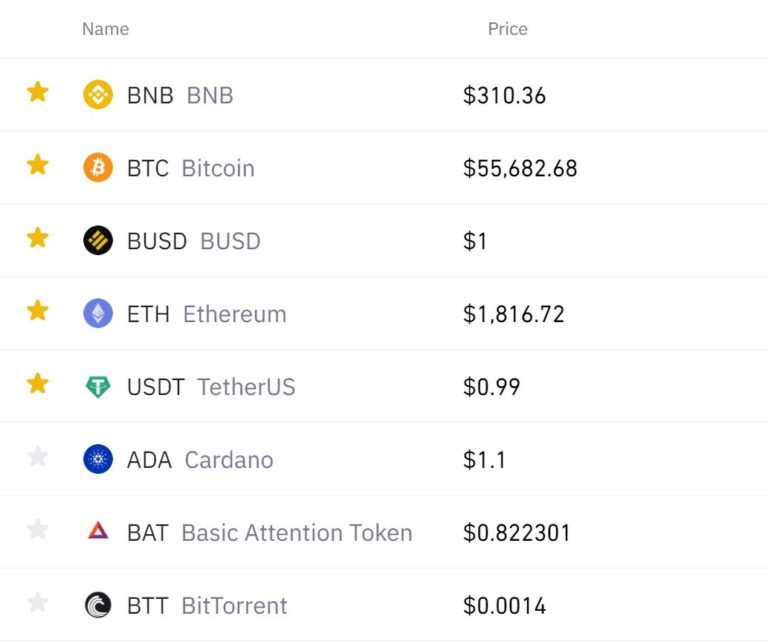 Binance also offers cryptocurrency futures trading, with a selection of 43 coins that can be traded against the stablecoin Tether (USDT). Crypto futures can be leveraged up to 125:1.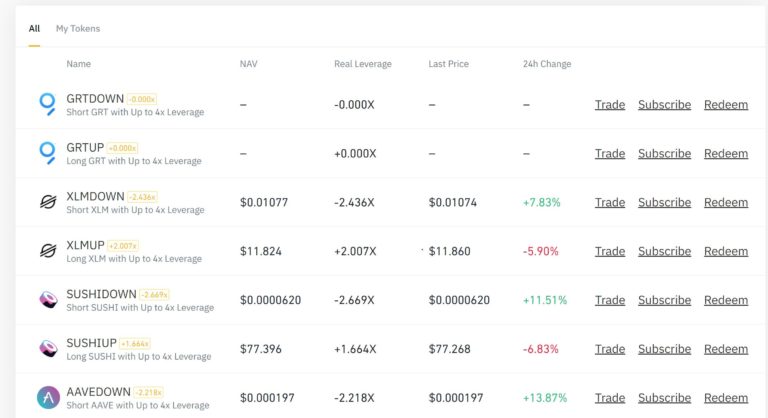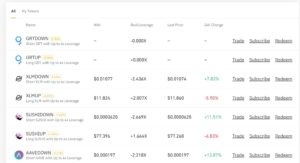 You can also trade options around the price of Bitcoin or purchase leveraged tokens that offer margin up to 3:1.
Binance Fees
Binance's trading fees can be somewhat complex since the platform offers a number of different trading options and potential discounts.
Deposit and Withdrawal Fees
Binance does not charge any fees for deposits, no matter what payment method you use. However, if you use a credit card to buy cryptocurrency instantly without first making a deposit into your account, Binance charges a 3% processing fee.
Binance withdrawal fees vary widely based on what fiat currency or cryptocurrency you want to withdraw. At the time of writing, there is no withdrawal fee when you convert your funds to ZAR. If you convert your funds to Bitcoin for withdrawal, there is a 0.0005 BTC fee (425 ZAR).
Trading Fees
Binance transaction fees are based on your monthly trading volume and/or the amount of BNB (Binance's proprietary cryptocurrency, which runs on blockchain technology) you hold in your account. If you trade less than 50 BTC (400 million ZAR) or hold less than 50 BNB (230,000 ZAR), you will fall into the basic account tier.
For that tier, all cryptocurrency trades funded with Bitcoin or fiat currency costs 0.1% per trade, regardless of whether you create or remove liquidity from the market. If you use BNB to fund your trade, the fee is discounted 25% to 0.075% of your trade value.
Binance has separate transaction fees for crypto derivatives. For example, the fee for trading futures contracts starts at 0.02% if you add liquidity to the market or 0.04% if you remove liquidity.
Deposit Fee
Withdrawal Fee
Crypto Trading Fee
None
ZAR: None

BTC: 0.0005 BTC

0.1% or 0.075% if funded with BNB
Binance Buying Limits
Binance imposes buying limits on users who make purchases using a debit card or credit card for payment. If you use a bank account transfer or another payment method, there are no buying limits.
Your Binance account limit depends on what identity verification steps you have completed. If you verify your name and date of birth by uploading ID, you can make purchases up to 90,000 ZAR per day. If you verify your current address and phone number, you can make purchases up to 180,000 ZAR per day.
You must contact Binance's customer support team if you want to increase your buying limit further.
Binance Wallet
Binance offers its own cryptocurrency wallet, known as Trust Wallet. The Trust Wallet app is available for iOS and Android devices, and can be used with Binance or any other Bitcoin exchanges in South Africa.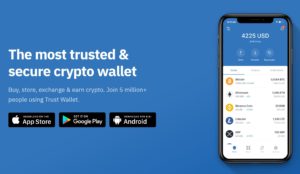 The mobile wallet supports all of the cryptocurrencies available to trade on Binance, as well as NFTs (non-fungible tokens) and blockchain-backed collectibles. This is one of our top picks for the best ripple wallet, you can also instantly purchase cryptocurrency through Binance using the wallet app.
Binance Mobile App
The Binance mobile app for iOS and Android offers the same access to the cryptocurrency trading platform as you can get through the web interface. Depending on how you want to trade, you can switch between the Lite and Pro platforms within the app at any time.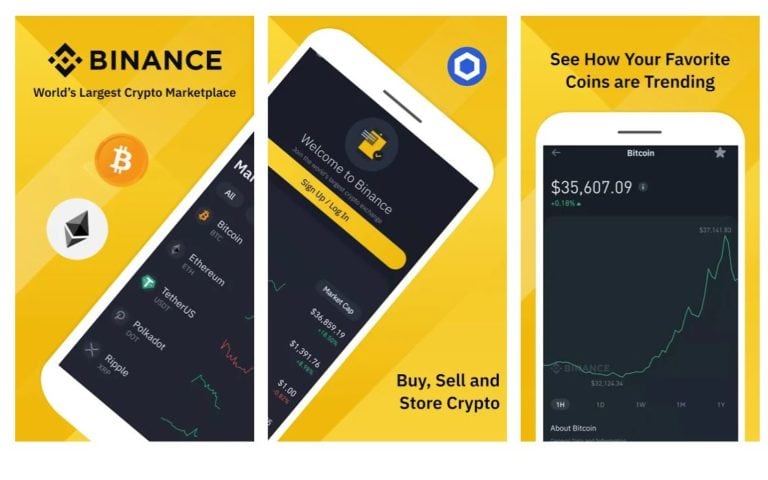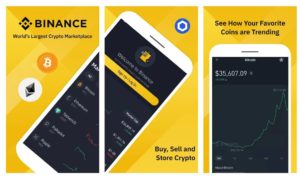 The mobile app experience is generally seamless, with charts that are easy to view and an organisational structure that's simple to navigate. Notably, the Binance mobile app also integrates with the Trust Wallet app so that you rarely have to navigate between the two apps.
The Pro interface within the mobile app offers access to advanced order types, technical charts and depth charts, and cryptocurrency derivatives trading.
Binance User Experience
Our Binance review South Africa found the exchange effectively offers users two different experiences. If you want a streamlined interface that makes buying and selling cryptocurrencies as simple as possible, you can use Binance Lite. If you want advanced analysis tools and tons of customisation options, you can use Binance Pro.
We found the Binance Lite platform to be very easy to use. You can see the list of digital coins that Binance offers, see a barebones line chart of recent price changes, and keep track of the coins you currently hold. The experience was incredibly seamless, since it takes just a few taps with the mobile app to purchase a new cryptocurrency.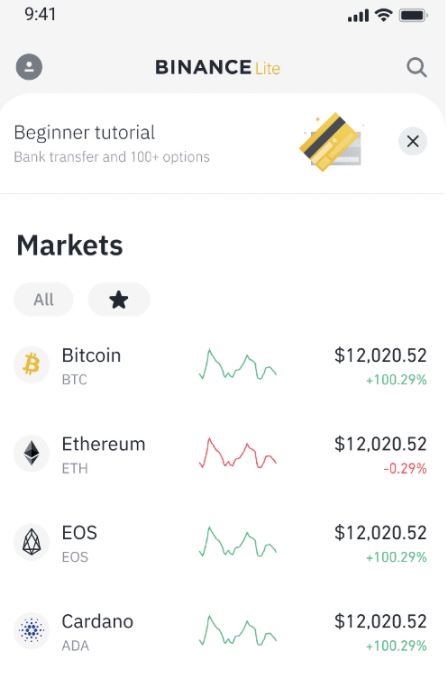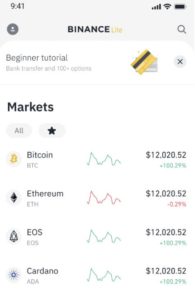 The Binance Pro platform is much more complex. The technical charts come with dozens of built-in indicators, which you will need to sort through to find the analysis that works best for your strategy. You can also access depth charts, order book data, and the entire market history for a given coin.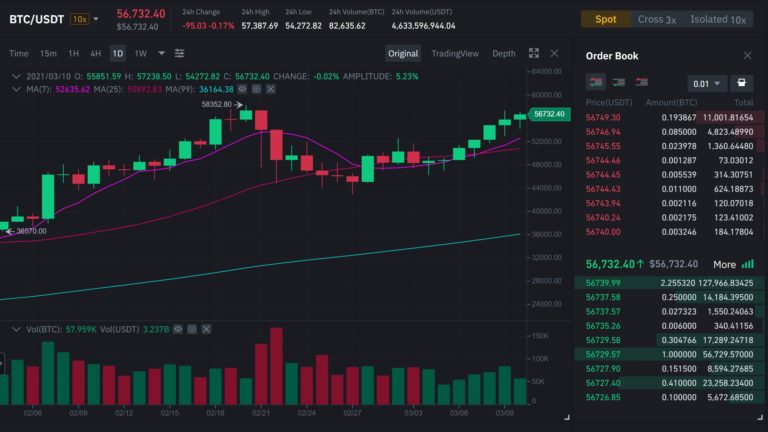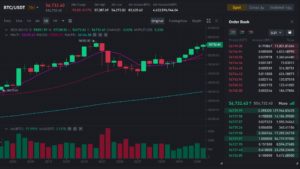 We appreciated that entering orders with the Binance Pro platform was relatively straightforward. You can choose between market, limit, and stop loss orders, and the interface is designed so that it walks you through all the necessary components for your order. However, we would like to see more advanced order types like one-cancels-the-other and good-til-cancelled orders.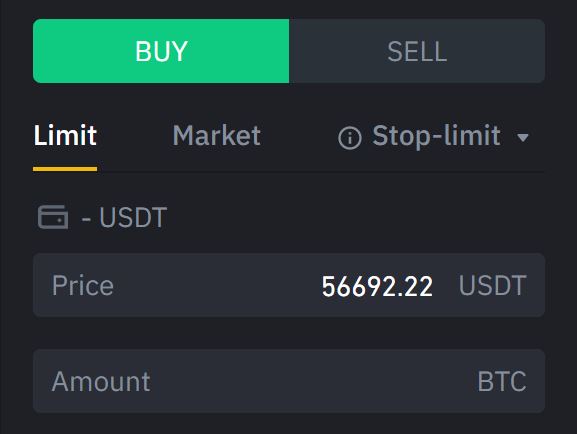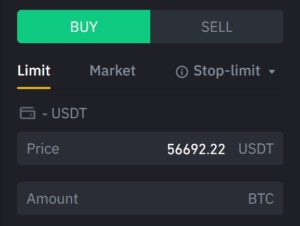 Overall, we wished for an intermediate interface that falls somewhere in between the Lite and Pro platforms. It would be nice to have customisable technical charts, but without constantly flashing order book data to distract from careful analysis. At the same time, the Lite platform doesn't offer any tools at all for price analysis.
Binance Trading Tools and Features
Most of the advanced trading features that Binance offers are included in the Binance Pro platform.
Our Binance South Africa review found that the Pro technical charts are very customisable and offer 19 different technical studies to choose from. Each of these can be modified to suit your timescale and trading strategy.
If you want a wider selection of technical indicators, Binance integrates with TradingView. With that platform, you can build your own custom studies using code or apply indicators created by other traders. The TradingView integration greatly expands Binance's charting toolset, and expert traders will be glad to have it.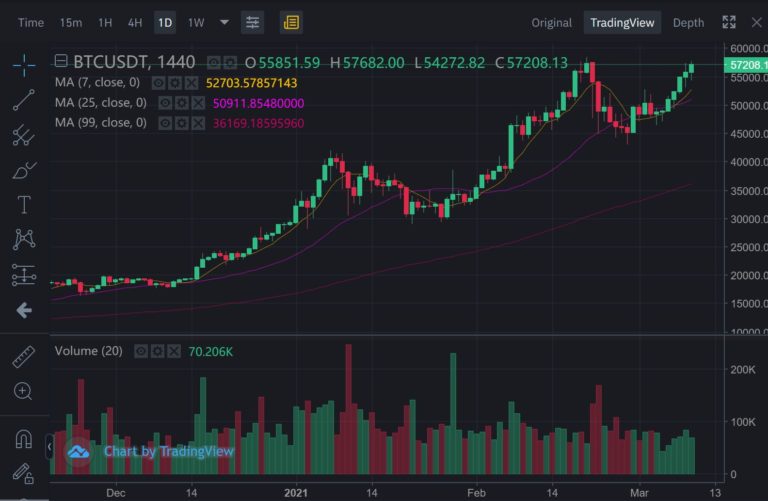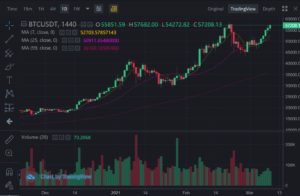 Binance also offers information about the market for any cryptocurrency supported on the exchange. You can see current orders coming into the exchange, which flash by in real time on the screen. You also have the option to pull up a depth chart, which shows the distribution of orders around the current market price.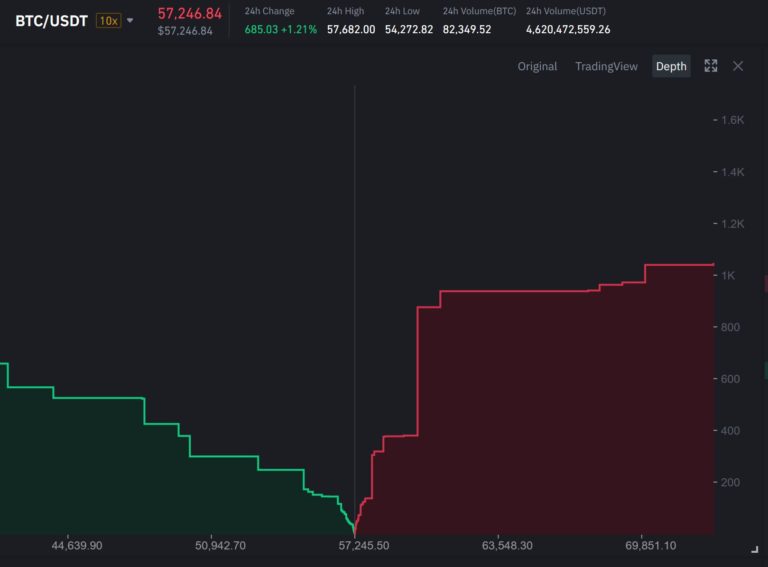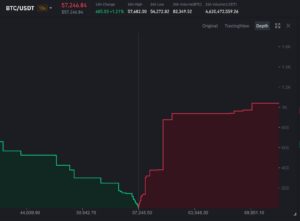 Notably, Binance doesn't have any extra tools that you might expect from a cryptocurrency exchange. There is no news feed or economic calendar to help you interpret activity, and Binance has almost no fundamental information about the digital currencies on the platform. The exchange also doesn't offer information about market sentiment, so you need to rely on the depth chart to gauge how a coin's momentum is shifting over time.
Binance Payments
Binance enables you to fund your exchange trading account using a bank account, debit card, or credit card. You can also link an existing cryptocurrency wallet or transfer coins you already own to a new Trust Wallet account to fund your Binance account.
There are no fees when you deposit funds to your Binance account. However, if you use a credit card to make a spot purchase of a cryptocurrency without first making a deposit into your account, the exchange charges a 3% transaction fee.
Importantly, Binance also supports peer-to-peer trading, in which you can trade cryptocurrencies directly with other verified users. If you use P2P trading on Binance, the exchange supports 62 different payment methods. You can buy bitcoin with PayPal, other options include: SEPA, Western Union, Yandex, and SWIFT payments. You can add up to 20 payment methods to your Binance account.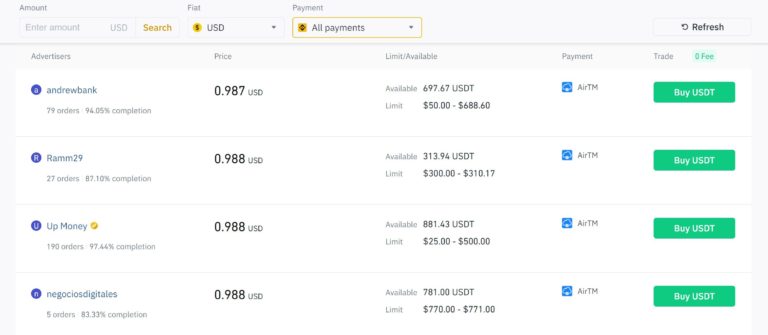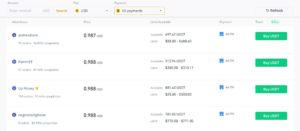 The downside to P2P trading is that you must find another user on the exchange who is both selling the coin you want to buy and accepts the payment method you want to use. So, funding your account with PayPal or another payment method may not enable you to trade instantly.
Binance Minimum Deposit
Our Binance review South Africa found that the minimum deposit on Binance depends on what type of currency you are depositing. The minimum for USD is $10, while the minimum for ZAR is 500 ZAR. Binance does not have a minimum deposit when transferring cryptocurrencies into your account.
Binance Regulation & Licensing
Binance has a history of operating outside regulations. The company moved its affiliation from China to Japan when China cracked down on cryptocurrency exchanges, and then from Japan to Malta when Japan became more stringent in its regulations.
The Malta Financial Services Authority has stated that it does not regulate Binance, even though Binance is headquartered in the country. Binance is also not regulated by any financial authority in South Africa.
At the same time, Binance's US operation has come under scrutiny because of leaked documents showing that Binance deliberately evaded regulations in the country and profited off of investors.
Despite this lack of oversight, Binance is widely considered to be trustworthy.
Binance Contact and Customer Service
Binance has a very detailed online support center where you can find guides to many aspects of the exchange.
However, getting in contact with the customer support team is not all that easy. The only option is to use live chat, and you must first work with a bot before you can request to speak to a human. The live chat is not always 'live,' as it can take several hours for a customer service agent to respond to your questions.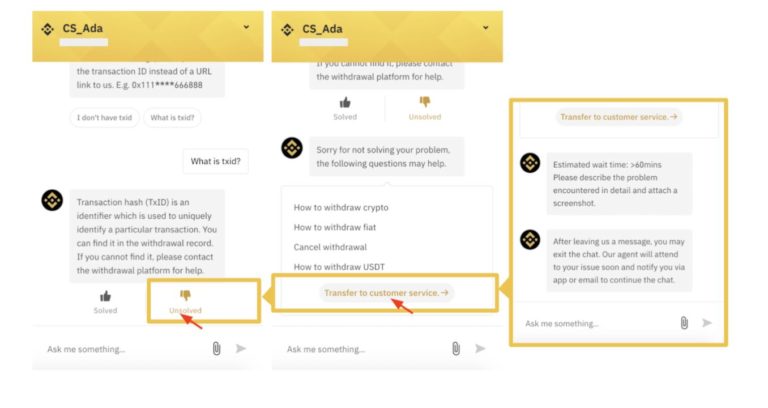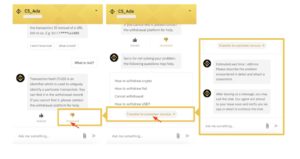 How to Use Binance
A key part of our Binance exchange review is to walk you through how to use the Binance platform. You can get started in just a few simple steps.
Step 1: Create a Binance Account
To create a new account with Binance, download the Binance mobile app or head to the platform's website and click 'Register Now.' All you need to provide to get started is your name and email address.


Step 2: Verify Your Identity
If you plan to use a debit or credit card to fund your account, you will need to complete an ID verification step. Upload a copy of your driver's license or passport, and Binance will allow you to purchase up to 90,000 ZAR per day of digital currency.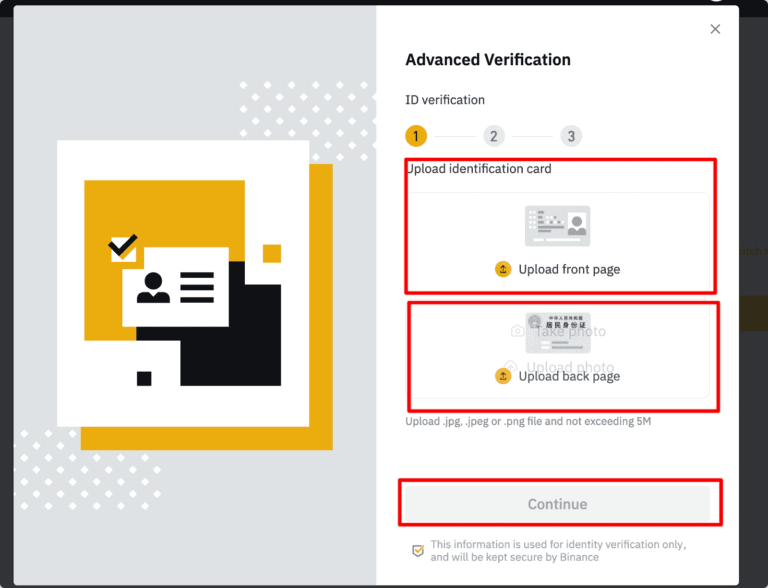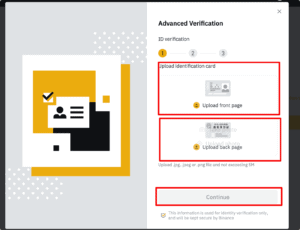 Step 3: Deposit Funds
Depositing funds to Binance with a debit or credit card is very easy. Just enter your card details and deposit amount. If you use a bank transfer, Binance will walk you through the details required.


If you want to fund your account with Bitcoin or another cryptocurrency, you will need to provide Binance with your wallet address and approve the transfer using your wallet software. Cryptocurrency transfers are typically completed in 20 minutes or less.
Step 4: Trade Cryptocurrency
Now you're ready to start trading cryptocurrency with Binance. Select the cryptocurrency you want to purchase, enter the amount you want to buy, and click 'Buy.'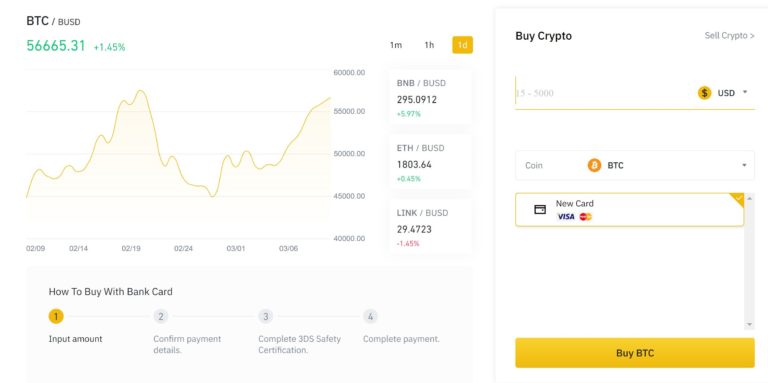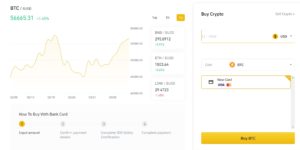 Binance vs Capital.com
Our Binance review 2022 has found that Binance offers a wide range of cryptocurrencies, advanced trading tools, and products like cryptocurrency derivatives. But is it the best Bitcoin trading platform in South Africa?
Let's see how Binance stacks up against Capital.com, one of our top-rated cryptocurrency exchanges for South African traders.
When it comes to the sheer number of cryptocurrencies on offer, Binance has the upper hand. Binance offers more than 500 cryptocurrencies to trade, while Capital.com only has 84. However, it's worth noting that the 84 coins that Capital.com carries include all of the most popular tokens, so most people won't find the selection to be lacking.
Binance also offers cryptocurrency futures, options trading, and leveraged tokens, which Capital.com does not. Cryptocurrency CFDs at Capital.com can be traded on margin up to 2:1.
Trading fees on Binance are typically cheaper than on Capital.com, although this depends to some extent on how you trade. Binance charges 0.1% per trade (or 0.075% if you use BNB), while Capital.com fees start at around 0.4%. Capital.com doesn't charge a credit card processing fee like Binance does, but you may face conversion fees when depositing funds with Capital.com.
Deposit Fees
Withdrawal Fees
Trade Fees
Binance
None
None for ZAR

0.0005 BTC for Bitcoin

0.1%
Capital.com
None
None
0.4%
Whether the Binance trading platform or Capital.com trading platform is better for trading cryptocurrencies comes down to your needs. Capital.com offers customisable technical charts, a real-time market news feed, and a seamless mobile and web interface. It's more complex than the Binance Lite platform, but much simpler to use than the Binance Pro interface.
In general, we prefer the Capital.com trading platform for hands-on analysis. You don't get access to depth charts or order book data as you do with Binance Pro, but this information is more confusing than helpful for non-professional traders.
Capital.com also features significantly better customer support and regulation than Binance. The platform offers 24/7 customer service by phone, live chat, and email. Capital.com is also regulated by the UK Financial Conduct Authority, one of the world's foremost financial watchdogs.
Overall, we think Capital.com is the better choice for South African cryptocurrency traders. It's slightly more expensive, but the platform is easier to get started with and offers excellent features like customisable charts and an easy to use mobile app. Capital.com is also more highly regulated than Binance and has a better customer support system if you need help with your trading account.
Binance Exchange Review – The Verdict
Our Binance review South Africa found that this cryptocurrency exchange offers trading on more than 500 popular coins, plus derivatives like crypto futures, options, and leverage tokens. Binance has Lite and Pro trading interfaces to cater to beginners and experts alike. Plus, Binance has some of the lowest cryptocurrency trading fees in South Africa.
With all that in mind, there are some downsides to Binance. The platform's customer service isn't great, and it's actively worked to avoid regulation that can protect investors. Binance's platform also doesn't offer a middle ground for traders who want technical charting in an easily accessible format.
If you're looking to trade cryptocurrencies in South Africa, we recommend Capital.com. This exchange offers a flexible and easy to use platform and competitive pricing. Plus, Capital.com has 24/7 customer support and is regulated by the FCA.
Ready to start trading cryptocurrency in South Africa? Click the link below to sign up for an Capital.com account today!
Capital.com – Overall Best Cryptocurrency Exchange in South Africa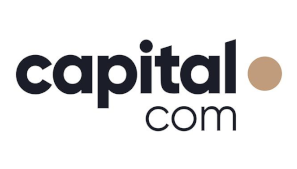 75.26% of retail investor accounts lose money when spread betting and/or trading CFDs with this provider.
FAQs
Is there a fee to deposit ZAR to Binance?
No, Binance does not charge deposit fees when making a deposit with ZAR or any other fiat currency.
How many cryptocurrencies can I trade with Binance?
Binance offers 52 cryptocurrencies to trade. The platform also has crypto derivatives including futures contracts, leveraged tokens, and options.
What is the trading fee on Binance?
Binance charges a transaction fee of 0.1% per trade. You can get a 25% discount if you hold funds in your account in BNB instead of fiat currency.
Does Binance offer customer support?
Binance offers customer support by live chat only. There is no phone number to call Binance if you need help with your account.
Can I trade Bitcoin with Binance?
Yes, Binance is a very popular platform for trading Bitcoin in South Africa. You can buy and sell Bitcoin, trade other cryptocurrencies against the price of Bitcoin, or trade Bitcoin options.