How to Buy Dogecoin South Africa – Beginner's Guide
The desire to trade and invest in cryptocurrencies may be intimidating when reading all those technical words such as blockchain, decentralised finance, smart contracts, peer-to-peer technology and so on. Although the former might repel you from trading Dogecoin thinking that it is very complicated, don't worry, this guide on How to buy Dogecoin South Africa will show you otherwise.
You will see that aside from all the technical jargon buying Dogecoin in South Africa is not as difficult as it may sound. In reality, not only is the process straightforward, but there are plenty of methods to trade this digital asset.
If you want to find out where to buy Dogecoin in South Africa, keep reading the How to Buy Dogecoin South Africa guide for beginners.
How to Buy Dogecoin South Africa – Step by Step Guide 2022
The increased popularity of this digital asset raises the question on How to buy Dogecoin South Africa today? Going through a couple of simple steps, traders can easily buy DOGE on brokers such as Capital.com.
Open an account with Capital.com – To buy Dogecoin coins in the easiest way in South Africa, you need to open an account with Capital.com. This is a CFD platform that allows you to buy and sell Dogecoin without any trading commissions. 
Upload ID – Before you can make any trade, you'll have to verify your identity by uploading your passport or any other national ID. 
Deposit Funds – Make a deposit using one of the eligible payment methods.
Buy Dogecoin – Now that your account is verified and funded, search for Dogecoin at the search bar, insert the amount you wish to invest, and click on DOGE
What is Dogecoin?
Dogecoin is known as the cryptocurrency that was started as a joke and whose logo and name are based on a Shibu Ina breed of dog that became popular with the spread of memes using an image of this breed.  Dogecoin was launched in December 2013 as an open-source, peer-to-peer cryptocurrency. It was founded by the software engineers Jackson Palmer and Billy Markus. The creators of this cryptocurrency wanted to develop a payment system and a digital currency that will eliminate the fees charged by the traditional financial channels and enable users to transfer coins.
Interesting enough, Dogecoin quickly developed its own community, which supported the idea of launching а payment system while its members have fun. This digital currency is commonly used by online communities for tipping members that create and share interesting content online. This crypto has its own community on Reddit composed of 1.2 million members, Twitter with 633,000 followers, and it has dogecoin-based internet chat. Aside from tipping, the Dogecoin network of followers and supporters use this digital currency in charity activities to raise funds for various projects.
At the time of writing, Dogecoin had a market capitalisation of more than $64.8 billion or close to 905 billion ZAR with more than 120 billion coins in circulation with the possibility of new 5 billion coins to be mined each year. An interesting fact about this altcoin is that there is no upper limit on the number of Dogecoins that could be mined. This is not the case with Bitcoin that has a maximum supply capped at 21 million tokens.
Why Buy Dogecoin? Dogecoin Analysis
Buying cryptocurrencies is usually based on their profit-making potential and the possibility of a price increase sometimes in the future. While this reason is also applicable to Dogecoin, there are also other reasons why people are willing to buy and trade or hold this digital asset.
A strong and passionate online community firmly believes and supports Dogecoin, which is not the case with some of the other popular cryptocurrencies, which are perceived solely as a trading instrument. It could be said that a currency is as strong as the confidence that it enjoys from the public. That said, shibas (Dogecoin community members) have a high degree of confidence in this digital currency. Ultimately what this means is that aside from its monetary value, Doge also has a functional value when used by members of its community. Moreover, the well-established community has been using these tokens for charity purposes to raise money for a variety of causes, and these fundraising activities further popularised DOGE tokens. Hence, these tokens are centred around the notion of promotion and spreading goodwill among its users instead of being used to avoid domination of Central banks as was the case with Bitcoin.
While a strong community distinguishes DOGE from other cryptocurrencies, when we consider the reasons for buying Dogecoin, we also look at the financial side of its investment potential. Dogecoin was heavily backed by numerous celebrities and entrepreneurs, which cause a surge of hundreds of per cents in a relatively short period.
The wealthy South African entrepreneur, innovator and billionaire, Elon Musk, posted a series of tweets associated with this altcoin and in one of its tweets, he stated that "Dogecoin is the people's crypto". The tweets that promoted DOGE caused a sharp price increase. Other celebrities such as Snoop Dog and the star of OnlyFans Mia Khalifa also expressed their support for this currency.
The Reddit group that helped the price surge of GameStop and AMS shares also contributed toward the astonishing price increase in DOGE value.
However, Elon Musk also joked that Dogecoin is a "hustle" during a comedy show in the US. The coin's price quickly fell from around $0.63 to $0.48 – a loss of nearly 25% based on Musk's joke alone. This demonstrates just how quickly the coin can react to even minor celebrity news and how volatile the coin is, even compared to other cryptocurrencies.
Following this, Dogecoin has lost some further ground due to the recent volatility in the crypto market. The rumours surrounding China's acceptance of digital currencies has prompted many cryptos to lose value – including Dogecoin. From the 14th of May to the 19th of May, Dogecoin fell around 40%, which highlights how broader market sentiment can affect this currency.
Going forward, Dogecoin would have to be used in some practical ways for the currency to continue rising in value. Elon Musk has made hints that he may consider allowing Dogecoin to be used when purchasing Teslas; if this happens, it would mean great things for the coin's price.
Summing up, Dogecoin might be considered a good buy option for investors who want to invest in altcoin in the long run and for traders that want to speculate on its price movements. The sizeable fluctuations in price combined with the right strategy might give traders plenty of opportunities for profitable trades.
Why Buy Dogecoin:
A well established community that supports and uses DOGE;
DOGE is used to promote and support charitable events and projects;
DOGE is a fun payment system;
The manner in which DOGE is used positively contributes to its level of liquidity;
The currency is supported by some of the most famous people on the planet;
Elon Musk promotes DOGE, and he is among the greatest innovators of South African origin;
It could be perceived as a long-term investment and could be used for staking;
Higher price fluctuations might generate adequate opportunities for traders to speculate on price movements;
The low price means that you can buy thousands of Doge tokens;
It is not solely used for speculative purposes;
What are the potential drawbacks?
The level of supply may be considered as a downside of this digital currency;
It is a meme currency, and some might always look at it to be a joke;
Does not currently have much in the way of practical uses;
How Much Does it Cost to Buy Dogecoin? Dogecoin Price
Unlike some of the other high-priced cryptocurrencies such as Bitcoin or Ethereum, Dogecoin tokens are priced at a fraction of a dollar. Not long ago, a unit of this crypto was available for a fraction of a cent.
Due to different factors surrounding this cryptocurrency as well as the rally in the value of major digital currencies such as Bitcoin, the value of Dogecoin appreciated swiftly in a short period.
Moreover, being backed by celebrities and one of the wealthiest entrepreneurs on the planet, along with all the hype that was created with the Reddit group of retail investors, significantly contributed to the price rally.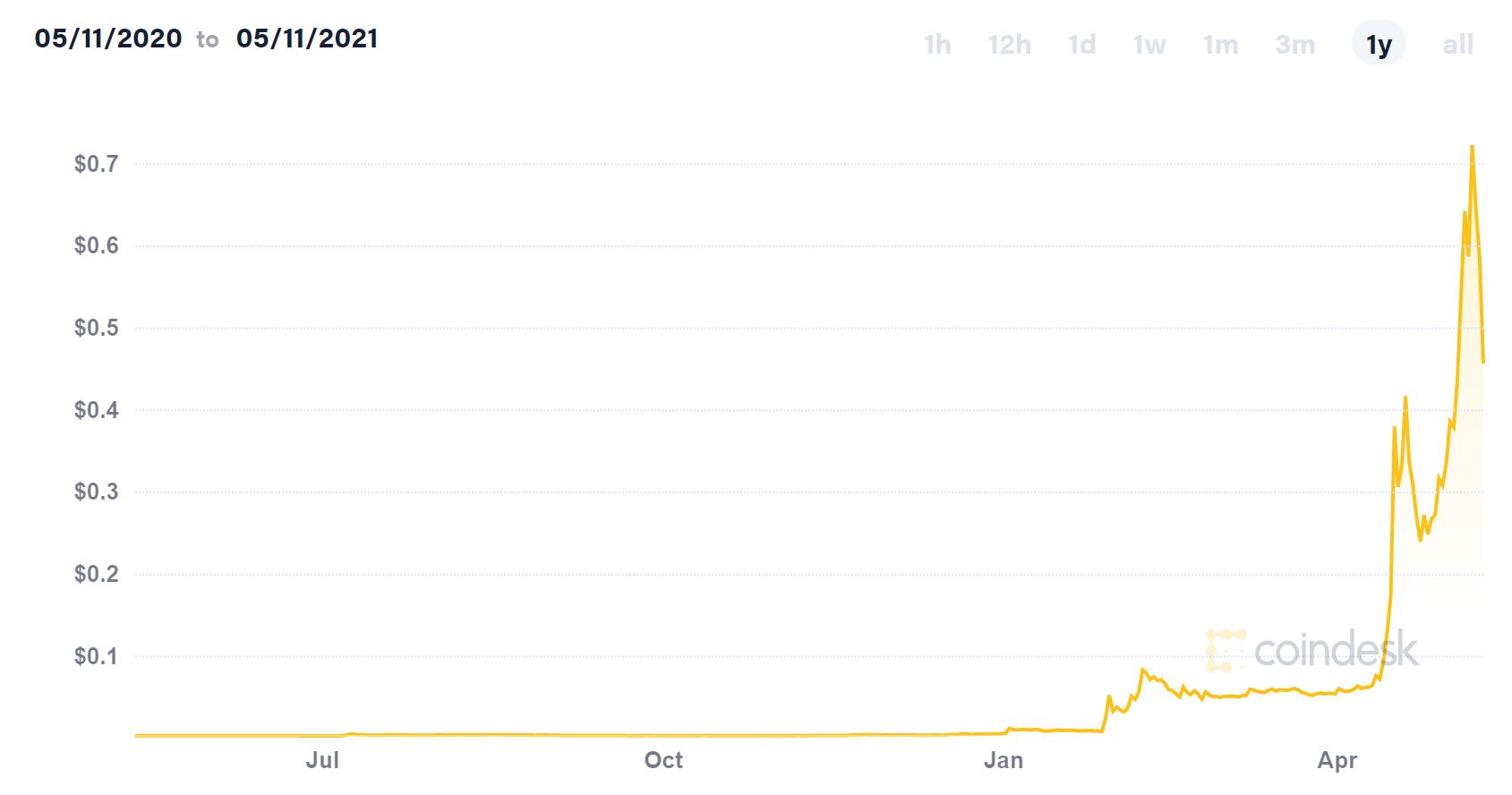 Doge price was moving in range for the better part of the 52 weeks until the end of 2020 when its price started increasing under pressure from the above mentioned factors. Dogecoin experienced an appreciation of more than 1000% in just a few months, reaching a high price of slightly more than $0.08 during the first half of February. One year before, DOGE was trading at a price of $0.0026, which is lower than one cent, meaning that its value has fluctuated by more than 2000% since last February.
Dogecoin hit an all-time high of nearly $0.72 in May 2021, but then dropped more than 25% after Elon Musk joked that the coin is a "hustle". Following this, the coin fell to nearly $0.21 on the 19th of May due to the overall volatility in the crypto market. At the time of writing, it has recovered slightly, trading at $0.36. To put this into perspective, if you invested $100 (around 1394 ZAR) into Dogecoin, you could expect to receive 277.77 Dogecoins.
Ways of Buying Dogecoin
There are more than 5000 cryptocurrencies and digital currencies present on the financial markets, and the majority of these currencies are available for trading on some crypto exchange or trading platform. However, traders should always execute their trading activities through reputable and licensed crypto exchanges or brokers like Capital.com. Trading through unlicensed cryptocurrency trading platforms augments the risk of losing your money due to fraudulent activities or closure of the unlicensed trading platform.
The increased popularity of Doge during the last couple of months justified the inclusion of this altcoin in different Bitcoin exchanges, brokers and forex trading platforms. Moreover, the desire to attract traders and investors that want to trade Dogecoin imposed the need for offering different ways of buying these tokens. Consequently, proactive crypto exchanges such as Binance enabled a variety of methods with which traders can buy and sell Dogecoin.
Therefore, traders are now able to by DOGE directly with cash (fiat deposit), debit/credit cards, cryptocurrencies such as Bitcoin, and there is even a way of buying DOGE with PayPal. So, let's see how to buy Dogecoin South Africa using the above methods.
Buy Dogecoin with PayPal
Buying cryptocurrencies with PayPal can be quite challenging because most crypto exchanges don't accept PayPal as a payment method. One reason is that transactions executed through this payment processor are reversible. Stated differently, buyers can ask for a refund after making a purchase, and crypto exchanges are aware that there are plenty of scammers out there. So, instead of going through the hassle to prove that transactions were executed or record a loss if PayPal refunds the money to the buyer, they have decided to eliminate this method and not accept payment through PayPal.
Consequently, traders may have limited options when it comes to buying Dogecoin with PayPal but nevertheless, it is not impossible. Our aim to provide traders with detailed guidelines for cryptocurrencies' issues imposes the need to show you how to buy Dogecoin South Africa using PayPal.
Although there are few crypto exchanges that accept PayPal as a payment method, they might be relatively new or may not be fully licensed, which could leave you exposed to potential frauds. Although it is difficult to find a reliable exchange to buy Dogecoin with PayPal, you can bypass the process of Doge by purchasing other cryptocurrencies such as Bitcoin that is available on different brokers and forex trading platforms that do accept PayPal.
Once you are logged in, you will select the method of buying crypto with crypto, which means that you will trade your Bitcoins for Dogecoins. After completion of the trade, you now have Dogecoins that should be stored in accordance with your preference (Binance wallet, Dogecoin wallet, hardware wallet).
Buy Dogecoin with Debit/Credit Card
Buying Dogecoin with a debit/credit card may be the simplest way to get your hands on this popular cryptocurrency. Nevertheless, you should make sure that the selected crypto platform offers this payment method to its traders. Also, buying DOGE with debit/credit card needs to be simple and fast to avoid unnecessary delays and complication.
Furthermore, although it is possible to buy DOGE using your credit card, the trick is to find a reputable Bitcoin trading platform with the option for traders to use debit or credit card. Traders on Capital.com have the opportunity to buy Dogecoin following few easy and simple steps. A more detailed overview of the process is shown further down.
Buy Dogecoin with Bitcoin
Buying Dogecoin with PayPal or debit/credit card are methods in which you use the money you have at your disposal on the relevant payment methods. However, due to the surge in interest for cryptocurrencies in South Africa, especially the increased popularity of Bitcoin, we should also see if and how traders can purchase DOGE using their crypto holdings. For instance, owners of Bitcoin or Ethereum need to know that they can use these cryptocurrencies to buy Dogecoin from Binance.
The process is rather simple, and once you have Bitcoin or Ethereum, you need to login to the preferred exchange and follow the instructions to trade your Bitcoin tokens for Dogecoin. You decide about the number of Bitcoins you want to exchange and accordingly fill the required forms.
Pros:
Broadens your options to buy Dogecoin in South Africa;
You could buy Dogecoin anonymously with Bitcoins on your crypto wallet;
If you already have Bitcoin or Ethereum, there is no need to make cash deposits or use your debit/credit card;
Cons:
Maybe you should pay attention to the conversion fees because some crypto exchanges could charge fees;
Where to Buy Dogecoin in South Africa
Considering the increased popularity of the crypto market and the increase in demand for buying and trading cryptocurrencies we were motivated to prepare an in-depth guide on where to buy Dogecoin in South Africa.
Knowing how to buy Dogecoin South Africa with debit/credit card, PayPal or Bitcoin is only half of the puzzle. The other half is to know where to buy Dogecoin in South Africa using your preferred method. Hence, the purpose of the next sections is to give recommendation about the best overall brokerage trading platform, best forex and CFD trading platform and the best crypto exchange.
Our search started with the objective of finding a reliable platforms for trading cryptocurrencies at low costs while offering a high level of security. Knowing how much of a daunting task it would be for each trader to analyse different trading platforms and crypto exchanges separately, we have taken on the task to select the best brokers based on strict criteria.
 1. Capital.com –Overall Best Crypto Broker South Africa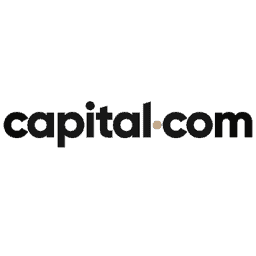 The Capital.com forex trading platform finds its place at the top of our trading platforms pick list because of the opportunities it gives to traders. Capital.com is a trading platform offering CFD related to different investments assets like stocks, metals, forex, oil and gas and cryptocurrencies.
Contract for Differences or CFDs are hands-on instruments that are attractive for traders who want to benefit from movements in the price of an asset without actually owning the underlying asset. Hence, in the case of a Bitcoin, you can speculate on future price movements without the need to own or store Bitcoin tokens.
Furthermore, when trading CFDs with Capital.com, you will pay a fixed commission that is set for each cryptocurrency, and it can go as low as 0.74% for trading Bitcoin CFD. The Capital.com pricing method might be superior to a spread based pricing for swing trading cryptocurrencies.
If you haven't registered with Capital.com by now, go through the few easy steps and open an account to be able to trade CFDs. Trading cryptocurrencies CFD can be done by locating the selected crypto such as Bitcoin and open the desired position by selecting the buy or sell button.
Pros:
Demo account that enables traders to get an insight into the trading process;
It provides a vast quantity of educational materials;
AI-generated trading suggestions
Traders can speculate on different types of instruments;
No commission
Competitive spreads
Cons:
Traders can open trades only with CFD, and they don't have the opportunity to purchase the instrument itself;
75.26% of retail investor accounts lose money when spread betting and/or trading CFDs with this provider.
How to Buy Dogecoin Tutorial
So now that we have analyzed the Dogecoin and suggested the best platforms in South Africa to buy LINK, we are going to walk you through the process of opening an account with Capital.com and place a buying order in the market.
Step 1: Open an Account
To open a Capital.com account, head over to the broker's homepage and click on the Register button. At first, Capital.com asks you to submit your email address and create a password.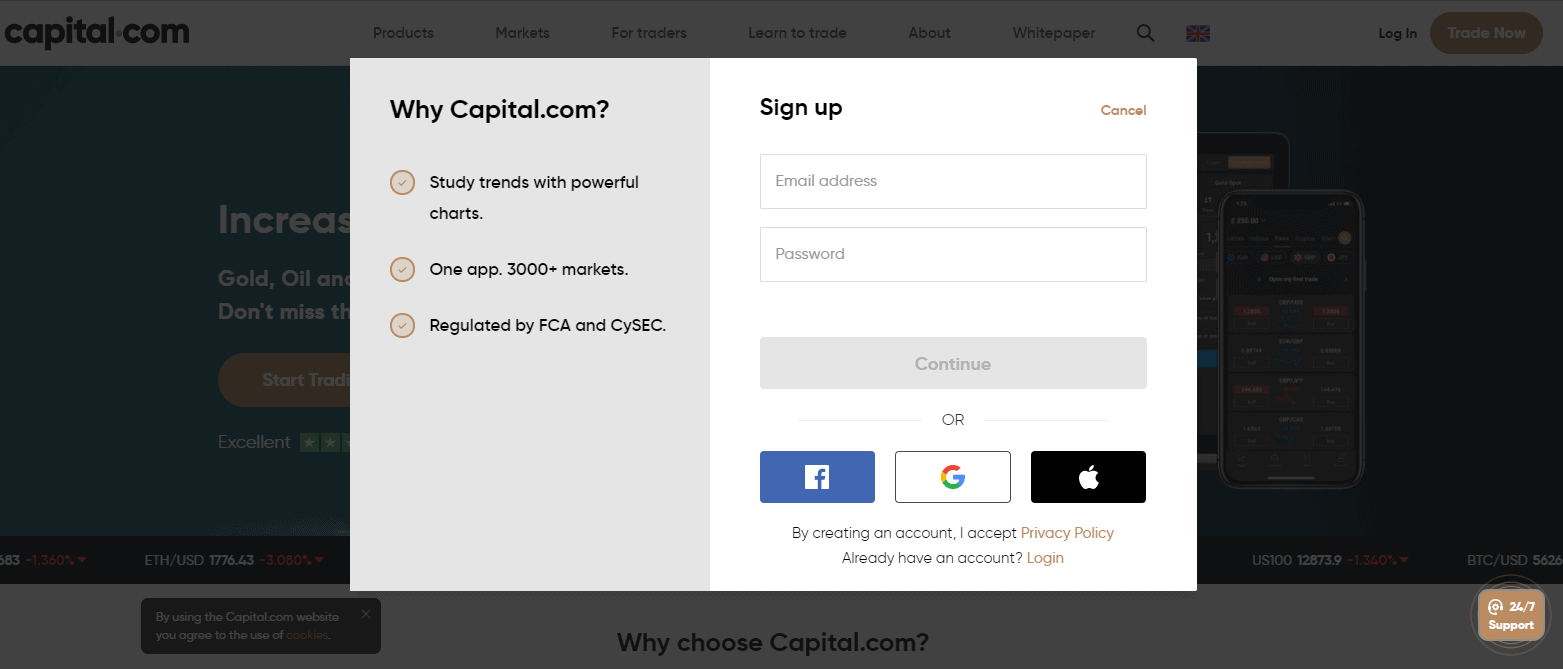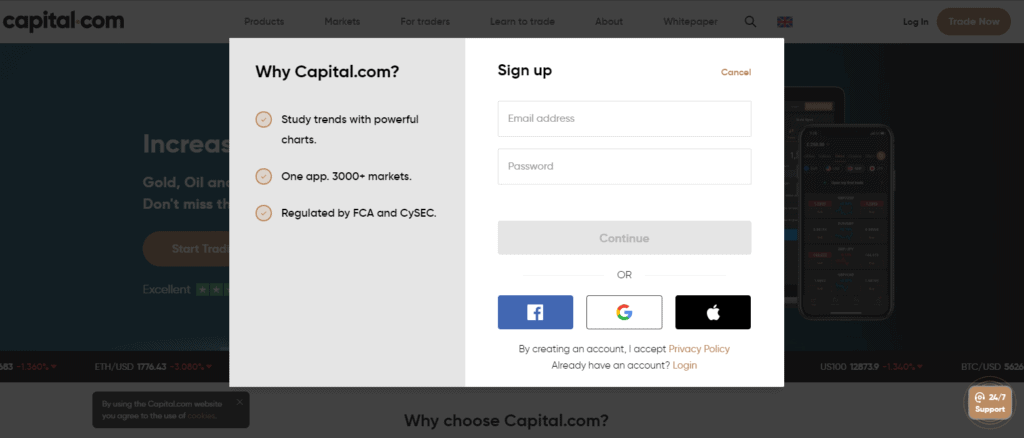 Now, you'll be transferred to Capital.com's web-based platform. From there, you can start testing the platform on a demo account and manage your account settings.
Step 2: Verify Your Identity
Capital.com does not allow you to start trading until you verify your identity. This is because the broker is regulated by CySEC and must apply KYC (Know Your Customer) to all of its clients. To complete this step, you'll be required to submit some more personal information and upload a double-page scan colored copy of your open passport or any other ID that verifies your identity. Additionally, Capital.com asks you to upload a copy of a utility bill or bank statement issued within the last 6 months.
Step 3: Add Funds to Your Online Account
At this point, you can add funds to your account using one of the supported payment methods. Capital.com maintains a minimum deposit of just $20, which is among the lowest minimum deposit requirements in the online CFD trading scene. To make a deposit, you simply have to click on the deposit button and choose the payment method.
Step 4: Buy Dogecoin Coin
To buy Dogecoin coin on Capital.com's platform, you need to search for Dogecoin at the search bar at the top of the screen. When the Dogecoin instrument page appears, you can analyze the coin using the interactive chart.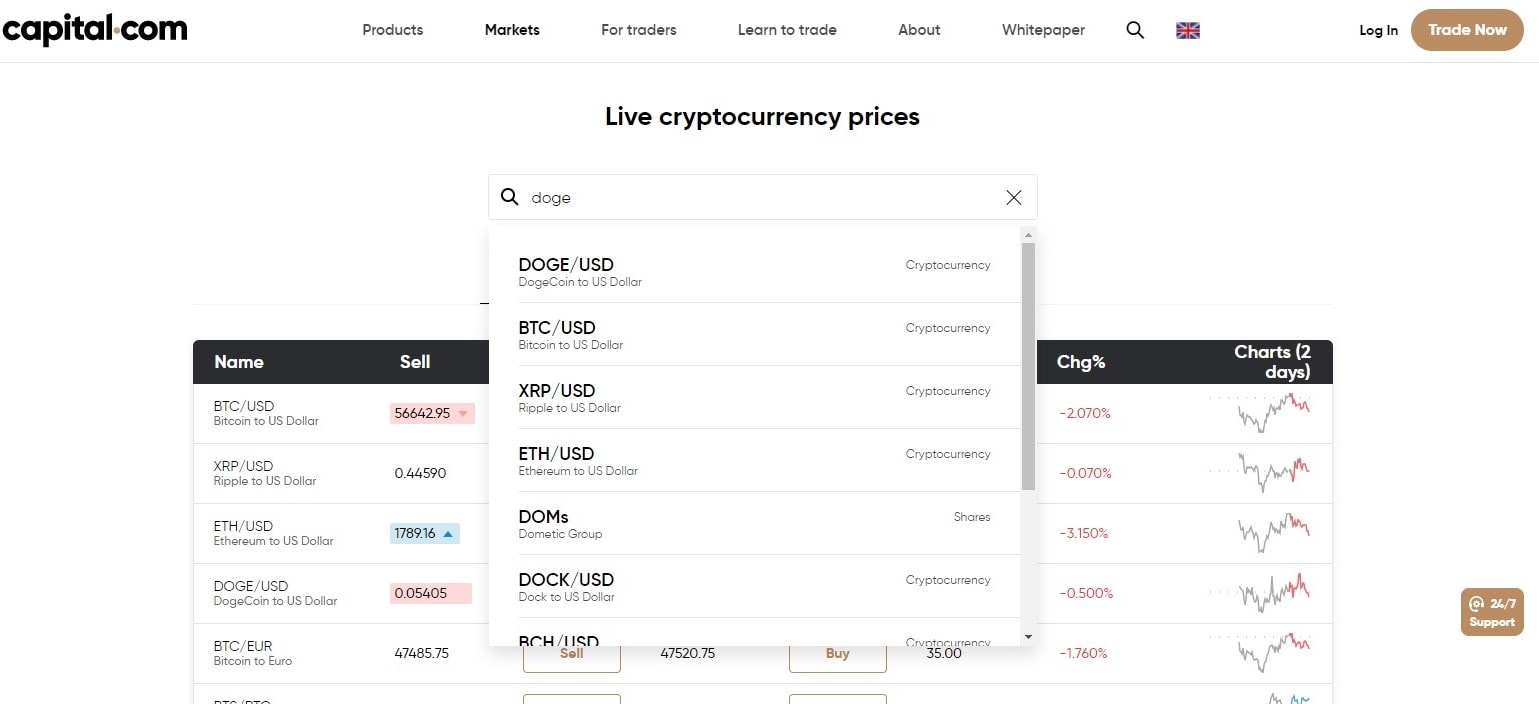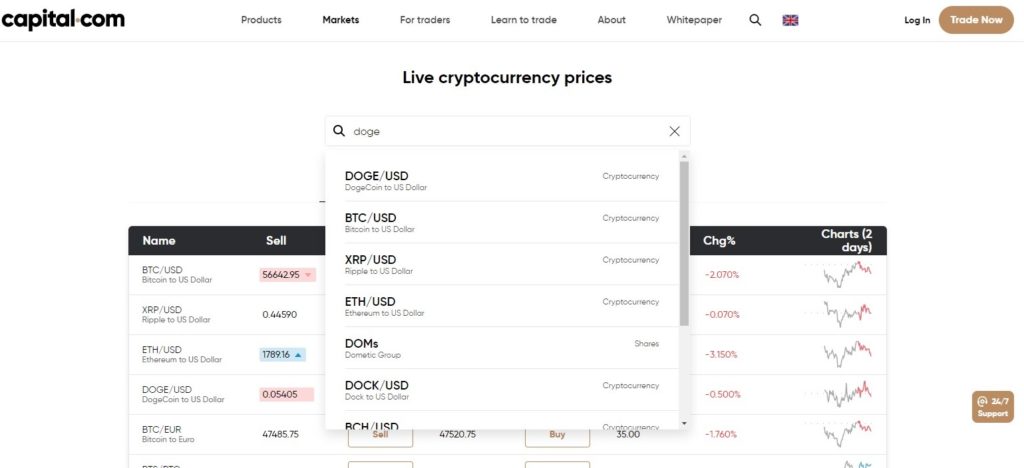 Whenever you are ready to buy Dogecoin, simply insert the amount you wish to invest, set the multiplier to 2:1, and click on the Buy DOGE button.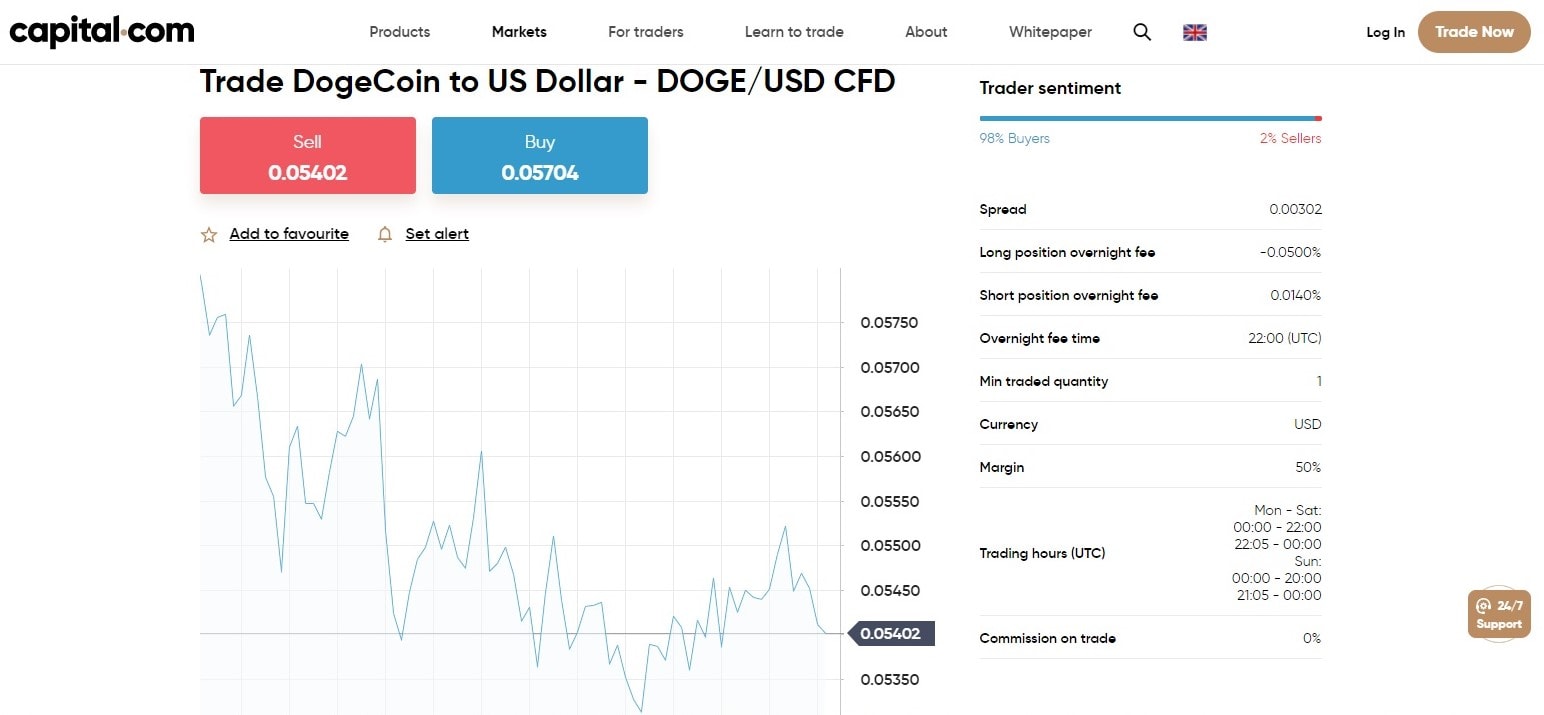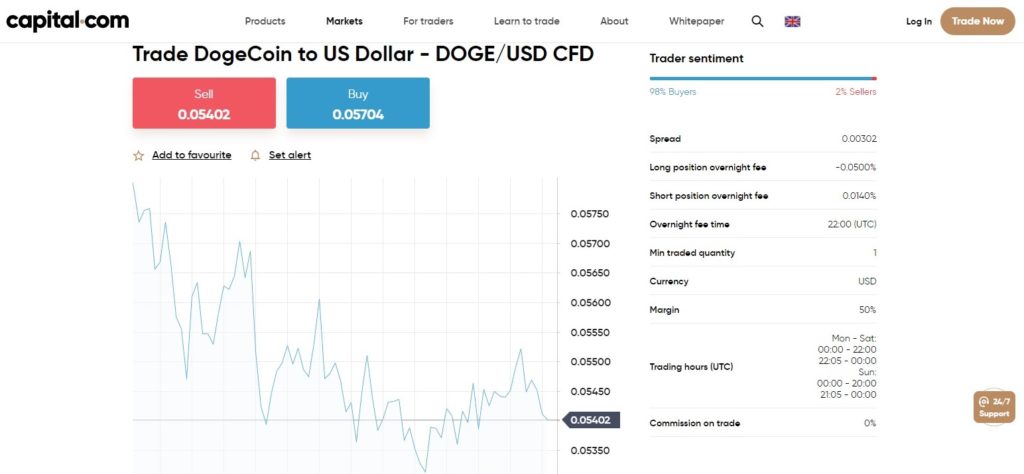 How to Buy Dogecoin South Africa – Conclusion
The increasing popularity of cryptocurrencies in South Africa combined with the price rally in the overall crypto market, especially the surge in Dogecoin price, imposed the need for providing traders with an in-depth guide on the process to buy this crypto in South Africa.
Knowing How to buy Dogecoin South Africa will significantly ease the process of trading this or any other cryptocurrency. As it can be seen from this guide, traders from South Africa can purchase Doge in numerous ways. Also, by presenting and recommending the best overall trading platforms and crypto exchange, traders now know where to buy Dogecoin in South Africa.
Simply click the link below to create a Capital.com account and buy Dogecoin today!
Capital.com – Buy Dogecoin with Zero Commission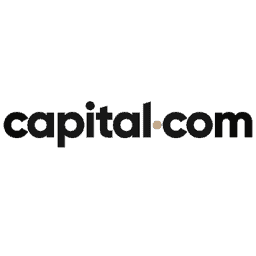 75.26% of retail investor accounts lose money when spread betting and/or trading CFDs with this provider.
FAQs
Should I buy Dogecoin?
There is no right or wrong answer to this question since the final decision should be based on your plans, trading or investment strategy and personal preferences. Nevertheless, it should be noted that a couple of celebrities and the second wealthiest person in the world has backed Dogecoin. Moreover, based on the price fluctuations, it can be said that Dogecoin might offer a generous return over a short period. Also, the well-developed Dogecoin network and passionate community may provide a long-term value for this cryptocurrency.
How can I buy Dogecoin instantly?
The fastest way to buy Dogecoin is to take your debit or credit card, go to Capital.com select the desired amount and provide your card details. You're then ready to buy Dogecoin in South Africa.
How can I buy Dogecoin anonymously?
If you want to remain anonymous when buying Dogecoin on Binance crypto exchange, then the best option is to use your PayPal account and buy Bitcoins from Capital.com and trade those Bitcoins for Dogecoins directly on the Binance platform. If you already have Bitcoins in your crypto wallet, then you can trade on Binance platform without the need to provide any ID or other personal info.
What can I buy with Dogecoin?
There are more than 1000 stores that accept Dogecoin as a payment method when you purchase some of their goods or services. Owners of Dogecoin can use the cryptocurrency to pay for hosting services, buy food and drinks, fashion products, e-books, etc. Look for a sticker that says "Dogecoin accepted here" when going to the store. You can also use your Dogecoins to tip someone on the internet or to participate in charity events for raising funds.
What are the risks of buying Dogecoin?
Being a cryptocurrency means that its price is also affected by the movement of the overall crypto market, especially movements in the Bitcoin price. Moreover, the high supply of Dogecoin and lack of a hard cap means that it would be difficult for the price to reach even a fraction of the price of Bitcoin. Moreover, the price may be under speculative attack if a major holder of Dogecoin decided to dump its tokens on the market and create a sudden increase in the supply. The higher volatility is also another risk that comes with trading Dogecoin in a way that although trader stands to make higher returns, they could also face a loss induced by a sudden price retracement or price swing could.
Is it safe to buy Dogecoin?
As it is the case with the overall crypto market, Dogecoin also comes at certain risks. Namely, Bitcoin might have a significant influence on the overall movement of an entire crypto market. Consequently, the increase in BTC price might increase the prices of other digital currencies and vice versa. Aside from the factors associated with the general crypto market, the value of each individual altcoin may be under the pressure of factors associated with the currency.