With over 123 million customers across 48 African countries, Vodacom is one of the largest companies based in South Africa today. With a well-established business model and fantastic backing from its parent company, Vodacom is well placed to showcase some bullish momentum in the months ahead.
In this guide, we'll discuss How to Buy Vodacom Shares in South Africa – covering the company in detail and showing you how to invest in Vodacom without paying any commissions!
Are you looking to buy Vodacom shares in South Africa today? If so, the steps below will show you how to do so in under ten minutes. The following sections will dive into Vodacom in detail, covering the company and its financials so that you have all you need to make an informed investment decision.
Step 1: Open an account with Capital.com – Head to Capital.com's website and click 'Trade Now'. Provide a valid email address and choose a password to create your account.
Step 2: Verify your Account – Verify your trading account by providing proof of ID (a copy of your driver's license or passport) and proof of address (a copy of a bank statement or utility bill).
Step 3: Fund your Account – Make a deposit using a credit/debit card, bank transfer, or e-wallet.
Step 4: Buy Vodacom Shares – Search for Vodacom in Capital.com's trading platform and click 'Buy'. Then, enter the number of shares you'd like to purchase and click 'Place Order'.
75.26% of retail investor accounts lose money when spread betting and/or trading CFDs with this provider.
Step 1: Choose a Stock Broker
When you decide to buy Vodacom shares in South Africa, the first step is to research and choose an appropriate stock broker to facilitate your investment. Factors such as regulation, trading fees, and features should all be considered before making your decision, as these elements can really impact your trading success over the long run.
To help streamline your decision-making process, this section presents two of the best trading platforms which allow you to buy Vodacom shares in South Africa.


If you're looking for an alternative to Capital.com, we'd also highly recommend Avatrade. Avatrade has a fantastic reputation in South Africa and is regulated by the FSCA, the top regulatory body of South African financial services firms. This ensures that South African traders are offered the highest levels of protection in their country, allowing stress-free trading to occur.

Much like Capital.com, Avatrade offers 0% commissions when trading their stock CFDs, with the broker's fee being incorporated into the spread. This spread tends to be very tight, especially in peak trading hours. Avatrade does not charge any monthly account fees, deposit fees, or withdrawal fees – although a small inactivity fee is charged after three months of inactivity.
Avatrade's minimum deposit is only $100 (1434 ZAR), which can be made via credit/debit card, bank transfer, or e-wallet. When trading with Avatrade, you can use their web platform, mobile app, or even their desktop platform – enabling you to find a method that suits you best. Avatrade also offer a useful feature called 'AvaSocial, which allows you to follow and copy the trades made by other users quickly and easily! This essentially enables you to automate your trading, which is ideal for users who do not have enough time during the day to conduct research and plan trades.
Pros:
Suitable for experienced traders
Zero commission trading
User-friendly platform
Trade Vodafone shares with leverage
Regulated and licensed to operate in SA
Supports MetaTrader 4 and 5
Offers numerous deposit options
Cons:
Your capital is at risk.

One of the best share trading platforms to buy Vodacom shares is Capital.com. Capital.com has a solid reputation in the trading scene – initially launched in 2016, Capital.com has grown its user base rapidly and is now regulated by top institutions such as the FCA and CySEC. This regulation ensures a safe and secure trading environment for all users.

Capital.com are top of our list of brokers for numerous reason, with the main one being the cost-effective fee structure they offer. As Capital.com are primarily a CFD broker, their fee is incorporated into the spread – so no commissions are charged at all! This makes a change from many other brokers who choose to charge a percentage of a trader's position size as their 'fee'. Capital.com also do not charge any non-trading fees – so no deposit, withdrawal, inactivity, or monthly account fees whatsoever!
Aside from fees, Capital.com are also respected thanks to the user-friendly platform they offer traders. It's super easy to trade on Capital.com's web-based platform – and you can even trade on their app if you wish! Notably, the minimum deposit threshold is only $20 (287 ZAR), one of the lowest in the industry. Finally, this deposit can be made using numerous methods, such as credit/debit cards, bank transfers, and various e-wallets.
Pros:
Trade Vodacom shares with 0% commissions
Free demo account
Suitable for both beginners and pro traders
Zero inactivity fees
Thousands of UK and US shares available
Multiple funding options
Low minimum deposit amount
Cons:
75.26% of retail investor accounts lose money when spread betting and/or trading CFDs with this provider.
Once you have decided on a broker, the next step is to begin researching the company you wish to invest in and gain an insight into potential price movements. This is an essential part of stock trading, as conducting your due diligence can help you make more effective investment choices and avoid investments that might not have worked out.
To help streamline the research process, the sections below cover everything you need to know about Vodacom, helping you make an informed investment decision.
What is Vodacom?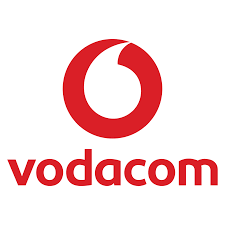 Vodacom is a large mobile communications company based in South Africa. Vodacom's headquarters are located in Midrand, in the Guateng Province of South Africa. As a mobile communications company, Vodacom provides voice, messaging, and data services to its customers. At the time of writing, Vodacom has approximately 123 million customers, located in 48 African countries.
Vodacom was initially owned 50/50 by Telkom and Vodafone, two multinational communications firms. However, in 2008, Vodafone increased its stake to 64.5% – meaning they had a controlling share in the firm. Telkom then chose to spin off its 35.5% stake and list it on the Johannesburg Stock Exchange, where it is still listed today.

As Vodafone now has the controlling share in Vodacom, Vodacom's branding is very similar to its parent company. Furthermore, many of the services are the same – Vodacom provides mobile coverage to users throughout Africa to make calls, receive texts, and use data to browse the internet or watch videos. Notably, Vodacom became the second operator in Africa to launch a 5G network, with plans to expand this network further over the coming years.
Much of Vodacom's popularity around Africa stems from the prevalence of smartphones such as iPhone's and Samsung phones. These smartphones are becoming increasingly popular in Africa, with a more significant percentage of the population having access to them than ever before. Due to this, Vodacom has managed to capitalise on the need for cell coverage and offer a cost-effective solution for African customers.
As noted, Vodacom has a primary listing on the JSE and has a market cap of $15.11 billion. This makes them the 13th largest company in South Africa by market cap. This market value is expected to increase going forward due to the launch of Vodacom's new financial services app, which aims to provide a similar service to PayPal for businesses across Africa.
A key element in how to invest money effectively is analysing the company's share price and predicting future movements. In the case of the Vodacom share price, the price chart below clearly shows that price has been moving sideways for quite some time. At the time of writing, the Vodacom share price is currently sitting at 12,761 ZAC – up 3.70% from the turn of the year.
The Vodacom share price has been pretty volatile over the past year, with bullish spikes followed by a rapid retracement. The company's all-time high of 18,701 ZAK was way back in 2017, and since then, the share price has been on a  gradual descent. Vodacom's yearly high of 13,830 ZAK occurred in mid-March – yet the Vodacom share price couldn't maintain this level and has decreased to the levels we see today.
As noted from the price chart, the share price seems to be trading in a wide range, with no breakout occurring in either direction as of yet. This typically means that the company needs fresh impetus to generate momentum, which could come from the launch of Vodacom's new financial services app (more on this later).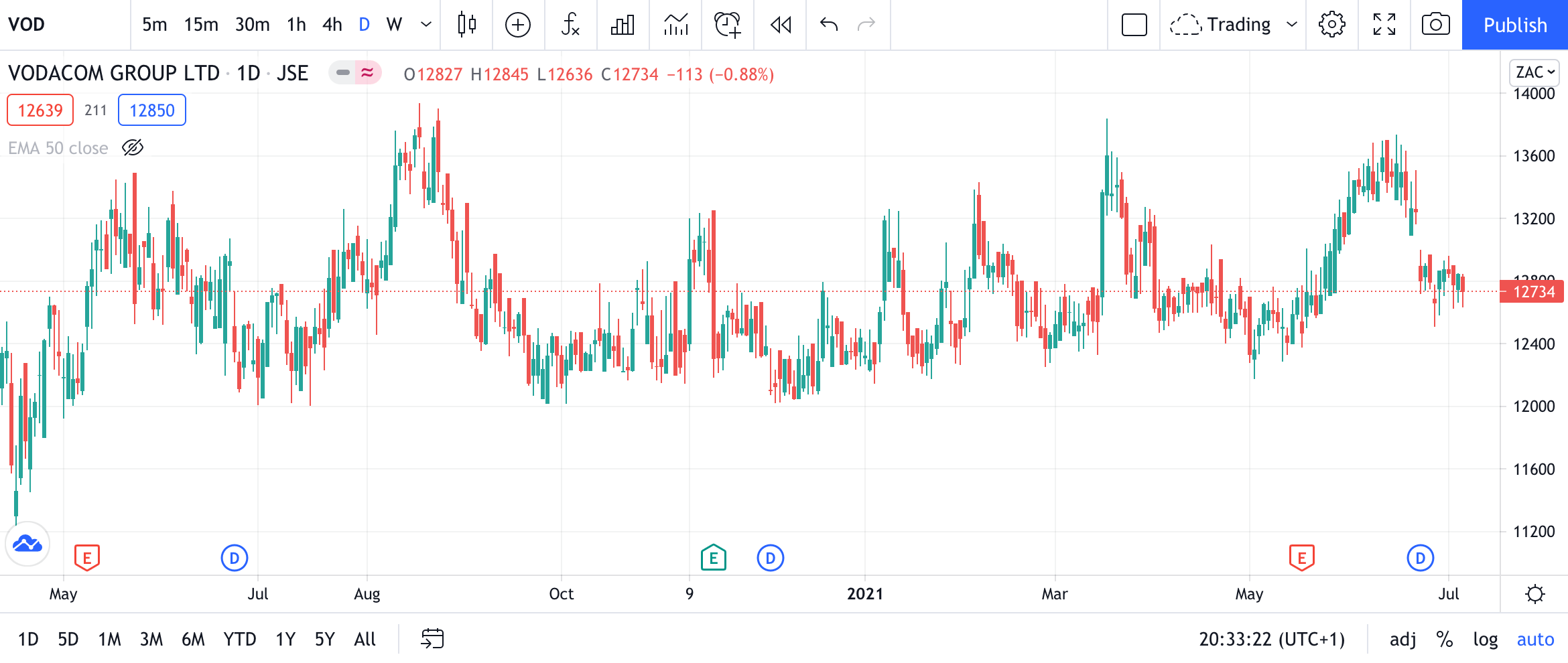 71.2% of retail investor accounts lose money when spread betting and/or trading CFDs with this provider.
Aside from the Vodacom share price, it's also a good idea to look at other metrics. Bloomberg data notes that Vodacom's earnings per share (EPS) for the most recent financial reports is determined as 9.80 ZAR. The fact that EPS is positive is a good thing, as it highlights how profitable the company is. This ties into the fact that Vodacom provides a high dividend yield to shareholders – as their EPS is so high, it implies more significant profits, which the company is happy to distribute to shareholders.
In terms of price to earnings ratio (P/E), data from Bloomberg puts this metric at 12.99, using the most recent financial report. A company's P/E ratio typically measures how valuable the company is and can be compared to other companies' P/E ratios to get an idea of where the company is at. The average P/E ratio of the companies on the JSE since 2011 is 17.62 – so although Vodacom is slightly below this, it still highlights that the company is valued positively by investors.
Overall, the metrics and share price analysis presented above show that Vodacom is a well-established firm that is perhaps in need of fresh impetus to drive the Vodacom share price higher. It's a good sign that no negative spikes have caused rapid bearish momentum, implying there are still buyers in the market. If the company can capitalise on the reopening of economies and the increase in consumer demand, it could provide the stimulus needed for a bullish run.
A common theme when it comes to the best shares to buy is that they often pay a suitable dividend – and Vodacom is no different. Traditionally, Vodacom pays its shareholders a dividend twice per year; once in June and once in December. The ex-dividend date, which is the date that you must be a shareholder by to be eligible to receive the next dividend payment, tends to be one week before the payment date. The most recent payment date was 28th June 2021 – so if you invested in Vodacom today, you'd need to wait until December for the next payment.

Notably, Vodacom's dividend yield is very high, ranging between 6.14% to 6.46% over the past two years. This means that Vodacom is one of the best dividend-paying stocks in South Africa at present, as yields this high are typically quite rare. The combination of a high yield, plus bi-annual payments, means that Vodacom is a great investment opportunity for investors looking for a passive income stream.
Considering the analysis in the previous sections, is it a good idea to buy Vodacom shares in South Africa? To provide some additional context to this, the sections below cover two essential aspects that will help inform your investment decision.
Strong Company Financials
A quick look at Vodacom's finances for the most recent financial period paints an appealing picture for the company and its shareholders. Overall revenues increased by 8.3%, which is impressive given how large the company is already and the decreased demand brought about by the pandemic. The company's annual report also notes that they increased their customer base by 8.2 million people throughout the year.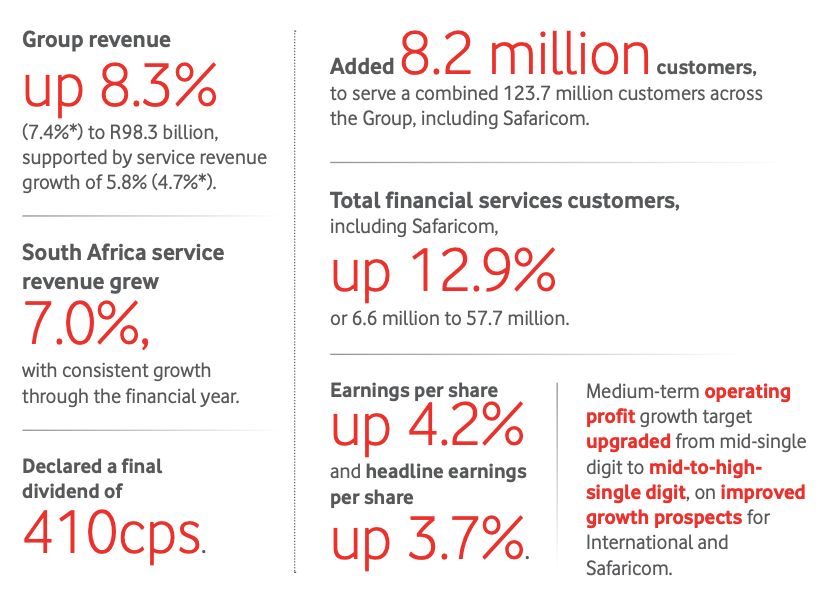 Vodacom's net profits grew to R17.07 billion, increasing over R500 million from the previous year. Free cash flow did decrease slightly, although this is expected given the constraints brought about by the Coronavirus pandemic. Overall though, Vodacom improved in nearly every area of their financial report. This improvement highlights the company is still growing and improving, which is excellent news for current and potential shareholders.
Product Line Innovation
Another factor to consider when you buy Vodacom shares in South Africa is how the company plans to move forward. Luckily, Vodacom is not resting on their laurels and are continuing to improve their service offering for customers. One of the most notable changes is that Vodacom is launching its own financial services app, which will be its first exposure to the FinTech sector.
The app, called VodoPay, has been launched with the help of Alibaba, the Chinese e-commerce company. Users can send payments easily using QR codes and also apply for loans. Furthermore, users can even complete online shopping within the app – making it an 'all in one' solution for African consumers. If Vodacom can monetise this app appropriately, it could add another significant revenue stream that will bolster its bottom line. 
Once you have conducted your research and are confident in your investment, it's time to place the trade. As noted earlier, you must partner with a broker who can facilitate your investment safely and cost-effectively.
So, if you're ready to trade right away, this section will guide you through the entire process using our recommended South African broker, Capital.com. By following these steps, you'll be able to invest in Vodacom in under ten minutes – all without paying any commissions!
Step 1: Open a Capital.com Account
Navigate to Capital.com's website and click the 'Trade Now' button on the homepage. You'll then be asked to enter a valid email address and choose a password for your account. Alternatively, you can complete this process on your mobile using Capital.com's app – one of the best stock apps for South African traders.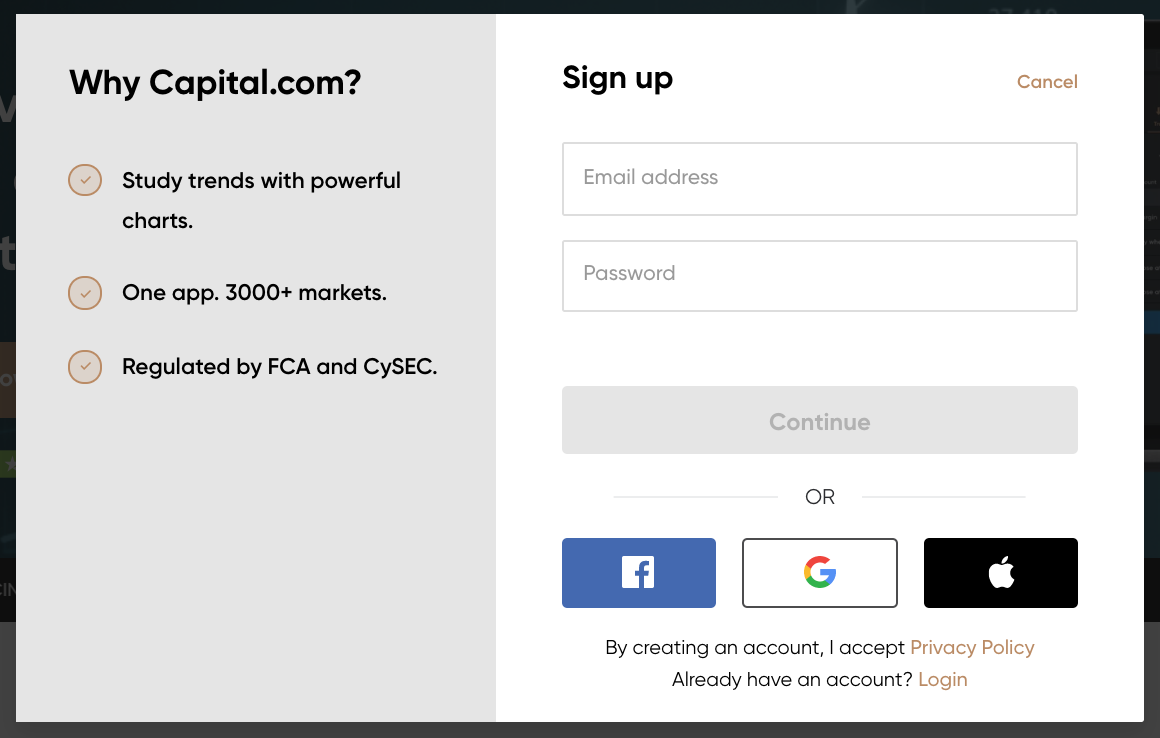 75.26% of retail investor accounts lose money when spread betting and/or trading CFDs with this provider.
Step 2: Verify your Account
As noted earlier in the guide, Capital.com are heavily regulated to ensure users can trade safely and securely. Due to this, new users must verify their accounts before trading. This is simply a case of completing the necessary KYC checks and uploading proof of ID (a copy of your passport or driver's license) and proof of address (a copy of a bank statement or utility bill). Capital.com will then verify these documents, which tends only to take a few minutes.
Step 3: Make a Deposit
The minimum deposit for Capital.com users is only $20 (287 ZAR) – one of the lowest in the industry. Deposits are free to make and can be completed using one of the following options:
Credit card
Debit card
Bank Wire Transfer
Apple Pay
iDeal
Giropay
Trustly
As Vodacom is a branch of its parent company, Vodafone, by investing in Vodafone, you can essentially gain indirect exposure to Vodacom's price movements. So, click into the search bar and type in 'Vodafone'. Then, when the company appears in the search results, click 'Buy'.

An order box will now appear on the right-hand side of the screen, much like the image below. In this box, simply enter the number of shares you'd like to purchase, decide whether you'd like to employ leverage, and click 'Place Order'.

Congratulations! You've just invested with one of South Africa's top brokers – all without paying any commissions!
75.26% of retail investor accounts lose money when spread betting and/or trading CFDs with this provider.
Taking everything into consideration, are Vodacom shares a buy or a sell opportunity? In our opinion, we feel Vodacom shares are a buy, thanks to the company's solid financials and move towards innovation. The latter is a very important plus point for Vodacom, as large companies can sometimes become complacent and be content to continue on the current path, not taking any risks. This isn't the case with Vodacom, as the company has opted to invest in creating and launching their own FinTech app.
This app, as noted earlier, could provide an 'all in one' portal that African users can use to complete payments and apply for loans. With the aid of Alibaba, the app could undoubtedly make a substantial positive impact throughout the continent. Furthermore, Statista notes that there is expected to be 26.3 million smartphone users in South Africa by 2023. If Vodacom can capitalise on this volume, it will ensure they can boost revenues and improve profits.

Aside from this, Vodacom shares are a good buy opportunity for income investors. The company's dividend yield is one of the highest in the country and will ensure that shareholders looking for a passive income stream are not disappointed. Furthermore, Vodacom has been shown to increase dividends when profits allow – so there's every chance that the same could happen in the future.
Overall, we feel that Vodacom would be a fantastic addition to investors' portfolios over the medium-to-long term. As the company is already well-established, it's unlikely to experience rapid price increases over the short term. However, if you are looking for a company to invest in with excellent long-term prospects and a solid dividend yield, Vodacom certainly fits the bill. 
In summary, Vodacom is one of the largest companies in South Africa – and it's clear to see why. With a vast user base located across many countries, Vodacom has established itself as one of the top communications providers in Africa. In the future, if Vodacom can continue building on its impressive finances through value-driven innovations (like their payment services app), it may mean positive things for the Vodacom share price.
If you'd like to invest in Vodacom today, we'd recommend using Capital.com. Capital.com is an appealing option for South African traders as multiple top-tier institutions regulate the platform. Furthermore, with 0% commissions and no non-trading fees, Capital.com ensure they are one of the cheapest brokers for South African traders to use.

75.26% of retail investor accounts lose money when spread betting and/or trading CFDs with this provider.
FAQs
Should I buy Vodacom Shares?
Does Vodacom pay a dividend?
Where is the best place to buy Vodacom shares in South Africa?