Best Bitcoin Wallet South Africa – Top Wallets Compared
Due to the digital nature of cryptocurrency, one of the most important things when investing in Bitcoin is where to store it. It's crucial that you research and analyse the various crypto wallets on the market to ensure your Bitcoin holdings are as safe as possible.
In this guide, we will discuss the Best Bitcoin Wallet South Africa, examining a selection of Bitcoin wallets in detail and providing you with all you need to know to store your Bitcoin safely.
Best Bitcoin Wallets 2022
When researching the best Bitcoin wallet South Africa, there are many factors you need to consider. With so many options available on the market, all with various features, it can seem like a daunting task to narrow down the selection to the best choice for you.
Not to worry – in the section below, we explore the best Bitcoin wallet South Africa in detail, examining the leading Bitcoin wallet providers and show you how to make money with Bitcoin safely and securely.
1. Binance – Popular Crypto Exchange with Super-Safe Bitcoin Wallet
One of the world's largest crypto exchanges, Binance offers one of the best Bitcoin wallet South Africa through its user-friendly trading platform. Binance users can invest in bitcoin from as little as 0.1% commissions – one of the lowest available on the market. What's more, these commissions can be reduced even further if you utilise their Binance Coin digital currency.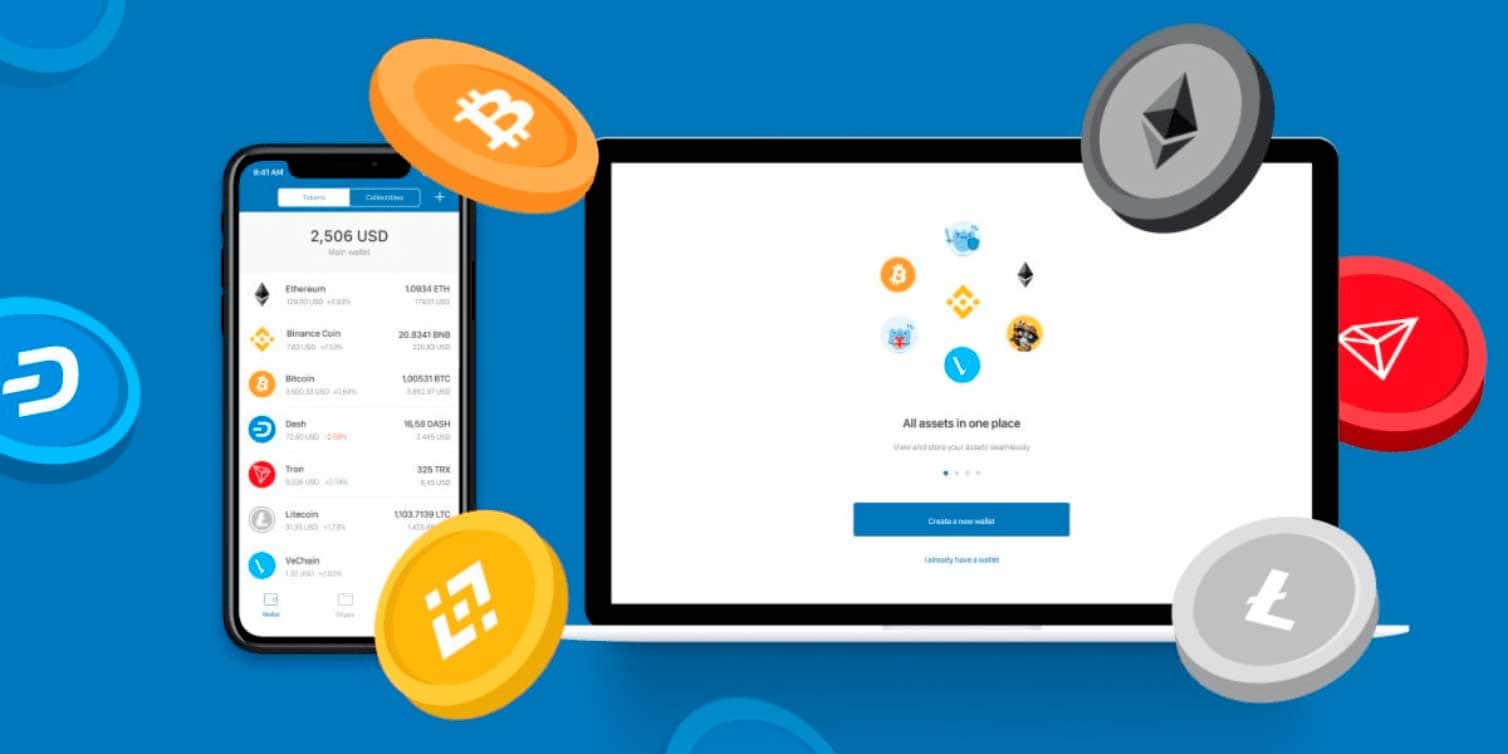 In terms of their crypto wallet, Binance offers users protection through their Trust Wallet feature. This is one of the best Bitcoin wallet apps on the market, as it is entirely free with no hidden charges. It supports over 40 blockchain types, which equates to an incredible amount of cryptos and tokens. Furthermore, this wallet allows users to exchange crypto in many ways – even allowing Bitcoin to be sent via QR code! Finally, as this wallet is decentralised, you will own your private keys, which means you are the only person that can access the holdings.
Pros
Advanced trading platform
Access the API to connect third-party services
Buy Bitcoin or trade crypto derivatives
Built-in secure crypto wallet
Discounted trading if you use BNB token
Cons
Relatively complex for new crypto traders
Your capital is at risk.
2. Coinbase – Easy-to-Use Bitcoin Wallet with Advanced Safety Features
Another of the best cryptocurrency trading platforms is Coinbase. Coinbase is well-known across the world for its easy-to-use trading platform and beginner-friendly features. In terms of fees, Coinbase utilises a spread-based system and typically charge a spread of 0.5% for buy and sell orders; however, this can be reduced when trading more significant sums.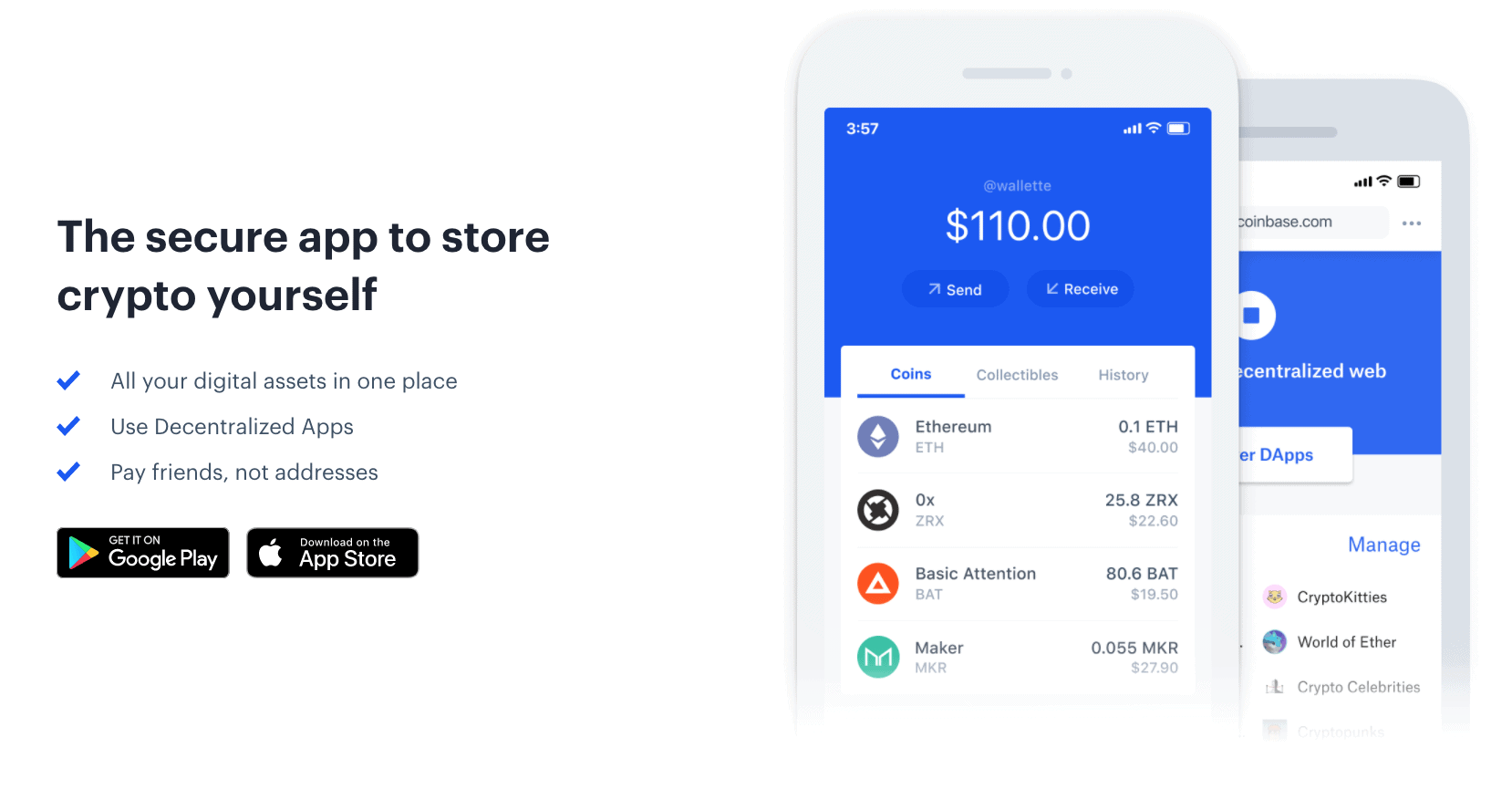 Looking at their crypto wallet, this feature can be downloaded onto your smartphone from the App Store or Google Play, allowing you to store your Bitcoin holdings on your device. Your public and private keys are safeguarded with the 'Secure Enclave' system developed by Apple, along with biometric authentication technology. A fundamental reason this can be considered one of the best Bitcoin wallet apps is that you can transfer Bitcoin to other Coinbase users by simply using their Coinbase username – meaning it is quick and easy, unlike in some other trading platforms.
Pros
Over 50 cryptocurrencies to trade
Includes secure Bitcoin wallet
Simple and Pro trading platforms available
Earn rewards for learning about crypto
Highly regulated and trustworthy
Cons
High trading fees
Limited customer support
Your capital is at risk.
3. Luno – Trusted Crypto Exchange within South Africa
Founded by a South-African former Google employee, Luno has taken the crypto exchange market by storm over the past eight years and currently operates in over 40 countries worldwide. Luno offers relatively low fees for crypto trading in South Africa and does not charge any fees for withdrawing ZAR. Furthermore, bank transfers are free; however, instant bank transfers come with a 1.40% fee attached, so it's wise to keep this in mind.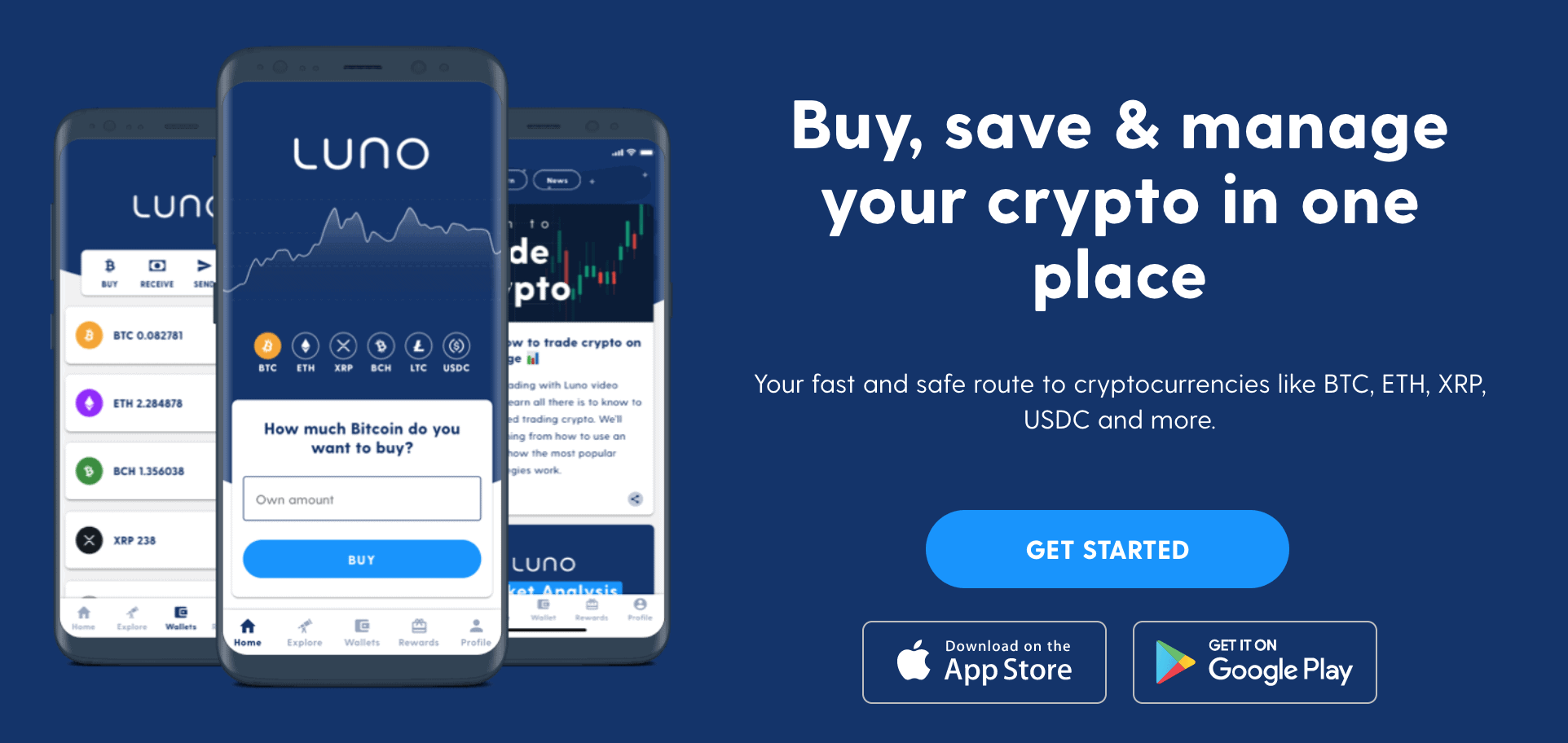 Luno's crypto wallet is available on Android, iOS and the web. It's free to use and allows users to buy and sell Bitcoin directly within the wallet app. Furthermore, Luno state that the wallet employs 'the world's most sophisticated Bitcoin security and has never been compromised'. Combining these facts, this wallet can be considered one of the best Bitcoin wallet apps available in South Africa.
Pros
Built-in Bitcoin wallet
Set up recurring Bitcoin investments
Loan out your Bitcoin and earn interest
Several popular coins to trade
Supports price alerts and limit orders
Cons
Very limited analysis tools
Support by email only
Your capital is at risk.
4. Exodus – User-Friendly Bitcoin Wallet Designed for Beginners
Exodus is a company that solely focuses on providing their Bitcoin wallet to users worldwide – and they do that very well. They offer a desktop wallet, a mobile wallet, and even a hardware wallet, ensuring there is an option for all investor types. Furthermore, Exodus have a fantastic reputation worldwide and recently filed for a Public Offering with the SEC, allowing people to buy shares in the company.

The most notable thing about Exodus is its user-friendly interface. Featuring sleek black and purple colouring, it stands out from the crowd. The Exodus wallet supports over 115 cryptocurrencies and tokens (including Bitcoin) and even has some built-in exchange features that allow users to swap cryptos directly within the app. Furthermore, Exodus offers backup options if you lose your data, and they also allow you to be totally in charge of your private key.
Pros
Supports over 100 cryptocurrencies – including Bitcoin
Free to download and use
Buy and sell crypto from within the app
Advanced security features
Extremely user-friendly
Cons
Transfer fees can be on the high side during busy periods
Your capital is at risk.
5. CoinCorner – Best Bitcoin Wallet App for New Investors
If you are entering the cryptocurrency market for the first time, then CoinCorner might be an option worth considering. Established back in 2014, CoinCorner allows you to buy Bitcoin in under ten minutes and have over 200,000 users in various countries. However, CoinCorner does fall down when it comes to fees – their fee structure is pretty high compared to their peers and can even reach up to 10% of your position size, depending on trade volume.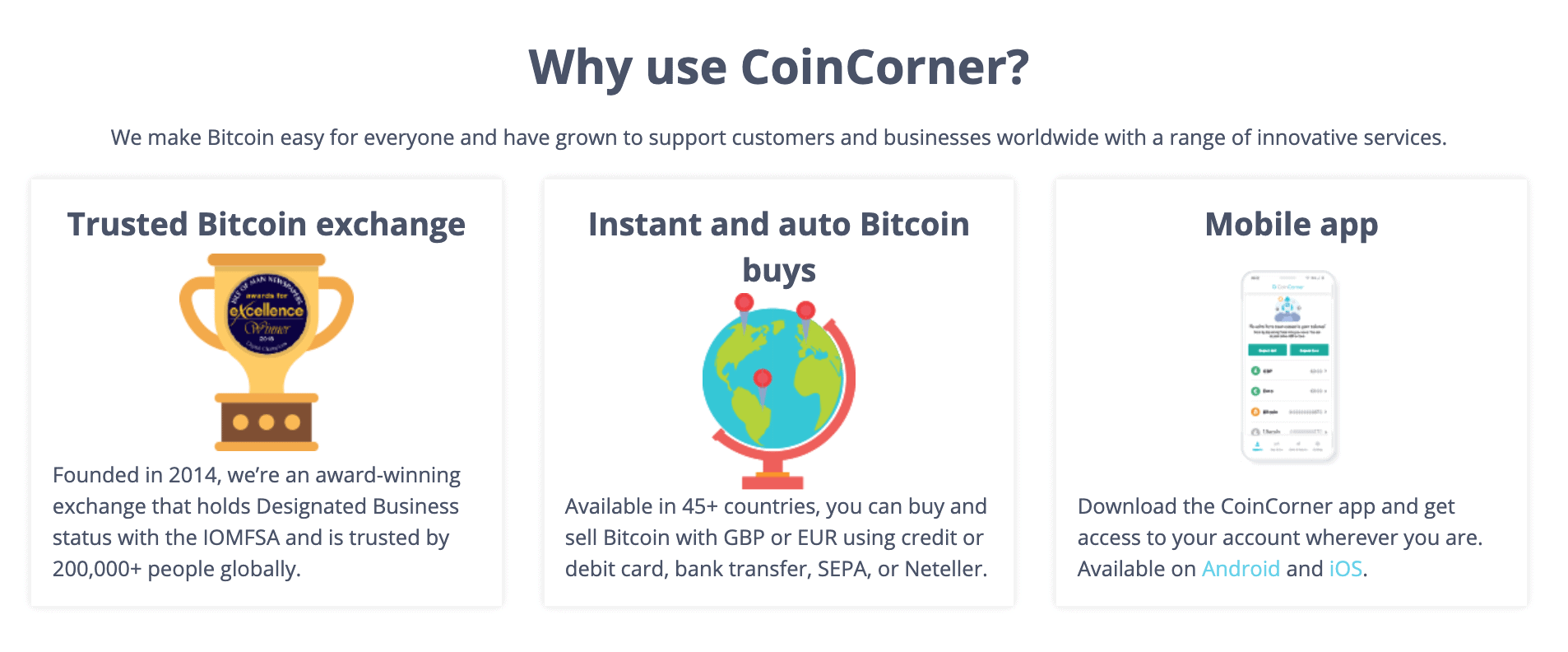 In terms of their wallet, like most others, users can download it straight onto their smartphone from Google Play or the App Store. The user interface is straightforward to use and is designed with beginners in mind. Notably, it does not offer the same level of protection as some of the other best Bitcoin wallet apps, such as two-factor authentication. However, if you are looking for a simple, beginner-friendly Bitcoin wallet, CoinCorner is worth considering.
Pros
Ideal for new investors
Speedy way to buy Bitcoin
Attractive user interface
Two-factor authentication available
Cons
Pretty expensive fee structure
Your capital is at risk.
6. Coinjar – Best Bitcoin Wallet South Africa to Invest Quickly
Coinjar was founded in Australia back in 2013 and currently has over 400,000 users worldwide. You can opt to buy cryptos directly with them or utilise their exchange platform, where you can swap digital currencies to your heart's content. In terms of fees, Coinjar does not charge anything to make deposits via bank transfer or to receive other cryptos and charge a 1% commission when purchasing crypto through their platform.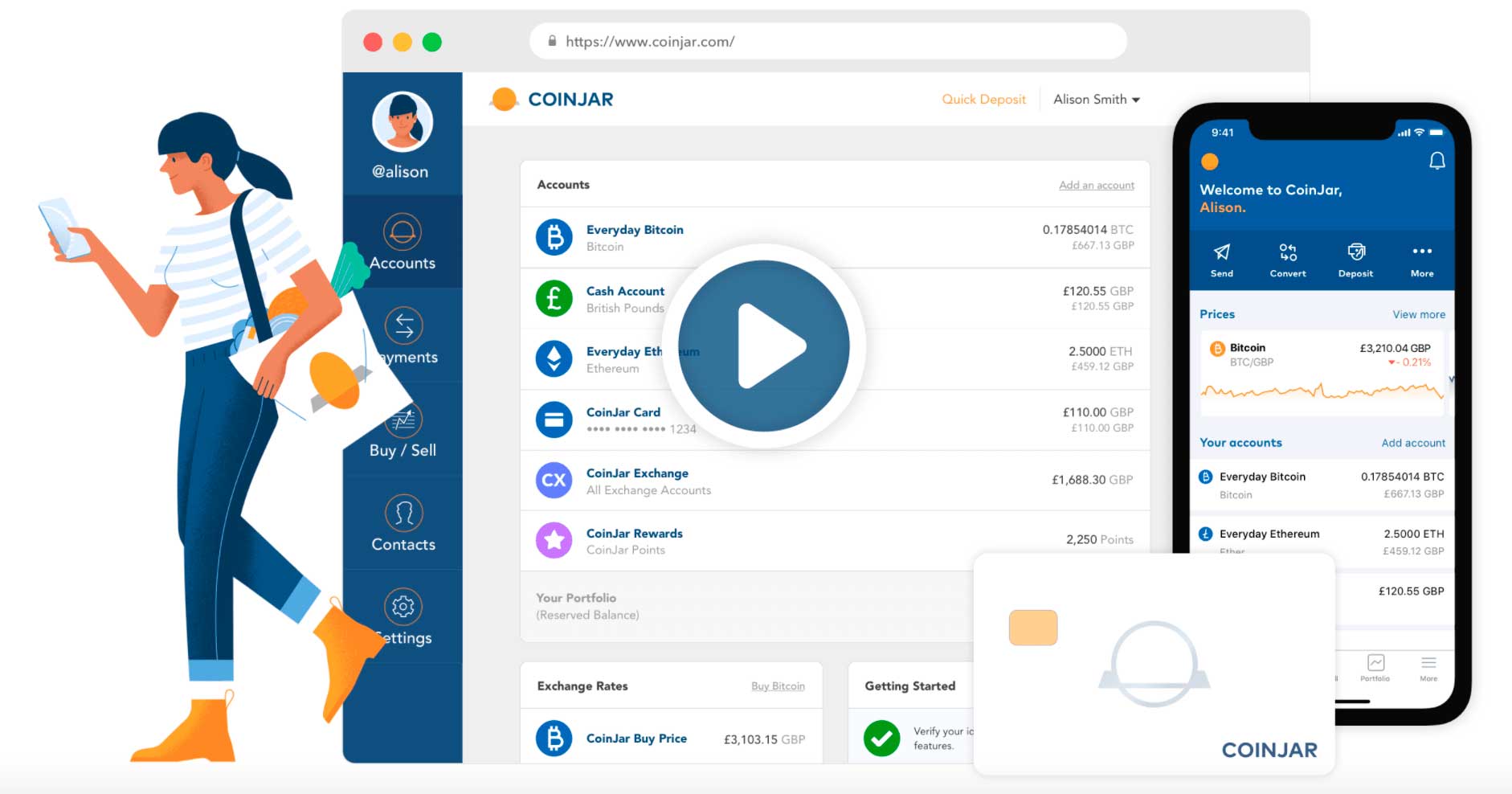 As a registered user, you will get access to Coinjar's super-attractive Bitcoin wallet. Available on Android or iOS, the wallet supports 17 different digital currencies and is entirely free to use. In terms of security, Coinjar's wallet employs data encryption, transport layer security, and security audits to ensure that users' Bitcoin holdings are as safe as possible. Furthermore, you can even use two-factor authentication for additional protection if you require it.
Pros
Buy or exchange cryptos through the online platform
Hold up to 17 currencies in Coinjar wallet
Many layers of security, such as data encryption and security audits
Option to use two-factor authentication
Cons
Above-average transaction fees when buying Bitcoin
Your capital is at risk.
7. Electrum – Best Bitcoin Wallet South Africa with Open-Source Platform
If you're looking for a Bitcoin wallet that offers an open-source platform, then Electrum is worth considering. Having been around since 2011, Electrum is built using the Python programming language, which allows their Bitcoin wallet to be super-fast and use low resources. Furthermore, it also allows for much more advanced features that most other wallets don't offer.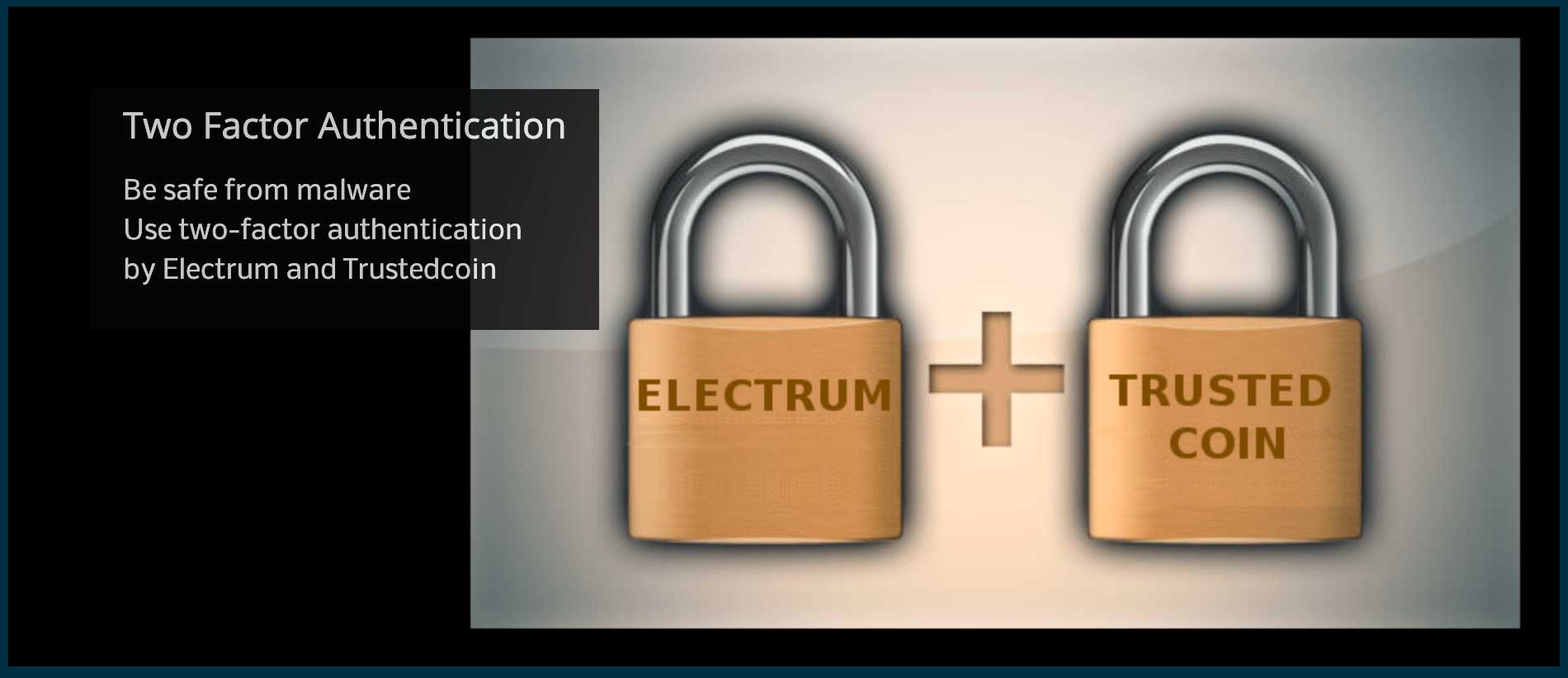 Electrum's wallet is available on Android, iOS, and your computer. Notably, Electrum is known as a 'hot' wallet, which means it needs to be connected to the internet to function. Due to this, it is theoretically less secure than a cold wallet or a hardware wallet. However, what makes up for this is that it allows for integration with various hardware wallets, which vastly improves its security. As this wallet is targeted more to advanced traders due to its open-source platform, it may be worth considering if you fall into this bracket.
Pros
Open-source platform
Users can see the coding behind the platform to ensure safety
Integrates with other hardware wallets
Advanced programming features
Cons
Hot wallet so must be connected to the internet
Not the best for beginner traders
Your capital is at risk.
8. MyCelium – Best Bitcoin Wallet South Africa for Experienced Traders
Much like the Electrum wallet, the MyCelium wallet is open-source, which means there should be fewer structural issues and added security as anyone can go and check the code to make sure it's secure. Again, this wallet is a 'hot' wallet which means it's connected to the internet – some users may prefer a cold wallet or a hardware wallet, so this is worth noting.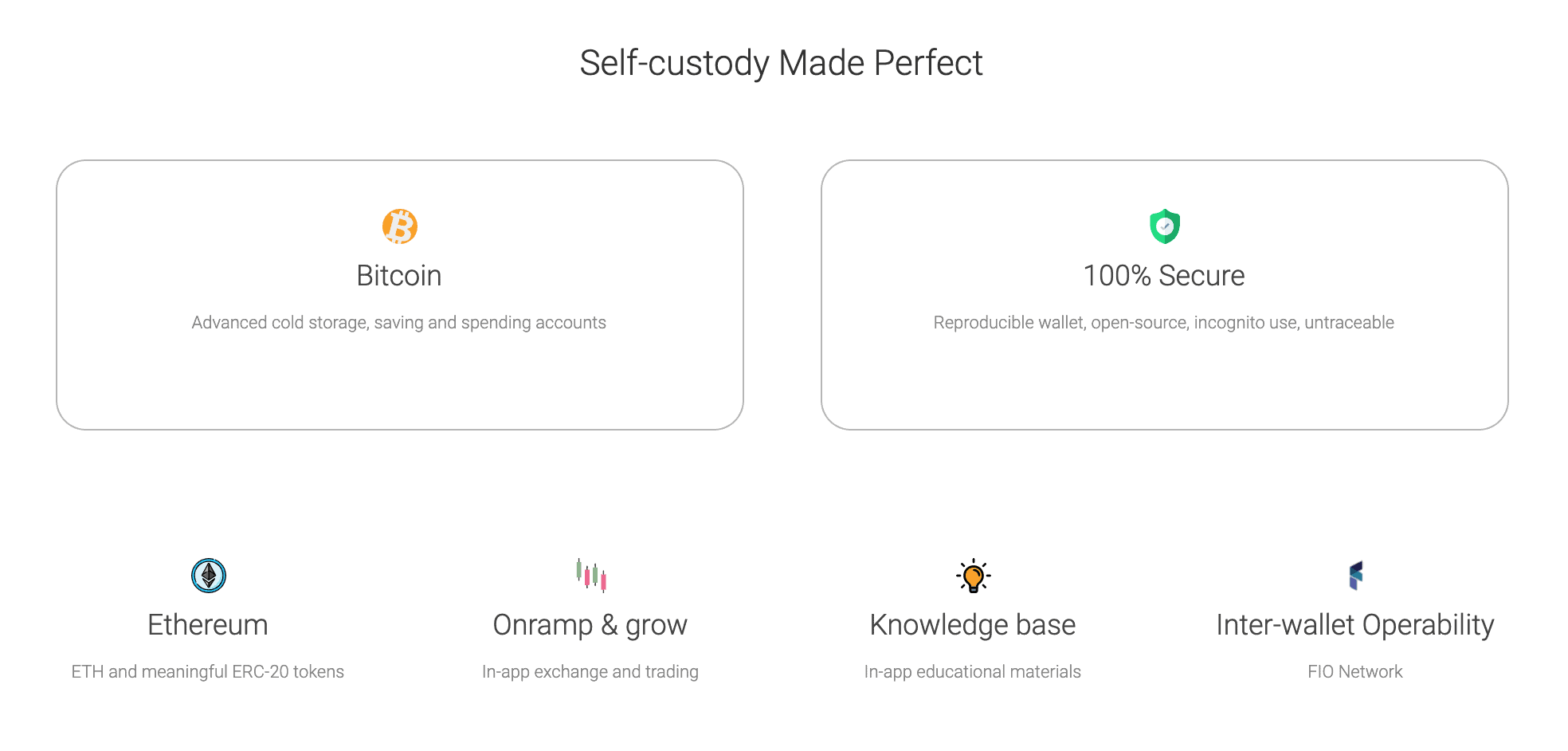 The cool thing about the MyCelium wallet is that it allows you to back up your data if you lose your connection – which is perfect if you are trading on the go. You can even send and receive Bitcoin using QR codes, making the process so much faster and simpler. Finally, MyCelium provide additional protection by routing transactions through the Tor network, which ensures the anonymity of users.
Pros
Open-source platform
Robust backup options available
Send and receive Bitcoin using QR codes
Additional protection through the Tor network
Cons
As it is a hot wallet, it must be connected to the internet
Your capital is at risk.
9. Gemini – Best Bitcoin Wallet for Security and Anonymity
The last Bitcoin wallet we will discuss today is the Gemini wallet. Gemini is a fully-fledged crypto exchange, as is well-known for its high levels of security. They currently support over 20 cryptocurrencies and charge a 0.5% 'convenience fee' to use their exchange facilities. In addition to this, they also charge a transaction fee which increases depending on your trading volume.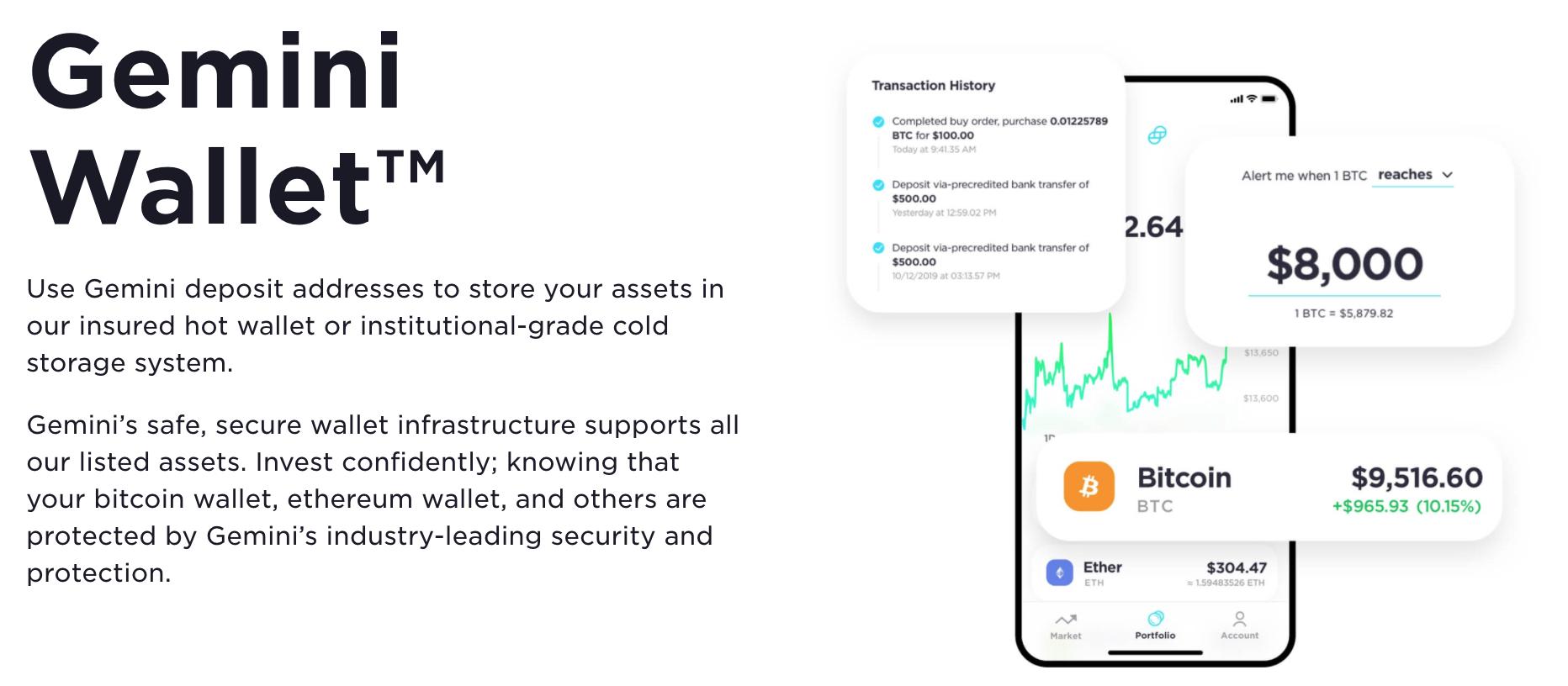 The Gemini wallet is one of the most secure on the market, offering both hot and cold storage depending on your needs. Gemini provides insurance if your cryptos are stolen and are constantly updating the wallet's security systems to ensure high-level safety for your holdings. Furthermore, wallet is available on most smartphone devices, providing an easy way to keep your holdings safe while you are on the go.
Pros
Known worldwide for their high-security levels
Always updating the type of security on offer
Provides insurance from top underwriters
Supports over 20 cryptocurrencies
Cons
Small convenience fees plus transaction fees
Your capital is at risk.
What is a Bitcoin Wallet?
Due to its digital nature, when you buy cryptocurrency, you must find somewhere to store it that cannot be breached or tampered with. Unlike physical money, you cannot store Bitcoin in a real wallet or bank. Instead, you must keep your Bitcoin holdings in a specially designed wallet.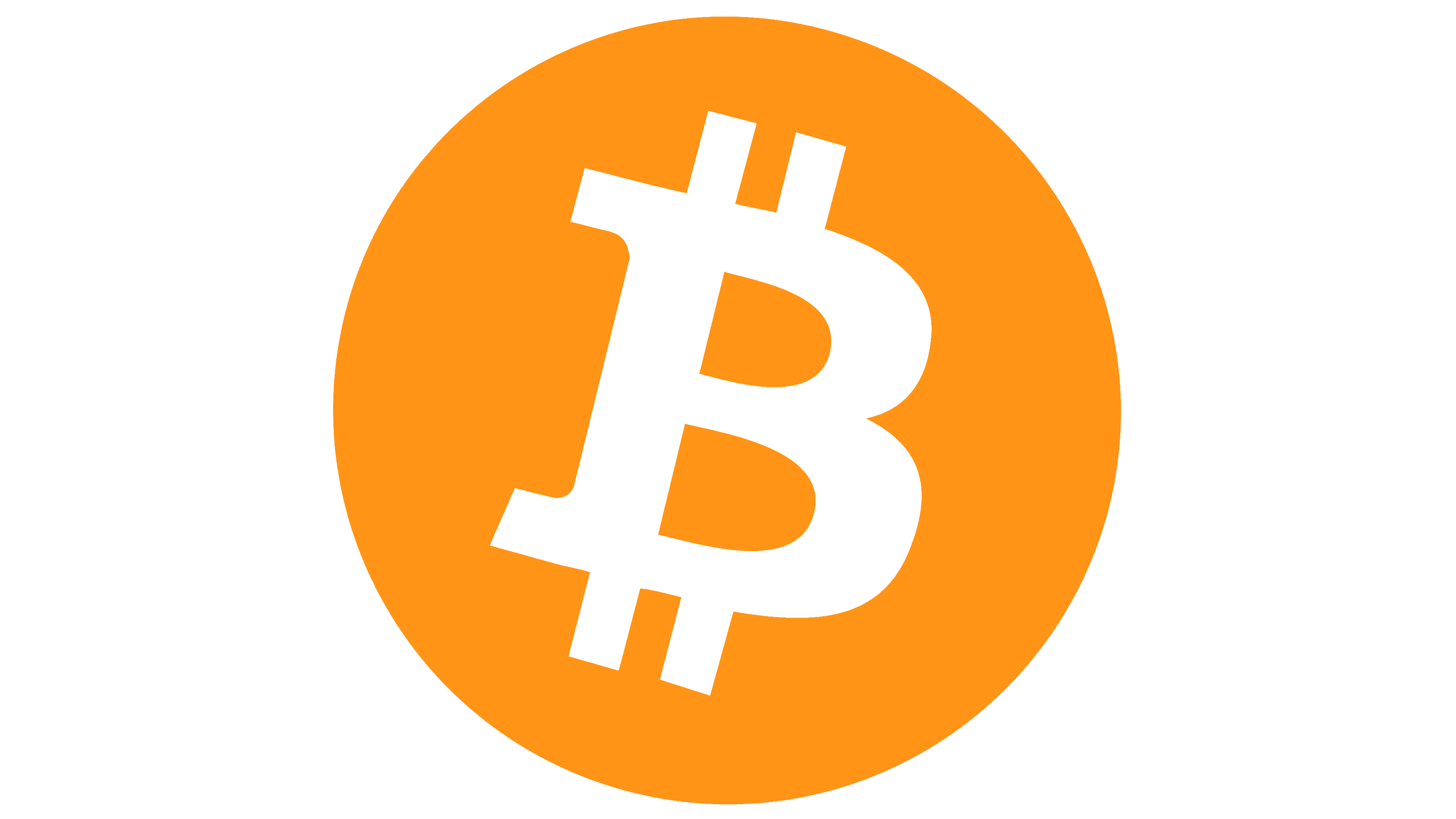 Bitcoin wallets can be thought of as a specialised software program that allows users to store their Bitcoin investments safely. In addition to storage, the best Bitcoin wallet South Africa will also allow you to send and receive cryptocurrency and will enable you to exchange your Bitcoin holdings for other cryptos. This ensures cryptocurrency trading is both safe and easy, regardless of your circumstances.
The most crucial feature of Bitcoin wallets is the safety provided by the public and private keys. These keys help to identify your Bitcoin wallet on the blockchain network and also help keep your wallet safe and prove that it is yours. A helpful way to think about your wallet's public key is as a kind of 'email address' – it helps people send Bitcoin to you and allows you to receive Bitcoin from your crypto exchange or brokerage account.
On the other hand, the private key can be considered your wallet's 'password'. Private keys are a unique string of 64 characters and should never be shared with anyone as they essentially provide access to your Bitcoin holdings. If someone knew your private key, they could theoretically access your wallet and steal your Bitcoin balance.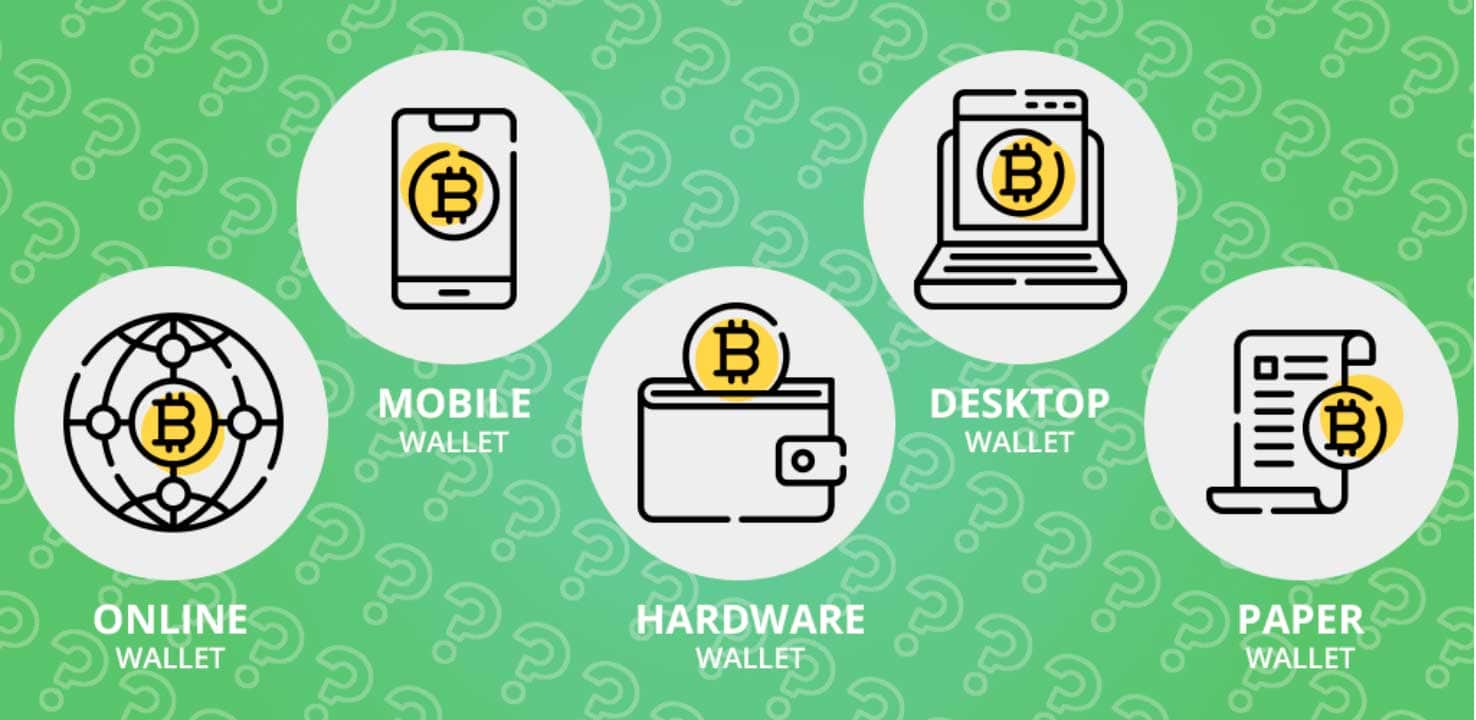 When you buy Bitcoin, you have multiple different types of wallet to choose from. There are hardware (offline) wallets, mobile wallets, desktop wallets, and even paper wallets. Each wallet type comes with its own set of pros and cons, so you must cover all of the bases when deciding which one to choose.
In summary, Bitcoin wallets are a handy piece of software that let you keep your Bitcoin holdings safe. The top crypto exchanges and brokers often provide these wallets – however, there are also 3rd party companies that offer their own crypto wallets. In the sections that follow, we will expand this discussion of Bitcoin wallets, helping you choose the right wallet for your unique circumstances.
Bitcoin Paper Wallet vs Bitcoin Hardware Wallet
When researching the best Bitcoin wallet South Africa, there are many different options available – including paper wallets and hardware wallets. This section will examine both in detail, highlighting the pros and cons of each wallet type.
Bitcoin Paper Wallet
One of the earliest methods of storing Bitcoin, paper wallets were all the rage when cryptocurrency first burst onto the scene. Paper wallets are precisely what the name suggests – a piece of paper in which your Bitcoin wallet details are stored. Typically this involves printing or writing down your private key and wallet address onto a piece of paper and keeping this in a safe place.
As paper wallets do not have a digital component, you'll have to use a website that can generate a wallet address if you opt for this method. Once you have the address and it is written down, most people tend to keep their paper wallet in their actual wallet, a safe, or some other secure location.
However, as you can imagine, this method of storing Bitcoin is pretty outdated. What's more, it's very impractical compared to other wallet types – and can actually be less secure. Unlike different wallet types, paper wallets utilise just one wallet address, which promotes address reuse. In turn, address reuse can impact the privacy of yourself and other users of the Bitcoin network.
Bitcoin Hardware Wallet
An alternative to a paper wallet is a Bitcoin hardware wallet. These wallets are physical devices that store a user's private keys safely and securely. According to Forbes, if you are someone who holds a large amount of Bitcoin, then it's recommended you consider transitioning to a hardware wallet to ensure the safety of your holdings.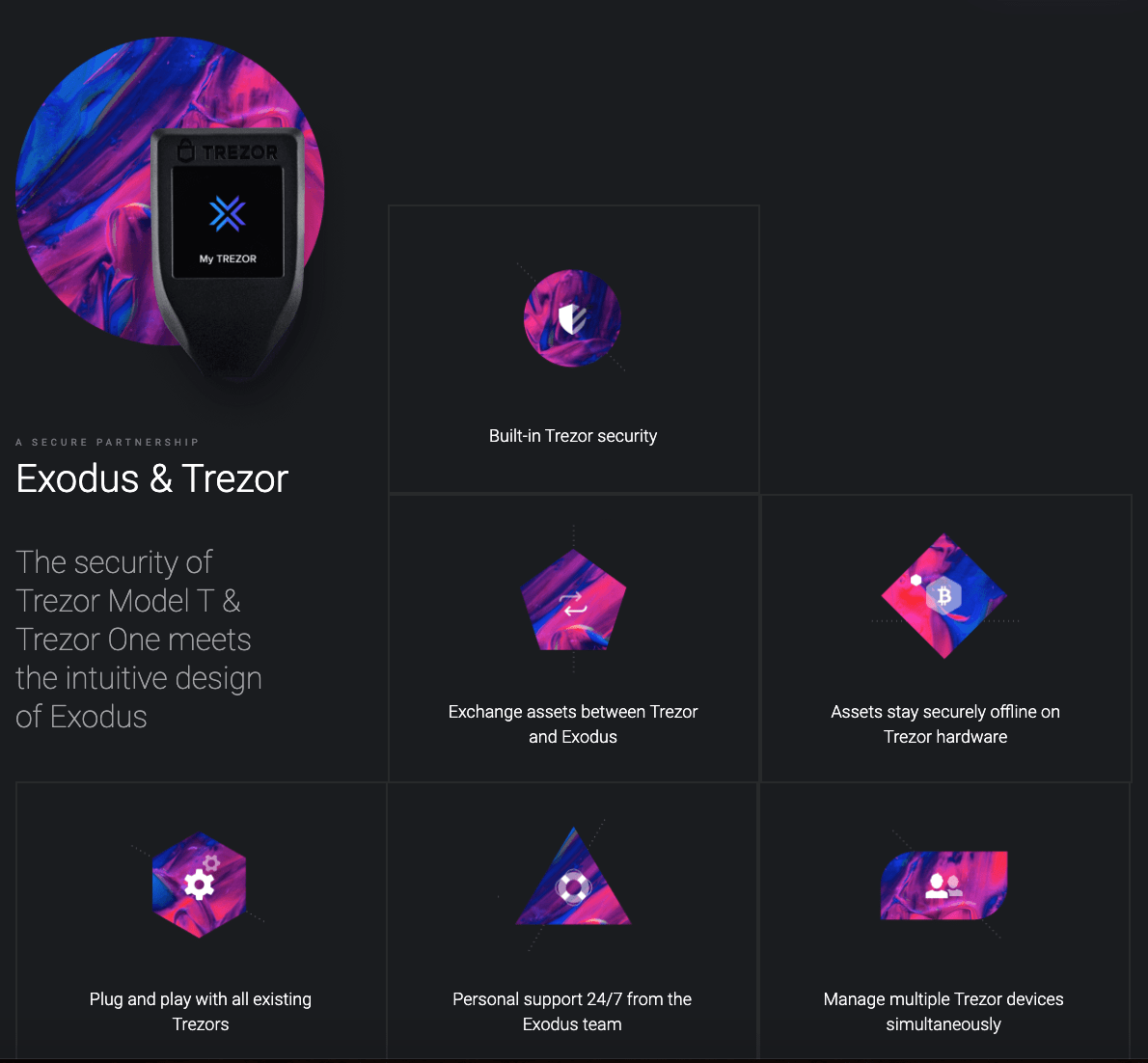 Hardware wallets offer the highest level of security for your Bitcoin investment, as they are immune to viruses and can only be accessed if someone has the physical device. Many companies offer hardware wallets in today's market, such as Ledger, Trezor, and Nano.
Most of these hardware wallets can connect to your device via USB, providing an easy and practical way to transfer Bitcoin. Furthermore, many hardware wallet providers ensure their technology is open-source, allowing users to research what goes on behind the scenes to ensure it is as safe as possible. Due to these features, hardware wallets are the go-to option for investors who hold large amounts of Bitcoin.
How to Choose the Right Bitcoin Wallet for You
When researching the best Bitcoin wallet South Africa, there are multiple different factors you should pay attention to. Found below are three critical areas that you must consider when choosing the right Bitcoin wallet for you.
Type of Bitcoin Wallet
Perhaps the most crucial aspect of choosing the right Bitcoin wallet is deciding which type to go for. As mentioned previously, the four main types of Bitcoin wallet on the market are desktop, mobile, web, and hardware. Each type will be discussed briefly below:
Desktop: These wallets tend to be installed directly onto your laptop or computer and allow users to send and receive Bitcoin quickly. Providers such as Electrum offer wallets such as this; however, they require you to be on your laptop/computer to access your holdings.
Mobile: One of the most common Bitcoin wallet types, these work in a similar way to desktop wallets but are much more practical. They are often accompanied by other features such as QR codes and two-factor authentication.
Web: These wallets function using your browser, either on the computer, mobile device, or tablet. These wallets are 'hot', which mean they are connected to the internet and store your keys online.
Hardware: Commonly thought of as the safest way to store Bitcoin, these are physical wallets that can be kept in a safe place. They usually connect to your devices via USB and come accompanied with high-level safety features.
The four types of wallet above offer various features and security levels – so it's vital to consider each option before deciding.
Features on Offer
Many wallets offer similar features to the best bitcoin trading platforms, providing an all-in-one solution to your crypto-trading needs. With more and more wallets becoming available on the market, providers compete against one another by offering specific features that appeal to traders.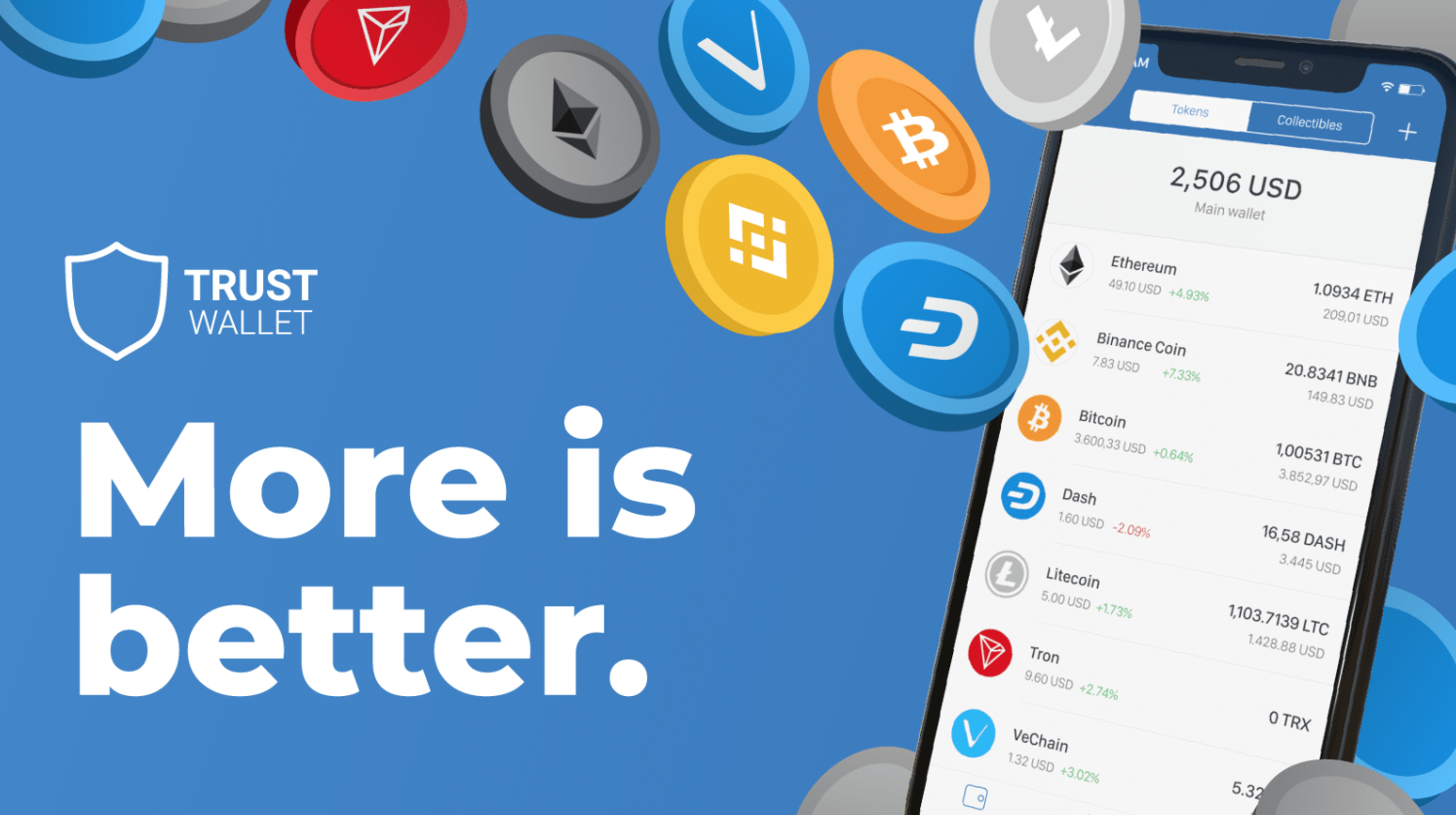 Taking Binance's crypto wallet as an example, they allow you to exchange digital currencies directly within the wallet – in just a click of a button.. What's more, Binance's wallet supports a wide range of cryptocurrencies and will enable you to exchange cryptos all from the wallet's dashboard.
User-Friendliness
Another critical factor to consider is the wallet's user-friendliness. Many wallets, such as the one provided by CoinCorner, have a very basic interface that is appealing to new investors. However, more advanced wallets such as MyCelium are targeted to experienced traders, which means their wallet's interface is much more advanced.
Choosing the best Bitcoin wallet for you will depend on your experience level and ambitions. It's wise to review the interfaces of all the options on our list to see which one appeals the most. This will ensure you can use the wallet easily, which will ultimately increase security in the long term. 
How to Find Your Bitcoin Wallet Address
The exact steps to find your Bitcoin wallet address will vary slightly depending on the provider, but usually, they follow a similar path. All you need to do is head to your wallet's dashboard and click 'Receive'. This will then prompt the generation of your wallet address.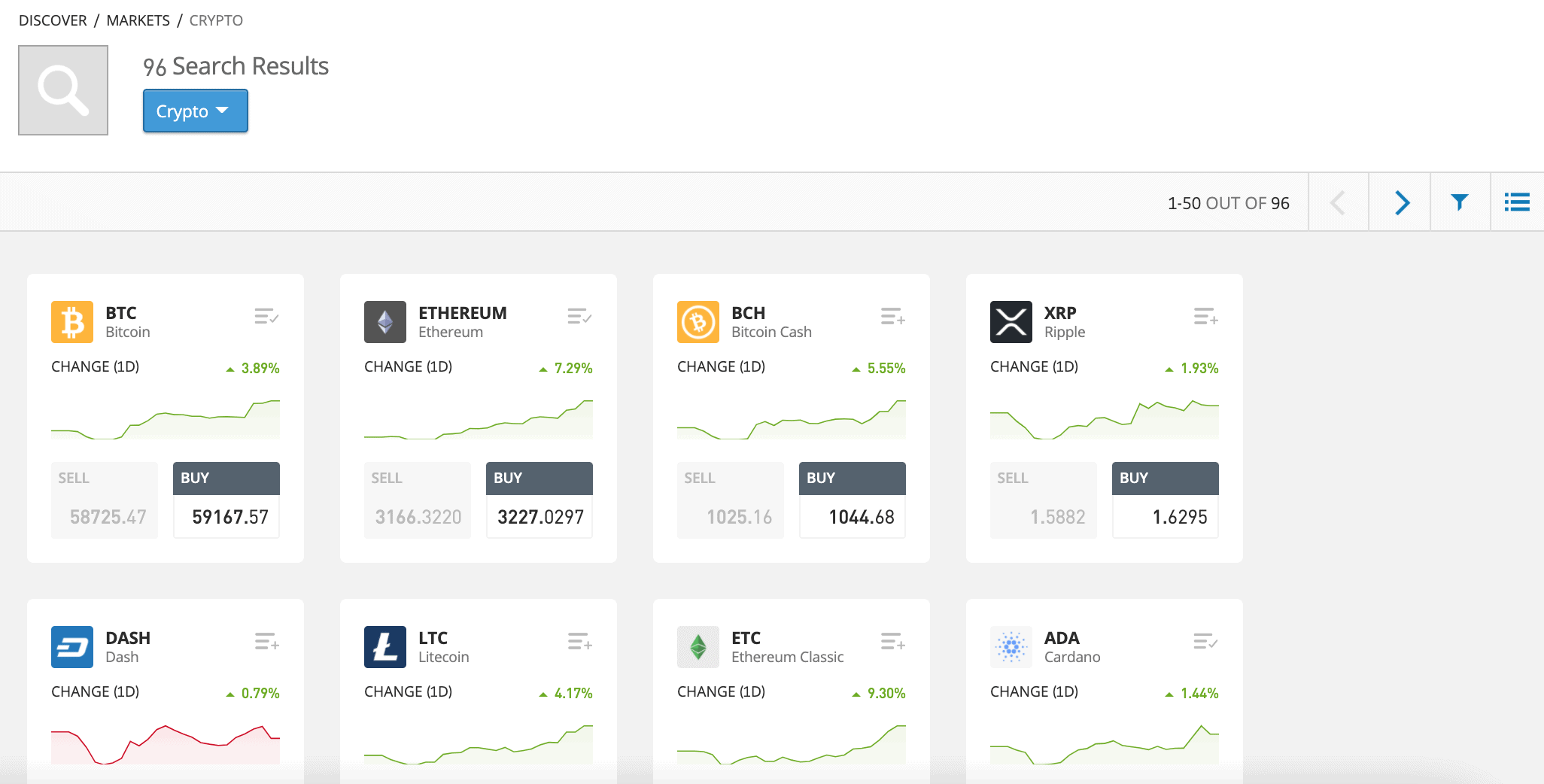 Your Bitcoin wallet address will appear as a long string of numbers and letters – you can then use this address to receive payments from other people or withdraw funds from your chosen broker or crypto exchange. Notably, your Bitcoin wallet address will change each time you receive a payment, so be sure to use the most up-to-date one when conducting transactions. 
Bitcoin Wallet Download Process – Binance Tutorial
Now that you have all of the vital information regarding Bitcoin wallets, it's time to discuss the exact process of downloading your crypto wallet. The steps below will show you how to do so with the best Bitcoin wallet app from Binance – all in less than ten minutes!
Step 1: Open a Binance Account
As one of the world's most popular and reliable exchanges, Binance is amongst the best trading platforms for downloading a Bitcoin wallet. First, head over to Binance's website and click 'Register Now'. On the next page, simply enter your email address and choose a password.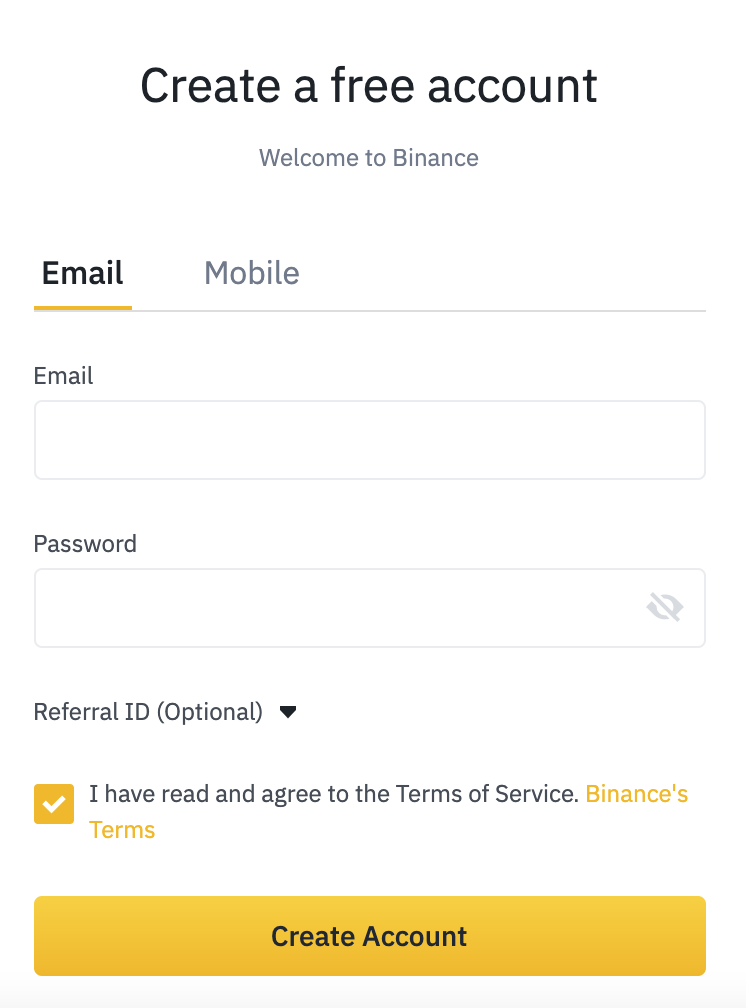 Step 2: Verify your Account
As Binance abides by the strictest security guidelines, new users must verify themselves before they can trade. Fortunately, this is super easy to do and can be completed in minutes. Simply upload proof of ID (a copy of your driver's license or passport), and Binance will get to work verifying the documents. Once this is complete you can move on to the next step.
Step 3: Download the Binance Trust Wallet
Once you are verified, you can go ahead and download the Binance wallet onto your smartphone. You can do this by navigating to the Trust Wallet website and clicking one of the download options for the App Store, Google Play, or Android. Once it is downloaded, simply log in using your Binance credentials.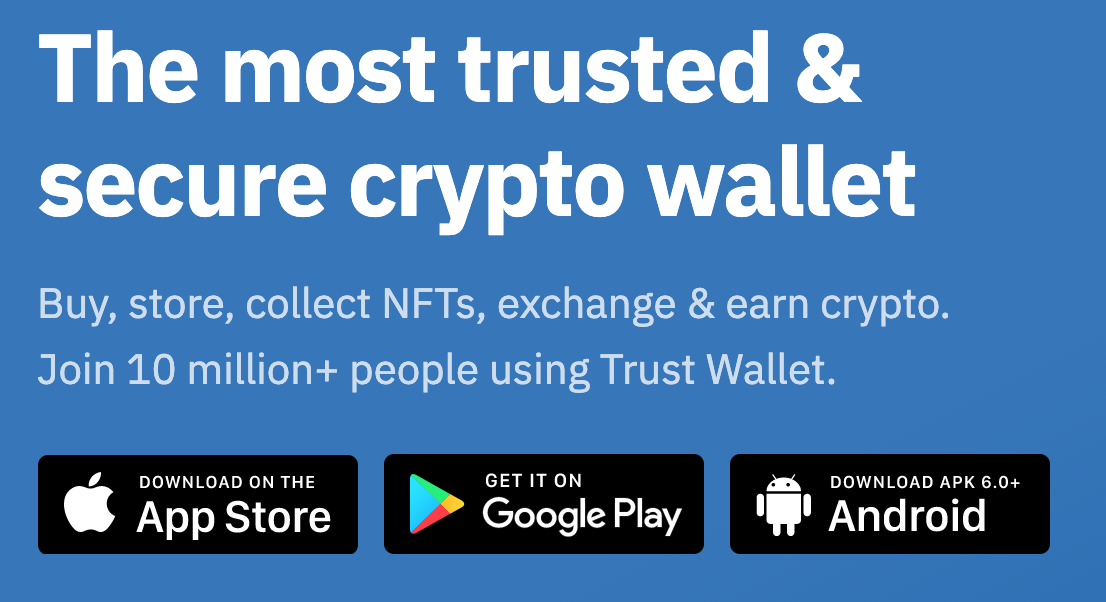 Step 4: Add Bitcoin to your Binance wallet
Now that you are logged in to the best bitcoin wallet app from Binance, you can go ahead and add some Bitcoin to your balance. If you do not currently own any Bitcoin, then the best way to get some is to purchase Bitcoin through Binance's online platform. The great thing is that Binance only charge a 0.1% commission when buying Bitcoin, allowing you to invest cost-effectively.
Alternatively, if you already own some Bitcoin, then you can quickly transfer it over to your Binance wallet. Generate your unique wallet address directly in the app and copy this to your clipboard. Then head over to where you currently store your Bitcoin holdings and opt to 'Send' some Bitcoin. You'll then be prompted to enter the wallet address that links to your target wallet – simply paste the wallet address you copied earlier and finalise the transaction.
Step 5: Sell your Bitcoin
If you have made some healthy profit on your Bitcoin investment and wish to sell your holdings, this is super-easy to do in the Binance wallet. Navigate to your open orders in the Binance trading platform and opt to close your Bitcoin position. Once completed, the value of your position will be deposited into your Binance account, where you can withdraw the funds to your bank account or reinvest in another crypto.
Conclusion – Binance – Best Bitcoin Wallet South Africa
Throughout this guide, we have examined the best Bitcoin wallets in South Africa, providing you with everything you need to know to store your crypto holdings safely. Using their advanced security features, Bitcoin wallets ensure your investments are protected, allowing you to trade the cryptocurrency market confidently.
If you're looking to set up one of the best Bitcoin wallets right away, then we'd recommend using Binance. Binance's Trust Wallet is straightforward to use and supports a huge range of cryptocurrencies. Furthermore, it is entirely free to download and is available on both the App Store and Google Play.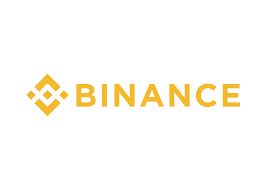 Your capital is at risk.
FAQs
How can I create a Bitcoin wallet?
You can set up your Bitcoin wallet with a wide variety of top brokers and crypto exchanges. What's more, you can even choose between a digital crypto wallet or a hardware wallet. One of the best Bitcoin wallet providers is Binance, as they allow you to download it for free, straight from the App Store or Google Play.
What is a Bitcoin Core wallet?
Bitcoin Core refers to the software that powers the whole Bitcoin network. One of the perks of this software is a digital wallet that offers many of the same features that other crypto wallets do. By using the Bitcoin Core wallet, you actually can contribute to the overall network by validating transactions.
What is a Bitcoin Gold wallet?
A Bitcoin Gold wallet is a type of crypto wallet that allows users to hold their Bitcoin Gold investments. Bitcoin Gold is a sort of 'spin off' of the original Bitcoin, with the stated purpose of 'making Bitcoin decentralised again'.
What is my Bitcoin wallet address?
Your wallet address is a unique string of characters that allows you to receive Bitcoin into your wallet. This tends to be generated by the trading platform you use whenever you wish to add funds to your wallet.
How do I deposit money into a bitcoin wallet?
The easiest way to add Bitcoin to your wallet is to send it over from your chosen broker or crypto exchange. This can be completed using the public key (also referred to as the wallet address) and usually happens instantaneously.