Best Cryptocurrency Trading Platform South Africa 2022 – Cheapest Platform Revealed
Did you know that you can buy and sell digital assets from the comfort of your own home? Cryptocurrencies like Bitcoin, Ethereum, and BNB were among the highest-performing assets in the world in 2022. Over the past few months, these blockchain-based digital currencies have continued to break records and claim their mantle as an alternative to traditional money.
If you're interested in trading cryptocurrencies for a profit in South Africa, you'll need a trustworthy and high-quality trading platform. In this guide, we'll review the 5 best cryptocurrency trading platforms in South Africa for 2022.
Key Points on Cryptocurrency Trading Platforms 
Cryptocurrencies like Bitcoin, Ethereum, XRP, Dogecoin, and Cardano can all be exchanged via a crypto trading platform.
When choosing the best cryptocurrency trading platforms you need to consider several key metrics such as trading fees, security, payment methods, and supported coins.
Cryptocurrency trading is notoriously volatile and therefore requires a rather high risk tolerance.
If you're interested in speculative trading, then Libertex has you covered. This trusted and fully regulated CFD broker lets you gain exposure to the crypto market through CFDs.
Best Cryptocurrency Trading Platform South Africa List
Before we take a more in-depth look at the top crypto brokers, here's the best cryptocurrency trading platform South Africa and some other good alternatives.
Libertex – Best Meta Trader Supportive Broker for Crypto Trading
AvaTrade – Trade Cryptocurrency CFDs with Leverage
Plus500 – Bitcoin CFD Trading Platform South Africa with High Leverage
Capital.com – Buy Cryptocurrencies with 0% Commission
Best Cryptocurrency Trading Platforms in South Africa Reviewed
Trading cryptocurrencies profitably in South Africa requires having the right trading tools for the job. You also need a platform that can give you instant access to the crypto market, with minimal fees, plenty of assets to trade, and support when you need it.
So, let's take a closer look at the 5 best cryptocurrency trading platforms in South Africa for 2022.
1. Libertex – Trade Crypto CFDs via Meta Trader 4 and 5
Libertex is a CFD-only trading platform based in Cyprus that allows traders to operate with a wide range of financial assets including cryptocurrencies. The selection of available pairs to be traded include more than 30 different tokens along with fiat and crypto crosses such as BCH/BTC and LTC/BTC.
Commissions for trading BTC and ETH start at 0.4% while there are also a swap fee that starts at 0.09% for Bitcoin. Meanwhile, the maximum leverage ratio permitted for cryptocurrencies is 2.
This provider offers access to a proprietary trading platform available in a web-based and mobile versions (iOS and Android) and it also supports trading via Meta Trader 4 and Meta Trader 5.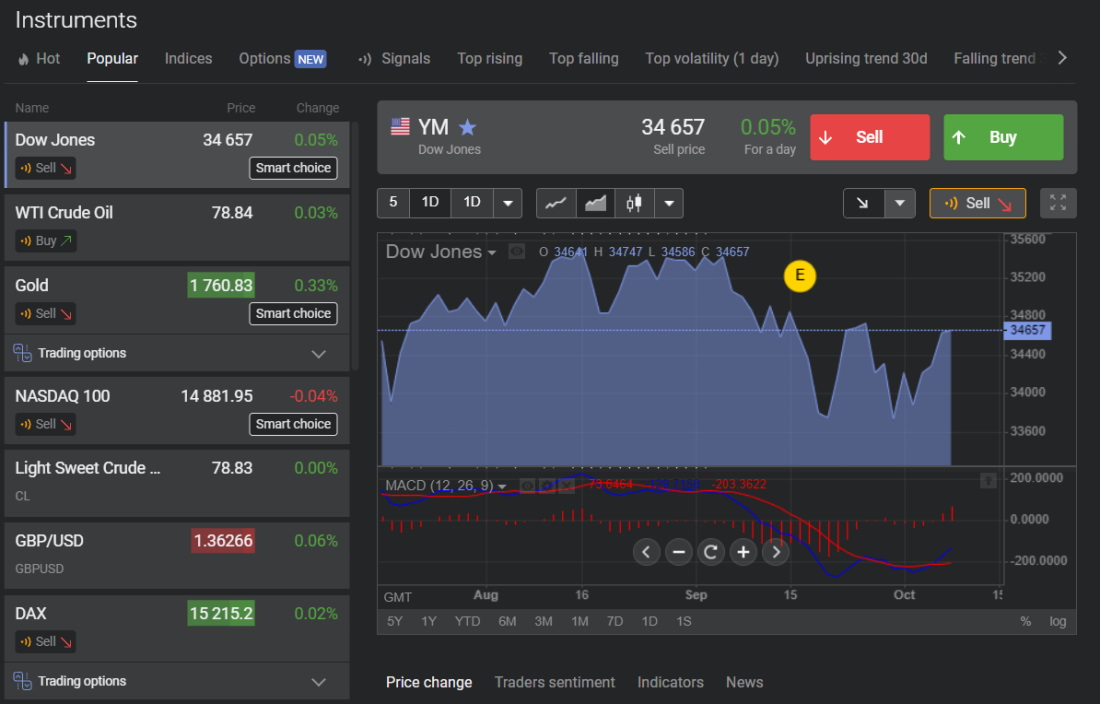 The low minimum deposit of $10 required to open an account with Libertex makes it a top choice for beginners in South Africa and its intuitive trading interface facilitates the process of learning how to operate in the financial markets.
Libertex accepts multiple payments methods to fund the account including electronic wallets, bank transfers, and credit or debit cards. There are no deposit fees and, for most methods, the deposits are cleared instantly.
Pros
CySEC regulated CFD trading platform.
Ample selection of cryptos.
Other assets aside from cryptocurrencies can be traded with this provider including stocks, commodities, and indexes.
This provider supports Meta Trader 4 and 5.
Low minimum deposit.
Cons
Cryptocurrencies can only be traded via CFDs.
75.3% of retail investor accounts lose money when trading CFDs with this provider.
2. AvaTrade – Trade Cryptocurrency CFDs with Leverage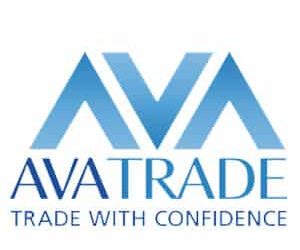 AvaTrade is another top cryptocurrency trading platform in South Africa that offers CFD trading on the most widely traded cryptocurrencies. You can trade 13 different cryptos, plus a custom index that tracks the 10 most popular coins.
All cryptocurrency trades on AvaTrade are 100% commission-free. Spreads start at just 0.25% for Bitcoin and 0.35% for Ethereum, although they can be up to 2% for some less popular altcoins.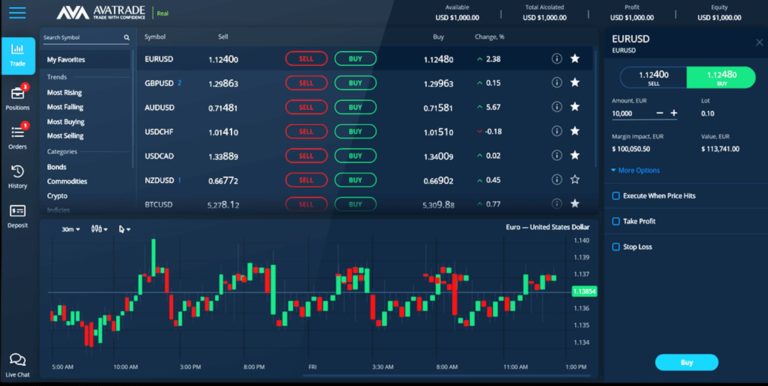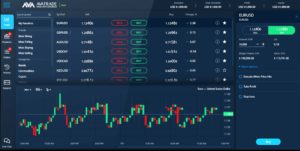 One of the biggest advantages to using AvaTrade is that this platform provides a lot of leverage. If you were looking to buy Bitcoin and then trade, you can trade on margin up to 25:1. You can trade Ethereum at 20:1, Litecoin and Ripple at 10:1, and all other cryptocurrency CFDs at 5:1. So, AvaTrade is a great option if you want to open large positions or multiple trades with only a small initial deposit.
AvaTrade offers several different trading platforms for you to choose between. The proprietary AvaTrade platform is available for web and mobile and includes dozens of technical studies, a news feed, and an economic calendar. More experienced traders can use MetaTrader 4 or 5 with AvaTrade to develop custom indicators or set up crypto signals.


AvaTrade even has a social network, called AvaSocial, that integrates with MetaTrader 4. It enables you to follow other traders, see what cryptocurrencies are getting the most interest from traders, and even copy the moves of professional cryptocurrency traders.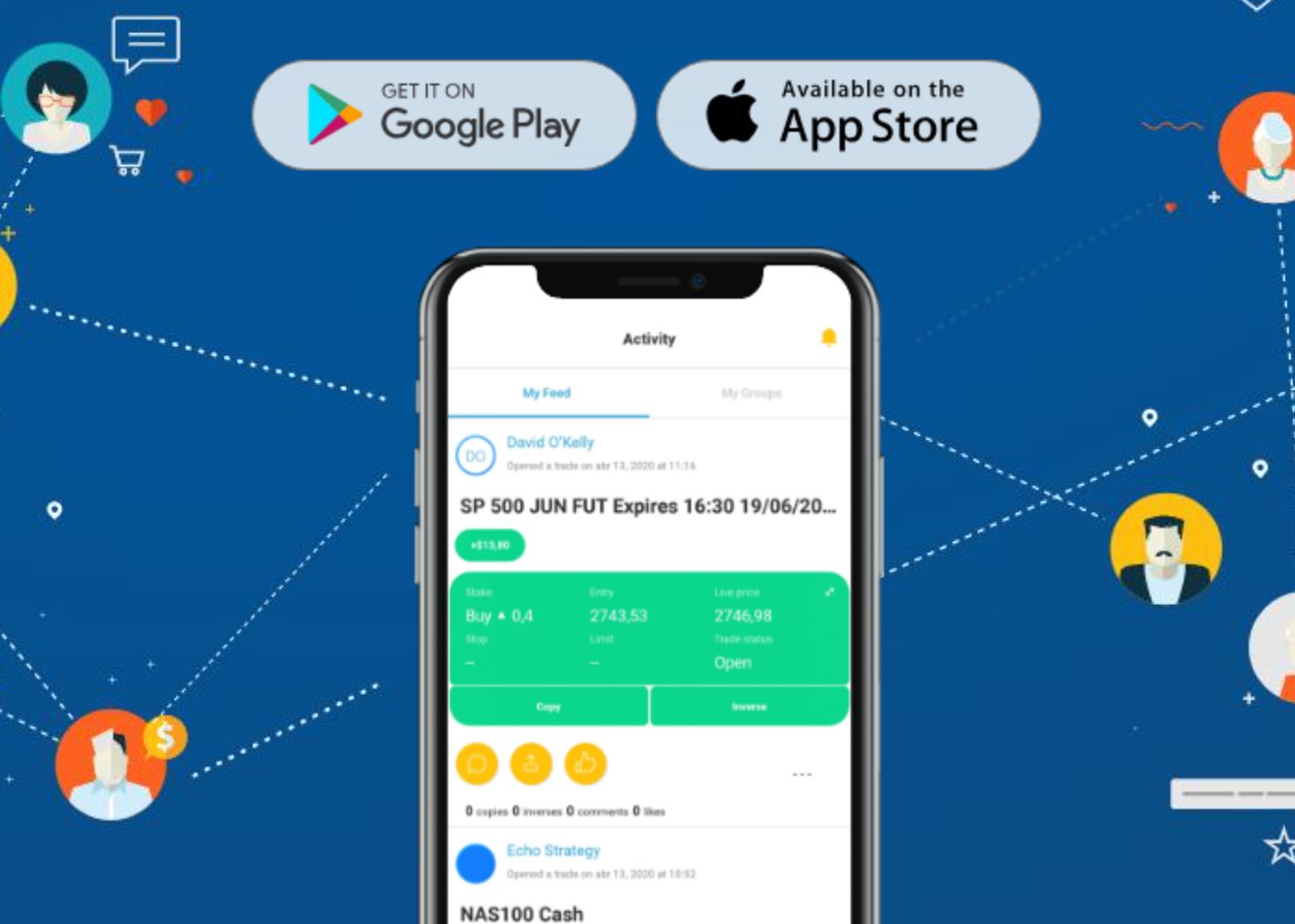 AvaTrade is regulated by ASIC and South Africa's Financial Services Board. The platform offers customer support 24/7 via phone, email, and live chat.
Pros
100% commission-free CFD trading
Leverage up to 25:1 for Bitcoin trading
Supports MetaTrader 4 and 5
Includes a social networking app
24/7 phone and chat support
Cons
High spreads for some altcoins
Limited selection of cryptocurrencies
Your capital is at risk.
3. Plus500 – Best Bitcoin Trading Platform South Africa for High Leverage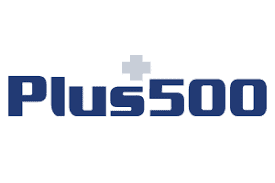 If you're looking to trade Bitcoin with leverage – then Plus500 is arguably the best platform for this. After all, the provider offers leverage of up to 1:30 on crypto markets. This means that you can turn a $200 account balance into Bitcoin trading capital of $6,000.
You do, of course, need to tread carefully when trading with such high levels of leverage. Nevertheless, Plus500 specializes in CFD instruments – much like Libertex. As such, this Bitcoin trading platform is best suited for shorter-term strategies. Once again, by trading Bitcoin CFDs, you can choose from a long or short position – meaning that Plus500 allows you to profit from rising and falling markets.
All financial instruments on the Plus500 platform – which also includes stocks, ETFs, commodities, forex, and indices – can be traded commission-free.  In most cases, you'll find its dynamic spread system very competitive. For example, at the time of writing outside of standard market hours – you'll pay a spread of just 0.29% on BTC/USD.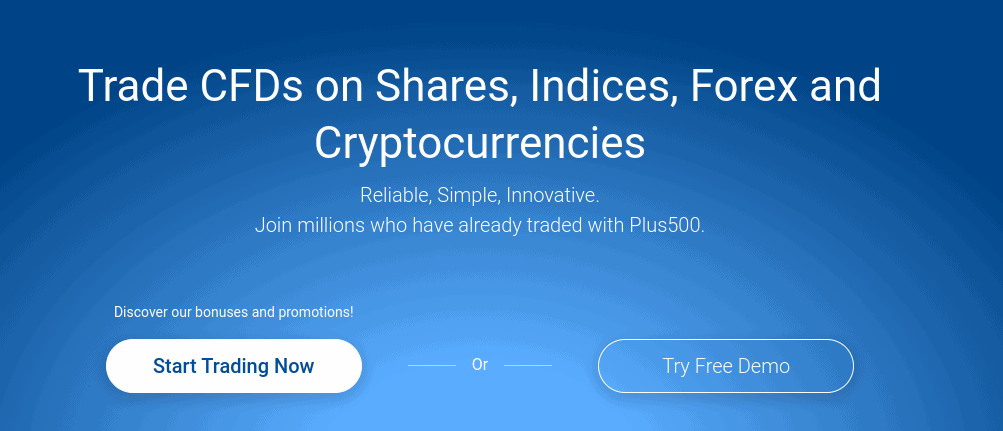 Expect even better spreads as trading volume increases. In terms of tradable Bitcoin markets, Plus500 also supports a number of crypto-cross pairs – including ETH/BTC. We also like the Crypro 10 Index that Plus500 allows you to trade. This is a weighted CFD index that contains 10 of the most valuable cryptocurrencies in terms of market capitalization.
As such, this allows you to trade the wider crypto industry as opposed to focusing just on Bitcoin. Although Plus500 is a bit thin on the ground when it comes to technical analysis and fundamental news – it does offer several trading guides that might interest beginners. There is also an intuitive Plus500 trading app – which allows you to enter Bitcoin CFD positions while on the move.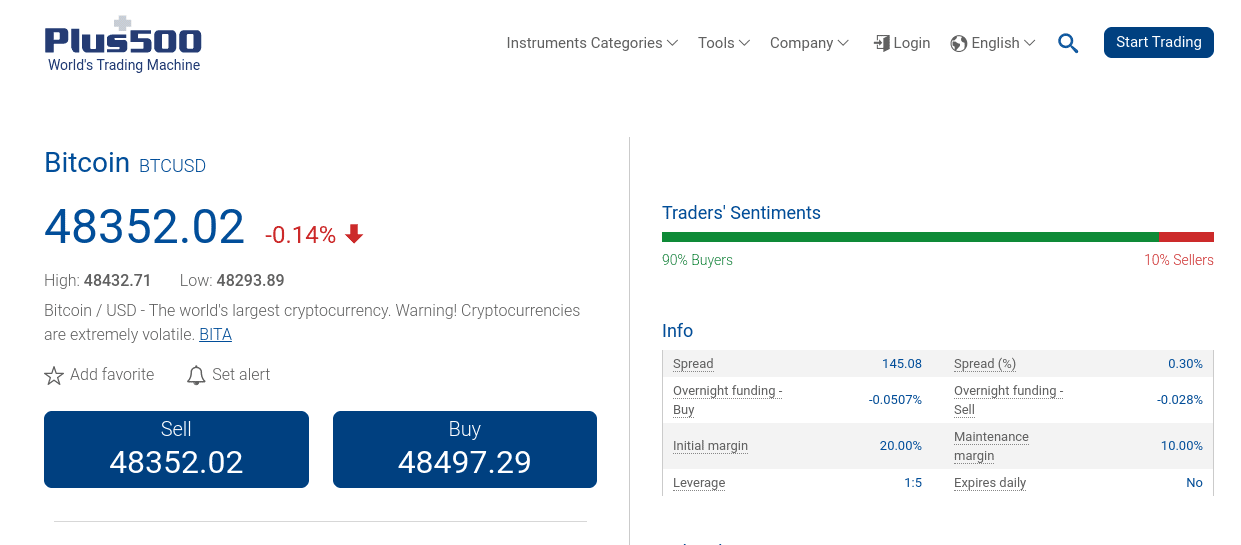 When it comes to reputation, Plus500 is solid. It is regulated in a variety of marketplaces around the world. Through Plus500AU Pty Ltd, the platform is an Authorised Financial Services Provider #47546 in South Africa. Additionally, Plus500's parent company is listed on the London Stock Exchange.
If you like the sound of what Plus500 offers for your Bitcoin trading needs, the minimum deposit is just $100. You can open an account in less than 5 minutes and the provider supports a variety of payment methods. This includes debit cards, credit cards, Paypal, and bank transfers. There is no fee to deposit or withdraw funds.
Pros:
A commission-free trading policy
Tight spreads on most markets
Leverage ratio of up to 1:30 on crypto assets
User friendly trading platform, available on web browsers and mobile phones
Plenty of features including risk management tools, price alerts and trader's sentimen
Heavily regulated and listed on the London Stock Exchange
Cons:
Not a social trading platform
CFDs only
76.4% of retail CFD accounts lose money.
4. Capital.com – Buy Cryptocurrencies with 0% Commission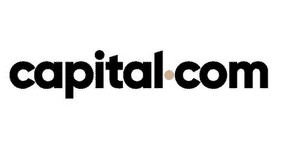 Capital.com is a regulated CFD trading platform that is super popular with beginners. It takes just minutes to sign up and the minimum deposit stands at just $20. This means that you can start trading Bitcoin with an account balance of just 300 rands.
This top-rated platform specializes in CFD instruments – meaning that you can buy bitcoin and trade other cryptocurrencies without needing to worry about ownership or storage. Plus, you can go long or short on Bitcoin – depending on which way you think the markets will go.
Capital.com supports a wide range of Bitcoin instruments – covering both fiat-to-crypto and crypto-cross pairs. Regarding the former, you can trade Bitcoin against the US dollar – with spreads averaging just 0.20%. Other popular pairs containing Bitcoin include BTS/BTC, BTC/EUR, ADA/BTC, TRX/BTC, STEEM/BTC, and XEM/BTC.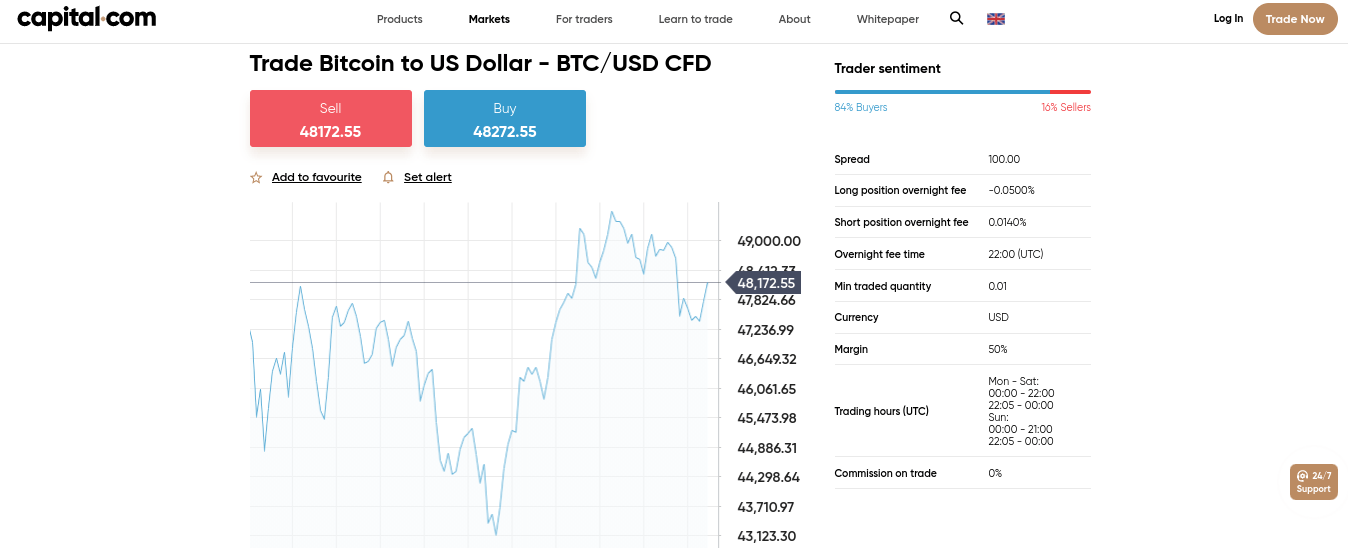 Each of every Bitcoin pair supported by Capital.com can be traded on a commission-free basis.  Additionally, all Bitcoin markets can be traded with leverage – which is great if you want access to a larger amount of capital. Once you have opened an account with Capital.com – you might consider starting off with the demo account facility if this is your first time trading Bitcoin.
This allows you to experience real Bitcoin market conditions in a risk-free manner. When you are ready to start trading Bitcoin with real-world rands, you can deposit funds instantly with a debit/credit card or e-wallet. Capital.com is also great for beginners as it offers heaps of educational materials – including a mobile app that is dedicated to learning.

There is also a mobile app that allows you to trade Bitcoin on the move – which is available on both iOS and Android. Capital.com also offers other CFD asset classes – should you wish to diversify. This includes stocks, commodities, forex, and indices. Finally, Capital.com is authorized and regulated by the FCA and CySEC.
Pros:
Trade dozens of Bitcoin and cryptocurrency CFDs
Also supports stocks, indices, commodities, and forex
Educational app for new traders
AI assistant identifies your weak points
Trade ideas generated daily
Excellent charting and analysis interface
100% commission free trading
Cons:
Cannot build custom trading strategies
75.26% of retail investor accounts lose money when spread betting and/or trading CFDs with this provider.
How to Choose the Best Bitcoin Trading Platform for You
Choosing the best cryptocurrency trading platform is key to turning a profit from trading digital currency. The right platform can give you access to the markets you want to trade, help you identify potential trading setups, and keep your costs to a minimum.
So, what should you be looking for in order to decide which platform is right for you? There's a lot to consider, so let's dive into some of the most important features you need to know about.
Regulation
Knowing how a cryptocurrency trading platform is regulated certainly isn't the most exciting part of choosing a platform. But it is among the most important parts of choosing the best cryptocurrency broker in South Africa.
Regulation ensures that your trading platform is working in your best interests. That means executing trades at the best possible price, eliminating delays that could hold up your trades, and eliminating hidden fees that could surprise you later.
All of the best crypto trading platforms we reviewed are regulated by a top-tier financial watchdog. In general, you should choose a trading platform that is regulated by the UK's Financial Conduct Authority, the Australian Securities and Investments Commission, or the Cyprus Securities and Exchange Commission.
Assets
There are two things to consider when it comes to the types of crypto assets a trading platform gives you access to.
First, how many cryptocurrencies can you trade? If you only plan to trade Bitcoin, Ethereum, and a few other popular coins, this might not be an important factor in your choice of platform. However, if you want to trade lesser-known altcoins that might offer more volatility, then you should look carefully to find out exactly what cryptocurrencies are available.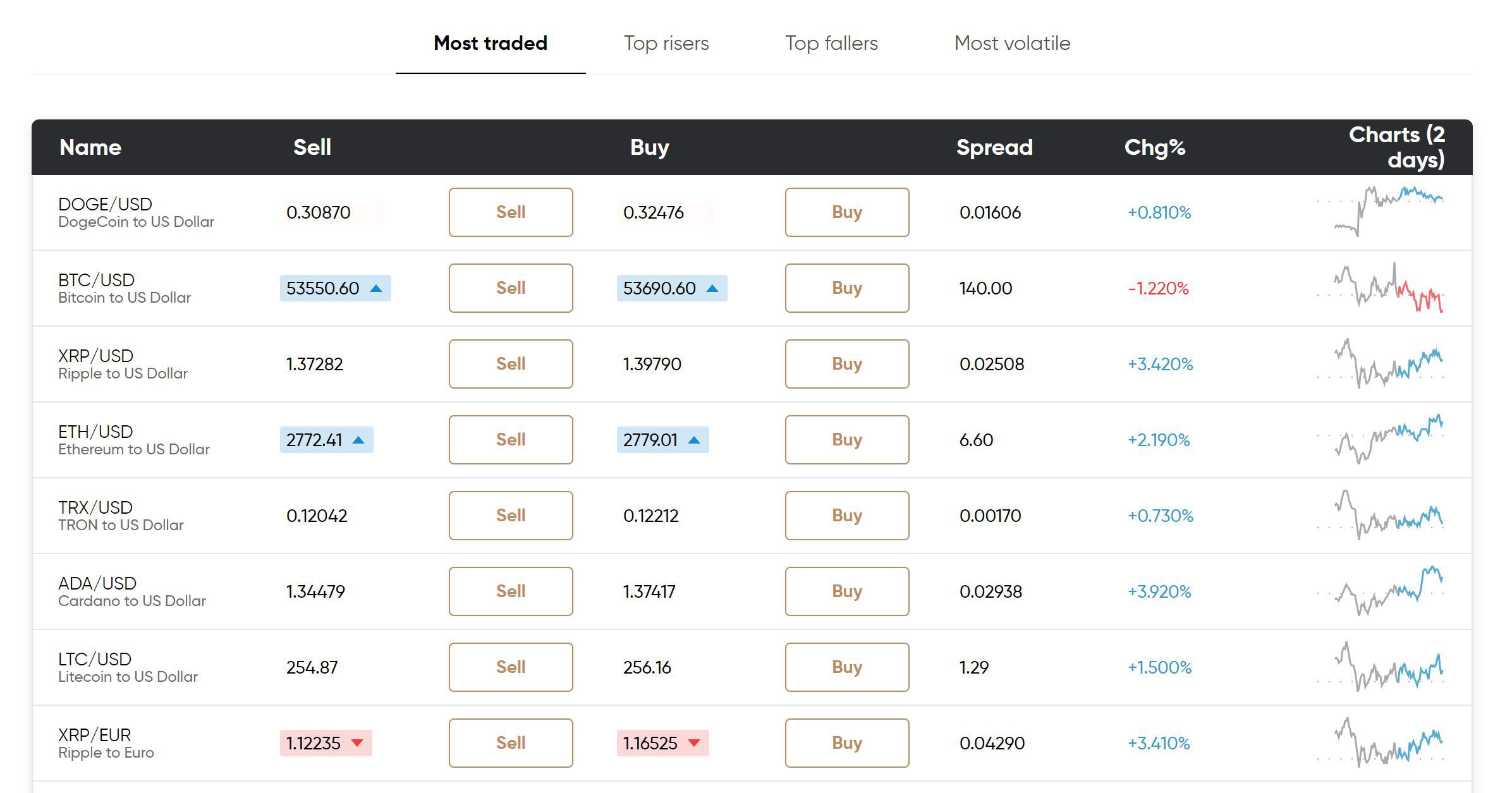 Second, is a trading platform a CFD broker, a cryptocurrency exchange, or both? A CFD broker enables you to trade cryptocurrency CFDs, so you never take ownership of the underlying coin. A cryptocurrency exchange enables you to exchange fiat currency, like ZAR, for cryptocurrencies like Bitcoin.
Both allow you to speculate on the price of cryptocurrencies. CFD trading gives you more flexibility to short coins and trade with leverage, while an exchange might be better if you want to invest in a coin for the long term.
Fees
Trading fees can quickly eat into your profitability when trading cryptocurrencies. That's why many of the top cryptocurrency trading platforms charge 0% in commissions and compete aggressively to offer the lowest spreads.
Ideally, you should look for a crypto trading platform that charges less than 0.5% per trade for Bitcoin CFDs. Many of the platforms we reviewed charge a spread of 0.35% or less, although the cost for trading altcoins is typically higher.
It's also important to look at non-trading fees. Some CFD brokers charge deposit fees, withdrawal fees, inactivity fees, or rollover fees. These can add up surprisingly fast. So, it's important to know what charges you'll be on the hook for and how you can minimise them. Some of the best crypto trading platforms eliminate account fees altogether.
Trading Tools & Features
Your Bitcoin trading platform will be your primary resource for analysing price movements, spotting trade setups, and executing trades. It's essential that whatever platform you choose has high-quality tools to give you a seamless and profitable trading experience.
To start, look at what platform you'll use for charting and analysis. Many brokers offer their own proprietary web and mobile trading apps, while others offer highly popular platforms like MetaTrader 4. It's not necessary to choose the most advanced platform, especially if you're new to trading – it's just as important that you can learn how to use whatever platform is available quickly.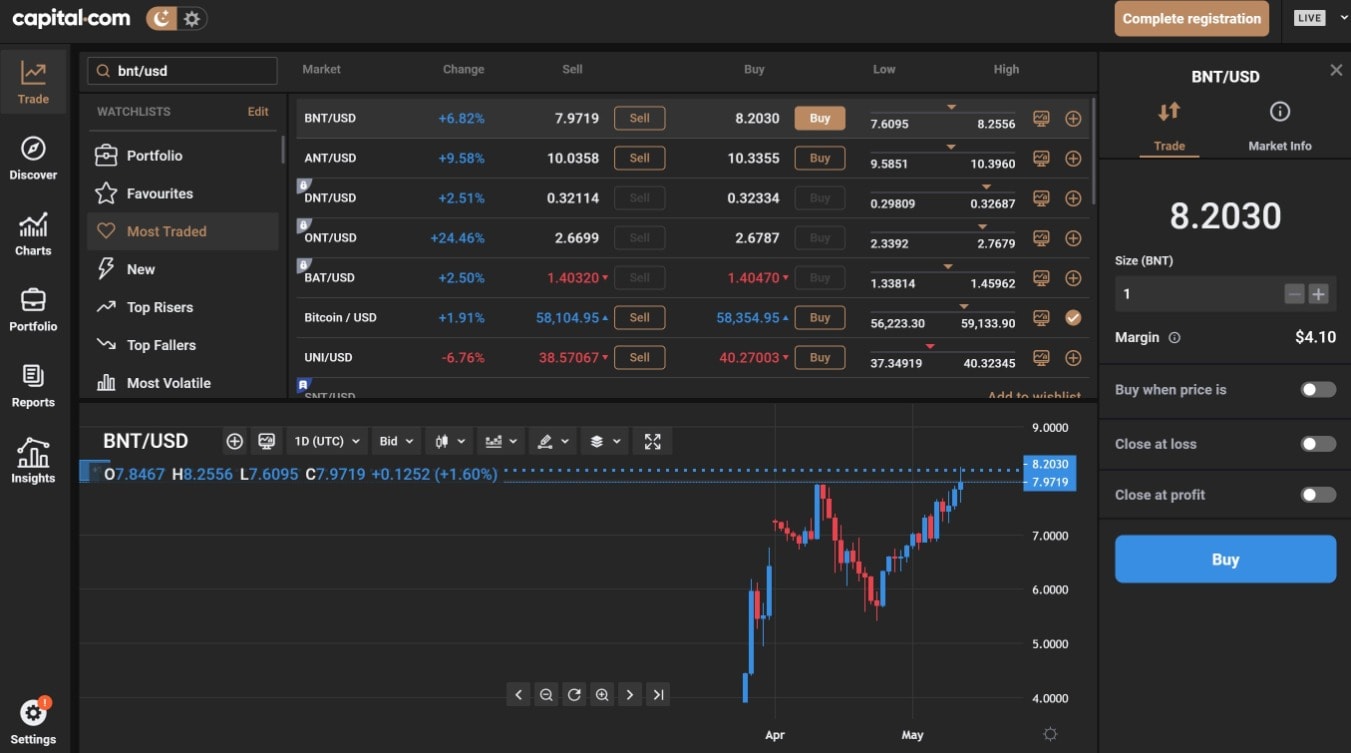 Other key tools for crypto trading include market news feeds, economic calendars, and visualizations of market-wide price data. Some platforms offer a market sentiment gauge, which can be useful for identifying changes in a coin's price momentum.
If you are new to crypto trading, consider looking for a platform that offers social trading. That way, you can easily learn from more experienced traders, discover hot cryptocurrencies, and even copy the trades of professional day traders.
Liquidity
One important quirk of CFD trading is that the liquidity of a CFD rests with your broker, not with the underlying asset. So, it's important to check how liquid cryptocurrency CFDs are – particularly for lesser-known altcoins – at a prospective platform.
In general, more liquidity is better. Look for price data to update rapidly and for orders to be filled nearly instantly. If your orders can't be fulfilled because of low liquidity, that can potentially hurt your ability to trade and prevent you from profiting off of trades.
User Experience
While powerful trading tools and low fees are important, they don't mean much if your trading platform is difficult to use. That's why all of the best cryptocurrency trading platforms in South Africa have invested heavily in providing users with a seamless experience.
This starts with crafting web and mobile apps that are intuitive. Look for easily accessible customisation options and the ability to save sets of technical indicators as defaults for future use. In addition, you should have the option to change the layout of the whole trading platform to better suit your trading style.
Another aspect of the user experience to look for is how seamless trade execution is. You need to be quick on the trigger to trade cryptocurrency profitably. So, look for the ability to enter orders without leaving your charting interface.
Many of the top cryptocurrency trading platforms also invest in other aspects of the client experience. For example, you might find a library of educational tools to help you improve your trading. You might also get access to webinars or insights from professional analysts that aren't available to anyone outside that broker's clientele.
Mobile App
Trading on the go is increasingly important to how traders operate. So, it should come as little surprise that nearly all South Africa crypto trading platforms have a mobile app for iOS and Android devices.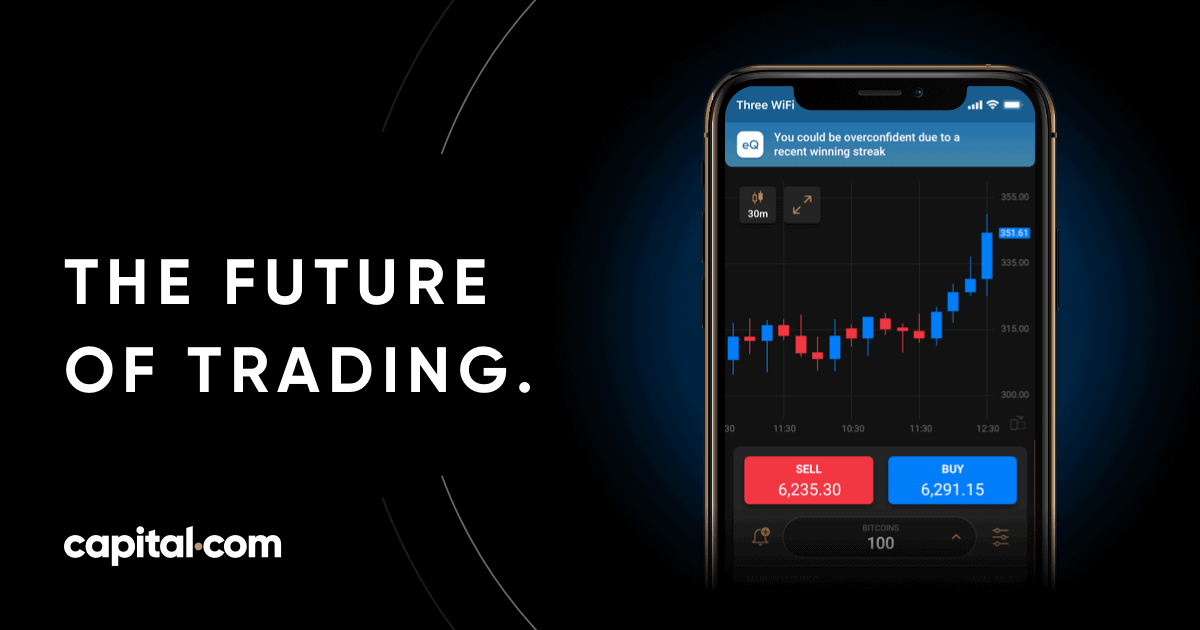 The mobile app should offer all the same functionality as the web trading platform. That is, you should have the ability to display full-screen technical charts and overlay technical indicators. The mobile app should also include other trading tools like a news feed or social network.
One big thing to check about a platform's mobile app is how order entry works. For some platforms, buying cryptocurrency on the go is seamless. For others, it can be a hassle to monitor orders and place trades compared to the web interface.
Payment Methods
Another thing to check when choosing a South Africa crypto trading platform is what payment methods you can use to fund your account. Most platforms accept transfers from a bank account or payment by debit card or credit card, so you can buy Bitcoin with a credit card. Some also enable you to use an e-wallet like you can buy bitcoin with PayPal or a mobile-friendly payment method like Apple Pay or Google Pay.
It's also worth checking whether a platform requires a certain minimum deposit. Many do, although it's typically 3,000 ZAR or less.
Customer Service
Customer service is easy to ignore, right up until the moment you need it. So, be sure to check what type of customer support a potential broker offers before signing up.
The best cryptocurrency trading platforms offer 24/7 support or close to it, since the cryptocurrency market itself operates around the clock. In addition, check whether you can get in touch right away by phone or live chat. Email is good, but it can take several hours to get answers to your questions.
Best Cryptocurrency Trading Platforms Compared
| | | | | |
| --- | --- | --- | --- | --- |
| Broker | Number of cryptos | Real / CFD? | Pricing Structure | Spread for BTC/USD |
| | 70+ pairs | CFD | Commission/Spread/Swap Fee | 0.40% |
| | 13 tokens | CFD | Commission/Spread/Swap Fee | 0.25% |
| | 15 pairs | CFD | Spread/Overnight Fee | 0.25% |
| | 60+ pairs | CFD | Spread/Overnight Fee | 165 pips (fixed) |
How to Start Cryptocurrency Trading
Ready to start trading cryptocurrency in South Africa? We'll walk you through how to get started with Libertex, which is our pick for the overall best cryptocurrency broker South Africa.
That's because Libertex offers the most competitive spreads and commissions for crypto trades.
Step 1: Open an Account with Libertex
The first step to trading with Libertex is to open a new account. Head to the broker's website and click on the "Open an Account" button located at the upper right corner of the screen.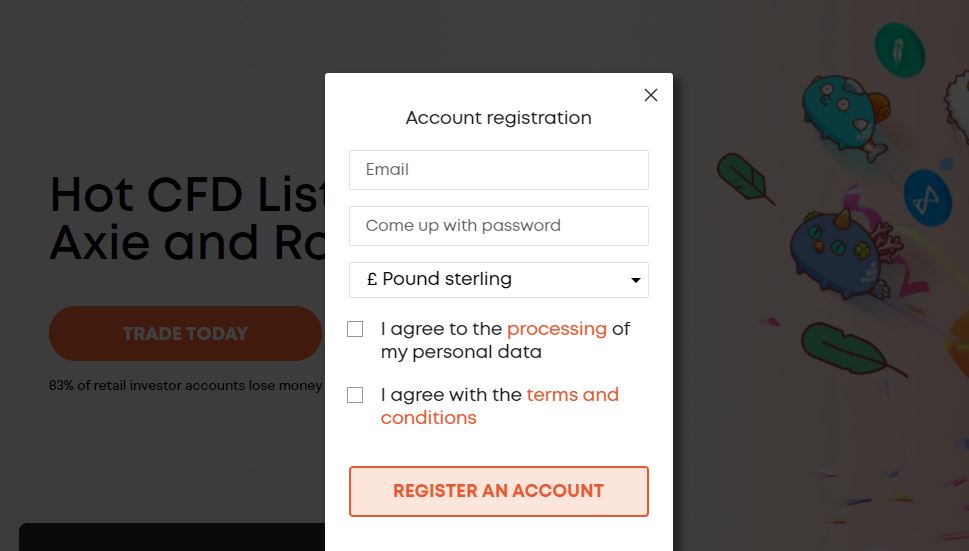 Step 2: Verify Your Identity
Upon completing the sign-up process, you will be redirected to the trading platform. Head to the icon with your initials located at the upper right corner of the interface and locate the "KYC" section. There you will be able to upload your ID and proof of residence to activate the account.
Step 3: Deposit Funds
It will typically take the Libertex compliance team around 24 hours to validate your ID. Once that step is completed you can go ahead and deposit funds into the account by clicking the fourth icon on the left panel of the trading interface. Multiple payment methods are accepted including credit and debit cards and wire transfer. These deposits are usually cleared instantly and no additional fees are charged.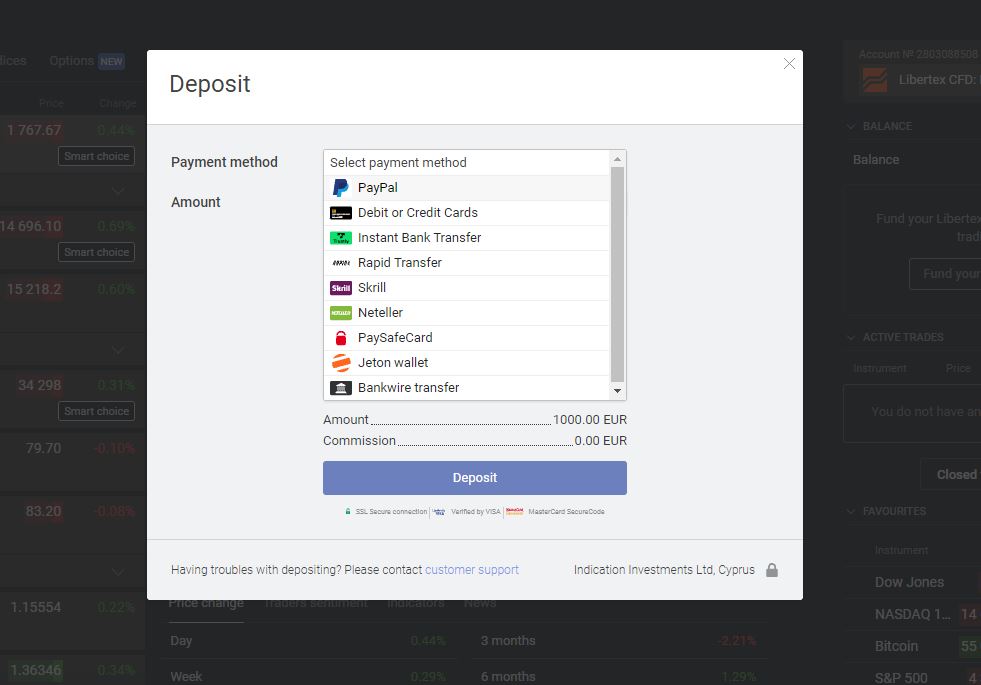 Step 4: Start Trading Crypto
Now you're ready to trade cryptocurrency on Libertex. From your account dashboard, use the search tab to locate the cryptocurrency you would like to buy or short-sell.
Once you find the cryptocurrency you want to trade, click on it and then click 'Buy' or 'Sell' to open an order form. Enter how much money you want to trade with, then enter a stop loss level and take profit level to manage your trading risk.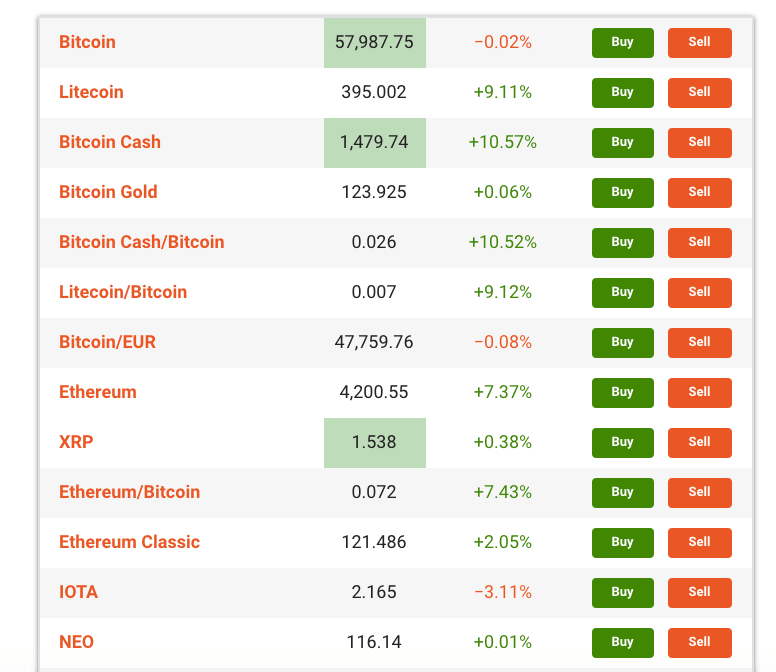 Best Crypto Trading Platform South Africa – Conclusion
Finding the best cryptocurrency trading platform South Africa doesn't have to be hard. With our reviews of the 5 top cryptocurrency trading platforms, you can start trading crypto for a profit with a service that perfectly fits your needs.
Ready to get started with the overall best cryptocurrency trading platform in South Africa? Click the link below to sign up for an Libertex account today!
Libertex – Best Cryptocurrency Trading Platform South Africa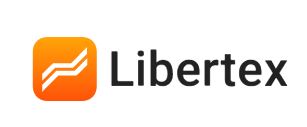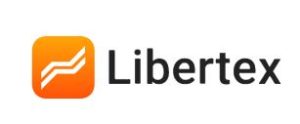 75.3% of retail investor accounts lose money when trading CFDs with this provider.
Frequently Asked Questions on Cryptocurrency Trading Platforms in South Africa
What are the most popular cryptocurrencies to trade?
Do I need a crypto wallet to trade cryptocurrencies?
Do I need a cryptocurrency exchange to trade crypto in South Africa?
Can I spend cryptocurrency?
What is the most reliable cryptocurrency trading platform?
Which crypto platform is best?