How to Buy Solana – Beginner's Guide
Solana is a top cryptocurrency that is making waves. The coin has performed incredibly well in the past few weeks, jumping almost 200% in the last 30 days. For investors looking how to buy Solana in South Africa, this guide explains the ins and outs of the project and the best platforms to use.
How to Buy Solana in South Africa – Quick Steps
Are you wondering how to buy Solana in South Africa right away? Then look no further – the four steps below will show you how to do so without paying any commissions whatsoever.
Open an account with eToro – eToro allows you to buy cryptocurrencies 1% commission, making them a great broker for buying Solana. Head to their website, click 'Join Now,' and create a new account by choosing a username and password.
Upload ID – eToro abides by the strictest security guidelines, so you must verify yourself before trading. Upload proof of ID (copy of driver's license or passport) and proof of address (copy of bank statement or utility bill) to verify your identity.
Deposit – eToro deposits can be completed via credit/debit card, bank transfer, or various e-wallets.
Buy Solana – Type in 'SOL' into the search bar at the top of the screen, choose the first option in the drop-down menu, and click 'Buy' on the following screen. 
Crypto assets are highly volatile and unregulated in EU countries. No consumer protection. Tax on profits may apply.
Step 1 – Choose a Cryptocurrency Exchange
One of the most important things you will select as a crypto holder is a cryptocurrency exchange. Crypto exchanges are your gateway into the industry, and you need to be very careful.
Here are two top options you can consider
Binance – Best Crypto Exchange to Buy Solana

Binance is the world's most popular and largest cryptocurrency exchange. The platform has operations in over 100 countries, including South Africa.
Binance offers several services, including peer-to-peer (P2P) trading, spot trading, exchange services, staking, savings, and even a credit card. All of these make it very easy for crypto holders to handle and spend their coins. The exchange has one of the broadest ranges of cryptocurrencies, making it easy to exchange digital assets with others.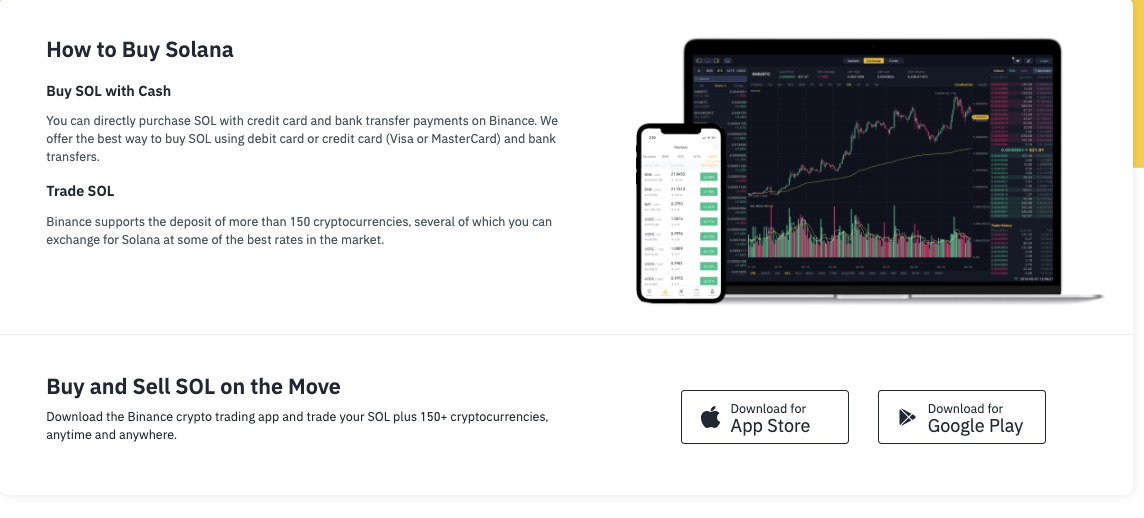 Binance offers one of the cheapest fees in the industry. The day trading platform does not charge any fees for deposits, but you might be slammed with a 3% processing fee when you make deposits using a credit card. For trading fees, Binance charges customers based on their monthly trading volume or the amount of BNB (Binance's proprietary cryptocurrency) held in their account. The lowest or basic account tier comes with a 0.1% per trade charge. The basic tier is for investors who trade less than 50 BTC (400 million ZAR) or hold less than 50 BNB (230,000 ZAR) in their accounts. Besides the costs, Binance is an amazing platform to buy and sell Solana.
Pros:
Competitive fees
Impressive security
Multilingual support
Great company reputation
Cons
Clunky interface
Slow customer support
Your money is at risk.
Step 2 – Research Solana
What is Solana?

Solana has become one of the most popular blockchains in the crypto industry – a phenomenon that has also raised SOL's profile as a cryptocurrency. The blockchain operates as a web-scale, open-source protocol that allows institutions and developers worldwide to build decentralized applications (dApps) and marketplaces.
As of June 2082, Solana evolved to become a multi-node blockchain. This improved decentralization and security, allowing Solana to compete with several other top blockchains in the industry. Solana offers a fast, secure, and censorship-resistant protocol that enables developers across the world. It is flexible and easy to use, allowing you to build applications that scale easily. Solana uses a combination of proof-of-stake (PoS) and proof-of-history (PoH). The blockchain uses both to improve scalability and throughput, resulting in a platform that can support up to 50,000 transactions a second.
Some of Solana's core features include:
PoH is actually a cryptographic clock that allows nodes to agree on the order of events on the blockchain. Since each node has its separate clock, they can agree without actually communicating. PoH creates increased throughput and efficiency throughout the network.
Tower Byzantine Fault Tolerance (BFT)
Optimized for PoH, Tower BFT is a consensus algorithm that uses the cryptographic clock. It allows nods to reach consensus without sending so many messages across – thus improving transaction speed.
Gulf Stream is the primary feature that allows Solana to hit 50,000 TPS. It is responsible for caching transactions and forwarding them to the edge of the network. Thanks to Gulf Stream, validators can execute transactions ahead of time, thus reducing confirmation times.
Turbine is a block propagation protocol that helps to fragment data, thus easing data transfer among nodes. With Turbine, Solana can easily address bandwidth-related problems and optimize transaction processing.
Sealevel is a parallelized transaction processing engine that improves scalability across SSDs and GPUs. It enables concurrent transactions on Solana's blockchain, resulting in better network runtime. Today, the Solana blockchain underpins some of the top dApps in the market.
75.26% of retail investor accounts lose money when spread betting and/or trading CFDs with this provider.
The SOL Coin
SOL is the native token for Solana. As with many other blockchains, SOL can be used to pay for on-chain transactions. Developers can also buy SOL for micropayments within the ecosystem.
SOL holders can also stake the coin and earn rewards for helping the network to function. You will need to lock in at least 0.01 SOL to become a node and validate transactions on the chain. As a reward, you earn more SOL coins.
Is Solana a Good Buy?
There is no doubt that SOL is a good buy. The asset has a specific use case, and it is pegged to a very functional platform. This year, several blockchains have risen as "Ethereum killers," thanks to their ability to offer possible alternatives to the Ethereum blockchain. Solana is one such alternative, making SOL an undoubtedly exciting asset to buy. However, you should note that SOL is best for long-term gains. Functional cryptocurrencies tend to take a while to deliver gains, but they do eventually. You can also buy and stake your SOL tokens to earn more, so you have a great shot at passive income with the asset.
Solana Price
Thanks to its performance in the second week of September 2021, SOL skyrocketed to the top of the CoinMarketCap charts. Solana started trading at $1.63, and its price soon surged thanks to growth in its adoption.
As of May 18, SOL had hit a then-high of $58.63. The coin had also moved into the top 10 rankings, joining other popular cryptocurrencies like Polkadot (DOT) and Binance Coin (BNB). Sadly, the market downturn came and took SOL off its strong standing. Solana fell as low as $18.66 on May 23, marking a drop of 68.17 in less than a week. That would mark SOL's low, but things weren't exactly good.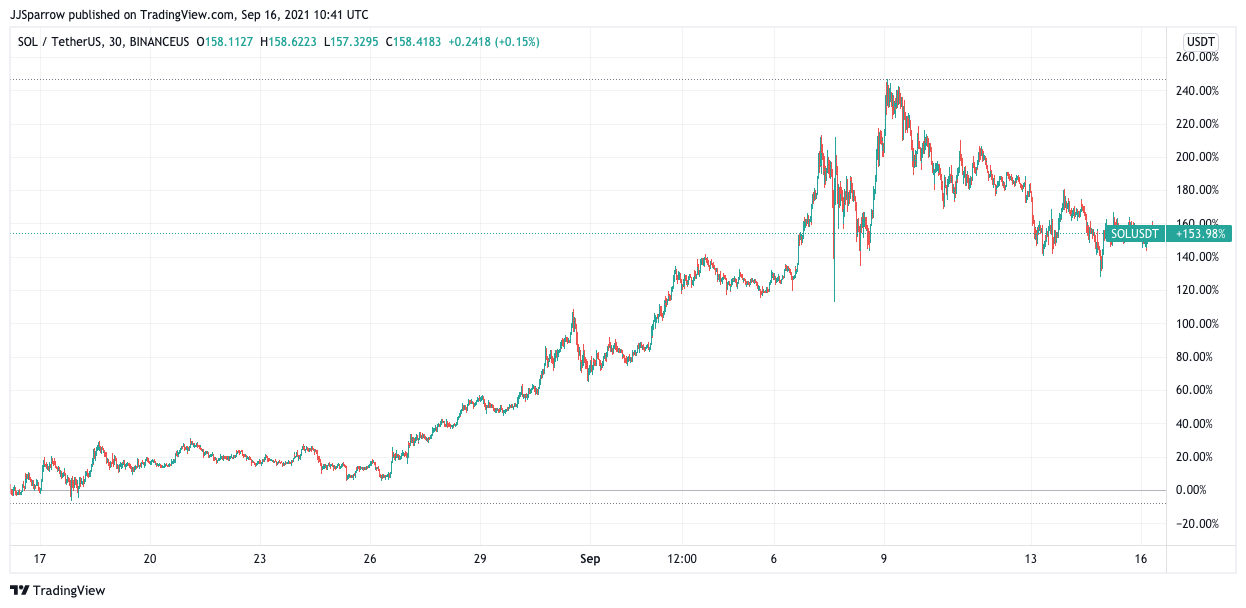 Over the next few months, SOL's price remained in the doldrums. Investors weren't pushed to buy SOL, and its price was pretty much stagnant. However, August came, and things started to pick. Piggybacking off the market rally, SOL's price began to surge. The coin beat out its previous high on August 16, and it crossed $100 for the first time on August 30. SOL's price jumped by 219 percent in August, moving from $35.17 to $112.21.
The rally continued into September, with SOL testing even more highs. In the second week, while many other large-cap coins saw losses, SOL edged even higher. The coin crossed $200 on September 9, and it hit a new all-time high of $214.58 that same day. At press time, SOL trades at $153.98 – down 4.62 percent in the past 24 hours and 1.10 percent in the past week.
Solana Price Prediction
Solana is currently on an impressive high. The asset is doing very well, thanks in no small part to the increased adoption of its blockchain. Over the past few weeks, more people have flocked to the blockchain as they look to benefit from its high transaction speeds and scalability. Last week, blockchain gamification platform DeFi Land secured $4.1 million in funding to build a DeFi game on the blockchain.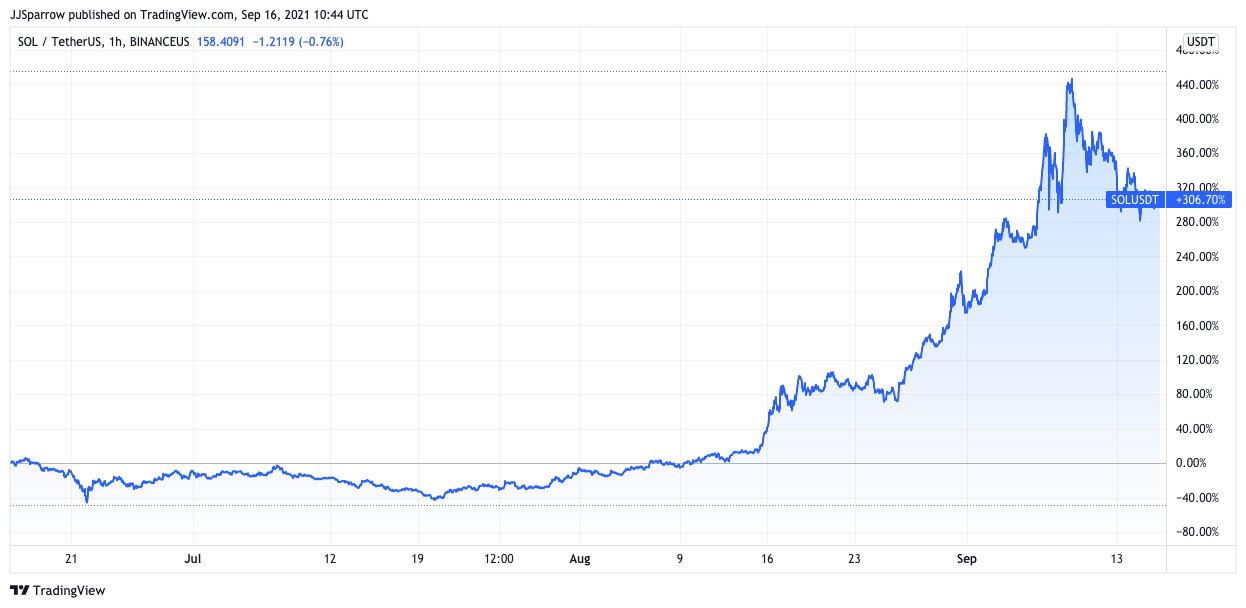 FTX – a top decentralized exchange and derivatives trading platform that runs on Solana – also recently launched a marketplace for non-fungible tokens (NFTs). The platform will enable creators and owners of NFTs to trade them across Solana and Etheruem while also connecting to collections on OpenSea to allow seamless trading.
Then, there is the demand for SOL itself. Recent performance has led many investors to flock to the asset, with CoinShares' most recent Digital Asset Fund Flows Weekly report showing weekly inflows of $49.4 million between September 6 and September 10 into SOL-based products. Derivatives platform Delta Exchange has also launched options trading for SOL, offering more access to the asset. All of these should push the coin to bigger highs, much to investors' benefit.
75.26% of retail investor accounts lose money when spread betting and/or trading CFDs with this provider.
Step 3 – Choose Your Payment Method
Your choice of a payment method will be very important when it comes to how to buy Solana. Here are some choices available to you.
Buy Solana with PayPal

PayPal is a great option for people looking to buy cryptocurrency like Solana. While it's easy to buy Bitcoin with PayPal, the payment processor doesn't support direct Solana purchases on its platform. You can only use PayPal to fund your account on an exchange or a brokerage service.
PayPal easily integrates with platforms like eToro, Coinbase, and Cpaital.com – and many more. So, you enjoy seamless purchases. PayPal can also be linked to many exchanges. From Binance to eToro, PayPal functionality is embedded and functional. The only consideration here is the fees. PayPal fees might be expensive compared to other payment options like debit cards or bank transfers.
Buy Solana with Debit/Credit Card


As easy as it is to buy Bitcoin with a credit card in South Africa, you can also use this card option to purchase Solana.
There are several credit card issuers in South Africa, and many of these will integrate with a crypto exchange or brokerage service to help facilitate your SOL purchase. The primary thing you should consider when choosing is the processing fee. Credit card issuers can charge different fees, and while high fees aren't much of an issue for one-time purchases, you might have a problem when you buy regularly. Credit card issuers also charge additional fees like initiation fees, maintenance fees, and more.
Buy Solana with Bitcoin
If you don't want to deal with outside influences and possibly high fees, you could opt to buy Solana using your Bitcoin holdings. As one of the many large-cap coins, Solana is easily tradable against Bitcoin. If you have some Bitcoin, all you have to do is move it to an exchange that supports the Bitcoin Solana pair. You can exchange the two assets through the trade interface easily.
Step 4: Buy Solana
If you're looking for where to buy Solana in South Africa, we recommend eToro. The regulated broker offers a broad range of asset classes and an impressive lineup of cryptocurrencies – including SOL. Here are the steps to follow to buy Solana on eToro.
Step 1: Open an Account With eoro
To open an account on eToro. Go to the official website and click on the 'Trade Now' icon. This would take you to the online form page, where you would be required to fill in your personal information such as name, date of birth, email address, phone number, and others. You will also be asked to choose a username and password.
Step 2: Upload ID
eToro requires new users to upload a valid means of identification and other documents to verify their identity. This is part of the brokers' mandatory know-your-customer (KYC) process in line with its regulatory duties. The company requires any government-issued ID and a recent utility bill or bank statement for account verification.
Step 3: Make a Deposit
eToro offers different payment methods for deposits. Some of which include bank wire transfer, credit and debit cards, Sofort, and others. eToro has a low minimum deposit entry of only $20 when using the different payment methods except for bank wire transfers. For wire transfer, the platform's minimum deposit is $250.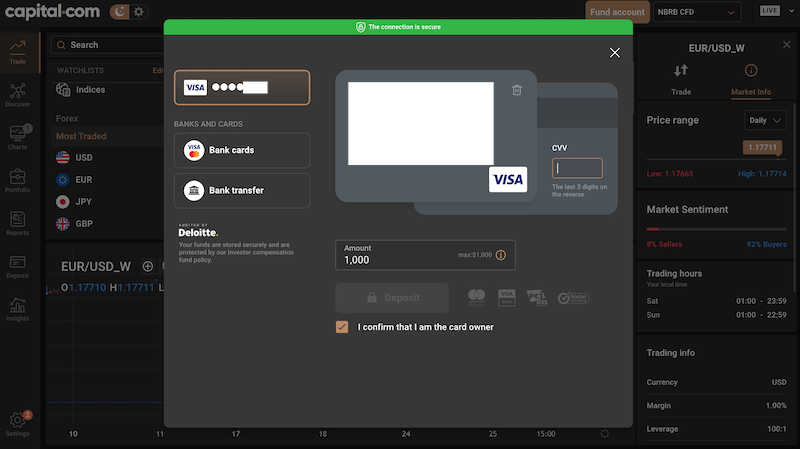 Step 4: Buy Solana
Once the deposit is confirmed, you can buy Solana by typing 'SOL' into the search bar on the top left-hand corner. This would take you to the order box, where you can fill in the order quantity, set your stop loss (SL), and take profit (TP) levels if you use leverage. Finally, click on 'Buy' to complete the purchase.
Staking Solana
Staking has become incredibly popular in today's crypto market. It allows people to use their cryptocurrencies to contribute to the growth of a network in exchange for rewards. Staking is popular among proof-of-stake (PoS) chains, and Solana is definitely a top contender in this field.
SOL staking has become incredibly popular recently. Data from Messari shows that the asset offers up to 7.2 percent in annual percentage yields, with 380 million SOL tokens staked at press time.
Stakers delegate SOL to validators to increase validators' voting weight on the network. This shows greater trust in the validators, with stakers ensuring that validators cast honest votes and improve the network's security.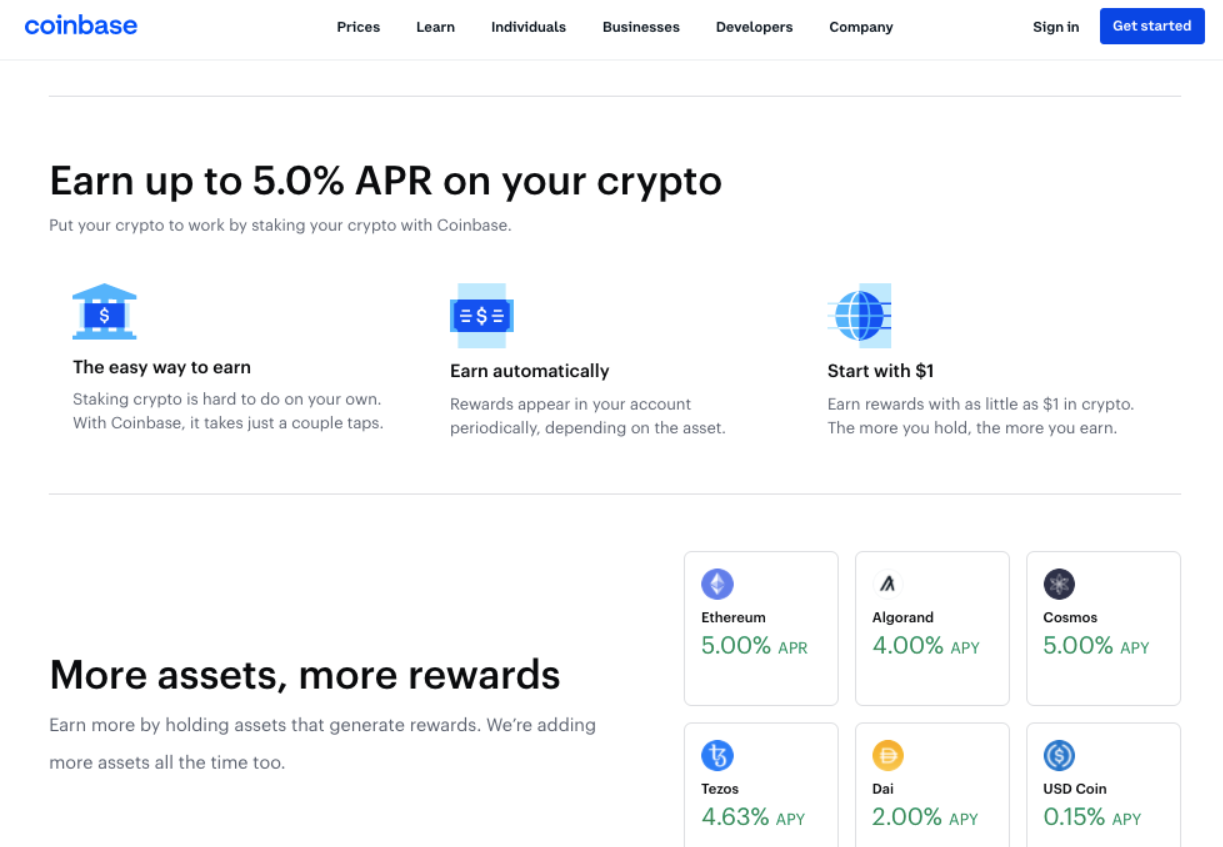 The primary benefit of SOL staking is its convenience. Network validators do most of the work, while you provide the capital and earn your rewards. To stake on Coinbase, simply click on "Portfolio" and click on SOL. Under the coin's tab, click the slider for "SOL Rewards," and you will be able to see your annual percentage yield (APY).
Keep in mind that you will need to have your wallet funded for this to work.
Conclusion
SOL is undoubtedly a great coin to have at this point. Its price is on the rise, and the coin itself is tied to an impressive blockchain project. Investors looking for long-term gains can definitely add it to their portfolios. If you're looking for where to buy Solana in South Africa, eToro offers a simple and easy way to do that. The platform's interface is easy to use, and you can complete your purchase in a few seconds. Ready to start trading Solana with zero commissions? Click the link below to get started.
eToro – Buy Solana With Low Commission

75.26% of retail investor accounts lose money when spread betting and/or trading CFDs with this provider.
FAQs
Is Solana crypto a good investment?
Is Solana a coin or token?
What was the starting price of Solana?