How to buy The Sandbox South Africa – Beginner's Guide
Based on the Ethereum network, The Sandbox is out to change the gaming market's current dynamics by allowing users to tap into the fledgling Metaverse. This guide explains how to buy the Sandbox crypto is all about and the step-by-step process on how to acquire the coin.
Key Points on The Sandbox
The Sandbox is an Ethereum-based non-fungible token (NFT) and gaming platform that allows users to design or create, sell, and share in-world assets

 It aims to disrupt the traditional gaming market by allowing creators and gamers to keep a larger chunk of the value they generate rather than turning it over to centralised platforms
The Sandbox is made up of three core units, namely the VoxEdit, The Sandbox Marketplace, and The Sandbox Game Maker

Cryptocurrencies, which The Sandbox is a part of, are highly volatile, meaning you need to do your research before investing in the digital asset
How to Buy The Sandbox – Quick Steps
The Sandbox is an exciting project worth investment. If you are in a hurry to buy The Sandbox, you can turn to our four quick-fire steps to get started in no time.
Open an account on Libertex – Libertex is our recommended crypto broker due to its reputable position in the financial investment circles. Creating an account is simple and easy.
Verify ID: As a regulated broker, Libertex will require you to complete the know your customer( KYC) process. To do this, submit a copy of your government-issued ID to get started.
Deposit

– Fund your account with a minimum of  €10 to get started. You can pay through bank wire transfer, credit/debit cards, PayPal, Neteller, Skrill, and several others.

Buy The Sandbox

– You can buy The Sandbox CFDs by typing it into the search bar. Click on the 'Buy' button to be taken to the order page. Once you input the amount of The Sandbox crypto you want to buy, you can click on 'Open Trade' to complete the transaction.
75.3% of retail investor accounts lose money when trading CFDs with this provider.
Step 1: Choose a Cryptocurrency Broker
Wondering where to buy the Sandbox crypto? You will need to register with a cryptocurrency broker. Some factors such as fees, user-friendliness, and overall trading experience play a key role in deciding which broker you choose.
While there are several cryptocurrency brokers in the market, we will be reviewing two of the best brokers to buy The Sandbox crypto easily and quickly.
1. Libertex – Top Crypto Broker to Buy The Sandbox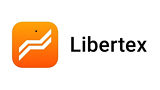 Libertex is an alternative where you can buy The Sandbox coin and one of the best Bitcoin brokers in South Africa.
Also based in Cyprus, Libertex is one of the oldest financial investment services providers. Since it started business in 1997, Libertex has become a top trading spot for over 3 million customers globally for several reasons.
For one, Libertex offers an easy and streamlined process to access its main offering; CFD derivatives trading.
This platform is suitable for day trading platforms and it also covers several key financial market ecosystems, including stocks, bonds, indices, exchange-traded funds (ETFs), cryptocurrencies, and several others.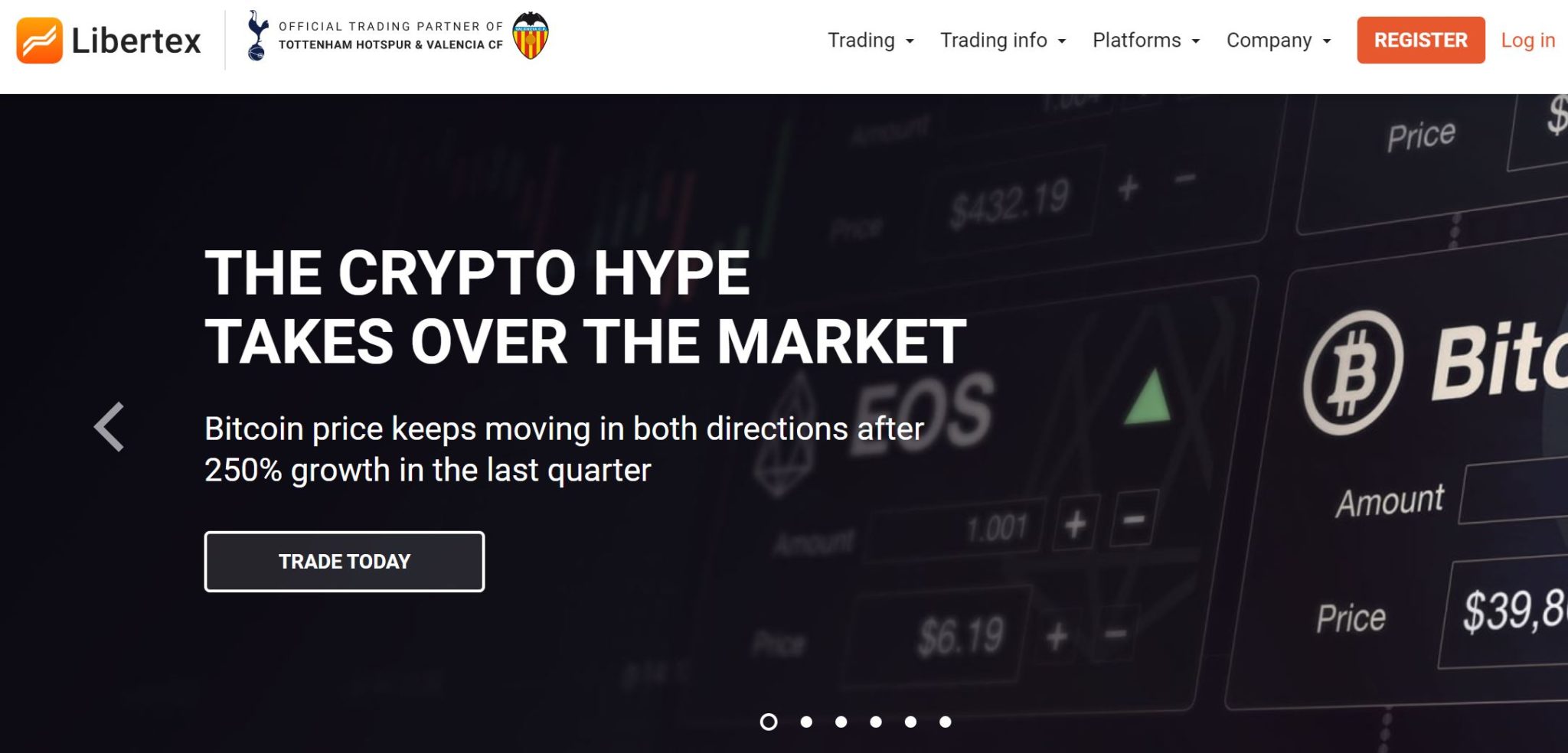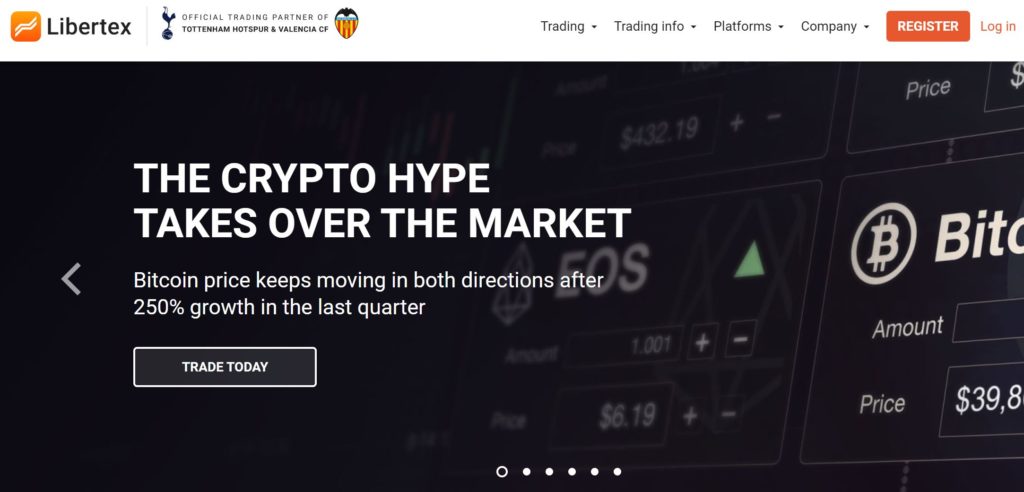 New and experienced traders are also given a chance to access the market with the platforms they are more comfortable with. The Libertex web trader offers a user-friendly trading experience and is ideal for new users due to its ease of use.
On the other hand, experienced traders who want more sophisticated research and charting tools can turn to the MetaTrader platform supported by Libertex to access the market.
Also, retail investors are given a different offering from their more high-net-worth counterparts.
With a low minimum deposit of only €20, they enjoy maximum leverage of 1:30, meaning that every €1,000 they invest could potentially give them €30,000 in return. However, professional traders enjoy a much higher maximum leverage pegged at 1:500.
Libertex is regulated by the Cyprus Securities and Exchange Commission (CySEC) and supports multiple payment methods, including credit/debit cards, bank wire transfer, e-wallet solutions like GiroPay, iDeal, Neteller, Skrill, and several others.
Pros
Multiple trading platforms for specific user types

Large array of payment support systems

Regulated by a tier-1 body

Large exposure to several market segments

Reputable financial services provider

User-friendly platform

Low minimum deposit bar
Cons
Supports only CFD trading
75.3% of retail investor accounts lose money when trading CFDs with this provider.
Step 2: Research The Sandbox
It is important to carry out adequate research before committing funds to any crypto asset. This is why we have provided the details about The Sandbox crypto to guide your investment decision.
What is The Sandbox?
While several protocols look to rival the Ethereum network, The Sandbox is on an entirely different mission. Founded by Arthur Madrid in 2011 from his endeavours in Pixowl, The Sandbox aims to revolutionise the gaming industry and make games more accessible on the blockchain ecosystem.
The Sandbox allows users to create, share, and monetise in-world assets and gaming experiences. It operates as a metaverse by enabling gamers to own and control their content, unlike the traditional gaming landscape where centralised platforms limit a creator's revenue stream.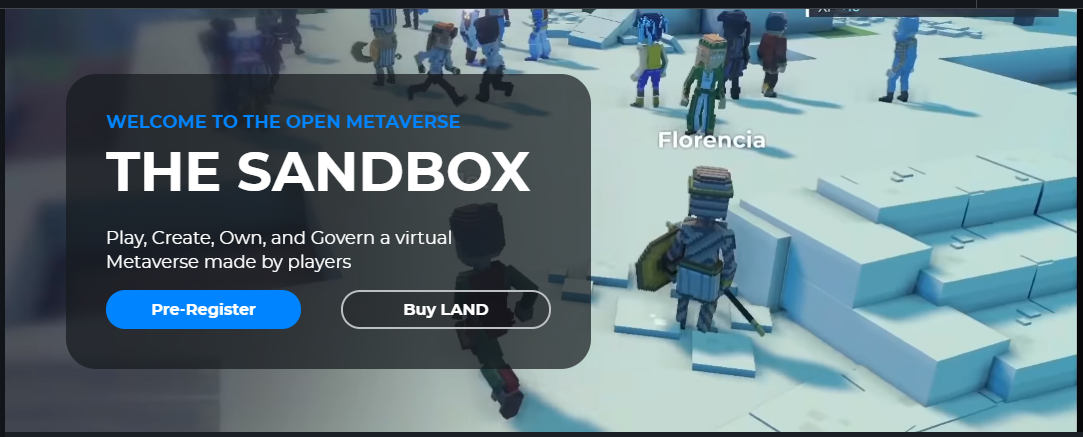 Like a blockchain protocol, The Sandbox is community-driven by developers and gamers who ensure that no central control or single point of failure exists on the protocol. Creators can build 3D voxel assets, create a gaming adventure, and earn through non-fungible tokens (NFTs).
Transactions on The Sandbox are fueled by the sandbox token (SAND) used in network transaction costs and governance-related activities. SAND is also used in purchasing equipment or customising a gamer's avatar. This makes the ERC-20 token a multi-dimensional utility for many users.
The Sandbox coin also boasts other digital tokens, although they are not fungible. There are ASSETS and LANDS, which are digital pieces of NFTs real estate represented by ERC-721 tokens. Players can buy LANDS, a 96×96 digital plot, to build games and ASSETS.
According to the Ethereum-based metaverse concept, only 166,464 plots of LANDS will ever exist, and users can combine multiple LANDS to create an Estate they can monetise on.
With interest in the metaverse kicking up recently several investors are looking to invest in The Sandbox crypto.
The Sandbox Key Features
If you are looking to buy The Sandbox in South Africa, below are some features of the asset that you may find interesting.
The VoxEdit plays a crucial role in The Sandbox ecosystem. It is tasked with creating animated 3D objects and voxel arrs in The Sandbox metaverse. These can be people, animals, or event tools that represent in-world assets. It also allows the minting of fungible and non-fungible tokens within a single, smart contract cutting through the rigours of creating new tokens while downsizing on possible latency.
The VoxEdit comprises a user-friendly platform called the Modeler, a skeleton system used for rigging named Animator, and the NFT Maker.
The Sandbox Marketplace is a sales hub for different objects in the metaverse. Players and developers can easily publish and sell their ASSETS after they have uploaded them to the Interplanetary File System (IPFS). Users can also choose from a vast array of voxel arts and NFTs from several creators around the globe.
The Sandbox Game Maker is used for creating free 3D games. Providing a suite of tools, The Sandbox allows creators to do what they love without the challenge of learning to code while contributing to a vast metaverse.
Is The Sandbox a Good Buy?
Yes, The Sandbox is a good buy. While the platform itself has not fully launched to the public, the metaverse-centred project has generated a lot of interest. Atari Games, hip hop star Snoop Dogg, popular TV series The Walking Dead, and several others have keyed into the project,
The Sandbox project has high-grade potential due to the growing attention the NFT space is generating globally. Several investors are looking to key into the nascent sub-sector following record sales recorded by some NFT projects.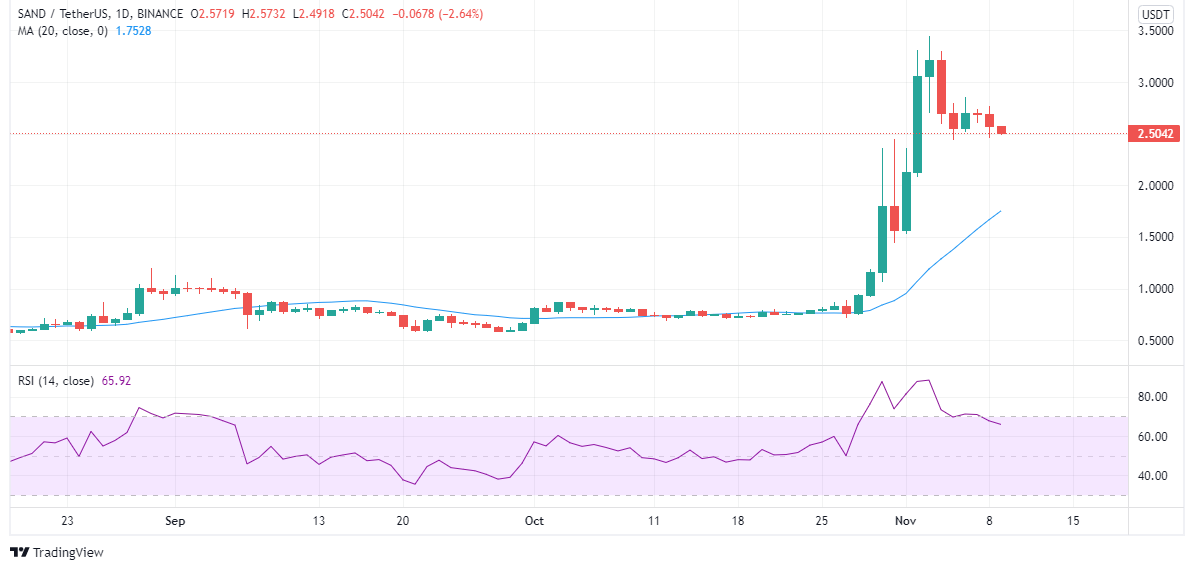 The ideal potential of an open ecosystem that supports creators from all walks of life is gaining steam as shown by Facebook's rebrand to Meta and a subsequent commitment to fledgling out a metaverse for all.
Other mainstream companies like Microsoft and shoemaker Nike have also shown interest in the potential of what the metaverse holds. The Sandbox could potentially triple all investments once it goes live in the coming months.
The Sandbox Price History
The Sandbox crypto has posted few price activities, and this is because the project is still under development. However, it has largely followed on the uptrend that has permeated almost all crypto assets this year.
Beginning the year at $0.03702, The Sandbox coin spiked to $0.69 in mid-March marking a 200% increase in the first quarter. A temporary dip saw it drop to $0.54 at the tail-end of the month before it caught some tailwinds and surged to $0.8491 in the opening days of April.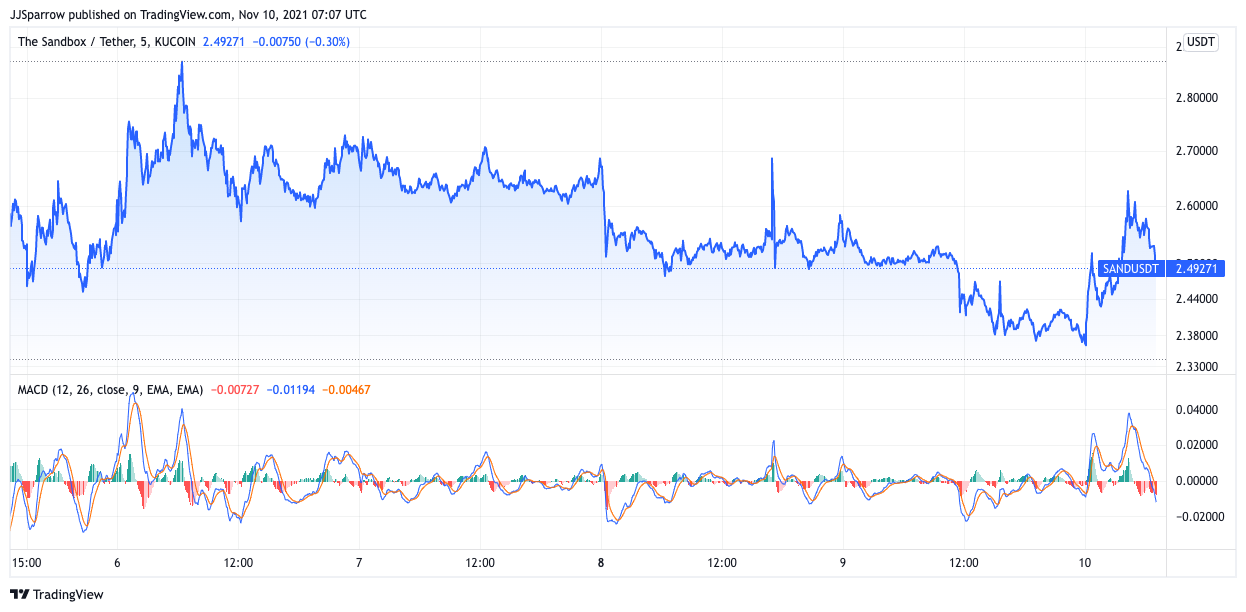 While other virtual currencies were posting record highs through much of April and early May, The Sandbox took a more conservative position and traded within the $0.4 mark. The crypto market crash saw it dip further to $0.179, with that being its mid-year low.
However, in the last few weeks, The Sandbox crypto price has caught the eye of investors with its exponential. Its previous record high stood at $1.8 on October 30, up more than 500% from its previous low. It has recently hit a 52-week high of $3.216, recording a 200% in the space of two weeks.
Currently pegged at $2.50, there is more room for growth for The Sandbox coin given the influx of tech companies into the metaverse ecosystem.
The Sandbox Price Prediction
Experts project that The Sandbox coin price prediction has been a subject of projections from crypto experts; estimates about the project have been bullish even though it is still under development.
 According to Wallet Investor, The Sandbox crypto price could hit $3.523 in the next year, and a five-year forecast puts it at $7.537.
CoinPrice is even more bullish and puts The Sandbox crypto price forecast at $5 by the end of the year and $10 by the middle of 2023. The crypto site estimates an 848% and 1,032% increase for the years 2026 and 2027, putting The Sandbox coin price prediction at $20 and $27, respectively, for both years.
The Sandbox Market Cap
The market valuation or market cap of a project goes some way in evaluating if a project is set for more growth. The lower the market cap of a crypto project, the more potential returns you can expect to make. Meanwhile, this should also be weighed with the project's value proposition.

The Sandbox has snatched a lot of major investments due to its use case in NFTs, despite the fact that it is still in the works.
For this reason, The Sandbox has a modest market cap of $2.24 billion with a fully diluted market cap of $7.5 billion. This shows a lot of growth potential and if you buy The Sandbox crypto before it goes live, it could end up being a worthwhile investment.
Choose a The Sandbox Wallet
Much like all investment products, you will need to store your The Sandbox coins. A flurry of options are available and some popular names are MetaMask and Trust Wallet.
However, this is only necessary if you are looking to buy The Sandbox crypto and not trade it as a CFD product. If you are only looking to tap into the underlying asset without worrying about the storage and the safety of your funds, you can use crypto broker Libertex to do so.
This way, you will be able to trade small price differences in the value of The Sandbox crypto without necessarily worrying about your wallet being hacked by bad actors.
Step 4: Choose a Payment Method
If you are wondering what payment options you can access to buy The Sandbox crypto this section will provide the answer.
Buy The Sandbox with PayPal
PayPal is a global payment processing rail and many investors looking to tap into key financial markets prefer it due to its rapid and low-cost transactions. Even though you can now buy Bitcoin with PayPal directly, small-cap cryptocurrencies like The Sandbox coins do not enjoy that privilege.
However, you can still tap into the crypto ecosystem if you have funds in your PayPal account. Make sure the crypto broker you choose offers support for PayPal and you can fund your trading account before you buy The Sandbox crypto.
Buy The Sandbox with Credit/Debit Cards
It's fairly easy to buy Bitcoin with credit cards these days, but can you buy The Sandbox with this option? Most crypto brokers support both options. While the fees may vary depending on if you use a credit or debit card, this is a good metric you should look out for.
A popular crypto broker that offers credit and debit card payment methods is Libertex with low fees. While debit cards are relatively cheap to use, credit cards usually come with a 3 or 5% transaction cost from the credit card issuer. We recommend speaking with your credit card company to know their fees for crypto purchases.
Buy The Sandbox with Bitcoin
A less explored option most investors do not use is buying other digital assets with Bitcoin. If you have some Bitcoin in your account, you can select it as a payment method to buy The Sandbox.
Step 5: Buy The Sandbox
Now that you have learnt about what The Sandbox crypto is and what payment methods you can use, we will look at the detailed steps to buy the asset.
Step 1: Register with Libertex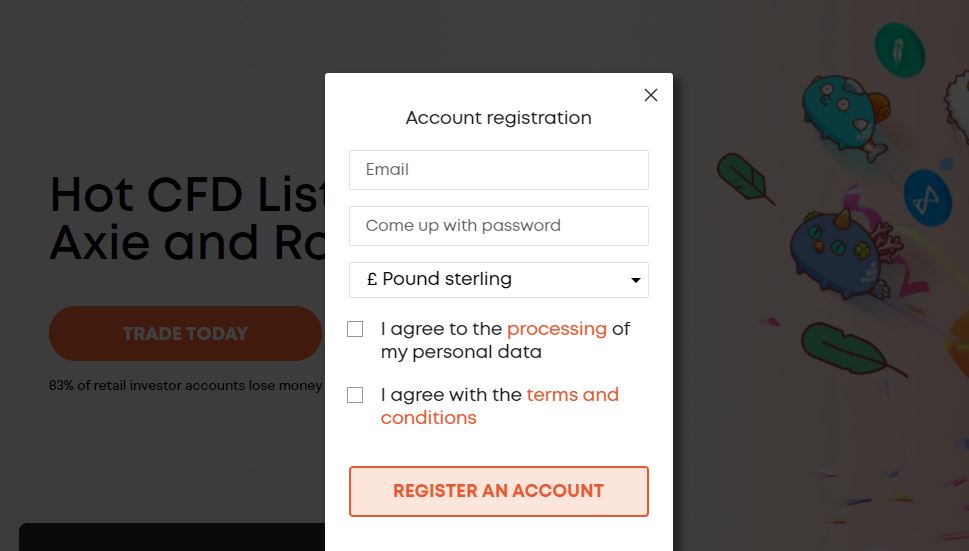 75.3% of retail investor accounts lose money when trading CFDs with this provider.
The first step will be to open a free account with Libertex. To do this, head over to the website and click on 'Open an account' to open the sign-up portal. From there, you will need to provide personal details like your full name, email address, password, username, and mobile number.
Step 2: Verify your ID
Libertex is regulated by FCA which means you will need to complete the relevant KYC process. To verify your account and remove any restrictions, you will need to upload copies of your driver's license or government-issued ID card and a recent copy of your utility bill or bank statement. When you are done, your documents will be verified within minutes and all restrictions lifted.
Step 3: Fund your Account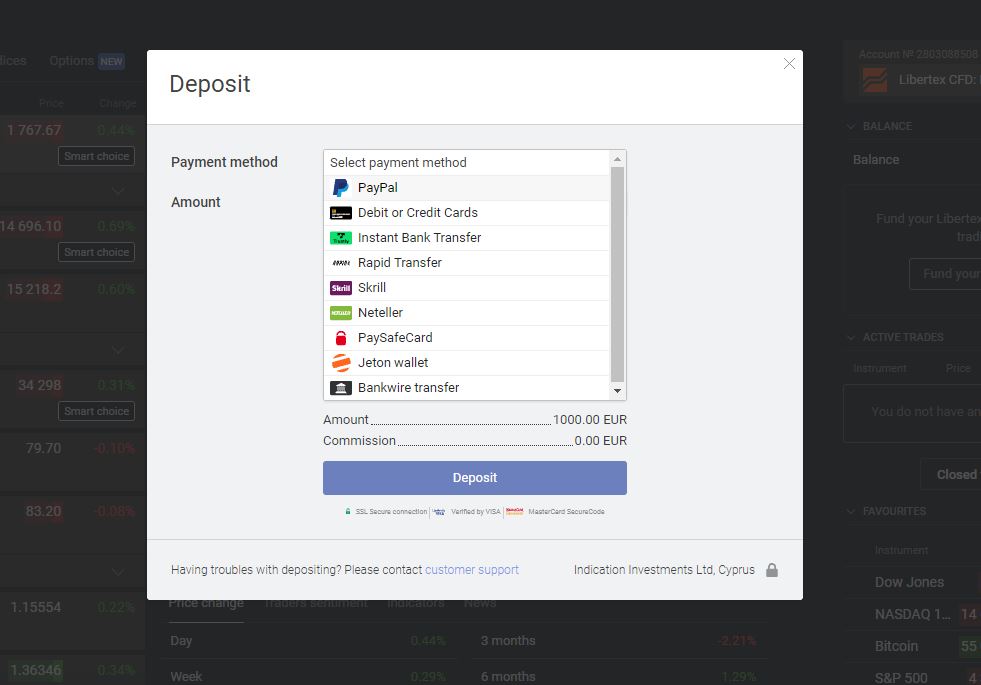 The next step will be to deposit into your trading account. Libertex has a minimum deposit threshold of €10 which means you will need to have this amount before using the platform. To do this, click on the 'Deposit' button and select between bank wire transfer, credit/debit cards, and other payment options on offer. Input the amount you want to fund your account with and click on 'Done' to complete the process.
Step 4: Trade The Sandbox
Libertex offers CFD trading which means you cannot directly buy an asset on the platform only trading the underlying asset. To trade The Sandbox crypto, type in 'SAND' into the search bar and click on the first result that pops up. Then you can now set about inputting how much you want to invest in The Sandbox crypto and fix your buy and sell orders.
Also, remember to set your stop loss (SL) and take profit (TP) positions to limit your risk. You can also apply leverage up to 30:1 to increase your potential returns on investment.
Libertex – Trade The Sandbox Coin CFDs with Low Fees
The Sandbox crypto is an exciting project and this is evidenced by the number of partnerships it has already signed up with. Given the exponential growth of NFTs and the expanding world of the metaverse, the project is viewed by many as a financial windfall.
If you are looking to trade The Sandbox coin price movement in real-time, we recommend using Libertex due to its greater investment insights and user-friendly platform.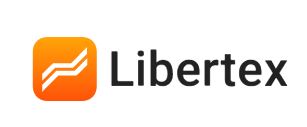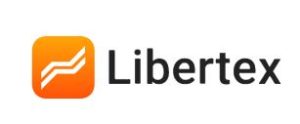 75.3% of retail investor accounts lose money when trading CFDs with this provider.
Frequently Asked Questions on Sandbox Crypto
What is The Sandbox Crypto?
How Do I Buy The Sandbox Crypto?
Is The Sandbox crypto a Good Buy
?