Best Dogecoin Wallet South Africa – Safest Wallets Compared
Currently up over 800% since the middle of April and showing no signs of stopping, Dogecoin has taken the crypto world by storm. Demonstrating unprecedented growth and offering incredible returns for investors, this digital currency looks set to continue its upward trajectory over the remainder of the year – and beyond.
In this article, we cover the Best Dogecoin Wallet South Africa, providing you with all the information you need to keep your Dogecoin holdings safe and showing you how to invest in this crypto without paying any commissions whatsoever.
Best Dogecoin Wallets 2022
When looking to buy cryptocurrency, one of the most important things to consider is how you will store it after purchase. Luckily, there are plenty of crypto wallets available to use in South Africa; however, it can be a difficult task to narrow down the options and choose one that's right for you.
This section explores five of the best Dogecoin wallets in South Africa, discussing their features and helping you make the right decision.
1. Binance – Best Dogecoin Wallet South Africa with Low Fees
When it comes to Dogecoin wallets, we'd recommend checking out Binance. Binance is currently the largest crypto exchange globally by trading volume, completing around $56 billion worth of transactions each 24h period! Binance supports over 350 different cryptocurrencies/tokens and has over 13.5 million active users worldwide.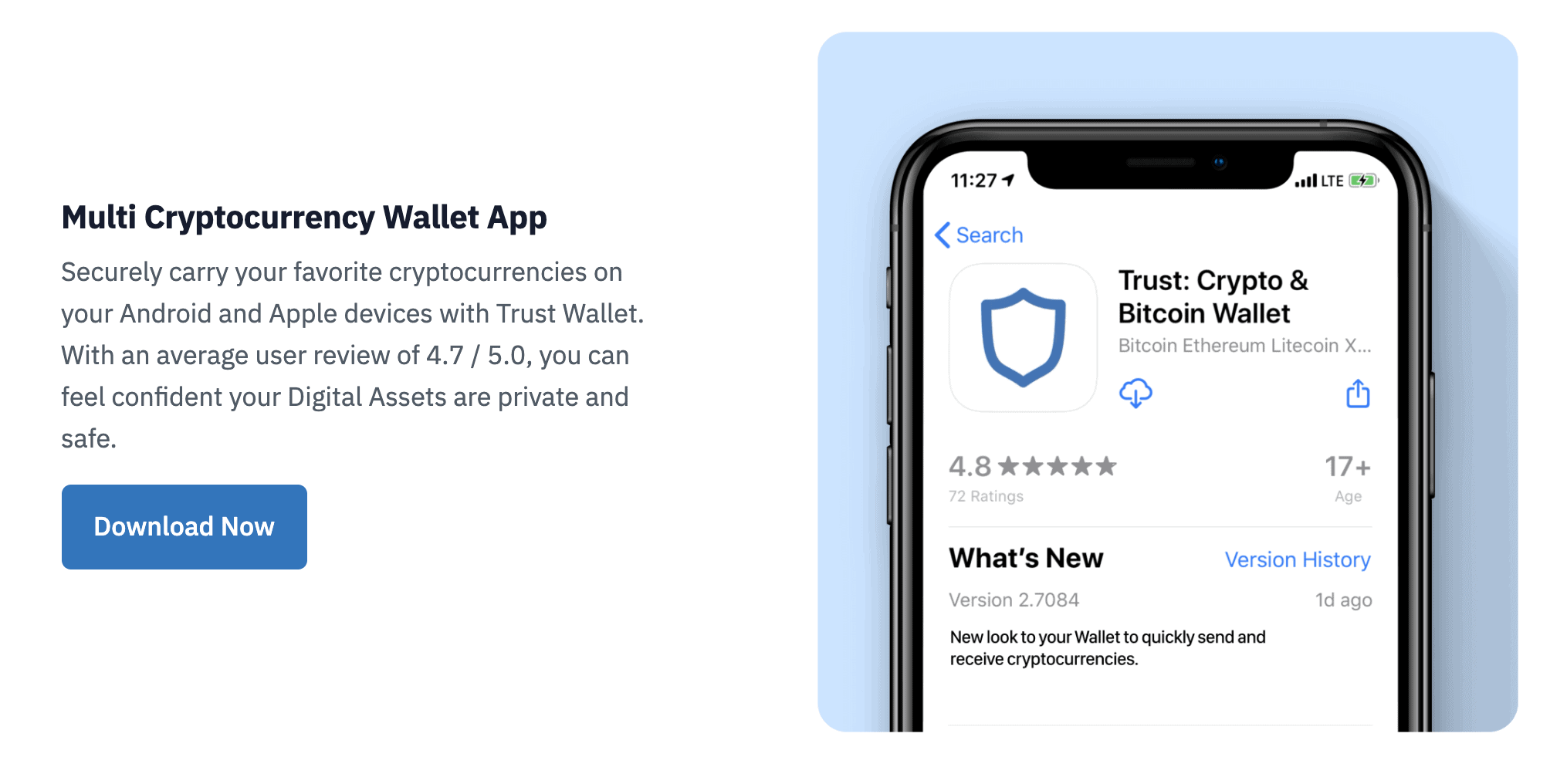 Binance offers a secure crypto wallet for their users called the 'Trust Wallet'. The wallet provides a whole host of exciting features, with support for over 160,000 crypto assets and 40 different blockchains. The wallet can be downloaded on both Android and iOS, ensuring you can manage your Dogecoin holdings on the go.
This free Dogecoin wallet offers an exceptional level of security, featuring military-grade encryption and the option to use Face-ID or Touch-ID to protect your holdings. The wallet does not store any of your personal data and provides a quick and easy way to purchase Dogecoin (and other cryptos) using a credit card or an alternative payment method.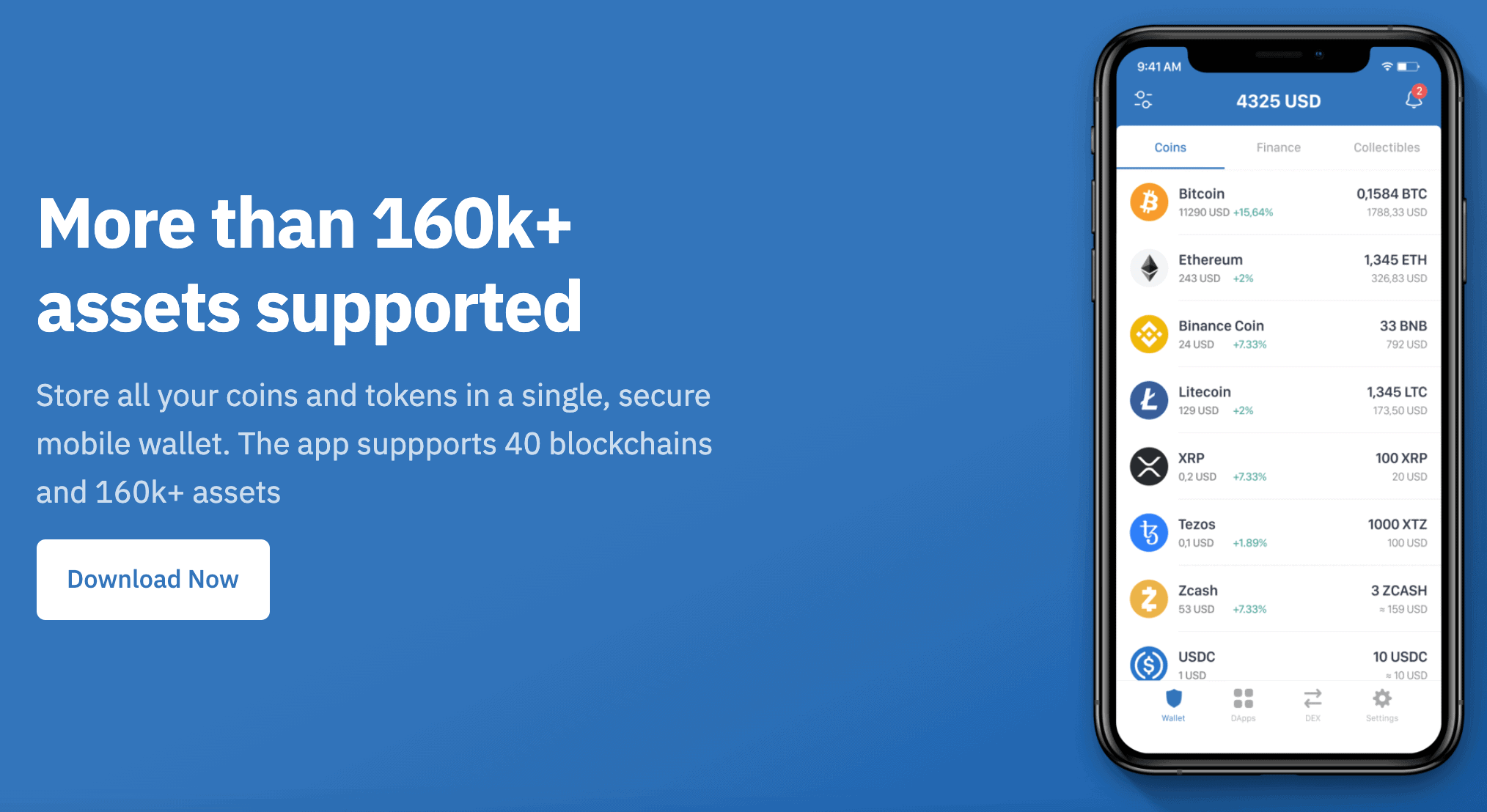 If you opt to purchase crypto through the Trust Wallet, Binance charges a very low fee of 0.1% per trade. This means that if you bought 1500 ZAR worth of Dogecoin, you'd only have to pay 1.50 ZAR in fees! Finally, once you've purchased and stored your crypto, you can even earn interest on your investments directly within the wallet.
Pros
Advanced trading platform
Access the API to connect third-party services
Buy Dogecoin and trade crypto derivatives
Built-in secure crypto wallet
Discounted trading if you use BNB token
Cons
Relatively complex for new crypto traders
Your capital is at risk.
2. Coinbase – Best Dogecoin Wallet South Africa for Beginners
If you are looking for the best wallet for Dogecoin for beginners, then the one offered by Coinbase may be worth considering. Their free Dogecoin wallet has been designed explicitly with new traders in mind and provides a straightforward way to protect your crypto holdings. Furthermore, Coinbase has a stellar reputation worldwide and is currently the 2nd largest crypto exchange in the world by trading volume.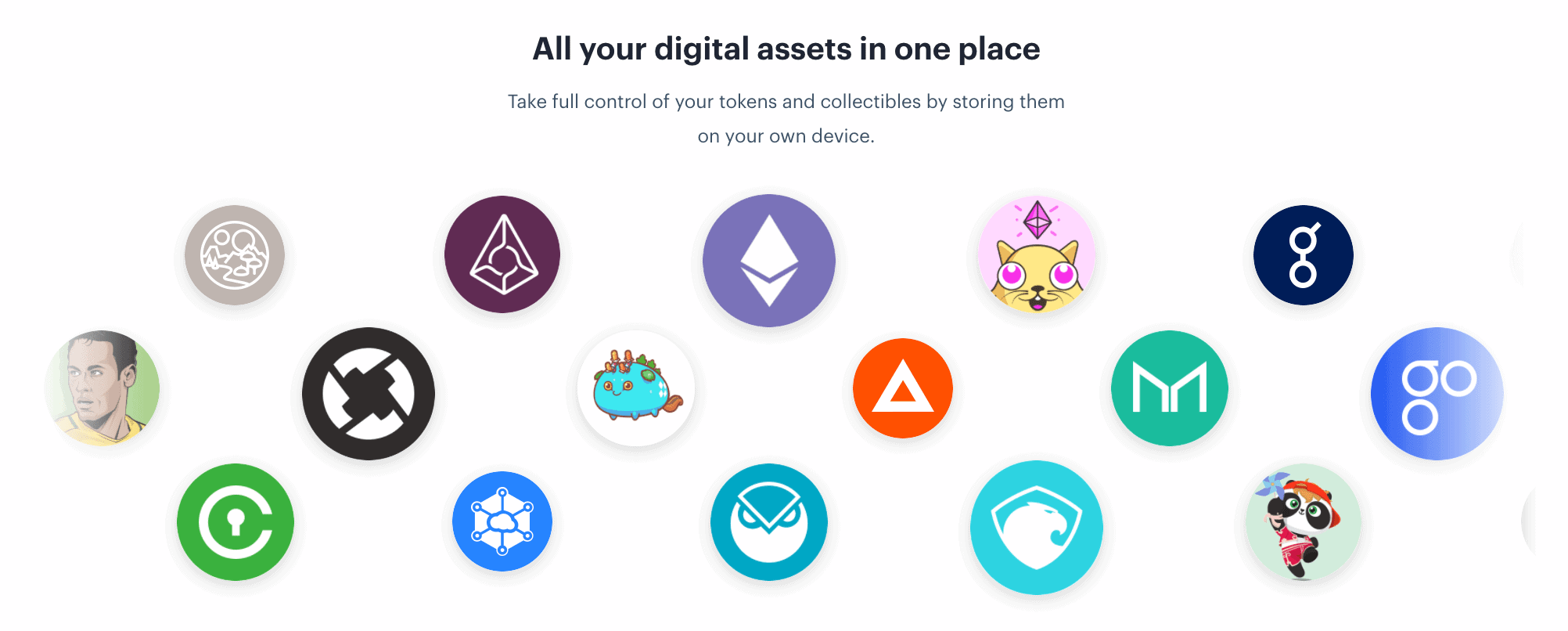 Looking at their crypto wallet, the user interface is sleek and easy to navigate and is jam-packed with helpful features. Available on Google Play and the App Store, Coinbase's app allows users to store all of their crypto assets in one place, including coins, tokens, and even digital collectibles. The great thing is you do not even need a Coinbase account to make use of their wallet.
In terms of security, the Coinbase wallet is non-custodial, which means that you hold and own your private key and have complete control over your holdings. This is in contrast to custodial wallets, in which the provider keeps your keys. Non-custodial wallets are considered more secure because your key isn't being held by a 3rd party, reducing the risk of unauthorised access.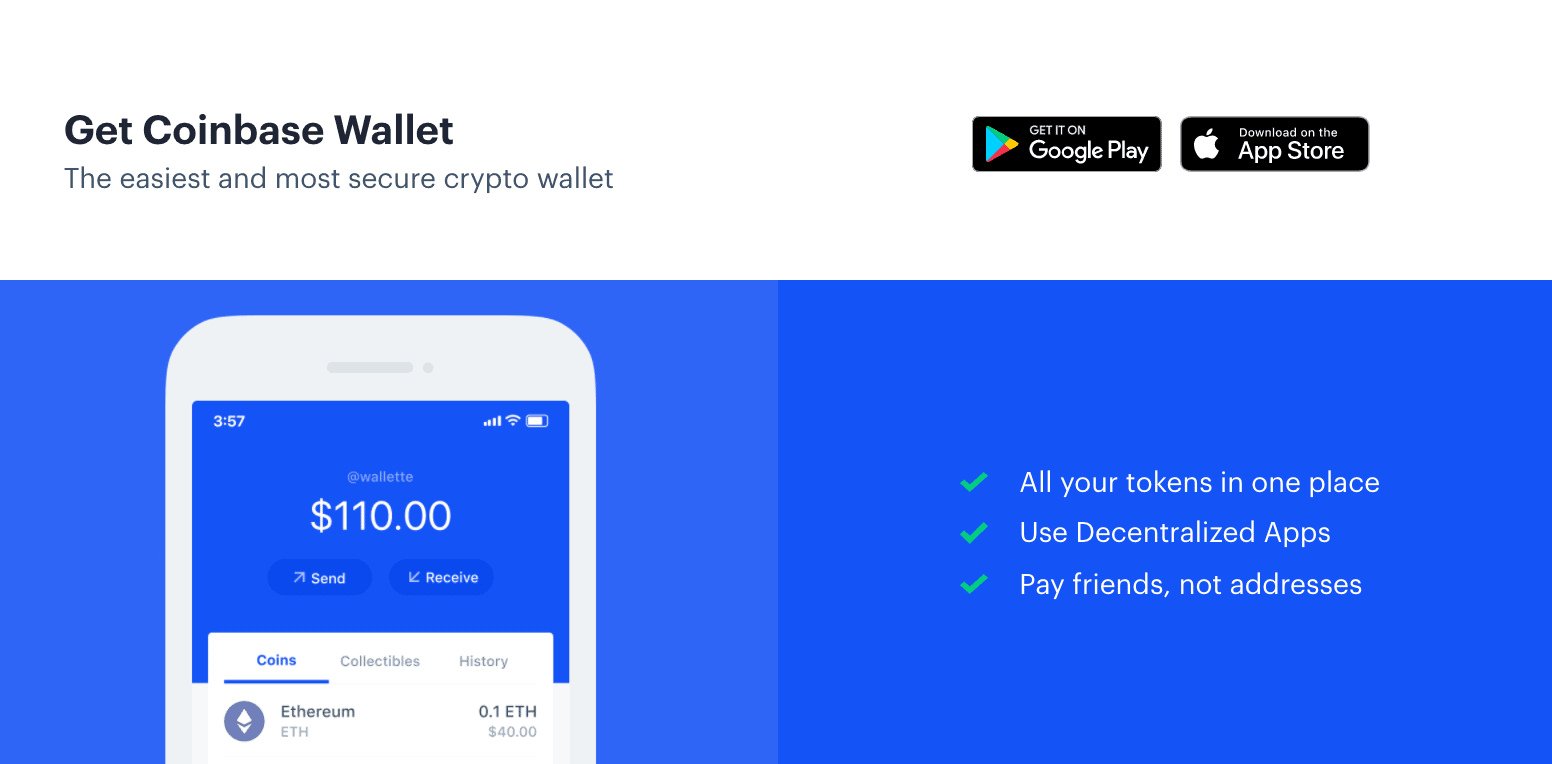 Finally, one of the standout features of Coinbase's wallet is that it offers the ability to send and receive crypto from anywhere in the world – simply through using your username. This eradicates the need for memorising wallet addresses and going through multiple steps to transfer your crypto to other people. So, if you're a beginner looking for a Dogecoin wallet Android or iPhone, then the Coinbase wallet is worth checking out.
Pros
Over 50 cryptocurrencies to trade
Includes secure Dogecoin wallet
Simple and Pro trading platforms available
Earn rewards for learning about crypto
Highly regulated and trustworthy
Cons
High trading fees
Limited customer support
Your capital is at risk.
3. Exodus – Best Dogecoin Wallet South Africa for Useful Features
Another wallet that can be considered the best wallet for Dogecoin is the Exodus wallet. Exodus is a software company that offers a crypto wallet that can be used on both smartphones and computers and can support over 100 different crypto assets. Furthermore, the Exodus wallet is completely free, allowing users to keep their Dogecoin safe in a cost-effective manner.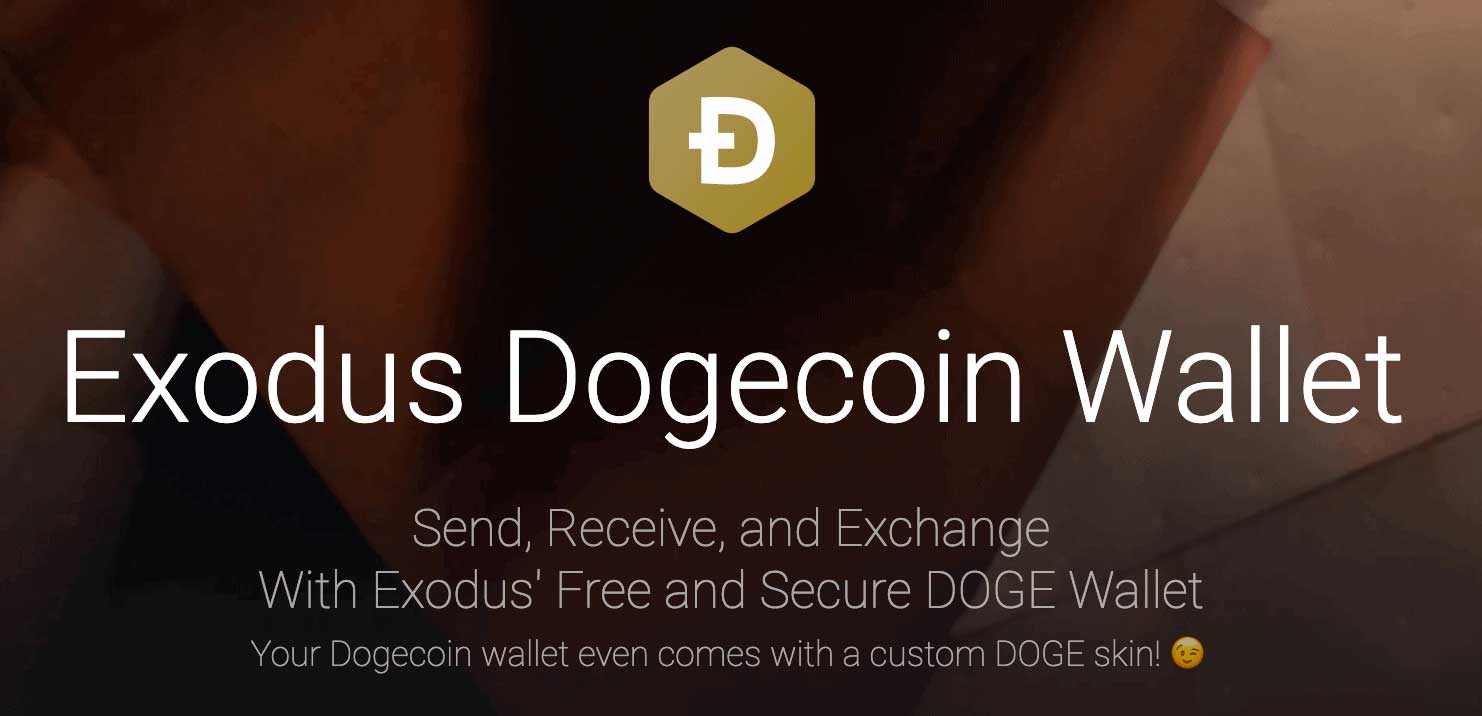 One of the best things about the Exodus wallet is how simple it is to use. Similar to Coinbase, the user interface on the Exodus wallet is sleek and easy to navigate. Furthermore, Exodus offers great support levels for its users and provides 24/7 human support if anyone has any issues.
Another great feature of the Exodus wallet is that it has a built-in exchange. This allows users to directly buy and sell various cryptocurrencies within the app, removing the need to buy elsewhere and transfer them into the wallet. What's more, you can even send and receive crypto using a QR code, which is automatically checked by the Exodus team to ensure it is safe and error-free.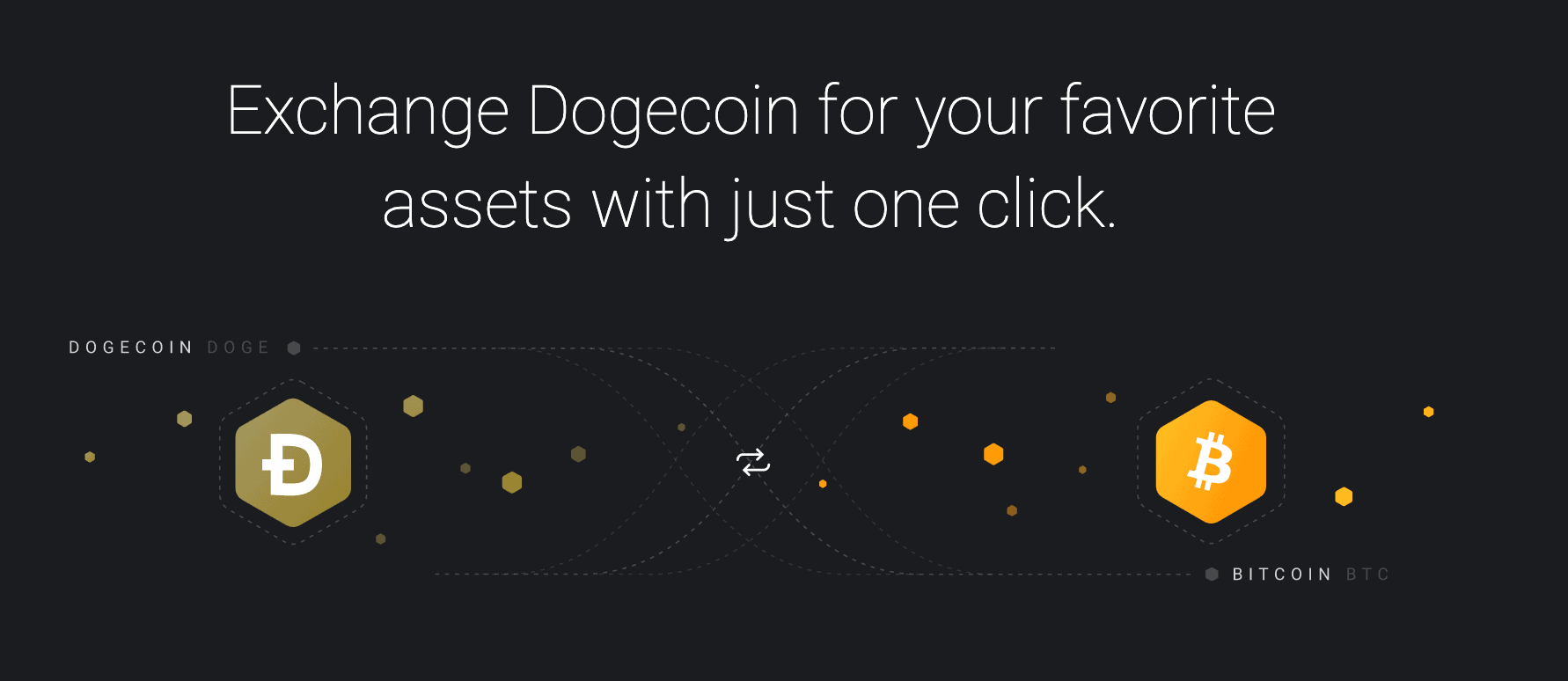 Finally, if you are looking for a Dogecoin wallet Android or iOS with hardware integration, then Exodus have you covered. One of their main selling points is that they can integrate with the top hardware wallet provider, Trezor. Users can manage the crypto they hold in their Trezor wallet directly through Exodus' system – which means that traders get both the advanced security of a hardware wallet and the practicality of a software wallet!
Pros
Supports over 100 cryptocurrencies – including Dogecoin
Free to download and use
Buy and sell crypto from within the app
Advanced security features
Integrates with hardware wallets from Trezor
Cons
Transfer fees can be on the high side during busy periods
Your capital is at risk.
4. Gemini – Best Dogecoin Wallet South Africa for High Security
The final wallet we will discuss today is the well-respected crypto wallet offered by Gemini. Founded back in 2014 by the Winklevoss twins, Gemini is one of the world's best cryptocurrency trading platforms and provides a quick and easy way to trade cryptocurrencies. Gemini is based in New York and is regulated by some of the world's top regulatory bodies to ensure a safe trading environment for its users.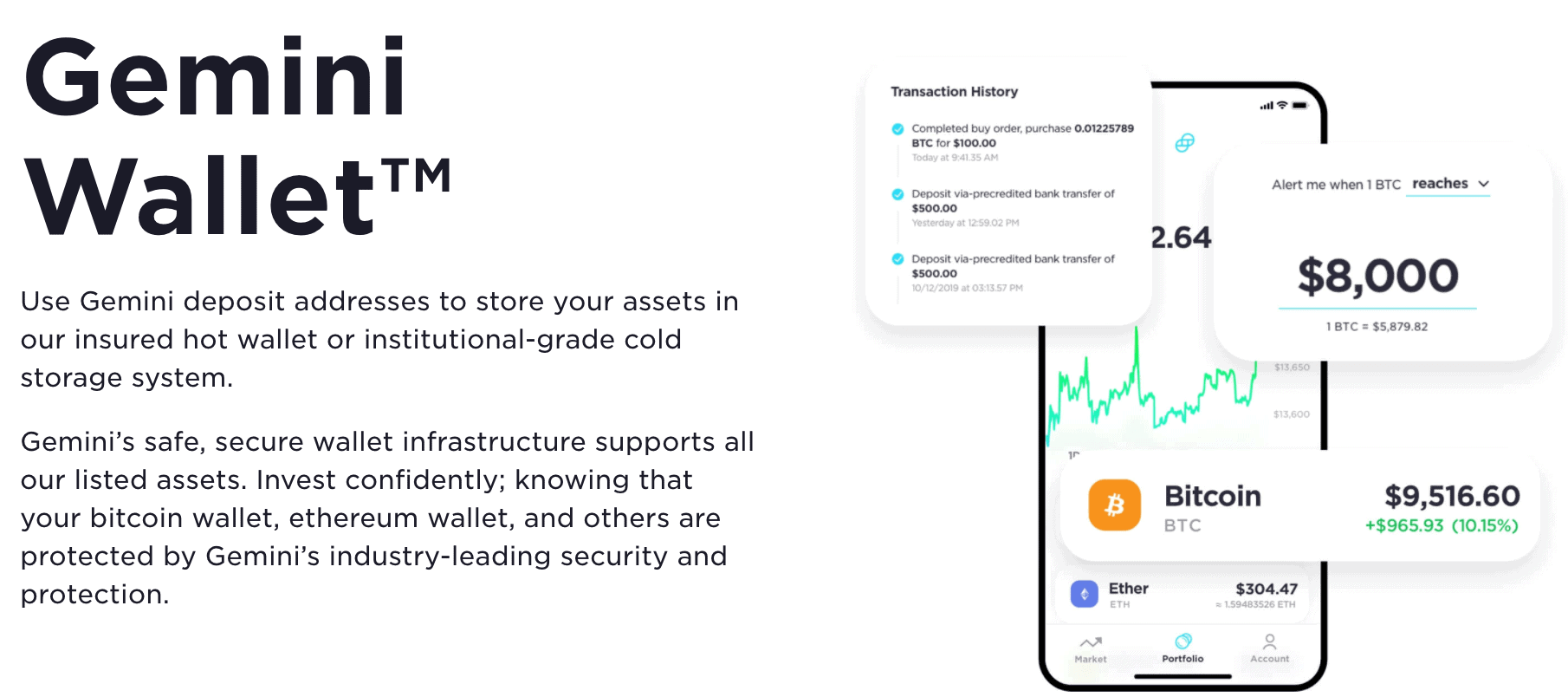 Users of Gemini get access to Gemini's crypto wallet, which is well-known for the advanced security features it employs. Many users claim this is the best wallet for Dogecoin if you are looking for top-level security, as it offers both hot and cold storage options for your holdings. This provides an attractive level of versatility to Gemini's wallet, as users can tailor their storage choice to suit their individual needs.
Another great feature of the Gemini wallet is that your assets are automatically insured against theft by some of the world's top underwriters. This means that you would be in line to receive compensation for this in the unlikely event that your holdings are breached.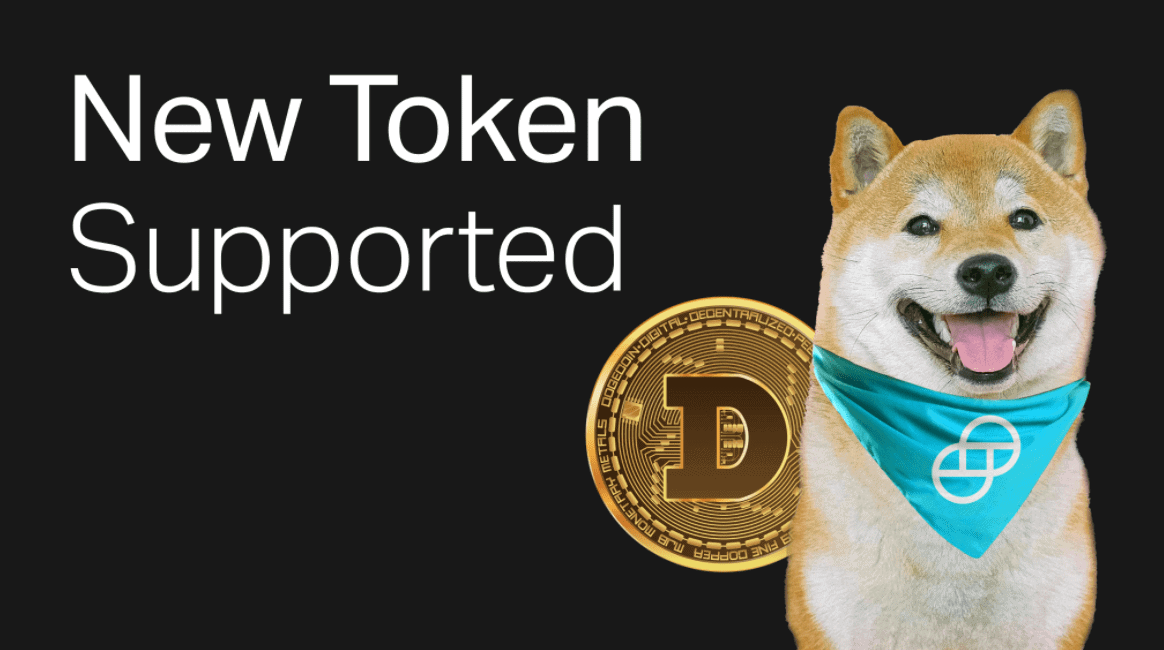 Finally, Gemini's wallet uses some of the best security architecture around, employing two-factor authentication, rate-limiting, encryption, and multiple signatories to keep your Dogecoin safe. Thanks to these advanced features, the Gemini wallet can be considered one of the best options when it comes to using a Dogecoin wallet Android or iOS. 
Pros
Known worldwide for their high-security levels
Always updating the type of security on offer
Provides insurance from top underwriters
Supports over 20 cryptocurrencies
Cons
Small convenience fees plus transaction fees
Your capital is at risk.
5. Trezor – Best Hardware Wallet for Dogecoin in South Africa

Rounding off our list we have Trezor, which is a very well known crypto wallet brand that has been in operation since 2014. Notably, Trezor is a hardware wallet which means that it offers users 'cold storage' solutions for their cryptocurrency holdings. As it is not connected to the internet, there is virtually no chance for the wallet to be hacked or experience unauthorised access.
The great thing when using a Trezor wallet is that you control the private keys – meaning you are the only person that can access it. Trezor wallets come with an ultra-advanced passkey feature which makes them extremely difficult for someone to access them without knowing the correct key. Furthermore, Trezor's wallet can also be backed up using 24 unique words that are generated when the wallet is set up initially.

Although it is a hardware wallet, Trezor also incorporates a software element when connected to your computer. It's easy to use platform allows you to send or receive various cryptos (including Dogecoin), or even buy things directly from the Trezor app.
Finally, the Trezor wallet also can partner with various other software wallets such as Electrum and Mycelium, adding more functionality. By using the Trezor wallet in this manner, you can essentially get the best of both worlds when it comes to hot and cold storage.
Pros
Supports a large number of cryptos, including Dogecoin
Hardware wallet with exceptional security
Buy and sell crypto from within the platform
Innovative backup feature
Can integrate with other software wallets
Cons
Is not free like other wallets
Your capital is at risk.
What is a Dogecoin Wallet?
When discussing the best wallet for Dogecoin, it's essential to examine what Dogecoin actually is and what it can be used for. This allows some context for the discussion of what a Dogecoin wallet is and how it can help.
What is Dogecoin?
Put simply, Dogecoin is a cryptocurrency created back in 2013 by Billy Markus and Jackson Palmer, two software engineers from Oregon. The initial aim was to rival Bitcoin and appeal to a broader audience base. According to an article by CNN, Dogecoin was initially created as a joke – but over the years, the digital coin has gained more and more popularity and now holds a market cap of nearly $50 billion. Market participants have flocked to Dogecoin as it has that 'fun factor' due to its meme-based name, meaning that it attracts a much broader demographic than other cryptos.
In terms of its technology, Dogecoin is relatively similar to other digital currencies. Firstly, its code is based on another large crypto – Litecoin. So, if you were to buy Litecoin, you'd be buying a similar currency to Dogecoin.
There are some key differences, however. Firstly, Dogecoin has a much larger supply of coins available than cryptos such as Bitcoin. At the time of writing, Dogecoin has 129 billion coins in circulation – and this number can grow even further as more are mined. Much like other digital currencies, these coins can be used to purchase goods or send payments to other people; however, Dogecoin is not the 'go-to' currency for tasks such as this.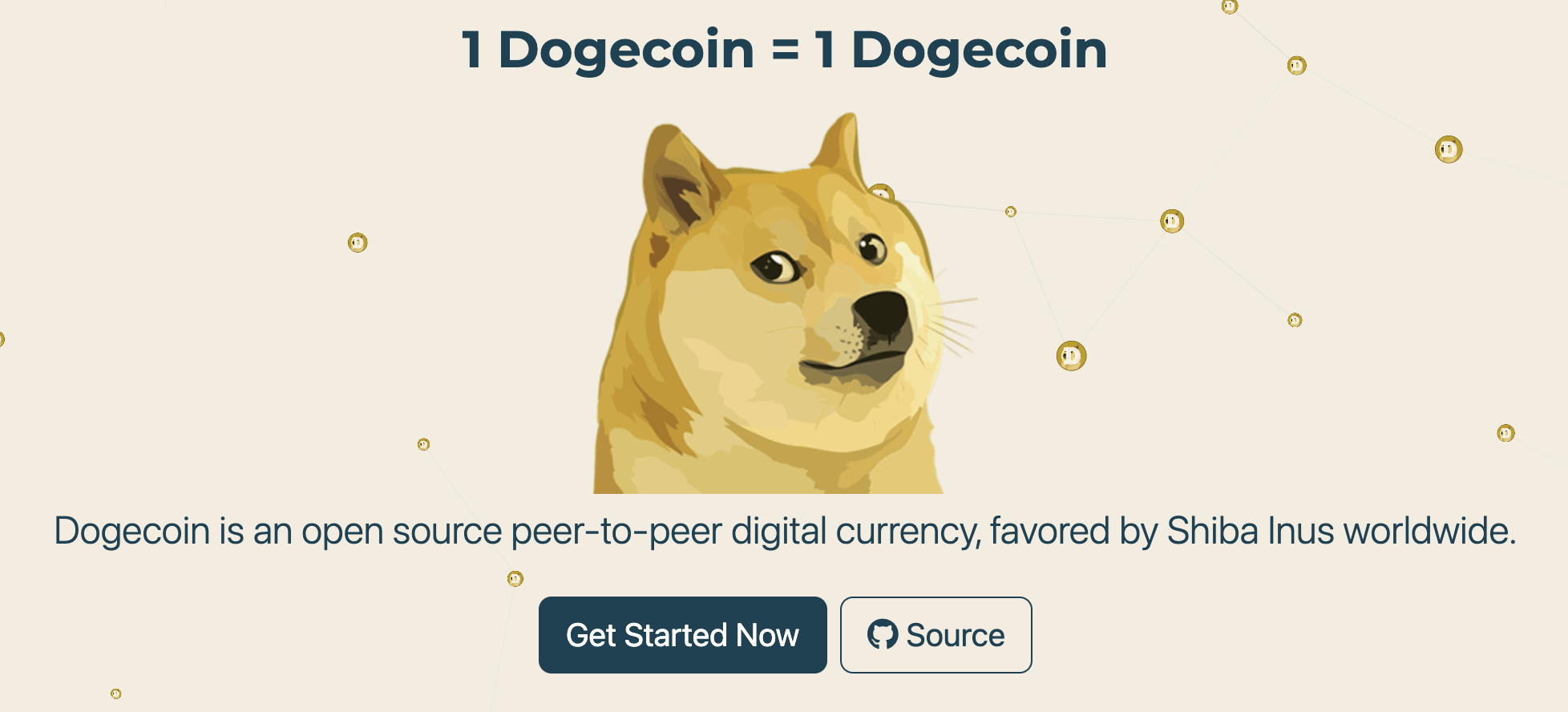 Another use of Dogecoin is in the realm of decentralised finance (DeFi). Currently, Dogecoin has been permitted for use on the Ethereum blockchain, which means it can be used to create and launch decentralised apps (dApps). DeFi is considered the next big thing in the finance sector, which could be promising for Dogecoin in the future.
Dogecoin Wallets
If you do buy Dogecoin, you'll need somewhere to store it after purchase. As Dogecoin (and other cryptocurrencies) are digital assets, they can't just be stored in a physical wallet, like the one you'd use for coins and notes. Instead, they must be held using a particular type of software called a 'crypto wallet'.
Crypto wallets are designed to keep your cryptocurrency holdings safe from any unauthorised access. This could be from hackers or any other party who is looking to gain access to your investments. Once you buy Dogecoin, you can transfer your investment into one of these crypto wallets, where it will be kept safe until you need to use it.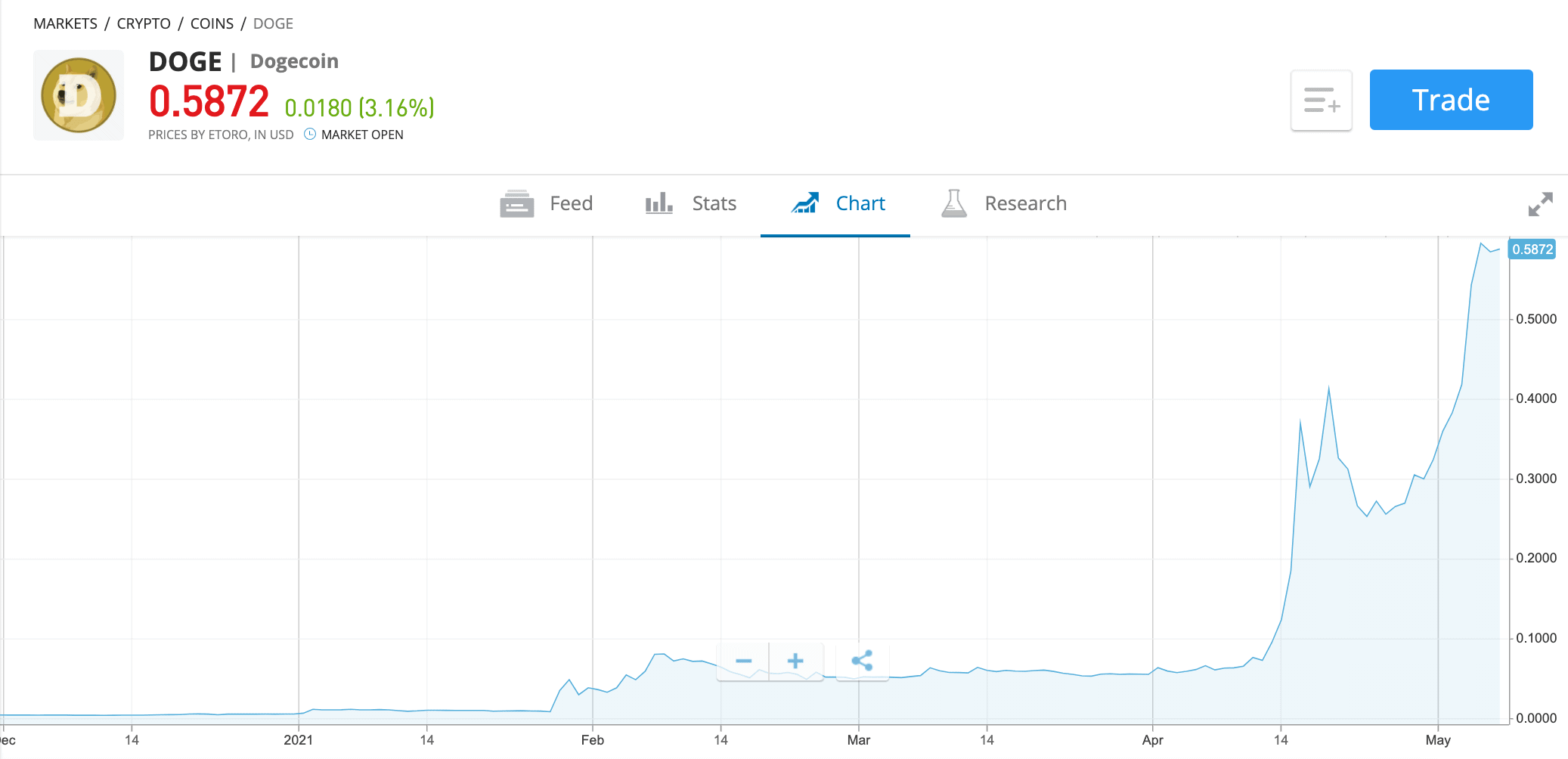 The best Dogecoin wallet South Africa tends to offer high-security levels for your holdings, along with many great features. Some wallets, such as the one provided by Binance, even allow you to buy and sell Dogecoin from directly within the wallet's interface. This removes the need to use multiple apps to conduct cryptocurrency trading.
To summarise, Dogecoin wallets are an essential part of investing in Dogecoin. It's important to keep your holdings safe after you invest, and crypto-wallets are among the safest ways to do so. In the next section, we explore what you need to keep an eye out for when choosing the best Dogecoin wallet South Africa.
How to Choose the Right Dogecoin Wallet for You
When choosing the best wallet for Dogecoin, there are many different factors you need to consider. Nowadays, there are lots of crypto wallet providers on the market – so it can seem tricky to decide which one is best for you.
We can help! This section breaks down the key things you need to look for when choosing the best Dogecoin wallet South Africa, ensuring you can keep your Dogecoin holdings safe and secure.
Level of Security
Unsurprisingly, the level of security that a wallet offers is one of the top things you need to consider before making a decision. There are multiple wallet types available on the market right now, each offering a different level of security. These types include desktop, mobile, web, and hardware wallets.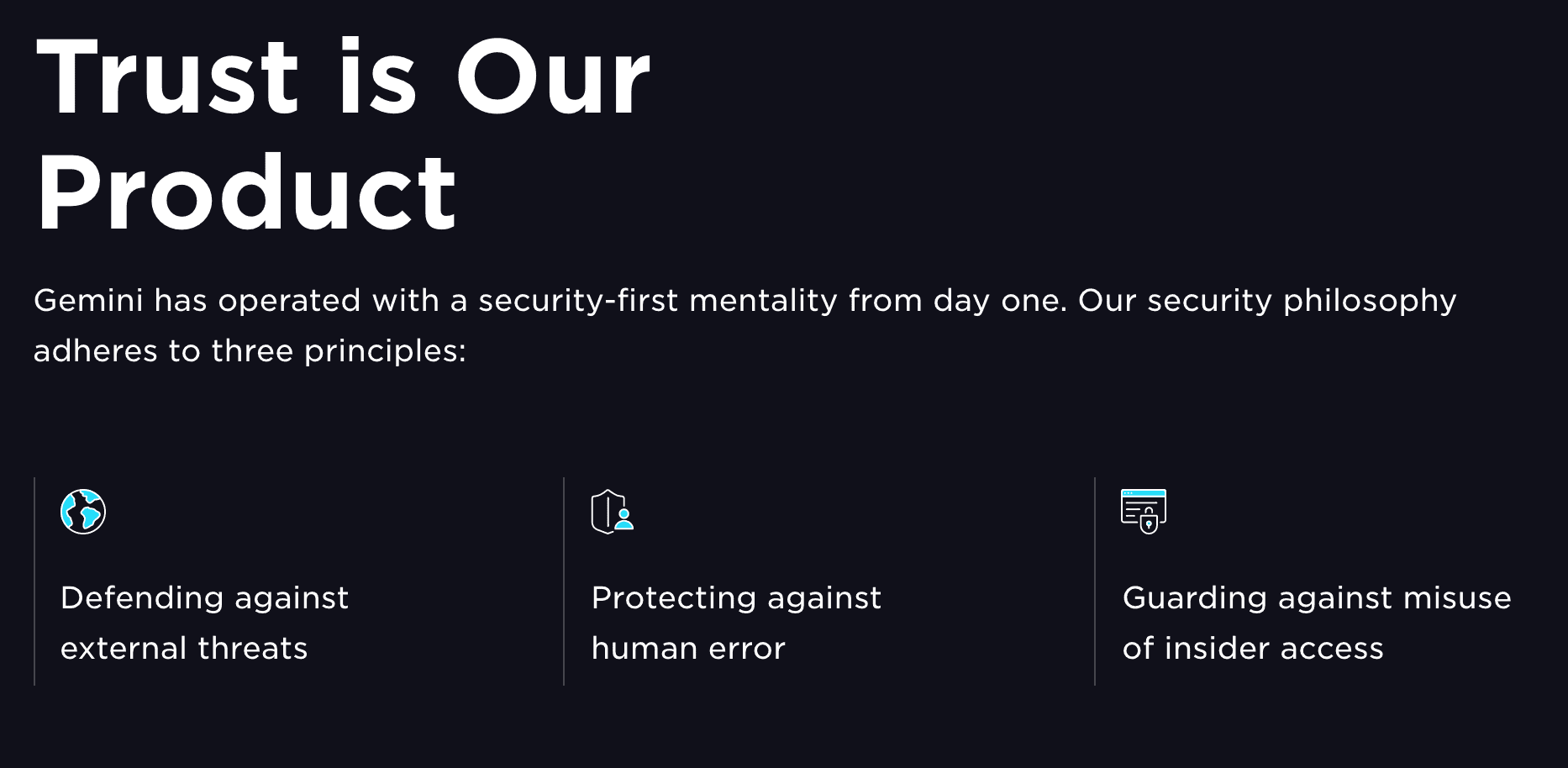 According to an article from Forbes, if you hold a more significant amount of crypto, it is best to use a hardware wallet for maximum security. This is because these wallets are physical devices that you can keep in a safe place and are theoretically the most secure way to store your holdings. Desktop, mobile, and web wallets are less safe as they are software-based; however, they are much more practical and tend to offer more features.
In addition to these wallet types, there are also hot and cold wallets. A hot wallet is connected to the internet and can be accessed anytime; these wallets are more accessible but less safe as they are always online. Alternatively, cold wallets are not connected to the internet and allow you to store your crypto offline. Cold wallets tend to refer to hardware wallets in general. 
Useful Features
Another element to consider is the type of features that the wallet offers. These days, because the market is becoming ever more competitive, wallet providers have to compete by providing cool and handy features. One of the best features to keep an eye out for is the ability to buy and sell crypto within the wallet. This is offered by some wallet providers (such as Binance) and means that the wallet offers an 'all in one' crypto trading solution.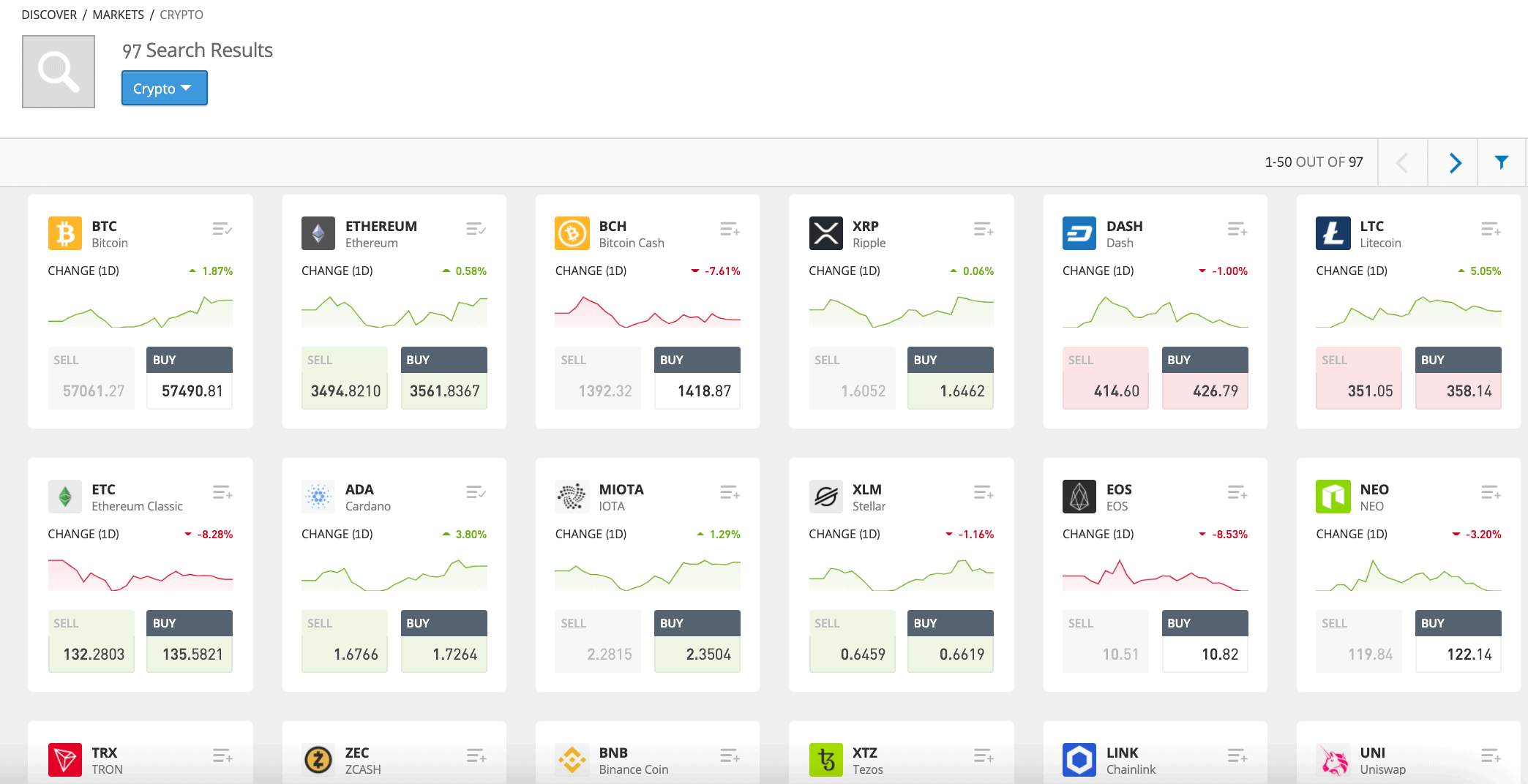 Other valuable features include the ability to send and receive crypto using just your username, offered by Coinbase. This makes peer-to-peer transactions super easy and removes the need to copy and paste your wallet address each time. Also, the wallet provided by Exodus allows you to integrate it with a hardware wallet, meaning you get the best of both worlds when it comes to software and hardware protection. 
User Friendliness
You also must consider how user-friendly the wallet is – especially if you are new to the crypto world. Beginner traders can sometimes feel overwhelmed with all of the terms and technology used when crypto trading, so having a wallet that is user friendly can take a lot of the stress away.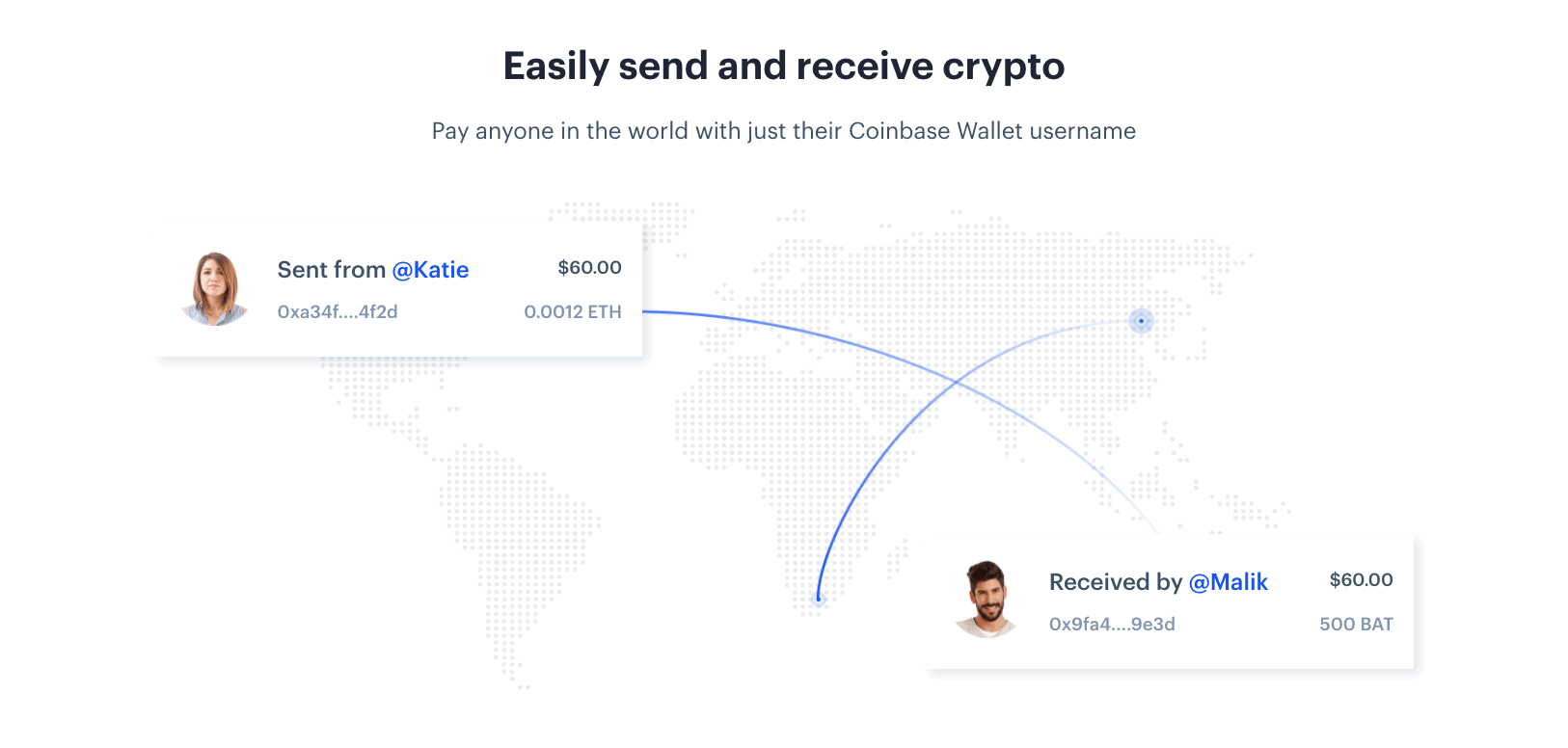 Wallets such as Binance's crypto wallet can be downloaded onto your smartphone and used on the go. This ensures your holdings are always accessible and can be managed wherever you are. Furthermore, most wallets will also allow you to exchange crypto directly within the wallet's dashboard, making the whole process of transferring one coin into another very user friendly.
Cost
Finally, you must also consider the cost of using the crypto wallet of your choice. Most software wallets provided by the top brokers and exchanges are free to use and are available to registered users. However, if you require additional security and wish to use a hardware wallet, then these will come with a cost attached.
Furthermore, if you are going to use the wallet to buy and sell crypto, it's essential to research how much this will cost you in fees. Binance's crypto wallet allows you to invest in Dogecoin (and many other cryptos) for extremely low commissions. This is in contrast to some brokers and exchanges, which can charge hefty fees when trading crypto.
Dogecoin Wallet Download Process – Binance Tutorial
Now that you have everything you need to know about Dogecoin wallets in South Africa, it's time to discuss how to download and use one. This step-by-step walkthrough will show you how to download the best free Dogecoin wallet from Binance – all in under ten minutes.
Step 1: Open a Binance Account
The first thing you have to do is create a new account with Binance. Head to the Binance homepage and click 'Register Now'. On the following page, enter a valid email address and choose a password.

Step 2: Verify your Account
To ensure you get full functionality from your Binance account, you'll have to verify your identity. To do so, simply upload proof of ID (a copy of your driver's license or passport) – Binance will then verify these documents which usually only takes minutes.
Step 3: Download Binance Wallet
To download the Binance wallet (e.g. the Trust Wallet), head to the Trust Wallet homepage and click on the icon that corresponds to the device you're using. You can download from the App Store, Google Play, or for Android. Once downloaded and installed, log in using your Binance credentials.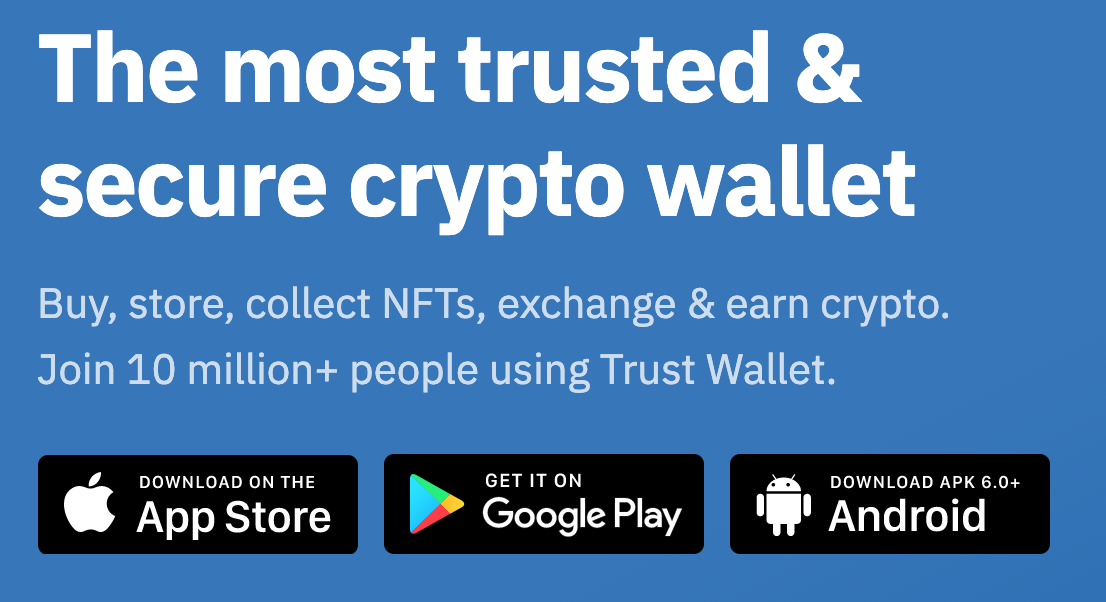 Step 4: Transfer in your Dogecoin Holdings
Once you are logged in, you can then transfer your Dogecoin holdings into the wallet. If you don't own any Dogecoin, you can buy some through Binance's online platform – all for an extremely low commission of 0.1%.
If you already own Dogecoin, you can easily transfer your holdings to your Binance Trust Wallet. Go to the wallet's dashboard and generate your wallet address. Then head over to where your Dogecoin holdings are stored and opt to 'Send'. Finally, enter the wallet address that you generated earlier and confirm the transaction.
Step 5: Sell your Dogecoin
If, at some point in the future, you decide to sell your Dogecoin then this can be completed easily on Binance's platform. All you have to do is head to your open orders and opt to close the trade. The value of the trade at the time you closed it will be deposited into your Binance account, where you can either withdraw it or reinvest it.
Conclusion – Binance – Best Dogecoin Wallet South Africa
Throughout this guide, we've explored the realm of Dogecoin wallets in great detail, highlighting some of the best options available on the market and showing you how to make the right choice for your investment needs. With Dogecoin showing no signs of stopping its bullish momentum, it is now a fantastic time to safely get involved in the market by using one of the best Dogecoin wallets.
If you're looking to buy Dogecoin today, we'd recommend opening an account with Binance. Binance is one of the world's most trusted brokers and provide users with an ultra-secure crypto wallet to store Dogecoin. Furthermore, Binance offers low-commission trading on all of their cryptocurrencies – including Dogecoin.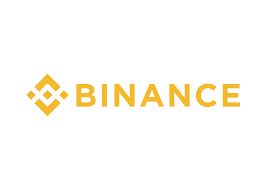 Your capital is at risk.
FAQs
Which wallet is best for Dogecoin?
Our recommended wallet for Dogecoin is provided by Binance. The Binance crypto wallet offer supports for many different cryptocurrencies and allows users to exchange cryptos directly within the app. What's more, Binance also offer low-commission trading on Dogecoin..
How much do Dogecoin wallets cost?
Most of the time, the broker or crypto exchange you partner with will offer their native crypto wallet free of charge. However, if you decide you require additional security and wish to use a hardware wallet, then these will need to be purchased from the provider.
How do I deposit money into my Dogecoin wallet?
To deposit Dogecoin into your wallet, you'll have to transfer your holdings from where they are stored using your wallet's address. Alternatively, some brokers such as Binance will allow you to purchase Dogecoin directly within the wallet app.
Are Dogecoin wallets safe?
Dogecoin wallets are designed to protect your holdings from unauthorised breaches, which is why they employ advanced security features such as IP address whitelisting and two-factor authentication. The safest Dogecoin wallets are hardware wallets – however, these are physical devices that must be kept secure.
What is my Dogecoin wallet address?
Your Dogecoin wallet address is a randomly generated string of numbers and characters that acts as a sort of 'email address' for your crypto wallet. It allows digital currencies to be transferred into your wallet, either from other people or from trading platforms.