How to Buy Sasol Shares South Africa – Invest with 0% Commission Today
Sasol is a South Africa-based chemicals and energy company that has interests in coal mining, oil drilling and exploration, and electricity distribution while also commercializing multiple commodities and chemical products through its global operations.
Founded in 1950, Sasol employs approximately 30,000 people while having a presence in around 33 countries.
At the time this is written, the company has a market capitalization of $8.6 billion and its stock is listed in the Johannesburg Stock Exchange (JSE) under the ticker SOL and in the New York Stock Exchange (NYSE) under the ticker SSL.
Based on the firm's latest financial report, chemicals and energy were the largest revenue segments for Sasol, followed by mining and oil exploration and production activities.
Meanwhile, according to data from Koyfin, by the end of its fiscal year ended in June 2020, the firm generated $10.97 billion in revenues and had total assets of $27.6 billion and roughly $12 billion in long-term debt.
With oil prices heading to a strong recovery during the first half of 2021 accompanied by the prospect of an accelerated recovery in the global economy on the back of vaccinations, the following article aims to respond if this is the right time to consider buying Sasol shares.
Meanwhile, we will also provide instructions on how you can use one of our favorite stockbrokers to buy Sasol shares.
Step 1: Find a South African Broker that Offers Sasol Shares
1. Plus500 – Low-cost CFD Trading for South African Shares

Plus500 is a UK-based brokerage firm that gives investors the possibility of buying and selling a derivative instrument called a Contract for Difference (CFD) that tracks the price of Sasol shares.
This instrument allow you to place trades on Sasol depending on the direction you think that the stock price will take in the future.
If you think the price will go up, you can take a long position by using Plus500's CFDs or you can also short Sasol's stock by selling its CFDs through the trading platform.
As of now, Plus500 offers the possibility of trading Sasol shares by paying a 0.75% spread. This means that, in case you buy shares, you'll pay a 0.75% markup on the security's current price.
That said, there are no other commissions involved when placing a trade with Plus500 and the platform offers other benefits including negative balance protection, great customer service, and no deposit or withdrawal fees.
Moreover, Plus500 offers the most competitive spreads in the market for buying Sasol shares, and the minimum deposit to open an account with this provider is only $100.
Other than Sasol, Plus500 offers CFDs for thousands of other shares, including South African companies like Sanlam and Capitec.
This broker is very user-friendly, offers an unlimited demo account, accepts a variety of payment methods including PayPal, and is also strictly regulated, so it's a great all-around choice.
Pros
Low-cost CFD trading.
Unlimited demo account.
Leverage of up to 1:30.
Accepts PayPal
Cons
This provider only offers the possibility of trading instruments through CFDs.
CFD Service. Your capital is at risk.
Step 2: Research Sasol shares
The price of Sasol shares this year has jumped nearly 50% in South Africa and 54% in New York as the global energy market keeps recovering from the hit it took during the pandemic.
Meanwhile, the firm's valuation continues to be severely depressed compared to its post-pandemic levels, with Sasol posting a 50%+ loss during 2020 as oil prices plunged during the first half of the year as a result of the health emergency.
Moreover, a strong bounce in both European and North American economies should help the business, although the situation in South Africa remains challenging as vaccinations have advanced at a slower pace than expected while the government recently halted the rollout of AstraZeneca's vaccine after a study found that the effectiveness of the treatment was lower when dealing with the new strain of COVID currently present in the country.
In this regard, the situation in South Africa – the most important geographical segment for the firm by revenue – remains an important variable to keep an eye on to possibly predict the direction that Sasol's share price could take at any given point in time.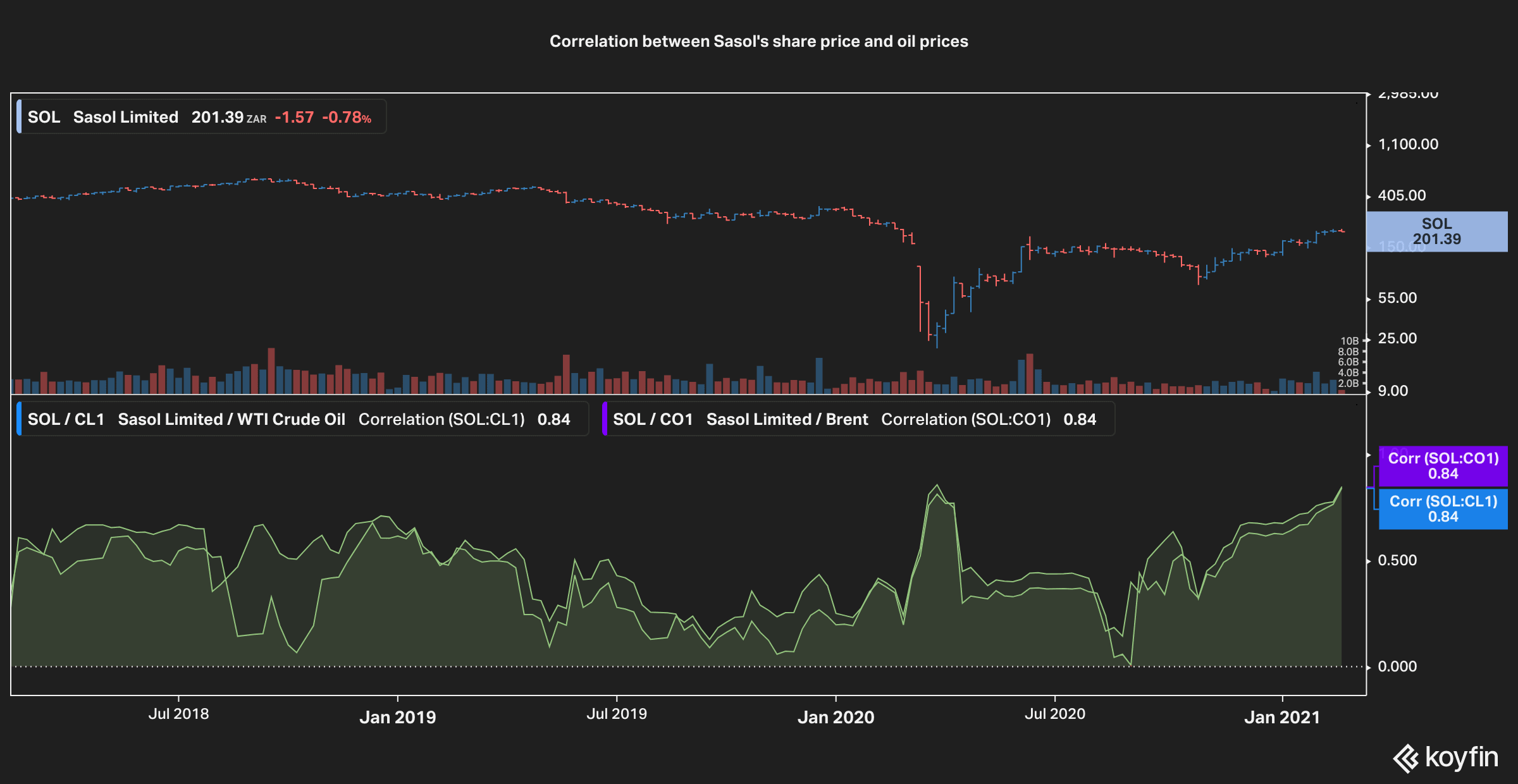 On the other hand, Sasol's share price shows a strong correlation with the performance of both WTI and Brent oil futures, indicating that the market is potentially using oil prices as a proxy for the short-term financial performance of the firm.
If this were to be the case, we could analyze oil separately to possibly draft a forecast for Sasol shares based on the direction that crude prices could take from here.
Sasol Share Price History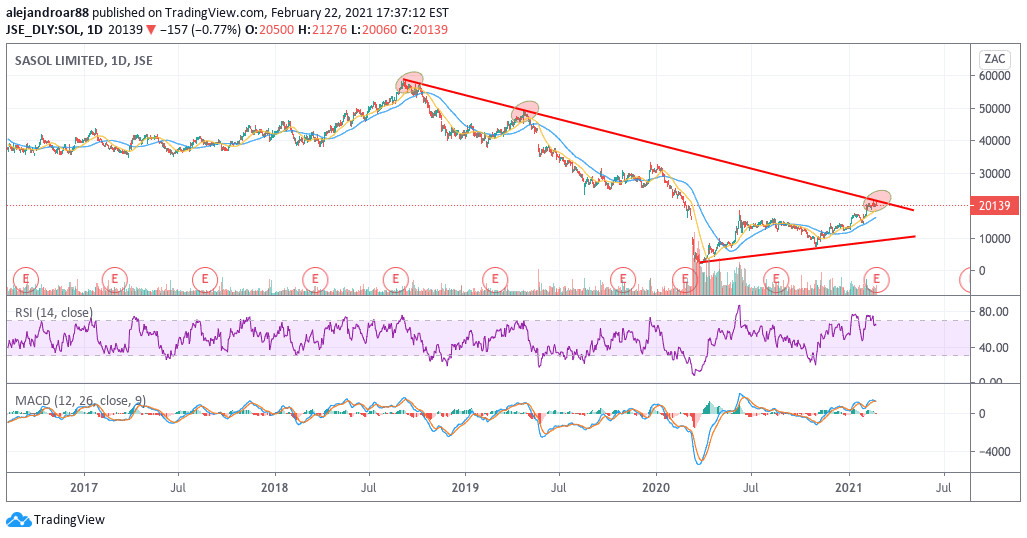 The chart above shows how Sasol's share price is currently retesting a trend line resistance, which means that this could be a boom-or-bust moment for the stock depending on how the price action reacts moving forward.
Sasol's consistent failure to make a new high in roughly three years is potentially one of the most worrying factors for this stock from a technical perspective, although the price has continued to post a series of higher lows – a situation that has resulted in the formation of an asymmetrical triangle that points to the consolidation of the share price as market players struggle to agree about what the fair value of the stock is.
Additionally, the stock price is currently riding the 20-day moving average after a golden cross seen in the late 2020s, which could lead to a break of this long-dated upper trend line over the coming weeks.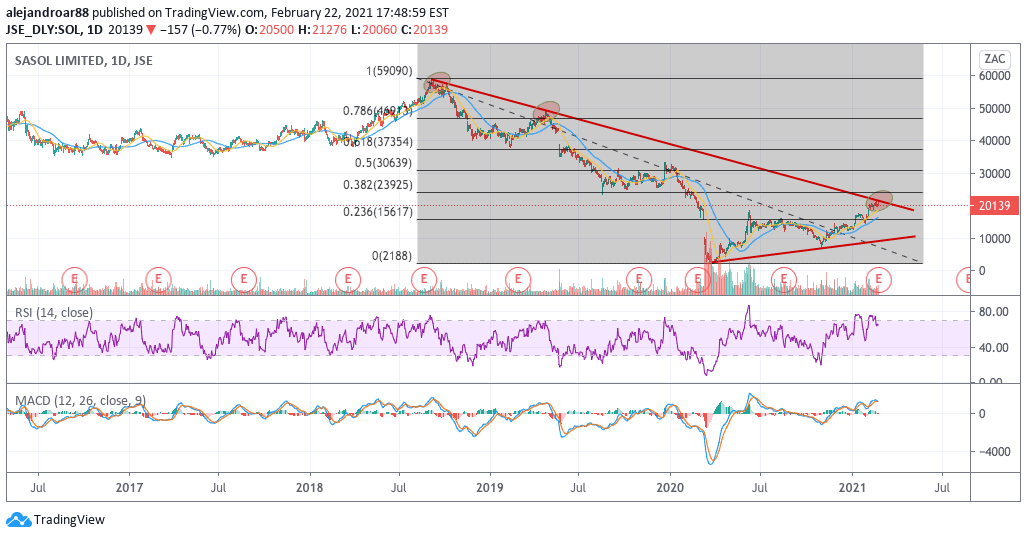 If that were to happen, a first mid-term target for Sasol shares could be set at R24,000 – representing a potential 19% upside if such a target were to be hit.
This bullish view is reinforced by an overbought RSI that is signaling a strong positive momentum for the stock price alongside an uptrend in the MACD.
Sasol Share Dividends
Due to the uncertainty associated with the virus situation, Sasol's Board of Directors decided to suspend dividend payments and this decision was reaffirmed during the latest interim report released on 22 February this year.
In this regard, Sasol's Board believes that economic uncertainty remains high, which is why they consider the suspension a prudent decision in light of the current backdrop.
Sasol Potential Trading Strategies
Day Trading Sasol Shares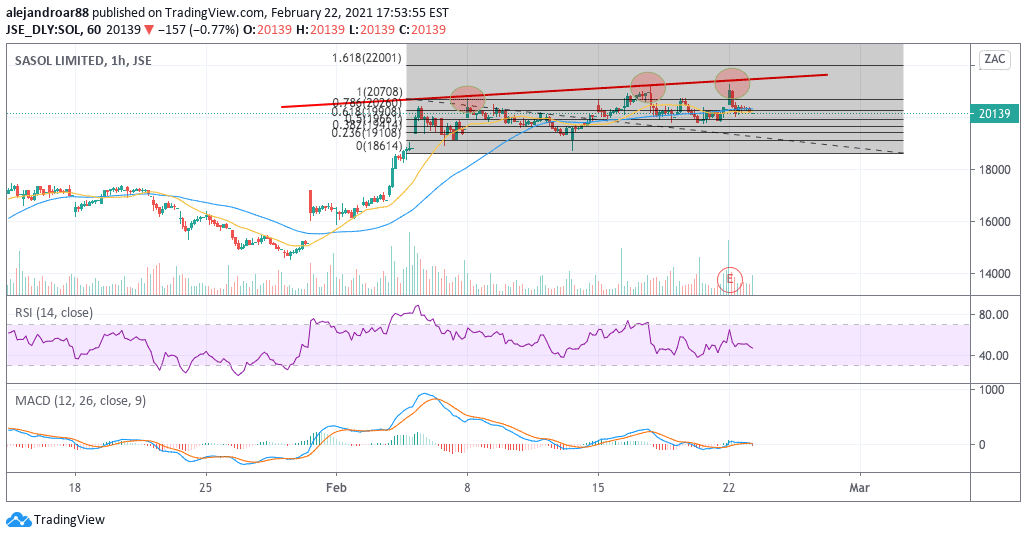 Sasol's hourly chart shows how the stock has been making a series of higher highs since February started, indicating that demand for its shares is growing lately.
At this point, if this uptrend were to continue, a first target for the stock could be set at R22,000, yet, for that to happen, the price should remain above the 0.5 Fibonacci level of R19,660 shown in the chart.
Swing Trading Sasol Shares
For swing traders, Sasol appears to be an early riser based on the latest price action with no clear signals of a full-blown turnaround sent just yet.
That said, given the strong correlation of Sasol's share price with oil prices it would be interesting to take a look at the outlook for oil at the moment to possibly predict if the uptrend is heading to a rejection or if the odds of a breakout are high enough to justify taking a long position on the stock.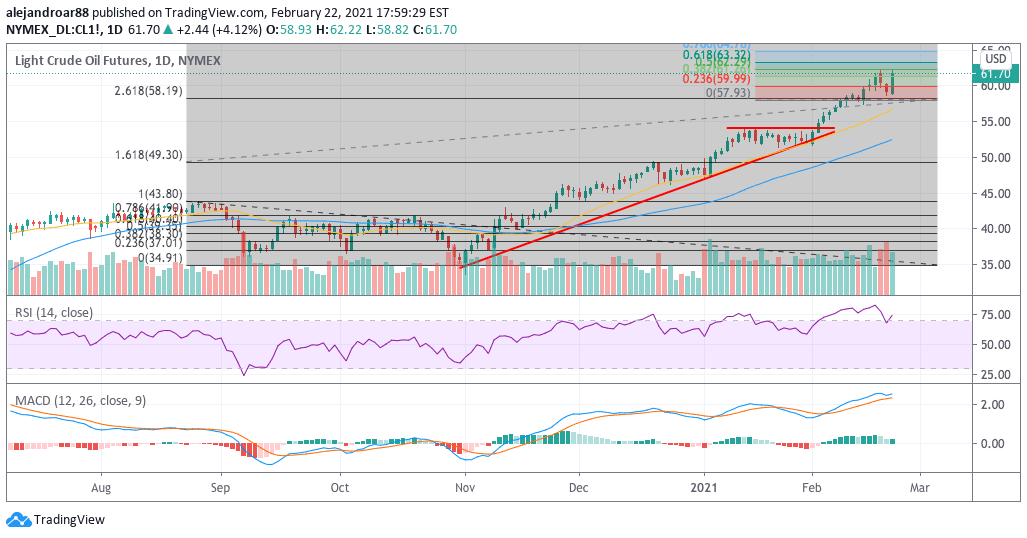 In this regard, the chart above shows how WTI futures have been on a strong uptrend since the November Pfizer (PFE) vaccine news, as market participants have been encouraged by the prospect of a strong global economic recovery during the first half of this year.
That said, there are multiple signs that oil's bull run could be a bit overheated, with various research firms sounding the alarm that things have gone too far too fast.
At this point, it is highly likely that oil will struggle to move above $60 over the next few weeks, which means that Sasol shares could be heading to a ceiling unless the oil market keeps booming.
Since the path of least resistance for oil seems to be down, swing traders could wait for a pullback before taking a long position on Sasol – entering at a much more appealing price once some profits are taken off the table.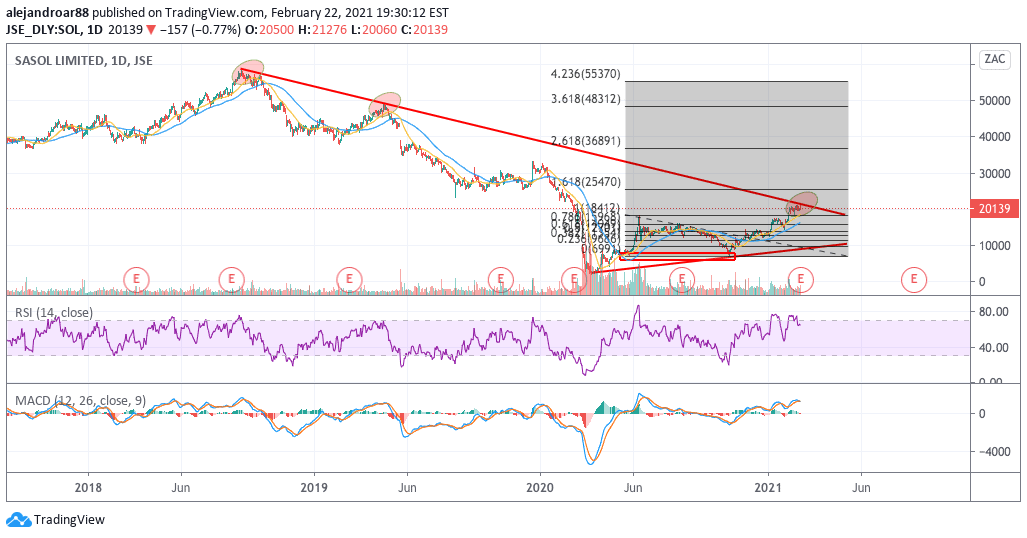 To what end? Well, the chart above shows how Sasol shares have reacted positively to a bullish double-bottom formation, with the price bouncing off the R7,000 level to R20,000 in less than four months.
If this pattern is taken as the signal of a strong upcoming uptrend, market participants could be aiming for a full-blown trend reversal and a potential second stage of the bull run with a first target set at R25,470.
Long-term investing in Sasol shares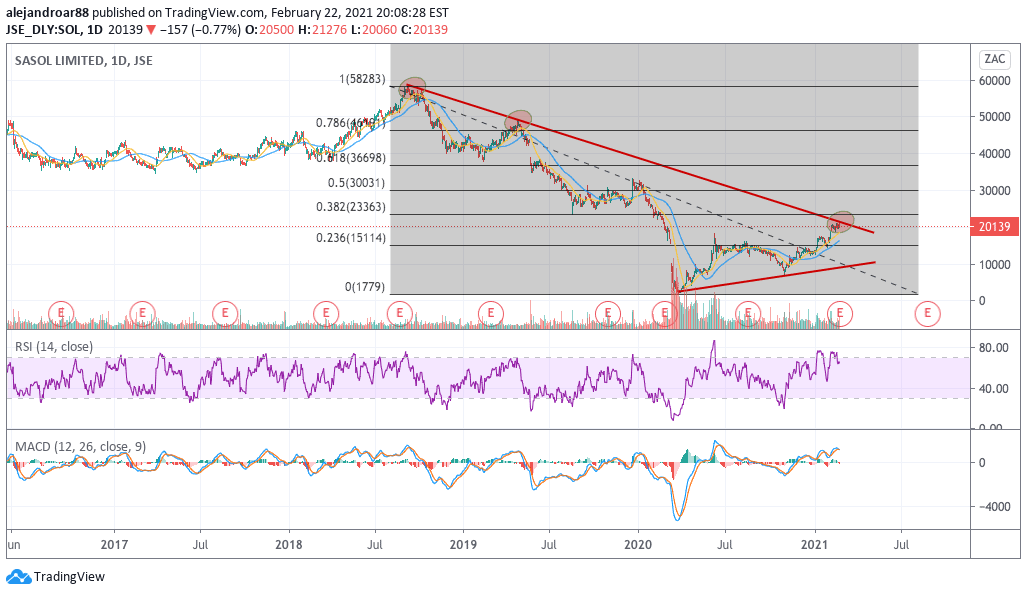 For long term investors, the future performance of Sasol shares remains a question mark as the current uptrend has not yet cleared the two lower levels of the Fibonacci retracement shown in the chart above.
At this point, the massive debt held by Sasol is perhaps the most concerning variable that long-term investors should keep an eye on as the firm held around $8.5 billion in debt by the end of 2020 on $27 billion in total assets.
The company's ability to thrive in today's challenging environment could depend in its capacity to reduce that debt to diminish its solvency risks as commodity prices remain volatile.
If that were to happen, the markets could nod by expanding valuation multiples in response.
Should I Buy Sasol Shares?
Based on the scenarios illustrated above, Sasol shares are currently facing a boom-or-bust moment whether you analyze the situation from a day-trading or a swing-trading perspective.
The question at this point would be if Sasol is going to be able to reverse the long-dated downtrend shown in the chart above, as this could lead to some strong short-term upside.
If the price were to move above that upper trend line, that could be the indication that the latest bull run could be poised to continue. Meanwhile, if the price rejects such a move, chances are that the price will probably remain in consolidation mode for a while.
Step 3: Open an Account and Deposit Funds

The process of opening an account with Plus500 starts by visiting the firm's official website and clicking any of the "Start Trading" buttons within the site.
After that, users can choose to either trade with real money or give the platform a test drive before making a deposit through a demo account.
If you are ready to buy Sasol shares with Plus500 you should go with the "Real Money" option and then the system will prompt you to create a username and a password to set up an account.
Once your account is created, you can start depositing money with this broker by using a debit or credit card, an electronic wallet such as PayPal or Skrill, or via wire transfer. Making a deposit does not generate any kind of charge.
Once the money is received and credited to your account you can start buying Sasol shares if you believe they are a good addition to your portfolio based on your own due diligence.
Step 4: Buy Sasol Shares
With Plus500, you can buy CFDs on Sasol's NYSE-listed or JSE-listed shares depending on your preference.
To do this, you can go to your account and use the search box to locate Sasol by using either the SOL (JSE) or SSL (NYSE) tickers.

Once you click the instrument, the price of the stock will be displayed and you'll have the possibility of either buying or selling (short-selling) the stock.
At the moment, 96% of Sasol's investors within the Plus500 platform are buyers.
The Verdict
Sasol is a company that has strong roots in South Africa but also a decent footprint in other corners of the world including North America and Europe.
The recent spike in volatility caused by the pandemic has resulted in instability for the stock price but the progressive rollout of vaccines in multiple countries – including South Africa – can lead to the progressive recovery of the commodities market – a situation that would favor Sasol's share price in the mid to long-term.
If you want to buy Sasol shares today, you can sign up with Plus500 to incorporate this stock into your portfolio if you believe there is more upside ahead for this South African energy and chemicals giant.
Plus500 – Trade Sasol Shares With No Commission

CFD Service. Your capital is at risk.
FAQs
Can Sasol shares be bought by foreigners?
Yes. Individuals outside South Africa can also buy Sasol shares by using Plus500's trading platform or by using a broker that sells US-listed securities, in which cased they would have to buy the firm's American Depositary Receipt (ADR) listed under the ticker SSL in the New York Stock Exchange.
Does Sasol stock pay a dividend?
At the time this is written, Sasol's Board of Directors has decided to suspend dividend payments until further notice as a measure of prudence given the uncertainty related to the pandemic.
Where is Sanlam headquartered?
Sanlam is headquartered in Bellville, South Africa.
Who is the CEO of Sasol?
Sasol's Chief Executive Officer as of February 2021 is Mr. Fleetwood Grobler.
Are Sasol shares a safe investment?
As any other type of investment, the purchase of an equity instrument such as Sasol shares comes with risks. There is a systemic risk - related to the market's inherently volatile structure - and other risks including liquidity risks, solvency risks, sovereign risks, etc. You should only trade with money you can afford to lose and you should conduct your own due diligence before buying any financial security.
Is Plus500 a good broker?
Plus500 is a heavily regulated trading platform that offers its services to thousands of investors around the world. The company is also a publicly-traded UK-based entity that is overseen by the Financial Conduct Authority (FCA) - a top tier regulatory agency.