How to Buy Prosus Shares in South Africa – With 0% Commission
Prosus NV is a Dutch consumer internet company that is listed on multiple stock exchanges including the Euronext Amsterdam and the Johannesburg Stock Exchange. This company, which was founded in 1997 and employs nearly 16,000 employees, is also one of the largest technology investment companies in the world and has a market cap of nearly €120 billion.
In this guide, we'll help you find out the most crucial factors you need to know about Prosus. We'll analyze the company and its share price performance, and show you how to buy Prosus shares in South Africa in the easiest and most cost-effective way.
How to Buy Prosus Shares in South Africa – Step by Step Guide 2021
If you want to buy shares of Porsus in South Africa without any further delay, then follow the four steps below to start the process.
Step 1: Open an account with Capital.com – Go to Capital.com's website and open a trading account by clicking on the 'Trade Now' button and submitting your email address and password.
Step 2: Verify your Account – Upload proof of ID and proof of address to verify your identity.
Step 3: Deposit Funds – Deposit a minimum of 20 GBP/USD/EUR with one of Capital.com's supported payment methods.
Step 4: Buy Prosus Shares – Search for Prosus (PRX) shares in Capital.com's trading platform and place a buying order.
Step 1: Choose a Stock Broker
As we mentioned above, Prosus shares are listed on Euronext and on the Johannesburg Stock Exchange, which means you need to find a regulated stockbroker that gives you access to one of these exchanges. Below, we reviewed two of the best commission free stock brokers in South Africa.
1. AvaTrade – Top CFD Broker to Trade Prosus shares


AvaTrade is another licensed brokerage firm in South Africa that offers commission-free trading on stocks and other markets. It is one of the most popular and well-known CFD brokers, largely due to the variety of platforms and tools it offers. Simply put, AvaTrade provides almost any tool or feature that traders typically use – this includes automated trading solutions, social trading tools, Mac trading, FX options, etc.
Like Capital.com, AvaTrade does not charge any fixed trading fees when you buy and sell assets on its platforms. You simply need to pay the spread and some account management fees such as inactivity fee (in case you don't use your trading account), deposit and withdrawal fee, swap overnight fees, etc. Generally, AvaTrade is considered a cost-effective platform with lots of trading tools. The only disadvantage of this broker in comparison to Capital.com is the limited range of assets.
Nonetheless, if you are looking for a broker that gives you access to simple to use and advanced trading platform on one account, then AvaTrade might be the best choice. For beginners, AvaTrade offers the AvaTrade web trader that is available on any web browser and as a mobile trading app.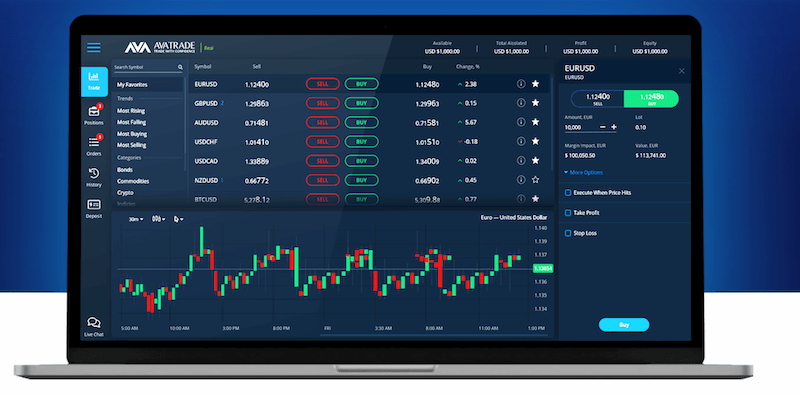 At last, AvaTrade is one of the most heavily regulated online CFD platforms in South Africa and worldwide. It holds licenses from the Financial Sector Conduct Authority (FSCA) in South Africa, FCA in the UK, ASIC in Australia, CySEC in Europe, and more. To get started, you need to meet a minimum deposit requirement of $100 or start trading on a demo practice account. 
Pros:
AvaTrade offers a variety of trading tools and features including automated trading solutions, social trading tools, FX options, etc.
Supports the MT4 and MT5
Commission-free trading
Great tools for experienced traders
Features social and automated trading solutions – AvaSocial, DupliTrade, ZuluTrade, and ExpertAdvisors (MT4 and MT5)
Regulated in South Africa by the Financial Sector Conduct Authority (FSCA)
Supports margin trading
Cons:
A limited selection of assets
Charges inactivity fee
Your capital is at risk.
2. Capital.com – Overall Best Broker in South Africa to Buy Prosus Shares

Our most recommended online platform to buy Prosus shares in South Africa is Capital.com, a relatively new CFD broker that was founded in 2016 and is already one of the best share trading platforms in the world. This is in large because Capital.com offers commission-free trading on over 3600 shares from 18 stock exchanges in the world. In addition, you'll get access to 26 stock indices, 201 cryptocurrencies, 31 commodities, and 138 FX currency pairs. Crucially, when you trade shares on Capital.com's platform, you be able to leverage your positions with a 5:1 ratio.

One of the main attractions of Capital.com is its in-house trading platform, which is the world's first-ever platform that uses artificial intelligence technology to send users trading insights. The AI technology works in a similar way to other popular networks like Netflix, Facebook, and Google. It simply identifies the searches you have done and your trading activity and matches trading ideas for you accordingly.
Besides Capital.com's trading platform, you can also trade on the popular MT4. Plus, you get access to a variety of tools for beginners and experienced traders. For example, Capital.com offers the Investmate, an educational app that helps you learn how to trade and get familiar with basic trading terms and strategies.
In terms of security and the safety of funds, South African investors are safe as Capital.com is regulated by the UK's Financial Conduct Authority (FCA) and the Cyprus Securities and Exchange Commission (CySEC). 
Pros:
Commission free trading – no fixed trading fees
Provides platform and tools for beginners and professional traders
No deposit and withdrawal fees
Tight spreads
Huge range of markets and financial assets – stocks, indices, commodities, FX currency pairs, and cryptocurrencies
Supports the MetaTrader4 and an education app
features an in house trading platform that uses AI technology
Low minimum deposit requirement of $20
Offers a free demo account
Cons:
Only offers CFDs
Not regulated by the Financial Sector Conduct Authority (FSCA)
75.26% of retail investor accounts lose money when trading CFDs with this provider.
Step 2: Research Prosus Shares
Before you make any investment, it's always recommended to get as much information as possible about the company you'll be investing in. As such, the section below will help you get crucial information about Prosus NV and its share price performance.
What is Prosus?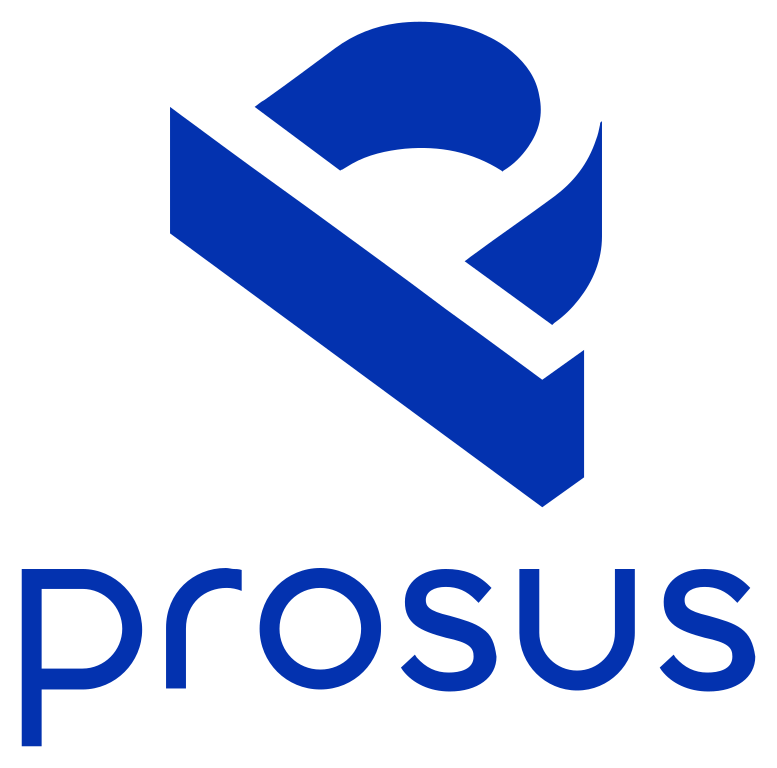 Prosus NV is a global consumer internet company that essentially operates as a venture capital firm in the tech sector. Over the last years, Prosus has become one of the largest technology investment companies in the world with an array of investments in technology businesses and internet platforms including digital media, fintech, internet e-commerce platforms, food delivery, etc. Some of Prosus main holdings include a 29% stake in Tencent, Luno, SimilarWeb, CodeAcademy, Stack Overflow, Wolt, Udemy, Swiggy, Delivery Hero, and many more. In terms of asset value, Prosus is the biggest consumer internet company in Europe and one of the largest technology holdings firms in the world.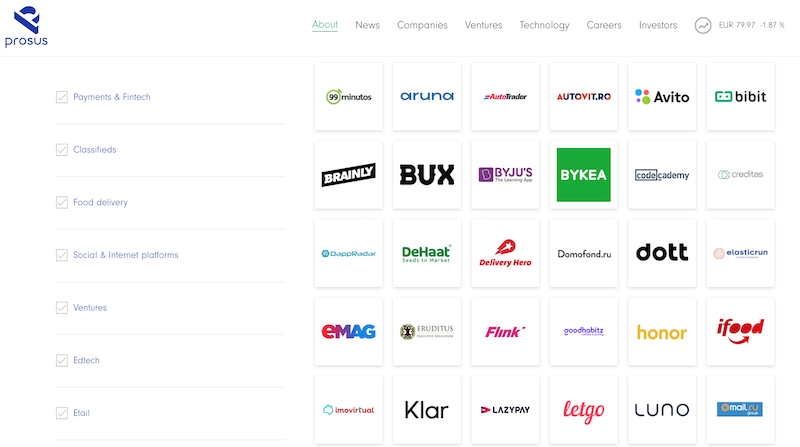 Notably, Prosus is largely owned by Naspers, a South African giant media group founded in 1915 and headquartered in Cape Town. Prosus has two exchange listings – one on the Euronext Amsterdam exchange under the ticker symbol (AEX: PRX) and another secondary listing since 2019 on the Johannesburg Stocks Exchange under the ticker (XJSE: PRX).
The company's Chief executive officer (CEO) and executive director is Bob van Dijk.
Prosus Share Price 
Prosus started trading on Johannesburg Stocks Exchange on 11 September 2019 under the Technology Internet sector and its share price has been trading, so far, in a modest upward trend. At its IPO on JSE, Prosus was trading at 118,735 ZAC and a year later, it was trading at nearly 160,000 ZAC per share. The stock reached its all-time high level of 193,776 ZAC on February 2021 and since then, it has lost around 30% of its value.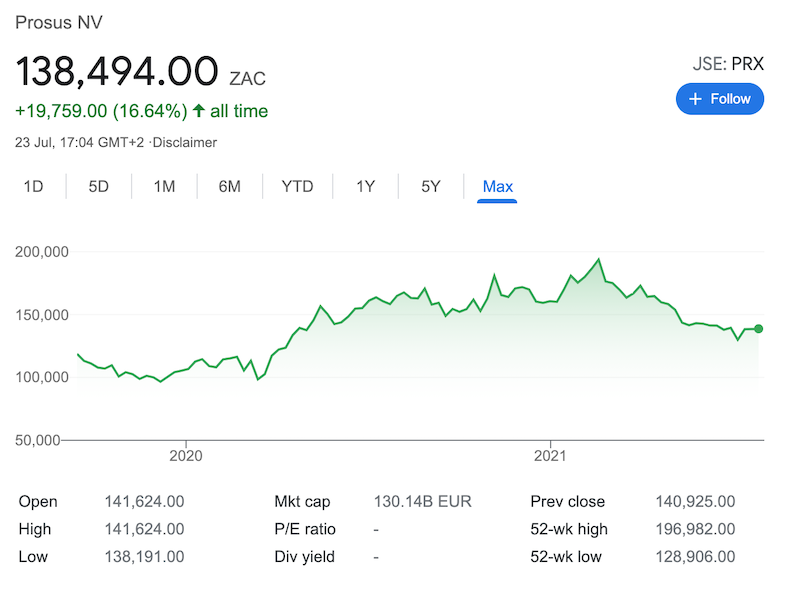 In the last year, there's an ongoing discussion regarding the discount in both Prosus and Naspers in terms of NAV to market valuation. In the case of Prosus, the net asset value is roughly $268 billion as of July 2021, but its current market cap is around $120 billion. To solve this 'problem', Prosus and Naspers have created a plan at which Prosus shareholders will exchange their shares for the shares of Naspers.
Regardless of the discount, Prosus has a PE ratio of 23.53 and an earning per share (EPS) ratio of R5886. Its market capitalization on the JSE stands at 2,250,045,637,826 South African Rand.
Prosus Shares Dividends
In addition to capital gains, investors can also make a passive income from dividend payouts. In that matter, there's not much reliable information about Prosus NV dividend policy, however, in October 2020 the company released a clarification regarding the processing of dividend payout in South Africa. Generally, the statement says that anyone who holds Prosus shares N or shares A1 on the South African exchange is entitled to dividend payment.
Are Prosus Shares a Good Buy?
All in all, Prosus is certainly one of the most attractive stocks to buy right now in South Africa. With that in mind, here are some of the reasons why you need to consider adding this stock to your portfolio.
Strong Earnings Results
In June, Prosus released its best-ever earnings results. The company said it expects full-year EPS to have nearly doubled in the past year, revenue to grow by 33%, and trading profits by 44%. Also, revenues from its eCommerce portfolio grew by 54%. This is particularly impressive when we take into consideration the negative impact of the covid-19 pandemic on investment companies worldwide and on the economy in general.
According to prosus: "Despite the turbulent impact of the pandemic, we witnessed an acceleration in the digital transformation and growth trends of each one of our sectors,".
Another factor to take into account is the free cash the company received following the sale of 2% in Tencent at a total amount of $14.6 billion. This will help Prosus to make new acquisitions with the capital it gained from the Tencent 2% sell.
The Stack Overflow Acquisition
In June 2021, Prosus acquired Stack Overflow for $1.8 billion – another huge acquisition of an online learning platform following previous acquisitions of CodeAcademy, Udemy, and Skill Soft.
For those unaware, Stack Overflow is the largest platform in the world for developers and programmers with nearly 300 million visitors per month and is among the 50 most popular websites in the world.
Prosus is a Major Holder of Chinese Tencent
Prosus is mostly known as the largest shareholder in Tencent, which is a huge Chinese multinational technology holding company on its own. At the time of writing, Prosus holds a 28.9% stake in giant Tencent after it has sold 2% of its stake in Tencent In April for a net profit of $14.6 billion.
Prosus stake in Tencent is clearly a major factor to consider as Tencent is one of China's largest tech investment companies and its stock price was booming over the last years, though it fell quite drastically from the beginning of the year. Essentially, when you buy shares of Prosus, you also buy shares of Tencent.
Step 3: Open an Account & Buy Shares
In order to buy Prosus shares in South Africa, you need to open an account with a regulated and authorized online broker. From our research, Capital.com is the best stock broker to buy shares in South Africa as it offers zero commission trading and margin trading. As such, in this section, we'll show you how to open an account with this broker and buy Prosus shares. 
Step 1: Open a Trading Account at Capital.com
At first, visit Capital.com's homepage and click on the 'Trade Now' button to start the account registration process. Then, in the registration form, simply submit your email address and create a password or complete the sign-up step with your Google, Facebook or Apple account.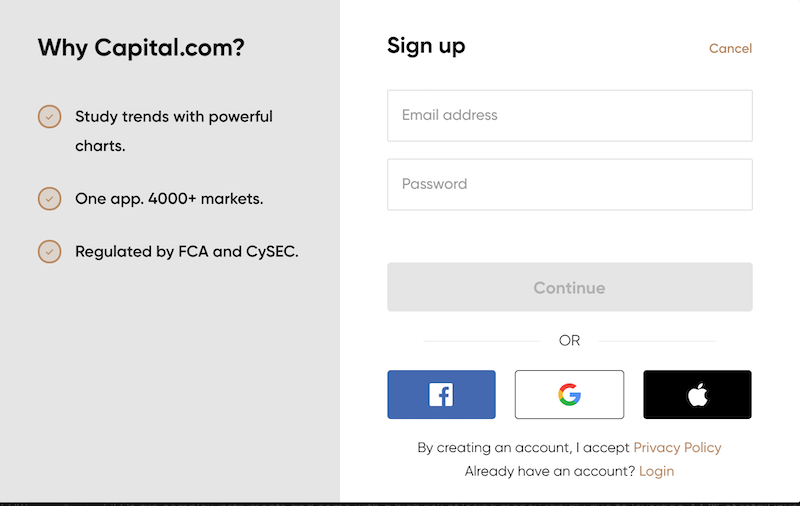 Step 2: Verify Your Identity
Because Capital.com is a regulated CFD platform, the next step you must take before you are allowed to deposit funds and trading financial assets is to verify your identity. This means you'll have to complete a KYC (know your customer) process that includes submitting personal information and uploading the documents that verify your ID – a copy of your passport or driver's license along with a copy of a bank statement or utility bill
Step 3: Deposit Funds
The next step involves adding funds to your new trading account. Capital.com maintains a minimum deposit requirement of just $20 which is around 285 ZAC, although we do recommend you start trading with a higher amount of capital. In terms of the payment methods, Capital.com offers a huge range of options that include debit cards, credit cards, Bank Wire Transfer, Sofort, iDeal, Giropay, Multibanko, Przelewy24, QIWI, Webmoney, ApplePay, Trustly, 2c2p, or AstropayTEF.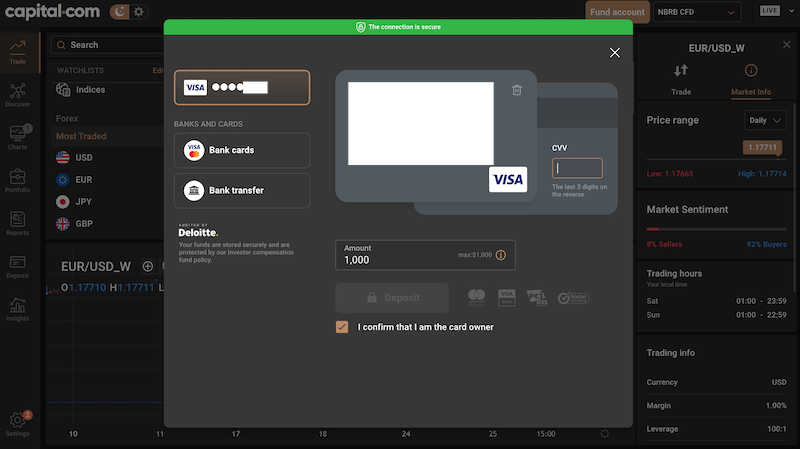 Step 4: Buy Prosus Shares
Now, you can buy Prosus shares on Capital.com's platform. Simply type 'Prosus' or PRX into the search bar in the top left corner of the platform, enter the number of shares you want to buy, and click 'Buy' in the order form that appears on the right side of the platform. 
Prosus Shares Buy or Sell?
In summary, Prosus is an exciting company for any long-term investor, and especially for those who have a strong passion for technology investments. It finds the most valuable tech businesses in the world and manages its portfolios in an excellent way.
It still remains to be seen how investors react to the somehow complicated share swap between Peosus and Naspers in which Naspers shareholders can simply swap their shares for shares in Prosus. The deal is meant to solve the discount in Naspers shares and will, basically, make Prosus a bigger holdings company in terms of market size. Nonetheless, despite all the challenges ahead, Prosus is a strong company with lots of room to grow in the next few years .
So, if you're looking to buy Prosus shares in South Africa, we'd recommend using Capital.com. It offers you a user-friendly trading platform and zero commission policy when buying and selling shares.
Capital.com – Buy Prosus Shares With Zero Commission

75.26% of retail investor accounts lose money when spread betting and/or trading CFDs with this provider.
FAQs
Should I buy Prosus Shares right now?
What does Prosus company do?
How much does it cost to buy Prosus shares in South Africa?