Brikor is a manufacturer and supplier of building materials that is listed on the Johannesburg Stock Exchange under the ticker symbol BIK. Over the last few months, its share price has been extremely volatile with an increase of 800% between April to May and then a drop back to its pre-April range.
Nonetheless, Brikor shares are still an attractive investment right now with a YTD return of over 200%. Moreover, according to some analysts, it is one of the best penny stocks in South Africa. So, in this guide, we'll help you find out whether it is a good time to buy Brikor shares and how to buy Brikor shares with a South African regulated broker.
If you are based in South Africa and looking to instantly buy Brikor shares, simply follow the four steps below:
Step 1: Open a Capital.com Account – Visit Capital.com's website, and open an online trading account by submitting the necessary personal details.
Step 2: Verify your Account – Verify your identity by uploading proof of ID and proof of address.
Step 3: Deposit Funds – Deposit at least 20 USD using one of the supported payment methods.
Step 4: Buy Brikor Shares – Search for Brikor on Capital.com's trading dashboard and place an order to buy its shares.
Step 1: Choose a Stock Broker
The first thing you need to do in order to buy shares of Brikor is to find a broker that operates in South Africa and offers Brikor shares on its platform.  Essentially, as Brikor is SA listed company, there are many brokers that allow you to buy its shares. But to narrow down the options, below we suggest two of the best stocks brokers in South Africa in terms of trading platforms and tools, regulation, and trading fees.


AvaTrade is our second recommended online trading platform that is also regulated by the South African Financial Sector Conduct Authority and offers a huge range of trading platforms and tools. With this broker, you get access to fewer assets than Capital.com (600 shares), however, AvaTrade specializes in providing trading tools and platforms for professional traders who are looking to actively trade the markets.
As such, this broker covers all trading needs, from web-based trading platforms to automated and social trading solutions. Among the variety of platforms and tools, AvaTrade offers the MetaTrader4, MetaTrader5, AvaOptions, AvaSocial, ZuluTrade, DupliTrade, and Ava Web Based platform and mobile app. The bottom line – AvaTrade is the perfect platform for investors that are looking for a variety of tools for beginners and professional traders.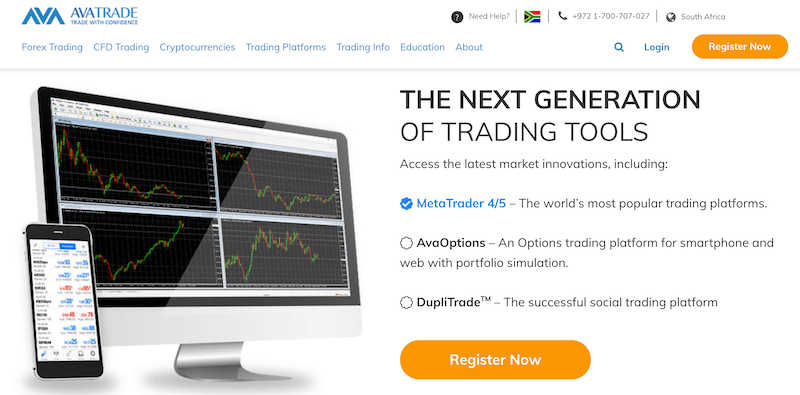 As for the pricing structure, AvaTrade takes the same approach as Capital.com so the fee is included in the spread. All things considered, AvaTrade is one of the best stockbrokers in South Africa for investors that wish to actively trade assets like Brikor shares. To get started, the broker has a minimum deposit requirement of $100, or around 1500 South Africa Rands.
Pros:
AvaTrade offers a variety of trading platforms and tools for all levels of traders
Supports the MT4 and MT5
Commission-free trading
Features social and automated trading solutions – AvaSocial, DupliTrade, ZuluTrade, and ExpertAdvisors (MT4 and MT5)
Regulated by the Financial Sector Conduct Authority (FSCA)
Cons:
A limited selection of assets when compared to other share dealing platforms
Charges inactivity fee
Your capital is at risk.

Founded in 2016, Capital.com is an innovative online trading platform and is our top choice for buying and selling shares in South Africa. This broker gives users access to a huge range of over 3600 shares from top exchanges around the world, in addition to other assets like cryptos, FX currency pairs, indices, commodities, and ETFs.
Best of all, Capital.com is a CFD platform that enables you to speculate on the price of the asset using a leverage ratio of 5:1 and without having to pay fixed trading commissions. Besides the spread, the broker does not charge deposit fees or withdrawal fees, inactivity fees, and account management fees. Also, with CFDs, you have the ability to not only buy shares but also to take the other direction, meaning to short sell to stock with the goal of making a profit when the price of the asset falls.
What's more, Capital.com is one of the most innovative brokers in the market with a huge range of trading tools and one of the best trading platforms available. This platform is the world's first-ever trading platform that uses AI technology and basically, gives investors an all-in-one trading solution.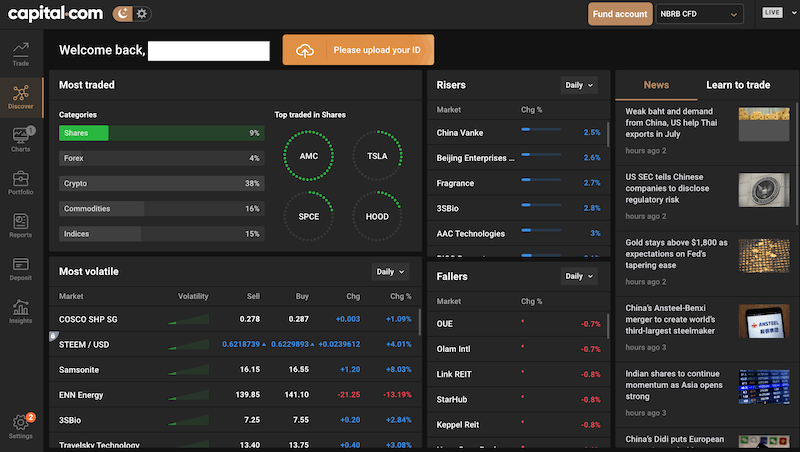 Finally, Capital.com is not regulated by the FSCA, however, it is regulated by the Financial Conduct Authority (FCA) and by the Markets in Financial Instruments Directive (MiFID). Additionally, it ensures clients' funds are safe in segregated accounts and is a member of is of the Financial Services Compensation Scheme. To get started, Capital.com requires an initial deposit of just 20 USD, or you can sign up and start using the platform on a demo account before you make a deposit.
Pros:
Commission-free trading – the broker does not charge fixed trading fees
An award-winning trading platform that uses AI technology
Supports the MetaTrader4
No deposit and withdrawal fees, or account management fees
Competitive spreads
Huge range of over 4000 financial assets – stocks, indices, commodities, forex, and cryptocurrencies
Low minimum deposit requirement of $20
Offers a free demo account
Cons:
Only CFDs
Not regulated by the Financial Sector Conduct Authority (FSCA)
75.26% of retail investor accounts lose money when trading CFDs with this provider.
Broker Price Comparison
As mentioned above, even though Brikor is a penny stock listed on the JSE, you can find many platforms that support buying shares of this company. To help you understand better the difference in brokers' pricing structure, below we compared some of the best stockbrokers that allow you to buy SA shares.
| | | | |
| --- | --- | --- | --- |
| Broker | Commission | Account Fee | Deposit Fee |
| Capital.com | 0% | None | None |
| AvaTrade | 0% | None | None |
| eToro | 0% | None | None |
| Libertex | From 0.1% | None | None |
Before you make any investment decision, it's a good idea to analyze the company, and find out more information about its current financial status and its past share price performance. With that in mind, in this section of our guide, we present crucial information you need to know before you buy Brikor shares in South Africa.
What is Brikor?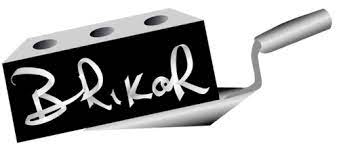 Brikor Limited is a manufacturer and supplier of various building and construction materials that was founded by Garnett Parkin senior and his son in 1994. The South Africa company essentially makes a variety of building services including low-cost housing, commercial, industrial, civil engineering, and infrastructure projects. It operates through two segments, bricks and clay – all is done in the company's two clay brick manufacturing plants, located in Nigel, South Africa.
Crucially, Brikor has two subsidiary companies – Kopanela Mining (Pty) Ltd which was established in October 2020, and Zingaro Holdings (Pty) Ltd, a company that was acquired by Brikor on 3 March 2021. The deal of 40% acquisition in shareholding in Zingaro Holdings was a major factor in the spike in Brikor share price early on this year as Zingaro operates in South Africa in Gauteng, North West, Mpumalanga, and Limpopo, with a fleet of more than 100 specialized vehicles.
In 2007, Brikor (JSE:BIK) went public on the AltX exchange at a price of R175. However, in July 2013, Brikor shares were suspended from the JSE after it couldn't deliver its financial statements on time. In July 2020, Brikor announced the end of suspension and it regained its JSE listing.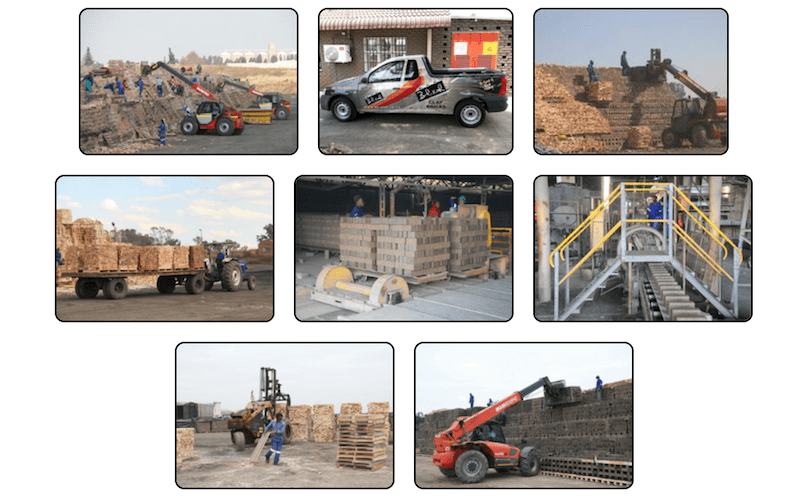 Brikor Share Price
Since August 2007, Brikor is listed on the AltX, which is the alternative exchange for small and medium-sized companies in South Africa and is part of the Johannesburg Stock Exchange (JSE). At its IPO, the Brikor stock opened at around R175 but then fell sharply in the first two years and was trading in a range between 9 ZAC to 20 ZAC for more than a decade though Brikor shares were not listed for seven years between 2013 to 2020 due to discussed suspension.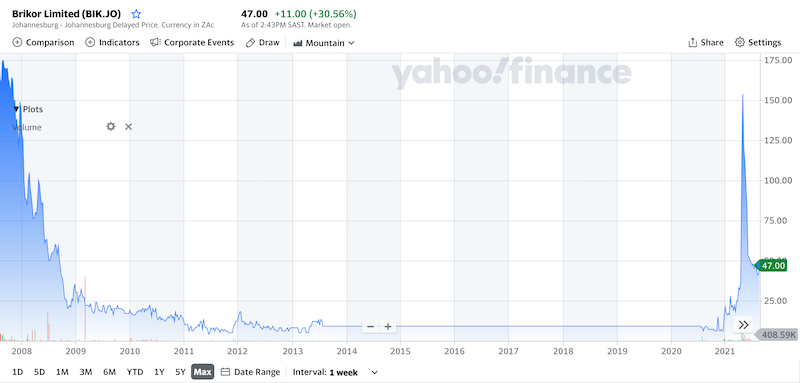 75.26% of retail investor accounts lose money when trading CFDs with this provider.
But since Brikor shares started trading again on the JSE in July 2020, the Brikor share price has had returns of over 400% in 1-year and a YTD return of 213% as of August 2021. Moreover, the stock jumped from around R20 to nearly R200 between March to May, largely due to the company's announcement of a massive increase of 2000% in its earnings and the acquisition of Zingaro Holdings. Further, it has above the industry average P/E ratio of 17.14 and a good return on equity (ROE) of nearly 15%.
At the time of writing, Brikor does not pay dividends to shareholders. This does not come as a surprise as the company is still relatively small with a market cap of just slightly over $300 million.
Brikor ESG Breakdown
Nowadays, another way to measure if a company is a good long-term investment is to make a quick check on its ESG – Environmental, Social, and Corporate Governance. This will help you get a better sense if the company has any business ideology for social and environmental factors and whether it operates in a socially responsible manner. Luckily, in the case of Brikor, despite the fact we couldn't find any ESG breakdown of Brikor, it seems that the company has an ethical vision by providing this information on its homepage.
Generally, Brikor is a penny stock so you need to keep in mind that there's a risk in investing in this company. Further, as often happens with penny stocks, not many analysts are covering the share price performance and the fundamentals of the company, which makes it quite a challenge to determine whether it is a good long-term investment.
Nonetheless, after reviewing Brikor and its share price performance over the last few years – Brikor might be one of the best penny stock investments on the JSE right now. First, despite the negative impact of the Covid-19 pandemic and the lockdowns, it has reported outstanding results for the year to February of an increase of 2000% in earnings. According to the company's CEO, Garnett Parkin: "From August till December 2020 revenues were the highest we have seen in the last five years. Brikor is a particularly resilient business and this is illustrated by the fact that the business produced such remarkable results during the pandemic."
Then, the acquisition of a 40% stake in Zingaro Holdings Ltd is a crucial factor for such a small company like Brikor. Zingaro itself is a fairly strong company with a substantial market share in South Africa. Further, Brikor has a deadline until April 2023 to decide whether it would like to buy the remaining 60% of Zingaro Holdings. Clearly, in our view, this, along with the earnings results and the strong financial results during the covid-19 pandemic, is two major factors that make Brikor a buy right now.
After you have made a decision to buy Brikor shares, it's time to show you the step-by-step process of buying its shares via our recommended broker, Capital.com.
Step 1: Open a Capital.com Account
First, visit Capital.com's homepage and sign up for an online trading account by clicking on the 'Trade Now' button and submitting your email, and creating a password. Bear in mind that you can also sign up by simply using your Facebook, Google, or Apple account.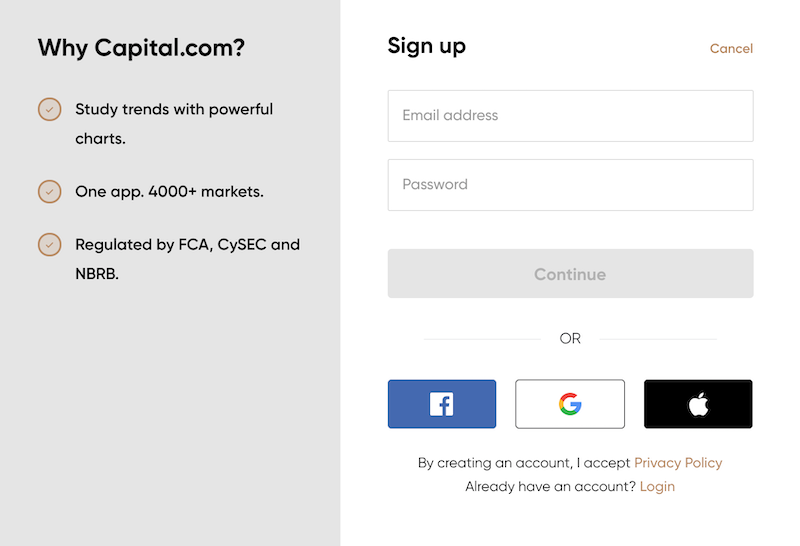 75.26% of retail investor accounts lose money when trading CFDs with this provider.
Step 2: Verify your Identity
As previously mentioned, Capital.com is regulated by several financial entities including the FCA, which means you have to verify your identity before you are allowed to make deposits and start trading. As such, you need to upload proof of ID and proof of address directly from the broker's trading dashboard.
Step 3: Fund your Account
Once your account is verified, the next is to add funds to your new account. In general, Capital.com maintains a very low minimum deposit requirement of just $20 (or 290 ZAR), though it is recommended to make a higher initial deposit of at least $100 to ensure you do not quickly meet stop loss rates and lose your funds.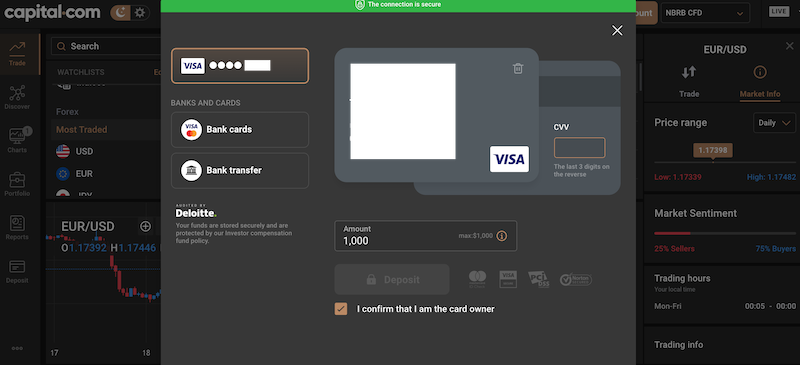 At last, you can buy shares of Brikor via the broker's platform. To do that, simply type in the company's symbol (BIK) or Brikor, insert the amount you want to invest, and place the order in the market to buy Brikor shares.
The bottom line, Brikor is not a strong buy right now, but it is certainly one of the best long-term penny stocks available on the Johannesburg Stock Exchange right now and one to add to your watchlist. For a small company like Brikor, the news is positive since the company suspension ended last year in July. And technically, it appears that the stock is looking for a strong up move for at least the next Fibonacci level of R58.
In our view, despite the risk involved in penny stocks like Brikor and the fact that there's no dividend yield for owning Brikor shares, this company could be a good long-term buy opportunity right now with a stop-loss rate at the crucial level of 25 ZAC.
To sum up, Brikor seems to be a great long-term investment, particularly if you are looking for a penny stock investment in South Africa. As mentioned severally in this guide, despite the recent fall from 199 ZAC to 47 ZAC since May, this stock potentially can rise in value over the long term.
So, if you're looking to buy Brikor shares today, we'd recommend using Capital.com. This broker works on a commission-free pricing structure and offers one of the best trading platforms available in the market.

75.26% of retail investor accounts lose money when spread betting and/or trading CFDs with this provider.
FAQs
Are Brikor shares a good buy?
Where can I buy Brikor shares?
Who owns the most Brikor shares?
How much do Brikor shares cost?