XM Broker Review – Features, Fees, Pros and Cons Revealed
XM is a widely used and well-loved online brokerage. This broker operates in 196 countries around the world and offers trading on an enormous range of assets. You can trade more than 1,000 companies through stock contracts for difference (CFDs), commodities, forex, and cryptocurrencies.
On top of that, XM is relatively trustworthy since it's regulated by top authorities like the UK Financial Conduct Authority, the Australian Securities and Investment Commission, and the Cypress Securities and Exchange Commission. Traders also speak highly of XM because it integrates seamlessly with MetaTrader 4 for forex trading and MetaTrader 5 for CFD trading.
Is XM the best broker for South African traders? In our XM broker review, we'll take a closer look at all the features this platform has to offer along with its costs for trading.
What is XM?
XM is an international online brokerage founded in 2009. The broker is wholly owned by Trading Point Holding, which operates both XM and the European-only brokerage Trading.com.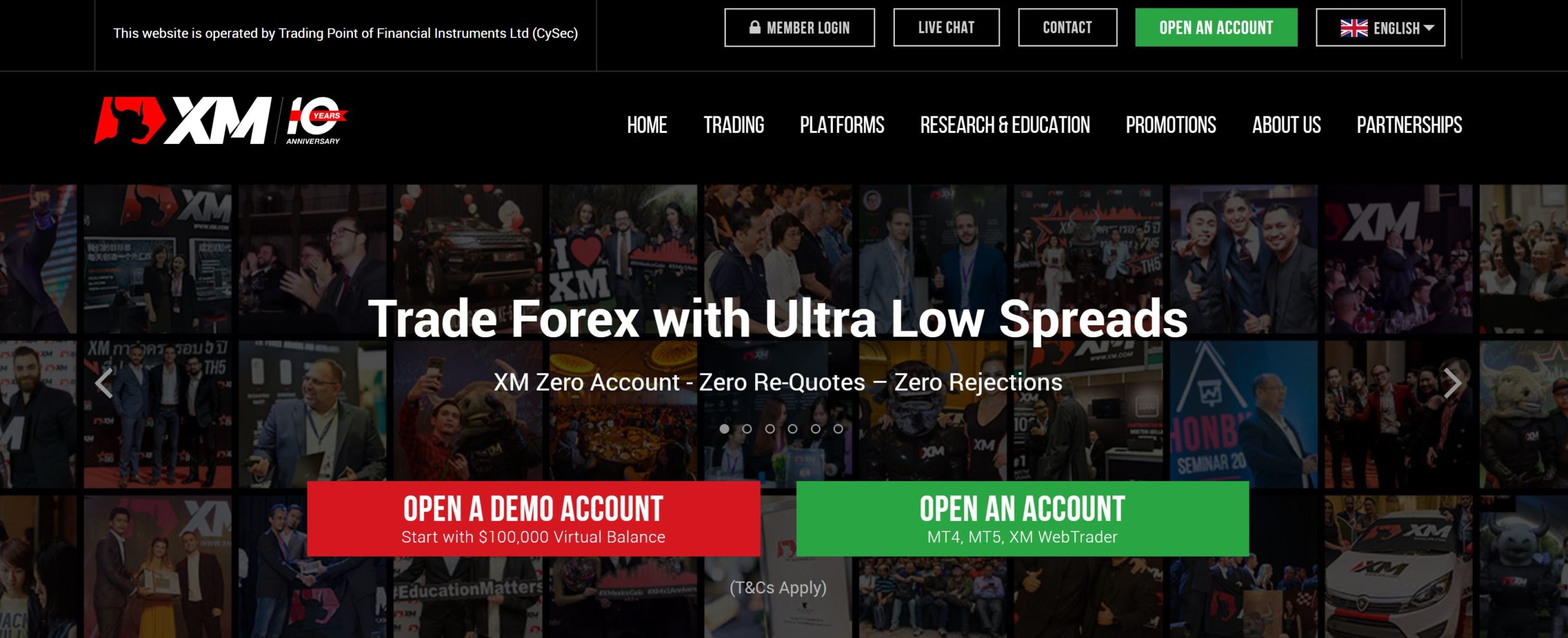 One promising sign that XM sits firmly in the top tier of online brokers is that the service is regulated by three top financial authorities: the UK Financial Conduct Authority, the Australian Securities and Investment Commission, and the Cypress Securities and Exchange Commission. That's good news since it indicates that XM trading is operating according to all current best financial practices. South African traders won't enjoy all the same account protections as European traders, but you do get negative balance protection with all standard trading accounts.
XM currently has more than 1.5 million clients in 196 countries around the world. The website and online trading platform are offered in a whopping 22 languages, which is pretty impressive. On top of that, South African traders will be excited to know that the rand can be used as a base currency for most trades through XM. That means fewer currency conversion headaches and simpler deposits and withdrawals.
XM Trading Account Types
One thing that stands out about this broker is that it offers multiple XM account types for South African clients. That gives you a bit more flexibility in choosing the pricing model and trading structure that are best for you.
The standard XM trading account is the Micro account. This is a 0% commission trading account, although the spreads can be somewhat high. For example, the cheapest spreads you'll see on major currency pairs is 1 pip or 0.01%. Many other commission-free online brokers offer spreads as low as 0.5 pips for major forex pair trades. The Micro account requires a minimum deposit of just 85 R, which is nice for traders who want to start small. In addition, the Micro account allows ZAR as a base currency.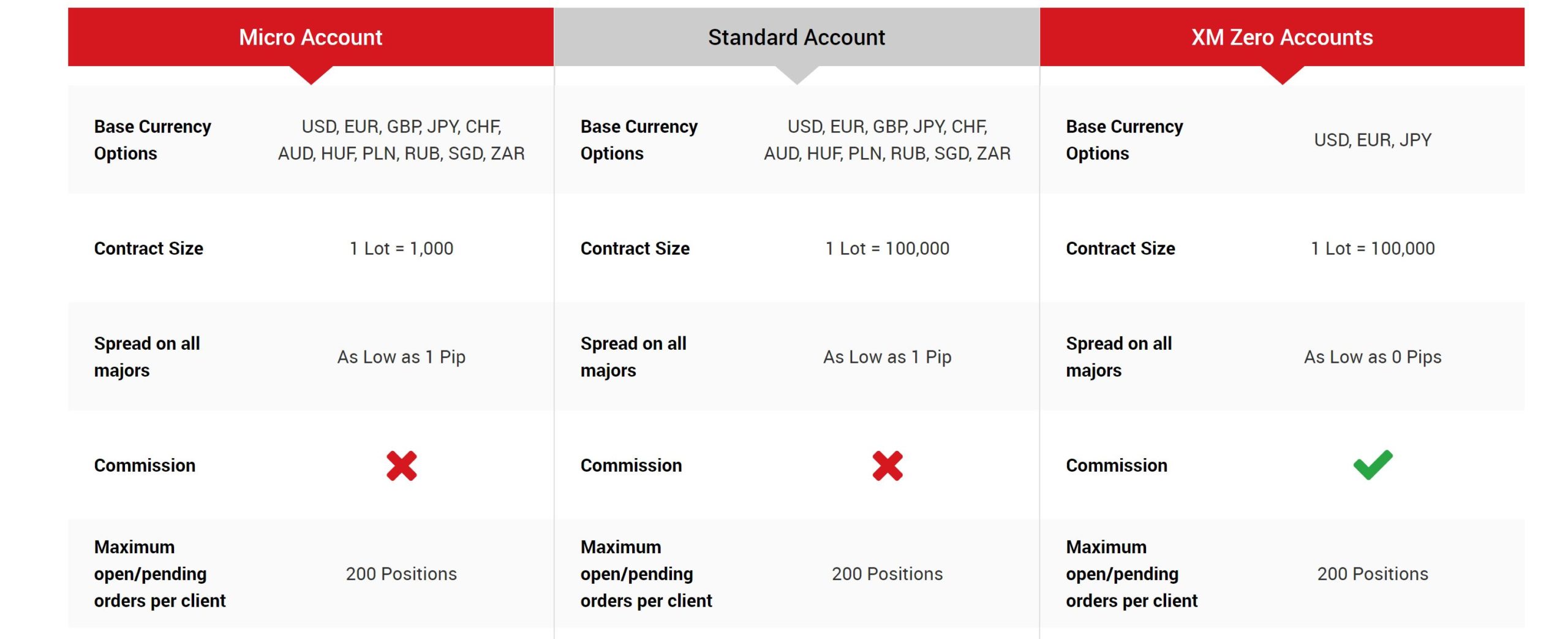 The Standard account is essentially identical to the Micro account, except with different lot sizes. The Micro account uses a lot size of 1,000, while the Standard account uses a lot size of 100,000. This is primarily of interest to forex traders, since the minimum lot size for trading currencies with either account is 0.01 lots. Both accounts come with negative balance protection, meaning that you cannot lose more than your account balance when trading with leverage.
The XM Zero account is a bit different. There are variable trading commissions with this account, but the spreads are incredibly low. The average spread for the popular EUR/USD and USD/JPY forex pairs is just 0.1 pips, for example, and the spread can drop as low as zero on high-volume trading days. An XM Zero account requires a minimum deposit of $100 US (approximately 1,700 R) and you must use USD, JPY, or EUR as your account base currency. The XM Zero account is generally best for high-frequency forex traders.
What Assets Can You Buy on XM Broker?
XM broker offers a huge range of tradable assets, although only within a limited number of categories. You can trade forex, commodities, indices, and stocks, and we'll go into more detail on each of these offerings below. But you cannot trade ETFs, mutual funds, bonds, options, or cryptocurrencies. Let's take a closer look at the different XM markets.
Forex
Forex trading is at the heart of XM. The broker offers 57 currency pairs, which is around a dozen more than comparable commission-free South African forex brokers like eToro. All of the major and minor currency pairs are available along with a handful of exotics – including USD/ZAR, JPY/ZAR, and EUR/ZAR.
All forex pairs can be traded with leverage, although the maximum leverage and overnight fees vary by currency. Most major pairs trade with leverage up to 888:1, which is pretty impressive (and may be necessary to cover the 0.01 lot minimum).

Commodities
Our XM review found that the broker currently offers CFD trading for 15 commodities, including a variety of staples like corn, wheat, and soy. Notably, while XM offers trading on gold and silver futures, the broker doesn't have CFDs for other metals like copper and platinum. That can be somewhat limiting for commodity traders, although most trading volume goes through gold and silver in any case.
The available leverage is fairly high for most commodities contracts. You can trade oil at up to 66:1, and most other commodities at 50:1.
Indices
XM allows CFD trading for 18 equity indices. The selection isn't all that diverse, however. Most of the available indices cover markets in the US, Europe, and Japan. You won't find indices for less popular or emerging markets in Asia, Africa, or South America through this broker. Maximum leverage varies from 200:1 to 10:1 depending on which specific index you want to trade.
Stocks
XM's range of stock CFD offerings is one of the broker's main attractions, alongside forex trading. There are more than 1,200 companies available for trading spanning nearly every market sector. All shares are traded as CFDs and offer leverage up to 10:1.
Unfortunately, geographic diversity is once again an issue for XM trading. Nearly all of the stock markets that XM covers are in Europe. The only non-European markets that XM offers are the US, Australia, and Brazil. You won't be able to buy shares of companies like Sanlam and MTN on the Johannesburg Stock Exchange, and even some major exchanges like the Tokyo Stock Exchange are missing from XM's register. On the plus side, XM broker does offer stock trading for some of the best shares to buy in Europe.
XM Fees and Commissions
XM's fees are generally quite low, although keep in mind that the pricing structure depends on whether you are using a Micro/Standard account or an XM Zero account.
With the Micro and Standard account, there is no commission and all trading fees are priced into the spreads. Spreads for forex trades can be on the high side – 1 pip or more for major currency pairs – but spreads for stock and index CFD trades are generally quite competitive. Helpfully, XM is extremely transparent about the minimum and average spreads for every asset it offers, so it's easy to compare fees for a specific forex pair or stock against other brokers.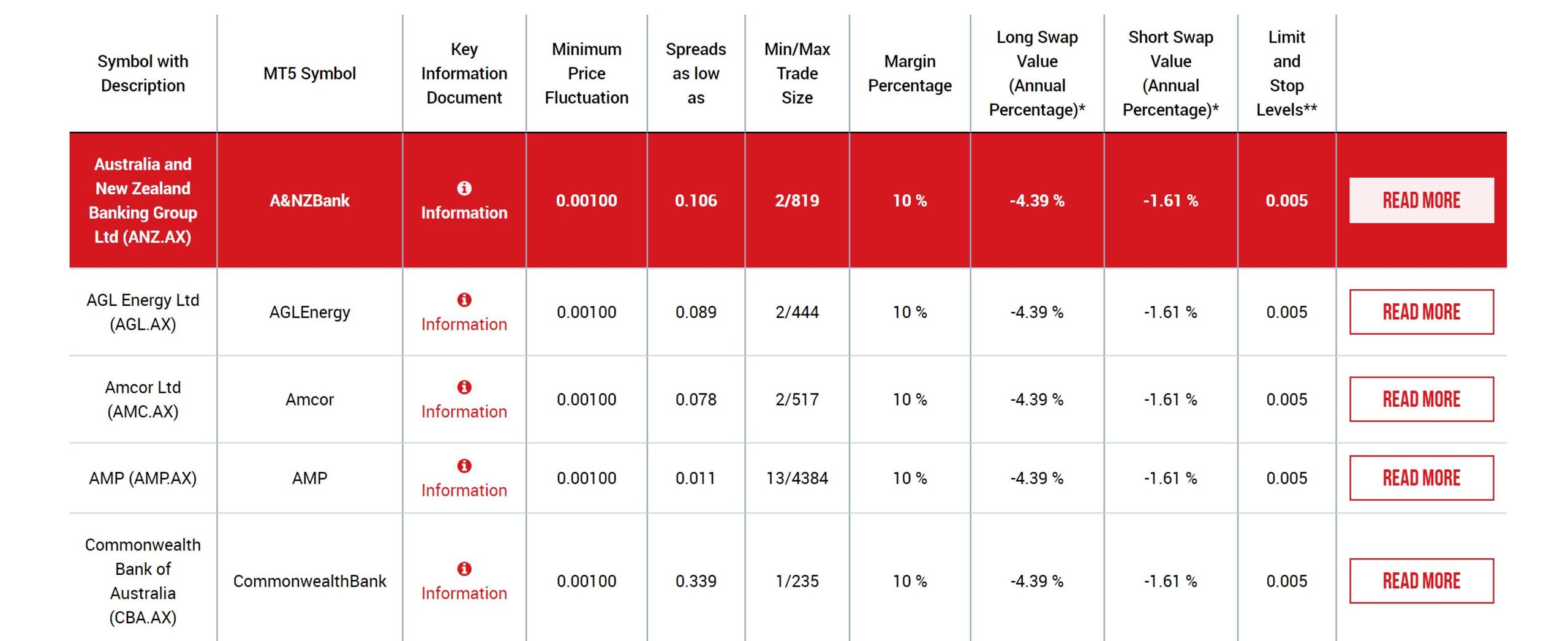 With an XM Zero account, you still pay a spread – the 'Zero' refers to the fact that the minimum spread is 0 for major forex pairs. The average spread ranges from 0.1 to 0.4 pips, which is still extremely low. Stock traders will want to keep in mind that commission and spread changes for the XM Zero account only affect forex trades, not stock trades – there is still no commission for share CFDs and spreads are the same across account types. The commission with an XM Zero account $3.50 per $100,000 US traded.
Account fees at XM are also low. There are no deposit or withdrawal fees nor monthly or annual account fees. The broker does charge an inactivity fee if you don't place a trade for more than three months, but it's only 85 R.
XM Trading Platform and Tools
XM doesn't have its own proprietary trading platform. Instead, it offers integrations with MetaTrader 4 and MetaTrader 5, two extremely popular third-party trading platforms. MetaTrader 4 only supports forex trading, while MetaTrader 5 supports forex, stocks, commodities, and indices. Both platforms are available on web, desktop, and mobile.
MetaTrader 4 and 5 each offer extremely advanced functionality. You can access highly customizable charts and drawing tools, plus the ability to save annotations for future use.
Experienced traders can take advantage of MetaTrader's flexibility to build their own custom technical studies and indicators. These can be turned into trading signals to develop price alerts (only available on desktop and mobile) or to set up an automated trading strategy. MetaTrader also boasts a robust backtesting module so you can rigorously test out any custom trading signals before putting them to work.
The one major downside to MetaTrader is that it's not particularly easy to use for beginners. The interface looks a little bit outdated and navigating the trading platform for the first time can be difficult. The web platform is slightly easier to use, but it's still far from user-friendly and doesn't support price alerts.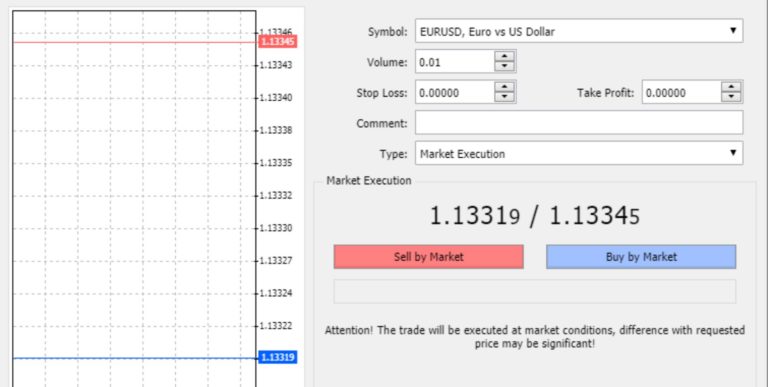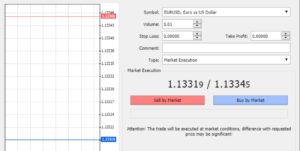 Another thing to keep in mind is that MetaTrader doesn't support particularly advanced order flows for risk management. You can use market, limit, and stop loss orders as well as good-till-canceled and good-till-time orders. But there are no fill-or-kill or one-cancels-the-other orders, which can make managing risk more difficult for advanced trading strategies.
XM Trading App
As we noted, XM's integration with MetaTrader 4 and 5 is available on mobile devices (iOS and Android). The mobile trading interface is impressively smooth, especially compared with the desktop and web interfaces. It's quite a bit easier to search for forex pairs and stock CFDs, and the ordering interface is essentially the same.
You also have access to charts on mobile, although MetaTrader's charts can feel a bit crowded on a small screen. You can use any existing trading signals, but you won't be able to develop new indicators or backtest a strategy from the mobile apps.
Strangely, you cannot set price alerts from the MetaTrader mobile app. But any alerts you create on a desktop will function on your smartphone. This is somewhat annoying, but it's better to have some alerts than none at all.
Research and Analysis at XM Broker
Our XM review found that there is a fair amount of research and analysis built into the XM trading platform, which is excellent for spotting trading opportunities.
To start, the platform has a trade ideas page for forex and stocks. These trade ideas are based on automated technical analysis and focus on simple patterns like trendlines. We liked that the algorithm assesses the strength of the pattern it's identifying, which makes it easier to gauge whether the predicted price jump is likely to happen.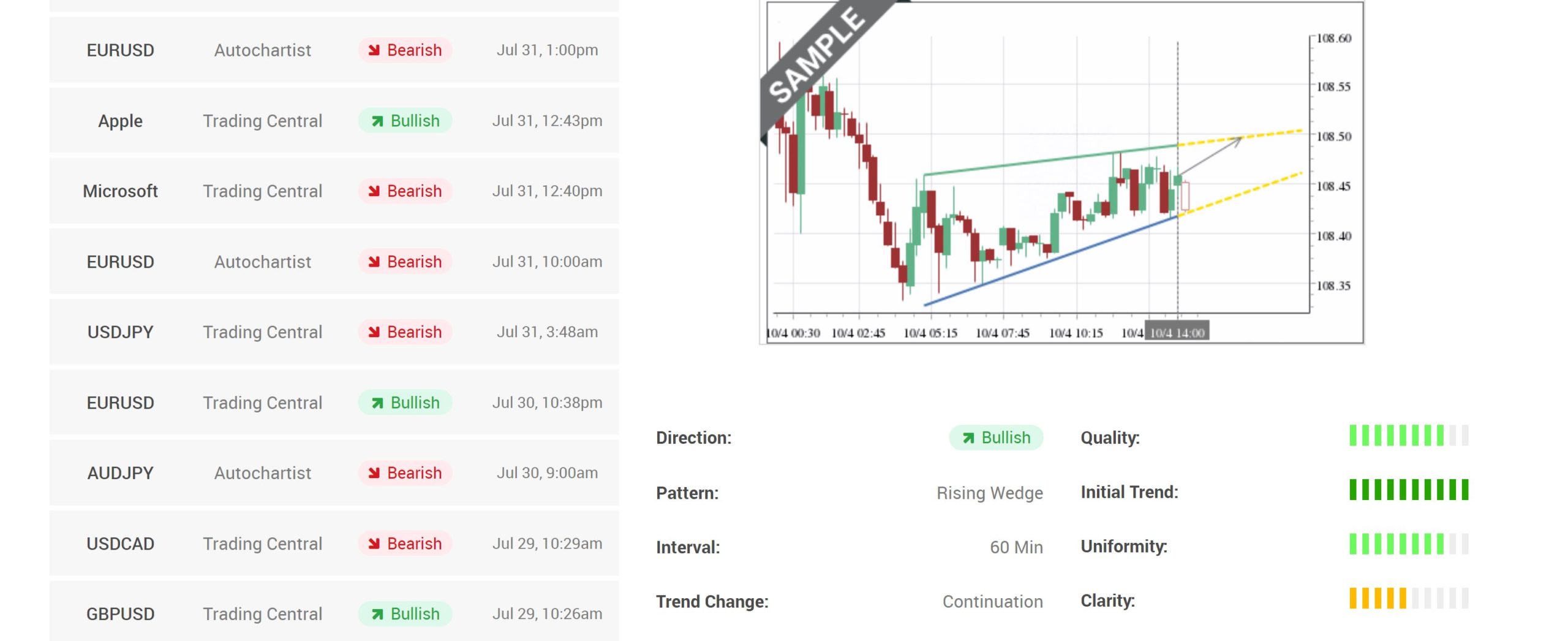 Another helpful tool is XM's technical summaries for forex, stocks, and commodities. These summaries look at the main trend, current move, and extreme moves for each asset over multiple timeframes. You get a simple strong, weak, or neutral rating for each move and timeframe, which offers a jumping off point for further analysis.
XM also offers less novel, but no less important features like an economic calendar and a news feed. The news feed only draws stories from Reuters, so it's relatively limited in coverage. The economic calendar was pretty disappointing, as it only shows a handful of events rather than the entire docket of upcoming economic releases in key countries.
XM Demo Account
XM offers a demo account that you can use to get to grips with the XM trading platform. The demo account provides $100,000 worth of virtual funds and allows you to access the full functionality of the platform, including MT4 and MT5.
XM Bonus
Our XM broker review found that this platform doesn't currently have any bonuses up for grabs. However, this may change in the future, and XM has offered bonuses in the past, so be sure to keep an eye out for any new offers.
XM Minimum Deposit and Trading
Opening and funding an account at XM couldn't be simpler. This broker is one of only a handful of major platforms that offers ZAR as a base currency, which means that you can fund a trading account in South Africa without paying conversion fees (note that XM Zero accounts do not support ZAR as a base currency).
Micro and Standard accounts only require a minimum deposit of 85 R, while XM Zero accounts require just $100 US. There are no deposit or withdrawal fees to worry about, either.
You can fund your trading account using a variety of different payment methods:
Debit card
Credit card
Bank transfer
Wire transfer
Neteller
Skrill
Skrill 1-Tap
MuchBetter Wallet
Trustly
All payments except for bank and wire transfers are available for trading immediately. The XM minimum deposit is $5 for Micro and Standard accounts, and $100 for Zero accounts.
XM Login
If you are already an XM customer and hold a trading account, you can click here to login to the XM members area. You will find all your trading account details once you login. If you are unable to login, below are the contact and customer support details for XM broker.
Customer Service at XM
XM offers 24/5 customer service by phone, email, and live chat. The customer support team operates in more than 25 languages and there is separate contact information for different types of questions.
Response times were fast, with almost no wait when calling in by phone or using the live chat. Email responses arrived within 24 hours. The quality of the service was a little hit-or-miss depending on the exact representative we talked to, but in general, we were able to get questions answered pretty quickly.

XM contact number: +357 25029933
XM address: 12 Richard & Verengaria Street, Araouzos Castle Court, 3rd Floor, 3042 Limassol, Cyprus
Is XM Safe?
XM is a highly regulated broker, under the authority of the UK Financial Conduct Authority, the Australian Securities and Investment Commission, and the Cypress Securities and Exchange Commission. The broker has been around for more than a decade and hasn't been accused of any major violations by regulators in that time. In addition, XM provides negative account balance protection for all accounts, so you cannot lose more than you deposit into your trading account.
The only thing to be concerned about with XM is that since the company isn't traded publicly, it's internal financials aren't public. That's not uncommon among brokers, however, and there are no red flags to worry about at this time.
XM Pros and Cons
Pros
Offers trading on 57 forex pairs
More than 1,200 stock CFDs
Multiple account types with different pricing models
Very low commissions and spreads for XM Zero account
Micro and Standard accounts support ZAR as base currency
Integration with MetaTrader 4 and 5
Automated technical analysis for trade ideas
24/5 customer service
Very low deposit minimums and many payment methods
Regulated by three top-tier international authorities
Cons
Doesn't offer ETFs, funds, or cryptocurrencies
Most stocks are from US and Europe
XM Zero doesn't support ZAR as base currency
MetaTrader isn't all that beginner-friendly
XM vs. eToro
Before you commit to XM, it's worth seeing how this broker stacks up against our number one recommended stock broker in South Africa – eToro. Both of these brokers offer commission free trading on forex, stocks, indices, and commodities. XM has significantly more exotic forex pairs and stocks, but eToro offers trading on the Johannesburg, Tokyo, and other non-European stock exchanges. In addition, eToro gives traders access to cryptocurrencies and ETFs, which XM doesn't support at all.
XM and eToro are closely matched on fees. eToro charges 0% commissions and its spreads are roughly in line with XM's for most assets. eToro does charge a withdrawal fee of 85 R, though, and you cannot fund your account in ZAR. Those factors might be enough to push some South African traders towards XM, although the net costs are relatively small.
| | | | | |
| --- | --- | --- | --- | --- |
| | Charge per Trade | Annual Fee | Inactivity Fee | Deposit/Withdrawal Fees |
| XM | 0 R | 0 R | 85 R after 3 months | 0 R |
| eToro | 0 R | 0 R | 825 R after 12 months | 85 R per withdrawal |
When it comes to trading platforms, we prefer eToro's. You cannot develop custom technical indicators as you can with XM's MetaTrader integrations. However, eToro's charts are easier to use and more aesthetically appealing. Plus, eToro offers a built-in social trading network that enables you to find out what forex pairs and stocks other traders are buying. You can also take advantage of copy trading to automate your account based on professional traders' strategies.
Both XM and eToro have a lot to offer for South African trader, but we ultimately prefer eToro because it offers a more diverse range of assets for trading and a better trading platform. Plus, eToro is fully commission-free, so trading with this broker is fairly inexpensive.
The Verdict
XM is an excellent broker for trading forex and stocks CFDs. It boasts more than 55 currency pairs, including several pairs with ZAR that you won't find at many other brokers. XM also offers CFD trading on more than 1,200 stocks and a handful of equity indices.
We also like XM because the broker's Micro and Standard accounts support ZAR as a base currency. This is a small detail, but it's important because it saves you time and money otherwise spent converting between currencies.
XM is far from perfect, though. The broker doesn't offer trading on ETFs at all and its selection of stock and index CFDs is quite limited geographically. In fact, you cannot purchase shares of any South African companies through this broker.
We also have mixed feelings about XM's MetaTrader integration. MetaTrader is extremely powerful and the platform of choice for many experienced traders. However, it's not particularly user-friendly and there are some silly restrictions – like the fact that you cannot set up price alerts through the mobile apps.
On the whole, we believe that eToro is an overall better platform than XM. Want to see for yourself? Simply click the link below to create an eToro account today!
eToro – Buy Shares with Zero Commission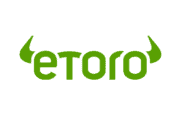 FAQs
Does XM offer educational materials?
Yes, XM has a number of educational guides on its website. These include videos, webinars, and tutorials. Just note that while most of XM's platform is multi-lingual, most of the educational materials are available in English only.
Does XM have any sign-up bonus available?
XM doesn't have any sign-up bonuses or promotions at this time. However, the minimum deposit is just 85 R with a Micro or Standard account.
Is XM regulated in South Africa?
XM is not regulated by South Africa's Financial Services Board. However, it is regulated by top-tier authorities in the UK, Australia, and Cypress. These regulators hold XM to many of the same standards as the Financial Services Board.
Does XM accept payments by e-wallet?
Yes, you can fund an XM trading account through several different e-wallets. Options include Neteller, Skrill, Skrill 1-Tap, MuchBetter Wallet, and Trustly.
Can I collect dividends when trading stock CFDs?
All stock trading through XM uses CFDs. You are eligible to collect dividends when trading CFDs as long as you own your contracts by the ex-dividend date. XM will automatically credit dividends to your account.