How to Buy Sanlam Shares Online in South Africa
Sanlam is widely known throughout South Africa as the largest insurance provider in the country. The company provides a huge range of services, including insurance, financial planning, investing, and business financial solutions.
Sanlam has been a darling of investors for many years because the company's business model is fairly straightforward and it dominates the market in a country with a fast-growing population. In the wake of the COVID-19 pandemic, the Sanlam share price is also down – making the stock look like it might be prime for investment right now.
If you're thinking about buying Sanlam shares online, this guide will cover everything you need to know. We'll highlight top brokers you can use to trade Sanlam and help you decide whether this South African investment giant is right for your portfolio.
Step 1: Find a South African Stock Broker that Offers Sanlam Shares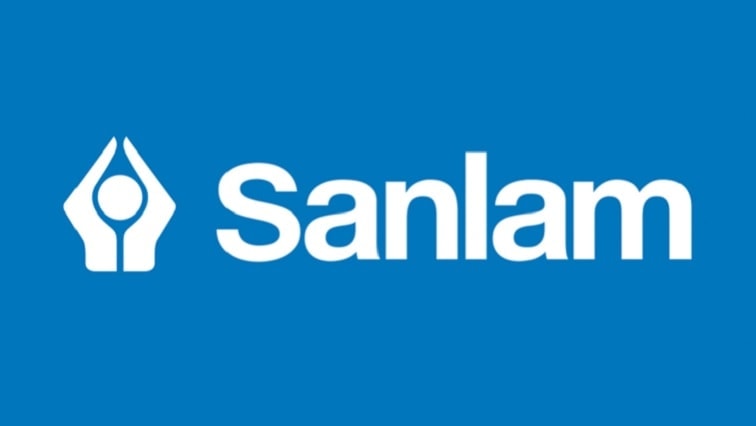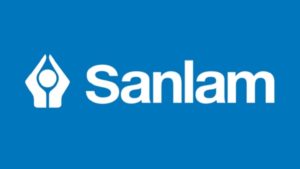 In order to buy Sanlam shares, you'll need a South African stock broker that gives you access to this company. Sanlam trades on the Johannesburg Stock Exchange, the Namibian Stock Exchange, and the A2X exchange. It's also available for trading as a depository receipt on over-the-counter markets in the UK and US, so many international online brokers offer shares of this company.
Choosing the right broker is key to your entire trading experience. Your broker will determine not only whether you can buy Sanlam shares, but how much it costs and what trading tools you have access to. To help you pick the best broker for your needs, let's take a closer look at two of our most highly recommended options for South African stock traders.
1. Plus500 – Buy or Sell Sanlam Shares CFDs With No Commission

Plus500 is one of the top CFD providers in South Africa. The company offers trading on more than 600 global shares through contracts for difference (CFDs),including many of the best shares to buy or sell. That includes CFDs for Sanlam through the Johannesburg Stock Exchange, and you can trade shares at leverage up to 5:1.
What we like best about Plus500 is that trading with this online broker is extremely inexpensive. Plus500 charges 0% commissions on every trade and there are no account fees, save for an inactivity fee that kicks in after a year without trading. The spreads on share trades are also generally much lower than the industry average.
Plus500 is an easy brokerage for first-time traders since it keeps things simple. The trading platform and charting interface are straightforward to use, for example. You get access to nearly 100 technical indicators, but customization is limited so you can just plug and play with the studies. Plus500 also offers a mobile app and price alerts so you can easily trade on the go.
Pros:
Trading on 600+ global shares
Leverage up to 5:1
0% commissions and very low spreads
User-friendly trading platform
Supports price alerts
Cons:
Limited charting tools for advanced traders
CFD Service. Your capital is at risk.
2. IG – Trustworthy Share Broker with Thousands of Shares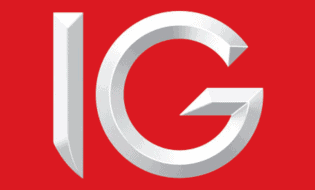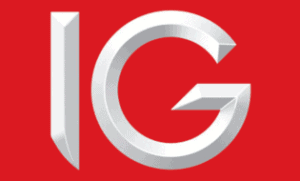 IG is one of the most well-established online brokers in the world. The UK-based broker launched in 1974 and made the jump to online trading early on. Today, it offers South African traders access to thousands of global shares through CFDs along with forex, commodities, cryptocurrencies, and more. You can trade Sanlam on the Johannesburg Stock Exchange with leverage up to 5:1.
IG doesn't charge commissions, but the spreads at this broker are typically higher than what you'll pay for a competitor like Plus500. The difference is that you also get access to extremely advanced trading and research tools. IG offers the ProRealTime trading platform to clients, which is powerful enough to let you create your own technical studies and backtest custom strategies. IG's platform is extremely well-suited for intermediate to advanced traders.
That said, we also like IG for beginner traders because the brokerage offers a wealth of educational tools. You can look through dozens of guides and tutorial videos, or try your hand at a demo trading account. If you're on the fence about Sanlam shares, you can use IG's resources to learn how to manage your trading risk.
Pros:
Thousands of global stock CFDs
Leverage up to 5:1
Advanced trading platform
Create your own custom technical indicators
Plenty of trader education materials
Cons:
More complex trading platform
Share CFD spreads can be high
Step 2: Research Sanlam Shares
Sanlam is widely known throughout South Africa, but it's important that you take a deep dive into the company's financial history and projections for the future before investing. To help, we'll cover everything you need to know about Sanlam shares.
Sanlam Share Price History
Sanlam was founded in 1918 as a life insurance company, and the corporation is best known throughout South Africa today as an insurance company – after all, it's the largest in the country. But this company is much more than that. It's now a financial services behemoth that operates in more than 30 countries across Africa, parts of the Middle East, and in places as distant as the UK, Malaysia, the Philippines and India. 
Sanlam's business focuses on life and business insurance policies in addition to financial planning, retirement investing, wills and estate planning, asset management, and wealth management. Notably, Sanlam also has a significant stake in a UK-based micro-insurance company that gives it access to an additional 10 million customers across Africa. The company brings in nearly 1.5 trillion rands in revenue each year.
Sanlam stock has historically been very good to investors. The company experienced steady, reliable growth for most of the period from 2001 to 2015 as it has increased its financial services footprint and expanded into new markets across Africa and Asia. The Sanlam share price peaked in 2018 after the company acquired SAHAM Finances, making it the biggest non-banking financial institution in Africa and extending its reach to an additional dozen countries.
Since then, the company's shares have oscillated between 7,000 and 8,000 R. Prices tumbled to a low of nearly 4,500 R in March 2020 as the coronavirus pandemic caused a global slowdown and insurance crisis. As of the summer, the price of Sanlam shares has rebounded to around 6,200 R but still remains well below its pre-coronavirus level.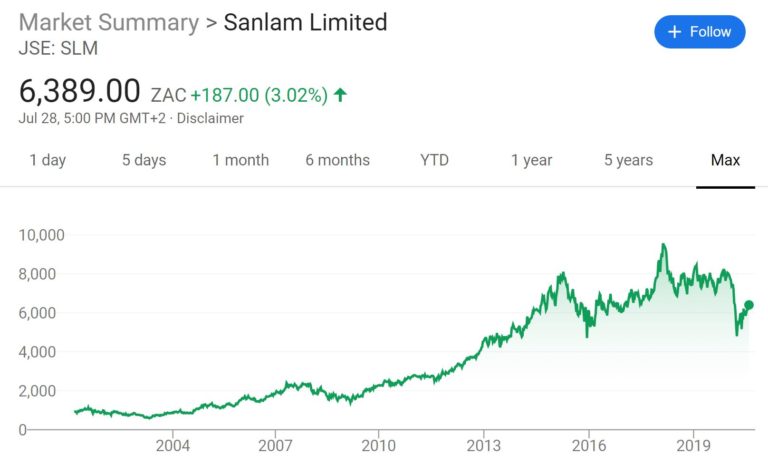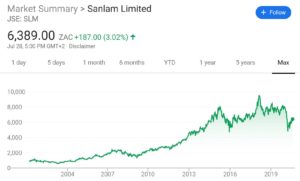 Sanlam Shares Dividends Information
Sanlam pays out an annual dividend in April each year. As of 2020, the dividend was 334 R per share – equivalent to a dividend yield of 5.34% at the company's lowered share price. That's significantly higher than the historical dividend yield, which has hovered around 3.5% each year.
Sanlam has already paid out its 2020 dividend and has not made any announcements about suspending the dividend for next year, as other companies have.
Should I Buy Sanlam Shares?
Now the ultimate question – is now the right time to buy Sanlam shares? There are reasons to be excited about this company as well as worried about it. So, we'll present the argument for and against Sanlam shares and you can decide whether it fits within your risk tolerance.
For Sanlam Shares
The most exciting thing about Sanlam is that the company has enormous growth potential. It's a financial services and insurance provider with control over a massive share of the African market – an emerging region where demand for insurance, loans, and investing services are projected to increase several-fold in the next decade. Sanlam is perfectly positioned to capture market share as the African economy continues to grow.
Accordingly, the growth forecasts for Sanlam are mind-blowing. The company's earnings are expected to grow at a rate of more than 21% per year for the next several years, after accounting for a drop in business due to the coronavirus pandemic. That's a stunning amount of revenue growth, and Sanlam has opportunities to bring in even more revenue if the African economy is less hard-hit by the pandemic than analysts currently predict.
Against Sanlam Shares
Unfortunately, Sanlam might be getting ahead of itself with its dividend. The company paid out nearly 97% of its profits to investors for its April 2020 dividend. That's unsustainable for almost any company, and considering the world is in the middle of a pandemic it doesn't leave Sanlam with a lot of cash on hand.
At least in the short-term, it seems likely that Sanlam will have to cut its dividend. That in turn could cause a significant drop in the Sanlam share price as investors flee.
Depending on your investment time horizon, this short-term dip could be cancelled out by long-term growth – or it could be a major problem for you. Although Sanlam shares are low priced now compared to the level they were trading at back at the start of the year, it might be worth waiting to buy until there's more clarity on what the company is planning to do with its dividend.
Step 3: Open an Account and Deposit Funds
If you're attracted by Sanlam's growth potential and want to buy shares, the next step is to open a brokerage account. We'll walk you through the process using Plus500, which offers 0% commission, a beginner-friendly trading platform, and handy price alerts.
To create an account, click on our link to take you straight to the Plus500 sign up page and then click 'Start Trading Now.' You'll need to create a username and password, then enter some personal details to set up your account. To comply with government regulations, Plus500 will also ask you to submit a copy of your driver's license or passport and a copy of a recent financial statement that shows your address.
With your account created, you're ready to deposit funds. Plus500 requires a minimum deposit of 1,650 R, but if you deposit at least 4,000 R you'll get an 800 R bonus. Plus500 offers several methods for payment, including:
Debit card
Credit card
Bank transfer
Wire transfer
PayPal
Skrill
Funds are available for trading right away if you use a debit card, credit card, or e-wallet for your deposit.
Step 4: Buy Sanlam Shares
With money in your trading account, it's time to buy Sanlam shares. In Plus500, navigate to 'Instrument Categories > Shares' and then enter 'Sanlam' in the search box. Click on the company when it appears in the drop-down menu to be taken to the company's share page. Then choose 'Buy' to open an order form.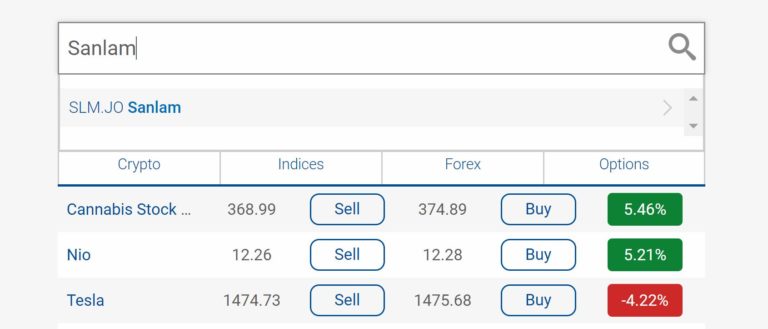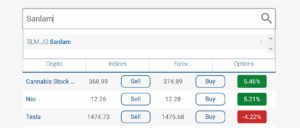 In this order form, you'll be able to tell Plus500 how much money you want to invest in Sanlam shares. You can also manage your trading risk using the take profit and stop loss features. If you want to apply leverage to your trade (up to 5:1), you can specify that here. We recommend that beginner traders not use leverage since it increases your trading risk and incurs some additional fees.
When you're ready to complete your trade, click 'Buy.'
The Verdict
Sanlam is the biggest insurance company in South Africa and a massive player in the financial services sector across Africa and south Asia. This behemoth is poised to capture an enormous amount of growth as the African and Asian economies continue to grow, particularly since it caters to wealthier individuals and businesses. The 21% growth rate predicted for Sanlam is extremely attractive for growth investors.
However, there are some warning signs about this company. The dividend is likely unsustainable, particularly in the wake of the coronavirus pandemic. That could cause short-term damage to the share price, although the magnitude of this damage is hard to predict.
Given these conflicting signals, Sanlam is most suitable for risk tolerant investors. The company could offer excellent growth, but the potential rewards come with significant risk.
Ready to buy Sanlam shares? You can invest today by signing up for a trading account with Plus500. Just click on the link below to get started!
Plus500 – Trade Sanlam Shares With No Commission

CFD Service. Your capital is at risk.
FAQs
What countries does Sanlam operate in?
Sanlam operates in more than 30 countries, including: South Africa, Namibia, Botswana, Swaziland, Zimbabwe, Mauritius, Malawi, Zambia, Tanzania, Rwanda, Uganda, Kenya, Ghana, Nigeria, Mozambique, Morocco, Angola, Algeria, Tunisia, Niger, Mali, Senegal, Guinea, Burkina Faso, Cote D'Ivoire, Togo, Benin, Cameroon, Gabon, Republic of the Congo, Madagascar, Lebanon and Saudi Arabia, India, Malaysia, the UK, the US, Australia, Burundi, Lesotho and the Philippines.
What exchange does Sanlam trade on?
Sanlam has a primary listing on the Johannesburg Stock Exchange under the ticker symbol 'SLM.' However, it also trades on the A2X and Namibia Stock Exchanges and is available in the US and UK through over-the-counter markets.
Where is Sanlam headquartered?
Sanlam is headquartered in Bellville, South Africa.
Can I collect dividends when I buy Sanlam share CFDs?
Yes, you are eligible to collect dividends from Sanlam share CFDs as long as you hold the CFDs by the ex-dividend date in early April. If you own Sanlam CFDs, your broker will automatically credit the dividend payments to your account.
What is the spread when trading Sanlam share CFDs?
The spread is the difference between the bid and ask prices for a CFD contract. In essence, it's an amount per contract that you will lose if you were to buy and sell immediately. Your broker pockets this difference as a fee for trading – this is the most common way that commission-free brokers make money.
What is the Sanlam shares price in rands?
The Sanlam shares price today at the time of writing is 6,200 rands.
How do I sell Sanlam shares?
Selling Sanlam shares is easy. Simply log into your broker account, select the shares you want to sell and confirm your position..