InstaForex Review 2022 – Pros & Cons Revealed
InstaForex is a fully-regulated global brokerage firm that offers users to buy and sell financial assets on a variety of markets and trading platforms. This online broker allows South African investors to trade stocks, FX currency pairs, commodities, indices, ETFs, and cryptocurrencies – all of this without charging users high trading and non-trading fees. But, is InstaForex the right trading platform for you, and is InstaForex safe?
If you are based in South Africa and want to open an online trading account with this broker, our InstaForex review 2022 will cover everything you need to know before signing up. We'll explore the assets available on this platform, the InstaForex fees and spreads, platforms and features, regulation, user experience, and more.
InstaForex History & Background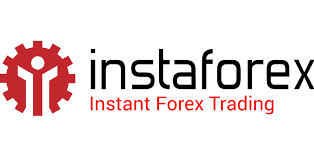 Founded in 2007, InstaForex is one of the oldest and most popular online trading platforms in the market. The company, InstaForex Group, is based in Limassol, Cyprus, and is regulated by CySEC under the license number 266/15. InstaForex Trading LTD, which is an integral part of InstaForex Group, serves clients in many regions across the globe, and at the time of writing, it has more than 7 million registered users.
Originally, InstaForex was intended to be a forex trading broker only, however, throughout the years the company expanded its services, and it now offers a wide range of CFD markets. Crucially, unlike market maker brokers, InstaForex works as an ECN/STP platform. This means the broker is able to instantly match orders from traders and provide them with the best available buy and sell prices. More importantly, it means that InstaForex does not play against the customer, and as such, ensures that traders get to trade in a more transparent environment.
The InstaForex brokerage firm is a registered trademark of InstaForex Group that comprises Instant Trading Ltd (BVI), Insta Service Ltd, and Insta Global Ltd. The company is registered in Saint Vincent and is licensed by BVI FSC, under the license number SIBA/L/14/1082.
InstaForex Pros & Cons
Pros
Allows users to trade CFDs without paying any commission. Only spreads
Competitive spreads
InstaForex is an EXN/STP broker
Over 7 million users around the world
A range of three platform – MT4/MT5 or InstaForex web-trader platform
Regulated broker
Leverage ratio of 1000:1
Cons
A limited range of assets
The InstaForex web-trader platform is not suited for experienced traders
MetaTrader4 and MetaTrader is not available on Mac
Fees and charges are unclear
What Can You Trade and Invest in on InstaForex?
Overall, InstaForex offers traders to buy and sell 300 trading instruments in the following markets.
Forex
As the company's name implies, InstaForex is primarily a forex online trading platform. With this broker, you get access to 110 FX currency pairs, including some of the most exotic currency pairs in the market. Also, InstaForex is one of the best ECN brokers in the industry, which means it is a non-dealing desk broker that provides clients with direct access to other participants and liquidity providers in the forex market. By using this mechanism, InstaForex can offer high-speed market execution.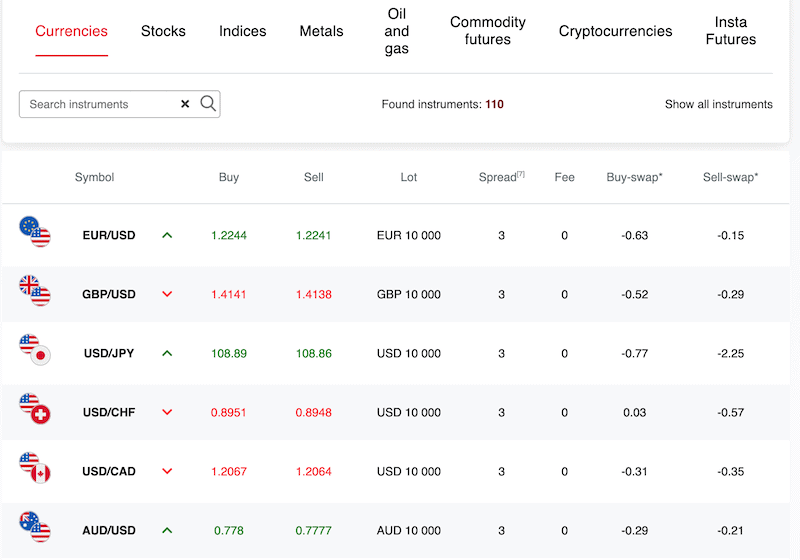 Stocks
InstaForex is also an ideal platform if you want to buy shares from the US stock markets. This international online brokerage firm offers a range of 89 stock CFDs including some of the most traded companies in the world such as Pfizer, Netflix, Tesla Motors, Twitter, Apple, Amazon, Alphabet Google, Intel, Microsoft, etc.
Cryptocurrencies
To meet the industry standards, InstaForex is also providing crypto trading via CFDs. This covers the most popular digital assets in the market – Bitcoin, Bitcoin Cash, Cardano, Chainlink, Dogecoin, Ethereum, Fliecoin, Litecoin, Polkadot, Ripple, and Uniswap.
Indices
If you want to trade global stock indices, InstaForex gives users access to the 15 largest and most traded stock indices in the world. This includes the US dollar index, S&P 500, Dow Jones 30, Nasdaq 100, FTSE 100, Nikkei 225, Hang Seng  Index, DAX 30, Swiss Market Index, Ibex 35, Netherlands 25, Stoxx Europe 50, Australia 200, and Cac 40.
Commodities (CFDs and Futures)
InstaForex has an interesting selection of commodities in the form of CFDs or futures. Simply put, the broker offers 4 metals CFDs, 17 oil and gas futures, and 53 commodity futures contracts that include gold, silver, copper, platinum, palladium, corn, wheat, soybeans, soybean oil, soybean meal, lean hog, feeder cattle, and cattle.
InstaFutures
In addition to the above, InstaForex provides users derivative products that are available only on this platform. These are the InstaForex futures for one week or month. In a nutshell, if you decide to trade the InstaForex futures, you simply speculate whether the price of the asset will be higher or lower at the end of the week/month. To define the potential profit and loss of the InstaForex future contract, you can insert the details of the transaction into a calculator and then place the order on the chose trading platform.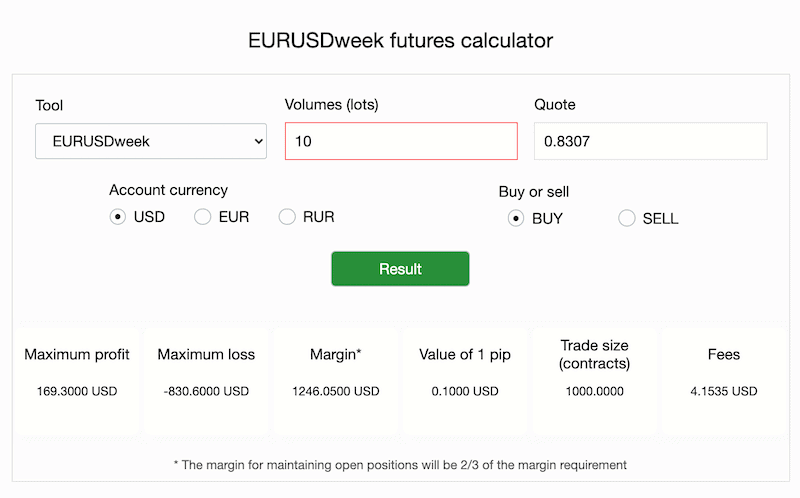 InstaForex – Fees & Commissions
The first and most important thing to consider when choosing a trading platform is the fees you are likely to pay. To help get all the information you need, below we cover the InstaForex fees and spreads that you will pay using this platform.
Trading Fees
Like many other brokers in the industry, InstaForex offers different fee structures depending on the account type chosen. As we will discuss in detail later, when you open an InstaForex account, you will be able to choose the Standard account or the Eurica account. The difference is the way you will be charged – fixed spread or fixed trading fees. Further, the broker offers to trade CFDs or futures so you'll have to understand the difference in the cost of buying and selling each type of derivative product.
But, regardless of the account you choose and the type of assets you are going to trade on InstaForex, you need to know the trading InstaForex fees you are going to pay on each asset class.
| | | | |
| --- | --- | --- | --- |
| | Spread | Trading Fee/Commission | Swap |
| Currencies | 3 | 0 | Varies on each currency pair |
| Stocks | 2-50 | 0.10% | Buy Swap (-7%), Sell Swap (-2%) |
| Indices | N/A | 1% Margin | – |
| Metals | Gold (80), Silver (40), Palladium (1000) | 0 | Varies on each commodity |
| Oil and Gas | – | $30 | – |
| Commodity Futures | – | $30 | – |
| Cryptocurrencies | Bitcoin – 190 | 0.10% | Buy Swap (-20%), Sell Swap (-15%) |
All in all, InstaForex seems to offer a variety of pricing models for different levels of traders. However, as some online brokerage firms now offer zero commission trading, the trading costs at InstaForex are certainly not among the most competitive in the industry.
Non-Trading Fees
In addition to the InstaForex fees you are going to pay when you trade assets, InstaForex also charges some non-trading 'management' fees: This includes an inactivity fee of $10 after 1 year of account inactivity, withdrawal fee (the broker does not mention the exact fee it charges on withdrawing funds), and a conversion fee when you deposit and withdraw funds to and from your InstaForex account.
InstaForex Platforms
In terms of trading platforms, InstaForex keeps things simple by offering an in-house platform and two of the most widely used trading platforms in the market, the MetaTrader4 and its successor, the MetaTrader5. As a matter of fact, InstaForex is one of the first brokers that ever signed an agreement with MetaQuotes Software Corp in 2007, and therefore, it offers most of the MetaTrader products that the software company offers. This includes the MetaTrader4 and MetaTrader5 that can be used as a desktop platform, or as a mobile/tablet application (available on Android and iOS). And, in addition, InstaForex offers the MetaTrader multi-terminal that enables clients to work simultaneously on several trading accounts.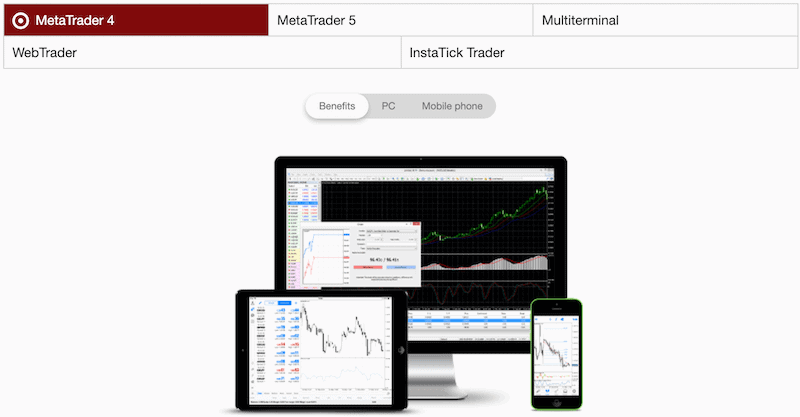 On the negative side, InstaForex does not provide a desktop version for Mac users, meaning that if you are using macOS, you'll have to trade on the InstaForex web trader platform that enables users to get access to the market with no need to download any software. Generally, the InstaForex is fairly simple in terms of design and functionality and is a solid choice for beginner investors.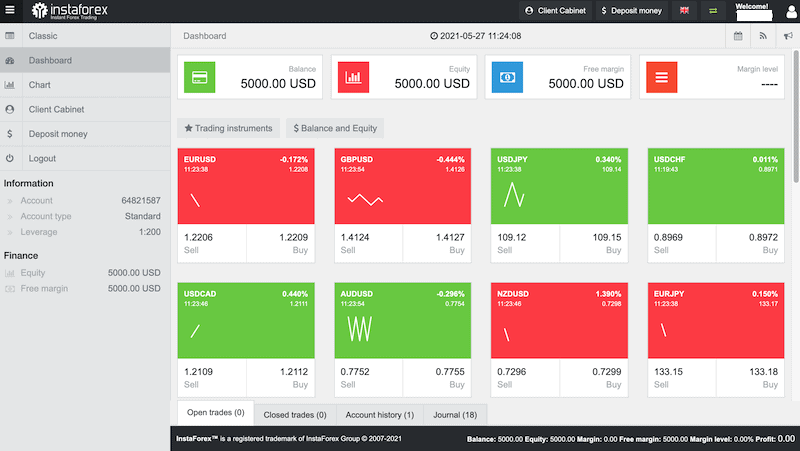 InstaForex – User Experience
There are different platforms to cover in terms of user experience – the InstaForex website, MetaTrader4, and MetaTrader5, and the InstaForex web-trader platform. First, even though the InstaForex site is a bit messy and out of date, it is very informative and useful with lots of tools and trading material. As such, once you open a trading account, you can always visit the broker's site in order to get trading insights and market analysis from the broker analysts.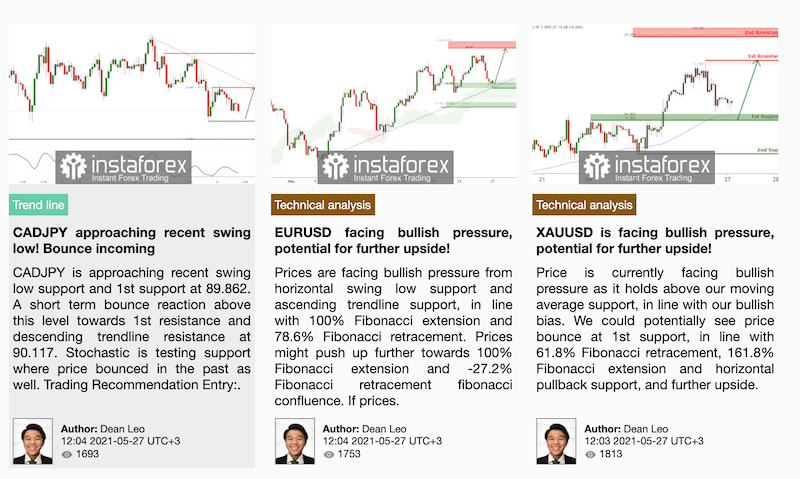 MetaTrader4/MetaTrader5
As for the MetaTrade4 and MetaTrader5 – these are the most commonly used trading platforms in the CFD market and gained such popularity in recent years due to the simple design and functionalities like add-on plugins, professional charting package, and the Expert Advisors tool that enables users to trade the markets by using algorithms.
InstaForex Web-Trader
Finally, the InstaForex web-trader. In general, this platform is very simple and effective – the design and user interface are also user-friendly and intuitive, but certainly, fail to amaze the users. In our view, it is not suited for intermediate and professional traders.
That said, the platform comes with an excellent charting package offered by TradingView and a very useful feature that shows the Traders' position on a certain instrument.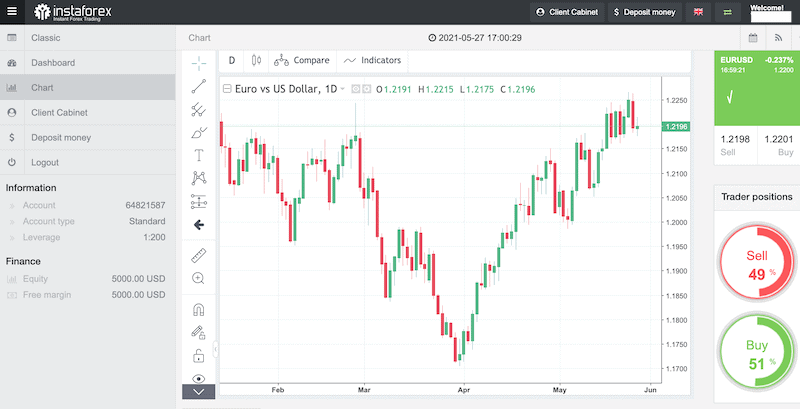 InstaForex – Features, Charting, and Analysis
In this area, InstaForex certainly has one of the richest platforms in the CFD market. There are so many features and resources on the broker's website as well as on each platform you choose. Further, one of the key points of InstaForex is the analysis section, which is full of helpful information to learn how to trade and get trading ideas. From there, you get access to Forex forecast, popular analytics, pattern graphics, economic calendar, and the InstaForexTV, which can be viewed online or through one of the platforms.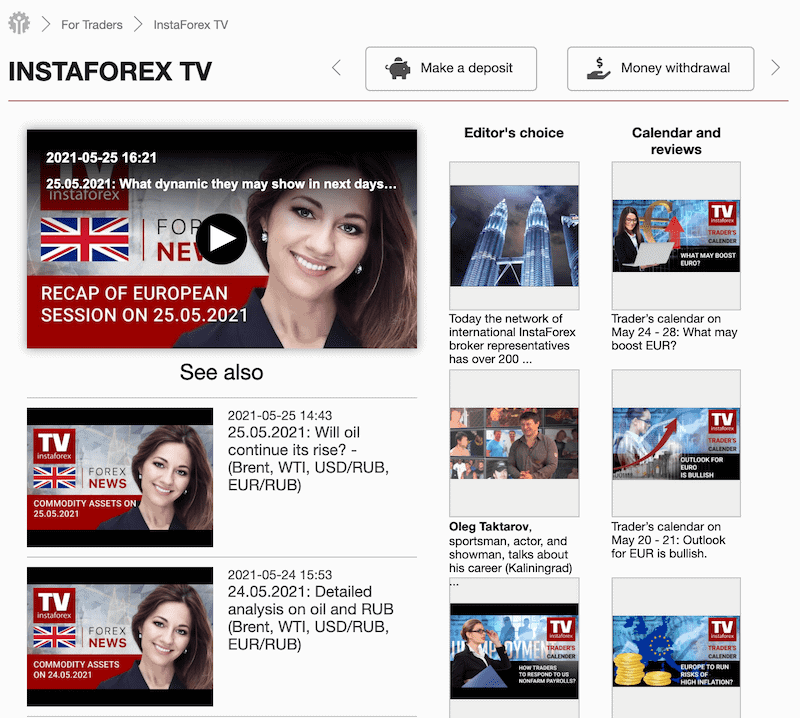 In terms of charts, you get plenty of options that include charts on InstaForex's website, the in-house InstaForex web-trader platform (offered by TradingView), and the most advanced charting package of all – the MetaTrade4 and MetaTrader5.
Other notable features and tools offered by InstaForex include:
Forex CopySystem
The InstaForex copy trading system is a tool that enables you to copy orders of successful traders. The great thing about this feature is that it is fully controlled by the ForexCopy follower – you can customize the settings and cancel random orders that you do not wish to copy. The broker's system offers beginner investors to register as Forex Copy followers and more experienced traders to register as Forex Copy traders.
InstaForex PAMM Account System
A percentage allocation management account (PAMM) is a type of trading account that allows investors to make a profit without having to trade. In other words, a PAMM account is sort of an investment pool where traders manage their own funds and joint capital of investors. Hence, you can make a profit by entering into the InstaForex PAMM investment account managed by experienced traders and investors.
Pattern Graphix
If you are a fan of technical analysis, then the Pattern Graphix is the perfect tool for you. This is essentially a service from InstaForex's team that gives you constant updates about different technical analysis patterns that have been detected in the market.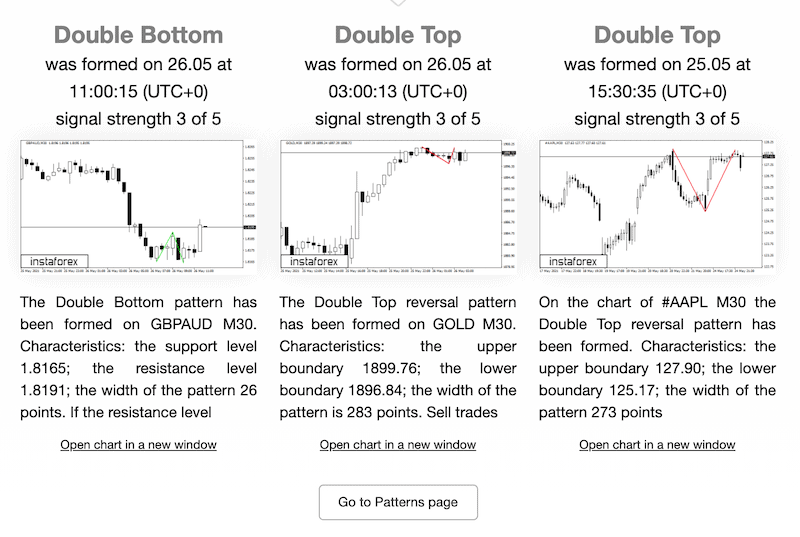 InstaTickTrader
InstaForex also offers a web-based platform for making tick deals. With this trading application, a trader gets 6-digit quotes and thus, can take advantage of the smallest price changes that occur.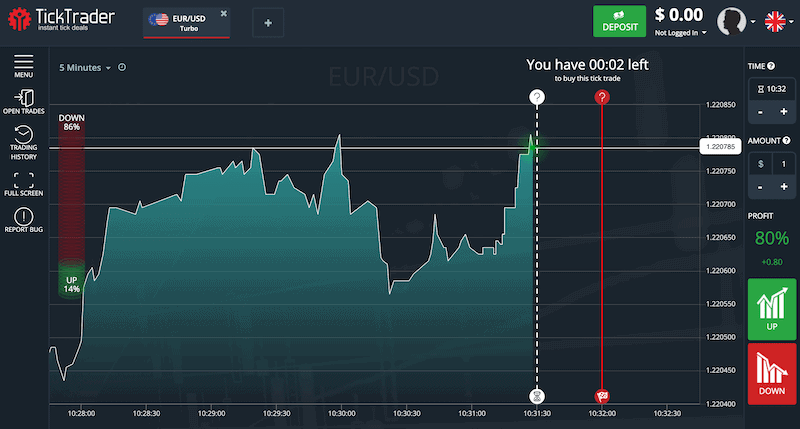 InstaForex Account Types
InstaForex offers several types of accounts to choose from – Insta.Standard, Insta.Eurica, and the Cent.Standard and Cent.Eurica trading accounts. There are some differences between each type of account including the minimum deposit requirement, fees, and the size of the minimal trade. But the major difference between Standard and Eurica is that on the Standard account type you'll have to pay a fixed spread while on the Eurica account, which is ideal for beginners, there's no spread or ask price but the broker simply charges a fixed fee of 0.3%-0.7%.
Additionally, a demo account is also available for beginner investors that want to get familiar with the platform or experienced traders who want to test new trading strategies.
To help you better understand InstaForex account types, below is a table showing some of the most notable differences between Standard and Eurica:
| | | | | |
| --- | --- | --- | --- | --- |
| | Insta.Standard | Insta.Eurica | Cent.Standard | Cent.Eurica |
| Minimum deposit | 1 USD | 1 USD | 1 USD | 1 USD |
| Maximum deposit | no limit | no limit | 1000 USD | 1000 USD |
| Spreads | 3-7 pips | 0 | 3-7 pips | 0 |
| Fees | 0 | 0.03%-0.07% | 0 | 0.03%-0.07% |
| Minimal trade | 0.01 of the lot | 0.01 of the lot | 0.10 of the lot | 0.10 of the lot |
| Maximal trade | 10000 lots | 10000 lots | 10000 lots | 10000 lots |
| Leverage | 1:1-1:1000 | 1:1-1:1000 | 1:1-1:1000 | 1:1-1:1000 |
InstaForex Review
Overall, InstaForex South Africa offers a great solution for investors that want to trade financial markets and there are clear advantages of InstaForex broker compare to other platforms in SA. If you decide to trade at InstaForex, there are so many features and tools that you can use, including a very active forum.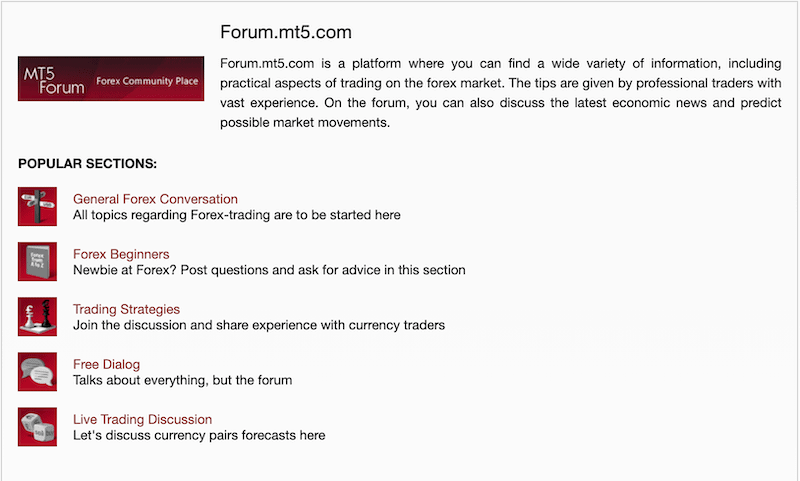 At the first look, you might be a bit overwhelmed by the huge variety of tools and features on the broker's site, however, once you find your way around you will realize the full potential of what you can get when using InstaForex. Further, the fact that this broker uses ECN/STP as a clearing method ensures that users get the best prices at the highest speed and completely removes the conflict of interest between the broker and traders. Plus, this regulated broker is also offering a high leverage ratio of 1000:1, which obviously makes it one of the best high leverage brokers in South Africa.
Besides the factors above, InstaForex offers a range of education and research materials. On the broker's website, you get access to video tutorials, guides, news/forecast articles, charts, forex TV, up-to-date market analysis, and a trading course that contains 16 lessons. And, best of all, InstaForex offers the MT4/MT5, and the MetaTrader multi-terminal (though you won't be able to download the platform if you have a mac computer).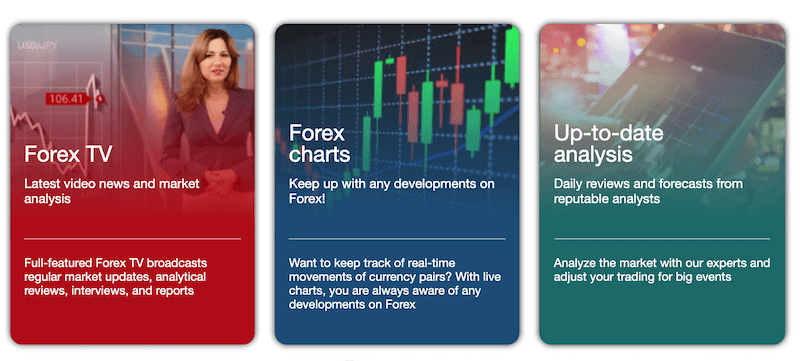 On the other hand, you should be aware of the fact that InstaForex is not the most user friendly and innovative platform out there in the market. The website is out the date, as well as the InstaForex web-trader platform. It is, therefore, not the most recommended platform for those who want to make their first entrance to the market.
InstaForex Payments
In terms of deposit and withdrawal payment options, InstaForex offers you to deposit funds through any of the following:
Qiwi
Skrill
Neteller
Yandex.Money
Credit and debit cards – Visa and MasterCard
Bank transfers
Crucially, InstaForex does not charge any deposit fees, however, you may have to pay a conversion fee from ZAR to USD and a withdrawal fee when you wish to withdraw from your account.
InstaForex Minimum Deposit
InstaForex maintains a minimum deposit of just $1 (which is around 14 South African Rand).
InstaForex Bonus
InstaForex offers a wide range of bonuses for new and existing clients. And, unlike the vast majority of brokers, InstaForex states that profits made with bonuses funds can be withdrawn.
At the time of writing, these are the bonuses available on InstaForex:
BonusInstaForex – 100% InstaForex bonus on first deposit, profits made with the use of this bonus can be withdrawn
Bonus on Every Deposit 55% – 55% InstaForex Bonus to every deposit, no minimum or maximum deposit
Bonus on Every Deposit 30% – 30% Welcome Bonus
InstaForex Club Bonus – Up to 10% for members of InstaForex Club
Chancy Deposit – InstaForex allows users to deposit $3,000 and get $8,000 more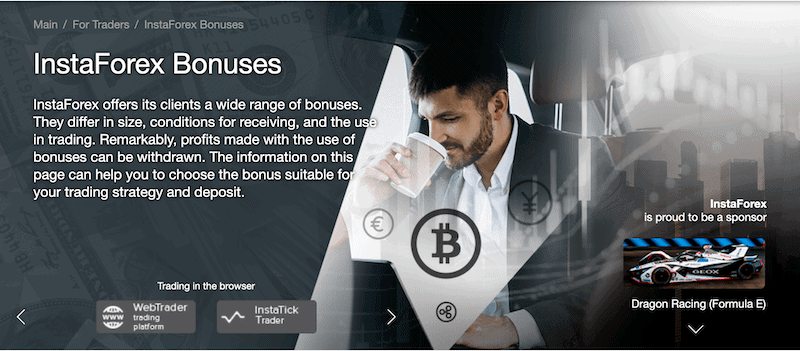 InstaForex No Deposit Bonus
In addition to the bonuses above, InstaForex also offers a no deposit bonus of $2500. This means you can start trading without making a deposit, and, in case you make profits on your account, both the bonus and the profit are available for withdrawal.
InstaForex Contact and Customer Service
From our review, we can confirm that InstaForex has excellent customer support service that is available 24/7. First, it offers a variety of channels to contact the support team including phone, live chat, and request a callback. It's also worth mentioning that InstaForex live chat service is available on Skype, WhatsApp, Viber, Telegram, and Twitter. In terms of the response time, InstaForex guarantees that a representative will call you back within five minutes after you have submitted a callback request.
Finally, InstaForex provides an informative FAQ section on all topics for potential and existing clients.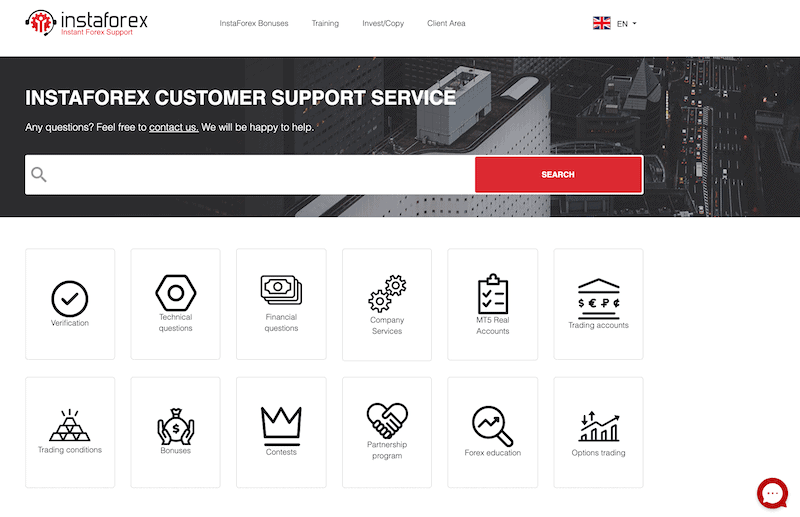 Is InstaForex Safe?
As one of the pioneer companies operating in the forex and CFD market, it is not a surprise that InstaForex has gained several licenses over the years and it is heavily regulated by various entities. Instant Trading Ltd. which is the parent company of InstaForex South Africa, is authorized and licensed by the Financial Services Commission (FSC) under the Securities and Investment Business Act (SIBA), the British Virgin Islands (BVI).
Further, InstaForex offers the opening of segregated accounts that ensures users' funds are always safe and secure. Then, in terms of security features, InstaForex enables users to use the two-factor authentication, SMS security tool, HTTPS/SSL secure technology, withdrawal security, and the logs of the Client Cabinet access.
All things considered, InstaForex South Africa is a safe and reliable trading platform.
InstaForex vs eToro
Following this review, we can honestly say that InstaForex is a great trading solution for South African investors. Simply put, InstaForex covers almost everything needed for a solid and professional trading environment. That said, there are some things to take into consideration before you sign up with this broker and, in order to help you get a better decision, we have decided to compare InstaForex to another reputable CFD broker, eToro.
First, InstaForex clearly falls short in the range of assets it provides on its platform. This broker offers only 300 financial instruments, which is much lower than what is available on eToro, for example. In that matter, eToro allows users to buy shares of over 800 companies around the world, a huge range of ETFs, commodities, indices, FX currency pairs, and cryptocurrencies. Overall, eToro has approximately 2400 assets, including Exchange Traded Funds from the US and European markets.
It is also important to note that InstaForex is most suited for intermediate and advanced traders. Although the broker provides the InstaForex web-trader platform that was designed for beginner investors, the eToro platform is a better solution for those who are looking for a user-friendly interface and an easy-to-use trading platform. Plus, eToro is one of the best copy trading platforms in South Africa.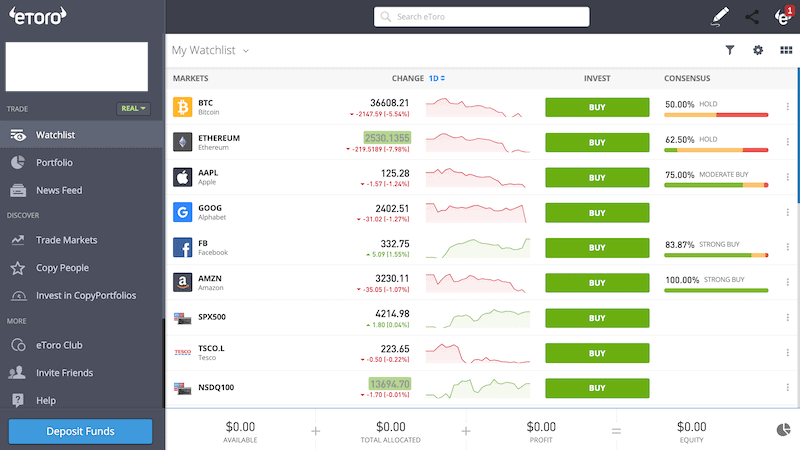 Finally, the pricing structure of each provider is quite similar as both brokers offer CFD trading. That said, eToro takes a much simpler approach, and its spreads are by far more competitive.
Trading Fees
Deposit and Withdrawal Fees
Inactivity Fee
Margin/Overnight Fee
Spreads
eToro
Commission Free
Deposit – Free of charge

Withdrawals – withdrawal requests are subject to a $5 fee

$10 per month after 1 year
For a position of $1000 – Around $0.22c for long positions and $0.12c for short positions
1 pip for the EUR/USD
InstaForex
Depending on the account type. For standard account – 0 fees+ 3-7 pips spread. For Eurica accounts – 0 spreads + 0.03%-0.07%
Deposit – Free of charge

Withdrawals – Fee varies depending on the payment method

$10 per month after 1 year
For a position of $1000 – Around $0.63c for long positions and $0.15c for short positions
3 pips for the EUR/USD
eToro – Our Best Recommended Forex Broker 
To sum up, InstaForex is certainly one of the most trusted brokers operating in South Africa. If you are looking to benefit from unique liquidity, high-speed market execution, a reliable connection to the market via ECN, and most importantly the ability to trade on MT4/MT5 – then InstaForex South Africa should be the broker of choice.
That said, InstaForex is not the best option out there for newbie investors or for those who are looking for a more 'innovative' trading solution. The InstaForex web-browser platform is not as user-friendly as other platforms you can find in South Africa and you will get access to a limited range of financial instruments. As such, if you are looking for an easy-to-use trading platform that gives you access to more than 2400 CFD instruments, social trading tools, and the largest social trading network in the world – then eToro is the better option for South Africa investors.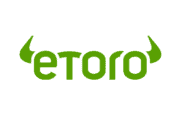 FAQs
Is InstaForex a scam?
No, InstaForex South Africa is certainly not a scam company. It operates since 2007 and holds licenses from top regulators around the world. Further, it discloses all the necessary information on the website and ensures clients' funds are safe in segregated accounts.
Is there an InstaForex demo?
Yes, InstaForex offers a demo account for each platform you choose - MT4/MT5 or InstaForex web-trader.
Does InstaForex have binary options?
Yes, InstaForex offers binary options trading on 72 trading instruments including 21 FX currency pairs, commodities and 49 shares.
What is the InstaForex bonus agreement?
Well, that depends on the bonus you choose to use. Each bonus has different requirements and trading conditions. That said, one of the key points of InstaForex bonuses is that profits made with bonus funds can be withdrawn. Also, InstaForex has a no deposit InstaForex bonus that allows users to start trade without adding funds.
What is the InstaForex minimum deposit?
The minimum deposit at InstaForex is just 1 USD.