How to Buy Capitec Shares Online in South Africa
Capitec is the second-largest retail bank in South Africa, offering checking, savings, loans, and more for over 11 million customers. The bank has gained traction across South Africa through its mobile banking offering, its network of thousands of ATMs, and its focus on simplicity.
Until recently, Capitec Bank shares had been steadily rising in value. But the coronavirus pandemic has knocked more than 40% off of the company's share price from the beginning of 2020. So, is now a good time for South African traders to buy Capitec shares at a bargain?
In this guide, we'll take a closer look at Capitec and its share price to help you decide whether this bank is a good addition to your portfolio. We'll also show you how to buy Capitec shares online and highlight two top recommended share brokers in South Africa that you can use for the job.
Step 1: Find a South African Broker That Offers Capitec Bank Shares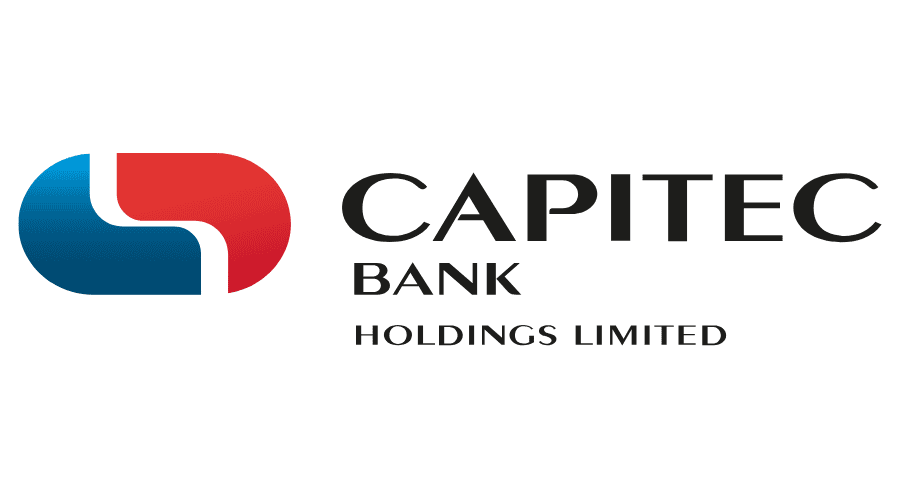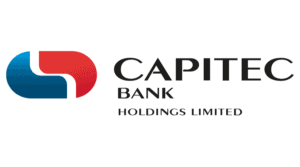 Before we show you how to invest Capitec shares online in South Africa, you'll need a reputable broker. Capitec trades on the Johannesburg Stock Exchange (JSE). Since it's such a popular stock, most brokers that offer trading on the JSE include access to Capitec Bank shares.
That said, not all online brokers are created equal. Your broker will determine everything from what shares you can buy to how much trading will cost. You'll also rely on your broker for market news, technical analysis, and investment research. So, it's essential that you pick the best broker in South Africa to buy shares.
To make the process of finding the right broker for you easier, we'll highlight two of our recommended brokers for South African traders.
1. Plus500 – Trade Share CFDs With 0% Commission

Plus500 stands out as one of the most cost-effective share brokers in South Africa. With this brokerage, you pay nothing in commissions no matter how much or how little you trade. The only fee is the spread, and Plus500 has some of the lowest spreads we've seen in the industry. When you buy Capitec shares, for example, the spread amounts to less than 1.7%. Notably, you can also buy many of the best shares in South African like MTN Group and Sanlam through Plus500.
All share trading at Plus500 takes place through contracts for difference (CFDs). That's a good thing for traders because it enables you to utilize leverage. You can open buy and sell positions on CFDs Capitec Bank shares on margin of 2:1, and many shares in the US and UK are available for trading at up to 5:1. In all, Plus500 offers trading on more than 600 stocks from around the world.
Plus500's trading platform is very user-friendly. We especially like the technical charts, which are approachable for first-time investors but still include dozens of indicators and studies. More experienced traders might find Plus500's capabilities to be slightly lacking since you cannot build custom studies or backtest a strategy. But for the majority of traders in South Africa, the platform's price alerts and economic calendar are plenty helpful. Finally, Plus500 also offers an excellent stock trading app.
Pros:
0% commissions and tight spreads
Leverage up to 2:1 on Capitec
Trading on more than 600 global shares
User-friendly trading platform
Price alerts and economic calendar
Mobile trading app
Cons:
Technical charts don't offer custom indicators
Your capital is at risk.
2. IG – Share Broker with Advanced Trading Platform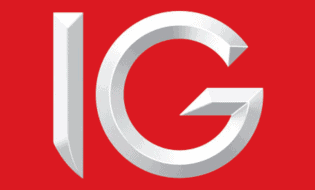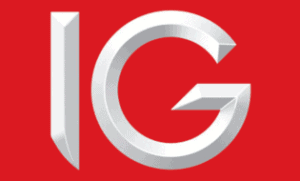 IG was a dominant player in the traditional brokerage industry before it made the move into online trading. It has an enormous global footprint that offers traders access to markets in South Africa, the US, the UK, and around the world. In addition to offering CFDs for popular South African stocks like Capitec, IG enables you to diversify your holdings with forex trading, commodities trading, and cryptocurrency trading.
One of the things we like best about IG is that it offers an extremely capable technical analysis platform. The brokerage integrates with ProRealTime, a comprehensive charting and backtesting software that lets you build your own technical studies. You can also develop trading signals, which you can then use to set custom alerts or even automate your share trading strategy. The platform can feel a little complicated for first-timers, but it's excellent for intermediate and advanced traders.
IG charges 0% commission on all stock CFD trades and doesn't have any monthly account fees. That said, the spreads can be significantly higher than what you'll pay at other online brokers, particularly for shares in South Africa. Don't let this stop you from trying IG, though, since the broker's research and analysis tools more than makeup for the small extra cost.
Pros:
Trade stocks, forex, commodities, and more
ProRealTime trading platform
Create your own trading signals
Advanced news and research
0% commission
Cons:
Wider than average spreads for share CFDs
Trading platform can feel complex for beginners
Step 2: Research Capitec Shares
Capitec's share price has had a difficult year. The company experienced numerous consecutive years of growth, but the coronavirus pandemic sharply tanked the share price and has continued to leave investors worried about the bank's financials. Given this uncertain environment, it's critical that you look closely at Capitec's share history and future potential before you invest.
Capitec Share Price History
Capitec is a major financial player in South Africa. The bank is the second-largest retail bank in the country with more than 11 million customers. Prior to the pandemic, it was growing at a rapid clip – Capitec was enrolling more than 120,000 new customers per month.
That growth was due in large part to two offerings. First, Capitec has leaned heavily into mobile banking. It offers a user-friendly mobile banking app that more than half of its customers use. Second, Capitec offers what it calls the 'Global One' account. This is a checking account, savings account, and credit line all rolled into one. The simplicity of this single, unified financial account has been a huge hit among South African consumers.
In fact, Capitec enjoys massive customer satisfaction. It received an 82% satisfaction rating in one 2015 survey and is highly rated by international ratings groups. According to the bank, more than 80% of Capitec's customers paid less than 50 R in monthly fees.
Capitec's share price had been steadily growing for many years prior to the pandemic as a result of its happy customers and new enrollments. From a price of just 3,100 R per share in 2009, at the height of the financial crisis, Capitec's share price exploded to around 145,000 R per share at the start of 2020. That's a more than 500% gain over the course of the past decade.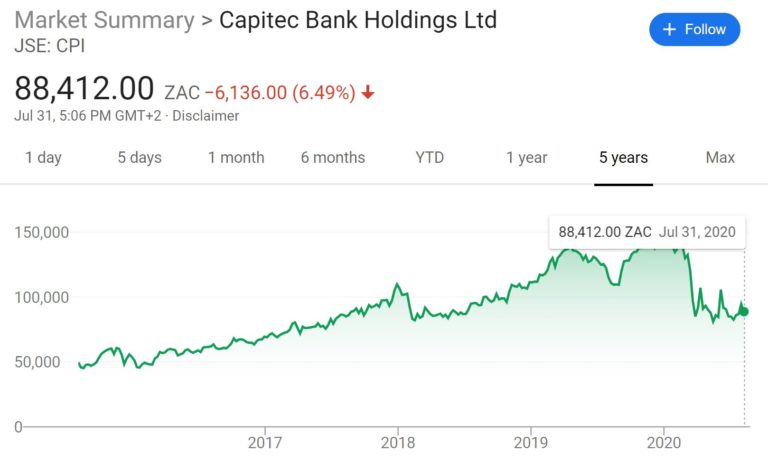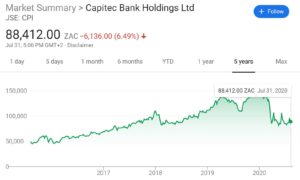 However, all that changed with the coronavirus pandemic. Capitec's price hit a bottom at just over 68,000 R per share, and it has been trading around 85,000 to 95,000 R per share ever since March. The company has slashed its earnings forecasts, suspended its dividend, and generally left investors spooked about the magnitude of losses it will sustain as a result of the lockdown in South Africa.
Capitec Dividend Information
Capitec has paid out a dividend twice per year since 2016, with ex-dividend dates in March and September. The dividend has remained fairly constant despite the bank's explosive growth. The yield in 2016 was 8.55%, while the yield in March 2020 was 8.41%. Of course, even without significant dividend growth, a payout of more than 8% per year is very attractive.
Unfortunately, Capitec was one of the first major companies in South Africa to suspend its upcoming (September 2020) dividend. The company made the announcement in April after the South African government issued guidelines for how companies could preserve cash. Capitec hasn't made any announcements about when the dividend may be restarted or if it will offer a similar dividend yield going forward.
Should I Buy Capitec Bank Shares?
Before we dive into the reasons why Capitec shares could be a bargain purchase right now, it's important to take a look at the risks of this company. After all, investors haven't fled without good reason.
At the start of July, Capitec announced that it is expecting a first-half earnings decline of more than 70%. That was dramatic for investors, especially since the company had forecast a loss of just 20% in May. The coronavirus pandemic more than doubled Capitec's estimated credit impairment as loan repayments were pushed off during the lockdown.
In addition, Capitec's short-term future outlook is equally grim. The company doesn't expect to return to pre-pandemic earnings until at least the second half of 2021.
With that in mind, Capitec could still be a strong investment for long-term investors who are willing to wait out short-term pain. Let's take a closer look at two reasons why you might consider buying Capitec shares right now.
Capitec is Poised to Rebound
Despite the gloomy news of the pandemic, Capitec is financially still in good shape. The company's earnings drop is, at least in theory, temporary. All of the loan payments that were pushed off will still need to be made, albeit over a longer period. So, expect to see Capitec's earnings per share rise once the South African economy gets back on its feet in 2021.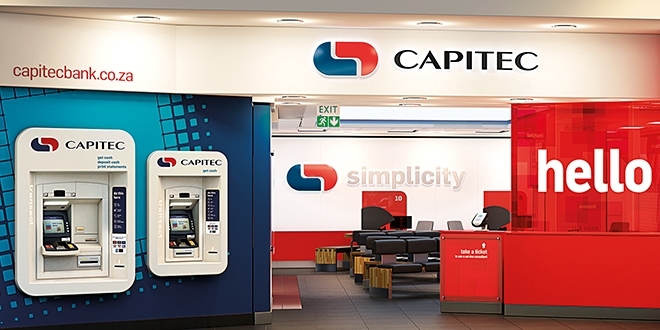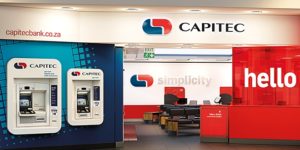 In the meantime, Capitec has plenty of cash on hand to weather the storm. The bank has undergone annual stress tests to ensure it can survive a financial crisis. Plus, although the move to suspend its dividend was unpopular among investors, Capitec saved billions of dollars in cash by doing so.
Although the pandemic has taken a toll on Capitec's business, it's noteworthy that the bank still maintains a huge physical presence in South Africa. Capitec has more than 500 retail branches across the country and more than 3,400 ATMs. It also isn't losing customers as a result of the lockdown – they're just temporarily using the bank's services less, but that should change as the economic situation improves over the coming year.
Business Banking Could See Growth
When Capitec made its grim announcement about earnings losses for 2020, it also pointed to a potential opportunity – business banking. Right now, Capitec has a small business banking division that caters primarily to small merchants. But the bank sees plenty of room for growth in that market sector, especially as small businesses need a helping hand to rebuild after the current economic crisis.
Capitec is especially well-suited to take advantage of the business recovery in South Africa because it already offers many of the services that small businesses need. Mobile banking, widespread retail branches, and point-of-sale offerings are all key to business owners, and Capitec has them. The bank's low fees and integrative approach to checking, savings, and credit account will also likely boost its appeal among business owners.
Step 3: Open an Account and Deposit Funds
Ready to buy Capitec shares? In order to get started, you'll need to open a new brokerage account. We'll walk you through the process using Plus500, since this broker offers a variety of payment methods and offers incredibly low spreads on Capitec shares. If you use another South African broker, though, the sign-up process should look similar.
To open an account with Plus500, head to the broker's homepage and click 'Start Trading Now.' The next page will prompt you to create a username and password. Then, you'll need to enter personal details like your name, birth date, and address.
Plus500 also requires you to upload a copy of your driver's license or passport and a copy of a recent utility bill or financial statement. This is to comply with government regulations that help prevent identity fraud. You can skip this step for now, but you won't be able to withdraw funds from your account until you verify your identity.
Before you can start trading, you need to deposit funds into your account. You can make a payment on Plus500 by:
Debit card
Credit card
Bank transfer
Wire transfer
PayPal
Skrill
Plus500 requires a minimum deposit of $100 (around 1,650 R). The rand isn't accepted as a base currency, so you'll need to convert your funds to USD or GBP before depositing. If you deposit at least $250 (4,000 R), you are eligible for a trading bonus. Funds are available for trading immediately if you pay by debit card, credit card, or e-wallet.
Step 4: Buy Capitec Bank Shares
With your trading account funded, you're ready to buy Capitec shares. In Plus500, navigate to the 'Instrument Categories' menu and click 'Shares.' In the search box, enter 'Capitec' and click on the company when it appears in the drop-down. From the Capitec Bank shares page, click 'Buy' to open an order form.
To complete your order, you'll need to fill out the Plus500 order form. Enter how many shares of Capitec you want to purchase, along with a stop loss or take profit level if desired for risk management. You can opt to apply leverage up to 2:1 to your trade, but be cautious when trading with leverage – it increases your risk and comes with some additional fees since you're effectively borrowing money from the brokerage.
Once the order form is complete, click 'Buy' to buy Capitec shares.
The Verdict
Capitec's share price has been buffeted by the coronavirus pandemic and the economic turmoil in South Africa. The fact that the bank announced a 70% earnings drop for the first half of 2020 doesn't bode well for the second half of the year.
That said, Capitec does expect business to recover in 2021 and the bank is well-positioned to take advantage of the recovery. It boasts tremendously high customer satisfaction and has established itself as one of the most user-friendly, low-fee retail banks in South Africa. Any boost to its business banking division as the South African economy recovers could be a major plus for Capitec's share price going forward.
With all that in mind, Capitec is best as a long-term investment rather than a short-term trade. Investors should be very cautious about this bank, as expectations for what the economic recovery will look like in 2021 still vary widely.
Now that we've shown you how to buy shares in Capitec Bank, you can invest today by signing up for an account with Plus500. Click the link below to get started!
Plus500 – Trade Capitec Shares With No Commission

Your capital is at risk.
FAQs
What is Capitec's ticker symbol?
Capitec trades on the Johannesburg Stock Exchange under the ticker symbol 'CPI.'
Does Capitec operate outside of South Africa?
No, Capitec only operates within South Africa. The bank has more than 500 physical branches and more than 3,400 ATMs nationwide, plus offers a widely used mobile banking app.
What is Capitec's Global One account?
The Global One account is a unified banking account that integrates checking, savings, and credit. With this account, customers get access to a debit card, credit card, and insurance plans. The Global One account also includes ATM access, branch banking, and mobile banking.
Who are Capitec's competitors in South Africa?
Capitec is the largest retail bank in South Africa with more than 11 million customers. However, it's closely followed by FirstRand (FNB), Standard Bank, and NedBank, each of which have more than 8 million customers.
Where is Capitec headquartered?
Capitec's headquarters are at 1 Quantum Street, Techno Park, Stellenbosch, Western Cape, South Africa.
How do I buy Capitec shares?
All you need to do is find a broker that offers Capitec shares, decide how much you want to invest and then buy the shares.