Best Algorithmic Trading Platform in South Africa 2022
Algorithmic trading is the process of buying and selling assets in a fully automated manner. This allows you to actively trade your chosen financial instrument without needing to lift a finger. The most challenging part is finding a suitable algorithmic trading platform that meets your financial objectives.
In this guide, we review the Best Algorithmic Trading Platforms in South Africa for 2022 and walk you through the process of getting started today.

Best Algorithmic Trading Platforms 2022 List

Below you find the best algorithmic trading platforms in South Africa for 2022. We review each platform in great detail further down in this guide.

Copy Trading via eToro – Overall Best Broker in South Africa for Automated Trading
MT5 via Libertex – Best Platform for Algorithmic EAs
IG – Regulated Algorithmic Trading Platform WIth 17,000+ Markets
FXCM – Best Algorithmic Trading Platform for Advanced Strategies
MT4 via Capital.com – Best Platform for Algorithmic Trading Strategies

Best Algorithmic Trading Platforms Reviewed

When searching for the best algorithmic trading platform, you need to make a number of considerations before proceeding. For example, are you looking for algo trading software that operates autonomously, or are you looking for a more hands-on approach?

You also need to explore what markets the platform offers, applicable fees and commissions, and whether or not the provider is regulated.

To save you from having to perform hours of research, below you will find the best algorithmic trading platforms in South Africa.

1. Copy Trading via eToro – Overall Best Broker in South Africa for Automated Trading

eToro is a hugely popular online broker, not only in South Africa but globally. In fact, more than 20 million people use this top-rated platform to buy and sell assets. The provider is home to thousands of stocks and ETFs – all of which can be bought and sold commission-free.

On top of being the best robo advisor around, you can also engage in forex trading, and speculate on the future value of indices, hard metals, energies, and more. In terms of its automated investment services – this comes in the form of the eToro Copy Trading tool. Instead of relying on a piece of algorithmic trading software, you will be copying the trades of a proven eToro investor.

Past performance is not an indicator of future results

There are thousands of verified traders to choose from – so you'll have the opportunity to spend some time assessing metrics like past performance, average trade duration, preferred asset class, risk rating, and maximum drawdown. Once you have chosen a successful trader to copy, all future buy and sell orders will be replicated in your own eToro account. For example, let's suppose that you invested $1,000 into a successful cryptocurrency trading pro.

If the trader allocates 10% of their capital to buy Bitcoin, you will do the same at a proportionate amount – which is $100. If the trader then sells their Bitcoin position at a profit of 30% – you would make $30. Naturally, this allows you to trade in a 100% passive nature. In terms of pricing, eToro doesn't charge any fees to copy a trader. There are no fees to open an account either, and ZAR deposits cost just 0.5%.

What we really like about the eToro Copy Trading tool is that you have full control of your investment funds. For example, you can add individual assets to your portfolio at the click of a button. The minimum investment is just $50 when buying stocks and ETFs, and $25 on cryptocurrencies. You can get started with eToro and its Copy Trading tool in minutes. All you need to do is open an account, instantly deposit funds with a debit/credit card or e-wallet, and then choose which trader to copy.

Pros:

Buy shares and index funds without paying any commission or dealing charges
2,400+ shares listed on 17 international markets
More than 20 million clients
Perfect for beginners
Social and copy trading
Mobile trading app
Regulated by the FCA, CySEC, and ASIC

Cons:

Not suitable for advanced traders that like to perform technical analysis

67% of retail investors lose money trading CFDs at this site

 

 

2. MT5 via Libertex – Best Platform for Algorithmic EAs

MT5 offers many of the same tools, features, and pricing indicators as its MT4 counterpart. Most importantly, MT5 allows you to install and deploy algorithmic trading strategies with ease. In fact, MT5 goes one step further by offering an in-house marketplace that allows you to buy forex EAs and automated systems.

For those unaware, a forex EA is essentially a trading robot that buys and sells currency pairs based on the underlying algorithmic code. You will, of course, need a suitable MT5 broker, and for that we like Libertex. The online trading platform supports a wide selection of asset classes – all of which come via CFDs.

This includes everything from commodities, cryptocurrencies, and indices to stocks, ETFs, and forex. Libertex is particularly useful if your algorithmic trading strategies involve scalping. This is because the platform charges ZERO spreads, much like you would get with a traditional ECN broker account. Although most markets at Libertex come with a small commission – this is usually below 0.1%. Some markets can even be traded commission-free – especially in the stock department.

Libertex also offers leverage on all of its supported markets – which allows you to trade with more money than you have in your account. To get started, you will first need to open an account and meet a $100 minimum deposit with a debit/credit card, e-wallet, or bank wire. Then, you'll need to sign into MT5 with your Libertex account details and install your algorithmic trading software. Finally, you should have no concerns regarding safety, as Libertex is an FSCA regulated broker.

Pros:

ZERO spreads on all markets
0% commissions on some stocks
Leverage available
Educational guides and webinars
Accepts PayPal
MT4 supported
Mobile trading app
Regulated and trustworthy broker

Cons:

74% of retail investors lose money trading CFDs at this site

 

3. IG – Regulated Algorithmic Trading Platform WIth 17,000+ Markets 

If you are the type of trader that likes to access a wider variety of markets – look no further than IG. This brokerage firm was first founded in 1974 and is regulated by several reputable bodies. Its parent company is listed on the London Stock Exchange – so you'll be using a highly trusted provider. In total, IG offers markets on over 17,000 financial instruments – you will never be short of trading opportunities.

In terms of its algorithmic trading offering, IG provides a number of options. The broker supports MT4, so you can always deploy algorithmic software into the platform and link it with your IG account. You might also consider using ProRealTime. This is a web-based charting package that comes packed with advanced tools and features. This includes over 100+ technical indicators, chart drawing tools, and the ability to build your own algorithmic trading strategy.

You can do this in-house by backtesting systems, timeframes, and trend lines. In fact, ProRealTime gets you access to 30 years of historical pricing data. Ultimately, you can spend as much time needed adapting your automated strategy until it is ready to start trading in real market conditions. When it is, you'll be able to trade everything from forex, indices, and stocks to energies, bonds, and interest rates.

Each and every tradable market comes in the form of a CFD instrument – meaning that you can apply leverage. When it comes to the fundamentals, IG requires a minimum deposit of $250 to get started. You can, however, utilize the platform's demo trading facilities if you want to test-drive your strategy first. The broker supports debit/credit cards and bank account transfers – with the former being processed instantly.

Pros:

Trusted broker with a long-standing reputation
Good value share dealing services
Leverage and short-selling also available
Spread betting and CFD products
Access to South African and international markets
Great research department

Cons:

Minimum deposit of £250
US stocks have a $15 minimum commission

Your capital is at risk when trading CFDs with this provider

 

4. FXCM – Best Algorithmic Trading Platform for Advanced Strategies 

If you're an experienced algorithmic trader that wishes to take things to the very next level – it's well worth considering FXCM. This popular CFD and forex broker has been offering online trading services for over two decades – so it's built a great reputation. Plus, the platform is not only regulated by the FSCA in South Africa but the UK's FCA.

In terms of its algo trading services, FXCM offers a significant number of tools. For example, if you're looking to deploy an algorithmic trading strategy through APIs – FXCM supports multiple platform languages. This includes JAVA, FIX, REST, and more. You can also set up custom strategies via the FXCM Python Wrapper. This allows you to create super-advanced trading systems in a fully automated manner.

You then have the FXCM app department – which allows you to buy customized trading tools which can then be applied to your algorithmic strategies. For example, you can purchase MT4 expert advisors, technical indicators, and even trading scripts. When it comes to supported trading platforms, FXCM gives you ample choice. This includes popular third-party providers like ZuluTrade, NinjaTrader, TradingView, and MT4.

You might also consider the native FXCM platform – Trading Station. This in itself is highly suitable for algorithmic trading as it comes packed with advanced tools and features. Supported markets at FXCM include forex, shares, indices, commodities, and digital currencies. You can also trade tailor-made forex and stock baskets – which is great for gaining exposure to the wider markets. Finally, FXCM offers commission-free accounts and very competitive spreads on major asset classes.

Pros:

Supports MetaTrader 4, NinjaTrader, and ZuluTrade
A long-established and reputable broker
Lots of supported markets
Minimum deposit just $50
Mobile trading app
No commission and tight spreads

Cons:

CFDs only
Limited share markets

73.05% of retail investors lose money when trading CFDs at this site

 

5. MT4 via Capital.com – Best Platform for Algorithmic Trading Strategies

If you are looking to engage with algorithmic trading software in its truest form – then you might want to consider Capital.com. This is because the top-rated CFD trading site is fully compatible with MT4. As such, you will be able to install your chosen algorhtmic trading software into MT4 and then connect your account with Capital.com.

In doing so, the software will trade on your behalf – 24 hours per day. Although there are hundreds of MT4 brokers to choose from, we think that Capital.com stands out for a number of core reasons. First and foremost, the platform allows you to trade without paying any commissions and across most markets – you will find that spreads are very competitive.

We also like Capital.com because it supports thousands of financial instruments. This includes commodities like oil, natural gas, and platinum, as well as indices, ETFs, index funds, and thousands of stocks. If you want to gain exposure to digital assets, Capital.com also has you covered. You will find dozens of fiat-to-crypto and crypto-cross pairs here, as well as a great selection of DeFi coins.

Baring in mind that there is no guarantee your chosen MT4 trading robot will make you money, it's notable that Capital.com offers a free demo account. This will allow you to backtest your algorithmic trading software without needing to risk a single rand. In terms of real money trading, the minimum deposit at Capital.com is just $20. You can fund your account with a debit/credit card, bank wire, and several e-wallets. Capital.com is regulated by the FCA and CySEC.

Pros:

Trade shares, index funds, ETFs, crypto, forex, commodities, and more
Educational app for new traders
AI assistant identifies your weak points
Minimum deposit just $20
Excellent charting and analysis interface
No inactivity fees
100% commission free trading

Cons:

Cannot build custom trading strategies in-house
75.26% of retail investor accounts lose money when spread betting and/or trading CFDs with this provider.
Algo Trading Platforms Fees Comparison
When considering which algo trading platform is best suited for your needs – you need to have a firm understanding of what fees and commissions are applicable. This is crucial, as your algorithmic trading strategy will be entering buy and sell positions on your behalf – so naturally, fees will apply.
Below you will find a fee comparison table that outlines the main fees you need to look for when using one of the algorhtmic trading platforms that we have reviewed today.
| | | | | |
| --- | --- | --- | --- | --- |
| | Standard Commission | Spread | Minimum Deposit | Auto Trading Fee |
| eToro | From 0% | Variable | $200 | No Fees for Copy Trading |
| Capital.com | 0% | Variable | $20 | Depends on the MT4 robot |
| Libertex | From 0% | ZERO on all markets | $100 | Depends on the MT5 robot |
| IG | 0% on all markets apart from stocks | Variable | $250 | No Fees for ProRealTime |
| FXCM | 0%% | Variable | $50 | Depends on Strategy |
Ultimately, if using MT4 or MT5 for your algorithmic trading endeavours, the fee that you pay for the software itself will depend on the provider in question.
Algorithmic Trading Guide
In many cases, algorithmic trading can be a complex battleground, so it's important that you understand how this segment of the online investment scene works before parting with any money.
With this in mind, below we explain the basics of algo trading in South Africa.
What is Algorithmic Trading?
In its most basic form, algorithmic trading refers to the process of allowing a piece of software to trade on your behalf. Otherwise called an EA (expert advisor) or robot – algorithmic trading platforms allow you to actively day trading in a 100% passive manner.
This is because the robot will be programmed to scan the financial markets around the clock – constantly looking for opportunities to enter a position.
In this sense, you are effectively performing in-depth research without needing to lift a finger.
After all, the best algorhtmic trading systems will have the capacity to analyze pricing trends and deploy technical indicators in an autonomous manner.
In the vast majority of cases, the algorithmic trading software will be built by a third-party provider that sells its system online.
The underlying code installed into the software will be based on artificial intelligence, which is what allows the robot to operate independently.
It is important to note that, unlike experienced human traders, algorhtmic trading software only has the ability to look at the technicals. In other words, while it might be able to perform advanced technical analysis, the software will not be aware of what is happening in the real world.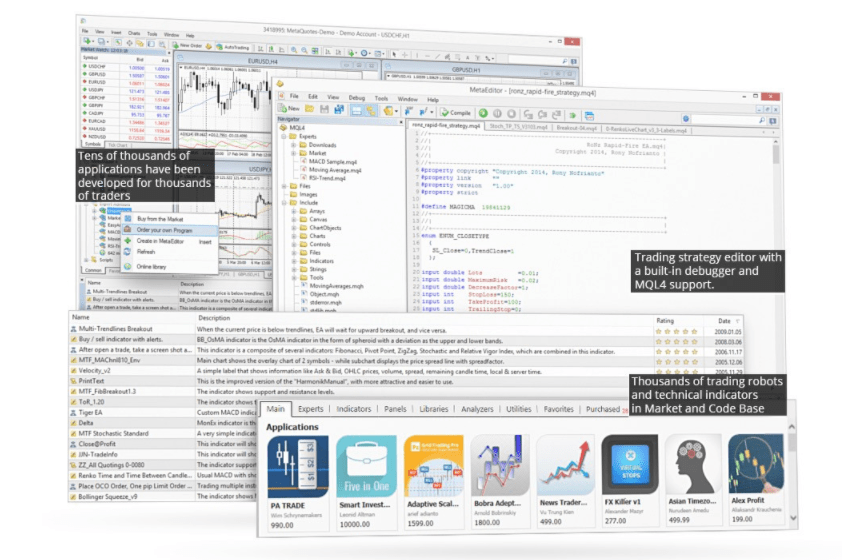 For example, if the Federal Reserve hiked interest rates, this would be big news in the financial space. However, the algorithmic trading software would not be aware of the news and thus – this is a major weakness. This is why we much prefer the Copy Trading tool offered by eToro – as you will be copying a successful investor that utilizes both technical and fundamental analysis.
Algorithmic Trading Strategies
There are essentially two leading algorhtmic trading strategies that are worth considering. The one you opt for will ultimately depend on how hands-off you wish to be and what your long-term financial goals are.
As such, we suggest reading through the following strategies to assess which one is best for you.
Algo Strategy 1: Copy Trading
The first and perhaps best algorithmic strategy to consider is that of Copy Trading. As we mentioned earlier in our reviews, the Copy Trading tool is offered by hugely popular online broker eToro – which is now used by over 20 million investors.
Put simply, you will be trading in a fully automated manner – as all of your buy and sell orders will mirror that of your chosen eToro investor. As eToro is home to thousands of verified traders, you can choose an investor that mirrors your financial goals.
For example:
You might decide to search for a stock trading pro that has made at least 20% annually over the past two years.
You might even narrow your search down further by specifying the average trade duration and risk rating.
Once you have found a trader to copy, you can elect to mirror their currency portfolio and all ongoing positions.
For instance, if the trader allocated 5% into a USD/ZAR buy order and you originally invested $500 – $25 of your own capital would be used to copy the trade.
If the trader in question made 20% on this position, you would also make gains of 20%.
Ultimately, Copy Trading is a much better option than going with a fully automated algorhtmic software robot – as you have full control over your funds.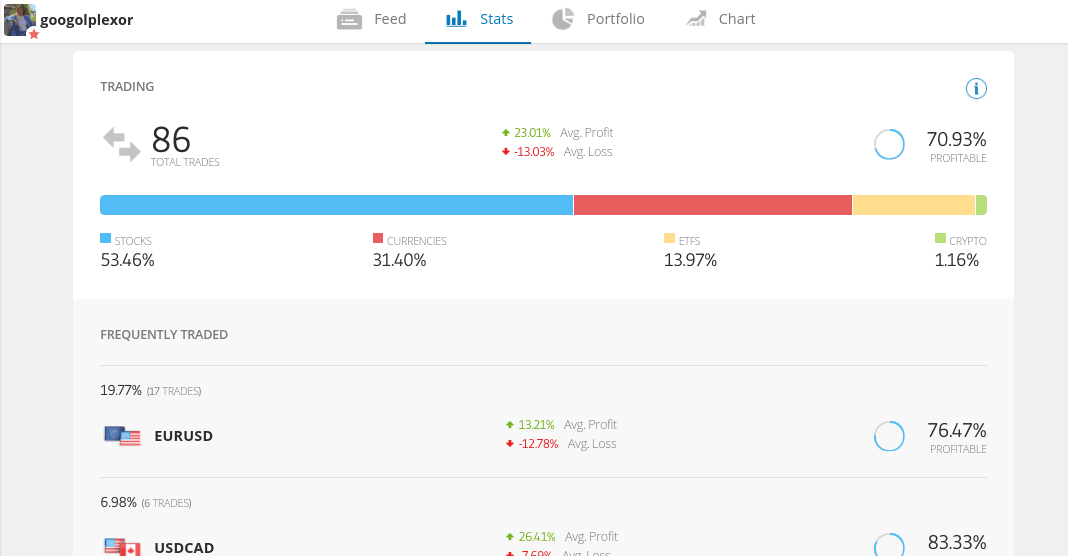 Plus, as eToro is heavily regulated, you don't need to worry about the legitimacy of the historical trading results presented on the site. The same can't be said with providers selling algorhtmic software robots – as they often make super-bold claims about the profits they have made but this is rarely variable.
Algo Strategy 2: MT4/MT5 Robot
The next algo trading strategy to consider is that of a robot that you install into a third-party platform like MT4 or MT5. The former is the preferred option for algo developers, so you'll likely have a much larger pool of strategies to choose from. Crucially, this option will allow you to sit back and actively trade without needing to lift a finger.
The MT4/MT5 robot will not only perform technical research on your behalf but place buy and sell positions, too. In fact, the robot will be operational 24 hours per day – a feat that not even the most seasoned of traders could match!
If this if the route you want to take, the most challenging part of the process is finding a suitable robot that is going to be able to make you consistent gains in a risk-averse manner. As noted earlier, this is difficult because robot providers are renowned for making hyperbole claims of unfounded profits that in most cases – are false.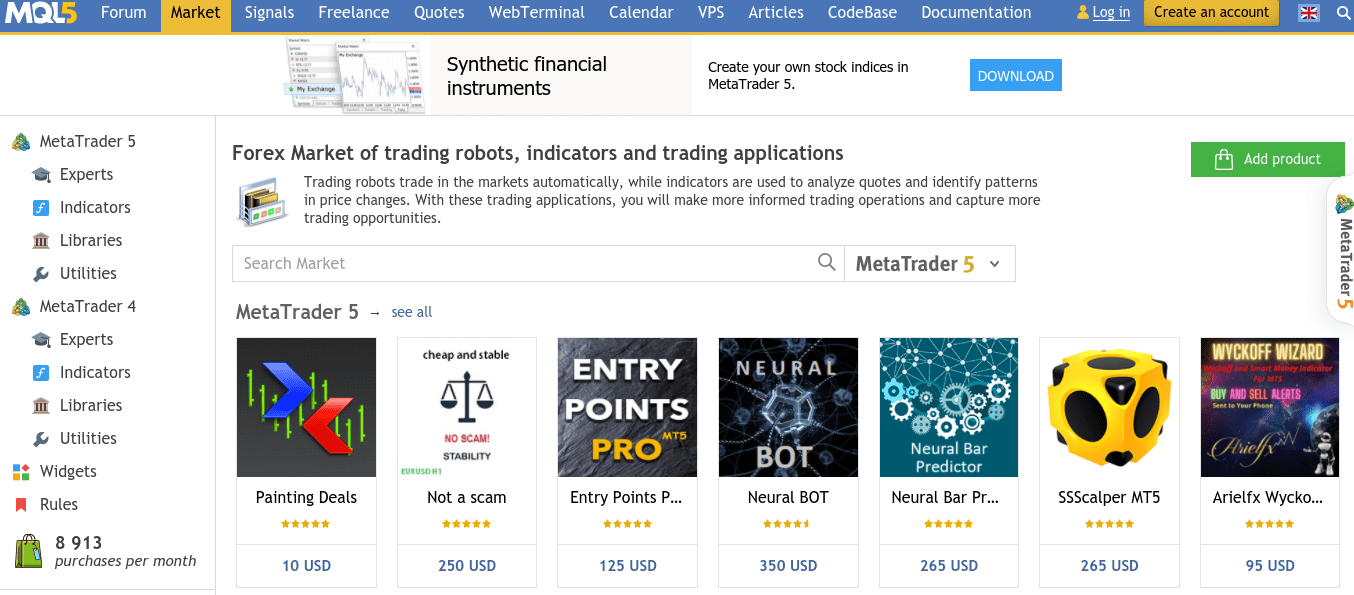 The good news is that there is a way to mitigate the risks involved, by using a free demo account. This is offered by Capital.com (MT4) and Libertex (MT5) – so you can deploy your newly purchased robot without risking any trading funds. You will, however, need to pay for the robot itself.
Here's what you need to do to start algo trading with an automated trading software or robot via MT4 or MT5:
Open an account with a broker that supports MT4 or MT5
Add funds to your newly created brokerage account
Do lots of research to find an algorithmic trading robot that meets your financial goals
Purchase your chosen robot and download the file to your desktop device
Open MT4/MT5 and sign in with your brokerage login credentials
Install the robot into MT4/5, set up your parameters, and authorize it to start trading
The most important thing to remember is that an algo robot will have access to your brokerage funds. As such, by ticking the authorization box on MT4/5, it will be able to use your funds to place real-world orders. If this makes you feel uncomfortable, you might be more suited for the eToro Copy Trading tool.
Can Algo Trading Beat the Market?
If you're wondering whether or not algorithmic trading strategies can beat the market – the simple answer is yes. The reason we say this is that some of the largest and most successful trading floors in the world have been utilizing algorithmic trading software since the 1980s.
In comparison to a human trader, the algorhtmic software can:
Trade 24 hours per day, 7 days per week – all without experiencing fatigue
Avoid trading emotions in their entirety
Scans thousands of markets simultaneously
Create millions of potential scenarios and outcomes every second
Find and take advantage of arbitrage trading opportunities in a matter of milliseconds
However, as great as the above features might look on paper – there is a really important point to make. That is – large hedge funds, banks, and financial institutions have access to a significant amount of resources – meaning that they possess algorhtmic trading software that is far more advanced than any retail client can get their hands on.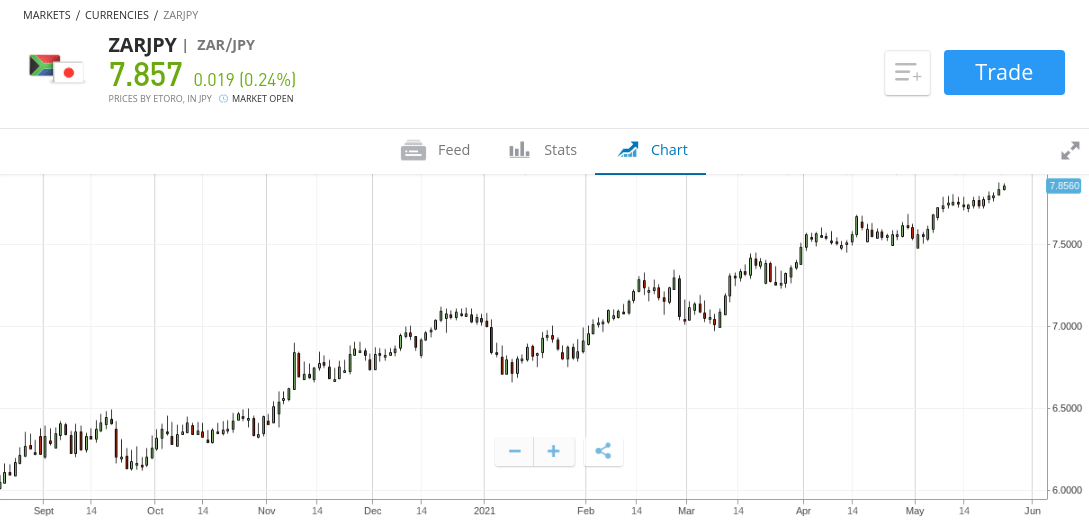 This means that the vast majority of algo trading robots that you come across in the online space will be of sub-par quality to consistently outperform the market. After all, if somebody was able to build an advanced strategy that consistently makes money – why would they sell it for a few hundred dollars and ultimately – give away their secret source?
Once again, this is why in the grand scheme of things, the eToro Copy Trading option is the best way to go if you seek automated investment services.
How to Get Started with the Best Algorithmic Trading Broker
If like us you think that Copy Trading is a much safer alternative to algorhtmic robots, we are now going to walk you through the process of getting started. In fact, by following the simple steps outlined below, you could be copying your first eToro trader in less than 10 minutes!
Step 1: Open an eToro Account
The first step is to go through the burden-free process of opening an eToro account. You can do this online or via your mobile phone. Simply head over to the eToro website and click on the 'Join Now' button.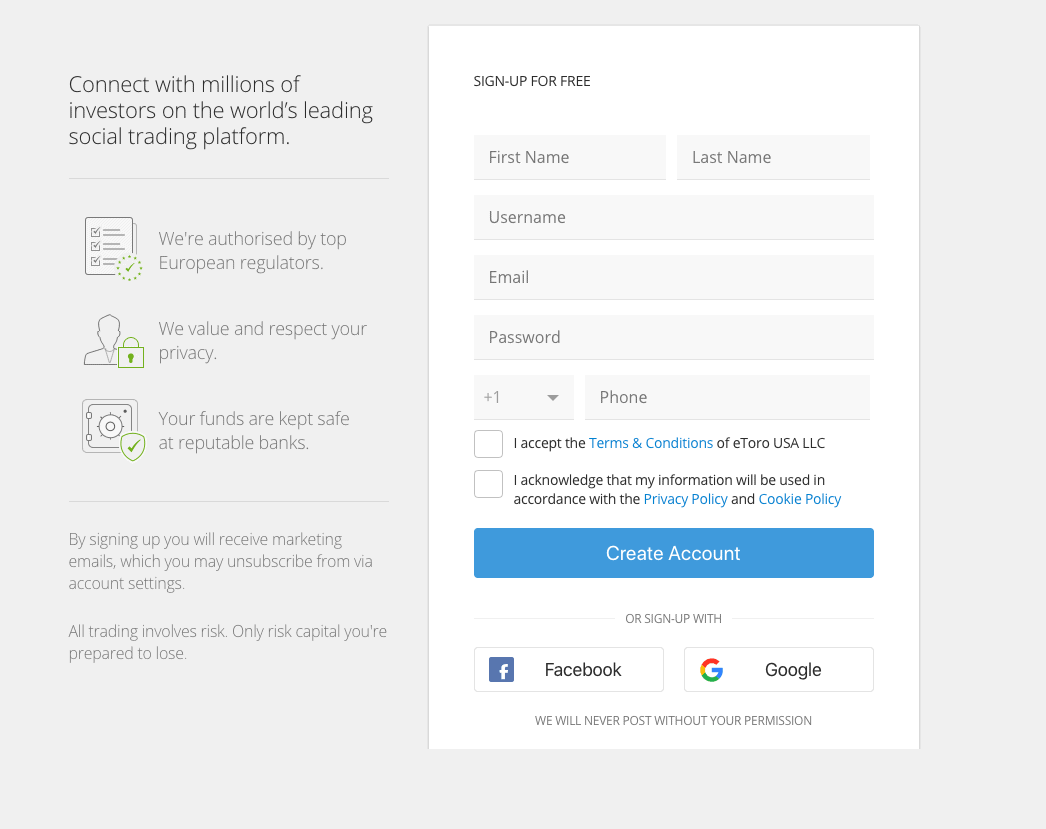 You will be asked for your:
Name
Nationality
Date of Birth
Home Address
Contact Details
Once you have verified your email address and mobile number, you will then be asked to upload a copy of your government-issued ID. This is to ensure that eToro remains compliant with its three license issuers – the FCA, ASIC, and CySEC.
Step 2: Make a Deposit
Now that you have an eToro investment account, you can make a deposit. The minimum deposit is $200 – but if you want to use the Copy Trading tool, this will require an investment of at least $500 per trader.
You can choose from one of the payment types listed below:
Visa
MasterCard
Maestro
Paypal
Skrill
Neteller
Bank Transfer
Step 3: Find a Successful Copy Trader
You can now begin researching the many verified traders on eToro to find one that alligns with your financial goals, preferred asset class, and tolerance for risk. First, click on the 'Copy People' button from the dashboard on the left-hand side of the screen.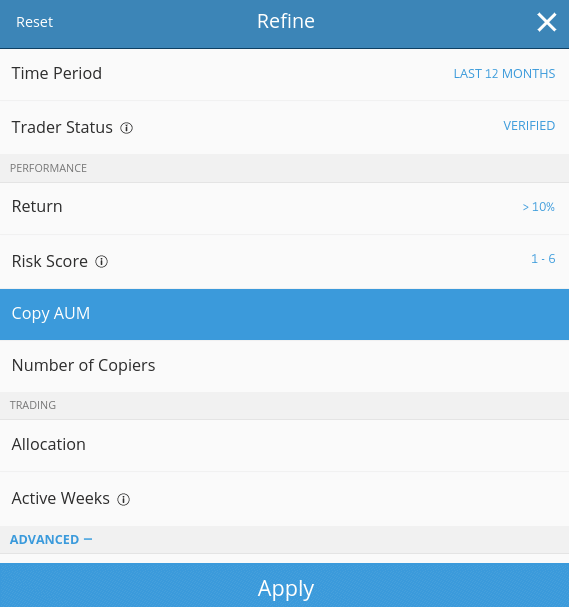 Then, you are advised to use the filter buttons that you have access to. For example, you can find a suitable trader by specifying the minimum amount of profit made over a certain period – for example, 10% annually for at least 3 years.
When you are presented with the results, you can click on a trader to view their profile.
Step 4: Review Trader Stats
Once you click on a trader, you will be presented with a significant amount of data. For example, you can view the individual's historical performance since joining eToro. This is broken down nicely by a profit or loss figure for each month.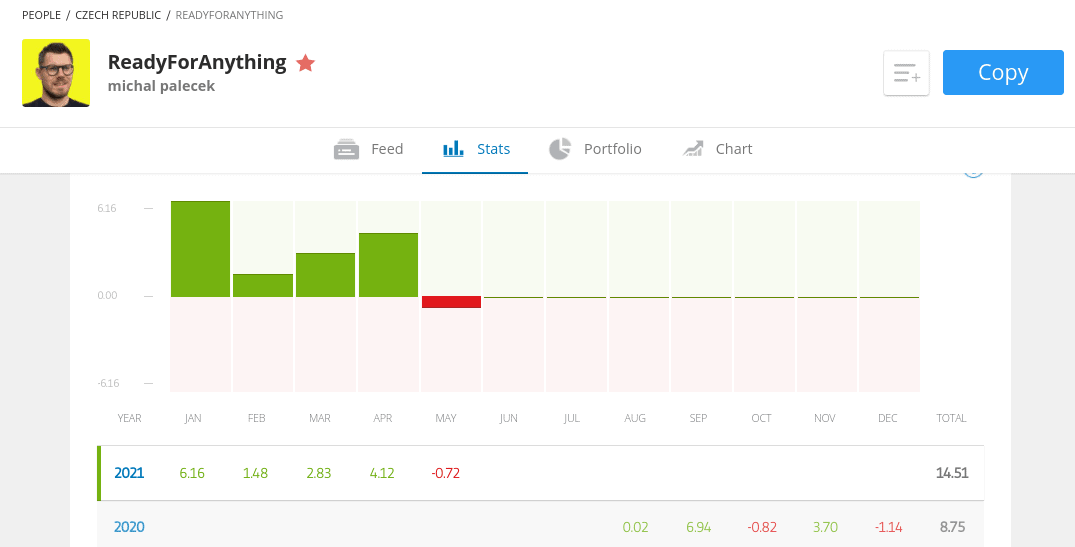 You can also see what assets the trader likes to buy and sell and how long they typically keep a position open for. Ultimately, you should spend as much time as you need to find a suitable eToro investor – as they will be trading on your behalf.
Step 5: Complete Investment
Once you have found a suitable trader to copy, you will need to complete a simple investment order. First, click on the 'Copy' button. In doing so, you will see an order box like in the image below.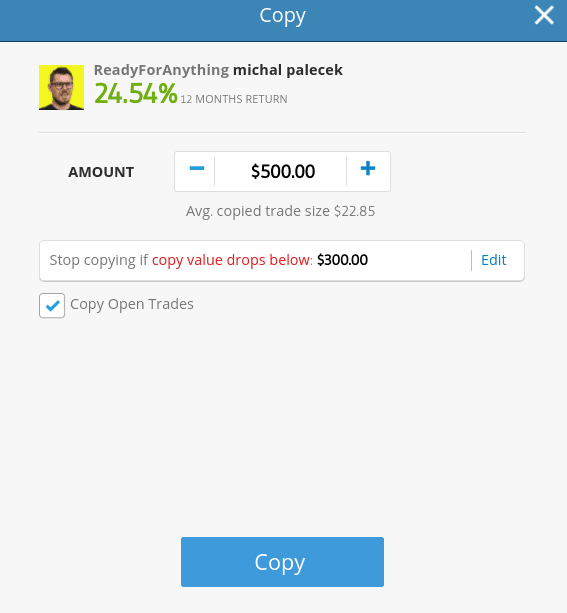 Next, enter the amount that you want to invest in ther trader – ensuring that you meet a $500 minimum. You will notice that by default, the 'Copy Open Trades' button is ticked. This means that you will be copying the trader's current portfolio, as well as all ongoing positions.
Finally, to confirm your investment – click on the 'Copy' button at the bottom of the order box.
And that's it – you have just taken your first step into the world of passive trading! Your copy trading position will remain open until you decide to cash out – which you can do any time.
eToro – Best Broker for Automated Copy Trading
This guide has discussed the best algorithmic trading platforms in South Africa for 2022. As we have explained, there are many types of algorithmic trading strategies available in the market. You might be tempted to use a conventional algorithmic trading robot that buys and sells assets on your behalf 24 hours per day.
However, we found that the challenging part is finding a robot that is able to make consistent gains. After all, most end up blowing through account balances in one fell swoop. Instead, we much prefer the automated Copy Trading tool available at regulated brokerage site eToro.
You will have access to a plethora of successful investors that you can copy at the click of a button without paying any additional fees. Whether you want to actively day trade forex or invest in long-term stocks – eToro has a trader that is sure to align with your financial goals and tolerance for risk.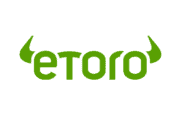 67% of retail investor accounts lose money when trading CFDs with this provider.
FAQs
What is the best algorithmic trading platform?
If you want to use an algorithmic trading robot - then the best platforms to do this with are MT4 and MT5. If, however, you take the automated Copy Trading route, then eToro is the best platform for the job.
How does Algorithmic trading work?
Algorhtmic trading relies on a software file that is pre-programmed to trade autonomously. The underlying technology code ensures that the robot follows a set of conditions - which is usually backed by artificial intelligence. For example, the robot might be instructed to sell GBP/USD when the pair breaches an RSI level of 85.
Do algorithmic trading systems work?
On the one hand, hedge funds and financial institutions have been successfully using algorithmic trading systems for several decades. As they have access to vast resources, their robots are able to consistently beat the market. However, as a retail client, you will only have access to algorithmic trading strategies that are available to buy from a third party. In all likelihood, the robot won't be advanced enough to outperform the market and thus - make you consistent gains.
How do you set up algorithmic trading software?
Most algo trading software files are compatible with either MT4 or MT5. As such, the first step is open an account with a top-rated broker that is compatible with your preferred MT4/5platform. Then, you will need to upload the robot software into MT4/5 and authorize it to start trading on your behalf.
How do you try algorithmic trading for free?
You can test out your algorithmic trading system by using a free brokerage demo account. These are offered by the likes of Capital.com (MT4) and Libertex (MT5). For as long as the algo trading robot is trading in demo mode, you won't be risking any money.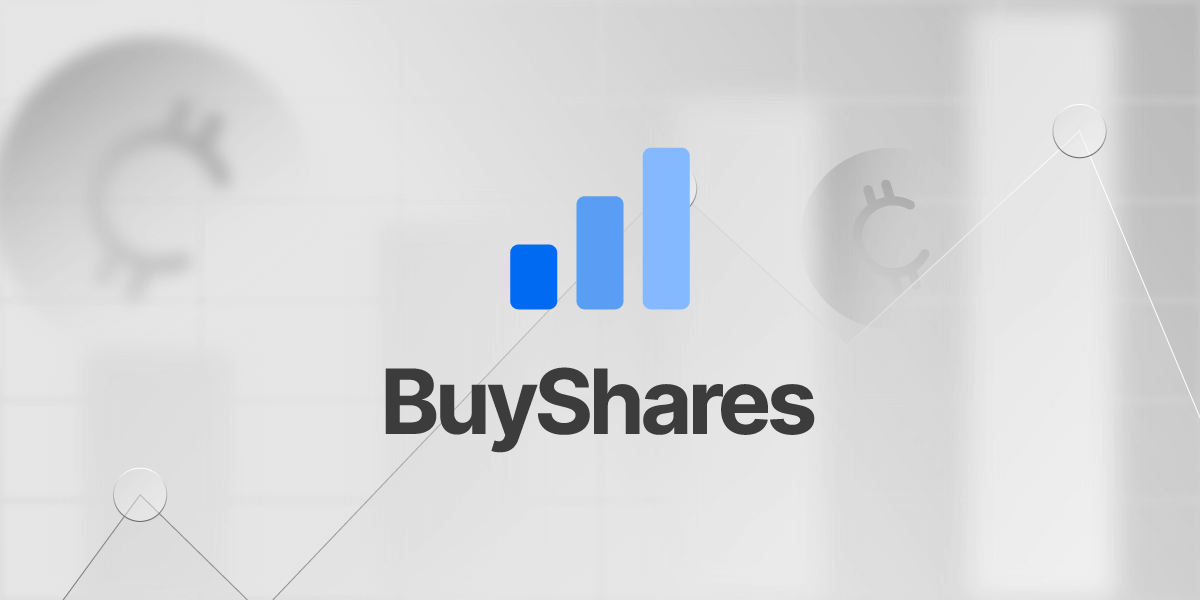 For tiden er det mange mennesker som ønsker å lære å spille poker og norgescsino. Dette er fordi spillene er veldig morsomme og folk kan få mye penger fra dem. Det er imidlertid et par ting du bør huske på når du skal lære å spille poker og norgescsino. Disse tingene inkluderer RNG, Cashback og...