How To Buy Dischem Shares In South Africa – With 0% Commission
Dischem is the second-largest retail pharmacy chain in South Africa, with 165 physical stores in the whole of Africa. Founded in 1978 by Ivan and Lynette Saltzman in small-town Mondeor, Johannesburg, the pharmacy has grown to become a national concern in the last four decades.
In this How to Buy Dischem Shares in South Africa with 0% commission, we dive deep into Dischem shares in South Africa and why you should consider buying them today.
How to Buy Dischem Shares In South Africa – Step By Step Guide 2021
Looking to buy Dischem shares in South Africa today? Here are quick steps to get started in no time.
Step 1: Open an account with Capital.com – Head to Capital.com's website and click 'Trade Now'. Provide a valid email address and choose a password to create your account.
Step 2: Verify your Account – Verify your trading account by providing proof of ID (a copy of your driver's license or passport) and proof of address (a copy of a bank statement or utility bill).
Step 3: Fund your Account – Make a deposit using a credit/debit card, bank transfer, or e-wallet.
Step 4: Buy DischemShares – Search for Dischem in Capital.com's trading platform and click 'Buy'. Then, enter the number of shares you'd like to purchase and click 'Place Order'.
75.26% of retail investor accounts lose money when spread betting and/or trading CFDs with this provider.
Step 1: Choose A Stock Broker
If you want to buy Dischem shares, you will need a stockbroker that offers exposure to several South African stocks. The fact that Dischem is listed on the Johannesburg Stock Exchange (JSE) makes this even easier, so there are several South African options to pick from.
When the decision to choose the best broker comes up, several critical points must be considered. You have to consider the broker's fees and overall trading experience before settling for one. To make this decision easy for you, we will review two of the best zero commission South African stock brokers you can buy Dischem shares.
1. AvaTrade – Best Broker to Buy Dischem Shares in South Africa With 0% Commission


If you are on the hunt for a suitable alternative to Capital.com, AvaTrade is the best alterantive to use to buy Dischem shares in South Africa. Founded in 2006, AvaTrade is a subsidiary of the Ava Group of Companies.
AvaTrade is regulated by the South African Financial Sector Conduct Authority (FSCA), meaning that your funds and details are protected by local laws. Meanwhile, AvaTrade offers 0% commission trades like Capital.com, making it one of the best alternatives to trade Dischem shares.

However, it requires a slightly higher minimum deposit. You will need to fund your account with a minimum of $100 (about 1,430.30 ZAR) to place a buy and sell order.
AvaTrade offers multiple trading platforms depending on the user's level of experience.
For traders just starting, the AvaTrade custom web platform is ideal as it is easy to use and offers many technical tools and a news feed and price alert. For more experienced traders, AvaTrade offers integration with the popular Meta Trader 4 and the newer 5 variants. Trading on either of these platforms is complex, but they offer you more flexibility and control. You can easily create custom indicators and use them as a bedrock for your trading decisions.
In the aspect of fees, AvaTrade charges a little above the industry average on the EUR/USD currency pair at 0.9 pips. However, this is substantially toned down if you are a professional trader to 0.6 pips for the same FX pair. You can fund your account through multiple payment methods like credit/debit card, bank wire transfer, Skrill, and Neteller. If you need any help with your account, customer support is available 24/5. AvaTrade also offers a social trading app for iOS and Android devices called AvaSocial. This mobile app allows users to connect with other traders on the platform. You can also follow more experienced traders to copy their trading behavior. This can be a great way to hedge your investment against major losses if you are starting in the financial markets.
Pros:
Buy Dischem shares with 0% commission
Regulated by the FCA
Social trading with AvaSocial
Multiple trading specific to user experience level
24/5 customer support
Cons:
Limited exposure to global shares (just 600)
High inactivity fees
Your capital is at risk.
2. Capital.com – Overall Best Broker to Buy Dischem Shares in South Africa

Our top pick for the best share trading platform to buy Dischem shares in South Africa is Capital.com. Regulated by reputable bodies like the UK's Financial Conduct Authority (FCA) and the Cyprus Securities Exchange Commission (CySEC), Capital.com is a global contract for difference (CFD) and forex broker.
With subsidiaries in the UK, Cyprus, and Belarus, Capital.com is home to over 2 million active traders who have contributed grossly to over $18 billion in trading volume. Capital.com is an international brand and offers trading to over 3,000 global shares from companies in the US, UK, and much of Europe, including stocks that trade on the floor of the NYSE.

Founded in 2016, Capital.com services both retail and institutional clients and operates a segregated accounting system where the clients' funds are kept in a separate account from the company's funds. Capital.com is also very user-friendly and offers trading through its web platform and mobile device.
Users can access a rich set of features, including a watchlist, trading charts and tools, a news feed, and price alerts. Capital.com also offers some of the lowest spreads in the industry in the aspect of fees, charging 0.6 pips for the popular EUR/USD currency pair. It also provides zero-commission trades, meaning you do not have to pay any extra expenses except for the underlying asset. Capital.com requires a minimum deposit of $20 (about 286.71 ZAR) to get started, and you will not be charged deposit fees as the broker does not charge them. Withdrawal fees are also not applicable, making Capital.com one of the best brokers to trade Dischem shares.
You can make deposits with your credit/debit cards, bank wire transfer, e-wallet providers like Sofort, iDEAL, Giropay, Multibanko, and several others.
Pros:
Buy Dischem shares with 0% commission
Heavily regulated by reputable bodies
Rich library of educational resources
Low minimum deposit
Multiple payment methods
No deposit/withdrawal fees
Over 3,000 global shares
Low spreads
24/7 customer support services
Cons:
75.26% of retail investor accounts lose money when spread betting and/or trading CFDs with this provider.
Research Dischem Shares
One of the most important aspects of stock trading is research. Anyone with a sense of stock trading understands that it will be detrimental to enter into a position or trade without researching or doing their homework. Due diligence takes a great deal of effort. You will need to understand some of the fundamentals of the company you're investing in – as well as what they do and the latest developments concerning them. The more insights you can get, the better. When you notice that a company has been showing strong performances, you know they are ripe for investment. When their performances start to lag, you might want to sell out of your positions.
What is Dischem?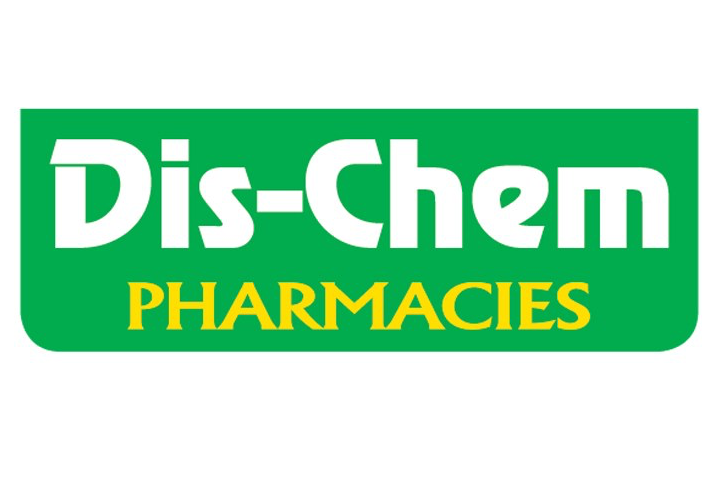 Dischem is a retail pharmacy chain that is based in Johannesburg, South Africa. It is currently the second-largest pharmaceutical company in the country. The company maintains offices in several other nations – including Namibia and Botswana.
Founded in January 1978, Dischem offers several impressive services, including white-label product sales, Internet retail, and a wholesale division. Top customers can also enroll in a loyalty program. Dischem was started by Ivan and Lynette Saltzman, two pharmacists, who opened a retail pharmacy store in Mondeor – a southern suburb of Johannesburg. Their pharmacy business had focused on providing discount products that had not been available to pharmacies in the country at that point.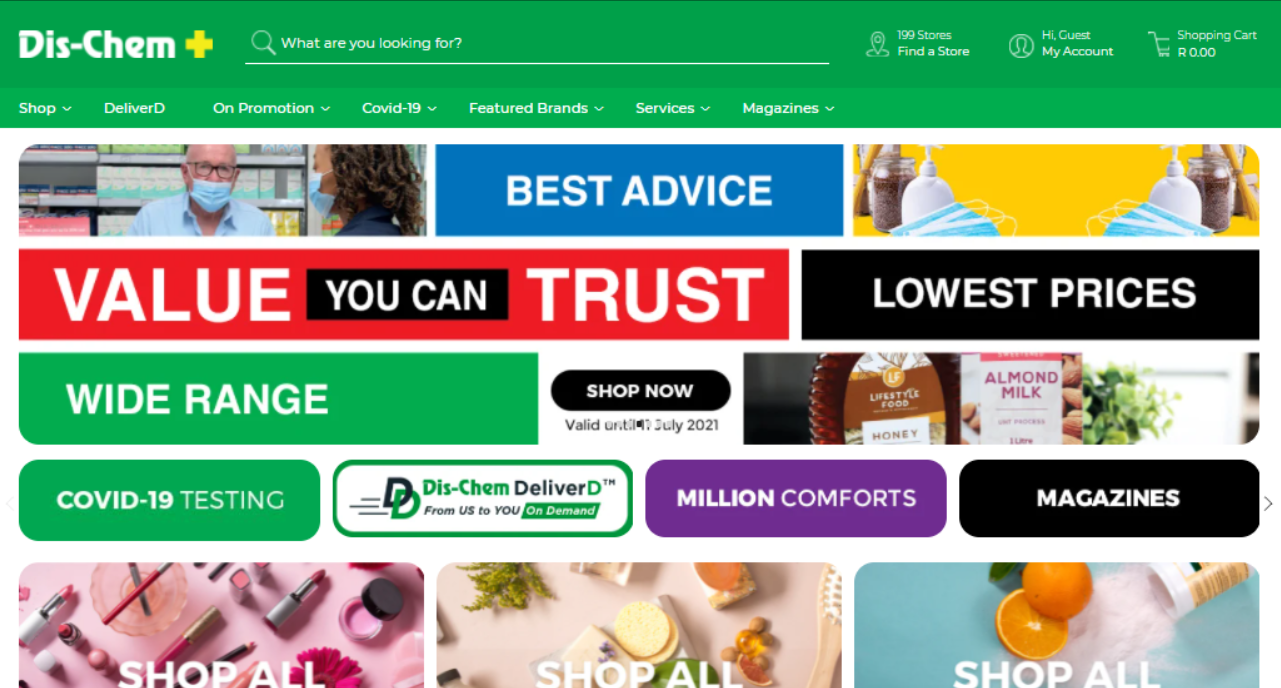 Today, Dischem provides products and services that touch just about every part of healthcare. From food and beauty products to personal health products and greener living amenities, Dischem is quite vast. Customers who need these products can check via its website or visit any of its 165 stores in the country.
Over the last 10 years, the company has expanded even more. It opened its first store outside South Africa – in Windhoek, Namibia – in 2014, and its holding company – Dischem Pharmacies Limited Group – listed on the Johannesburg Stock Exchange (JSE) in November 2016. At the time, Dischem was the second-largest Initial Public Offering (IPO) in the JSE's history. Today, data shows that Dischem is worth 27.76 billion South African Rands. It is one of the 100 most valuable companies on the JSE.
Dischem Stock Price
So far, we understand that Dischem is one of the leaders in South Africa's pharmaceutical market – an industry that is reportedly worth about 43 billion Rand annually. With such a position, let's take a look at the company and its stock performance.
Below, we'll examine Djschem's performance on the JSE and share some insights as you consider how to invest money in the company. As explained, Dischem has been trading on the JSE since 2017. When the stock began trading, it was priced at about ZAR 20.48. The stock soon shot up, hitting successive highs and setting an all-time high at ZAR 40.10. The all-time high came on November 1, 2017. But, the stock soon started to slide following the announcement of a ZAR 1.12 billion capital raise. While the capital raise was good news, investor sentiment soon soured after Dischem shared details of massive stock sales from its top executives.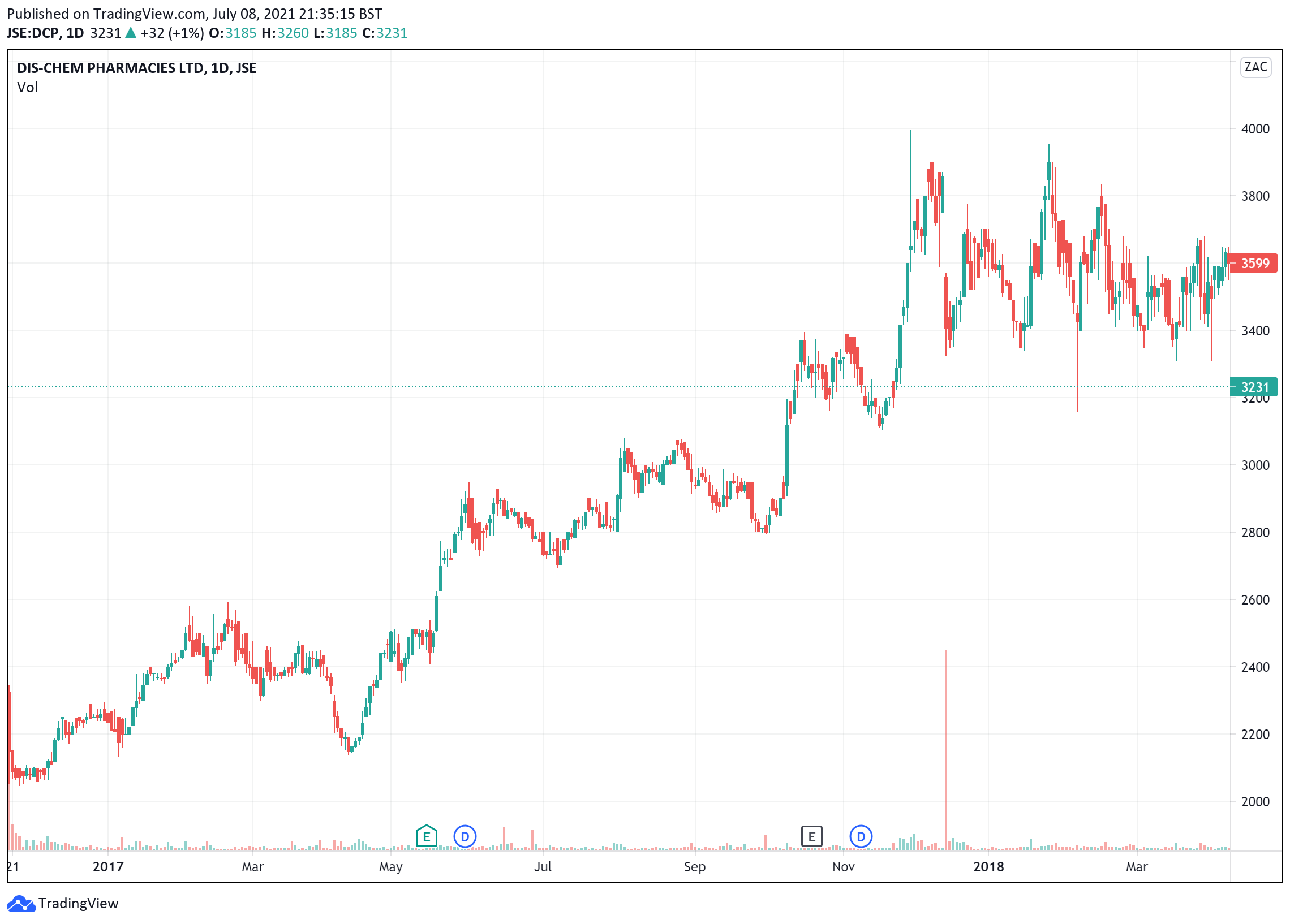 Fast forward to 2020, and Dischem saw even bigger drops to its share price as a result of the coronavirus. The company had been looking to regain its highs, but the pandemic knocked stocks down across the JSE, and Dischem wasn't spared. After entering the year at ZAR 27.02, Dischem dropped as low as ZAR 16.73 in September of the year – that was its bottom.
Dischem's primary issue for 2020 came in July when the Competition Tribunal of South Africa found it guilty of charging exorbitant prices for surgical face masks during the pandemic. According to reports, Dischem was found guilty of violating section 8(1)(a) of the Competition Act by charging higher prices for three types of surgical face masks – SFM 50, SFM 5, and Folio50 – in March of 2020.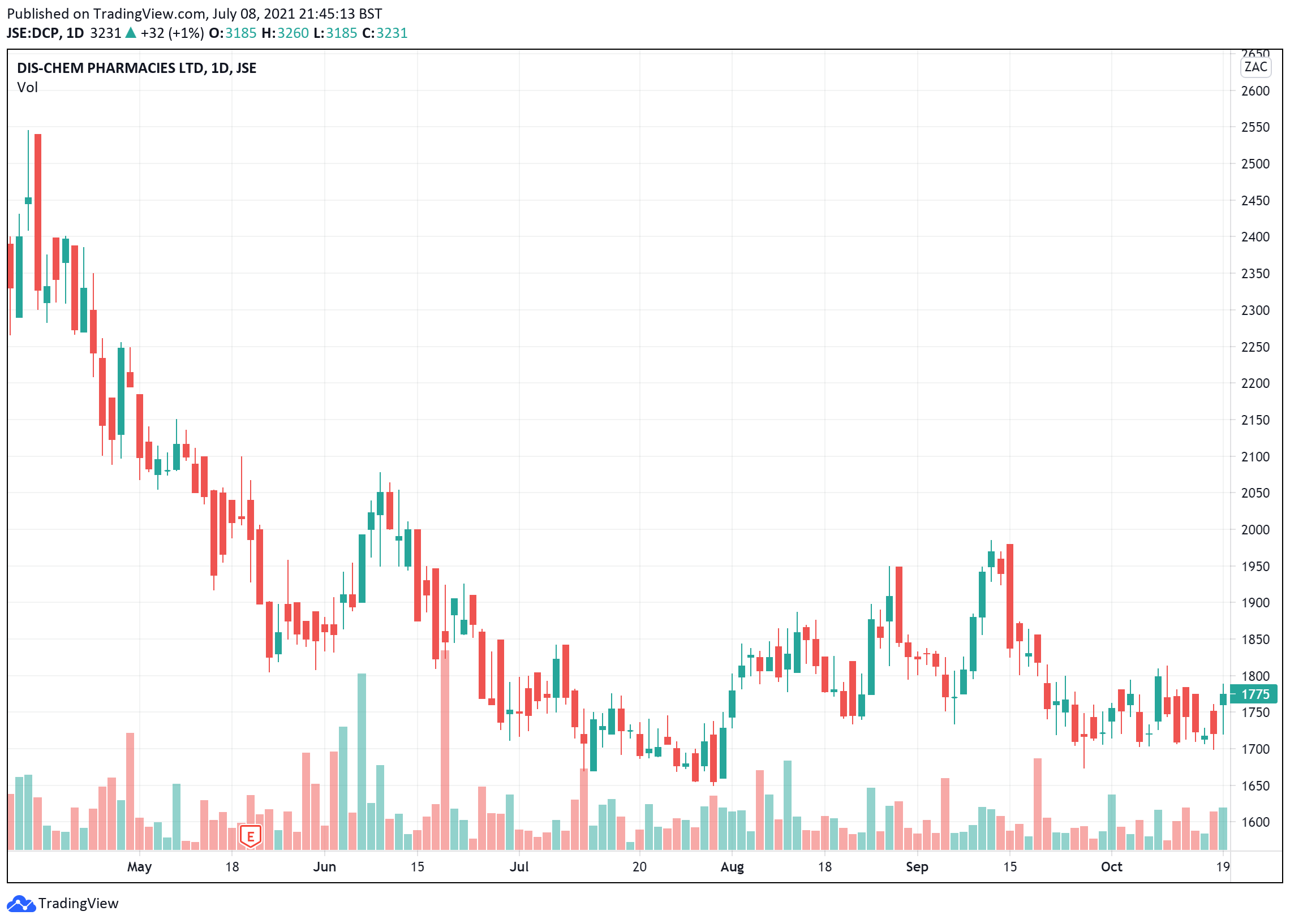 One of the company's price gouges came on the very day that South Africa recorded its first coronavirus case. Thanks to its market position, Dischem was able to get away with it, leading to a ripple effect that ended with face mask prices jumping by 47 to 261 percent. The company was eventually fined ZAR 1.2 million.
The ruling knocked Dischem's price – which was already in a tailspin – even further.
However, Dischem has done quite an impressive job in 2021 thus far. The company began 2021 trading at ZAR 20.82, and following a few doldrums that lasted the first quarter, it zoomed quickly. Dischem currently trades at ZAR 32.31 – a 55.1 increase from where it began the year. The company's fundamentals are also quite impressive, with a relative strength index (RSI) of 66.84 and a 20-day moving average (MA) of ZAR 31.81.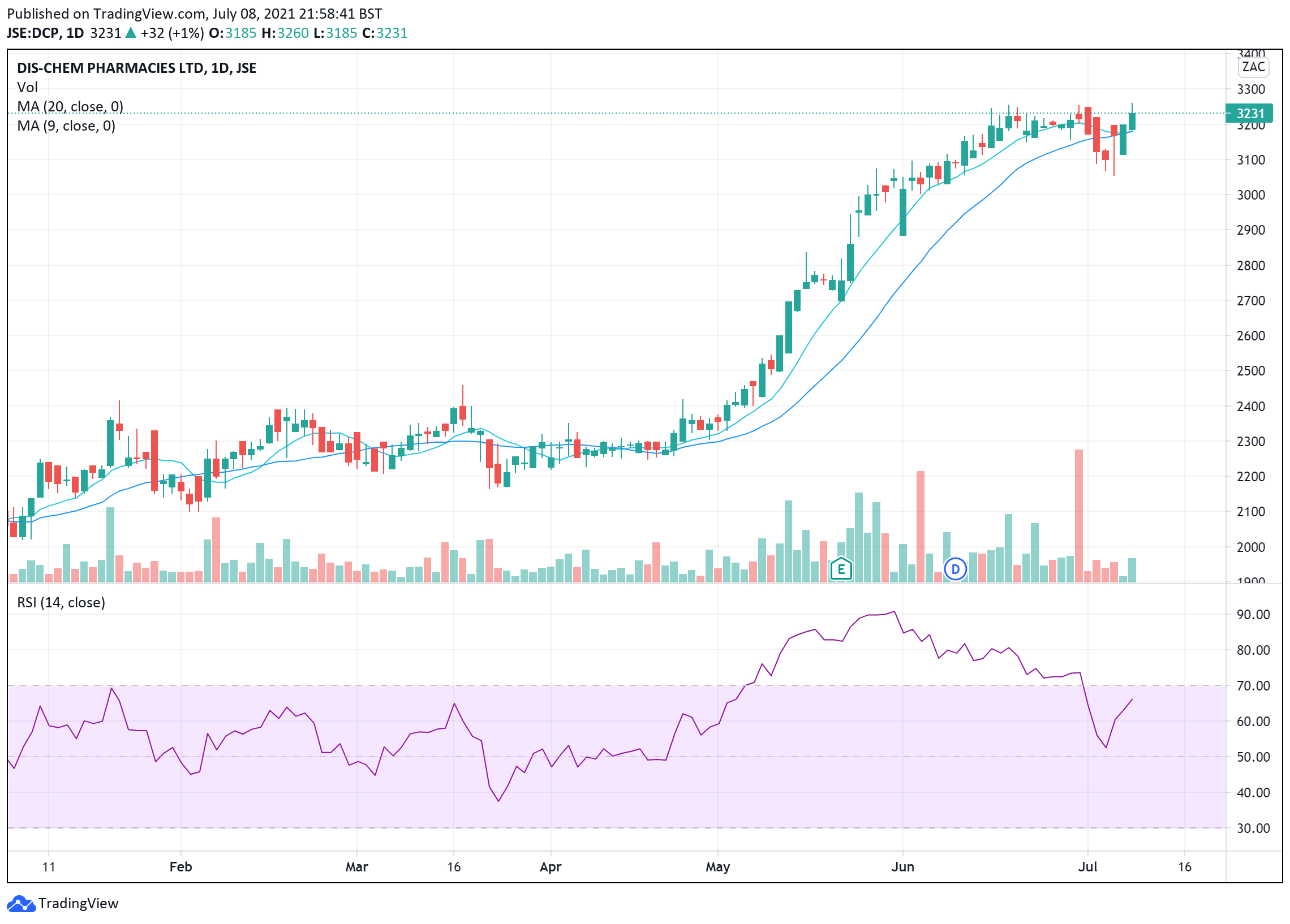 Financial data on Dischem is a bit sparse. However, Bloomberg data shows that the company last paid out ZAR 0.78 in earnings per share (EPS). estimates from Business Insider also show that the company is expected to increase its EPS in the coming years.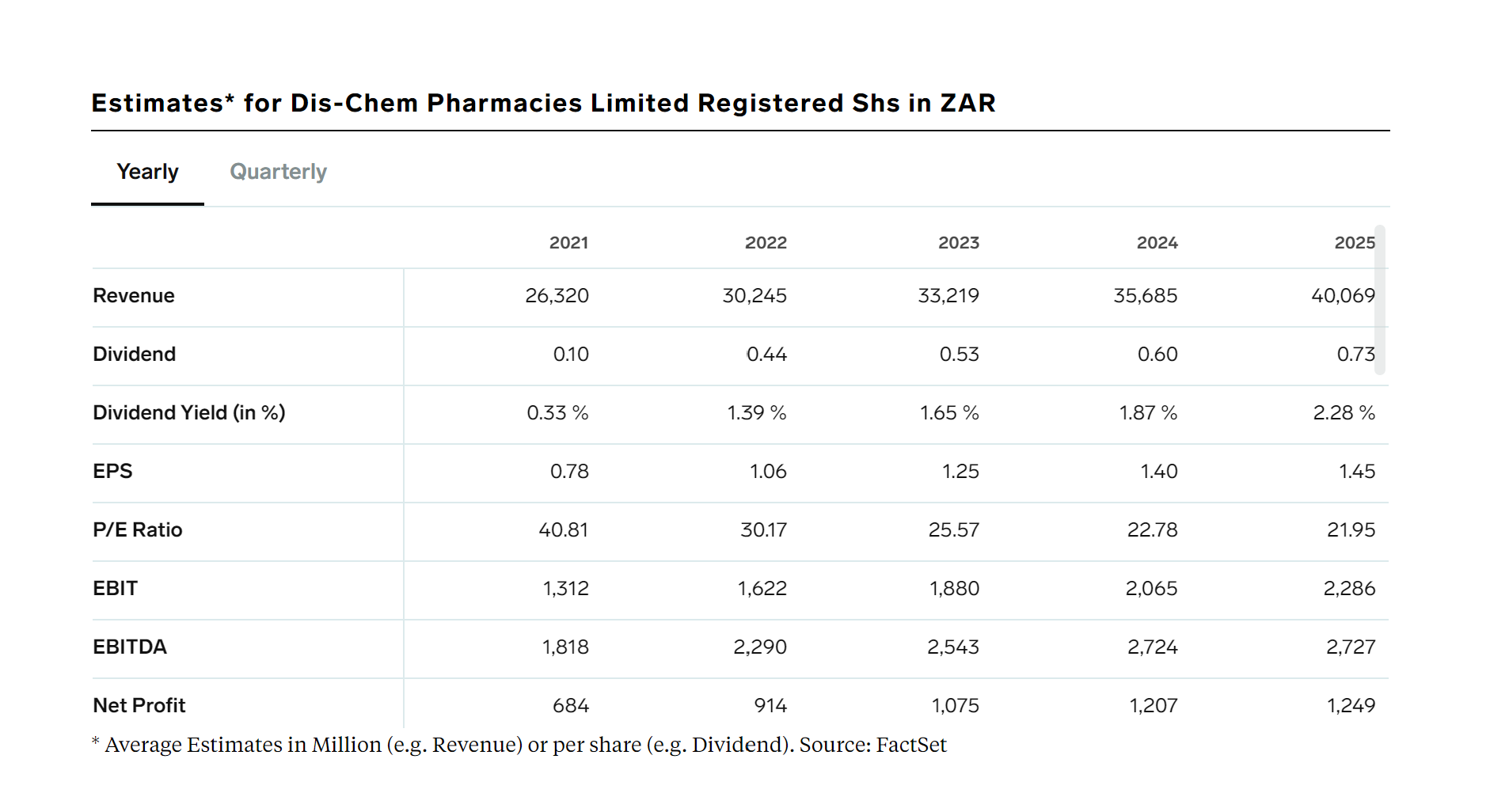 Bloomberg's data also showed that Dischem had a P/E ratio of 41.49 in 2020. This is quite impressive, considering that the All-Share P/E ratio of the JSE currently stands at 14.66.
All in all, Dischems has strong fundamentals. The company's RSI shows that the stock is approaching the overbought status, but this could be a sign that many investors are still expecting stronger results in the coming months.
So far, Dischem is looking to regain its highs of 2017 and grow from there. If you're looking towards how to invest your money, this seems like a strong company to consider.
Dischem Shares Dividends
One of the top indicators you should look into when considering the best shares to buy is to look into companies and their dividend payouts.
Dischem currently has a dividend yield of 0.96 percent. According to data from Finbox, the company paid out ZAR 0.31in dividends on June 14, 2021. That dividend payout was over twice the dividends paid in 2020 – ZAR 0.13.
Below is a breakdown of the company's dividend payouts in the past five years: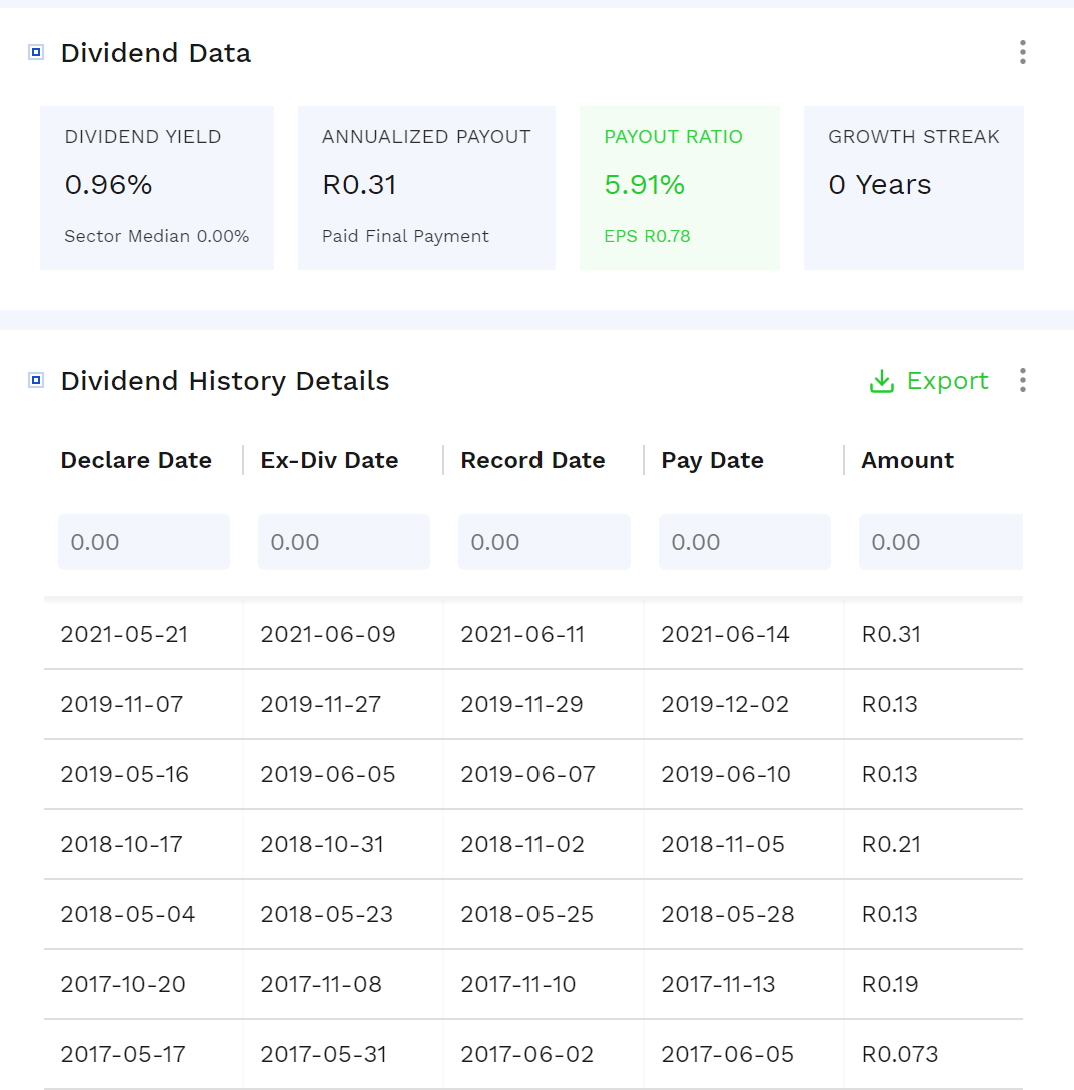 Dividends at Dischem come twice a year. The company usually pays by the half, although it paid in May and November for 2017 and 2018. It appears that Dische just moved to paying in June and December in 2019. Going by Finbvox's data, Dischem should pay dividends next in December 2021.
A dividend yield of ZAR0.31 isn't so bad. Dischem is currently trailing the JSE's average dividend yield of 6.36 percent, which was obtained from YCharts data. But, the fact that the company is low-yield could also encourage investors looking to capture bigger plays in the future.
Are Dischem Shares a Good Buy?
Dischem is currently in a strong financial position. The company has shown impressive performance over time, and investors would also be happy to know that its holdings are performing well. Healthcare is one of the most interesting investment sectors today, especially with the world starting to chart a course out of the coronavirus pandemic. Dischem has solidified its place in the South African healthcare sector, and investors will be looking to see how the company performs in the coming months.
Open an Account and Buy Dischem Shares
Once you have conducted your research and are confident in your investment, it's time to place your first trade and buy Dischem shares. As noted earlier, you must partner with a broker who can facilitate your investment safely and cost-effectively. So, if you're ready to trade right away, this section will guide you through the entire process using our recommended South African broker, Capital.com. By following these steps, you'll be able to invest in Vodacom in under ten minutes – all without paying any commissions!
Step 1: Open A Capital.com Account
To get started, head over to the Capital.com official website – one of the best stock apps for South African traders – and click on 'Trade Now.' Fill in your email address and a unique, strong password. You can also auto-register with your Google, Facebook, or Apple account details.
Step 2: Verify Your Account
The next step is verification of your account. Capital.com is a regulated broker, so you will need to submit a copy of your official passport, driver's license, and national ID (front and back) to complete this process. Once this is done, Capital.com will verify your account in a matter of minutes.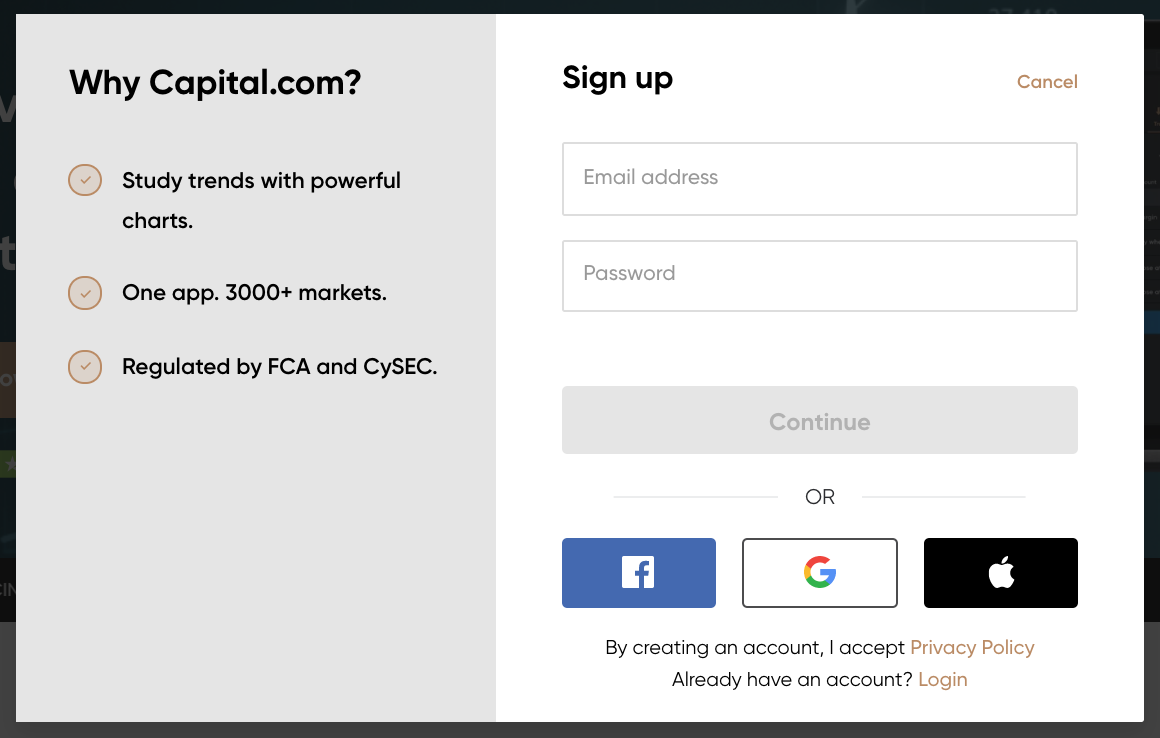 75.26% of retail investor accounts lose money when spread betting and/or trading CFDs with this provider.
Step 3: Make A Deposit
Capital.com requires a minimum deposit of $20 (about 286.71 ZAR) to fund your account.
Deposits are free to make and can be completed using one of the following options:
Credit card
Debit card
Bank Wire Transfer
Apple Pay
iDeal
Giropay
Trustly
Step 4: Search For Dischem Shares
The next step is to buy Dischem shares. You can do this by clicking on the search bar and typing in 'DCP.'
When the result pops up, click on 'Buy.' You will be redirected to an order form, enter the amount you want to invest, and put in your stop loss or take profit levels if you need to. Once you are ready, click on 'Open Trade' to buy Dischem shares with Capital.com.
Dischem Shares: Buy or Sell?
Taking everything into consideration, Dischem shares is considered a buy for us. Dischem currently has some impressive statistics. The table below from Bloomberg provides a snapshot of how the company is performing: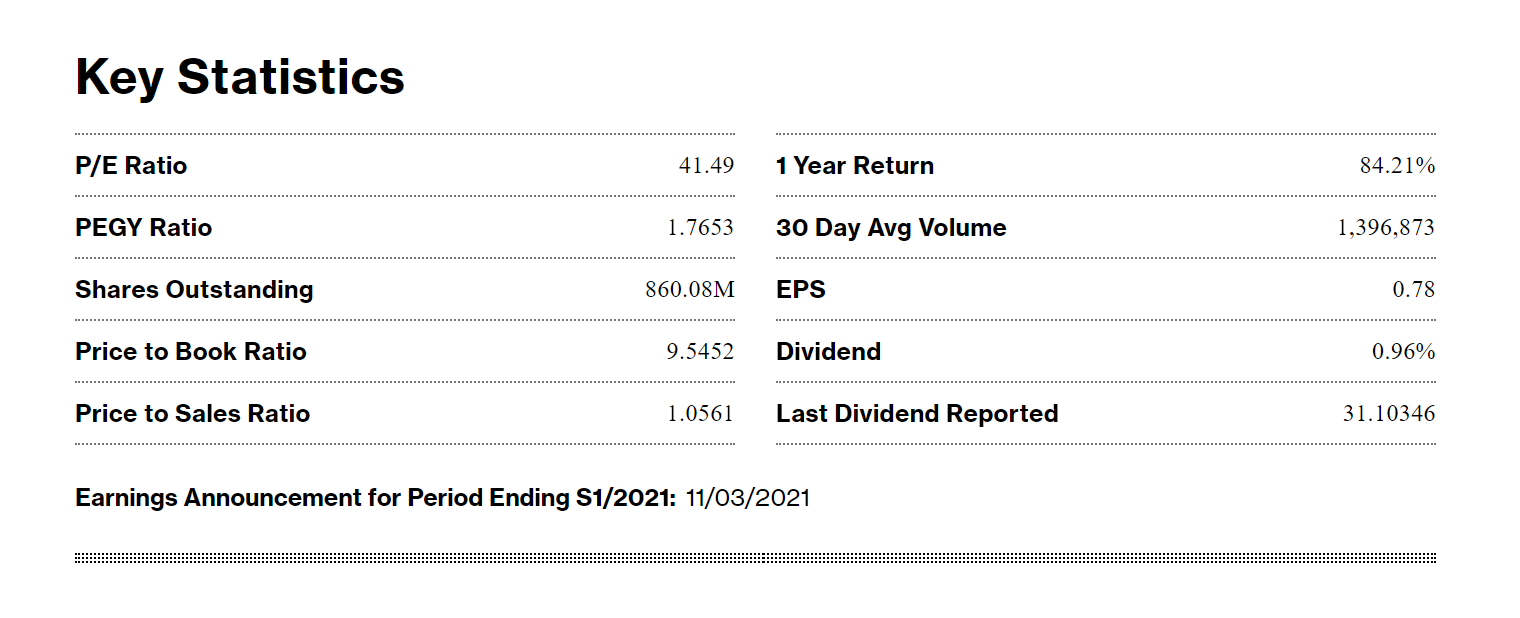 The company's P/E ratio of 41.49 and 1-year return of 84.21 percent are quite impressive. However, it will be interesting to see how the company plans to keep its services optimal – especially as the world gradually moves on from the coronavirus pandemic.
Dischem is already showing positive signs, with the company launching DeliverD – a same-day delivery service – for users in some parts of South Africa. DeliverD will be available on the Dischem app, although the company is still in its trial phase. The trial will be limited to customers within 10 km of specific stores in some of South Africa's metropolitan areas.
With DeliverD, Dischem users will be able to get their products delivered within an hour of their order. However, medications won't be a part of this service.
Same-day delivery shows that the company is ramping up its activities – think of Amazon and its groundbreaking same-day delivery service.
The company is also ramping up on coronavirus vaccinations as it now accepts walk-ins – although they need to register with the government's Electronic Vaccination Data System. These developments give a lot of optimism about Dischem and what it has in store. The company is exciting, and it seems like a great buy opportunity. Investors can add the company's stock to their portfolios, although you're free to do more research into the company to make a decision.
Capital.com – Buy & Sell Dischem Shares With Zero Commission
Dischem is a major player in the pharmaceutical industry. Introducing an innovative discount policy unknown in the South African space, Dischem has grown to become one of the best pharmaceutical chains on the African continent. Dischem has over 165 stores, with four in Namibia and one in Botswana, with plans to expand into more regions in 2021. It also offers private label products, sells its hygiene products on its website, runs a loyalty program, and owns a wholesale division.
Since listing 27.5% of its shares on the JSE in November 2016, Dischem has been a success, rising from the opening trade of R2233 to R3681 in just two years.
Dischem's financial track record has also been solid, with the leading pharmaceutical company declaring a $41.90 EPS (earnings per share). This strong track record makes Dischem shares a good addition to your investment portfolio. If you want to buy Dischem shares in South Africa, your best bet is with a tier-1 broker like Capital.com. Aside from the amazing low spreads, Capital.com also offers 0% commission for your trades and a simpler KYC process. Since it's regulated by top bodies like the FCA and CySEC, you can be assured that your funds are always safe.

75.26% of retail investor accounts lose money when spread betting and/or trading CFDs with this provider.
FAQs
Should I buy Dischem Shares?
Does Dischem pay a dividend?
Where is the best place to buy Dischem shares in South Africa?