How to Buy Shiba Inu Coin in South Africa
Shiba Inu coin has become one of the most popular meme coins globally. The coin has jumped 305% in the last 30 days. For investors looking how to buy Shiba Inu in South Africa, this guide explains the ins and outs of the project and the best platforms to use.
How to Buy Shiba Inu South Africa – Step by Step Guide 2022
Open an account on Libertex – To get started, visit the Libertex website and click on the 'Join Now' to create a free account. Fill in your username, email, and choose a password. You can also register with your Google or Apple account.
Upload ID – Submit a copy of your government-issued ID card or driver's license for verification.
Deposit – You can get started with a minimum deposit of $200, payable through bank wire transfer, credit/debit card, or e-wallet solutions like PayPal and others.
Buy Shiba Inu – Type 'SHIBxM' into the search bar and click 'Trade' on the first result that pops up. Input the amount you want to invest and click on 'Trade Now' to buy SHIB.
75.3% of retail investor accounts lose money when trading CFDs with this provider.
What is Shiba Inu?
Shiba Inu is a crypto protocol founded by a developer known by the alias 'Ryoshi' in August 2020. It is hosted on the Ethereum network and is also a meme crypto asset. Self-billed the 'Dogecoin killer,' the Shiba Inu crypto posits itself as a more advanced version of the parody coin.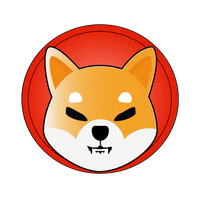 Shiba Inu coin is an "experiment in spontaneous decentralised community building". The asset hopes to displace Dogecoin as the top meme coin without hitting a cent in value. Aside from being a fun, dog-themed cryptocurrency, Shiba Inu aims to be more than a joke cryptocurrency.
The crypto asset leverages Ethereum's robust network infrastructure and operates a decentralised exchange (DEX) platform called ShibaSwap. SHIB (used for network fees and other related activities) token holders can swap their assets for another and provide liquidity and stake to earn yields and interests. ShibaSwap is also gearing up to support non-fungible tokens (NFTs), the tokenised versions of real-world assets like arts or music, in the coming months.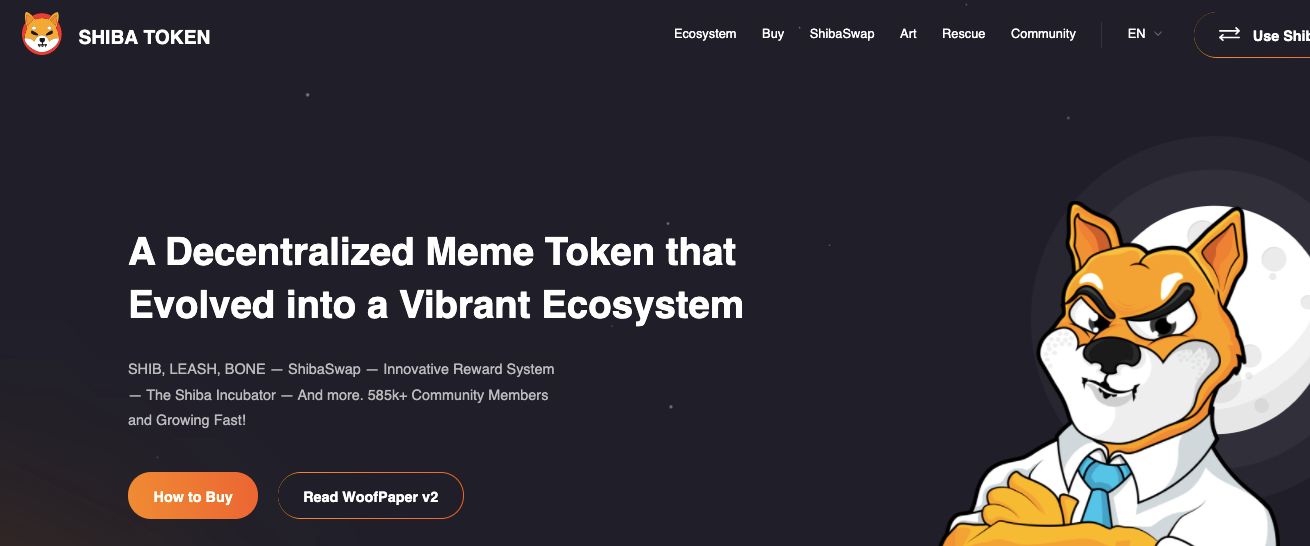 The Shiba Inu coin differs from Dogecoin in several ways. Unlike Dogecoin, the Shiba Inu coin has a capped limit of one quadrillion SHIB tokens that will ever be mined. At launch, 50% of SHIB tokens were sent to Ethereum co-founder Vitalik Buterin who subsequently burned them.  The remaining 50% was permanently locked in the automated market maker (AMM) platform UniSwap.
Shiba Inu crypto also boasts of three governance tokens, with each performing differing roles. SHIB is the most popular and averages over $31.3 billion in value at the time of writing. Others are BONE and LEASH, which have $33.8 million and $225 million in diluted market cap.
The meme coin is breaking major grounds with record partnerships in the last few days and major listings.
Why Buy Shiba Inu? Shiba Inu Analysis
While large-cap cryptocurrencies like Bitcoin and Ethereum have been the focus of institutional investors, meme coins like Shiba Inu have appealed to the broader crypto investors' landscape. Their appeal lies in the fun and uncontentious way they are adopted. But the main driver has been the massive returns they post.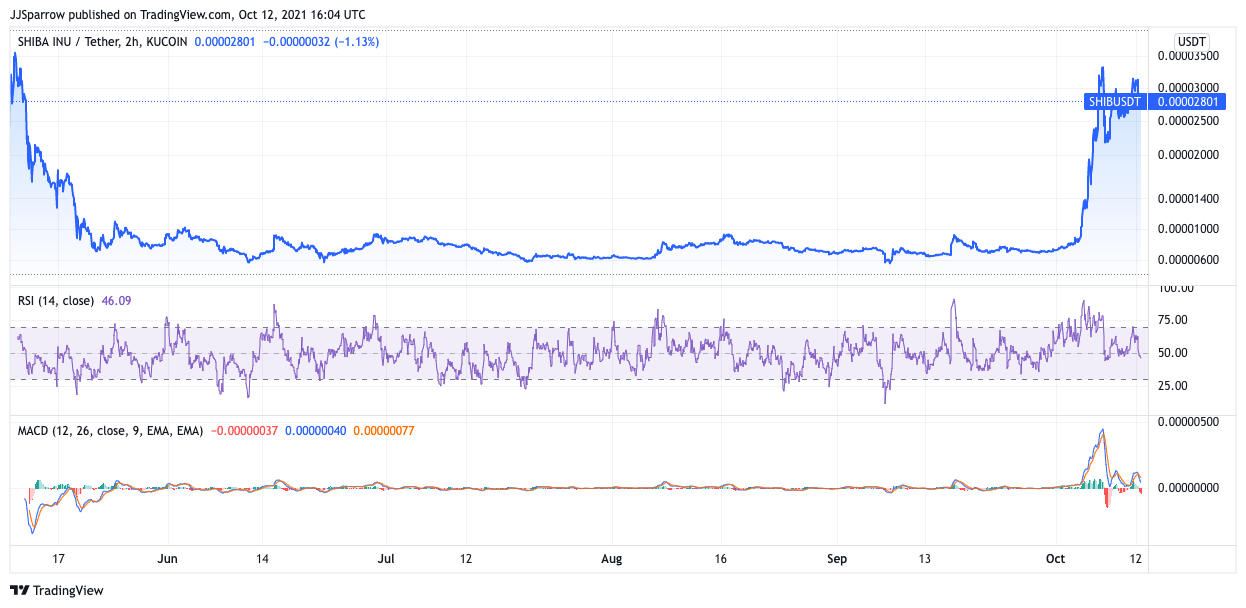 Shiba Inu is a classic example of this, as the meme coin saw over a 21,000% increase in price in just a week. Although this has not made it ultimately rally up to a cent, the relative return leeway investors enjoy compared to Bitcoin and ETH is much higher. Despite suffering a major setback in price in a four-month bearish trend, SHIB is back to winning ways and has recorded massive growth.
The crypto with DOGE's mascot name has grown more than 200% in the last week following a combination of increasing SHIB token holders, listings on popular centralised crypto exchanges, and the forthcoming Shiboshi Game launching on the platform. Shiboshi is expected to leverage the protocol's three governance tokens, namely SHIB, BONE and LEASH.
Shiba Inu Price
The Shiba Inu price is at $0.00003131, up 14.37% in the last 24 hours. A 24-hour trading volume increase of 132.55% to $7.99 billion shows growing interest in the token as the crypto market turns a corner. The uptrend is attributed to positive price movements in landmark crypto Bitcoin. Alternative currencies (altcoins for short) like Shiba Inu are tied to the price action of the crypto bellwether, with rallies and dips impacting them alongside.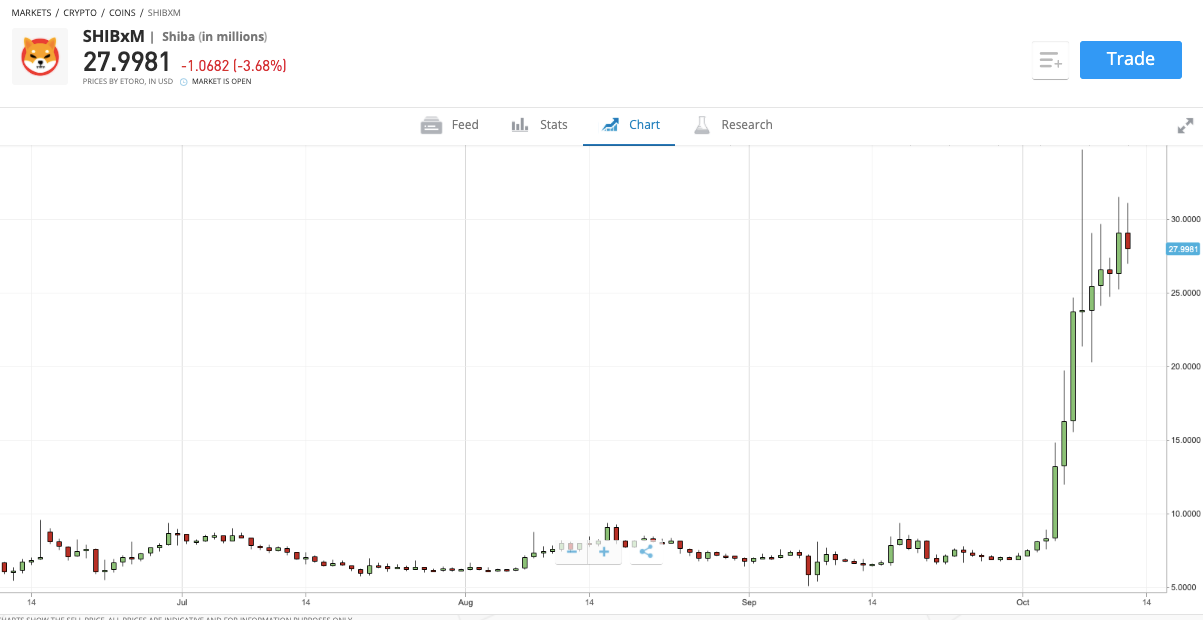 At press time, SHIB is showing bullish potential as it trades above the 20-day moving average (MA) support price of $0.00001530. The relative strength index (RSI) figure of 80.04 shows that several investors want to buy Shiba Inu coins as the meme frenzy kicks in. Turning to the moving average convergence and divergence (MACD) gives us a clearer view of the continued bullish trend of the digital asset. On the chart, the green trendline leads and has a figure of $0.00000604 indicates a strong buying signal.
With the Shiba Inu crypto seeing a significant spike in its market valuation by 14.95% in the last week to $31.3 billion, more investors will want to buy Shiba Inu coins in the coming weeks.
Shiba Inu Price Prediction
Like several crypto assets, Shiba Inu has not been a stranger to several price estimates. Many have said that the digital asset would displace Dogecoin, while others have put their Shiba Inu price prediction closer to the $1 mark by 2022. To make their case, market experts have turned to the technical performance of the digital asset to do an appropriate valuation.
This considers the historical trading performance of an asset over a while. However, this method is not the best as an underperforming asset may see a significant uptick in value after some time and vice-versa.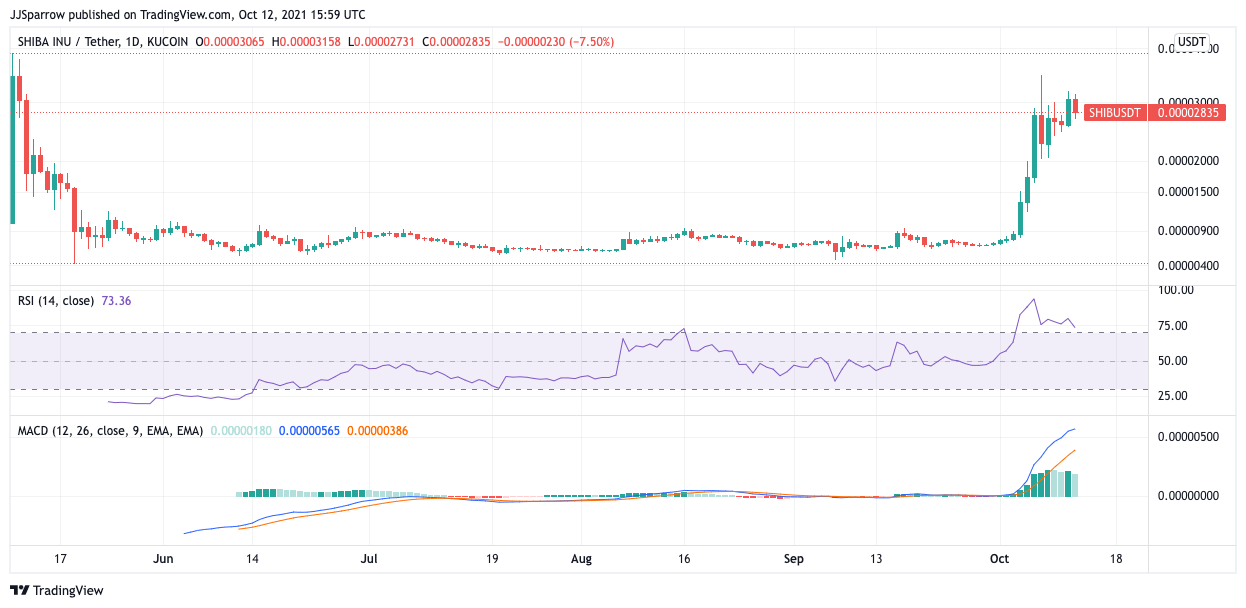 Some other processes have seen a critical consideration of the fundamental aspects. Like Dogecoin, Shiba Inu crypto has seen growing adoption, given Tesla boss Elon Musk's special interest in the project. This social influence has paid huge dividends, with several centralised exchanges and brokers adding support for the meme coin.
Barring these two methods, we recommend combining both aspects and coupling them with present market sentiment and liquidity levels for the assets before buying Shiba Inu coin. This will enable you to know how much interest a crypto project has attracted and what future potential growth it may have.
Ways of Buying Shiba Inu Coin
With crypto now gaining mainstream adoption, more payment channels are opening up. In this section, we explore a few popular means you can use to buy Shiba Inu:
Buy Shiba Inu Coin with PayPal
PayPal is a great option for people looking to buy cryptocurrency like Shiba Inu. While it's easy to buy Bitcoin with PayPal, you cannot directly buy or sell Shiba Inu coins on the popular payment gateway. However, you can still use your PayPal to buy Shiba Inu coin on a number of brokers and exchanges that support the payment channel. One of such is the popular social trading broker Libertex, which supports multiple e-wallet providers like Skrill and Neteller alongside PayPal and allows you to trade Shiba Inu CFDs.
Buy Shiba Inu Coin with Credit Card
It's quite possible and easy to buy Bitcoin with a credit card in South Africa, but it might be difficult to use this option to purchase Shiba Inu. However, you can deposit on Libertex with a credit card and then trade on the price of Shiba Inu via CFDs.
Buy Shiba Inu with Bitcoin
Aside from fiat purchases, you can also buy Shiba Inu coin with another digital asset. For now, Binance and a select group of crypto exchanges offer this. All you need to do is choose Bitcoin as your preferred payment option when you want to invest in Shiba Inu coin. Input the commensurate amount of BTC you wish to pay for SHIB tokens and click on 'Open Trade' to get started. It is super-easy and fast to do.
Where to Buy Shiba Inu Coin in South Africa
This section explores the best brokers you can buy Shiba Inu coin through.
1. Libertex – Top CFD Broker to Trade Shiba Inu
Libertex is another top broker where you can buy Shiba Inu. Founded in 1997, Libertex is Regulated by the CySEC and offers financial market and online trading services. It has over 2.2 million active users spread across 120 countries and operates a high-speed, reliable, cutting-edge technology platform for investors to trade on. Libertex enables users to trade through a MetaTrader 4 (MT4) plugin or the Libertex web trader.
This forex broker is ideal for beginners and advanced traders and grants exposure to over 250 financial instruments bordering on stocks, bonds, indices, cryptocurrencies, FX pairs, and commodities.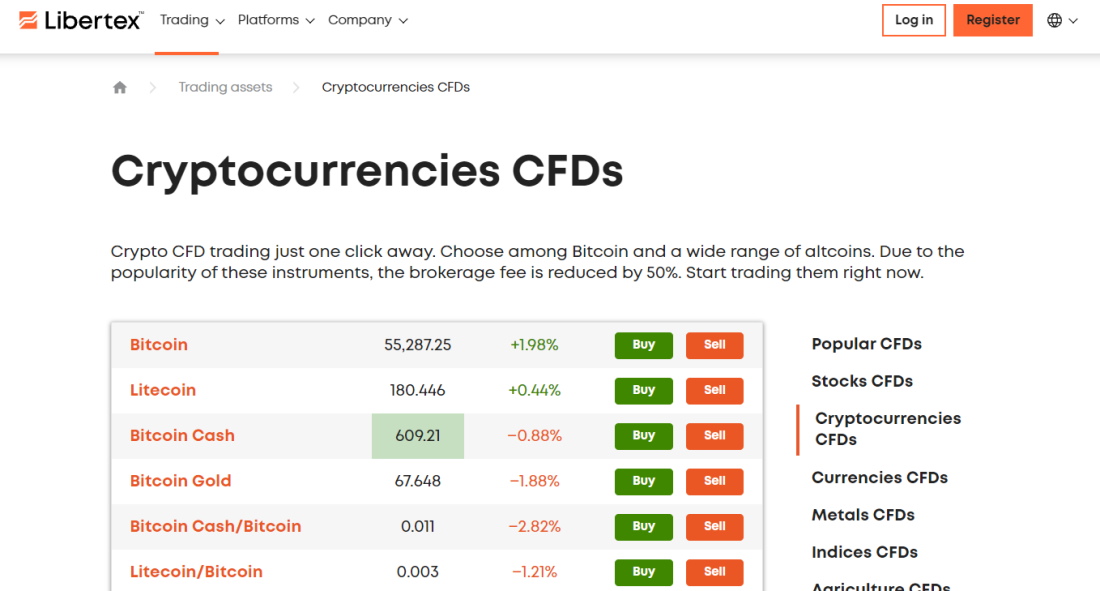 The CFD broker offers a demo account with up to $50 in virtual trading cash to minimise potential losses for new traders. Here, users can learn how the platform works and backtest different trading strategies before going live. 7
Concerning the minimum deposit, you can get started with as little as $20, and you can fund your account through bank wire transfer, credit/debit card, Skrill, Neteller, Trsutly, GiroPay, Sofort, and Mulitbanko. Maximum leverage is pegged at 30:1, which means you can increase your potential returns on investments (ROI).
Pros:
Regulated by the CySEC
Multiple payment methods
Low minimum deposit of $20
Recognized financial services provider
Leverage up to 30:1
Zero deposit fees
MT4 support
Cons
Limited assets on offer
Offers only one account type
75.3% of retail investor accounts lose money when trading CFDs with this provider.
2. Binance – Largest Cryptocurrency in the World in terms of Trading Volume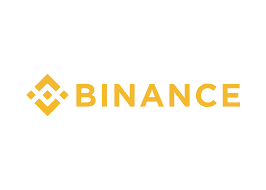 Binance leads little introduction as the world's biggest cryptocurrency exchange. This is different to Libertex, which is a CFD broker. While Binance isn't as user-friendly or as cheap as Libertex, it's a good way to actually way Shiba Inu coin and hold it rather than just trading SHIB CFDs.
There are various ways to use the Binance platform, including the classic mode which is best for beginner investors and the advanced trading mode that enables you to open multiple positions at once and get access to a wide range of professional trading tools.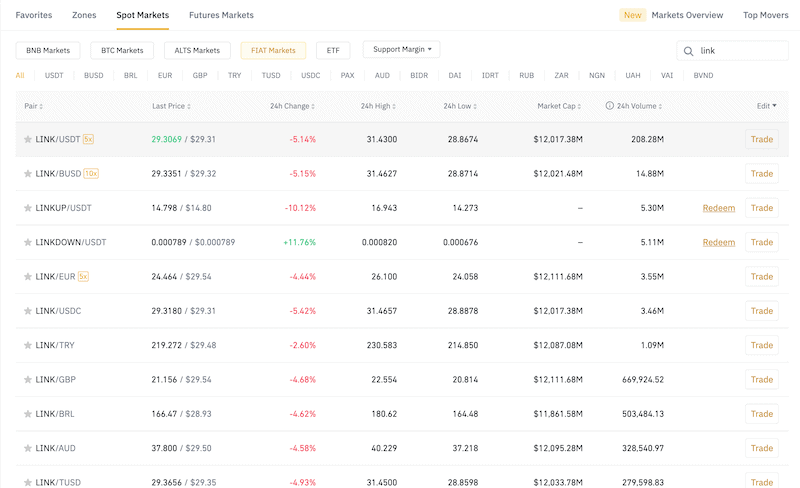 The adcantage of purchasing Siba Inu coin via Binance is that you can easily buy this coin with a credit or debit card, although there are some deposit fees to take into consideration.
Finally, Binance also provides a secure crypto wallet that can be used to store your cryptocurrencies. This wallet is very safe and easy to use and means you don't need to worry about using a third party wallet. Overall, Binance is the best cryptocurrency exchange that allows you to buy Shiba Inu from South Africa, while Libertex is the best broker for Shiba Inu CFD trading.
Pros
The largest cryptocurrency exchange in the world in terms of trading volume
Supports more than 150 cryptocurrencies
Low trading commission
Ideal for experienced traders
Offers users to use the BNB coins and reduce trading costs
Safe and secure cryptocurrency exchange
Cons
The platform is a bit complicated for beginner investors
Cryptoassets are highly volatile unregulated investment products. No EU investor protection.
Best Shiba Inu Wallets
When you buy cryptocurrencies, you need to use secure digital wallets to securely store you coins to prevent them from hacks and loss. Many crypto brokers and exchanges, such as Binance, offer their own proprietary Shiba Inu wallets that you can easily use to store your coins and transfer them.
However, when you trade SHIB CFDs with a CFD broker like Libertex, there's no need for a Shiba Inu wallet as you're just speculating on the price. This makes Shiba Inu CFD trading the preferred choice of many traders and it presents a quicker and easier way to trade SHIB rather than buying it and having to find a wallet to store it in.
Digital assets are stored in specialised software to ensure their safety from hacks and loss. Called digital wallets, they usually come in software, mobile app, physical or on web platforms. This section covers the best Shiba Inu wallet to use for the safekeeping of SHIB tokens.
How to Buy Shiba Inu South Africa Tutorial
Now that you have decided to buy Shiba Inu Coin in South Africa, how do you get started? We list a couple of quick and easy steps below:
Step 1: Create an account on Libertex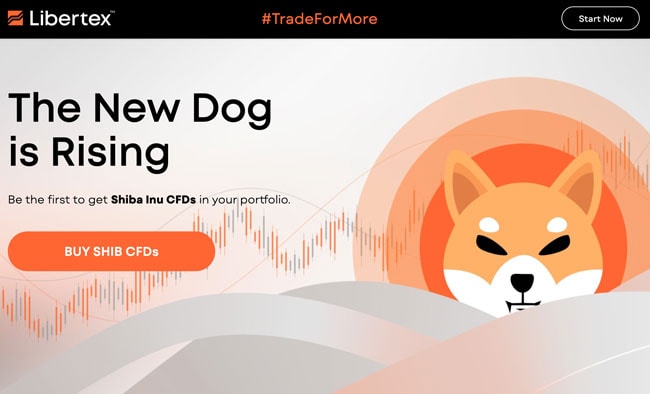 75.3% of retail investor accounts lose money when trading CFDs with this provider.
Libertex is our recommended broker, and you can easily register to get started in as little as 10 minutes. All you need to do is navigate to the Libertex website and click on 'Join Now' to be redirected to the signup page. Here, you will be required to input a username, password, email and mobile number. You can also streamline this process by signing up with your Google or Apple account details.
Step 2: Upload ID
The next crucial step is to complete Libertex's know-your-customer (KYC) process to fund your account. This will require you to upload a copy of your driver's license or government-issued ID card for identification. You will also submit a copy of your recent utility bill or bank statement for proof of address. Although this step can be side-stepped, it will restrict your account as you will not be able to complete trades above $2,500.
Step 3: Deposit Funds
To fund your account, you will need to make a $200 deposit. If you want to trade instantly, we recommend using your credit/debit card to make the purchase.
Step 4: Buy Shiba Inu Coin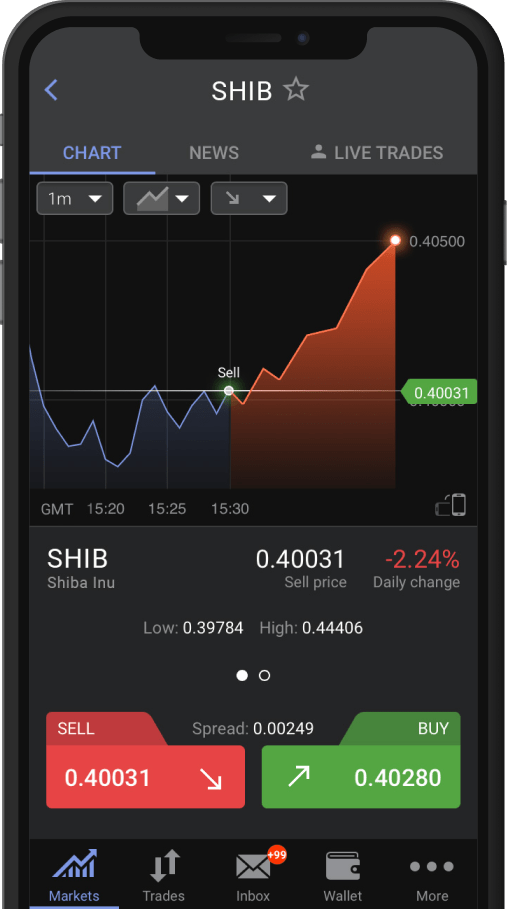 75.3% of retail investor accounts lose money when trading CFDs with this provider.
Once your deposit is verified, type 'ShibxM' into the search and click on the first result that pops up. You will be directed to the asset's dedicated page, where you will be able to learn more about Shiba Inu crypto and what other investors are saying about it. To buy, click on 'Trade' to head over to the order page. The minimum position is pegged at $25, and you can fix how much you want to invest in Shiba Inu price. Once you are comfortable with the order, click on 'Open Trade' to get started.
How to Buy Shiba Inu South Africa – Conclusion
Shiba Inu crypto is an exciting project, and more investors are seeking exposure to the meme coin. Given its growing use case and adoption, the Dogecoin killer is believed to be a serious contender for the Meme King crown. Alongside this is the project's plug into the NFT space, which is considered a booming sub-sector. With blockchain-based NFT games now booming, the Shiba Inu price prediction could see it trade close to a cent in the coming months.
If you decide to invest in Shiba Inu crypto, we recommend using Libertex to buy Shiba Inu Coin CFDs. The Libertex platform comes with low fees and high liquidity, making it easy to trade cryptocurrencies.
Libertex – Buy Shiba Inu CFDs With Zero Spreads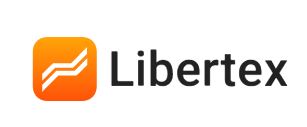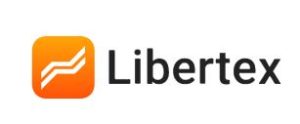 75.3% of retail investor accounts lose money when trading CFDs with this provider.
Frequently Asked Questions on Shiba Inu Coin
Should I buy Shiba Inu coin?
SHow much does Shiba Inu cost?
What is the market cap of Shiba Inu?
How do I buy Shiba Inu coin?
Where can I buy Shiba Inu coin?