How to Buy Tron in South Africa – Beginner's Guide
As the prices of Bitcoin and Ethereum zips past new all-time highs, investors are shifting towards cheaper alternatives. Few coins are as affordable and promising as Tron (TRX), a digital asset poised to disrupt the world of content distribution and storage.
Tron has witnessed widespread adoption across the crypto market and is a force to reckon with in the crypto settlement and decentralized finance sectors. While the cryptocurrency shares some similarities with Ethereum, it offers much more and is gradually displacing Ethereum as the go-to asset for decentralized storage and distribution.
In this guide, we examine the ins and outs of how to buy Tron in South Africa. We'll cover how Tron works, price analysis, where to buy Tron cryptocurrency, and much more.
How to Buy Tron South Africa – Step by Step Guide 2021
Do you want to know where to buy Tron in South Africa immediately? You can follow these simple steps:
1. Sign up on Capital.com: Capital.com offers a zero-commission on trading Tron. Visit the website and click on 'Join Now' to create a new account using your email address. You'll be required to provide some personal information and contact details.
2. Upload ID: This is the identity verification stage. Capital.com enforces Know Your Customer (KYC) protocols in line with local South African laws. You need a valid passport or driver's license and other documents to verify your residential address.
3. Deposit: You need to deposit to your trading account using bank transfer, and even e-wallets like you can buy bitcoin with Paypal, Skrill, and Neteller..
4. Buy Tron: Search for 'Tron' and click on 'Trade' when you find it. From there, you can fill in the amount of money you want to invest to get started.
What is Tron?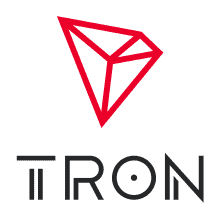 Tron, also known as TRX, is a popular cryptocurrency built for the digital content market. It's currently the 20th largest cryptocurrency according to Coinmarketcap.
The digital asset has steadily risen over the past few months. Despite being criticized as a pump and dump scheme, the blockchain network has evolved as the Tron community grows. Like Ethereum, Tron is a blockchain-based smart contract platform that enables developers to create and utilize complex protocols that live on its native blockchain.

The network is powered by its token TRX and is secured through a delegated proof-of-stake system that sacrifices some degree of decentralization for speed and efficiency. The TRX token is used for payments, miner rewards, and voting.
Tron entered the crypto market in 2017 and, in a short while, grew its market cap to be among the top cryptocurrencies in the world. The idea to create Tron was conceived by Justin Sun, a self-proclaimed protégé of Alibaba chief executive, Jack Ma. Sun runs the non-profit organization the Tron Foundation, which runs the Tron network. Tron was created to help bridge the gap between creators and consumers. The blockchain network does this by eliminating the middleman, thereby reducing costs.
Besides its lofty goal of creating a distributed, decentralized storage system that is efficient and effective, Tron opened the floodgate by allowing anyone to host digital content on its blockchain irrespective of race or social status. Rather than pay a centralized authority before accessing the content, the audience can instead pay the content creators directly.
Tron is set to roll out its ambitious plans in phases. It started with Exodus, a free platform that uses a web-based file system to distribute and store content. It moved to Odyssey, a blockchain system that uses monetary incentives to promote content creation and hosting on Tron. The phases after these two will allow content producers to build up their brands. This is where content creators will issue their native tokens and issue ICOs. These phases are dubbed Great Voyage and Apollo.
Just like most cryptocurrencies, Tron has had its share of controversies. In 2018, the network was accused of plagiarizing other protocols' white papers. These accusations were denied by the Tron Foundation, which was behind the design of the system. Users have also argued that Sun had access to too many Tron nodes, giving him excessive power to manipulate the price. The founder has even once called TRX a "shit coin."
Apart from Ethereum, Tron competes with Stellar, Cardano, and Neo, supporting smart contracts and decentralized applications.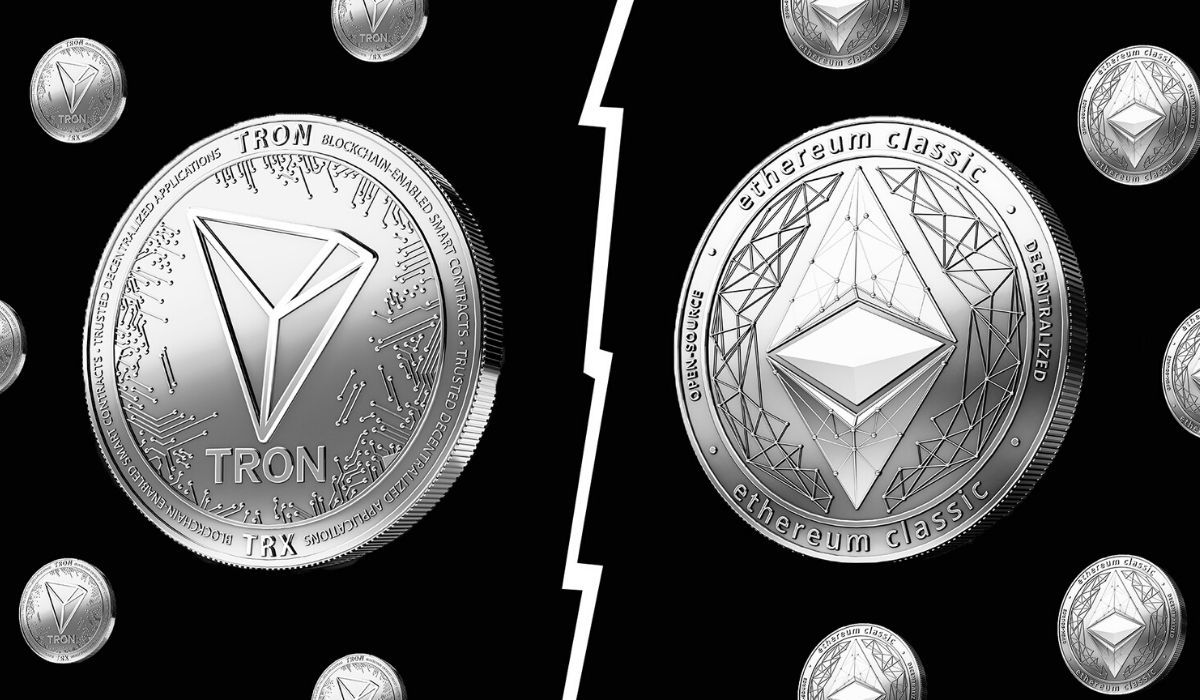 Its biggest competitor Ethereum has the first-mover advantage of pioneering smart contract computing, which enabled it to become the second most valuable cryptocurrency in the market. However, Tron has unique technical features that make it different from Ethereum.
It can process transactions faster than its competitor as it claims a throughput of 2,000 transactions per second. Tron aims to continue to be a fast, scalable, and responsive smart contract platform. Right from the onset, Tron has been known for its transaction speeds which put TRX on the same level as major payment processors such as PayPal. It also has zero transaction fees.
In addition, Tron uses Java as a coding language, making it easier for developers to build applications as they are not required to learn an entirely new coding language, unlike Ethereum's Solidity programming language.
Why Buy Tron? Tron Analysis
Tron is one of the fast-growing small-cap cryptocurrencies in the world today. Even though it does not command the same attention as Bitcoin and Ethereum, Tron is gaining followership because it takes on the more established decentralized platform Ethereum.
Tron focuses primarily on making it possible for content creators to share their work with consumers while eliminating the middleman directly. Intermediaries being the big tech companies that leverage user data to make money.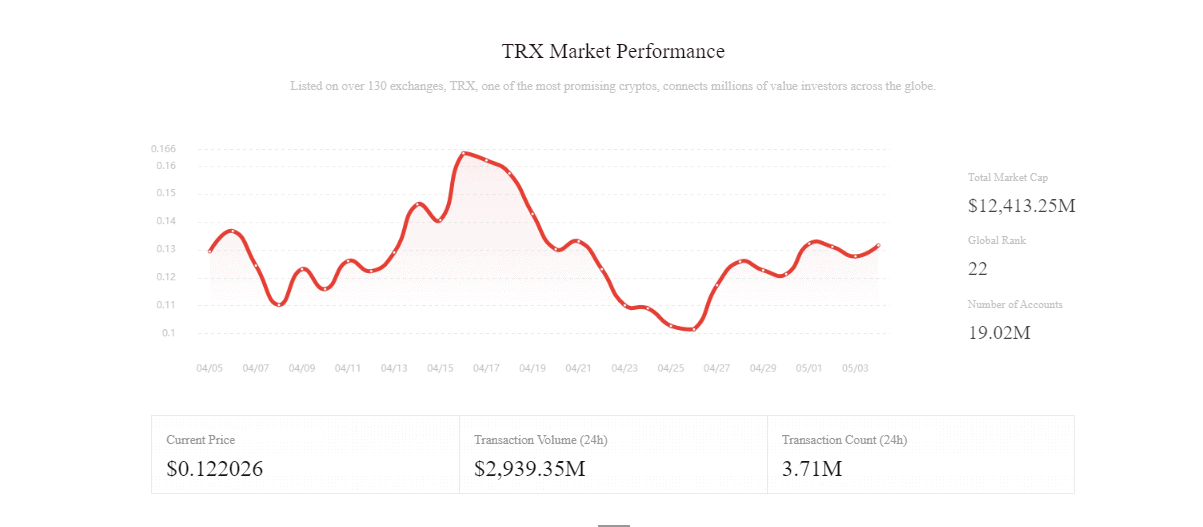 Tron aims to do this by cryptographically storing user data on the blockchain while making it possible for content creators to take entire profits without paying any transaction fee. Tron also secures content privacy by making sure that content always stays with the creator. Tron has also made its mark in the decentralized world after releasing its non-fungible tokens (NFTs) standard called TRC-721.
The announcement made by company chief and founder Justin Sun noted that the TRC-721 is a set of standard interfaces for deploying NFTs on the Tron network and is compatible with ERC-721 found on the Ethereum network. This will be made possible by using the TronLink extension for Chrome, and users will need to have a minimum balance of just 350 TRX (worth $18.3) before they can issue NFTs.
This is done to create a larger platform for nascent decentralized applications (DApps) built on the blockchain.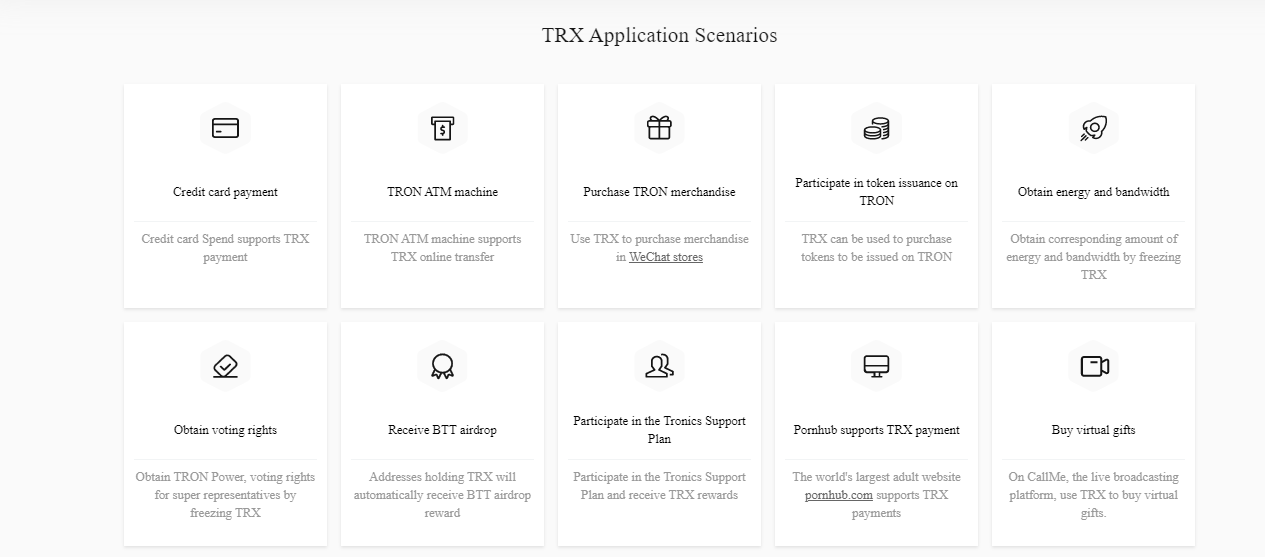 In another sense, its NFT standard is challenging the more established Ethereum network, which is the second most valuable cryptocurrency by market cap.
But skyrocketing transaction fees and network congestion have been some of the issues the Ethereum blockchain is contending with as it works on the rollout of its Ethereum 2.0 project. Tron and several decentralized platforms like Cardano, Stellar, Polkadot, and Neo hope to break Ethereum's monopoly on the decentralized finance (DeFi) space. So far, it has been able to seize on the burgeoning industry due to its high throughput of 2,000 TPS.
Tron is also a major carrier of Tether (USDT) since it was launched as a TRC-20 token in 2019. In April 2021, it was reported that there was $24 billion worth of Tether on Tron as compared with $23.4 billion on Ethereum. The switch to Tron from investors comes amid rising gas fees on the Ethereum network.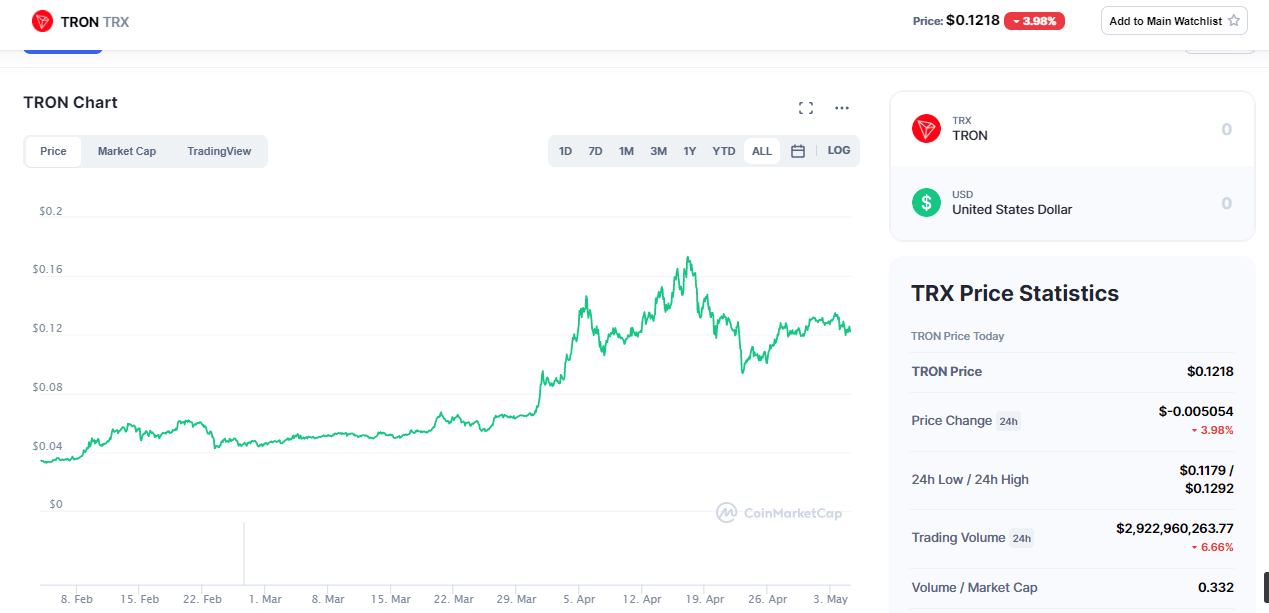 Tron has also been making some strategic partnerships with other DeFi protocols. In a Feb. 28, 2021 announcement, the Tron network partnered with cross-chain DeFi operator Reef Finance to bring its services into the Tron DeFi ecosystem.
According to the agreement, Reef users will access DApps in the Tron ecosystem through the Reef platform. This way, users will be able to access liquidity from both centralized exchanges and decentralized exchanges.
This continued growth has enabled the Tron network to make a strong presence in the crypto ecosystem and featured in the top 20 cryptocurrencies in the market. Tron has risen $0.1348 following a 5.46% increase in the last 24hrs and a 19% in the seven days.
Ways of Buying Tron
Still unsure on how to buy Tron in South Africa? There are several payment options available to you. Let's take a close look at the options available to help you find the best way to buy Tron.
Buy Tron with PayPal

PayPal now offers their customers cryptocurrency trading, where you can easily buy Bitcoin, Litecoin, and Ethereum from within the PayPal app. But, you can't buy Tron directly through this means. If you are looking for when searching for where to buy cryptocurrency.
One of them includes using cryptocurrency exchanges like eToro or Binance.
However, if you have a PayPal account, you can use PayPal to buy Tron in South Africa by using an exchange that allows you to fund your trading account with PayPal. Several platforms support PayPal payments to buy Tron, including eToro.
Buy Tron with Debit/Credit Card
For most of us, buying Tron is most convenient using a debit or credit card. Many popular cryptocurrency platforms allow customers to buy Tron using their debit and credit cards.
This payment option is popular with customers since it's convenient and everyone has a debit card. For this payment option, keep in mind the processing fees from the card issuer when you use a credit card.
Buy Tron with Bitcoin
Another option that is quite effective to use to buy Tron is using Bitcoin. If you already own some Bitcoin, whether it's kept on a Bitcoin exchange or in a hardware wallet, you can simply use it to buy Tron in South Africa.
For Bitcoin stored on an exchange like Binance, you can simply transfer it down to eToro to fund your trading account. Once that is done, you can convert it or trade Bitcoin to buy Tron.
Where To Buy Tron South Africa
Buying TRX in South Africa is easy if you're signed up on a trusted cryptocurrency trading platform.
There are several options available where to buy Tron South Africa, but just like stock trading, you need to select the option that fulfills your needs. Cryptocurrency exchanges offer different trading capabilities, pricing, and features. To help you decide the best option to buy Trone cryptocurrency, we'll review two of our top-rated Tron trading platforms in the country.
1. eToro – Best Cryptocurrency Exchange to Buy Tron Cryptocurrency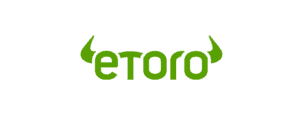 eToro is a popular name in the cryptocurrency market. The platform offers cryptocurrency traders up to 16 cryptocurrencies, including Tron. One appealing aspect of using eToro is its simple pricing structure.
There are very few crypto trading firms that can challenge it on this front. eToro allows you to buy cryptocurrencies such as Bitcoin and Tron on a commission-free basis. Instead, eToro charges you a 2.45% spread when you buy Tron only. Again, selling it is free.
That's not all. eToro is also a much bigger upgrade to other bitcoin exchanges due to its short-selling feature. eToro makes it possible for you to earn when the value of Tron goes up and when it falls. The Short Selling feature makes this possible.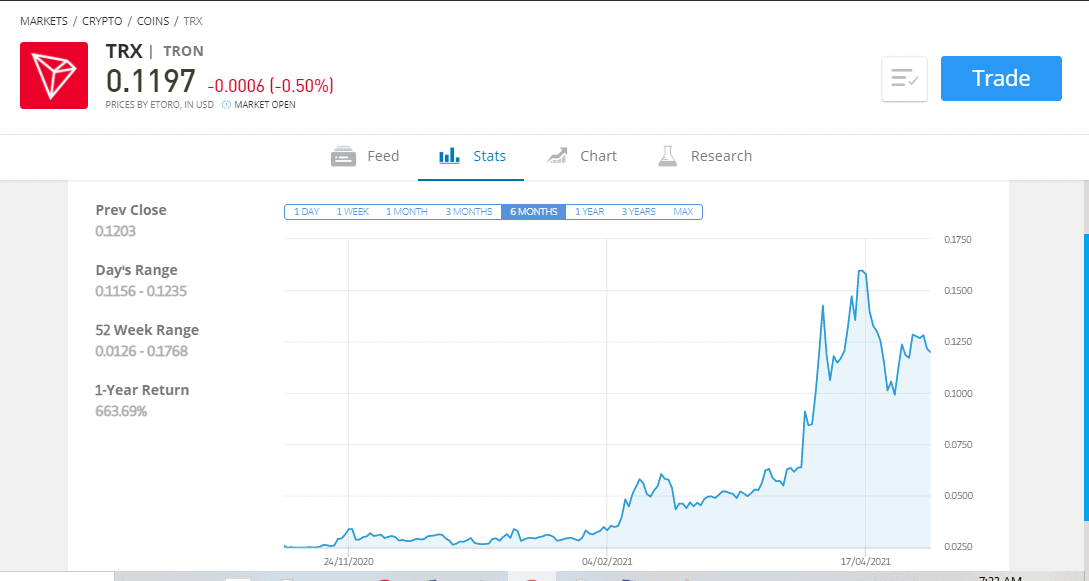 Selecting eToro as your cryptocurrency exchange of choice means you can buy Tron and store it in the exchange's wallet, or you can trade Tron as a Contract for Difference (CFDs).
eToro is built with all the tools needed to buy Tron at the best possible price. The platform comes with a plethora of charts and graphs with projections and analysis from professional cryptocurrency traders.
Besides the technical details, eToro makes trading fun. Think of the platform as a Facebook for traders. You can discuss trading ideas with friends and strangers on the app. You can even follow other traders and get advice on what's hot and not.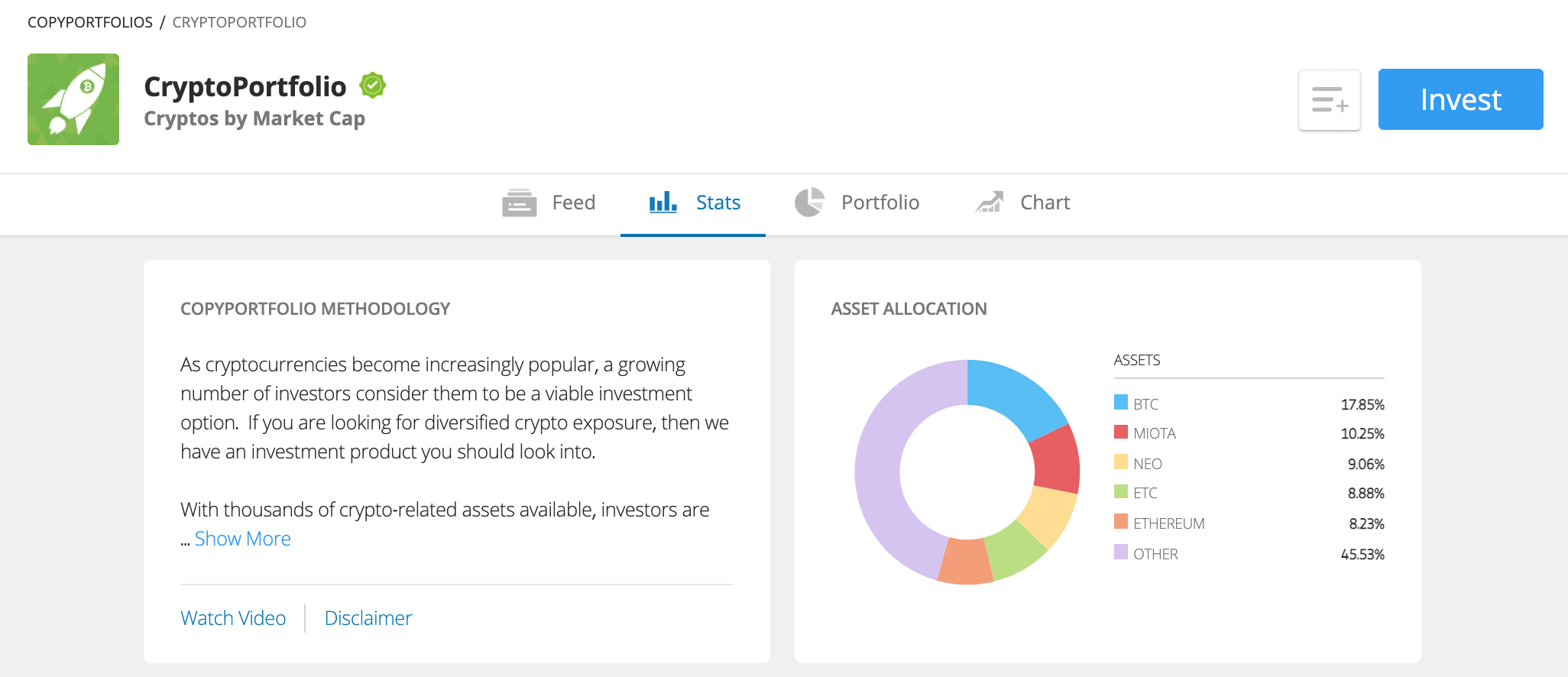 Beyond its social networking effects, eToro also allows you to pick the brain of professional traders and make the same moves as they do using the platform's Copy Trading option.
So if you're new to cryptocurrencies, you can simply copy the trades of popular investors with track records along with their future investments. This saves you time and allows you to earn more. There's no added fee for doing this. You can get started with Copy Trading as long as you meet the minimum deposit of $200. You're free to cancel any of your positions at any time you want.
eToro is considered trustworthy and is regulated by the UK Financial Conduct Authority (FCA), the Cyprus Securities and Exchange Commission (CySEC), Australian Securities and Investment Commission (ASIC), and the Financial Enforcement Network (FinCEN). The platform offers customer support via email and phone.
Pros
Supports debit/credit and e-wallets
Very user-friendly
No annual fees
Built-in cryptocurrency wallet
Fast customer support
Cons
Small conversion and withdrawal fees
Limited research section
67% of retail investor account lose money when trading CFDS with this provider.
2. Capital.com – Best Platform for CFD trading

Capital.com is a reputable CFD provider with a strong presence in South Africa.  The platform allows South African investors to trade stocks, cryptocurrencies like Tron, indices, and other CFD products on a 0% commission basis. Despite its litany of services, Capital.com has lots of cryptocurrency pairs available for South African traders.
Using Capital.com, crypto traders can buy and sell cryptocurrencies without paying any commission. Capital.com offers 200:1 to investors which can come in handy if you want to increase your position while staking little of your capital.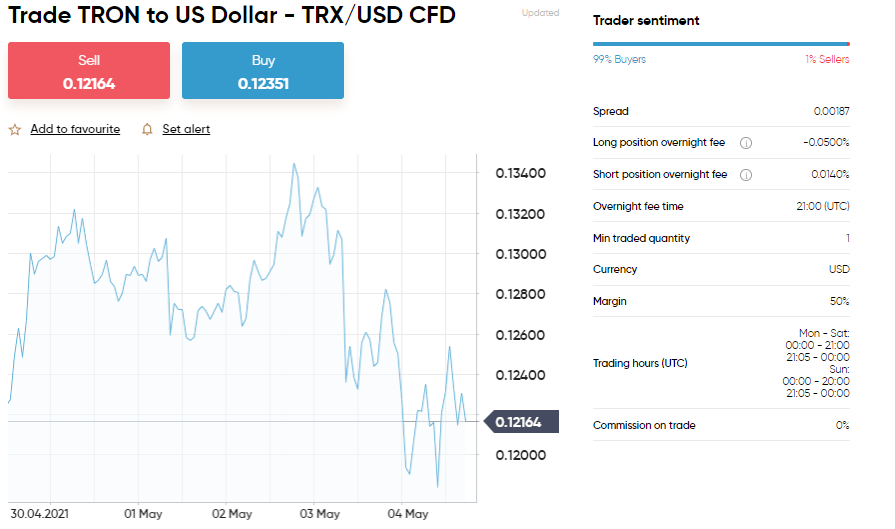 The platform uses a spread model to determine the crypto prices displayed to investors. The spread is the difference between the buy and sell price of any asset. If the gap is too wide, you're most likely paying fees indirectly. What we love most about Capital.com is that the spreads are quite competitive. But, the size depends on several variables.
This includes the asset being traded, trading periods, and current market conditions. In terms of research materials for cryptocurrency traders, Capital.com's trading features support over 70+ technical indicators. You can create buy and sell positions that allow you to hedge with ease.
You can also make use of drawing tools, add TRX to a watchlist, and make use of the multi-chart toggling feature. Capital.com has multiple options when it comes to setting up an order. You can use the default buy and sell order and if you're risk-averse, you can take advantage of the stop-loss order, which limits the amount you can lose when your predictions go south. You can also use a take-profit order to instruct the platform to take profit once the asset's price is higher than your entry price.
Capital.com is also regulated by the UK's Financial Conduct Authority (FCA) and the European Security and Market Authority (ESMA) which means your funds are secured from theft.
Pros
No deposit fees
Zero commissions
Multiple payment methods supported
Lower spreads
Cons
75.26% of retail investor accounts lose money when spread betting and/or trading CFDs with this provider.
How to Buy Tron Tutorial
Ready to pick up some Tron? We'll show you how to buy Tron in South Africa using eToro. eToro offers you a full trading experience to buy Tron without paying outrageous trading fees.
Step 1: Sign up on eToro
The first step to take is to create an account on eToro's official website. Click on the "Join now" icon visible on the top right corner to get started.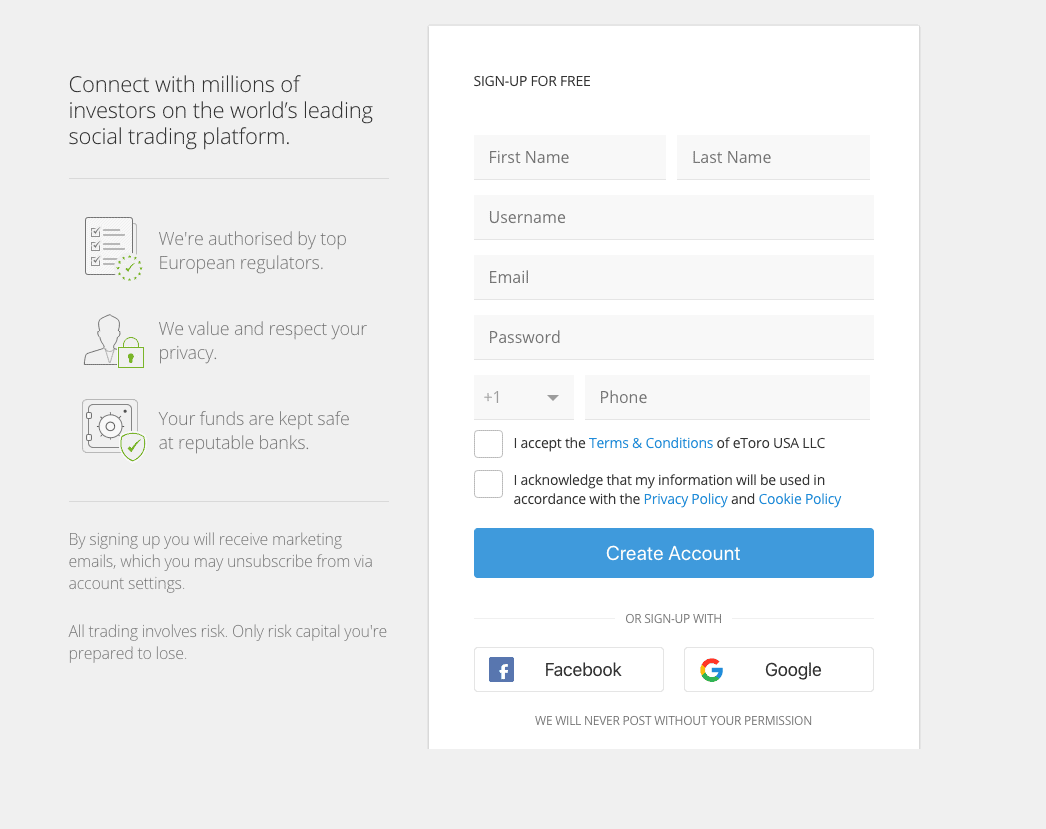 You will be redirected to the registration page, where you will be asked to supply your full name, email address and choose a unique, strong password. You can complete your registration with just a few clicks when you choose to sign up with your Facebook or Google account. You can find that at the bottom of the page.
Step 2: Verify your Identity
The next step is to upload your ID. eToro is a regulated broker in the UK and is compliant with laid-down know-your-customer (KYC) protocols in Europe and South Africa.
You can upload a copy of your passport or driver's license. You will also be required to submit a copy of your financial statement or bill to verify your residential address.
Step 3: Deposit Funds
To trade on eToro, you need a minimum deposit of 3,000 ZAR made into your account. eToro offers a plethora of payment channels so you can make a direct bank transfer, pay with your credit/debit card, or even buy with another crypto (like using BTC to buy Tron).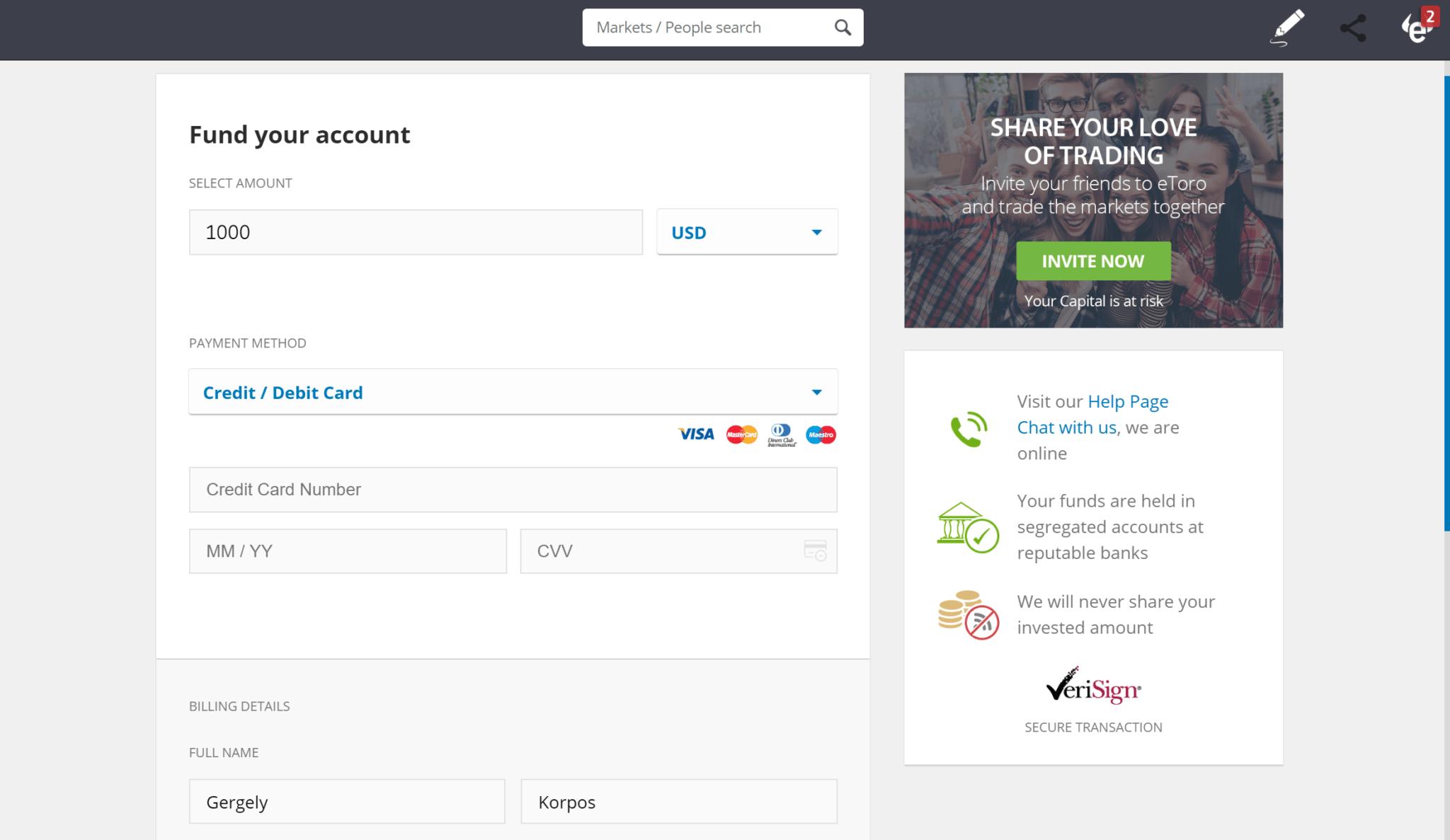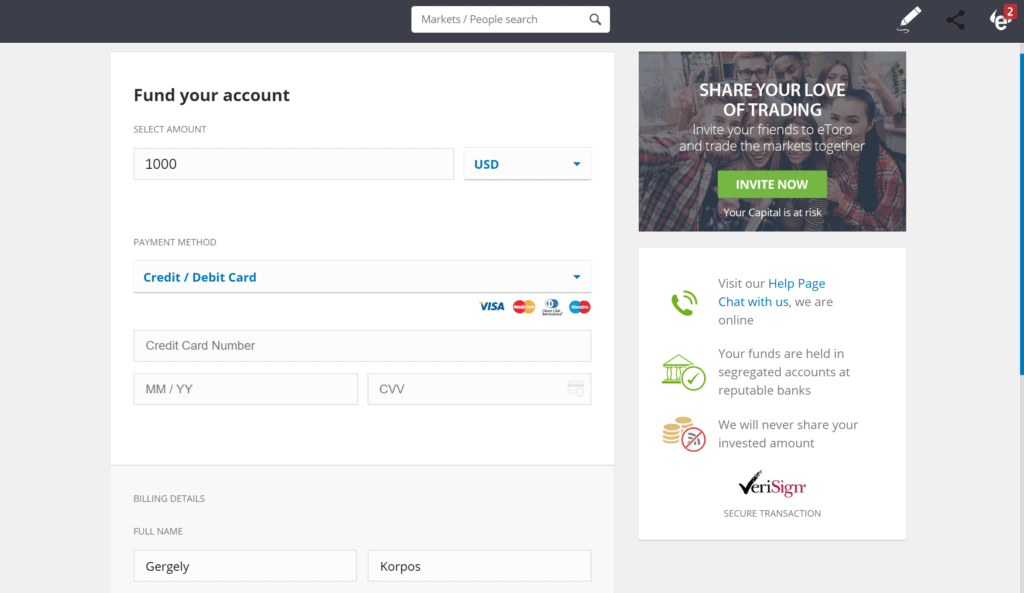 You can also make deposits with e-Wallet providers like Paypal, Neteller, and Skrill, making it more convenient for your overall trading experience. The beautiful thing about using the eToro platform is that it does not charge you any fee for depositing funds into your trading account.
Step 4: Buy Tron
Now, you're ready to buy Tron in South Africa using eToro. To get started, type in "Tron" on the search bar on the top of the dashboard. After that, click on the results and select "Trade." You will be asked how much you want to buy, and you can now input the amount you are willing to invest.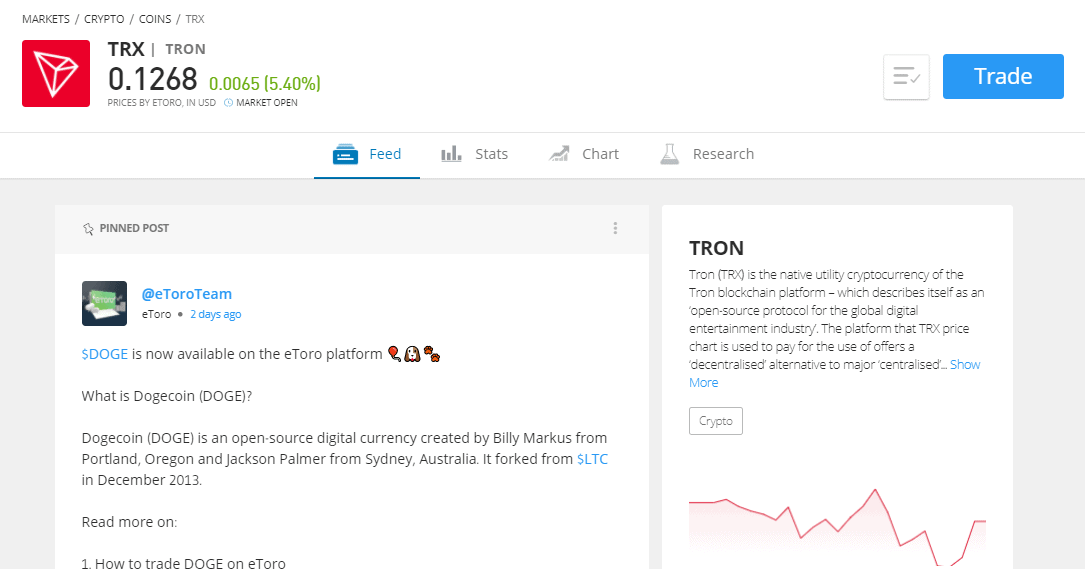 Do not forget to place a "stop-loss" or "take profit" limit in your trade to control the amount of exposure you will be experiencing. Also, be mindful of the leverage you choose to work with. After you must have gone through these steps, click on the "Open Trade" icon to begin trading Tron.
Step 5: Download the eToro App
This is voluntary and of your choosing. If you are used to the desktop version, you can forgo this step. But if you prefer trading on the go, you can quickly download the eToro to monitor your trades. The eToro mobile app is available on Google Play and Apple App Store.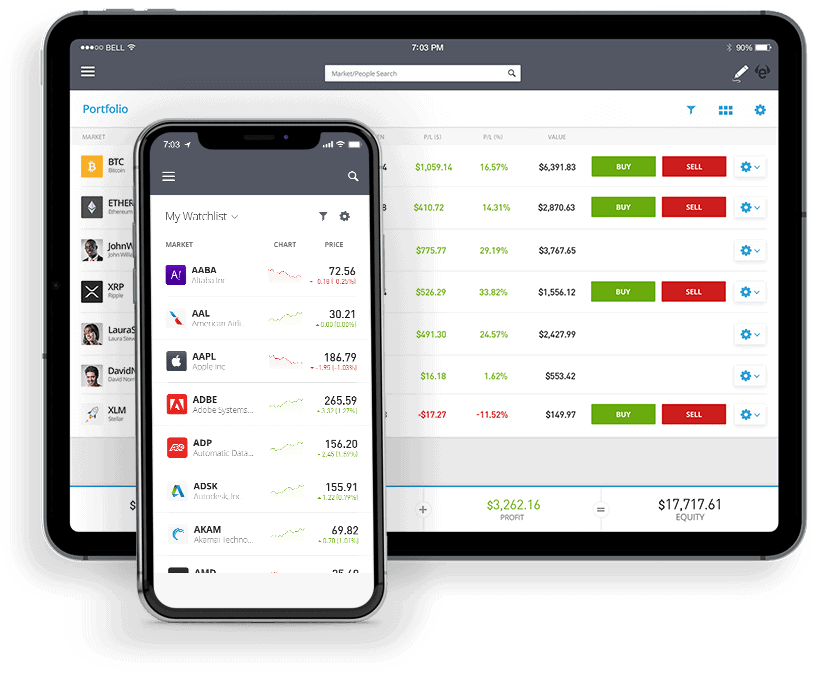 eToro – Best Broker to Buy Tron in South Africa
Tron's unique focus on bringing decentralization to the content and entertainment industry is worthwhile given that fee content creators are billed for using present platforms. And with the growing number of users and partnerships the Tron network is onboarding weekly, the protocol may end up securing a place for itself in the emerging digital economy.
Now that you know how to buy Tron in South Africa, it's time to hop on the crypto train and get started. Click the link below to sign up for a free account on eToro today and buy Tron in South Africa.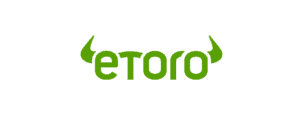 67% of retail investor account lose money when trading CFDS with this provider.
FAQs
What is the best Tron exchange in South Africa?
There are many crypto exchanges you can use to buy Tron in South Africa. However, we recommend the eToro platform due to its ease of use and setup. eToro comes with a mobile app, more payment options, social trading and copy trading features and zero-commission trades.
What is the best Tron wallet in South Africa?
The eToro platform has been in operation for a long time without suffering any major hiccups. So, the best Tron wallet in South Africa for new users would be the eToro wallet due to the stability and the safety protocols put in place by eToro.
Can I buy Tron stock?
You cannot directly buy Tron stock. You can, however, secure exposure to it through the eToro platform when you deposit funds and invest in Tron.
What is Tron worth?
Tron is less than one dollar. But, this is a good thing. Bitcoin was worth less than $500 some years back, now it's worth $55,000. That's the beauty of the crypto market. Those who get in early can make more profit in the long run. For now, you can get one Tron for $0.1266, making it a sound investment if the price eventually goes up.
How many TRX exists?
The total number of TRX in supply is 100 billion, and over 65.7 billion is currently in circulation. Due to a hard cap limit on the number of TRX tokens, there will be only 100 billion ever created.
Is TRX decentralized?
TRX is a decentralized protocol with a mission to make content creators own the data they create.