How to Buy Amazon Shares in South Africa – with 0% Commission
Wondering how to buy Amazon shares in South Africa? If so, the process is a lot easier than you might think. Simply choose a trusted online broker, open an account, deposit funds, and complete your Amazon share purchase.
If you need a little bit of help – this guide on how to buy Amazon shares in South Africa will walk you through the investment process – step-by-step and discuss the best brokers to do this within 2022.
How to Buy Amazon Shares CFDs in South Africa – Step by Step Guide 2022
By following the quickfire steps below, you could have Amazon shares in your stock portfolio in less than 10 minutes.
Looking to buy Amazon shares instantly? Follow these quickfire guides to get started in four minutes.
✅ Step 1: Open an Account with Libertex
Libertex is reputable for its sizable collection of popular stocks and offers competitive prices. To sign up, head over to the Libertex website and click on 'Open an account to create a new account.
🔎 Step 2: Verify your account
Libertex is a FSCA regulated broker, which means you will have to complete the Know your customer (KYC) process. All you need to do is upload a copy of your driver's license or official documents. You will also need to provide proof of residence by uploading a copy of your utility bill or bank statement.
💳 Deposit Funds
The next step is to fund your trading account. Libertex has a minimum deposit bar of only $10, and you can make deposits through a bank transfer, credit/debit card, and e-wallet solutions.
🛒 Buy Amazon Shares CFDs
The final step is to buy Amazon shares cfds. You can get started by typing the 'AMZN' ticker into the search bar. Click on the 'Buy' button to be taken to the order page, and the number of shares you want to buy. Once this is done, click on 'Open Trade' to complete the process.
Step 1: Choose a Stock Broker
It goes without saying that in order to buy Amazon shares in South Africa – you need to carefully select an online broker. There are hundreds of such share trading platforms active in the online space – so you'll need to focus on a set of core metrics. This should centre on regulation, share dealing fees, minimum investment amount, supported payment methods, and customer service.
To save you from having to perform hours of research yourself, below you will find a selection of top-rated stock brokers that allows you to buy Amazon shares South Africa in a low-cost and safe environment.
1.  Libertex – Overall Best Broker to Buy Amazon Shares with Zero Spreads
In our opinion, the best broker for buying Amazon shares in South Africa is Libertex. Established in 1997, Libertex is a global online and CFD broker with a huge user base in 50 countries. More than 2.2 million active users visit the user-friendly platform regularly.
Trading Amazon shares on Libertex is simple and straightforward. However, it's important to explain that the exact instrument you would be trading on Libertex is not the actual stock, but rather stock CFDs. Stock CFDs allow South African investors to predict the price movement of a stock in the short term. Libertex offers access to the blue-chip stocks listed on the New York Stock Exchange, NASDAQ and other markets.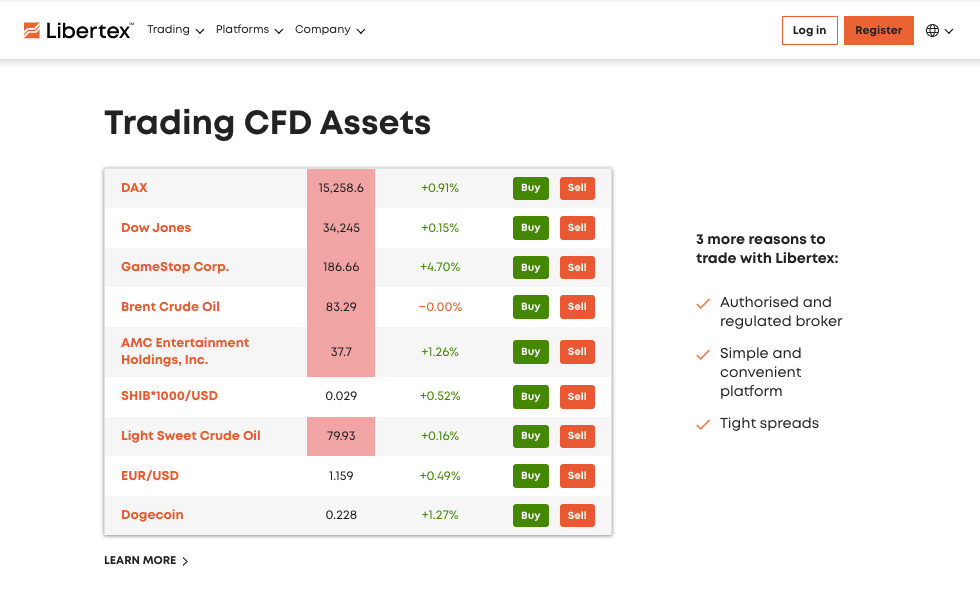 One exciting feature about using Libertex is the zero spread feature. This means there's no deviation from the ask and bid price. Libertex offers leverage up to 1:30 for individual users and 1:600 for legacy-based institutions to increase potential gains from your investment. Libertex also offers trading services for assets like bonds, commodities, FX currency pairs, and cryptocurrencies. Although it is not commission-free, the firm provides zero deposit fees. The Libertex trading interface can be accessed through many devices ranging from Android, iOS, Windows, and Web trading tools. The platform enables MT4 & MT5 trading, which is ideal for key technical analysis of Amazon shares. The platform is regulated by the CySEC and ensures that the company's funds are kept separately from traders' capital.
Pros:
Zero spreads
Over 2 million users
Minimum deposit of only €10
High leverage for users
Regulated by the CySEC
Accessible on several trading platforms and devices
Cons:
€5 inactivity after three months
74% of retail investors lose money when trading CFDs at this site
2. Avatrade – Best FSCA Broker to Buy Amazon Shares
The second alternative when it comes to buying Amazon shares is Avatrade. Avatrade has been around since 2006 and has over 300,000 users worldwide. On top of this, the broker executes more than two million trades every month, surpassing $70 million in trading volume. In terms of safety, Avatrade is regulated by top entities such as the FCA and ASIC, and is regulated in South Africa by the FSCA.
One of the best things about Avatrade is that they do not charge any commissions when you place a trade. This is in contrast to quite a few other brokers who may charge between 0.1% and 3% of your position size – and these fees can add up if you are active in the markets. On top of this, Avatrade offer up to 1:20 leverage on their stock CFD selection, which allows you to essentially 20x your position size.

On top of stocks, Avatrade also offer a huge selection of other assets to trade, such as indices, ETFs, and even cryptocurrencies. Avatrade connects seamlessly with MT4 and MT5, which means you can set alerts, conduct technical analysis, and even implement an expert advisor if you are looking to automate your trading. Finally, Avatrade provide a demo account feature which is helpful for new traders who are just entering the market for the first time.
Pros:
Trade CFDs on stocks, forex, and commodities
All fees built into the spread
Includes support for MT4 and MT5
0% commissions
Great reputation
Heavily regulated
Cons:
73.05% of retail investors lose money when trading CFDs at this site
3. Capital.com – Trade Amazon Shares via CFDs at 0% Commission
If you're looking at how to buy Amazon shares from South Africa and plan to invest over several years – Avatrade is by far the best option. However, if you're thinking about trading Amazon shares in the short-term – it's worth considering Capital.com. This popular CFD broker permits commission-free stock trading on Amazon shares and at tight spreads.
As you will be trading stock CFDs, you won't actually own the underlying Amazon shares. You will, however, be able to speculate on the future value of Amazon alongside leverage. For example, you stake $200 but apply leverage of 1:5 – your Amazon position will be worth $1,000. You can also go short on Amazon share CFDs at Capital.com – meaning you can make a profit if the stocks go down in value.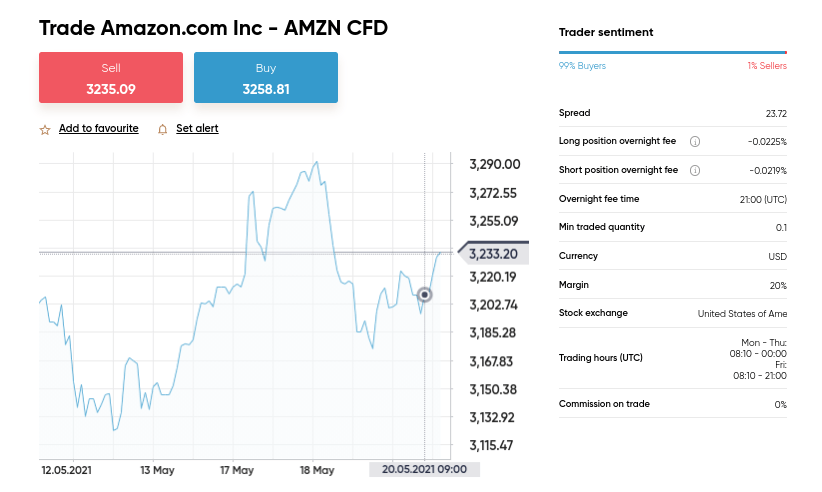 Capital.com offers a free demo trading facility if you want to practice CFD trading before depositing money. Or, if you want to start trading Amazon stocks with actual capital – the minimum deposit is only $20 – or about 280 rands. On top of Amazon, Capital.com offers thousands of other stock CFDs across multiple exchanges and markets. You can also trade forex, commodities, indices, ETFs, and more. Capital.com is regulated by the FCA and CySEC – so your money is in safe hands.
Pros:
Trade shares, index funds, ETFs, crypto, forex, commodities, and more
Educational app for new traders
AI assistant identifies your weak points
Minimum deposit just $20
Excellent charting and analysis interface
No inactivity fees
Thousands of UK and US shares
100% commission free trading
Cons:
Cannot build custom trading strategies
75.26% of retail investor accounts lose money when spread betting and/or trading CFDs with this provider.
Step 2: Research Amazon Shares
At this stage of our guide on how to buy Amazon shares in South Africa – you should hopefully know which broker you wish to use. Next, we need to discuss the fundamentals surrounding Amazon as an investment. This will include some background data on the company itself, alongside historical Amazon share price action and core accounting ratios.
Ultimately, by reading through the following sections – you should have a much better idea as to whether or not Amazon shares are right for your investment portfolio.
What is Amazon? 

Launched way back in 1994 by Jeff Bezos – Amazon started out as an online retailer. It offered a convenient way to order books, video games, electronics, and more from the comforts of home.
Just three years later in 1997 – the company went public. Amazon opted for the Nasdaq exchange in the US – where it is still listed today. Since then, Amazon has grown to become one of the largest companies in the world.
Although online retail sits at the core of the Amazon business model, the firm is now diversified into a wide range of other markets. This includes several subscription-based services, such as Amazon Prime, Kindle Unlimited, Audible, Prime Video, and Prime Student.
In addition to this, Amazon has also expanded into a number of innovative marketplaces – such as AWS (Amazon Web Services). In fact, AWS is by far the market leader in the cloud computing space. You then have Amazon's growing interest in groceries, drone-based deliveries, machine learning, and artificial intelligence.
Amazon Share Price 
As noted above, Amazon first went public in 1997. Its shares were initially priced at $18 per share. However, the firm has initiated several stock splits since then – meaning that its IPO price actually stands at just $1.73. If we fast forward to September 2020 – the Amazon share price hit an all-time high of $3,554.
This means that those buying Amazon shares during its IPO and holding on until late 2020 would have been looking at gains of over 205,000%. In other words, had you invested $2,000 back in 1997 – your capital would have been worth over $4 million. Since then, the price of Amazon shares has tailed off slightly.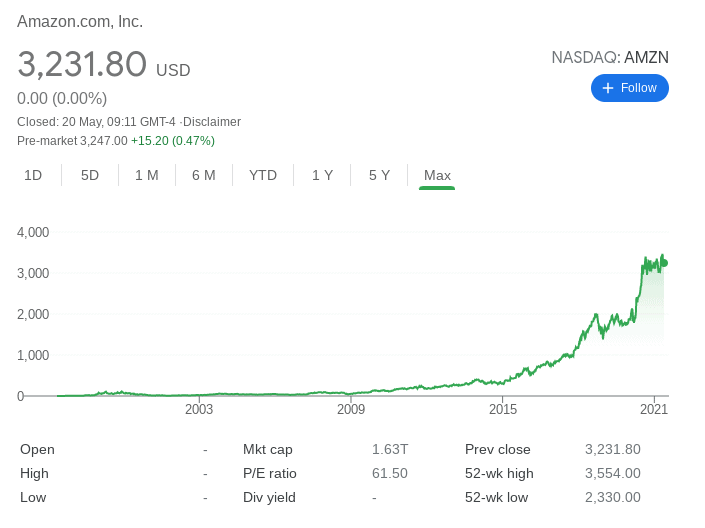 For example, at the time of writing in May 2021, the Amazon share price stands at just above the $3,200 level. This does, however, give you the chance to buy Amazon shares online at a slight discount. In terms of key accounting ratios, Amazon reported an EPS (earnings per share) of $41.83 in its 2020 year-end results.
This is nothing short of impressive in a year dominated by the COVID-19 pandemic, as amounts to an increase of 81% from its 2019 EPS of $23.01. When it comes to Amazon's P/E (price to earnings) ratio, this currently stands at 61.51. It is somewhat difficult to assess whether this represents good value when you consider that Amazon dominates many of its divisions.
Amazon Shares Dividends
Although Amazon is one of the largest and most profitable companies in the world, you might be surprised to learn that the firm does not have a dividend policy in place. In fact, Amazon has never paid a single cent in dividends.
Instead, Amazon has rewarded shareholders over the past two decades in the form of capital growth. Ultimately, if you are looking to add some dividend stocks to your investment portfolio – you will need to look elsewhere.
Are Amazon Shares a Good Buy?
If you wondering whether or not Amazon shares are a good buy – your decision will need to be based on independent research. Not only do you need to look at the firm's balance sheet and core accounting ratios – but how Amazon is performing in each of its key divisions.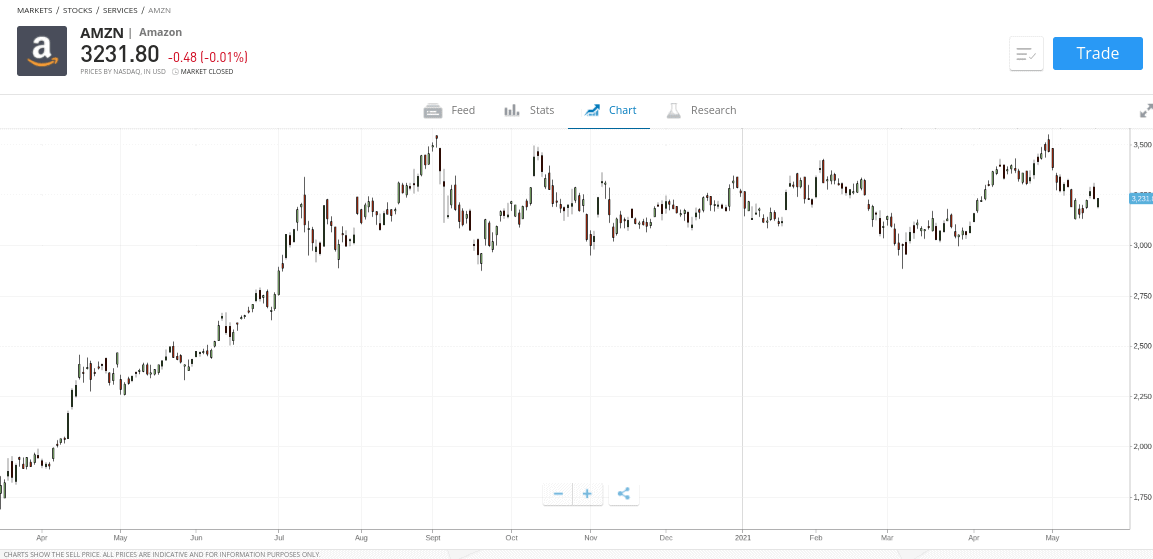 To help you along the way, below we discuss some of the main considerations to make when thinking about how to buy Amazon shares in South Africa.
Substantial Free Cash Flow
First and foremost – let's start with the balance sheet. We don't need to go into too much detail when it comes to debt obligations – not need because Amazon is sitting on more than $50 billion in cash.
This not only ensures that Amazon is able to enter new and innovative markets – such as artificial intelligence and drone deliveries, but it has the financial means to deal with unbearable market conditions. This abundance of free cash flow levels will also pave the way for more acquisitions.
Short-Term Target of $3,554
We noted earlier that since Amazon hit an all-time high of $3,554 in September 2020 – the shares have tailed off slightly. At the time of writing, Amazon shares are trading at $3,231. This means that the shares are potentially trading at a discount of just under 10%.
Amazon is Expanding its US Delivery Capabilities at a Rapid Rate
Amazon is already known for its fast and efficient delivery service – especially for those that are subscribers of its Prime service. However, it appears highly likely that Amazon is looking to take things to the next delivery level by completely dominating the US retail industry.
For example, Amazon has since increased its cargo jet fleet to over 93. 82 of these of leased while the balance is owned outright by Amazon.

In 2020, the firm increased its warehousing space by more than 50%, with further expansion planned for the coming years. You then have Amazon's ever-increasing investment in the drone delivery arena. This will pave the way for same-day deliveries – which is something that very few national retailers can rival.
Subscription Services are Booming
Although online retail still sits at the core of Amazon – its subscription services are growing at a rapid rate. For example, before the pandemic came to fruition, Amazon Prime was home to 150 million paying subscribers.
By the end of the year – Amazon had increased this number to over 200 million. This is an incredible feat when you consider that consumers have been tightening their belts since the pandemic began.
You then have AWS, which has contributed 59% of Amazon's operating profits in the most recent financial year. This is staggering when you consider that AWS amounts to just 12% of overall revenues.
Step 3: Open an Account & Buy Shares
Once you have performed research on Amazon shares and have decided to proceed – it's then time to open an account with your chosen broker.
For this, we suggest considering Avatrade for the reasons outlined earlier. To recap, the broker allows you to buy Amazon shares in South Africa on a commission-free basis. Plus, you only need to deposit a minimum of $100 to buy shares and you can complete the end-to-end investment purchase in minutes.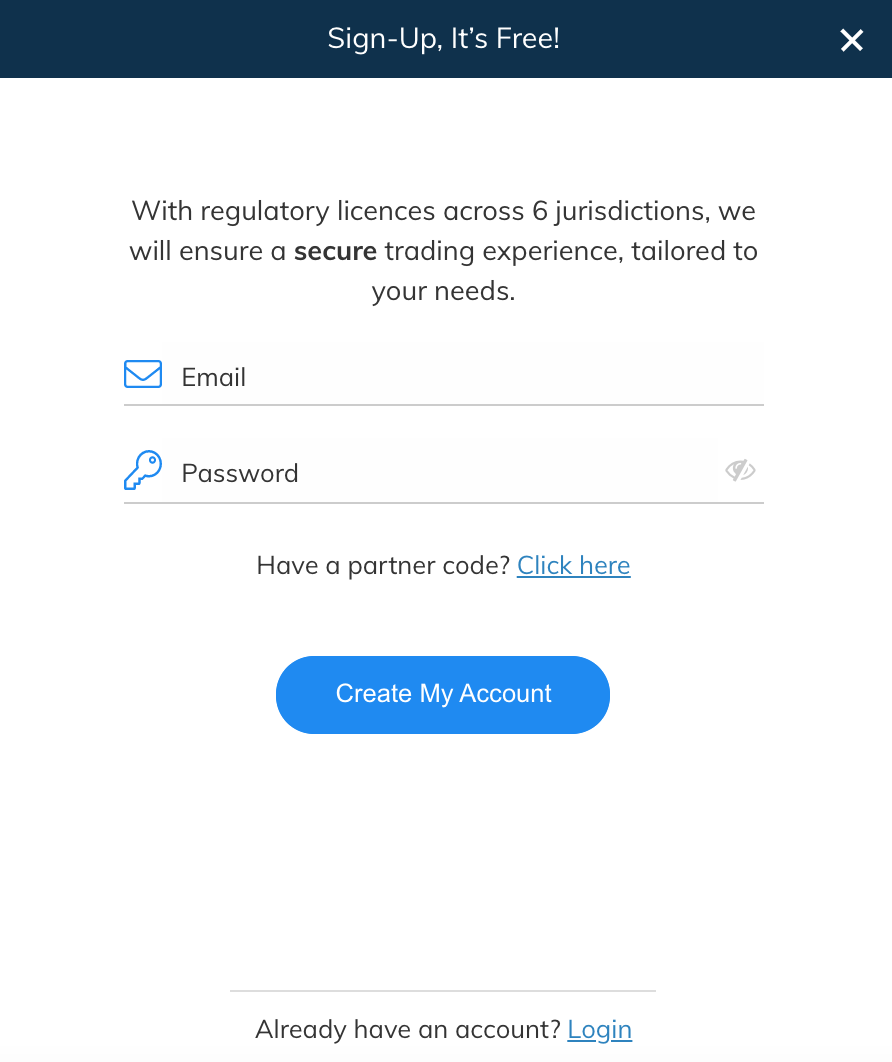 73.05% of retail investors lose money when trading CFDs at this site
To get the ball rolling, you will need to visit the Avatrade website and register an account. Provide your personal information – such as your name, home address, and date of birth. You also need to enter your email address, phone number, and choose a username and password.
Next, you will need to deposit funds. You can choose from the following payment methods:
Debit Card
Credit Card
Skrill
Neteller
WebMoney
Bank Transfer
It's best to avoid a bank transfer – as this is the only payment method that isn't processed instantly.
Next, you need to search for 'Amazon' in the search bar and click on the relevant option. In the order box on the right side of the screen, enter your desired investment amount, double check everything is correct, and click 'Buy'.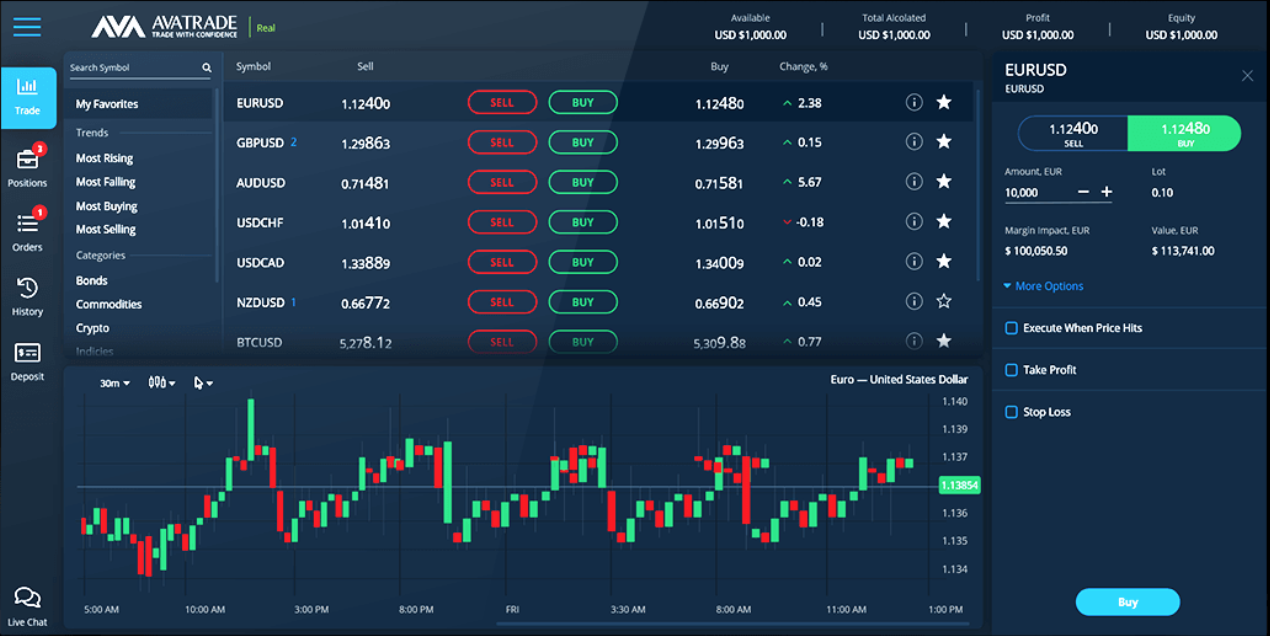 73.05% of retail investors lose money when trading CFDs at this site
Amazon Shares Buy or Sell?
Although the firm is now a multi-trillion dollar company – there appears to be no stopping Amazon. While companies with a mega valuation have historically been hindered in how much they can continue to grow, Amazon shares increased by over 75% in 2020. The key attraction with Amazon is that management are constantly looking to innovate and diversify into new markets.
Amazon will have no issues entering and dominating markets like drone deliveries and artificial intelligence – just like it has already done with its online retail and cloud computing divisions.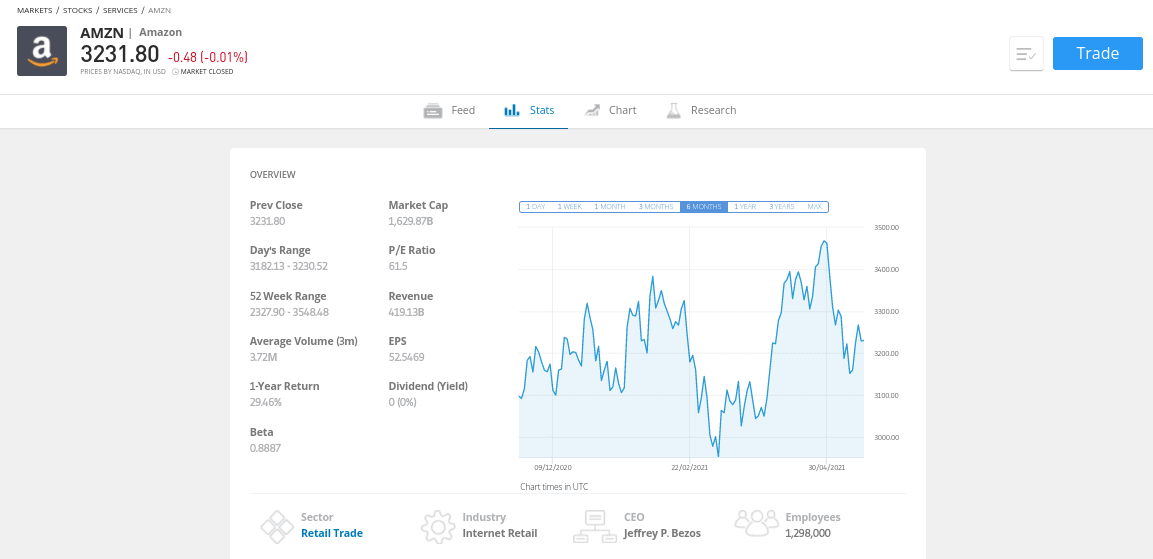 After all, Amazon is sitting on more than $50 Billion in cash reserves – with no intention of ever paying a dividend. All in all, it's difficult not to make a positive case for Amazon. In fact, this is a share that many investors in South Africa will happily keep hold of for many decades to come.
Frequently Asked Questions about Amazon Shares
Should I buy Amazon shares?
How much are Amazon shares worth?
Does Amazon pay dividends?