Best ETF App South Africa 2022 – Cheapest App Revealed
Many investors use exchange-traded funds (ETFs) to diversify their portfolios for a bargain. As a savvy investor, you need the best ETF app to buy these products with ease.
This guide discusses the best ETF apps available and the key metrics you should look out for when choosing these platforms.
Key Points on ETF Apps in South Africa
ETFs are popular among investors who want to buy and sell exchange-traded funds from their mobile device.

Nowadays, most brokers offer a mobile trading app as well as a web trading terminal for added convenience.

When it comes to selecting the right ETF app for your trading needs and goals you need to consider key metrics such as fees and security.

ETFs and ETF CFDs can be purchased through some of the best ETF apps available including the Libertex app which has low commissions and is fully regulated.
Best ETF Apps South Africa List
Below is a list of some of the best ETF apps that offer low fees and top-tier security.
Libertex – Best ETF App With Zero Spread Trading
FXVC – Best ETF App With Metatrader 4
AvaTrade – Best ETF App With High Leverage
Plus500 – Best ETF App With Low Spreads
ABSA – Best ETF App for Stock Trading
Interactive Brokers – Best ETF App With Shares From Over 130 Markets
Best ETF Apps Reviewed
This section highlights the best ETF apps available in the market. We previewed these apps based on trading experience, fees, payment methods, and user reviews.
1. Libertex- Overall Best ETF App With Zero Spread Trading
Libertex is the overall best ETF app in our review. The app allows investors to trade gold, indices, commodities, crypto, forex, oil, and over 250 financial instruments. The platform has a user-friendly interface that makes trading smooth and very easy. ETF trades largely track the price of the underlying asset as Libertex is a CFD broker. This means you don't actually buy the real ETF. You only invest in the price.
Libertex is regulated and supervised by the South African Financial Sector Conduct Authority (FSCA) as Libertex Pty. The broker is also licensed by the Cyprus Securities and Exchange Commission (CySEC), which means your assets are secured with top-notch security protocols.
On the Libertex app, users also access a wide range of analytical support tools, including charts, news, trading indicators, and many others. The platform has the latest Forex trading software, Meta4 and Meta5. In terms of user experience, the app is quite simple and easy to use. First-timers won't have a problem using this ETF app.
The payment methods available on the Libertex mobile app include credit/debit cards, bank wire transfers, crypto transfer, and e-wallet solutions like Skrill, Neteller, and several others.
Deposits using any of these methods are free and instant. Withdrawal fees vary; when using Paypal, withdrawal is free and instant, the use of credit/debit cards attract a charge of €1 and takes between 1-5 days.
The reviews of the app on the Google Play Store suggest that while the app is beginner-friendly, it can be glitchy during peak periods, which is a common issue with most trading platforms.
Pros:
Low minimum deposit makes Libertex more retail-friendly
Zero spreads across all financial instruments offered
Relies in quality not quantity in providing financial services
Cons:
Zero copy trading capability
75.3% of retail investor accounts lose money when trading CFDs with this provider.
2. FXVC – Best ETF Apps With Metatrader 4 Support
FXVC represents one of the best stock brokers in South Africa with Metatrader 4 support that comes with a fully customisable interface and charts. The platform is a CFD broker, which means you won't exactly be investing in a real ETF – just the price movements.
FXVC accepts bank wire transfers, Mastercard, Visa, and Maestro as payment methods. All are instant payment except for bank wire transfer that takes 2-5 business days.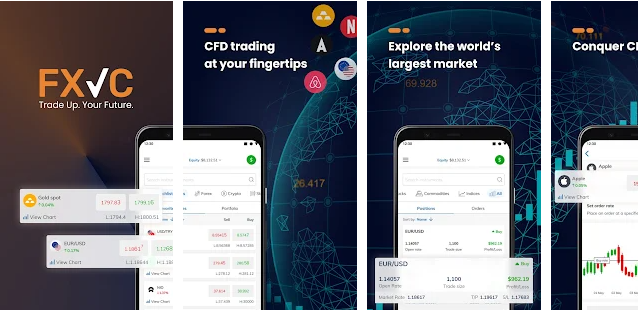 Users on the FXVC mobile app get to enjoy high-speed execution of transactions coupled with many innovative trading tools. There are also numerous educational tools, including videos, all for free, that users can use to broaden their trading knowledge.
The artificial intelligence-powered tool shows you exactly where the main news is coming from. The platform is authorised and regulated by the Cyprus Securities and Exchange Commission (CySEC) and the Financial Services Authority of Seychelles (FSA).
Deposit is free, but a withdrawal fee of $35 (553.57 ZAR) applies per transaction. Bank wire transfers may, however, attract additional charges. The minimum deposit is $250 (3,954.08 ZAR).
There are few reviews of the app on the Google play store, and the reviews are mixed; while some had a good time using the app, others were not so lucky.
Pros:
Multiple account types for trader flexibility
Zero hidden fees and commissions
Comes with educational materials
Cons:
Limited selection of products
4. Avatrade – Best ETF App With High Leverage
Avatrade is a trading platform with over 15 years of experience and is available in over 150 countries. The highly regulated platform is one of the best ETF apps in the online trading space.
The platform is regulated by the Central Bank of Ireland, the South African Financial Sector Conduct Authority (FSCA), and several others.
The AvaTrade app, otherwise known as AvaTrade GO, is an intuitive app with immense trading features.
Users are introduced to a wide selection of the most traded ETFs in the market. The platform has an automated trader called Zulutrade.
The app is a one-stop-shop for everything trade. Investors can monitor real-time market quotes and social trends from the app. The developers also included a Live Chat feature where traders can get responses without leaving the app for their most pressing needs. Reviews from Google Play Store about the ETF app are near perfect. Users enjoy the apps' user interface, and many had a great experience using the app.
Pros:
Heavily regulated in multiple locations
Multiple trading platform supports
Offers social trading through the AvaSocial
Cons:
Depositing funds may take up to 5 days
71% of retail investor accounts lose money when trading CFDs with this provider.
5. Plus500 – Best ETF App for Low Spreads
Plus500 is one of the best ETF apps available in the market. The platform has advanced technical tools that can be used to identify potential trading opportunities.
Founded in 2008, Plus500 offers great customer support to users. The minimum deposit is $100 (1,581.63 ZAR), and users can trade on the ETFs market with up to 1:100 leverage.
Plus500 app is a user-friendly mobile app for CFD trading. Investors can trade ETF CFDs with ease on the app. The app has a multi-language setting along with a Demo mode. Beginners can download the app and learn how to trade without using their funds.
While this option is not as satisfying as having a Learn section, it's still a great way to learn the ropes. On the app, investors can fund their accounts using a bank wire transfer, PayPal account or via a credit card option.
Many users on Google Play Store who reviewed the app complained of bugs and glitches. However, some users enjoy using the app and commended support for doing a great job.
Pros:
Demo account
Handsome library of financial instruments
Reasonable minimum deposit of 1,581.63 ZAR
Cons:
Charges inactivity and conversion fees
6. ABSA – Best ETF App Based in South Africa
ABSA allows investors to diversify their investment with exchange-traded funds making the platform a suitable broker to buy the best ETF in South Africa. No monthly fee is charged as long as you trade at least once every 60 days.
The platform's minimum investment is 250 South African rand (R). There is a brokerage fee of 0.20% per trade, with R60 being the minimum trade. However, all fees do not include value-added tax (VAT). The inactivity fee on the platform is R35.
Users have access to live prices and full fact sheets to help make informed investment decisions. The ABSA app also provides investors with the right tools to become successful and better investors. The platform is safe and secure and comes with a biometric login.
Many of their users on the app store seem to have issues with the latest version of the app. However, a vast majority rate the app high.
Pros:
Top South African ETF provider
Offers Islamic-compliant investment opportunities
Competitive fees
Cons:
Limited financial instruments offering
7. Interactive Brokers – Best ETF App for Over 130 Markets

Interactive Brokers uses a powerful technology suite in optimising trading speed and efficiency.
The platform has tools to perform transaction cost analysis and sophisticated portfolio analysis. Users can also invest in global stocks, options, futures, currencies, bonds, and funds from a single integrated account.
The platform's commission is low, starting at $0 with no added spreads, ticket charges, platform fees, or account minimums. Interactive Brokers offers access to about 135 markets in over 33 countries with over 1.54 million client accounts.
On the Interactive Brokers app, customers can access a number of features in real-time including the streaming quotes and the market scanners. The app's market scanners allows investors to scan global markets for the best performing securities across multiple categories. The app also provides access to reports, news section, otherwise known as the Daily IB Market Briefs, and an intuitive trading platform.
Google Play Store reviews view the app as satisfactory, but it needs some upgrades as it tends to lag.
Pros:
Quick order execution
Great research tools
Zero spreads
Cons:
Your capital is at risk.
Best ETF APPS Comparison
ETF App
Number of ETFs 
Real ETFs or CFDs
Pricing

Libertex

 

10

CFDs

0.03% Commission

FXVC

Not stated 

CFDs

Spreads

AvaTrade

 

14

CFDs

Spread of 0.0013%

Plus500

95

CFDs

Zero commission

ABSA

Not stated

CFDs

0.02% brokerage fee

Interactive Brokers

13,000

Both

Low commission, no spread
How to Choose the Best ETF App for You
Selecting the best ETF app can be challenging due to the vast options available, however, we have highlighted a few factors you should look out for before settling with one ETF app.
1. Range of ETFs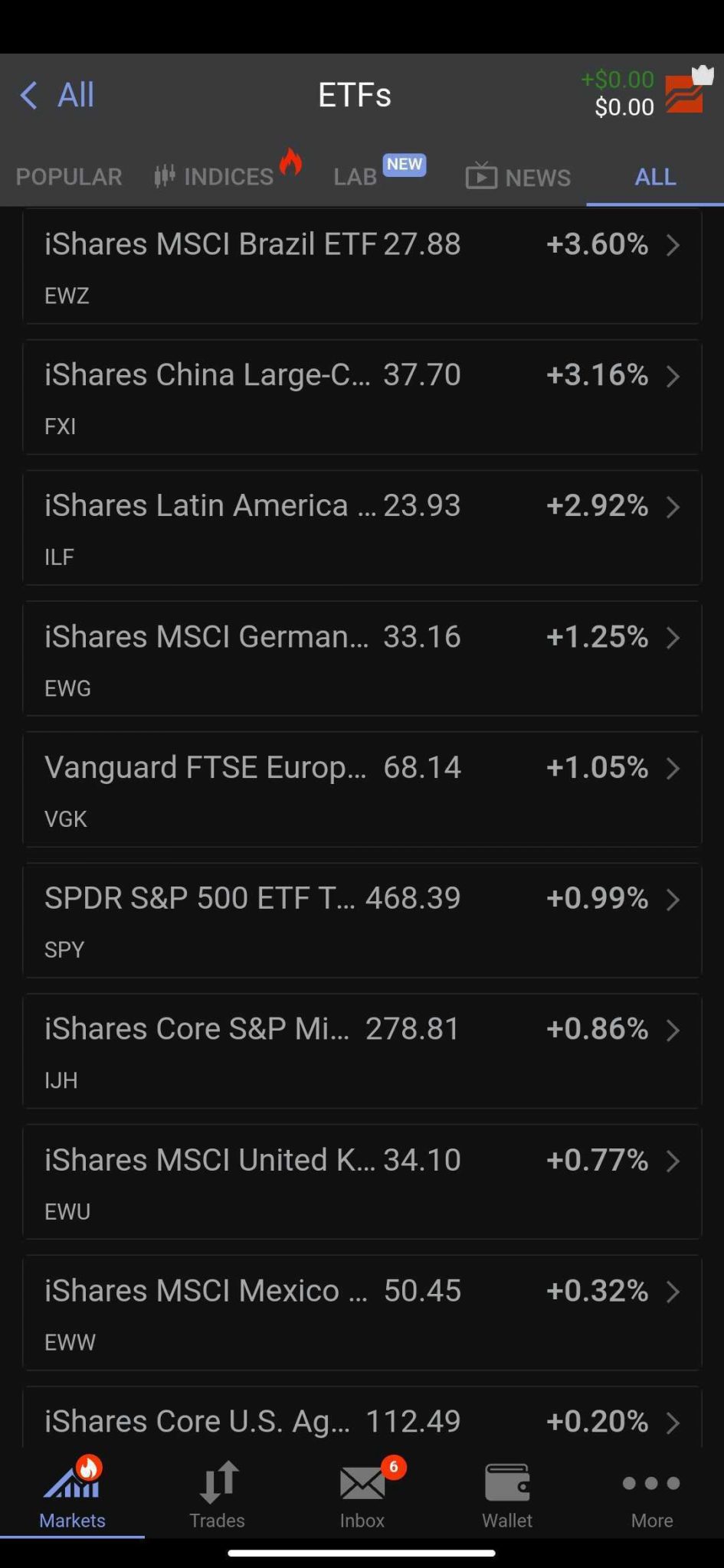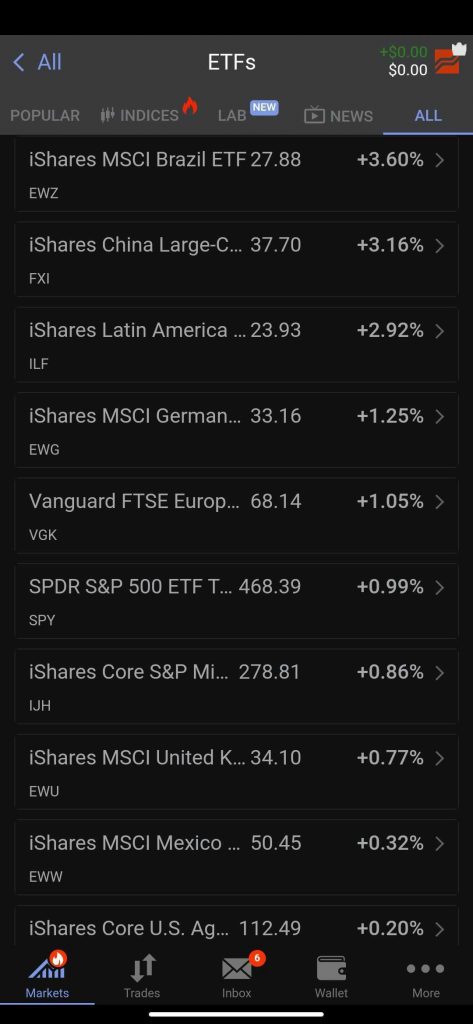 A great ETF app opens users to diverse markets and ETF stocks. This factor makes the top of the list of the things to consider when choosing an ETF app because users get a variety of ETF options to look at when considering investing. When presented with a long list of viable ETF trading options, users can decide whether to go along with high-risk or low-risk options.
2. Fees
When choosing an ETF app, you will need to consider what fees apply to all transactions carried out on the platform. Using a platform with an overpriced fee system could cause investors to lose a lot of their capital.
That is why proper research is needed before using a platform. Investors should consider ETF platforms that offer relatively low fees to complete transactions. Most ETF apps are commission-free; however, users must weigh how much they can afford to lose as part of their investment.
3. Trading tools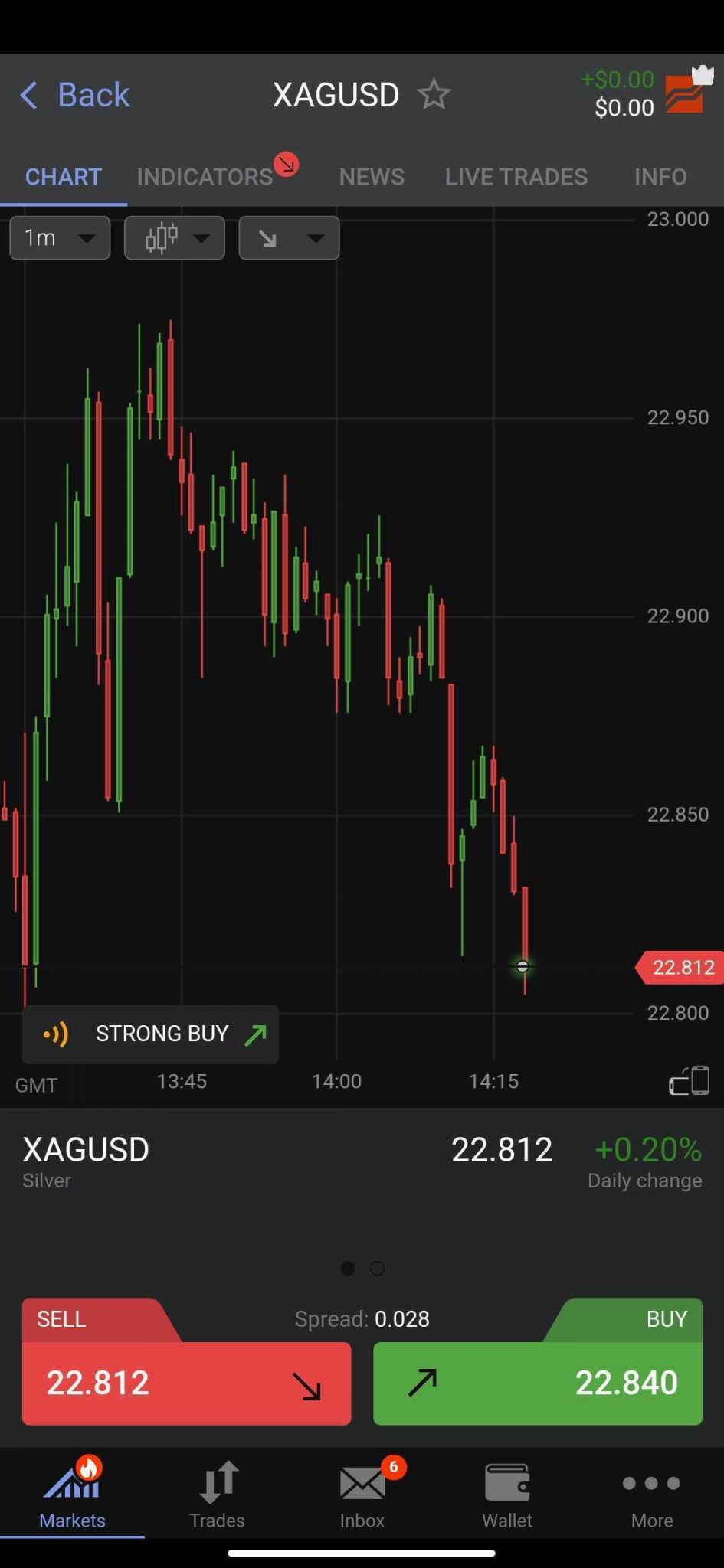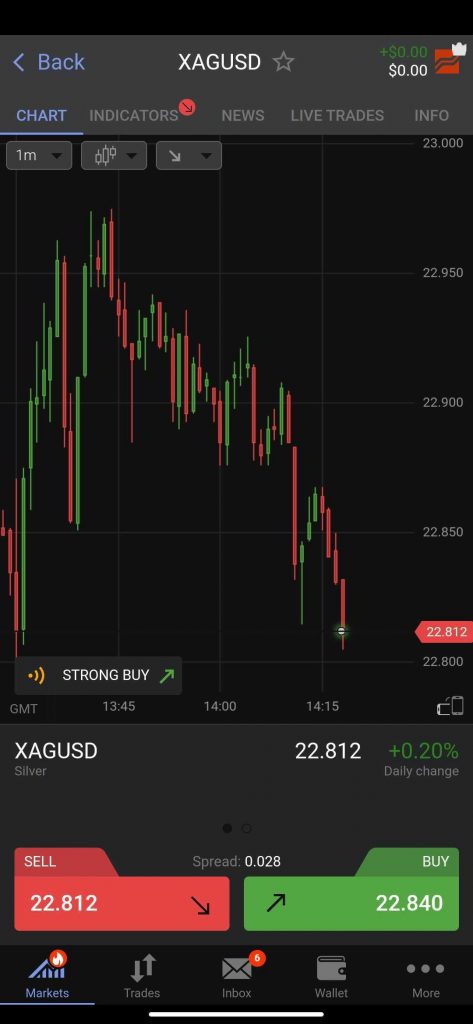 Trading tools are an essential part of an ETF app as they help users make better and more informed decisions when trading a particular asset. Several trading tools are available, including automated trading bots that make and close trades when fed with historical and present-day data.
By employing effective trading tools, investors can easily rake in substantial profits due to the preciseness and efficiency of automated bots. Smart trading tools such as Stop-loss are equally useful to users and prevent them from suffering many losses.
4. Research & Analytical Resources
Making informed decisions about a particular asset requires an ample amount of research on the part of the investor. An ETF platform that offers users access to multiple research and analysis resources takes the weight off the shoulder of the investor.
This sort of platform teaches investors about the basic concepts of the ETF project, the risks and rewards associated with them and how to reduce losses. Advanced learning materials such as news sources aid investors to keep learning more about trends in the market.
5. Mobile experience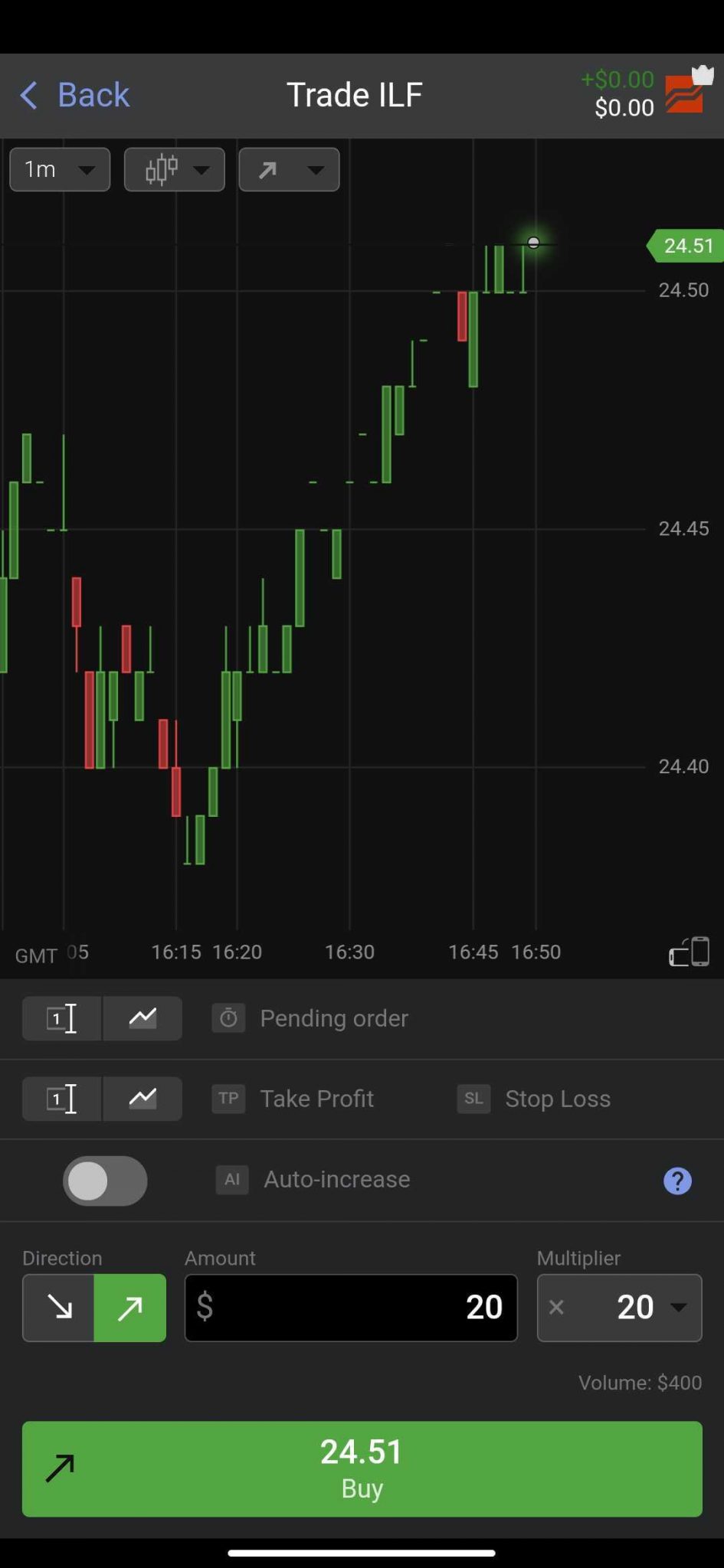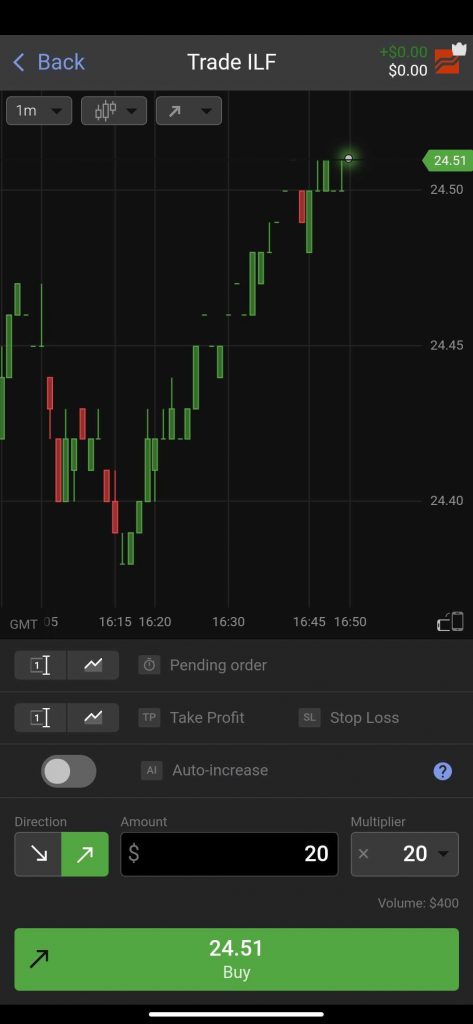 When using an ETF app, the mobile experience plays an important role in meeting the general satisfaction of the user. An ETF App with a user-friendly interface makes the navigation process easy for a new user. Users new to trading ETFs with an app may consider going for intuitive apps.
Our recommended ETF broker Libertex offers a seamless trading experience as investors are treated to a highly intuitive interface. You can easily place a trade by clicking on the 'Trade' button and locate profitable trades by looking at the 'Trending' list. This way, investors can easily stay in tune with the market without exploring other platforms.
6. Payment methods & minimum deposit
When choosing an ETF app, you should try to find out the payment methods available on the platform, as well as the minimum deposit amount required to make an initial deposit. Payment methods are essential for the smooth running of the transaction process. Users need to identify the most seamless payment method to minimise cost and transaction time.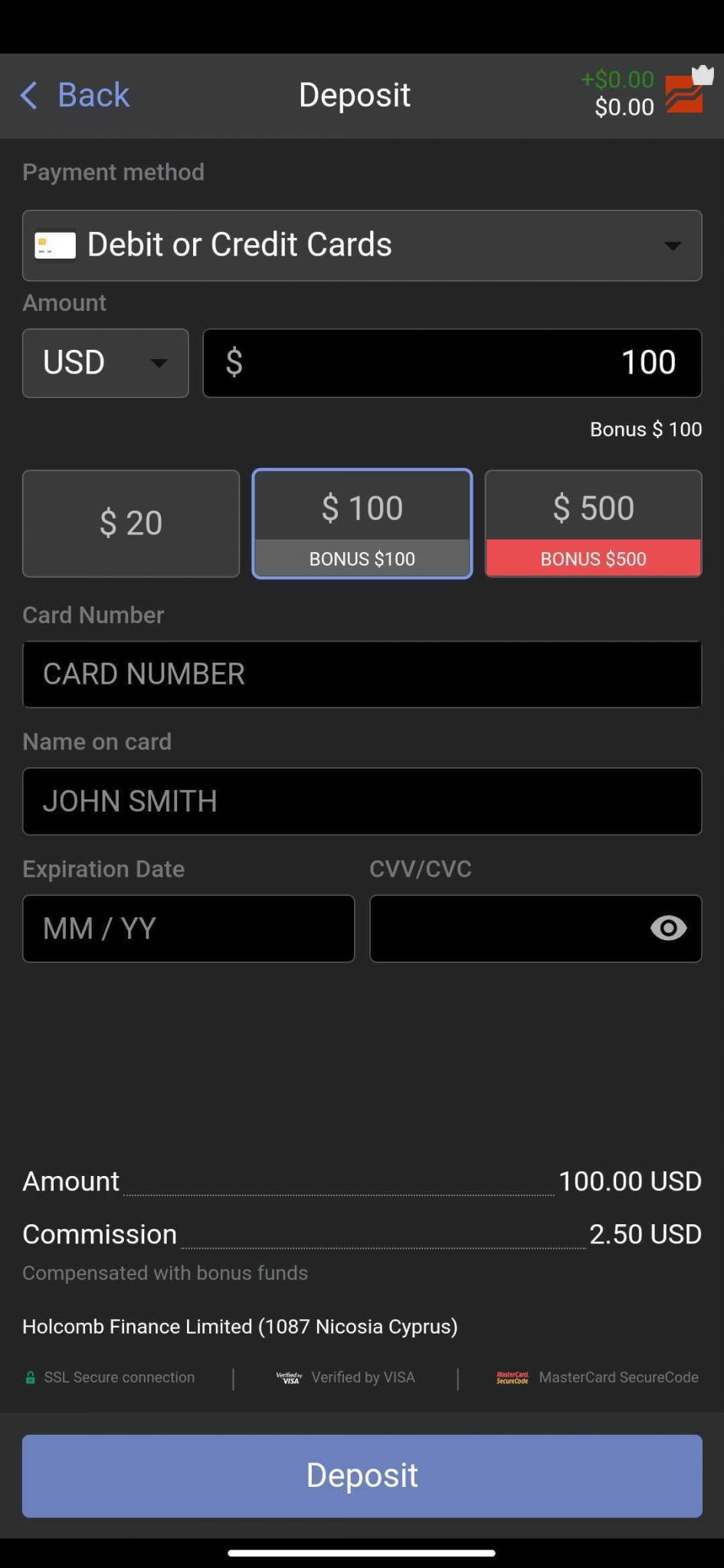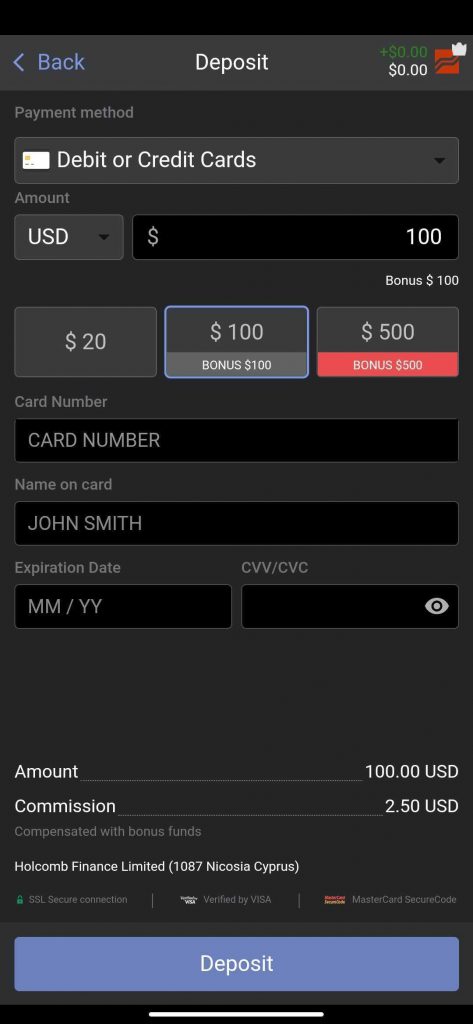 Libertex offers bucket loads of everyday payment solutions, including bank wire transfer, credit/debit cards, e-wallet solutions and even crypto transfers.
This gives you more flexibility in selecting a deposit medium. The minimum deposit amount required on a platform is usually a major setback for new and low-cost investors. Libertex sets a low bar for many and is a favoured spot for retail investors. You can easily start trading an ETF for as low as $20.
7. Regulation and security
The best ETF apps that offer optimal services are usually regulated. Some regulatory bodies, such as the Cyprus Securities and Exchange Commission (CySEC), provide financial security to users of ETF apps registered with the commission. In the event of a security breach, the CySEC ensures that users get insurance of up to $20,000 worth of their assets.
When considering investing in ETFs using an app, ensure that the platform you have chosen is protected by top-tier regulatory bodies to ensure that your funds are safeguarded. These regulatory bodies also provide additional security to the platform and implement measures to prevent hacking.
How to Download an ETF App & Start Trading
Buying ETFs should not be a hurdle for many and if it is, we show you in detailed steps how to get started on our recommended broker Libertex.
1. Sign up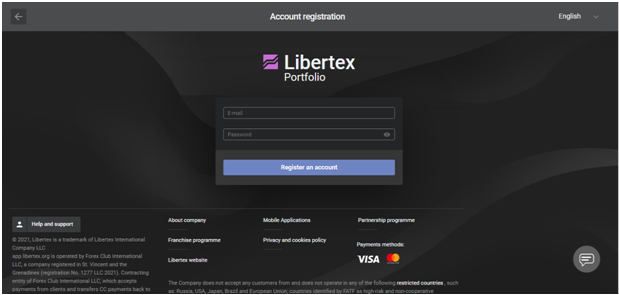 To trade ETFs commission-free on Libertex, you will need to register with the online broker. To do this, navigate to the Libertex homepage and click on 'Register' to open the registration portal. This does not take time and all you need to do is insert your email address and choose a strong password. Click on 'Register an account' when you are ready to proceed to the next stage.
2. Download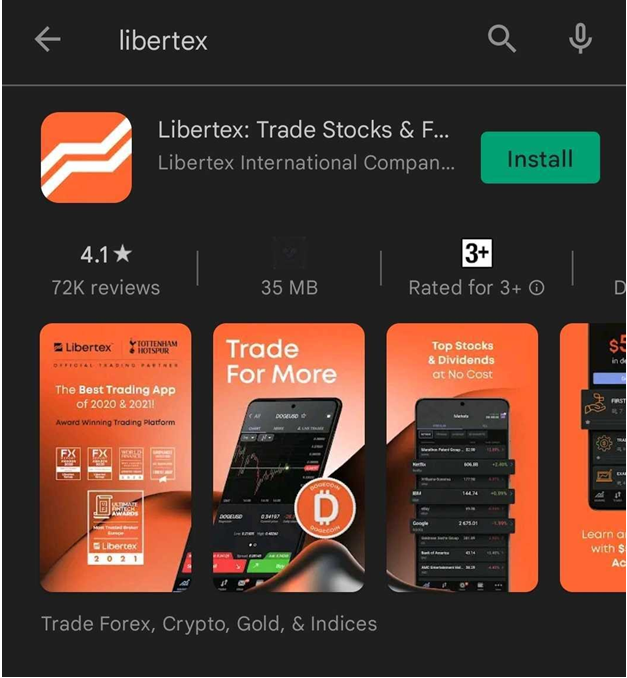 Now that you have completed your registration, you can download the Libertex app on your smartphone for convenience and easy trading. Libertex ETF app is compatible with both iOS and Android devices so you can head over to the Google and Apple App Store to get it.
Since we are reviewing with an Android device, we will be using the Google Play Store for our template. Once you are on the platform, click on the Search button and type in 'Libertex.' The corresponding image below will pop up, and you can then click on the 'Install' button to download the Libertex app.
Once the app is installed, sign in with your new credentials to proceed to the next stage.
3. Deposit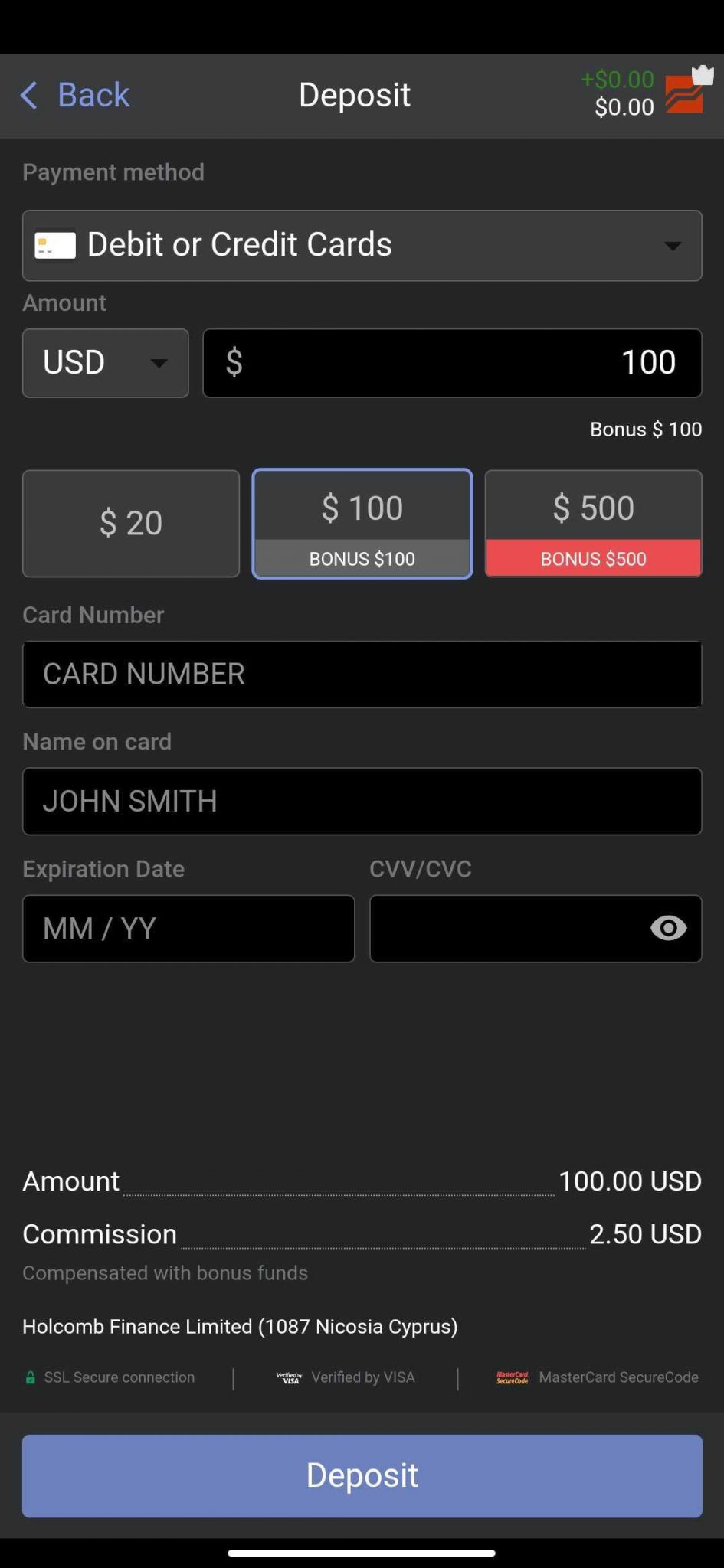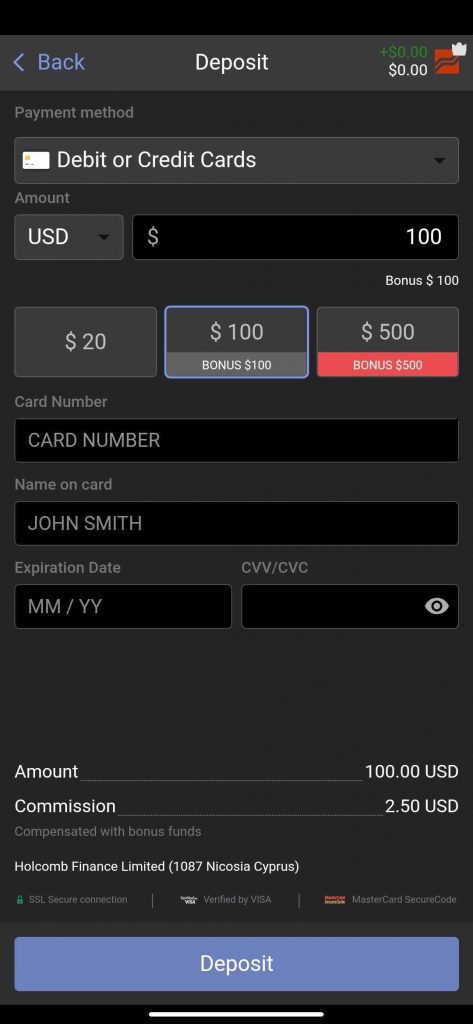 Libertex is a regulated ETF broker, which means you will need to complete the necessary know-your-customer (KYC) process to proceed. However, this process is simple; all you need to do is fill in your first and last names as stipulated in your official document. Also, input your date of birth (DOB) and mobile number.
Once these data are filled in, the Libertex app will allow you to make a deposit. The minimum deposit starts at $20, as shown in the image, and you can choose between using a debit/credit card, bank wire transfer, Skrill, Neteller, Webmoney, and even crypto transfers.
We will be working with a debit and credit card option, which means you will need to provide your card number, name, expiration date, and the Card Verification Value (CVV)number. Once you have inserted the necessary details, click on 'Deposit' to confirm your fund transfer.
4. Buy/Trade ETFs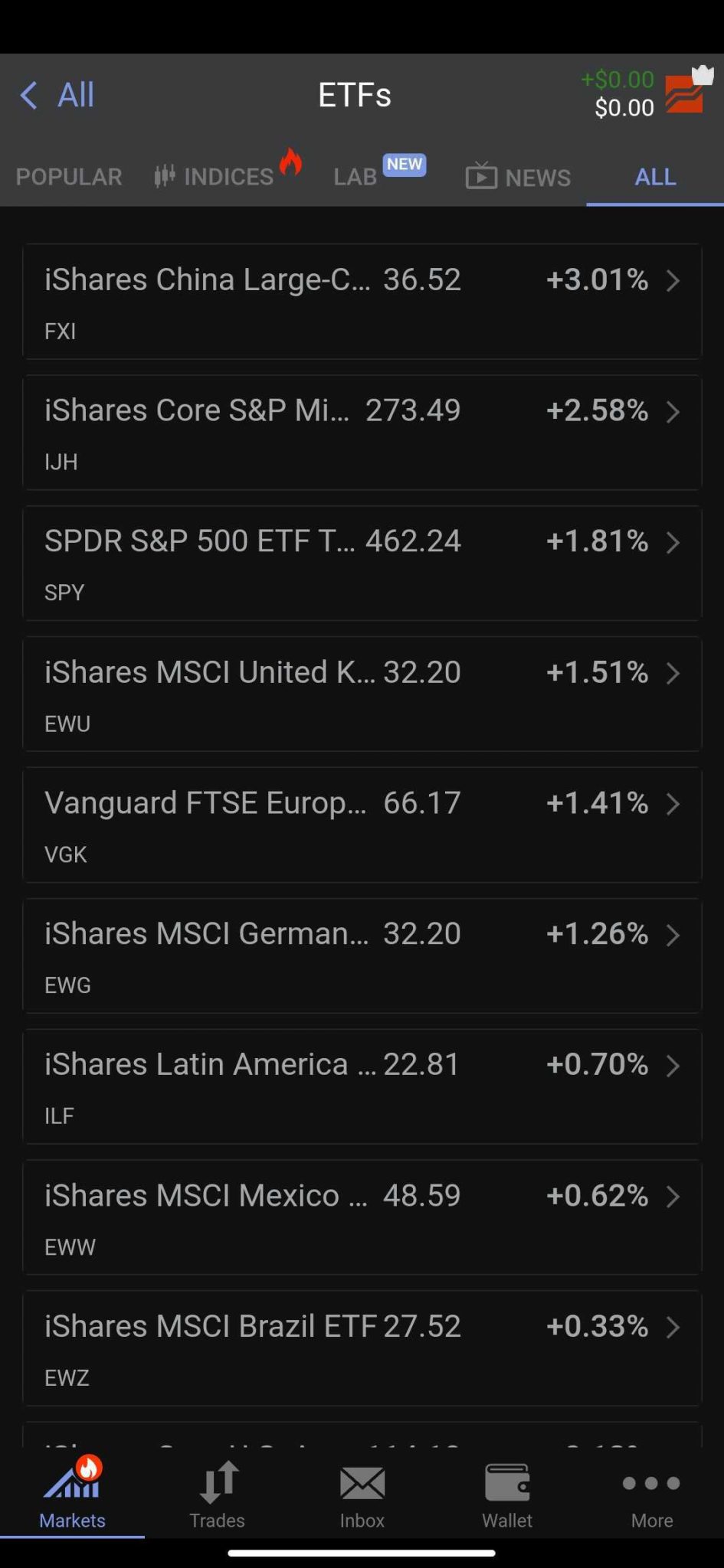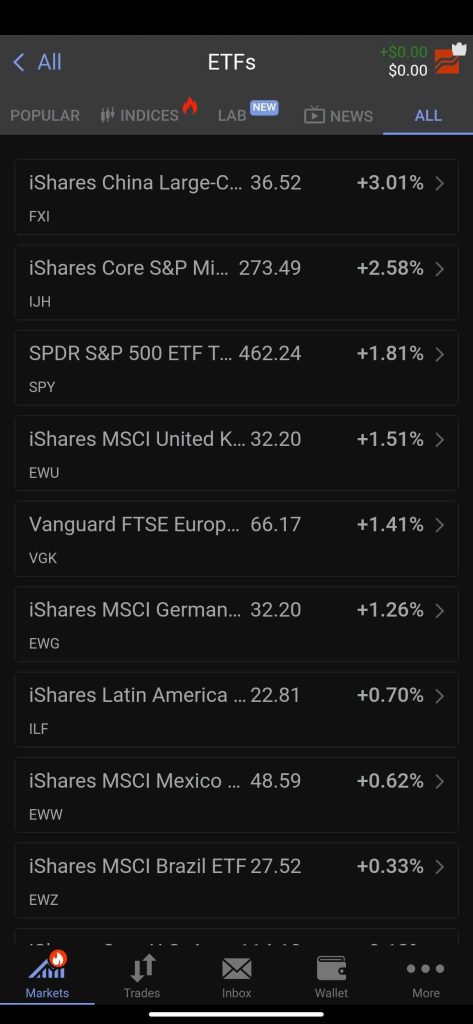 Once you have made your deposit, you can now buy and trade your preferred stocks and ETFs. Libertex offers ETFs primarily as contract for differences (CFDs), and you can buy and trade stocks of over 10 top-performing ETFs.
All you need to do is click on the 'Markets' tab and click on 'All' on the far-right hand corner. Then select 'ETF' to access the options the Libertex app offers. You will be presented with a list of top ETFs with their related performance in the last 24 hours. Scroll through and select the ETF you are interested in to start trading.
Conclusion
ETFs are one of the most lucrative and risk-free methods of generating wealth. Because ETFs are more cost-effective and have more liquidity, they are also one of the most accessible modes of investment. Within the last decade, investments in ETFs have grown at an exponential rate globally, amounting up to $7.74 trillion as compiled in 2022.
When investing in ETFs, there are several platforms available to guide new investors; however, when considering important factors such as fees, trading tools and range of ETFs, we recommend Libertex as the best platform for investors to trade ETFs.
When using the Libertex ETF App for the first time, new users get a welcome bonus amount of $100. Users are entitled to the welcome bonus after making a minimum deposit amount of $100. The platform also offers a 10% cashback of all trading commissions as a bonus converted into fiat currency.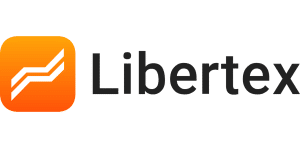 75.3% of retail investor accounts lose money when trading CFDs with this provider.
Frequently Asked Questions on ETF Apps in South Africa
What Is an ETF App?
An Exchange Traded Fund (ETF) App is a financial technology application that allows users to build a diversified portfolio by granting them exposure to various markets without taking ownership of the user's assets.
What Are Some ETF Apps?
Some ETF apps that can be used to trade include Libertex, FXVC, Avatrade, Plus500 and ABSA. Other ETF platforms are available for use, but the above-listed platforms are the most reliable.
What Is the Best ETF App South Africa?
After considering factors such as trading tools, fees, and trading experience, which are essential to a user's trading experience, Libertex is regarded as the best ETF app South Africa.
What Is the Cheapest ETF App?
Most ETF apps offer zero commission; however, hidden charges apply to some platforms. It is always a good idea to research the fees involved with using an app.