FNB Share Trading Review – Fees, Features, Pros and Cons Revealed
If you're based in South Africa and you wish to buy shares online, you will need to find a reliable and cost-effective stock broker. First National Bank (FNB) is a popular option in this respect, as the platform allows you to buy and sell stocks at the click of a button.
But, with so many stock brokers now offering their services to South African investors, you first need to assess whether or not FNB is right for you.
In our FNB share trading review, we explore everything you need to know about this stock broker. This covers key factors surrounding fees and commissions, tradable shares, supported payment methods, and the safety of your funds.
What is FNB?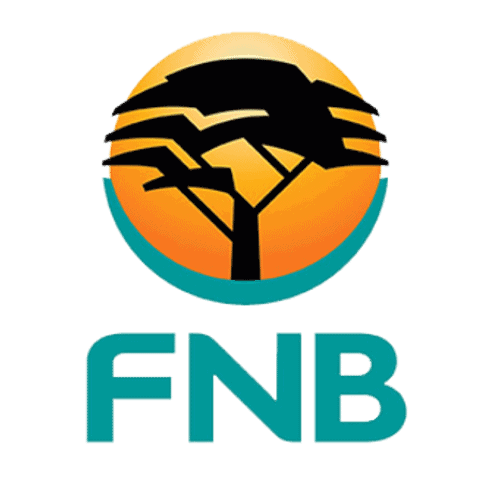 FNB is a leading South African bank that also offers share dealing services. This means that you will be able to buy and sell stocks from the comfort of your home. You can do this by opening an account with the platform, depositing funds, and then selecting which shares you wish to buy.
The provider is particularly useful if you want to buy stocks in companies that are listed on the Johannesburg Stock Exchange. This covers all of the firms that represent the JSE 40. You can also access companies from the Resources 10, Financial 15, and Industrial 25 indexes.
Outside of traditional stocks and shares, the FNB share trading platform allows you to access alternative assets. This includes CFDs (contracts-for-differences), ETFs (exchange-traded funds), bonds, and more.
For those of you that have little to no experience of investing on a DIY basis, the platform also offers managed accounts. This allows you to access the South African financial markets without you needing to spend countless hours researching stocks.
What Assets are on FNB?
Understanding what assets you will have access to prior to opening an account at FNB is crucial. With this in mind, below you will find a breakdown of the main investment classes supported by the platform.
Traditional Stocks
The hallmark asset class offered by FNB share investing is that of stocks. As we briefly covered above, this includes a significant number of domestic firms and some of the best shares to buy in South Africa. Whether that's Anglo American, Mr Price Group, Impala Platinum, Northern Platinum, or Prosus shares – you'll find the respective South African stock listed at FNB.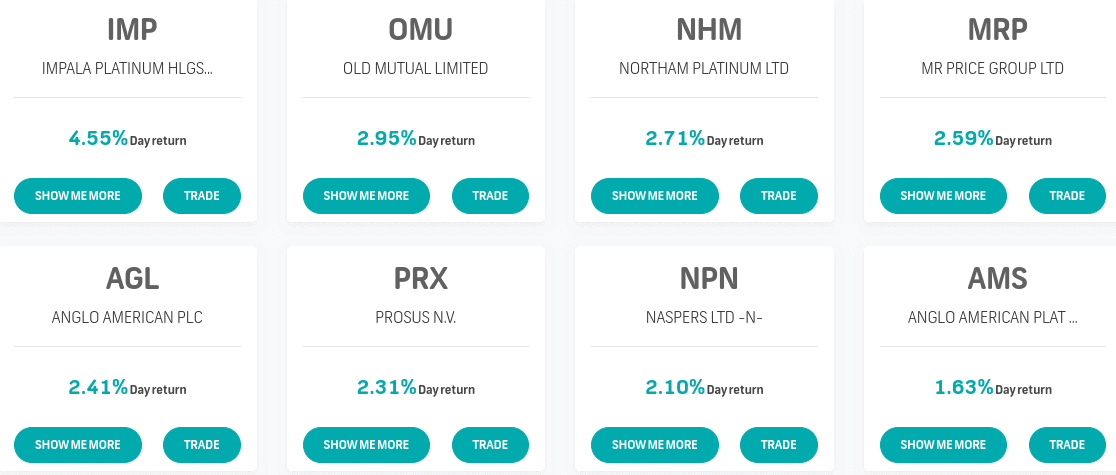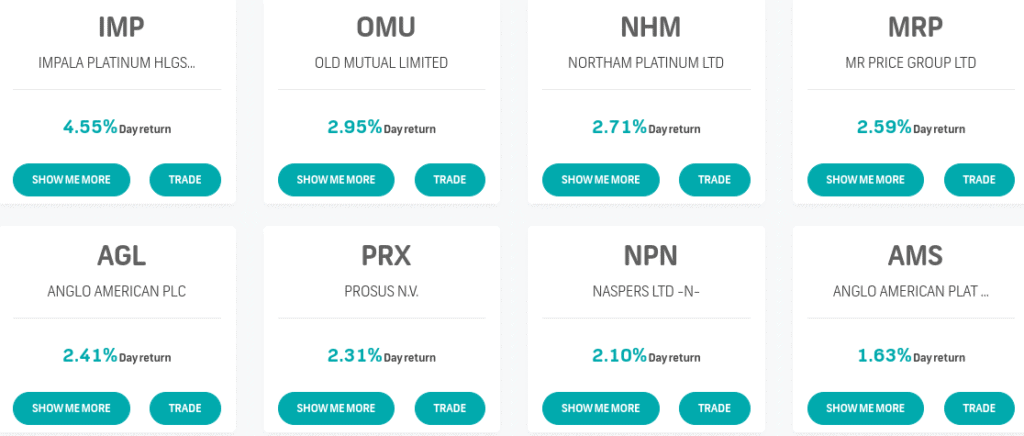 Interestingly, FNB is one of the few online brokers that allow you to buy preference shares. For those unaware, this means that you will receive a fixed dividend payment for as long as you hold the respective shares. This also means that you will get preference in the event the company ran into financial difficulties.
ETFs
ETFs are a great way to access to the South African financial markets in a fully diversified manner. This is because you will be able to buy shares in dozens of companies through a single trade. Some of the most popular ETFs at FNB are those that track the JSE 40. Put simply, this allows you to invest in each and every company that is a constituent of the index.
CFDs
Although most FNB clients focus on traditional stocks and ETFs, the platform also gives you access to CFDs. This is ideal for those of you that wish to trade with much more than you have in your account. You can do this at FNB by trading on margin. CFD instruments at the platform also give you exposure to more sophisticated asset classes. This includes the likes of oil, natural gas, and gold.
Warrant Bonds
FNB can also source warrant bonds for you. These are specialist financial products that give you the benefit of fixed interest payments. As the bonds have a 'warrant' attached, this gives you the option, but not the obligation, to purchase the shares in the company at a later date. The option can typically only be exercised when a certain stock price is met and within a predefined time-frame.
Unit Trusts
Unit trusts at FNB function like a traditional mutual fund. That is to say, the unit trust will hold a portfolio of assets on behalf of its investors. The key difference is that any subsequent profits will be distributed to investors of the trust, as opposed to being automatically re-invested. This allows you to take both a passive and active approach to investing.
Managed Portfolios
If you don't fancy picking assets on a DIY basis, FNB also offers managed portfolios. As the name suggests, this means that FNB removes the need for you to pick your own investments – as the entire process is managed on your behalf.


Not only does this suit inexperienced investors, but also those of you that don't have the required time to perform research and analysis. If this is something of interest, you will get to pick a managed portfolio based on the amount of risk you wish to take.
This includes:
Low to Moderate
Moderate
Moderate to High
High
As is to be expected, the lower the risk-rating, the lower the potential returns. For example, if you invest in a Low to Moderate risk managed portfolio, you are likely to have a basket that includes high-grade government securities and equities. At the other end of the spectrum, a High risk managed portfolio might target up and coming firms or sectors that are traditionally more volatile.
You can also break down each risk-rating by your prefered investing goals. For example, some managed portfolios target income, while others target growth.
FNB Share Trading Fees and Commissions
Put simply, the fee structure at FNB will ultimately depend on the type of financial product you wish to invest in.
To help clear the mist, below we list some of the main fees that you need to take into account.
Self-Managed
By taking a self-managed approach at FNB, this means that you will be 100% responsible for the investments you make. That is to say, you will need to perform your own research, and then decide which stocks, bonds, and other assets you wish to trade.
This is, of course, the most cost-effective option at the platform, not least because you won't be receiving third-party advice.
Monthly Fee: 87 rands
Dealing Fee: 0.50% (minimum of 100 rands)
So, irrespective of whether or not you place any trades, you will always need to pay a monthly fee of 87 rands. When you do trade, a share dealing fee of 0.50% comes into play. You will, however, need to meet a 100 rand minimum. This means that any investment of under 20,000 rands will always cost you 100 rand.
Whether or not this is competitive will depend on how much you invest.
For example:
If you purchased 15,000 rands worth of shares, a 100 rands commission would work out at 0.66%. This is reasonably competitive.
However, if you purchased 900 rands worth of shares, a 100 rands commission would work out at 11.11%. This is nothing short of astronomical.
Ultimately, the self-managed fees charged by FNB are only competitive if you plan to trade larger volumes. But, if you want to start off with smaller amounts, you will find the platform expensive. This doesn't need to be the case though, as platforms like Avatrade allow you to invest without paying a single rand in commission.
Fees on Share Dealing With Advice
If you don't feel comfortable with a self-managed investment account at FNB, then you might be considering its advisory services. This means that you will have the assistance of an FNB financial advisor. Naturally, this is going to cost you more than the self-managed account.
At the lower end, this will cost you just 0.35% per trade. However, the value of the order must be worth more than 1 million rands, which is huge. At the other end of the scale, any investment of less than 50,000 rands will carry a brokerage commission of 1.25%. This comes with a minimum of 150 rands.
Once again, this is very expensive. This is especially the case when you consider the number of mutual funds and ETFs that often charge sub-0.1% per year, and nothing on individual trades.
CFD Trading Fees
If you want to trade CFDs at FNB, then you will need to factor in the following charges:
0.35% commission at a minimum of 50 rands
Margin interest of between 0-1%
Overnight long/short positions of 0-2.50%
The main fee that stands out for us is the 0.35% commission that is applicable on all CFD trades. To put that into perspective, there are heaps of South African platforms that allow you to trade CFD instruments on a commission-free basis. Whether that's Avatrade, Plus500, Capital.com, or FXCM – not a single rand in commission is charged when you enter buy and sell positions on CFDs.
Other Fees at FNB
Upon breaking the fee system down further, there are several, other charges that you need to be made aware of.
This includes:
A Securities Transfer Tax (STT) of 0.25%
0.25% annual fee when investing in certain funds. You can check which funds are applicable at FNB.
Live market pricing is charged at 125 rands and 445 rands on non-professional and professional accounts, respectively. If you don't want to pay for live data, the information is delayed by 15 minutes.
All in all, we would have to conclude that the FNB share trading platform is somewhat expensive to use – especially when investing small amounts. That is to say, there are certainly more cost-effective options available to South African traders.
FNB Account Types
FNB splits its accounts into two main types – non-professional and professional. You will then have the option of choosing your specific sub-account. This includes the previously mentioned stockbroking, CFD stock trading, managed portfolios, and so on.
With that being said, you will need to open an account with FNB before you get to choose your specific investment service. As we uncover in more detail later on, this can be completed online.
FNB Share Trading Platforms
Everything at the FNB share trading platform is facilitated via your online banking account. This is why you are required to open an account with FNB itself. The platform does not offer support for any third-party trading platforms like MetaTrader 4/5 or ZuluTrader, so FNB is somewhat limited in this department.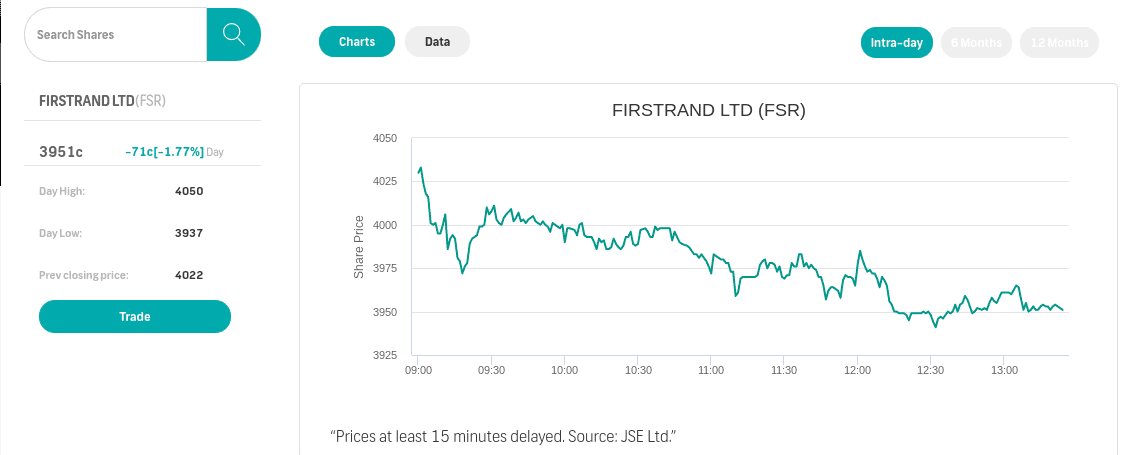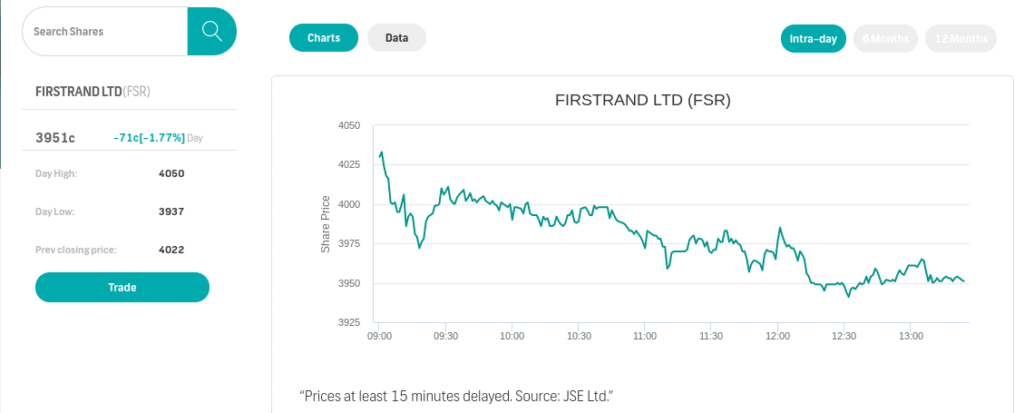 Features and Tools
FNB offers a select number of features and tools that we are yet to discuss. Below you will find a break down of what is on offer.
FNB Share Saver
The FNB Share Saver allows you to invest in a ready-made portfolio from as little as 300R. You can invest locally in South African companies, or you can invest in offshore portfolios starting from 500R. A Tailored Portfolio will cost you a management fee of between 0.70% and 1.15% – which is charged every month. There are also brokerage fees of 0.35% per trade.
FNB Share Builder
This allows you to invest in a pre-selected basket of shares and ETFs. The baskets are made up of diversified shares that are put through a strict selection process. The FNB share builder also allows you to invest in gold in the form of Krugerrands.
FNB Share Investor
The FNB Share Investor feature puts you in complete control of the assets you invest in. You can select from the full range of JSE-listed shares, ETFs, ETNs and Krugerrands. This service provides price alerts the Share Swarm tool that allows you to easily monitor the daily performance of JSE shares.
Security-Based Lending
One of the stand-out features available at FNB is that of its security-based lending offering. Put simply, this allows you to invest in assets via financing. The amount that you borrow is backed by assets you currently hold in your FNB portfolio.
The size of your portfolio will also dictate how much financing you are able to get. Crucially, this allows you to invest in your chosen financial instrument without you needing to sell some of your current holdings.
Market Insights
FNB offers highly in-depth market insights. This is ideal if you want to tap into the mind of an experienced in-house investor. For example, the platform provides weekly trade ideas.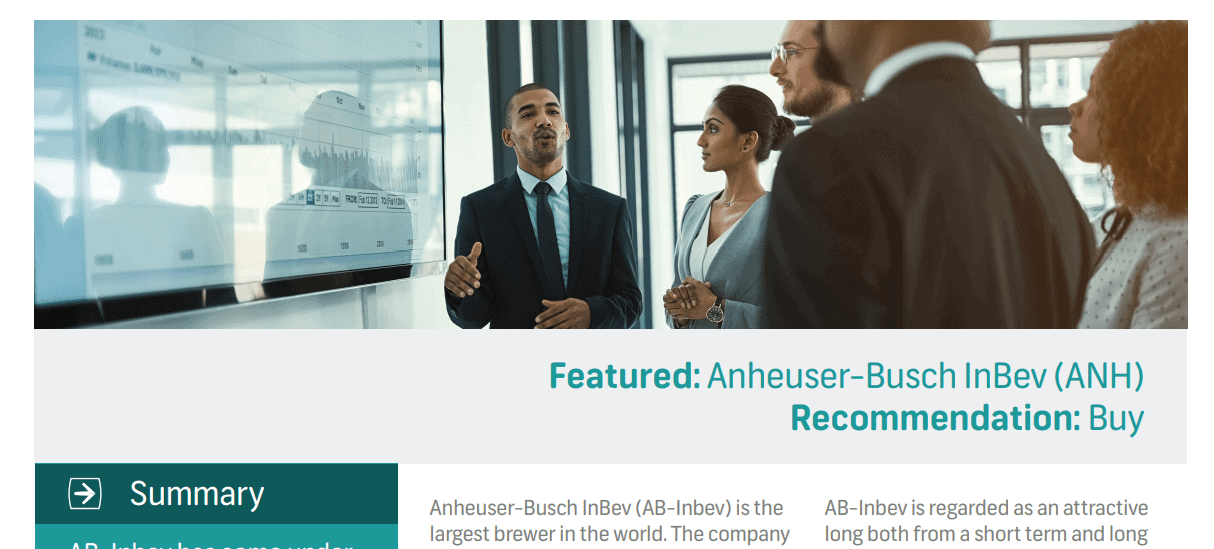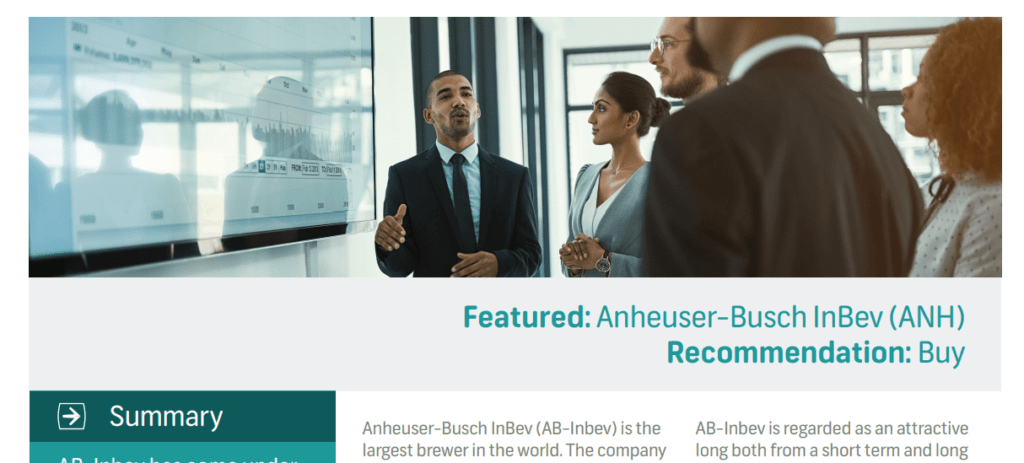 This will focus on a select number of trading opportunities, covering key factors surrounding the technicals and fundamentals. You will also have access to daily market commentary. This focuses on key market developments from the previous day.
FNB Share Investor Calculator
This is an easy-to-use tool that you can use to calculate a range of factors, including trade cost, cost per share, VAT, brokerage fee, gross consideration and more. All you need to do it enter the number of shares you want to buy and the price per share.
Deposits and Withdrawals
As we previously discussed, FNB requires you to open an account in order to invest in assets. You will also need to make your investment via your FNB online bank account. With this in mind, the investment funds will be taken from your bank account. When it comes to cashing out your investments, the funds will subsequently be placed into your FNB account.
However, you do have a couple of options when it comes to funding your brokerage account externally. This includes a non-FNB bank transfer or a cheque. Take note, there is an initial minimum deposit of 25,000 rands at FNB, which is much higher than other South Africa stock brokers in the space.
Is FNB Share Investing Safe?
FNB is a highly established South African financial institution. As such, the platform is heavily regulated. You should have no concerns about the safety of your funds with this broker. In terms of the platform itself, FNB  is backed by 128-bit encryption. This ensures that your account details do not get into the wrong hands.
FNB Contact Customer Service South Africa
As is often the case with traditional share brokers like FNB, there is no live chat facility available. Instead, you will either need to fill out an online contact form or send an email to [email protected].
How to Get Started With FNB?
If you like the sound of what the FNB share trading platform offers, we are now going to run you through the steps required to get started right now.
Step 1: Open an Account With FNB
The first stage of the process will require you to head over to the FNB website and click on the 'Open Account' button. You will now need to provide some personal information.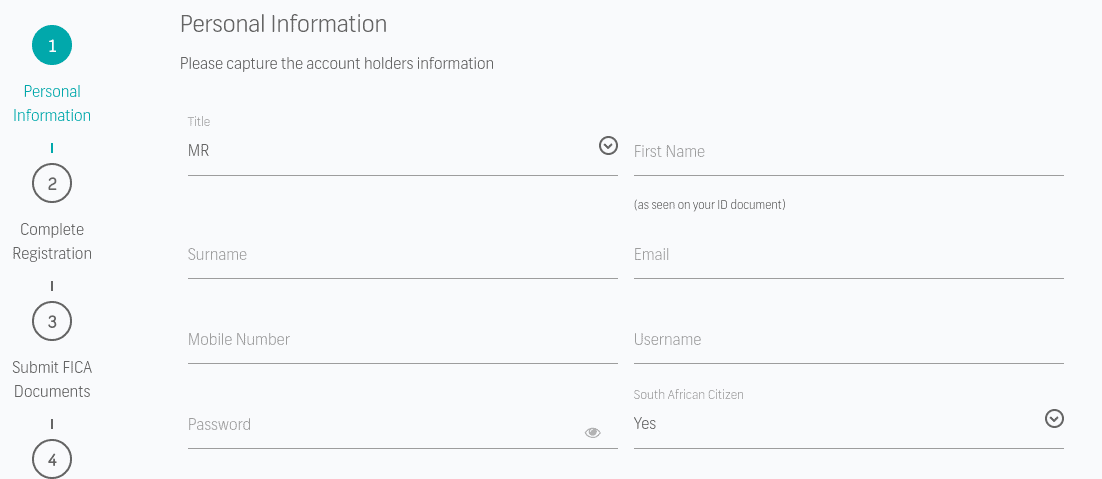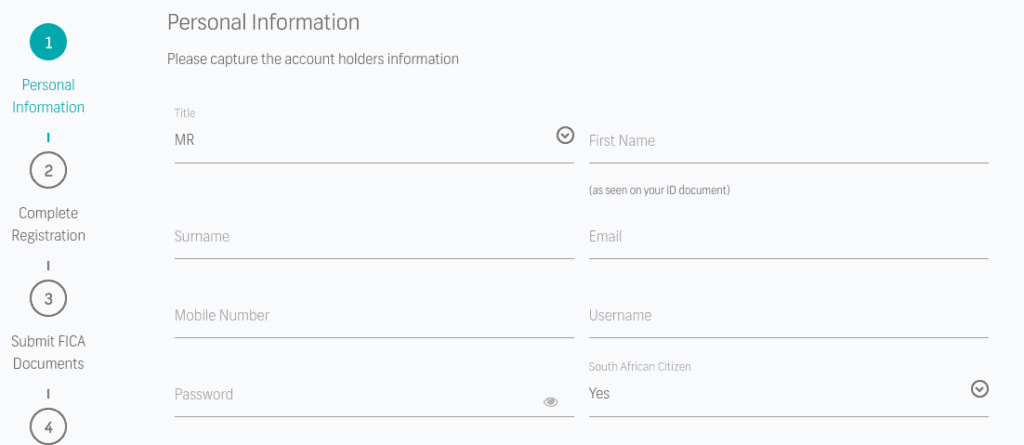 This includes your:
Full name
Home address
Date of birth
Contact details
Government-issued ID
In order to remain compliant with South African laws, FNB will ask you to upload some FICA documents. The specific documents that are asked from you will depend on what information FNB needs clarifying.
Step 2: Choose Your Investment Account Type
Next, you will need to select the type of investment account that you wish to open.

Step 3: Deposit Funds
Once you receive an email confirming that your account has been opened, you will be able to deposit some funds. If you already have a bank account with the provider, you can simply transfer funds from your online banking portal.
If not, you can deposit funds from an external bank account or via cheque. You can also transfer securities from an external stock broker. You will need to contact FNB to arrange this.
Step 4: Invest
Once your FNB share investing account has been funded, you can then start investing. The financial products that you have available to you will depend on the account type you opened.
FNB Share Trading vs Avatrade
If you have read our FNB review up to this point, then you will know that the broker falls short in several areas. With this in mind, we decided to do a comparison with the popular broker Avatrade. First and foremost, we looked at the difference in share dealing charges. While FNB charges a costly 0.50% commission with a 100 rands minimum, Avatrade charges nothing. Furthermore, while FNB charges a monthly account fee of 87 rands, Avatrade is a fee-free platform.
When it comes to the asset library, Avatrade offers over 600 shares from many international markets. However, the broker does not give you access to South African shares. You will have access to heaps of other asset classes though – such as indices, ETFs, commodities, cryptocurrencies, and forex. Also, Avatrade provide a whole host of educational materials, including how-to guides, tutorials, videos, and much more.
We should also make reference to account minimums. Avatrade has a minimum deposit of $100, which amounts to about 1,352 rands. In the case of FNB, this stands at 25,000 rands. This could make it unaffordable for those of you that wish to start off with smaller amounts.
FNB Share Trading Pros and Cons
Pros
Buy and sell shares listed on the Johannesburg Stock Exchange
Invest in other asset classes like ETFs and warrant bonds
CFD trading available
Security-based lending
Established financial institution
Cons
Very expensive – especially if you want to trade small volumes
A minimum deposit of 25,000 rands
No direct debit/credit card payments
Outdated trading platform
FNB Share Trading Review – The Verdict
In summary, it is notable that FNB allows you to invest in a range of South African financial products. Whether that's JSE shares or domestic warrant bonds – FNB has you covered. However, it must be noted that there are much better options out there for South African traders.
At the forefront of this is Avatrade. The platform is home to huge numbers of traders around the world, and allows you to buy shares on a commission-free basis and does not charge any monthly/annual fees. You can also open an account in minutes, deposit funds with a South African debit/credit card, bank account, or e-wallet, and then invest in over 600 shares.
If you want to join Avatrade, you can do so by clicking on the link below!
Avatrade – Buy Shares with Zero Commission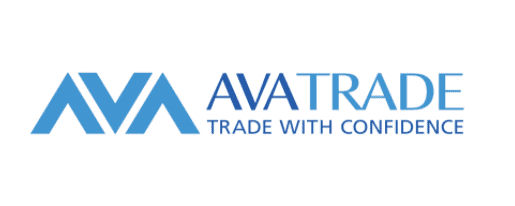 FAQs
What shares does FNB offer?
FNB's main focus is JSE shares. It covers all of the JSE 40 index, alongside several other domestic firms. You can also invest in an offshore portfolio, albeit, the fees are somewhat high.
How much does FNB charge?
FNB has a pricing structure that varies depending on what you are looking to invest in. It also offers different rated depending on how much you invest. To give you an idea of what you will pay, a standard share purchase will cost you 0.5%, at a minimum commission of 100 rands.
Does FNB charge a monthly fee?
Yes, standard self-managed accounts come with a monthly fee of 87 rands.
Does FNB offer managed portfolios?
Yes, you will have access to a selection of managed portfolios that are categorized by risk. You can also choose a portfolio based on your long-term investing goals, such as those that focus on income or growth.
What is the FNB minimum deposit?
FNB requires a minimum deposit of 25,000 rands.
Does FNB support MT4 on its CFD trading platform?
No, MT4 is not supported. Everything must go through the main FNB website.
Does FNB ask for documents?
In most cases, yes. The platform will let you know what documents it needs after you have applied for an account. If you already have a bank account with FNB, you should be able to start investing straight away without submitting any documents.