How to Buy Polkadot South Africa – Beginner's Guide
Since it's inception in 2017, the Polkadot project hasn't caught the attention of the masses. The polkadot coin, which started trading on Kraken on August 18, 2020, has not performed so well. In the first months of trading, it was not known in the crypto community. But since the beginning of the year, this unique blockchain ecosystem along with the Polkadot token seems to be the hot topic of the moment in the cryptocurrency world.
Right now, Polkadot is the sixth-largest cryptocurrency by market cap with a total valuation of over $34billion. So far this year, this coin gained more than 300% in just two months of trading, outperforming bitcoin, ethereum, bitcoin cash, litecoin and other extremely popular crypto coins.
So, if you are based in South Africa and looking to buy Polkadot coin, this guide is for you. We'll help you find a cryptocurrency exchange that offers you to buy Polkadot. We'll also analyze the coin's performance since it's ICO and find out the costs to buy Polkadot. Finally, we'll outline the different ways in which you can buy Polkadot in South Africa and show you a step-by-step process to invest in the coin.
How to Buy Polkadot South Africa – Step by Step Guide 2020
If you are keen to buy Polkadot coin right now, simply follow the steps below to open an account with Libertex to start the buying process.
Open an account with Libertex – First, you need to open a trading account with an online trading platform that supports Polkadot. Libertex is one of the few marketplaces in SA that support the coin, in addition to 250 tradable assets.  

Verify your account – Nowadays, the vast majority of brokerage firms require new users to verify their identity as a condition of trading. As such, you'll have to submit your personal information and upload documents to verify your identity. 
Deposit Funds – Next, you can add funds to your account. Libertex supports a large variety of payments including SEPA bank transfers, credit and debit cards, as well as a range of banking solutions including eWallet payment methods. To get started, the broker maintains a minimum deposit requirement of just $10.
Buy Polkadot – That's it. Now that your account is approved and funded, all you need to do is to search for Polkadot on Libertex's crypto trading platform and place a buying order.
What is Polkadot?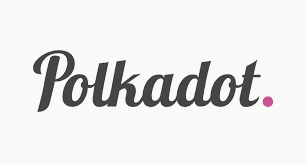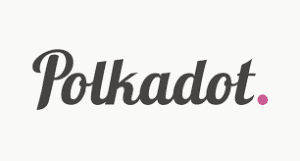 In simple terms, Polkadot is a multi-chain blockchain network that seeks to connect different blockchain networks into a single unified network. This new type of blockchain technology and crypto coin enables the transfer of data, including tokens, across different blockchains via different Polkadot wallets. What makes Polkadot unique is that this project tries to integrate all the different blockchains under one blockchain network. Or, in other words, the Polkadot network connects several chains into a single network.
Another feature that is exclusive to Polkadot is that it allows users to create a custom blockchain in minutes using the Substrate framework. Then, users can connect the new chain to the Polkadot multi-chain network.
The network was founded in 2016 by Gavin Wood, the co-founder of Ethereum (ETH), along with Robert Habermeier and Peter Czaban who together have created the Web3 Foundation. In October 2017, the group raised over $140 million in its ICO when they released the Polkadot (DOT) token. In total, the Polkadot coin has a circulating supply of 914,445,801 DOT coins. The symbol of the Polkadot coin versus the US Dollar is DOT1/USDT.
Why Buy Polkadot? Polkadot Analysis
Since the beginning of the year, the hype around Polkadot has increased rapidly. In just two months, the coin gained over 300%, rising from $9.36 on January 1st to its current price at around $37. Presently, Polkadot's total market is slightly above $34 billion, making it the sixth-largest cryptocurrency in the world in terms of market capitalization.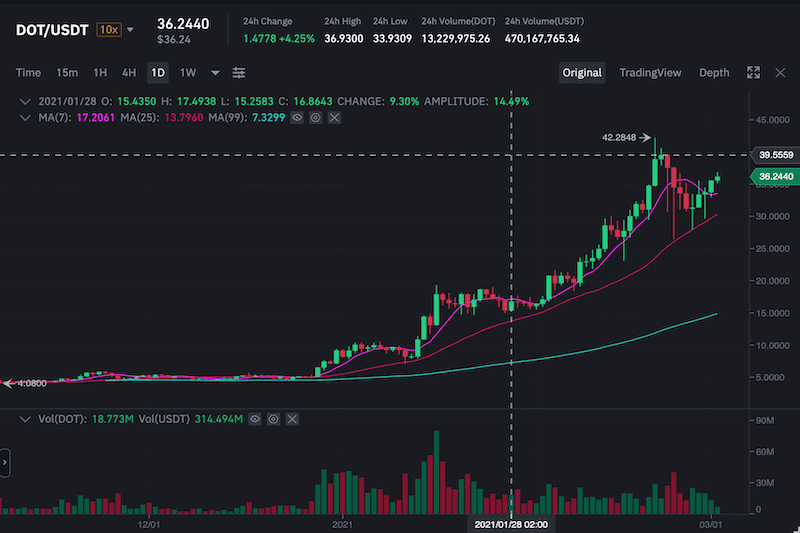 This has led many analysts and crypto investors to believe that Polkadot has the potential to take over Ethereum, and becoming the dominant altcoin in the cryptocurrency market. Polkadot is sort of a blockchain for several blockchains and can significantly reduce costs in comparison to other networks like Bitcoin, TRON, EOS, and Ethereum. Notably, the vast majority of Polkadot users are developers, largely due to the sophisticated open-source technology behind the system.
In that aspect, Polkadot is a much better long-term investment than many other crypto coins in the market like Dogecoin. The coin has value and thus, some believe it has the potential to reach $100 per coin in the near future. At the same time, you need to take into account the speculative nature of the cryptocurrency market. In this market, investors often have a herd mentality of buying trendy cryptocurrencies, which makes these assets overpriced and risky.
Polkadot Price – How Much Does it Cost to Buy Polkadot?
As of early March 2021, the Polkadot price stands at around $37 per one coin. This represents an increase of over 300% since the beginning of the year, meaning that Polkadot is outperforming the majority of other crypto coins including Bitcoin, Ethereurm, Cardano (ADA), Binance Coin, Chainlink, and other popular altcoins. Since August, when the coin was trading at $2.87, Polkadot has had an outstanding return of around 1220%.
As a result, the total market cap of Polkadot is currently set at over $34 billion, making the coin the sixth-largest digital asset in the world after Bitcoin, Ethereum, Cardano, BNB, and Tether.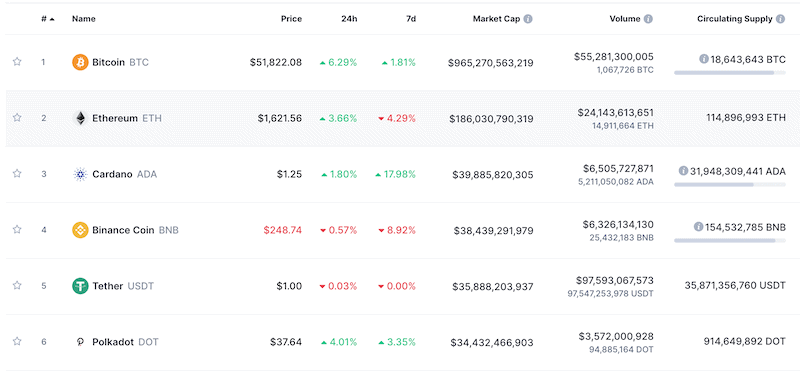 Ways of Buying Polkadot
In order to buy Polkadot coin, you'll have to find a cryptocurrency exchange that supports this coin, or a CFD platform that enables you to speculate on Polkadot's price. Fortunately, you can buy Polkadot coin with different payment methods that include PayPal, debit/credit card, and Bitcoin.
Buy Polkadot with Debit/Credit Card
Though many bitcoin exchanges now accept credit and debit cards as a payment option, the easiest and most cost-effective to buy the Polkadot coin with a fiat currency in South Africa is through Libertex – an online Forex and CFD broker regulated by CySEC and FSC.
The process is extremely simple – all you have to do is to sign up for an account with Libertex, deposit funds with a credit or debit card, and search for Polkadot on Libertex's trading dashboard. Also, Libertex does not charge any fees for depositing and withdrawing funds with a credit/debit card so the only fee you'll have to take into consideration is the fee from your credit card.
Buy Polkadot with PayPal
Unfortunately, purchasing cryptocurrencies with PayPal is still a challenge and requires an effort. But if you insist on buying Polkadot with PayPal, there are two options to choose from. First, you can open a Binance account and use PayPal for peer-to-peer (P2P) trading. If you are not familiar with P2P, it is essentially an internal system that allows users to directly buy and sell cryptocurrencies with other users on the network.
Binance accepts PayPal as a payment method, however, you'll not be able to buy Polkadot coin on the Binance P2P network. Instead, you first need to buy bitcoin via P2P, and then once you hold bitcoins on Binance, you can simply navigate to the Markets tab on the top menu bar and search for DOT.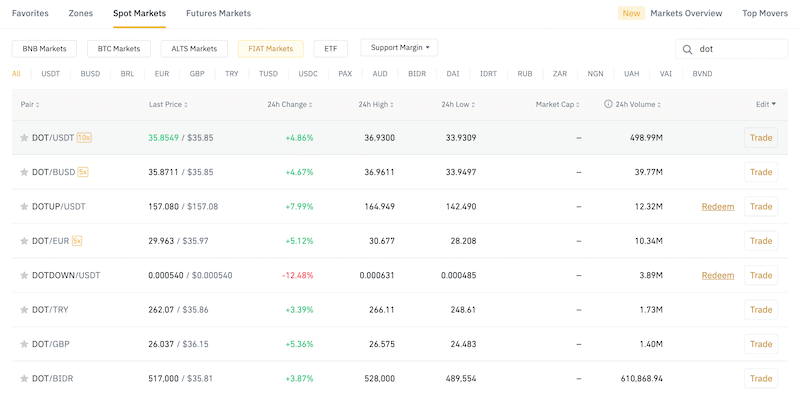 Then, you'll be channeled to the Polkadot instrument page where you can view the level 2 order book and insert a buying order.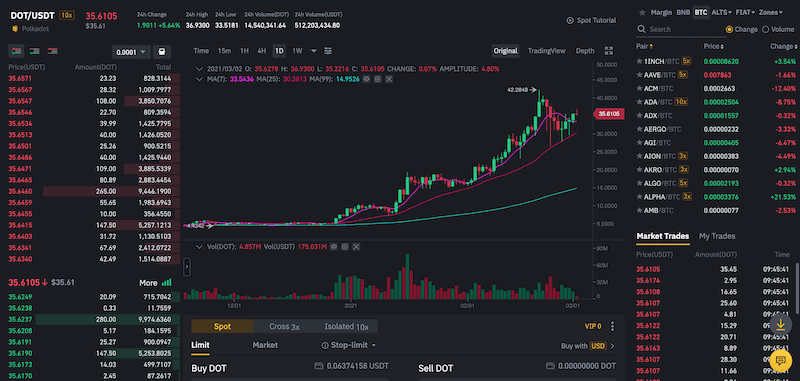 Another option to buy bitcoin with PayPal is through eToro. This FCA-regulated platform enables you to buy bitcoin with PayPal and store the coin on its multi-crypto secure digital wallet. The eToro money crypto wallet is available on Apple Store and Google Play and allows you to buy, store, receive and transfer more than 120 cryptocurrencies.
Then, you need to transfer your bitcoin from your eToro mobile app wallet to Binance and exchange bitcoin to Polkadot.
Buy Polkadot with Bitcoin
The last option to buy Polkadot is with Bitcoin. In case you hold bitcoin and want to buy the Polkadot coin, many digital assets and bitcoin trading platforms enable you to exchange Bitcoin with another crypto asset without verifying your identity. One such crypto exchange is Binance, which is the largest cryptocurrency exchange in terms of liquidity and daily trading volume.
Where to Buy Polkadot in South Africa
As mentioned previously, there are only a few crypto exchanges and online brokerage firms out there that provide Polkadot coin. To help you find the right direction, below we outline two of the best crypto trading platforms that are available and regulated in South Africa.
1. eToro – Overall Best Cryptocurrency Platform in South Africa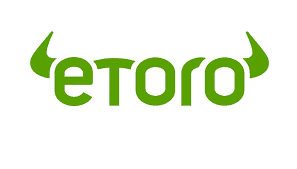 eToro is an online trading platform that lets clients trade some of the world's most popular assets, including digital assets. This FCA-regulated broker offers various cryptocurrencies on its platform, with a leverage ratio of 2:1 on all digital assets. In addition, eToro is a commission-free platform so you won't have to pay high fixed trading fees every time you buy a crypto coin. Instead, eToro makes money by charging a spread on assets.
Another reason to choose this platform is that it enables users to connect with each other, and even copy the trades of other users on its network. The tool, called CopyTrade, enables a popular form of automated trading in which a user can choose another top-performing investor and the system automatically copy the trading activity of the chosen investor. More than that, eToro offers users to invest in built-in CopyPortfolios which are a collection of assets based on predefined sector, market, and region.
Overall, the eToro platform is extremely easy to use and intuitive. Trading with eToro does not require any trading skills and previous knowledge. The navigation on the platform is organized to enable users to easily find assets, analyze the markets, and place orders. In addition, eToro is a CFD broker and as such, you can easily short sell digital assets and therefore profit from falling prices of crypto coins.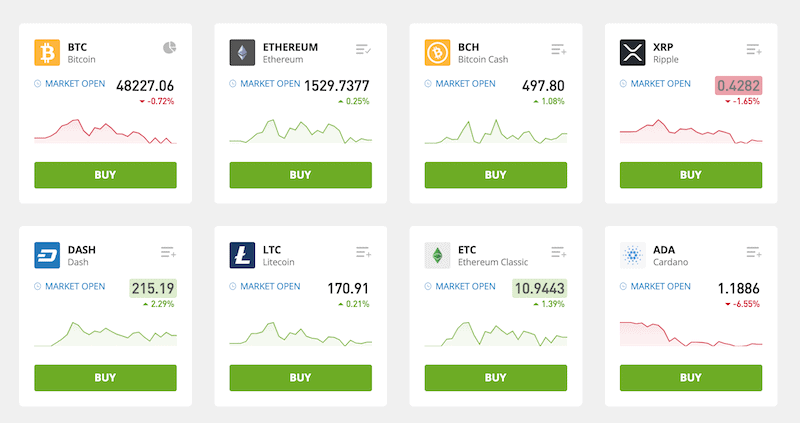 Finally, eToro is regulated by top financial agencies that include CySEC, FCA, and ASIC. The broker accepts South African clients and requires a minimum deposit of $200 to get started (which is around ZAR 3000 South African Rand).
Pros
Commission-free trading platform
Largest social trading platform in the world with 17 million users
Accepts a variety of payment methods
Supports copy trading and copy-portfolios
Fully regulated in South Africa
Wide range of markets and products
Cons
Charges a withdrawal fee of $5
Not suitable for advanced day traders
Cryptoassets are highly volatile unregulated investment products. No EU investor protection.
2. Libertex – Buy Polkadot in South Africa with Low Fees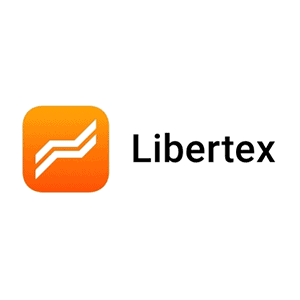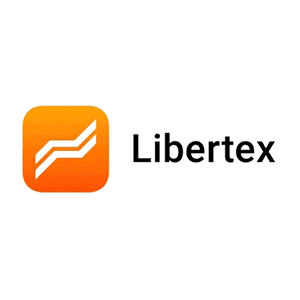 Another excellent choice for SA users looking to buy Polkadot coin is Libertex, a Russian-based popular CFD platform that was founded in 1997. On this platform, traders get access to a huge range of CFD products across different markets that include currencies, shares, indices, ETFs, metals, oil and gas, agriculture, and cryptocurrencies. Crucially, Libertex is one of the few commission-free online trading platforms in the market that currently enables users to trade the Polkadot coin. On top of that, Libertex has a huge selection of 52 cryptocurrencies on its platform.
But unlike other brokerage firms in the market, Libertex is ideal for experienced investors that want to get access to more professional trading platforms. Apart from its own web-based proprietary trading platform, Libertex also provides access to the MetaTrader4, which is one of the most popular trading platforms in the market. More than that, it offers a suite of research features and analysis that include a market sentiment tool on all products, news, signals, automated trading tools and the option to trade on a demonstration account.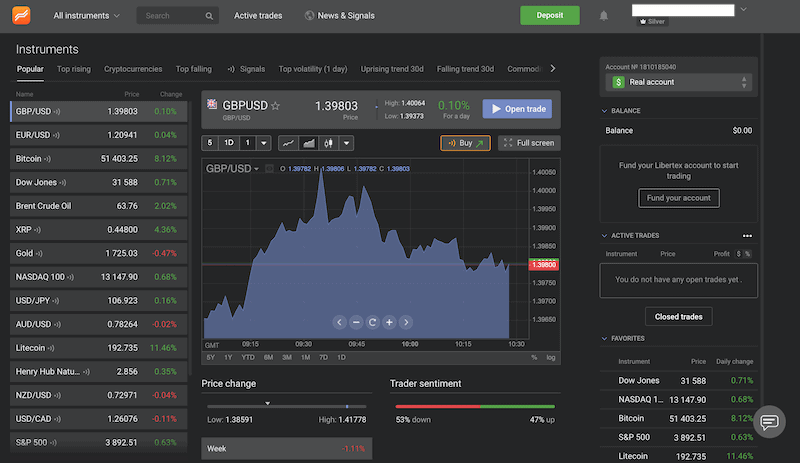 When it comes to trading fees, Libertex is one of the most cost-effective trading platforms in South Africa. For example, if you decide to trade Polkadot, you'll have to pay a variable spread of around 3-6 pips. Another benefit of trading with Libertex is that you can actually trade without paying any spreads with a minimum deposit of just $100. 
Though Libertex is not FCA-regulated, it is regulated by the Cyprus Securities and Exchange Commission (CySEC) with CIF Licence number 164/12 and accepts clients from South Africa. All in all, Libertex is one of the best platforms for South African investors to buy Polkadot coin.
Pros:
Commission free trading platform
Very competitive spreads
One of the few commission free platform that supports Polkadot coin
Founded in 1997, and is regulated CySEC
Offers a wide range of products and markets
Supports the Meta Trader4
Plenty of tools and features
Cons:
Only CFDs
Not a social trading platform
75.3% of retail investor accounts lose money when trading CFDs with this provider.
How to Buy Polkadot (DOT) Tutorial
If you are ready to buy Polkadot coin, we are now going to show the easiest way to do so. Our step-by-step process will guide you through the procedure. Notably, in this tutorial, we show you how to buy Polkadot coin via Libertex, however, bear in mind that the process remains largely the same regardless of which trading platform you decide to use.
Step 1: Open an Account
The first thing you need to do is to open an online trading account with Libertex. To get started, visit Libertex's homepage and click on the Register button. You will then be asked to enter your email address and create a password.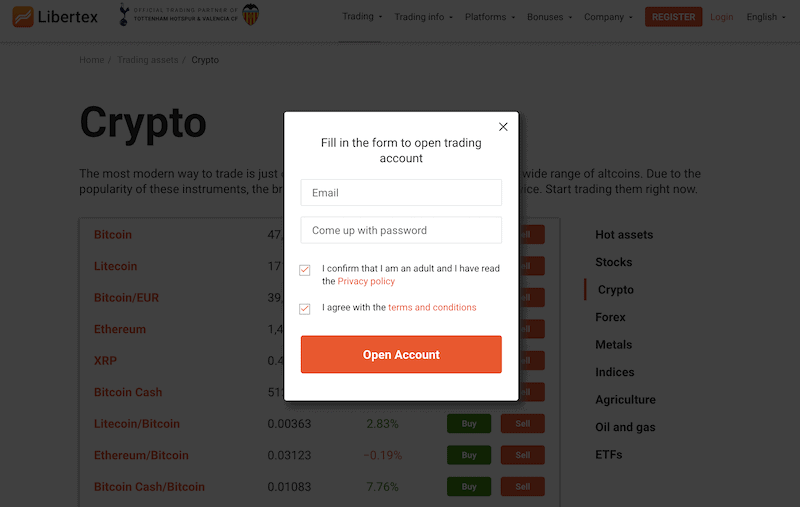 Next, you will immediately be taken to Libertex web-based trading platform where you can manage your account and start trading. But before you'll be able to place an order in the market, you must submit personal information and verify your identity.
Step 2: Verify Your Identity
In the next step, Libertex will ask you to verify your identity. As such, you'll have to submit some additional personal information and upload a double-page scan colored copy of your open passport or any other National ID. In addition, you need to upload a copy of a utility bill or bank statement issued within the last 6 months.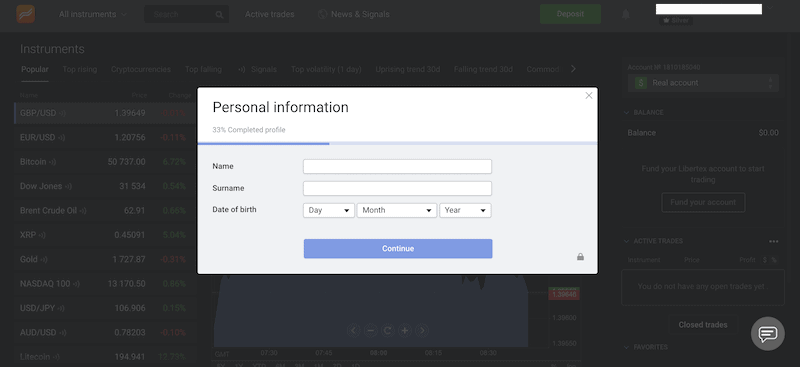 Step 3: Deposit Funds
Now you can add funds to your Libertex account. The minimum deposit amount at Libertex starts at $10 and the broker supports a wide range of payment methods that include a credit/debit card, bank wire transfer, Sofort, iDeal, GiroPay, Skrill, Trustly, Neteller, etc.
Step 4: Buy Polkadot (DOT) Coin
In order to buy Polkadot coin, you'll have to navigate to the search bar on Libertex's trading dashboard and type in Polkadot. Then, click on the Open Trade button on the first result that pops up to be transferred to an order form.

On the next page, you can place an order to instantly buy Polkadot coin. Simply insert the amount you wish to invest in Polkadot and the leverage ratio you wish to apply to your investment (as shown in the picture below). Bear in mind that Libertex complies with the laws and regulations in South Africa and as such it offers a leverage ratio of 2:1 on cryptocurrencies. Finally, click on Buy to complete your purchase.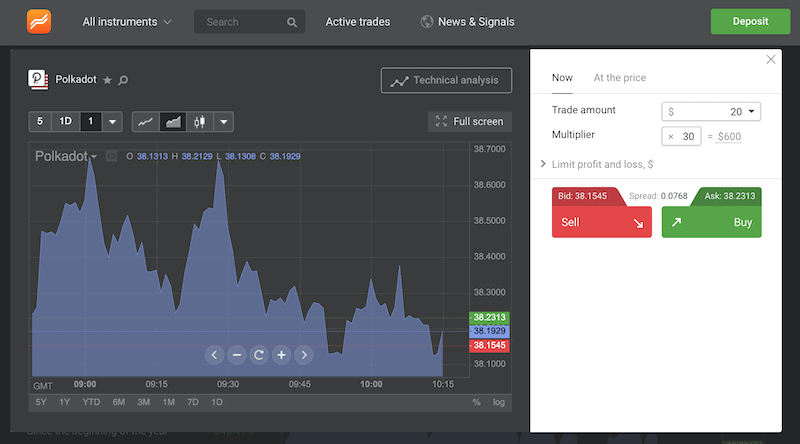 Conclusion
Overall, there are many reasons why people are so excited about the Polkadot project. This is, most likely, not just a random crypto coin that may disappear in the near future. Polkadot is the second most active Defi ecosystem after Ethereum and, for that reason, Polkadot has claimed the status of 'Ethereum Killer'. Yet, it remains to be seen if Polkadot can keep growing and pushing higher. Cryptocurrency prices are often the consequence of 'Fear, Uncertainty, and Doubt' (known as FUD) and are very unpredictable.
Nonetheless, many still believe that Polkadot is the future of Decentralized Finance (DeFi) applications and as such, it is so far the top-performing cryptocurrency of the year. So, if you are based in South Africa and looking to buy this crypto coin, Libertex is the best low-cost platform to do so. Otherwise, it would be best to use a cryptocurrency exchange like Binance.
Libertex – Best CFD Broker to Invest in Crypto CFDs
FAQs
Should I buy Polkadot?
Much like many other crypto coins in the market, the future of Polkadot is a widely debated topic. The crypto market is very speculative and fluctuates to both sides with high volatility. This is particularly true with the involvement of Reddit groups in the crypto market, similarly to the recent case of GameStop stock. But overall, Polkadot seems to be a pretty good long-term investment, given the fact that it has a sophisticated system that's able to solve the problems of other coins in the market.
How can I buy Polkadot instantly?
How can I buy Polkadot anonymously?
What can I buy with Polkadot?
What are the risks of buying Polkadot?
The biggest risk here is that Polkadot's coin price will fall, or even become worthless in the future. However, this is a risk you need to take into consideration with every digital asset you buy, including bitcoin, as these are not government-backed assets.
Is it safe to buy Polkadot?