How to Buy Monero in South Africa – Beginner's Guide
If you're interested in how to buy Monero in South Africa then this beginner's guide will walk you through everything you need to know. Once you have created an account with a regulated cryptocurrency exchange, deposited funds using a debit or credit card, you can buy and sell Monero with the click of a button. 
In this how to buy Monero in South Africa tutorial, we will show you how to trade cryptocurrencies without spending a fortune. By the end, you will know how Monero works and which brokers we recommend in 2021. 
How to Buy Monero in South Africa – Step by Step Guide 2021
Do you want to start trading Monero in South Africa with ease? Just follow these 4 simple steps:
Open an account with Binance – Binance is a cryptocurrency exchange that offers 0.1% commission when trading Monero. Simply go to their website, press 'Register' at the top right-hand corner, and set up a new account using your personal details. ' 
Upload ID

– Binance complies with KYC regulations which means you will be required to verify your ID. You can upload copies of your ID card, passport, or driver's license.

Deposit

– There are no account minimums or deposit fees for Binance account users, and the Monero withdrawal fee is just 0.0001. You can deposit funds to your Binance crypto account by credit card, debit card, bank transfer, or cryptocurrency. 

Buy Monero

– Search for 'XMR' or 'Monero' in the search bar and click on trade. Specify the exact amount you wish to invest, place an order type, and click 'Buy' to invest in Monero. 
What is Monero?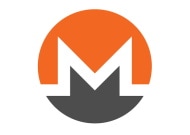 Monero is a private, secure, and untraceable digital currency that is decentralized, open-sourced, and widely accessible to users and investors all over the world.
The popularity and accessibility of cryptocurrencies are constantly growing. These decentralized digital currencies can be used to buy and sell via blockchain technology.
When it comes to digital currencies, trading Bitcoin is perhaps the most popular form of cryptocurrency investing nowadays. Bitcoin was innovative in the sense that it pioneered peer-to-peer technology that allowed people to trade and spend with their digital coins. However, there are heaps of other cryptocurrencies that offer different levels of anonymity. Monero is one of these top-rated alternatives to Bitcoin that offers high levels of accessibility and privacy. 
Most of the cryptocurrencies that you will come across, including Ethereum and Bitcoin, allow you to browse through the history of all transactions. Simply put, this is the function of blockchain; to allow users to join the network and examine all the data on that network. Therefore, transactions can be traced and verified by anyone with access to a computer. 
Nevertheless, Monero uses multiple technologies that enhance privacy, thus protecting the anonymity of users who make transactions. 
With Monero, you benefit from zero check clearing fees and wire transfer fees, and no illegal chargebacks. As a result of being decentralized, Monero is not limited by any regulatory authority or jurisdiction and offers a service free from capital influence and control.   
Why Buy Monero? Monero Analysis
Despite the rise in Monero's popularity and adoption in recent years, it has never gained the same type of traction that Bitcoin has. Therefore, this raises the question: why should I buy Monero as opposed to Bitcoin or Ethereum? 
In short, the main reasons are low transaction times and heightened privacy as a result of its implementation of three key technologies including RingCT, Ring Signatures, and Stealth Addresses. 
When you trade and buy Monero, all transactions are private and untraceable, thus making it a fungible cryptocurrency. This means that users and merchants who accept Monero can rest assured that the coins are not blacklisted or tainted. 
Now, let's take a quick look at a comparison of Monero and Bitcoin with regards to block confirmations and transaction times. 
Monero blocks are typically mined every 120 seconds. This means that after executing a transaction, your transaction will sit in a queue until the next block has been mined. On average it takes 2 minutes to be mined into a new block.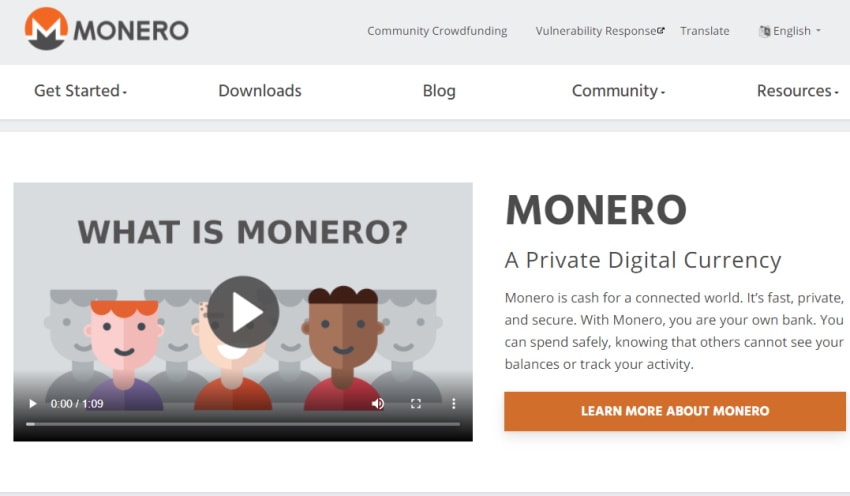 With this in mind, the average time it takes for Bitcoin transactions to be confirmed is just over one hour, whereas the average time for Monero transactions to be confirmed is around 20 minutes. Monero was created with an automatically adaptive block size limit, meaning that should transaction volumes rise or fall, Monero has the tools to deal with it.
Other Monero advantages include: 
The Monero mining software uses up less electricity in contrast to Bitcoin's mining software, which uses Application-Specific Integrated Circuit technology. 

Most altcoins, including Bitcoin, have transparent blockchains which means that transactions can be traced and verified by anyone. On the other hand, Monero uses privacy boosting software and technologies that provide personal data protection. 

Monero is also a grassroots community that welcomes the top crypto research and development teams that are constantly pioneering new and innovative technologies to make trading and spending Monero as streamlined and easy as possible. Since its official release date in 2014, the Monero project has gained contributions from more than 500 developers worldwide.
Monero Price 
Monero's price has more or less reflected the price fluctuations of Bitcoin. This tends to be the case with most cryptos as interest in and demand for Bitcoin usually triggers bullish investor sentiments for other cryptocurrencies like Monero. 
Therefore, there is a correlation between the price movements of Bitcoin and the subsequent price fluctuations in other altcoins. When Bitcoin rises the price of Monero usually rises. 
When examining Monero's price history, If you compare the all time low, which was $0.213 in 2015, and the all time high which was $495.84 in 2018, you can see that the percentage difference between the low and high prices is a whopping 199.828%, just under 200%.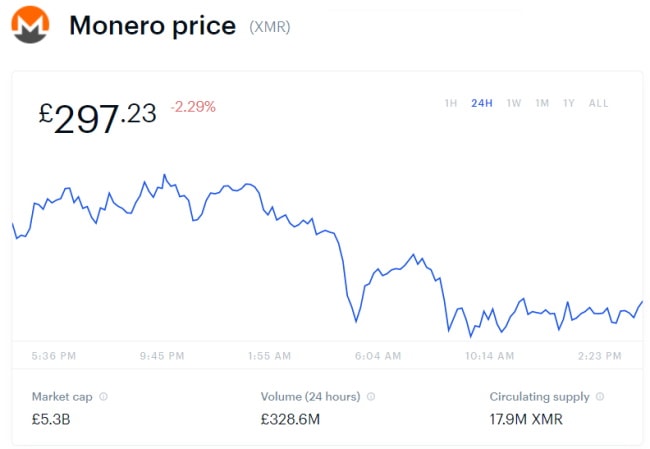 In recent weeks the price of Monero has dropped from $430 to $414. According to fundamental analysis and technical indicators, Monero seems to be maintaining a bearish run. 
Today, Monero is trading at a price of $413.45, with a market dominance of 0.34% and a market cap of $7.49 billion. 
Where to Buy Monero in South Africa
To buy Monero in South Africa you will need to choose a crypto exchange or cryptocurrency CFD trading platform that suits your investment needs and goals. There are heaps of options to choose from, but each platform comes with its own advantages and disadvantages. 
So, to help you choose the best trading platform to suit your needs, in this section we will review two of our top-recommended Monero exchanges in South Africa. 
1. Binance – Overall Best Monero Trading Platform – 0.01% Commission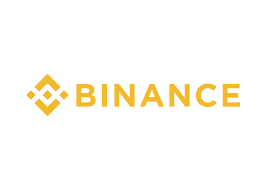 With regards to market capitalization and trading volume, Binance is one the biggest cryptocurrency trading platforms and exchanges out there. In particular, Binance provides heaps of crypto exchanges every day. For casual active trading you will pay 0.1% commission per slide. Simply put, every time you open a trade you will pay 0.1% and also when you close a trade you will pay 0.1%. 
Binance's low-fee pricing structure and support for tons of cryptocurrency pairs have led to the exchange being able to provide the largest trading volume on the market. Typically, the average daily trading volume surpasses $10 billion. 
But, if you are wondering how to buy Monero at Binance, the process is fairly easy. This is partly down to the fact that Binance accepts deposits via South African bank transfers. 
To get the ball rolling, you will need to create an account and upload proof of ID along with a current photo for cross-referencing. After account verification has been completed, you can deposit funds into your account via bank transfer, or credit card and debit card.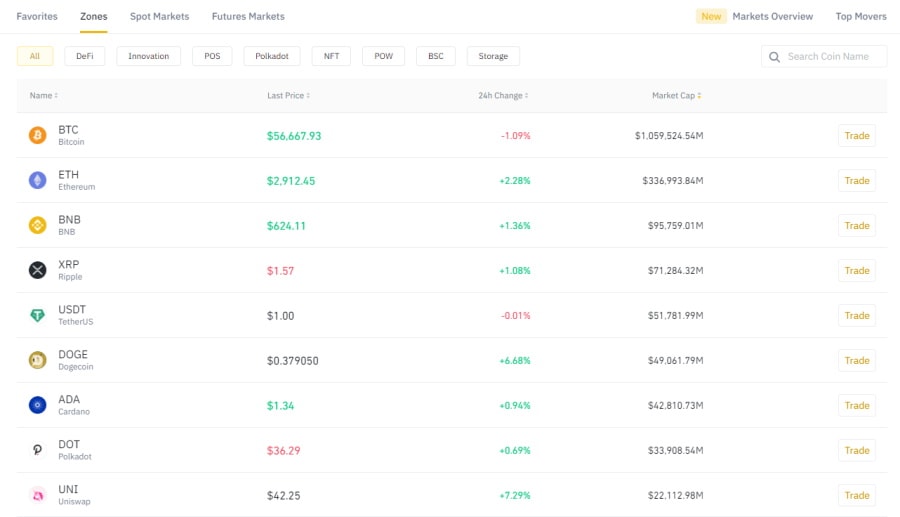 Furthermore, there are zero deposit fees when transferring funds with your Binance bank account. When the funds show up in your account, it's simply a matter of deciding how much Monero you wish to invest in. 
When it comes to trading fees you will only pay 0.1% commission per slide. In short, this means that you will pay 0.1% every time you open a trade and 0.1% every time you close a trade. 
Additionally, if you want to invest in and trade Monero with a debit card or credit card, Binance gives you the option to do so. Silvergate Bank, a leading bank for innovative companies in the fintech and cryptocurrency sector, provides a payment service that allows you to deposit funds with a debit/credit card. 
Regardless of how much Monero and other altcoins you purchase, the deposit fee on credit and debit cards is a fixed rate of 150 rands which translates to about $10. In other words, the main benefit of using a credit or debit card on Binance is that you will encounter very low fees, in particular just 3.5% for every transaction. MasterCard and Visa are also accepted.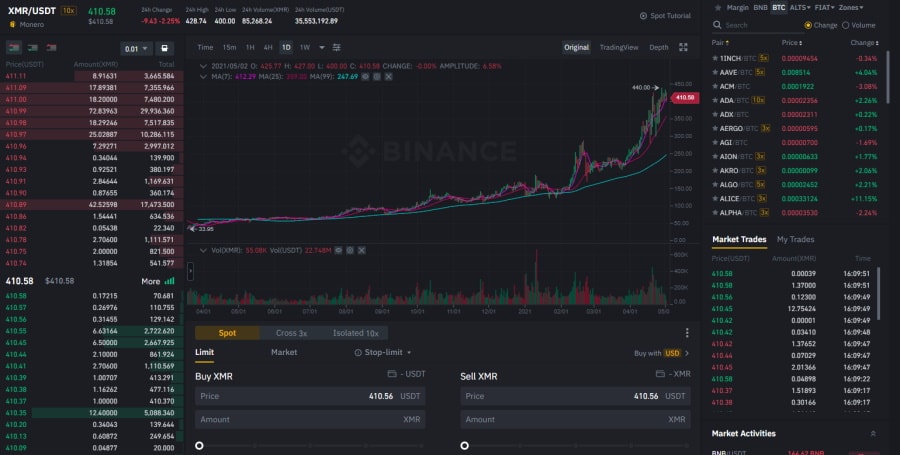 Moreover, when you have purchased your desired amount of Monero, you can store the cryptocurrency in your Binance e-wallet which is very convenient and useful. On average it only takes between 10 and 30 minutes for cryptocurrencies to reach your Binance wallet. With a Binance e-wallet you are protected by a two-step authentication login process, as well as setting email alerts and notifications at the click of a button. 
Pros
One of the largest crypto exchanges with billions of dollars worth of trades recorded every day on the platform
Heaps of cryptocurrency pairs available
0.1% commission per slide
Binance supports credit and debit cards issued by MasterCard and Visa
Safe and secure e-wallet to store Monero and other altcoins
No account minimums or deposit fees
Secure Binance account that allows you to set up 2FA (Two-Factor Authentication)
Binance provides a fully-fledged mobile trading app that gives you full access to your account, allowing you to monitor and execute trades anywhere from your iOS Apple or Android mobile device.
A perfect match for both new and advanced cryptocurrency traders
Binance also offers an in-house developed Visa debit card
Cons
You cannot deposit funds with e-wallets such as PayPal
Your capital is at risk.
2. Capital.com – Top Crypto CFD Broker With Zero Trading Commissions

Established in 2016, Capital.com is a global CFD trading platform that is regulated by top financial authorities such as the Cyprus Securities and Exchange Commission under the license number 319/17 and the UK's Financial Conduct Authority under the register number 793714.
As well as providing trades on a zero commission basis, Capital.com also keeps its non-trading fees very low. This means that you will not pay any deposit fees, inactivity fees, account fees, or withdrawal fees. After all, if you are looking for a free trading platform with low trading and non-trading fees then Capital.com is a very good place to start. 
If you want to trade altcoins then Capital.com has you covered. There are tons of cryptocurrency pairs to choose from, including both crypto-to-crypto and crypto-to-fiat pairs. For example, you could access BTC/USD, XMR/USD, and TRX/BTC just to name a few.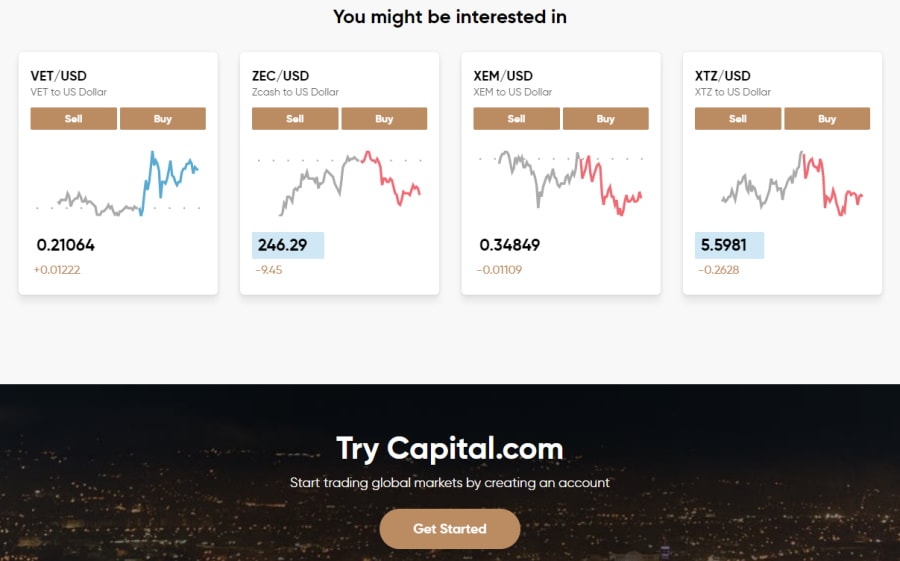 Furthermore, when you trade CFDs on cryptocurrencies, you aren't actually buying the underlying crypto, which means that you are not tied to it. As a result, you speculate on whether the future price will rise or fall. CFD traders can go long or short, place different order types, and use trading scenarios that meet the investment objectives.
Capital.com is home to thousands of daily active traders and investors, and this is no surprise when you consider that you can access more than 3,000 assets and trade and invest in them without paying a single penny in commissions. From stock CFDs to cryptocurrency CFDs you can access the financial markets on a cost-effective basis.  
You can open a Capital.com live brokerage account with these four base currencies: GBP, USD, PLN, or EUR. When it comes to funding your account, with a credit card, debit card, bank wire transfer, Sofort, Giropay, Multibanko, iDeal, AstropayTEF QIWI, Webmoney, 2c2p, Trustly, ApplePay, or Przelewy24. This means that you could buy Monero with a credit card.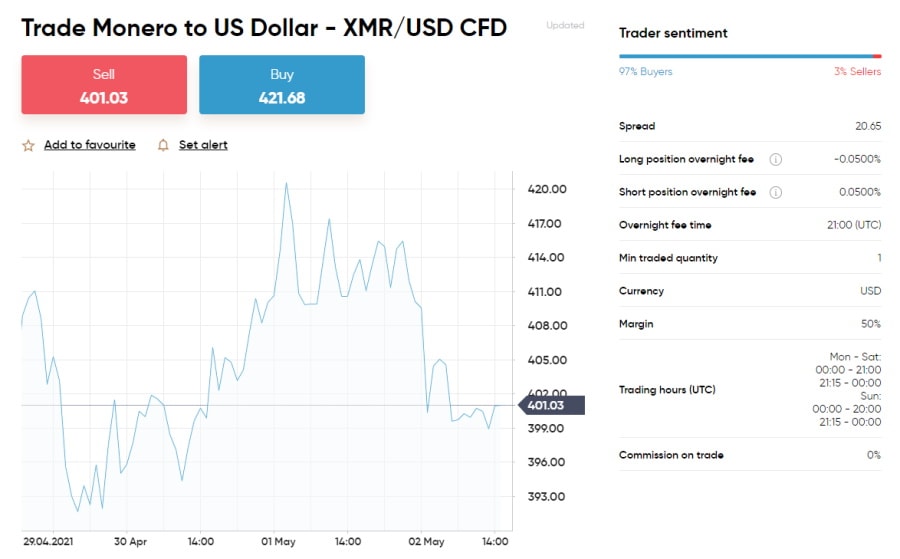 During our research we found that when trading with leverage and keeping the position open overnight, you will be charged overnight financing fees. The interest rate varies based on the type of financial instrument you are trading. 
But, Capital.com stands out from the rest because the overnight financing fee depends on the leverage amount that you adopt as opposed to the sum of the position. 
Pros
Access to more than 3,000 CFD financial instruments
Trade with 0% commissions
Spreads are competitive
Low non-trading fees including no inactivity fees and deposit fees
Low minimum deposit of just $20
Deposit funds with bank transfer, debit cards, credit cards, e-wallets
Access to leverage and low governing financing fees
Cons
Web platform does not support price alerts
75.26% of retail investor accounts lose money when spread betting and/or trading CFDs with this provider.
How to Buy Monero Tutorial
Are you wondering how to buy Monero in South Africa today with the click of a button? This simple and user-friendly walkthrough will explain how to buy Monero in South Africa with just 0.1% commission per slide in a matter of minutes.
Open an account with Binance – Pay 0.1% Commission per Trade
To start buying and selling Monero, you will need to create an account with a trusted online broker. We recommend Binance as the best online trading platform to trade Monero in 2021, as it offers competitive trading commissions that start at just 0.1% per slide.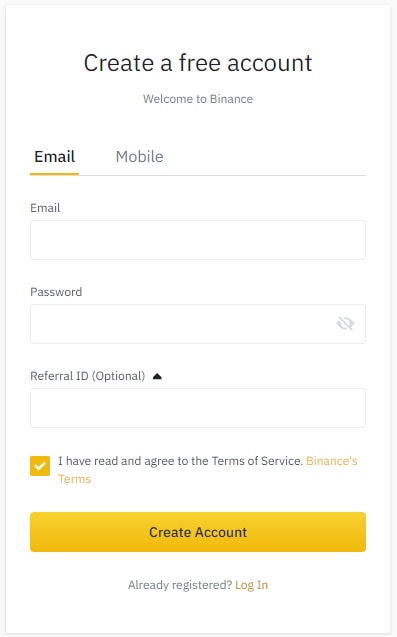 Simply head over to the Binance website and click on 'Register'. Then follow the onscreen prompts by filling out your credentials, contact information, date of birth and residential address. This is a routine procedure, as Binance complies with regulatory requirements aimed at preventing money laundering. To continue to the next stage, you will be required to verify your contact details. 
Upload ID 
Next, you will need to upload copies of your ID documentation. This can be in the form of a driver's license, ID card, or passport. It is common practice for all regulated brokers, that allow you to trade Monero with rands, to request proof of identity.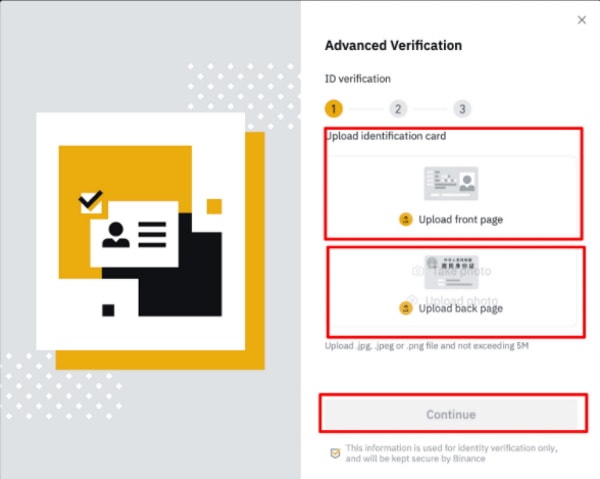 Once you have uploaded copies of the ID documents, the Binance advanced verification system will require you to take a photo of yourself to cross-reference with the documents you uploaded. Then, simply click 'Submit & Continue'.
The verification process typically takes less than 60 minutes, but, the automated verification system is based on third-party security providers, which means it can take up to 3 business days during busy periods. 
Deposit
You can use credit cards and debit cards, such as Visa and Mastercard, bank deposits, P2P Trading, and Cash Balance, to deposit funds into your Binance account and buy cryptocurrencies with Binance.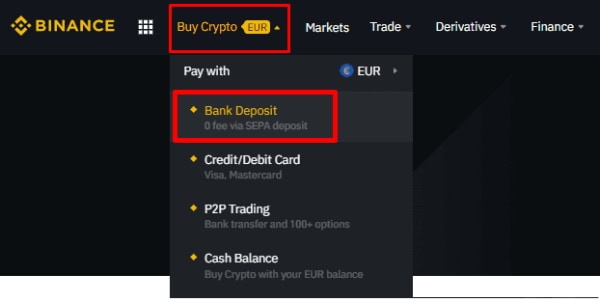 Click on 'Buy Crypto' at the top of the screen and select the currency you wish to pay with. Then enter the amount you wish to deposit and depending on the payment method simply follow the onscreen instructions to deposit the desired amount into your brokerage account. 
Buy Monero
You can buy Monero or XMR on Binance by wiring money from your account to the stablecoin providers. You can then use these stablecoins to purchase Monero on the Binance crypto exchange.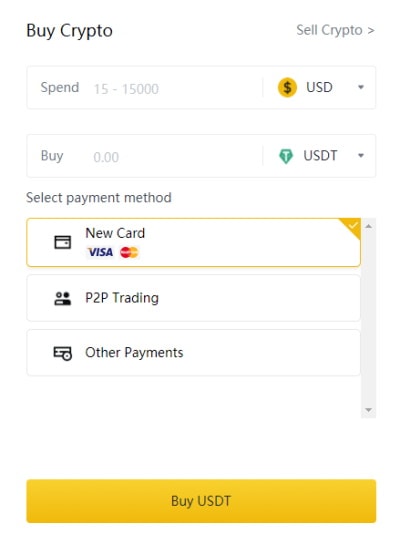 In the search bar type in Monero or XMR and click on the trade button. Then you will have access to fundamental data and charting tools. Enter the amount you want to invest, place an order type such as stop-limit or OCO (One Cancels the Other), pick your payment method (for example bank account, credit card or debit card), and click 'Buy XMR'. 
Binance – Buy Monero with Low Fees
Monero's popularity is constantly growing as it offers higher levels of anonymity and privacy, as well as faster transaction times when compared to other top altcoins including Bitcoin. Unlike most transparent cryptos on the exchange, XMR is unique in that all users are anonymous by default. Along with its fast transaction times and more efficient mining software make Monero ideal for short-term and long-term investing. 
So,  you now know how to buy Monero in South Africa. Simply follow the link below and sign up for a Binance account today and trade thousands of cryptos from the comfort of your own home.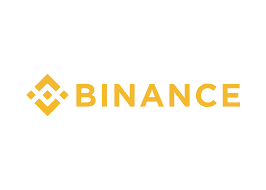 Your capital is at risk.
FAQs
Can I buy Monero with PayPal?
In August of 2020, Binance announced that it had added 62 payment methods for P2P trading. Peer-to-peer trading allows investors to directly sell and buy altcoins with other investors and verified merchants. Some of those payment methods include PayPal and GoPay. In short, yes you can buy Monero with PayPal, provided that that crypto exchange you are using supports it.
Can I buy Monero with a credit card?
At present, you cannot buy Monero with a credit card, however, with Binance you can buy cryptos that are available for purchase with a credit card and trade Monero for them with competitive trading fees and high liquidity.
Can I buy Monero anonymously?
As a result of obfuscation, and the following three key technologies: RingCT, Ring Signatures, and Stealth Addresses, Monero is the only altcoin that gives users complete anonymity. The receiver, sender and the sum of each individual XMR transaction are encrypted and untraceable.
How to mine Monero
To mine Monero you need to have the appropriate hardware and software to allow you to connect to a Monero mining pool. Unlike Bitcoin, to mine Monero you do not need an application-specific integrated circuit, instead it can be performed with a CPU or GPU.
What is Monero?
Launched in 2014, Monero is a cryptocurrency that was primarily designed with anonymity and privacy in mind. Monero blockchain technology means that you cannot be tracked or monitored. With a market capitalization of $7.6 billion or 110.16 South African Rand, Monero has the potential to enter mainstream markets.