How to Buy Woolworths Shares in South Africa – With 0% Commission
Currently one of the largest retail chains in South Africa, Woolworths has fantastic brand appeal thanks to its diverse product range and savvy diversification moves. With supply chains becoming more optimised in the wake of the COVID-19 pandemic, Woolworths looks set to benefit from increased consumer demand – which could mean great things for the company's share price.
In this article, we discuss How to Buy Woolworths Shares in South Africa, analysing the company in detail and showing you how to invest in Woolworths – without paying any commissions whatsoever.
How to Buy Woolworths Shares in South Africa – Step by Step Guide 2021
If you're looking to buy Woolworths shares in South Africa right away, then look no further. The four steps below will show you how to do so with Capital.com in under ten minutes – all without paying any fees or commissions.
Step 1: Open an account with Capital.com – Head to Capital.com's homepage and click 'Trade Now'. Provide a valid email address and choose a password for your account.
Step 2: Upload ID – Verify your account by uploading proof of ID (copy of passport or driver's license) and proof of address (copy of bank statement or utility bill).
Step 3: Deposit – Deposit via credit/debit card, bank transfer, or e-wallet.
Step 4: Buy Woolworths Shares – Search for Woolworths in Capital.com's trading platform and click 'Buy'. Enter the amount you'd like to invest and click 'Place Order'.
Step 1: Choose a Stock Broker
Before you buy Woolworths shares, it's crucial to choose a stock broker that can facilitate your investment safely and cost-effectively. Due to the technology we have available these days, there are hundreds of brokers to choose from – so it can seem like a daunting task to narrow it down to one option.
To help you out with this, we discuss our two recommended brokers for investing in Woolworths shares below. By partnering with one of these brokers, you will be able to buy Woolworths shares quickly and efficiently from the comfort of your own home.
1. Avatrade – Trade Woolworths Shares in South Africa with 0% Commission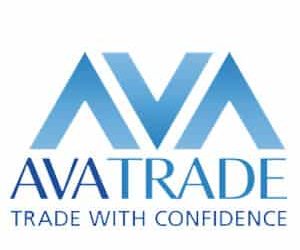 If you're looking for an alternative to Capital.com, we'd also recommend checking out Avatrade. Avatrade has over 200,000 active users and has been in operation for over 14 years. In terms of safety, Avatrade is licensed and regulated in South Africa under the authority of the FSCA, ensuring their services are trusted and safe for traders to use.
Much like Capital.com, Avatrade is also a 0% commission broker, meaning that you do not need to pay any fees when making a trade. As Avatrade is primarily a CFD trading broker, you will instead pay the spread between the buy and sell prices of the asset you invest in. This spread is usually below average but can widen during times of low liquidity or volatility.

If you are looking to invest in other assets in addition to Woolworths, Avatrade has got you covered. The broker offers a selection of 630 stock CFDs to trade, along with commodities, indices, and FX currencies. Finally, you can trade a total of 17 cryptocurrencies with Avatrade – even employing leverage if you wish.
Avatrade also offers full support for both MT4 and MT5, ensuring you're able to trade on these platforms if you wish. The broker also provides its own WebTrader platform, an online-based portal whereby users can research assets and place trades. You can even open a demo account with Avatrade to get some practice if you wish – this is ideal for beginners who want to become familiar with the platform before trading for real.
Pros:
Established for over 14 years
All fees built into the spread
Includes support for MT4 and MT5
0% commissions when making investments
Great reputation
Heavily regulated by the FSCA in South Africa
Cons:
73.05% of retail investors lose money when trading CFDs at this site
2. Capital.com – Overall Best Broker to Buy Woolworths Shares in South Africa

Our recommended broker when it comes to buying Woolworths shares is Capital.com. This broker has been around since 2016 and, over the past five years, has created an excellent reputation for itself thanks to top-tier regulation and an attractive fee structure. In terms of the former, Capital.com is licensed and regulated by the FCA and CySEC – ensuring their trading platform is safe and secure for all users.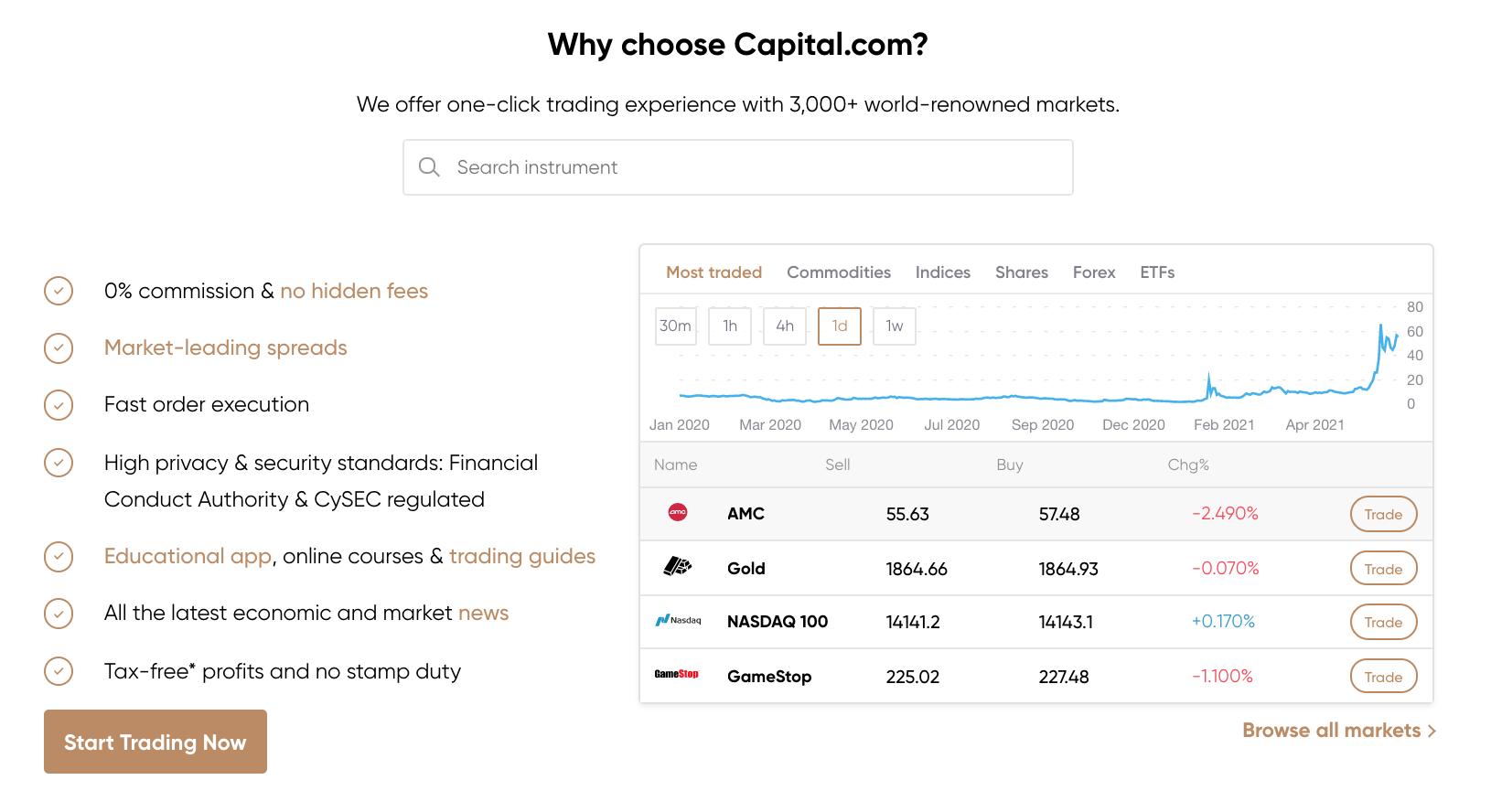 One of the best things about Capital.com is its low-cost trading structure. When you buy Woolworths shares (or any other shares for that matter), you won't have to pay any commissions whatsoever. This fee structure allows you to save a lot of money on fees in the long run – especially if you are an active trader. Instead of commissions, Capital.com make their money through the spreads offered on their assets. This spread is usually very minimal, especially during peak trading hours.
Aside from 0% commissions, Capital.com also does not charge any deposit or withdrawal fees either. In terms of making a deposit, you have various options to choose from, such as bank transfer, credit/debit card, or e-wallet. The great thing is that the minimum deposit is only $20 (around 274 ZAR) when using a credit/debit card or e-wallet.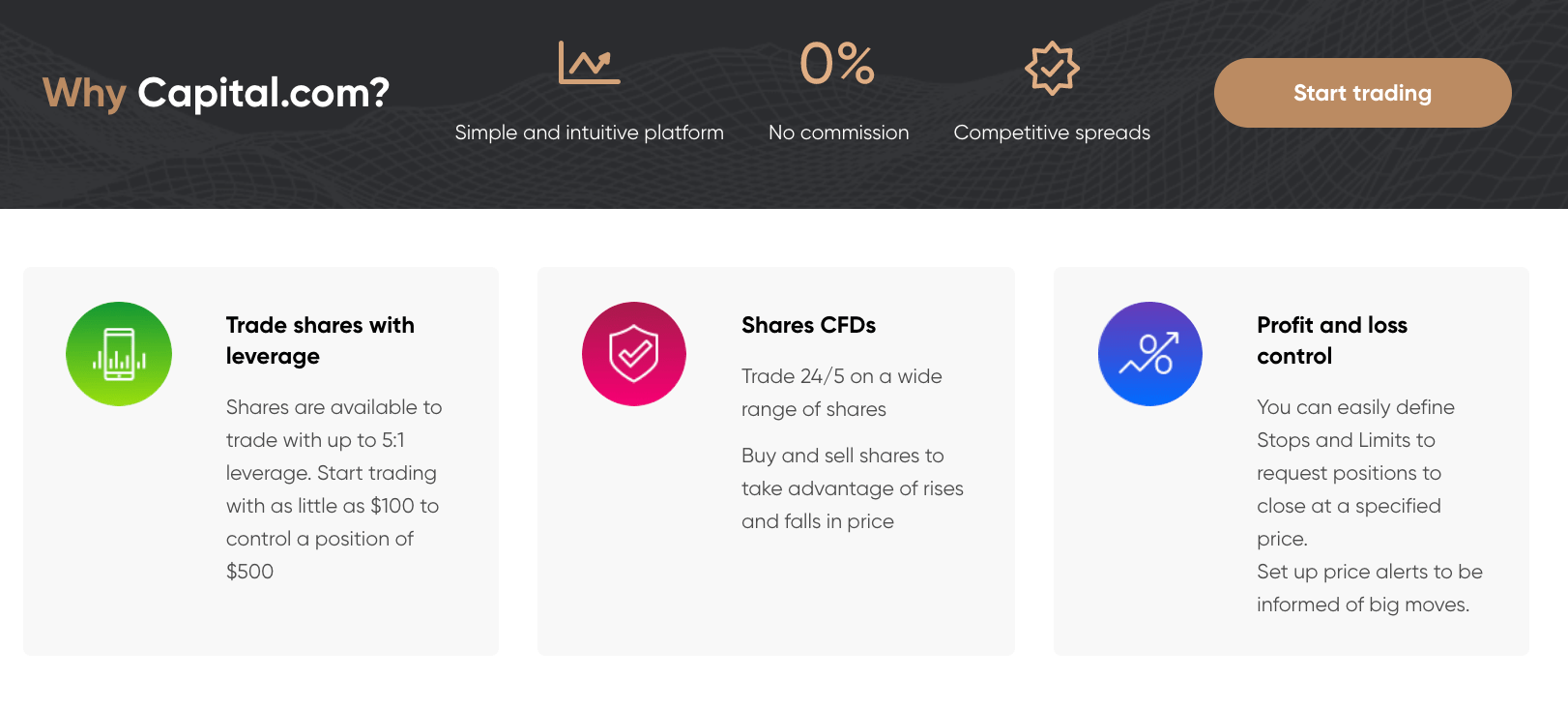 Finally, Capital.com is also ideal for new and intermediate traders looking to learn more about the markets as they offer a vast range of educational materials. These materials include various trading courses, a glossary, guides, and even a handy Capital.com TV feature that covers the latest market news. The best part is that all of these resources are completely free!
Pros:
Buy Woolworths shares with 0% commission
Educational app for new traders
AI assistant identifies your weak points
Minimum deposit from just $20
Excellent charting and analysis interface
No inactivity fees
Thousands of UK and US shares
Capital.com TV feature
Cons:
Cannot build custom trading strategies
75.26% of retail investor accounts lose money when spread betting and/or trading CFDs with this provider.
Research Woolworths Shares
If you are looking to buy shares in Woolworths, it's a good idea to analyse the company beforehand and make sure they are a good investment. To make this analysis more straightforward for you, the sections below discuss some of the critical things you should be aware of before investing in Woolworths shares.
What is Woolworths?

First thing's first – what is Woolworths? Woolworths' full title is Woolworths Holdings Limited, and they are a South African retail company that owns the popular Woolworths brand. In addition to this, they also own the Australian retailers David Jones and Country Road Group, with the former being a respected department store and the latter being a clothes store.
Woolworths has been in operation since 1931 when the company was founded by Max Sonnenberg. The very first Woolworths store was on Plein Street in Cape Town, inside the Royal Hotel. After the first store's success, two more stores were open in Cape Town, and these also became a huge hit. This led to other stores being opened – and the rest is history.
It's important to note that the Woolworths brand that operates in South Africa has no association with the Woolworths supermarket chain that is based in Australia – they are entirely different entities but just have the same name. To make matters even more complicated, there was also a well-known retail chain called Woolworths in the UK – but this one went into administration and dissolved within the last decade.

The Woolworths we are interested in is the one operating in South Africa. The business consists of a line of fashion, home, and beauty stores designed to appeal to consumers from a wide range of demographics. A large percentage of Woolworths stores also include premium grocers and food services. In total, Woolworths has 155 'full' stores, with a further 52 stores selling only fashion, home, and beauty items. In addition, Woolworths also has 194 standalone food stores located within South Africa.
Woolworths is currently listed on the Johannesburg Stock Exchange under the ticker symbol 'WHL'. The stock is trading at 5662 ZAC at the time of writing, having recovered strongly over the past year. According to the Financial Times, Woolworths currently has a market cap of 59.65bn ZAR.
Woolworths Share Price
When looking at the best shares to buy, it's important to examine past performance to get an indication of where the price has been before and where it could potentially return to. As mentioned, Woolworths' share price at the time of writing is 5662 ZAC. This represents an impressive 43% increase since the turn of the year and an even more impressive 72% increase since this date last year.
The Woolworths share price took a massive hit in March 2020, much like other firms. However, Woolworths' decline began much earlier than this – between November 2019 and March 2020, the Woolworths share price decreased nearly 60%. Thankfully, the company has turned its fortunes around in the past year and has surpassed pre-pandemic levels.
Looking at the company's financials, the Wall Street Journal reports that Woolworths generated a respectable 73.98bn ZAR in 2020 – only slightly less than 2019's figures. This can be thought of as reasonably impressive given the impact that the COVID-19 pandemic has had on supply chains and consumer demand. Due to fewer expenses, Woolworths made a profit of 557m ZAR in 2020, which contrasts with the substantial losses that occurred in 2018 and 2019.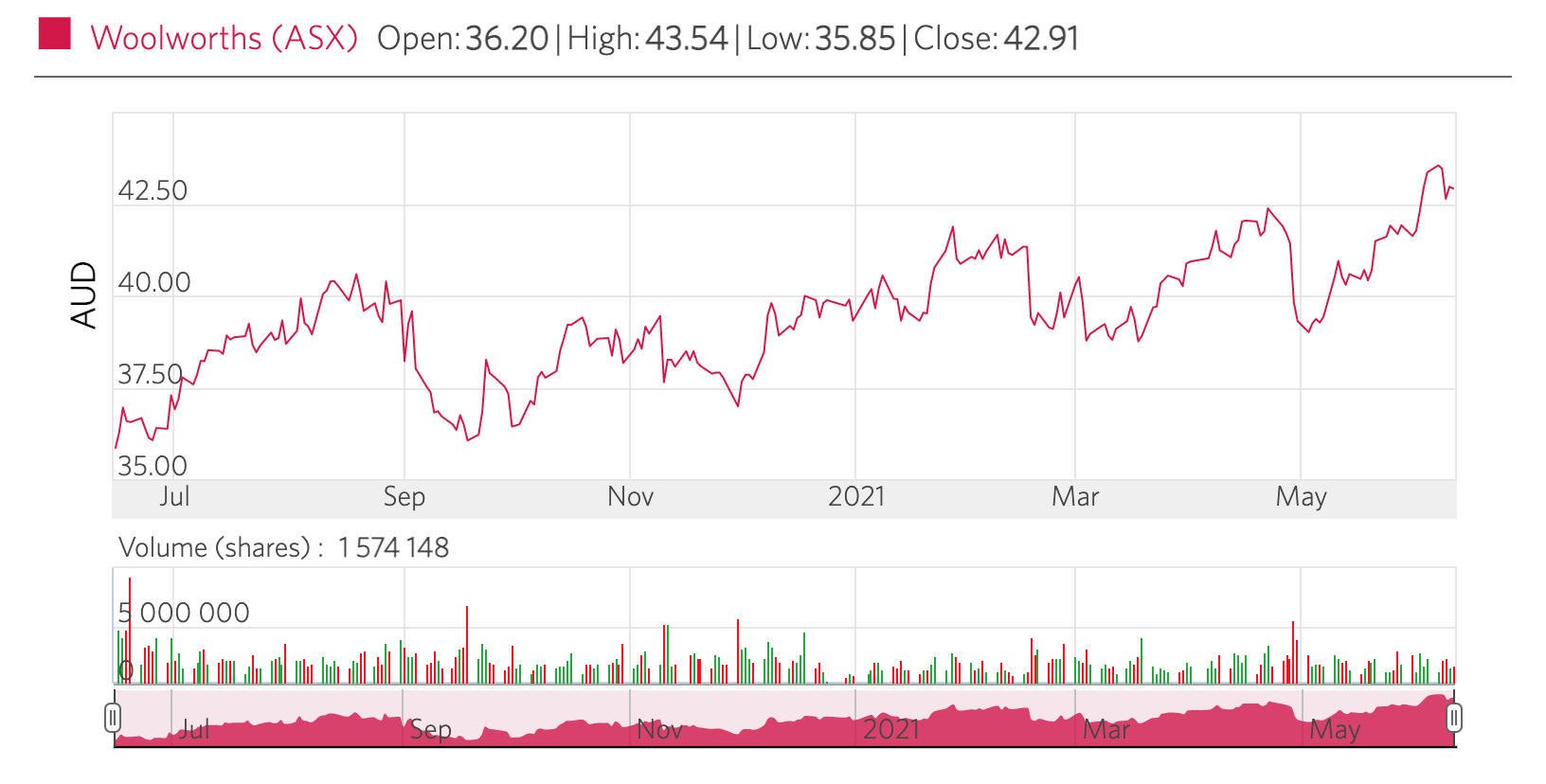 Digging deeper into the company's financials, it's a good idea to take a look at Woolworths' earnings per share (EPS) and price-to-earnings ratio (P/E). These metrics are commonly used to get an idea of how valuable a company's shares are. In terms of the former, Woolworths' EPS was estimated at 0.58 ZAR for 2020; again, this is very impressive considering EPS estimates were negative for the two years previous.
Woolworths' P/E ratio is currently estimated at 26.3, according to data presented by Moneyweb. This figure is pretty high when it comes to P/E ratios and represents the multiple of earnings that investors are willing to pay for one share of the company. The higher the P/E ratio, the more 'valuable' the company's shares are in the eyes of investors. Again, Woolworths' P/E ratio is pretty solid considering it was negative in 2020.
Taking all of these points into consideration, the metrics highlight that Woolworths has begun to turn its fortunes around in the past year – even making a healthy profit in 2020. The Woolworths share price has recovered admirably, and both EPS and the P/E ratio are looking positive. Overall, Woolworths' financial position looks great at present – and could become even more optimistic as consumer demand increases going forward.
Woolworths Shares Dividends
If you're wondering how to invest money to generate a regular income stream, purchasing shares in a dividend-paying company is an excellent way to do so. Traditionally, Woolworths would pay a dividend twice per year – once in March and once in September. However, the company's last dividend payment was in March 2020, with no payments made in September 2020 or March 2021.

Companies will usually stop making dividend payments when revenues and profits take a hit, which was the case over the past year. Woolworths' previous dividend yields have always been pretty high – yields ranged between 4.28% and 5.60% from 2017 to 2019. However, the most recent yield in March 2020 was only 1.90%.
There is hope, though – as we noted in the previous section, Woolworths have recently become profitable again, which is great news for dividend investors. Typically a company will opt to pay a dividend when they are generating positive net income – which is now the case for Woolworths. We'd recommend keeping an eye on any news announcements over the next six months to see if Woolworths do indeed decide to reinstate their dividend payments.
Are Woolworths Shares a Good Buy?
Taking the previous points into consideration, are Woolworths shares a good buy? We believe so, as the company has shown a remarkable recovery from the negative results of previous years, putting them in a good place going forward.
Strong Financial Recovery
BusinessDay reported recently that Woolworths expects profits to increase by at least 20% in the year ending June 2021. Much of this profit increase is driven by a better cost structure for the Australian brands that Woolworths own, in addition to the easing of lockdown restrictions. Furthermore, EPS estimates are also expected to increase by around 20% – another great sign for Woolworths and its investors.
The solid financial performance shown by Woolworths over the past year is in contrast to some other companies that have struggled with the lack of demand brought about by the pandemic. Woolworths' product range is diverse enough to weather this lack of demand, as the company sells products that are in demand regardless of economic conditions. Furthermore. Woolworths' brand appeal is high throughout South Africa – meaning that the company can lean on this during hard times.

Additional Product Lines
News24 also reported recently that Woolworths has launched its own liquor store aimed at high-end customers. These stores will stock premium wines and cognacs and will add another layer to Woolworth's products range. Furthermore, as Woolworths will sell these products at a higher price point, it will add another revenue driver for the company.
Potential Dividend Reinstatement
Finally, you may want to buy Woolworths shares due to the potential for a dividend reinstatement. As noted earlier, Woolworths has stopped dividend payments for the time being. However, as a company that has traditionally paid a bi-annual dividend, it's unlikely that they would just stop doing this permanently.
As the company turned a profit in 2020, and their most recent trading update stated that net income is expected to grow further, the chances of a dividend reinstatement are looking positive. The great thing is that Woolworths have typically paid an attractive dividend yield (apart from in March 2020), which would be great for shareholders to receive again. With the second dividend usually being delivered in September, it may be a good idea to buy Woolworths shares in anticipation of dividend reinstatement.
Open an Account & Buy Shares
If you've made up your mind and are looking to buy Woolworths shares in South Africa, then you'll need to open an account with a safe and trusted broker. In our experience, Capital.com are one of the best options out there for investing in stocks in South Africa due to their strict regulation and attractive fee structure. So, the section below will show you how to buy Woolworths shares with Capital.com – all in under ten minutes.
Step 1: Open a Capital.com Account
Navigate to the Capital.com website and click the 'Trade Now' button in the top right. Enter a valid email address and choose a password for your account. You can even do this step through Capital.com's app, one of the best trading apps available for traders.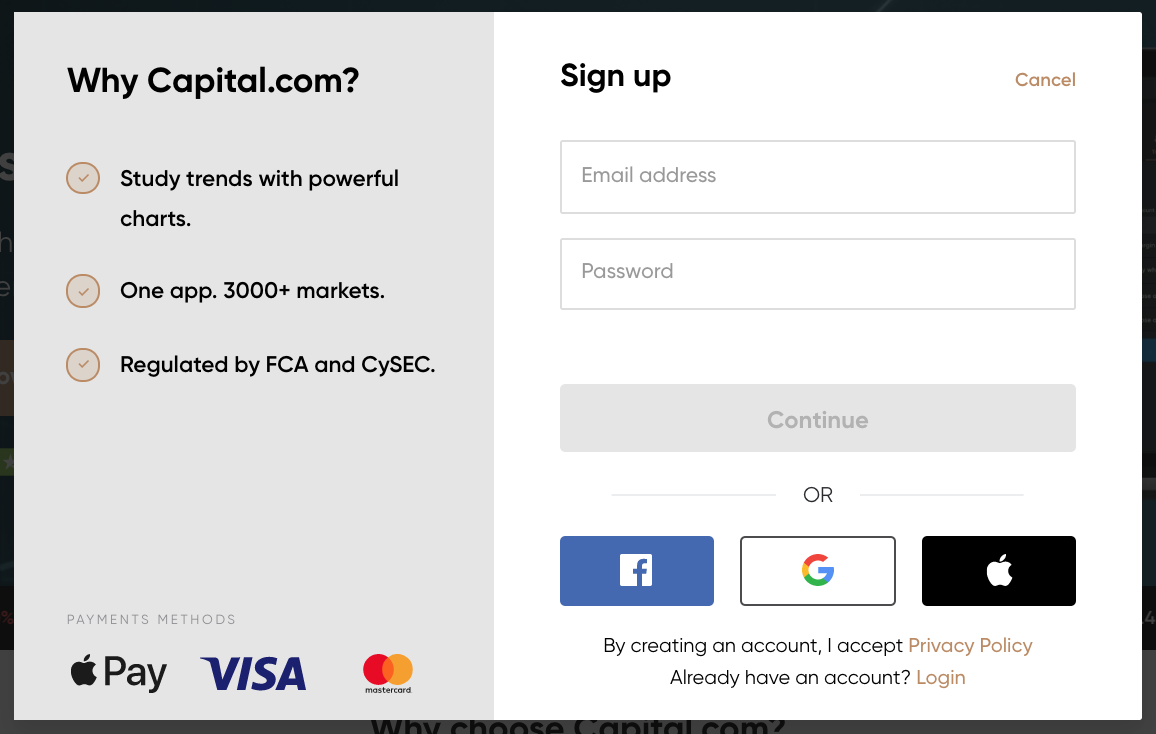 75.26% of retail investor accounts lose money when spread betting and/or trading CFDs with this provider.
Step 2: Verify your Account
As Capital.com are a licensed and regulated broker, you'll have to verify yourself before being able to trade. Luckily this is very simple to do and can be carried out online. All you have to do is upload proof of ID (a copy of your passport or driver's license) and proof of address (a copy of a bank statement or utility bill). Capital.com will then verify these documents, which usually takes minutes.
Step 3: Fund your Account
Once verified, you can then fund your account. Capital.com allows deposits from only $20 (around 274 ZAR), which is much lower than some other brokers. Notably, using a bank wire transfer to fund your account will require a minimum deposit of $250 (around 3438 ZAR). In terms of deposit methods, some of the options you have available are:
Credit card
Debit card
Bank wire transfer
Giropay
ApplePay
Trustly
Multibanko
Step 4: Search for Woolworths
Click into the search bar in the top left corner of the trading platform and type in Woolworths. When the company appears in the central list, click 'Buy'.

Step 5: Buy Woolworths Shares
An order box will now appear on the right-hand side of the screen. You can now type in the amount you'd like to invest in Woolworths shares and decide whether you'd like to use leverage. Once you're happy with everything, click 'Place Order'.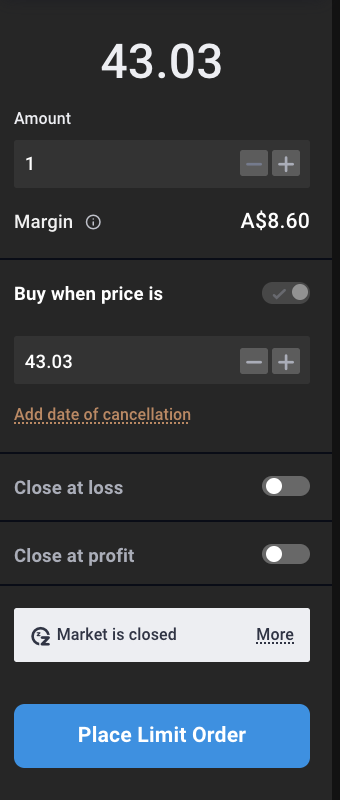 And that's it! You've just invested in Woolworths shares with Capital.com – all without paying a single rand in commissions! 
75.26% of retail investor accounts lose money when spread betting and/or trading CFDs with this provider.
Woolworths Shares Buy or Sell?
Summing everything up, are Woolworths shares a buy or a sell? We believe they are the former, as the company are beginning to turn their fortunes around and look set to benefit from increased consumer demand brought about by lockdowns easing. This is evidenced by growing retail sales in South Africa – data from Economy.com reported that retail sales were up 9.23% in February, and this trend is expected to continue for the remainder of 2021.
Woolworths also look good in a financial sense. Margins are as tight as ever, as interest expenses decreased markedly over the past year. This has allowed the company to generate a profit for the first time since 2017 – which is even more impressive considering it was during the pandemic. In addition, the Australian arm of Woolworths' business has been performing very well, which is adding more hope for the share price going forward.

Finally, as Woolworths has such a strong brand appeal in South Africa, this will help the company continue to get back on its feet in 2021. Many smaller companies will have suffered hugely due to the supply chain chaos caused over the past year. However, as Woolworths has deep roots in South Africa, their relationships with supply chain partners mean that the company is well placed to meet consumer demand quickly and cost-effectively.
Combining these points, we feel Woolworths would be an excellent addition to portfolios everywhere. The company may not exhibit incredible growth in the short term. However, with lots of upsides still to go and the potential to reinstate dividends, Woolworths is certainly a company worth considering for investment over the remainder of the year. 
How to Buy Woolworths Shares in South Africa – Conclusion
In summary, Woolworths' share price looks set to continue its resurgence in the second half of 2021, with scope to breach the highs set back in November 2019. With consumers in South Africa and Australia predicted to spend more on shopping and fashion, this could lead to improved revenues for Woolworths – and if margins can remain the same, it could mean positive things for the company's bottom line.
If you're interested in investing in Woolworths today, we'd recommend opening an account with Capital.com. We recommend using this broker as they do not charge any commissions when investing in stock CFDs. Furthermore, Capital.com is regulated by both the FCA and CySEC, ensuring a secure trading environment for all users.
Capital.com – Buy Woolworths Shares With Zero Commission

75.26% of retail investor accounts lose money when spread betting and/or trading CFDs with this provider.
FAQs
Should I buy Woolworths Shares?
Where is Woolworths based?
How much are Woolworths shares worth?
Does Woolworths pay dividends?