FXTM Review – Fees, Features, Pros and Cons Revealed
FXTM is a forex and CFD broker that is hugely popular with South Africans. On top of low fees and high leverage limits, you will also have access to the MT4 and MT5 platforms. But, is FXTM is the right South Africa trading broker for you? Read this FXTM review to find out!
In our FXTM Review, we cover everything you need to know about the broker. This includes key metrics like tradable assets, fees, commissions, spreads, leverage, regulation, and more.
What is FXTM South Africa?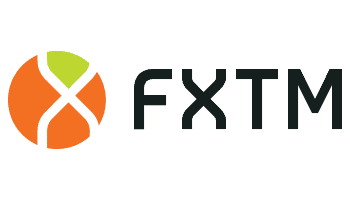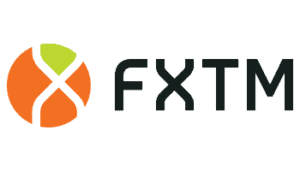 ForexTime Limited, or simply FXTM, is an online forex and CFD broker that offers hundreds of financial instruments. This includes everything from stocks, indices, hard metals, energies, and forex. With that said, FXTM is a specialist CFD provider, meaning that you will not be purchasing the underlying asset.
Instead, you will be speculating on the short-term direction of the instrument in question. Nevertheless, this offers South African traders a number of additional benefits, such as being able to choose from buy (long) or sell (short) positions, as well as apply leverage.
Most FXTM account types allow you to access its CFD instruments on a commission-free basis. This means that it is just the spread that you need to pay when trading. FXTM is also a popular choice for South Africans because it offers Copy Trading portfolios. This is where you choose an FXTM trader and mirror their buy and sell positions like-for-like. If they make a profit, so do you.
In terms of reputation, FXTM is heavily regulated. This includes a fully-fledged license with the Financial Sector Conduct Authority (FSCA) of South Africa. Although FXTM was launched as recently as 2011, it has already amassed a loyal client base of over 2 million traders. All in all, FXTM broker offers a highly comprehensive trading arena alongside competitive prices and a strong regulatory standing.
What Assets are on FXTM South Africa?
In a nutshell, our FXTM review found that the broker is home to over 250+ CFD instruments. With that said, we need to break the FXTM trading arena down in more detail to ensure the broker is right for your long-term investing goals.
Forex
With a name like 'ForexTime', it will come as no surprise to learn that FXTM is strong in the currency department. This includes a good number of majors and minors, as well as 7 exotic pairs. Regarding the latter, this covers the South African rand against the US dollar (USD/ZAR). This is great if you want to speculate on the short-term direction of the rand.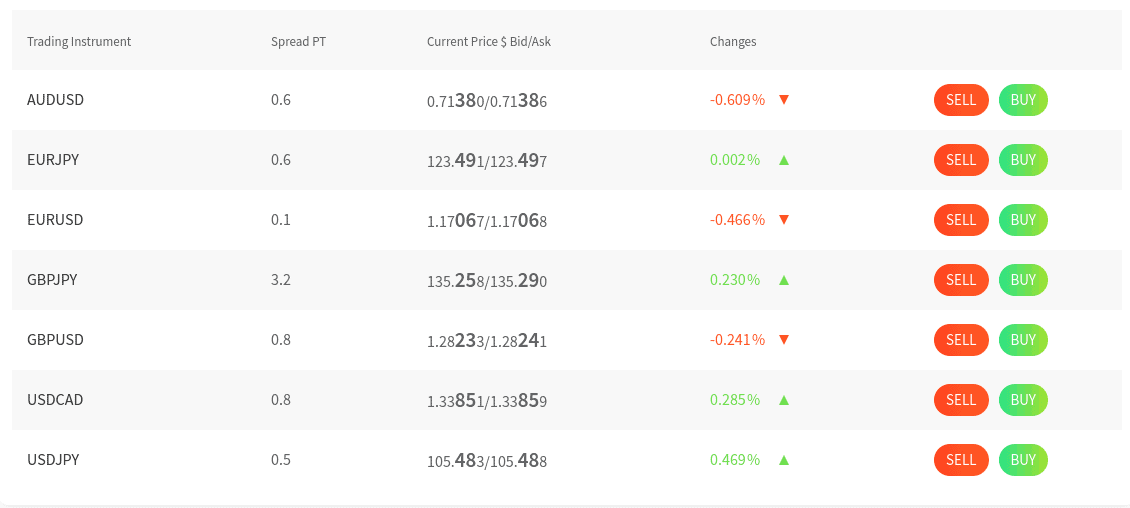 Spot Metals
If you want to gain exposure to spot metals, FXTM gives you access to gold and silver. The former can be traded against GBP, EUR, and USD, while the latter against EUR and USD.
Stocks
If you're interested in trading stock CFDs, FXTM covers some of the largest listed US companies. This includes the likes of Apple, Gap, Medtronic, and Alphabet. You will also be able to trade 40+ European-listed companies on this stock broker.
Commodities
Outside of gold and silver, FXTM also offers commodity CFDs in the form of oil and natural gas. This concentrates on the main benchmark indexes – such as UK Brent Oil, US Crude Oil, and US Natural Gas.
Indices
If you want to trade the wider stock markets as opposed to individual companies, FXTM offers 5 indices. This covers the FTSE 100, Dow Jones, S&P 500, NASDAQ 100, and Australia 200.
Irrespective of what market you decide to trade at FXTM, you will always have the option of going long or short. Put simply, this means that you have the opportunity to make gains even when the asset in question is in a falling market.
FXTM South Africa Fees and Commissions
FXTM South Africa offers several account types to South African traders, meaning that the specific fees that you pay can vary depending on the one you open. With that in mind, we need to discuss some of the main commissions and spreads that you will pay on each account type.
FXTM Trading Commissions
Most FXTM account types allow you to trade on a commission-free basis. This includes its Standard Account, Stock CFD Account, ECN Zero Account, and FXTM Account. As such, the only account type that does come with trading commissions is that of the main ECN Account. This starts at just $4 per trade – which is especially competitive if you are trading larger volumes.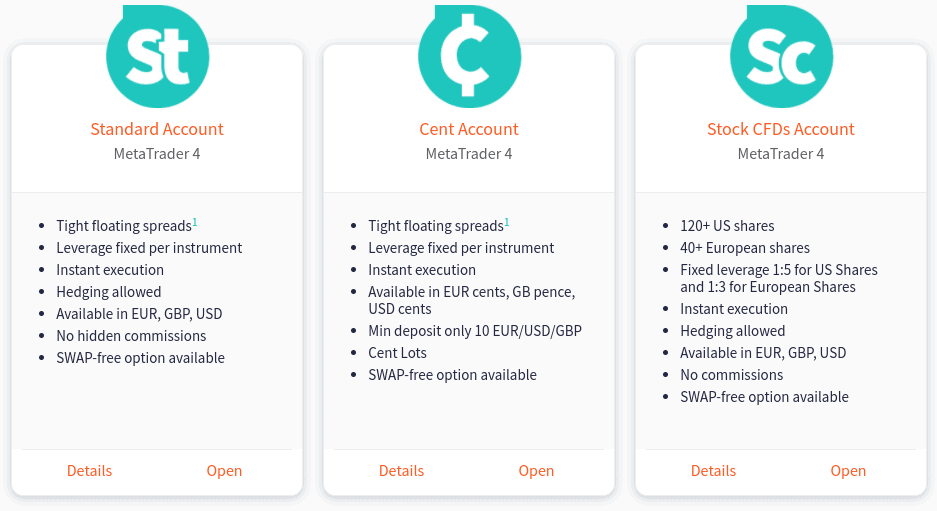 Spreads
If you are a seasoned trader then you will know first-hand just how important it is to choose a broker that offers tight spreads. For those unaware, the spread is simply the difference between the 'buy' and 'sell' price of your chosen CFD instrument.
It's expressed in 'Pips', and the larger the gap – the more you indirectly pay in fees. In the case of FXTM South Africa, spreads are actually very competitive. However, once again, the specifics will vary depending on the type of account plan you opt for.
For example:
Most accounts allow you to trade EUR/USD at a spread of between 0.1 – 0.4 pips. As a 'floating spread', this will change on almost a second-by-second basis depending on market conditions and liquidity levels.
Trading stock CFDs at FXTM can be often be done at spreads of just 0.1 pips. Once again, this is very competitive
If opting for an ECN Account, most CFD instruments start with spreads of just 0.1 pips. You will, however, need to pay a commission.
Those that sign up for an FXTM Pro Account will be able to trade certain instruments without paying any spreads at all.
As you can see from the above, both the specific spreads and commissions that you pay will ultimately depend on your chosen account type. But, in the grand scheme of things – FXTM South Africa is largely a very cost-effective option.
Non-Trading Fees
Outside of the core trading arena, our FXTM review found that the broker charges a monthly inactivity fee of 5 USD. This will kick-in if your account is deemed to be doormat after 6 months of inactivity. When it comes to deposits, FXTM charges no fees. Some withdrawal methods come with a fee, which we discuss in more detail further down.
FXTM Leverage
FXTM South Africa offers leverage on all of its financial instruments. This ranges from 1:2 all the way up to 1:1,000. The specific amount will depend on your account type and the asset class you are looking to access.
As is the case with most online brokers, major forex pairs like EUR/USD and GBP/USD will come with the highest limits. At the lower end of the scale, stocks and exotic currencies come with the smallest limits.
FXTM Trading Platforms
FXTM broker allows you to access your preferred trading account via MetaTrader. This covers both MT4 and MT5, which is great. Crucially, this means that you will have access to a tried and tested platform that comes packed with tools and features.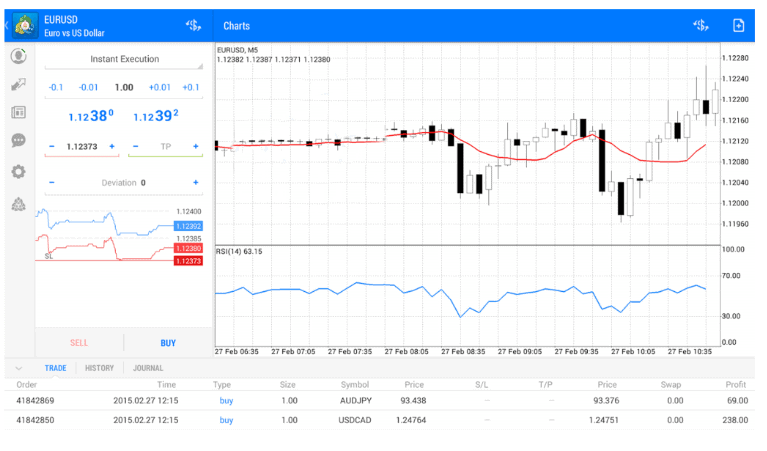 For example, you can access technical indicators and chart drawing tools, as well as place sophisticated market orders. You can also install a robot or EA system if you want to benefit from automated trading.
Irrespective of which MetaTrader series you opt for, you can access the platform via:
Windows Desktop
Mac Desktop
Standard Web Browser
Android Mobile Device
iOS Mobile Device
As you can see from the above, you will also be able to trade via your mobile phone. All you need to do is download and install the MT4/5 mobile app, and log in with your FXTM credentials.
FXTM Invest
If you keen to start trading CFD instruments from the comfort of your home but you have little to no experience – it might be worth considering FXTM Invest. Put simply, this particular features operates like a managed trading account.

That is to say, you are able to select an experienced FXTM trader, and then copy their orders like-for-like. Then, if and when they return a profit, these gains will be mirrored on your FXTM account.
In return, the FXTM trader will charge you a fee via a profit share arrangement. The commission only kicks-in if the trader makes a profit. In order to clear the mist on how FXTM Invest works, let's look at an example of a top-performing portfolio.
Example of FXTM Invest Portfolio – Hefoba03
One of the best performing FXTM Invest traders is that of Hefoba03. investor in question has built their own Expert Advisor (EA) trading system that also utilizes Machine Learning. This means that you will be trading indirectly through an automated robot. Best of all, Hefoba3 also implements an element of manual control as and when it is needed.
At the time of writing in August 2020, this particular FXTM Invest portfolio is 33.93% in the green. This is based on approximately 15 months of trading. In terms of fees, the trader charges a profit share of 10%. Minimum deposits start at 130 EUR, which is about 2,500 rands.
Education at FXTM
Our FXTM broker review found that this broker offers a highly comprehensive educational department that is jam-packed with resources. This ensures that you are able to learn the ins and outs of online trading before diving straight into a real-money account. This includes everything from video explainers, eBooks, articles, and a glossary of key terms.
For those of you that prefer a more hands-on approach to education, FXTM South Africa also offers live webinars. From time to time, FXTM even hosts live events in South Africa. A recent workshop in Johannesburg and Pretoria provided an explanation of FXTM products and services, copy trading, and welcome bonuses.
The workshops also included a Layman's walkthrough on how to use MT4 effectively. All in all, this highlights that FXTM is looking to attract both seasoned and newbie investors to its platform.
Research and Analysis at FXTM
FXTM is also notable in the research and analysis department. At the forefront of this is a fully-fledged daily news service. This contains key news developments that are likely to have an impact on the wider financial markets. FXTM South Africa also provides expert market insights. This allows you to gauge ideas from experienced in-house traders.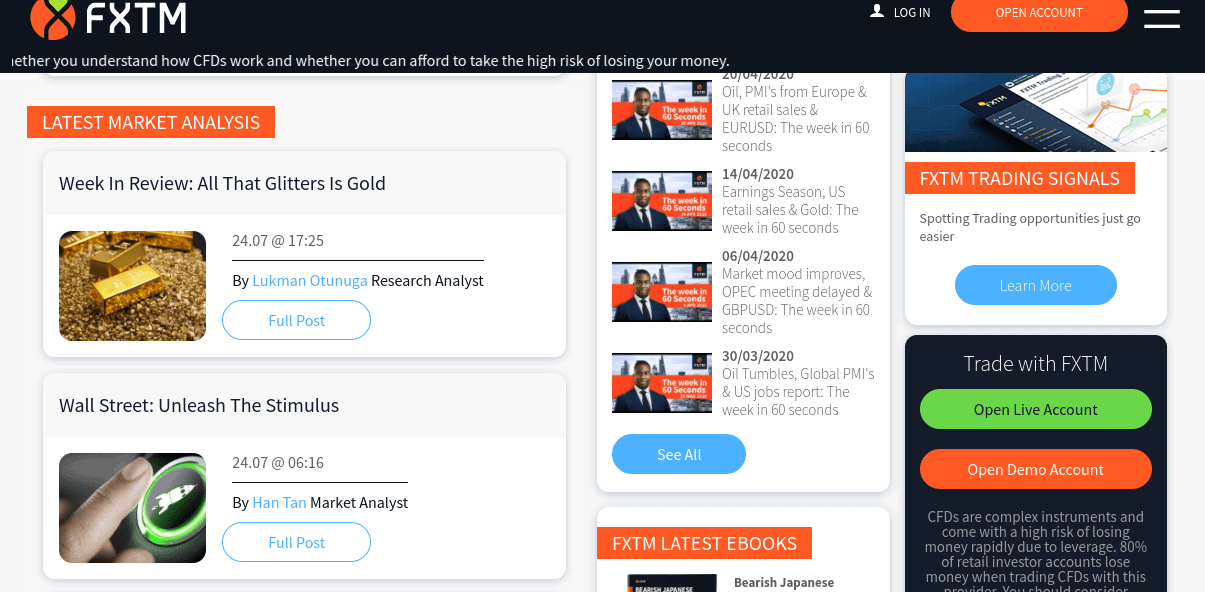 When it comes to technical analysis tools – you will find everything you need via MT4/5. As noted earlier, this includes a fully customizable trading screen, drawing tools, and chart analysis. As such, you are covered in both the technical and fundamental departments at FXTM.
FXTM Bonus
FXTM regularly offers trading bonuses to entice new customers, which means you can bag some extra funds to use on your trading endeavors, so be sure to keep an eye out for the latest FXTM bonus! This broker has even been known to FXTM no deposit bonus offers in the past, which means you could potentially claim some free trading funds without even having to deposit!
FXTM Minimum Deposit and Banking
An additional reason why FXTM stands out from the crowd is that it makes the deposit and withdrawal process a seamless one. Our FXTM review found that as a South African client, you will get to choose from the following payment methods:
Visa
MasterCard
Maestro
Skrill
Neteller
Paypal
WebMoney
Western Union
Bank Transfer
QIQI
Yandex
The FXTM minimum deposit depends on the account type you use, with the Cent Account having the lowest minimum of just $10. Now, although all deposit methods come fee-free, this isn't the case with withdrawals. If using a debit or credit card, this comes with a flat fee of 2 EUR/ 3 USD/ 2 GBP. This is actually very reasonable, especially when you consider that debit/credit card withdrawals are typically processed on the same business day.

Other brokers in South Africa will often take much longer, so this is notable. In even better news, withdrawing money through Skrill or Neteller is completely fee-free, and also processed on a same-day basis.
However, you might want to avoid using Paypal at FXTM broker, as withdrawals are charged at 2% of the transaction amount. Finally, bank transfer withdrawals cost a flat fee of £25 – which is about 530 rands.
Is FXTM Safe?
As online brokerage firms go, FXTM has one of the best reputations in the space. Crucially, FXTM has been trading since 2011 and has since amassed a customer base of over 2 million traders. Furthermore – and perhaps most importantly – FXTM is regulated by the Financial Sector Conduct Authority (FSCA) of South Africa.
So what does this mean for the safety of your funds?
Well, falling under the remit of the FSCA means that:
Your invested funds will be held in segregated bank accounts. In Layman's terms, this means that your money cannot be used by FXTM to funds its own operations. As such, if the worse happens and FXTM is longer in business – your money should be safe.
You and your fellow FXTM clients will need to upload some ID and a proof of address when opening an account. This ensures that the broker remains safe and secure for all involved. It also ensures that FXTM South Africa complies with domestic anti-money laundering laws.
FXTM South Africa will need to ensure that it makes the risks of trading CFDs super clear. It will also monitor your relationship with leverage to ensure you do not trade with more than you can afford to lose.
It is also important to note that FXTM is regulated in other jurisdictions, so you have oversight on multiple fronts. This includes the UK's Financial Conduct Authority (FCA) – which is one of the most reputable licensing bodies in the global brokerage scene.
FXTM Demo Account Facilities
As noted earlier, FXTM is looking to target both seasoned and newbie traders. If you fall within the threshold of the latter, then you will be pleased to know that FXTM offers fully-fledged demo accounts. This ensures that you are able to trade financial instruments at FXTM South Africa without risking your own money.
Then, when you begin to get more comfortable with how the financial markets function – you can proceed to trade with a real-money account.  With that being said, FXTM demo account facilities are not only suitable for newbies. On the contrary, seasoned traders find them useful too. This is because they allow you to test out new trading strategies or automated systems in a risk-free environment.
FXTM Customer Service South Africa
FXTM South Africa offers a range of support channels. If you require assistance in real-time, you can choose from live chat, Viber, Telegram, and even Facebook messenger.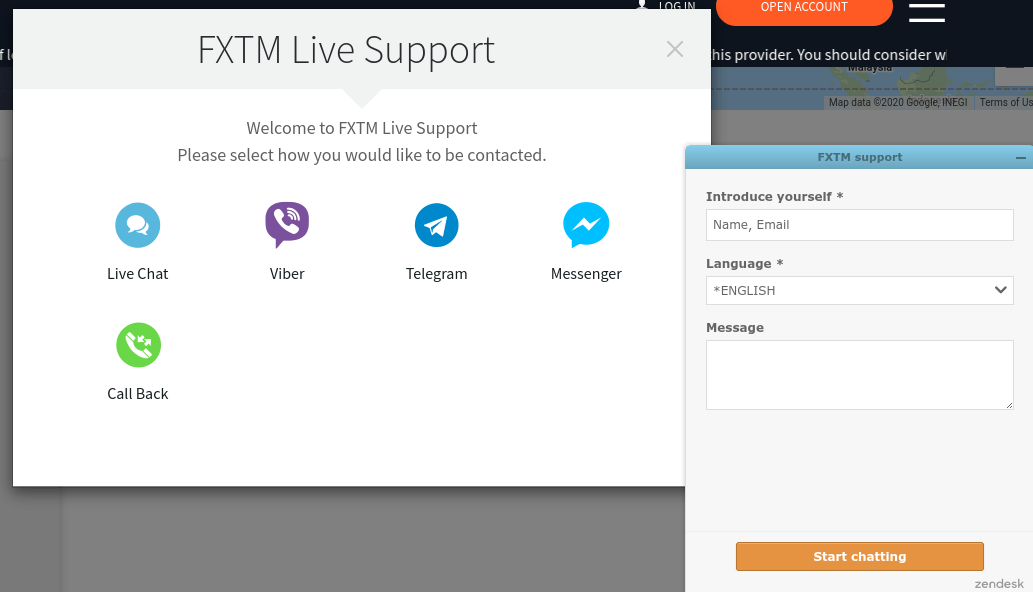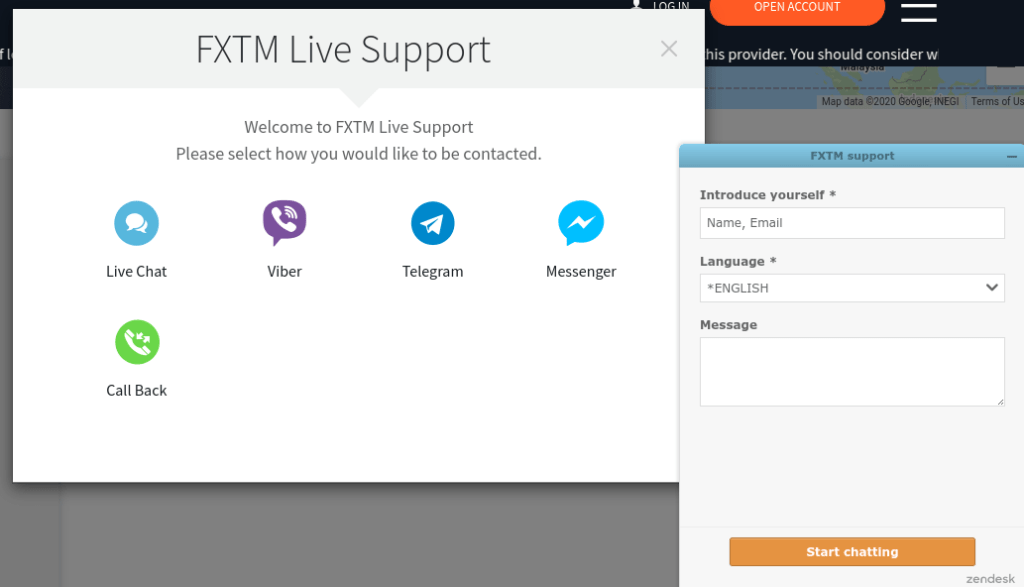 What we also like about the FXTM customer service department is that you can request a callback. This ensures that you are able to receive telephone support without needing to pay for the call yourself. Alternatively, you can also contact FXTM South Africa by sending them an email.
How to Get Started With FXTM South Africa?
If you have read our FXTM South Africa review up to this point, you should now have a firm understanding of whether or not the broker is right for you. If it is, we are now going to show you how to open an account.
Step 1: Choose Account Type
Head over to the FXTM South Africa website and open an account. You'll find the button on the top-right hand side of the page.
You will then be asked to choose an account type. You can explore each of the FXTM account types in more detail by clicking on the respective link.
Step 2: Enter Personal Information
FXTM will then ask you to enter some personal information, such as your:
Full name
Home address
Date of birth
Contact details
South African tax number
You will also need to provide some basic information about your online trading experience.
Step 3: Verify Your Identity
FXTM requires all account holders to provide some identity documents.
This includes your government-issued ID (passport or driver's license) and something that proves your residential address (utility bill, bank account statement, etc.)
Step 4: Deposit Funds
You will now be asked to deposit some funds. Account minimums will depend on the type of account you open. With that said, the FXTM Cent Account allows you to get started with just $10 – which is great if you want to start off with really small amounts.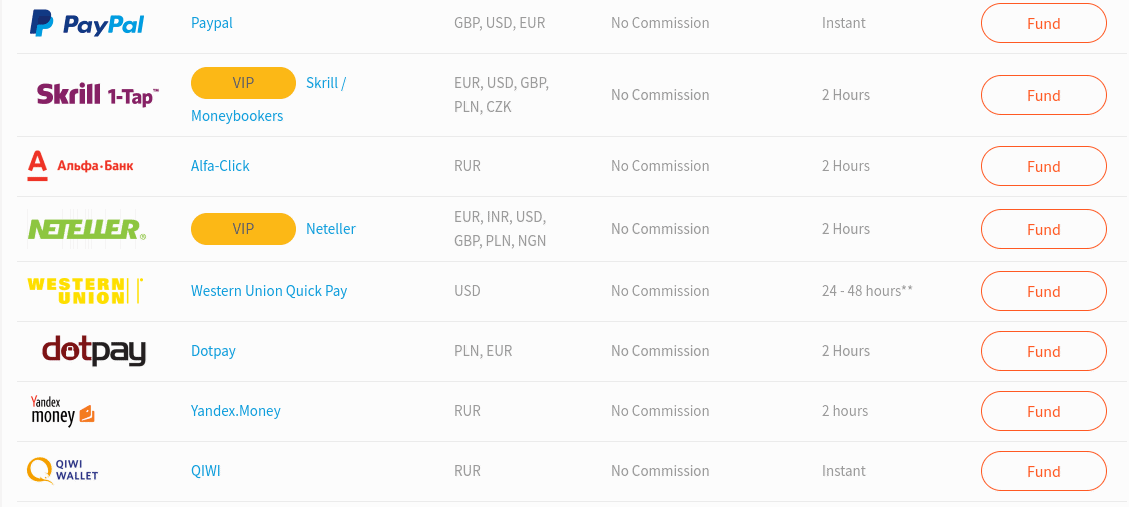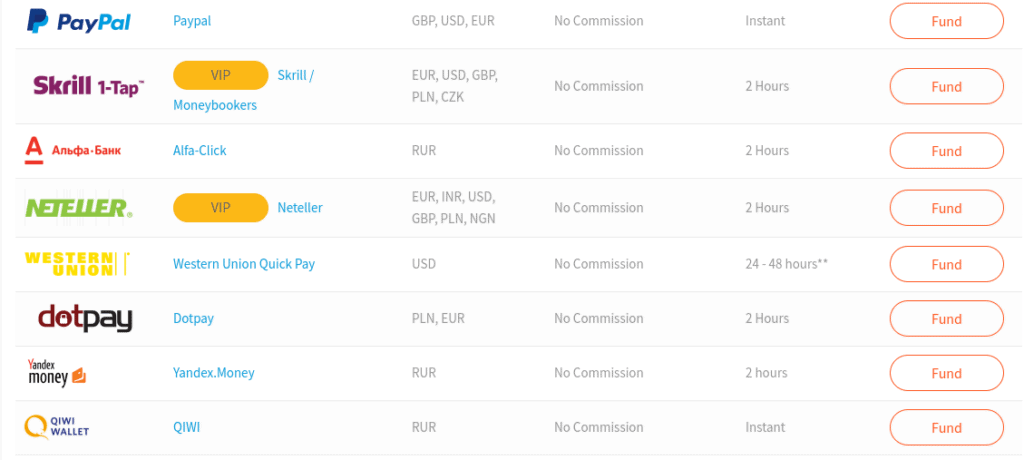 In terms of payment methods, you can choose from a debit/credit card, e-wallet, or bank transfer.
Step 5: Set-Up Trading Platform
You will now need to set up your preferred trading platform. You can choose from either MT4 or MT5. You can download the respective software to your desktop device or simply use the browser-based version via FXTM.
Step 6: Start Trading
And that's it – you've just completed the FXTM registration process!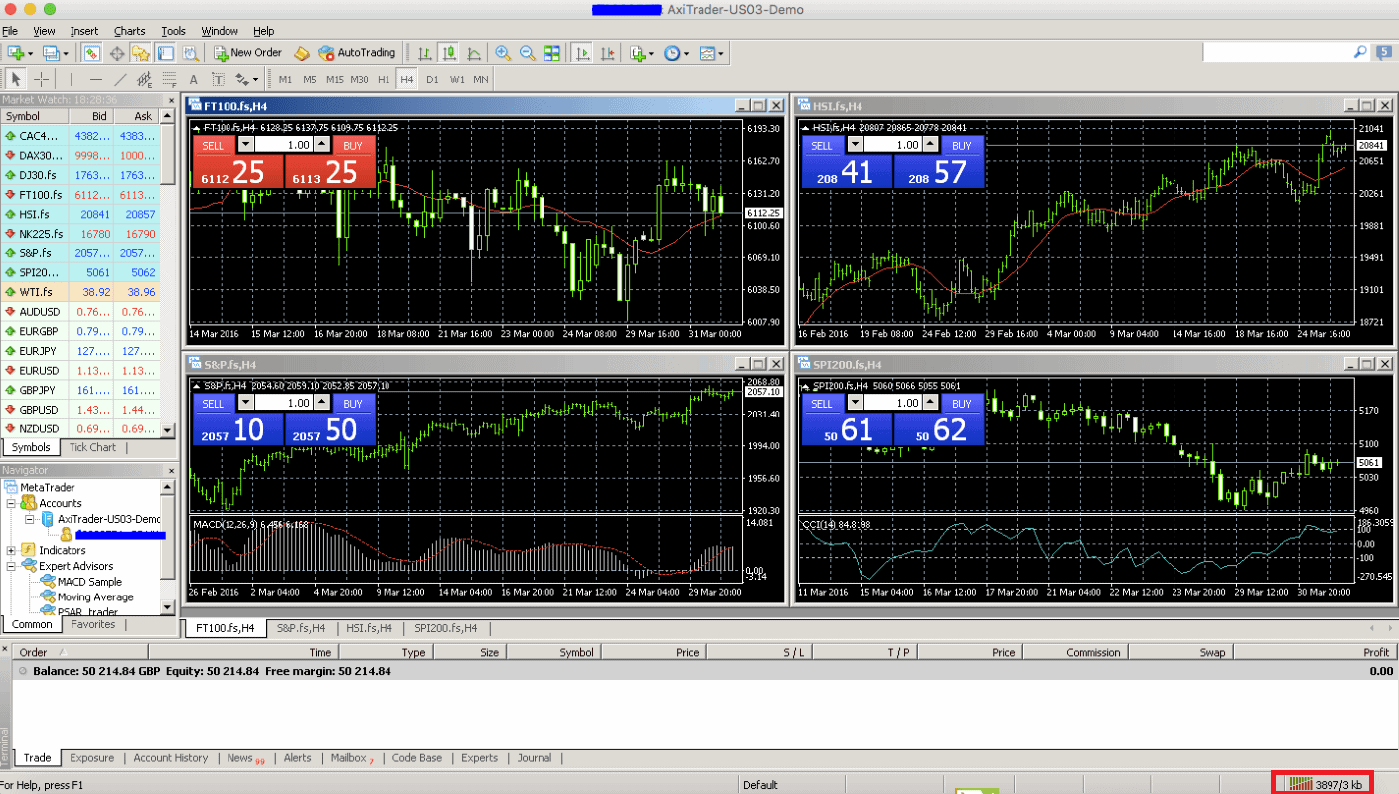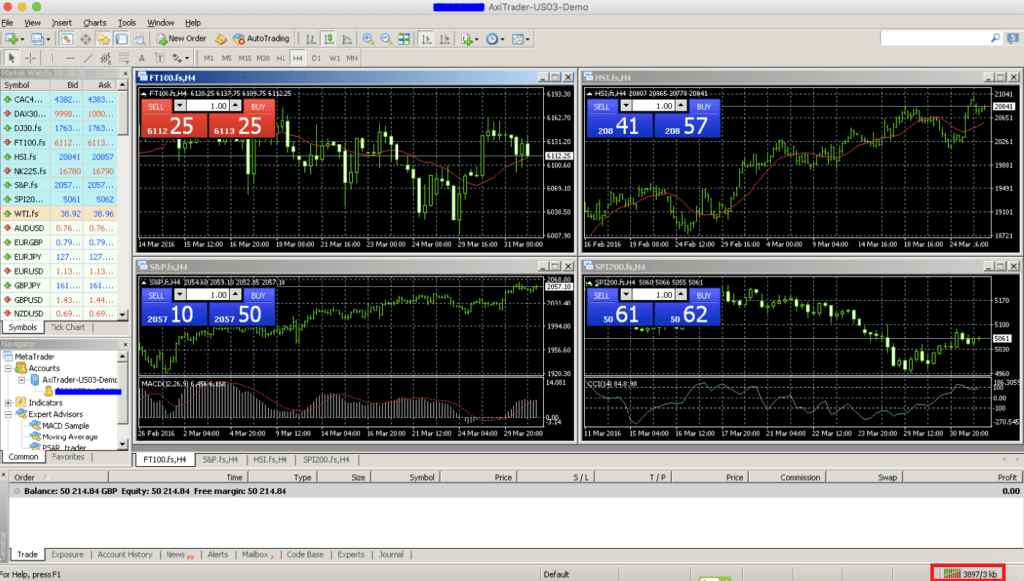 FXTM South Africa vs eToro
Although you might have your heart set on FXTM, it is important to first assess whether or not a better option is available. After all, there are dozens of online CFD brokers that now accept South African traders. With that in mind, we sought to compare our FXTM findings with that of eToro. Regarding the latter, the broker is home to 12 million traders, many of which are located in South Africa.
So, in the case of fees, eToro stands out because it offers a commission-free pricing structure on all of its products. While FXTM also offers commission-free instruments, this isn't the case across all FXTM account types. In terms of tradable assets, FXTM South Africa is relatively thin on the ground.
The broker also falls short in the traditional investment sense, as it doesn't offer conventional share dealing or ETF services. On the contrary, eToro allows you to buy shares in over 800 companies, including many of the best shares to buy, and 150 ETFs on a commission-free basis. An additional point of consideration is with regards to the Copy Trading feature.
It must be noted that the number of available Copy Traders at FXTM is somewhat small. eToro, however, gives you access to a pool of experienced investors that runs into the tens of thousands. Moreover, while FXTM traders charge an average of 10% in profit sharing commissions, the process at eToro is 100% free.
Overall, we think eToro is a far superior broker to FXTM, particularly if you're a beginner.
FXTM South Africa Pros and Cons
Pros
0% trading commissions on most plans
Very tight spreads
Several asset classes to choose from
High leverage facilities for South Africans
Heaps of everyday deposit and withdrawal options
Regulated in South Africa
Easy registration process
Supports MT4 and MT5
Cons
Pricing structure somewhat complex
A limited number of tradable instruments
FXTM South Africa Review – The Verdict
In summary, FXTM South Africa is well worth considering if you are looking for a reliable and trustworthy CFD broker. You will have access to 250+ financial instruments alongside low commissions and tight spreads.
However, we would argue that a better option for South African traders is that of eToro. The commission-free broker gives you access to both traditional share dealing and ETF services, as well as thousands of CFD instruments. eToro is a social trading broker that also offers a more comprehensive copy trading service, for which it doesn't charge any additional fees.
If you want to join eToro, you can do so by clicking on the link below!
eToro – Our Recommended Stock Broker (Zero Commission)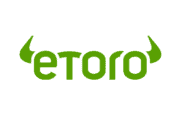 FAQs
Is FXTM regulated in South Africa?
Yes, the regulatory standing of FXTM in South Africa is as follow: ForexTime Limited is regulated by the Cyprus Securities and Exchange Commission, CIF license number 185/12, licensed by the Financial Sector Conduct Authority (FSCA) of South Africa, FSP No. 46614.
What commissions does FXTM charge in South Africa?
This will ultimately depend on the account type you sign up for. In most cases, you will be able to trade without paying any commissions.
Does FXTM offer leverage to South Africans?
Yes, FXTM offers high leverage limits to South African traders. The specific limit will depend on your account type, historical trading experience, and the asset class.
What payment methods does FXTM support?
FXTM offers a wide selection of payment methods that includes everything from debit/credit cards, e-wallets, and a bank transfer..
What is the minimum deposit at FXTM South Africa?
This also depends on the type of account you open. The Cent Account, for example, allows you to get started with a deposit of just $10.