How to Buy Sibanye-Stillwater Shares in South Africa – With 0% Commission
Surging more than 250% in 2019, Sibanye-Stillwater stock was amongst the best performers in the precious metal miners' industry. For some potential investors, this may indicate that the stock has bottomed out and that there are better alternatives out there posting better returns. This, however, could be a misinterpretation, so let's delve a little more to see if the stock is still a good buy. 
In this article, we'll cover how to buy Sibanye-Stillwater shares in South Africa, paying particular attention to how you can go about investing on a 0% commission basis from the comfort of your own home. 
How to Buy Sibanye-Stillwater Shares in South Africa – Step by Step Guide 2022
Do you want to buy Sibanye-Stillwater shares in South Africa today? In just four simple steps you can buy shares with the top-rated CFD broker Capital.com in a matter of minutes. Furthermore, you can do all of this without having to pay a penny in commissions. 
Step 1: Open a trading account with Capital.com – Visit Capital.com's website and click on the button marked 'Trade Now'. Enter your email address and select a password for your account.
Step 2: Verification

– As part of the KYC process you will need to verify your account by uploading proof of ID (copy of passport or driver's license) and proof of address (copy of a recent bank statement or utility bill).

Step 3: Deposit Funds

– Deposit funds into your account easily with a credit/debit card, bank transfer, or e-wallet.

Step 4: Buy Sibanye-Stillwater Shares

– Search for Sibanye-Stillwater in the search bar and click 'Buy'. Specify the investment amount and click 'Place Order'.
75.26% of retail investor accounts lose money when spread betting and/or trading CFDs with this provider.
Choose a Stock Broker
With so many online stock brokers to choose from, making the right decision can be difficult. To assist you, we've reviewed two of the best brokers for investing in Sibanye-Stillwater shares below. With either of these widely popular online trading platforms you can buy Sibanye-Stillwater shares with the click of a button. 
1. Avatrade – Trade Sibanye-Stillwater Shares in South Africa with 0% Commission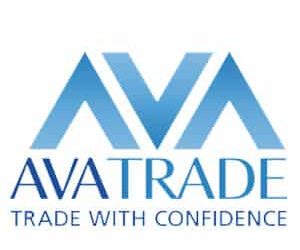 AvaTrade is a favored forex and CFD broker that was launched in 2006 and is regulated by several top-tier financial regulatory bodies including ASIC and the Central Bank of Ireland. At AvaTrade you can buy and sellCFDs, forex, and cryptocurrencies on a commission-free basis. 
AvaTrade does not charge commissions on any trade, from forex to stock CFDs, the only trading fees you will encounter are the tight spreads and the overnight financing fees for those who keep positions open beyond the standard trading timeslots. For example, if you wanted to trade Amazon stock CFDs, you would pay 0% commission and a typical spread of 0.13%. Furthermore, at AvaTrade you can also access leverage of up to 5:1. This means that you would only have to deposit an initial margin of $100 to open a position worth $500.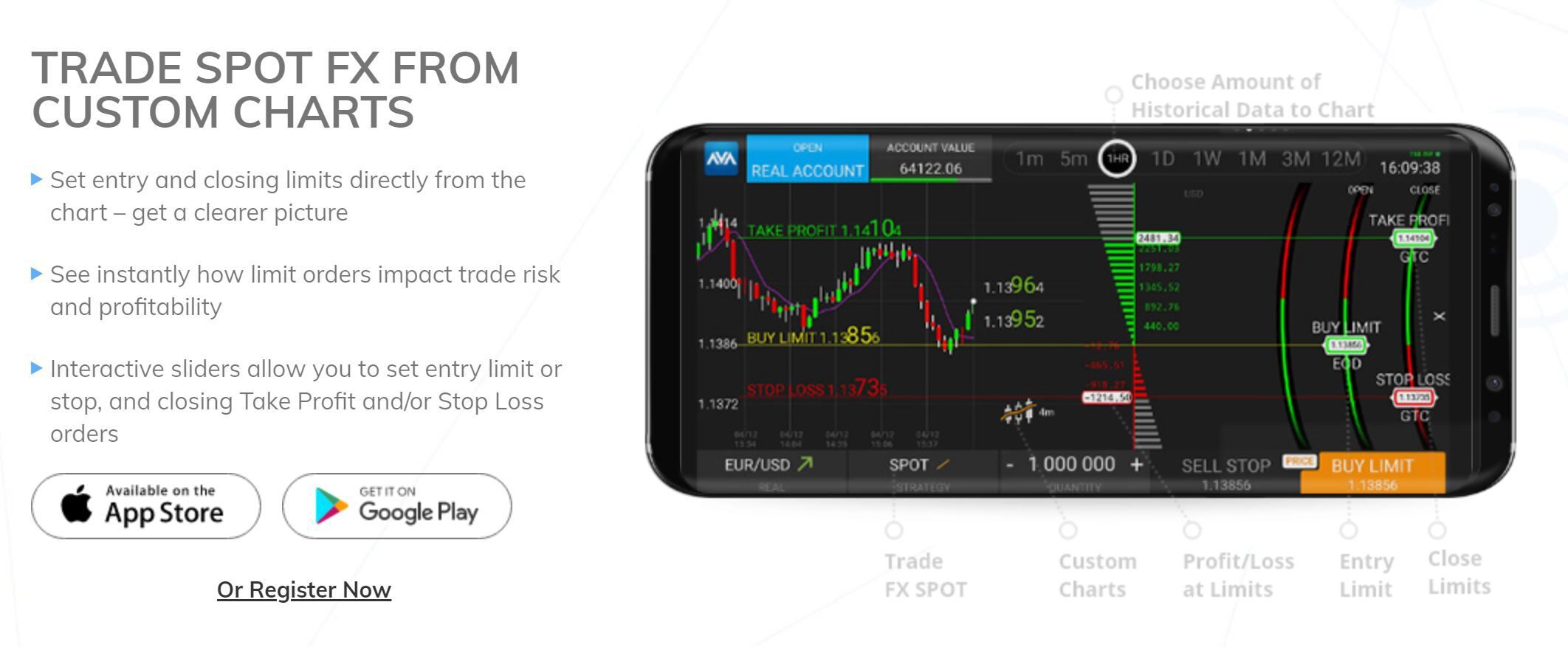 In terms of non-trading fees, there are no account, withdrawal, or deposit fees. Nevertheless, AvaTrade brokerage account holders are subject to a $50 inactivity fee after three consecutive months of non-use. When it comes to depositing funds into your account there is a wide range of payment methods to choose from as AvaTrade supports credit cards, wire transfers, and e-payments including Skrill, WebMoney, and Neteller.  
Is AvaTrade safe? This CFD broker operates entities on an international scale and is therefore regulated and authorized by an array of top-tier financial regulators. These include the likes of ASIC, CySEC, the Central Bank of Ireland, the Financial Sector Conduct Authority in South Africa, and many more. Client funds and personal data are protected by 256-bit SSL encryption across the website, and all customers' funds are held in segregated bank accounts. 
Pros:
Buy share CFDs with 0% commission
Low $100 minimum deposit to open a trading account
Competitive spreads
No withdrawal or deposit fees
Fully-regulated broker
Cons:
Fractional share trading is not supported
71% of retail investor accounts lose money when trading CFDs with this provider.
2. Capital.com – Overall Best Broker to Buy Sibanye-Stillwater Shares in South Africa

Capital.com secures the number one spot on our list of top online brokers to buy Sibanye-Stillwater shares. This CFD and forex broker was launched in 2016 and has a wide range of CFD derivatives on offer including3,000+ stock CFDs, and 142 forex CFDs. When it comes to supported trading platforms, Capital.com users can access MetaTrader 4, a mobile trading app, TradingView and more. Capital.com offers a user-friendly trading platform and website, with heaps of educational resources that help beginner traders build their trading knowledge. 
Furthermore, you can also create a demo account in a few minutes and practice your trade strategies in a risk-free simulated environment that mimics current market conditions.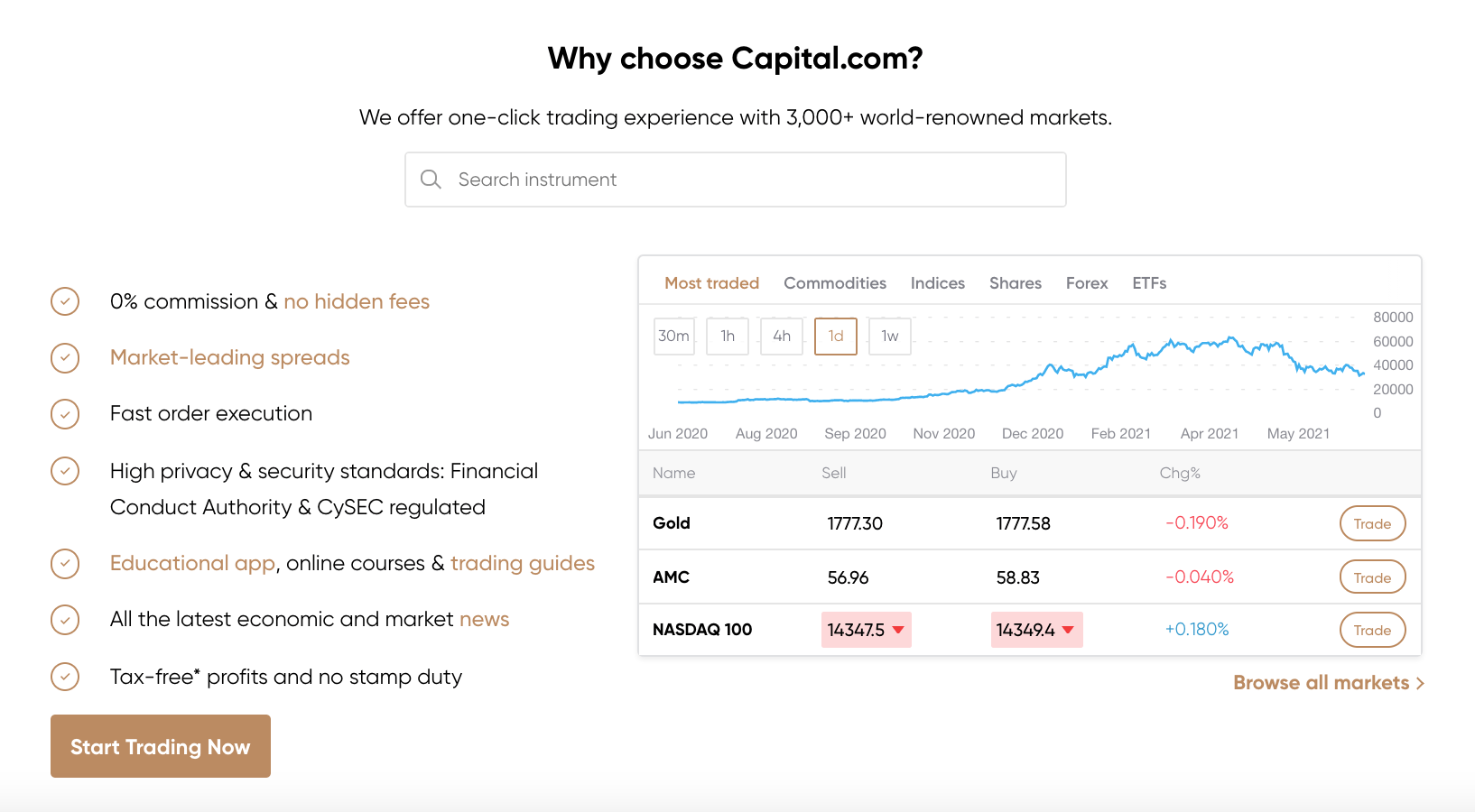 Despite not being able to invest in stocks in the traditional sense, at Capital.com you can speculate on the price fluctuations of over 2,000 shares on a variety of platforms and identify unique trading opportunities with 75+ technical indicators such as MACD and Bollinger Bands. You can also set price alerts on the Capital.com mobile trading app that sends real-time push notifications anytime and anywhere. 
When it comes to trading and non-trading fees, many traders are attracted to Capital.com for its low-cost trading structure. When you trade CFDs on Capital.com you do not have to pay a penny in commissions. Instead, Capital.com charges market-leading spreads, which is the difference between the buy and sell price. You can also use leverage of up to 5:1 when trading share CFDs. in terms of non-trading fees, at Capital.com there are no withdrawal fees, inactivity fees, account fees, or deposit fees which make it a great option for beginner traders.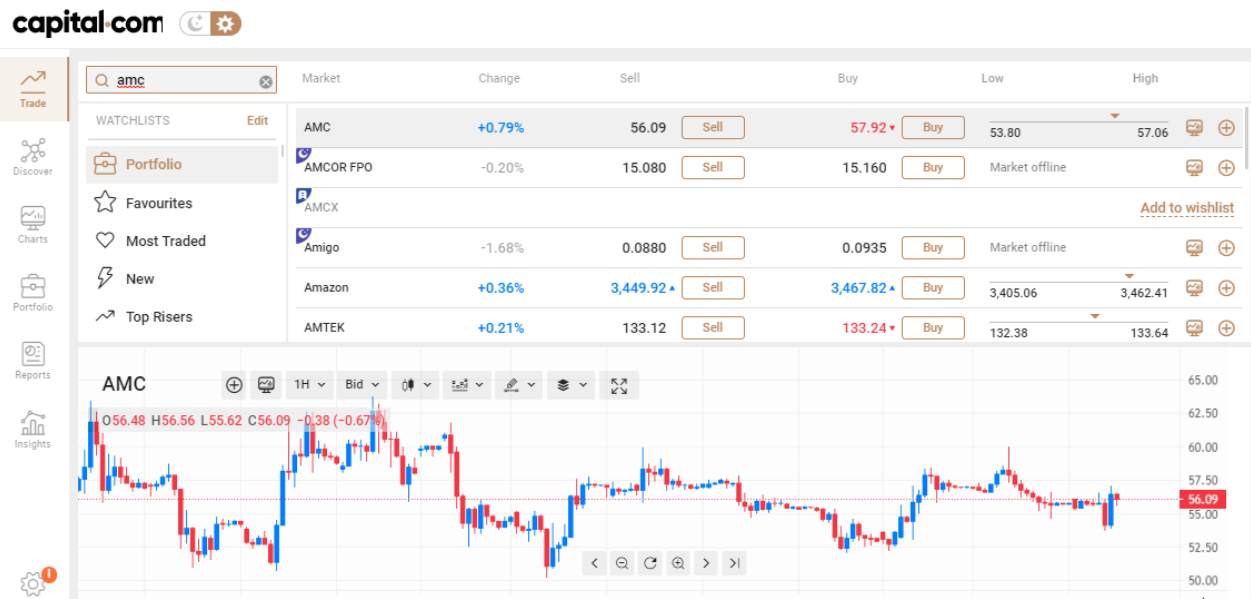 Is Capital.com safe? Capital.com is regulated and authorized by top financial authorities including the UK's Financial Conduct Authority (FCA) and the Cyprus Securities and Exchange Commission (CySEC). This ensures that both your funds are protected should the broker go into liquidation and that anti-money laundering and anti-fraud preventions are maintained and supported by the trading platform. 
Pros:
Buy share CFDs with 0% commission
Heaps of educational materials for new traders
Minimum deposit from just $20
 No deposit fees
24/7 customer support
Cons:
Cannot set price alerts on the web platform
  75.26% of retail investor accounts lose money when trading spread bets and/or CFDs with this provider.
Research Sibanye-Stillwater Shares
If you're thinking about buying Sibanye-Stillwater shares, we recommend doing some research first to make sure it's a sound investment. The following sections cover some of the essential factors you should consider before investing in Sibanye-Stillwater shares to make this process easier for you.
What is Sibanye-Stillwater?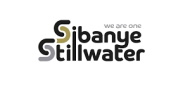 Sibanye-Stillwater Limited is a private, global precious metal mining company that is listed on the NYSE. The firm produces a variety of precious metals such as gold and the platinum group metals otherwise referred toas PGMs. Its projects are divided into two geographic areas: South African and the Americas. Beatrix, Cooke, Driefontein, and Kloof are the Company's gold projects in South Africa.
Sibanye-Stillwater was formed as a result of Sibanye's $2.2 billion acquisition of Stillwater in 2017. The merger was made to refocus Sibanye's portfolio on platinum group metals, which were Stillwater's main commodity. It was a significant change for the firm, but it came at a high cost. Long-term debt rose by roughly 180 percent in 2017, while the company's debt-to-equity ratio increased by over 50 percent.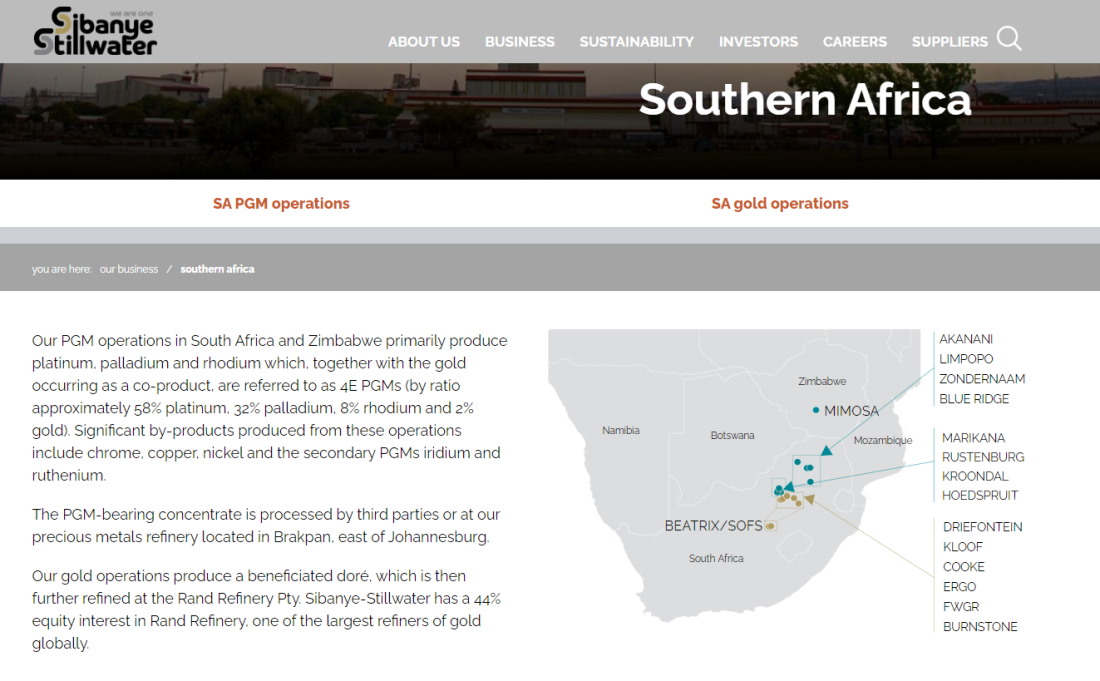 Since then, Sibanye-Stillwater has been focused on development and research to fully integrate itself with the commodity mining industry, as well as trying to pay back the loan it took to buy Stillwater. The miner's latest move towards dealing with the leverage is the redemption of a $450 million convertible note issued at the same time as the Stillwater acquisition. Investors chose to convert $383.8 million of bonds into shares out of that total. Overall, this move will improve Sibanye Stillwater's flexibility while also making the 2017 merger a part of history, rather than a constant reminder of the leverage it used for the acquisition. 
Sibanye-Stillwater Share Price
Sibanye-Stillwater Ltd is listed on the New York Stock exchange under the ticker SBSW, as well as the Johannesburg Stock Exchange under the ticker SSW, and has a market capitalization of $11.3 billion, and a price to earnings ratio of 6.16. At the time of writing it is currently trading at $15.56 per share. 
When considering the best shares to buy, you must research the past performance to get an insight into how the market price has performed in the past and how it could potentially react in the future. As we have already discussed, Sibanye-Stillwater's share price at the time of writing in July 2021 is $15.56 per share. This represents a drop of -23.7% from highs of more than $20 during the beginning of June 2021.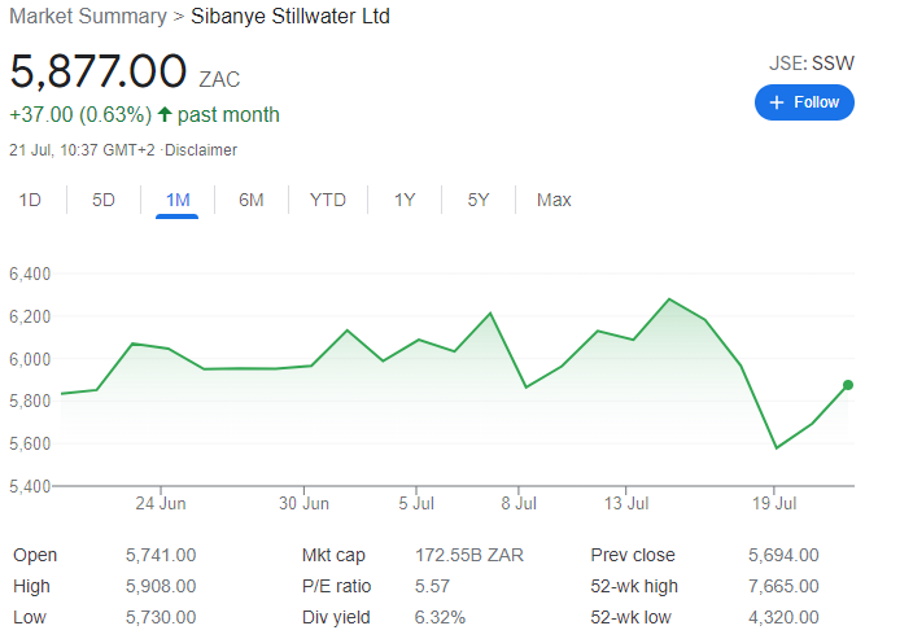 In the most recent trading session, over 2 million Sibanye-Stillwater shares were traded as the company's market cap hit 169.14B ZAR. The Company's current share price is a discount, trading about -23.7% less than its 52-week high of $20.68. SBWS had its 52-week low at $10.19, which indicates an increase of 52.6987% since then.  
According to CNN Business, 10 investment analysts who provide 12-month price forecasts for Sibanye-Stillwater Limited have agreed to a median target of $24.79, with a high forecast of $30.00 and a low gauge of $17.75. The median target indicates a +59.66% rise from the previous price of $15.53. 
Sibanye-Stillwater Shares Dividends
For those interested in how to invest money to yield regular profits, investing in shares of a dividend-paying firm is an effective way to do so. Sibanye-Stillwater has only been paying dividends to shareholders since September 2015 when its dividend yield was 3.17%. Its highest dividend yield was recorded in April 2018 at 15.04%. Since then it has paid dividends once in September 2020 with a dividend yield of 0.74% and then in March 2021 at 6.08%.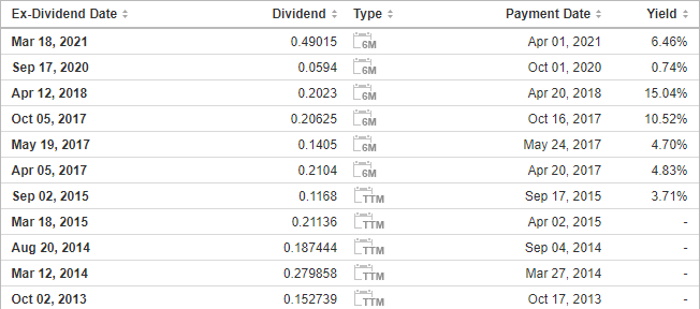 Companies typically put a pause on making dividend payments when revenues and profits take a hit. This usually leads to a steep drop in the company's share price as it shows a faltering financial position which in turn hurts investor sentiment.
Dividends are frequently reduced owing to causes such as declining earnings or a lack of finances to cover the dividend payment to its stakeholders. Dividends are typically paid out of a company's earnings, and if earnings drop over time, the company must either increase its payout rate or obtain funds from other sources, such as short-term investments or loans, to maintain previous dividend levels.    
While most investors regard a significant dividend drop as a bad sign for a company's health, it is not always the case for the following reasons:
When the timing and conditions are ideal for a stock repurchase

when weathering an imminent recession becomes a top priority 

or when a company needs to build up cash reserves for a large merger
Are Sibanye-Stillwater Shares a Good Buy?
For commodity-conscious investors who are seeking the best trading opportunities out there, Sibanye-Stillwater (NYSE: SBSW) certainly deserves attention. With assets spanning across South Africa and the United States of America, Sibanye-Stillwater has considerable exposure to platinum group metals, such as palladium, platinum, rhodium and gold. But SBSW is not limited to just mining precious metal resources from the earth; the international metals mining company is also a leading global 'recycler and processor of spent PGM catalytic converter materials.' 
According to Sibanye-Stillwater, just last year more than 800,000 ounces of its entire PGM output was recycled at the Columbus metallurgical business in Montana. 
Open an Account & Buy Shares
In this section of our beginner's guide, we will show you how to buy Sibanye-Stillwater shares in South Africa in a matter of minutes. To get started you will need to choose a top-rated and secure online broker. After years of research, we found Capital.com to be one of the best online brokers for investing in stocks in South Africa as they are heavily regulated and provide a low-cost fee structure. 
Step 1: Open a Capital.com Account
Head over to the Capital.com official page and tap on the button marked 'Trade Now' in the top right-hand corner of the screen. Provide your email address and a password in the relevant fields. Alternatively, you can do this via the mobile trading app, which is one of the best trading apps for beginner traders.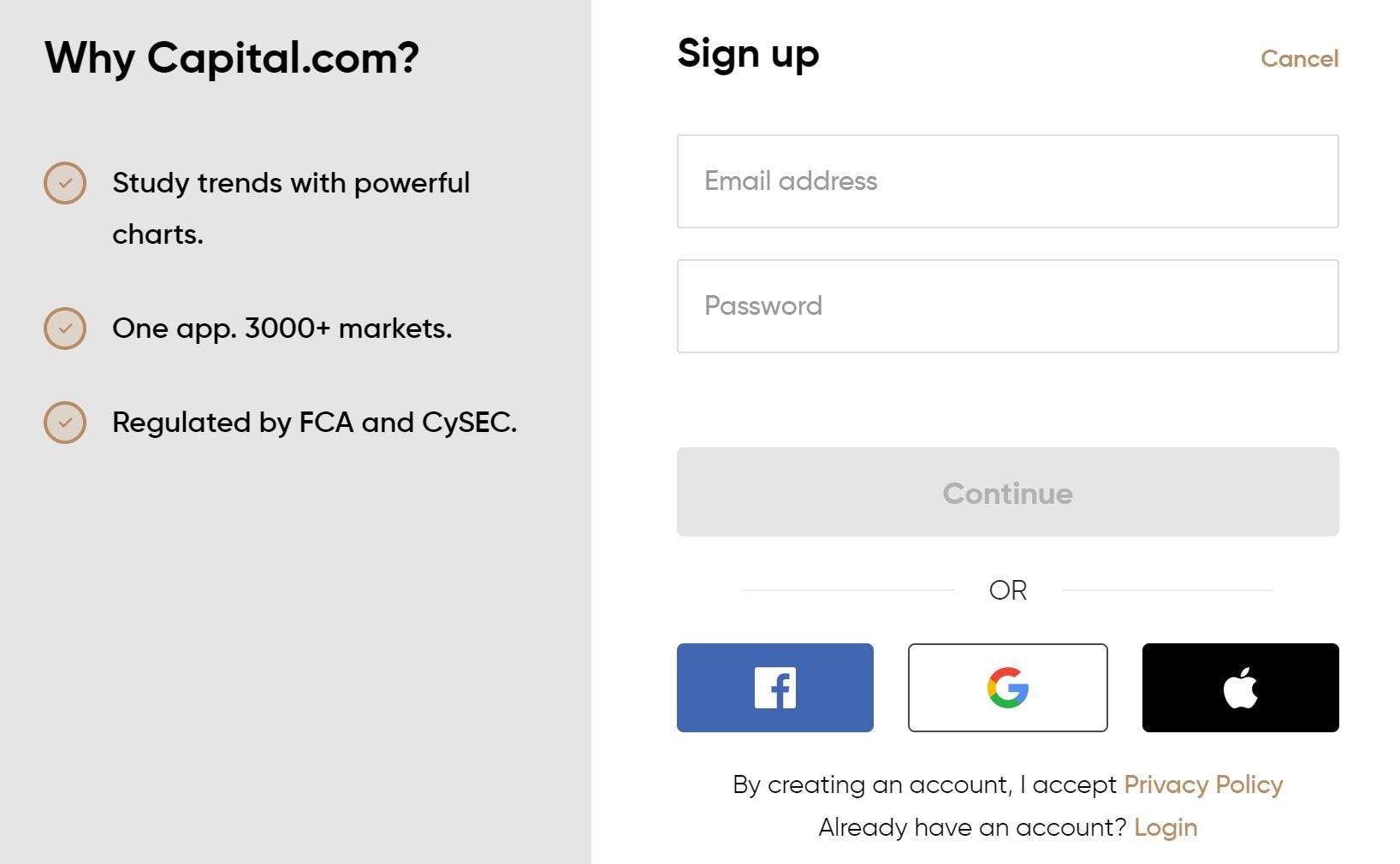 Step 2: Verify your Account
Capital.com complies with strict KYC standards as set by top-tier financial authorities such as South Africa's Financial Sector Conduct Authority. To verify your trading account you will need to upload proof of identity and address which can be in the form of a driver's license, passport, utility bill, and recent bank statement. Uploaded documents are typically reviewed within 48 hours, and you will receive an email confirming once they have been approved. 
Step 3: Fund your Account
The next step is to deposit funds into your trading account, and the minimum deposit is just $20 or 274 ZAR, which is a lot cheaper when compared to other popular trading platforms. Crucially, bank wire transfer deposits have a minimum deposit requirement of $250.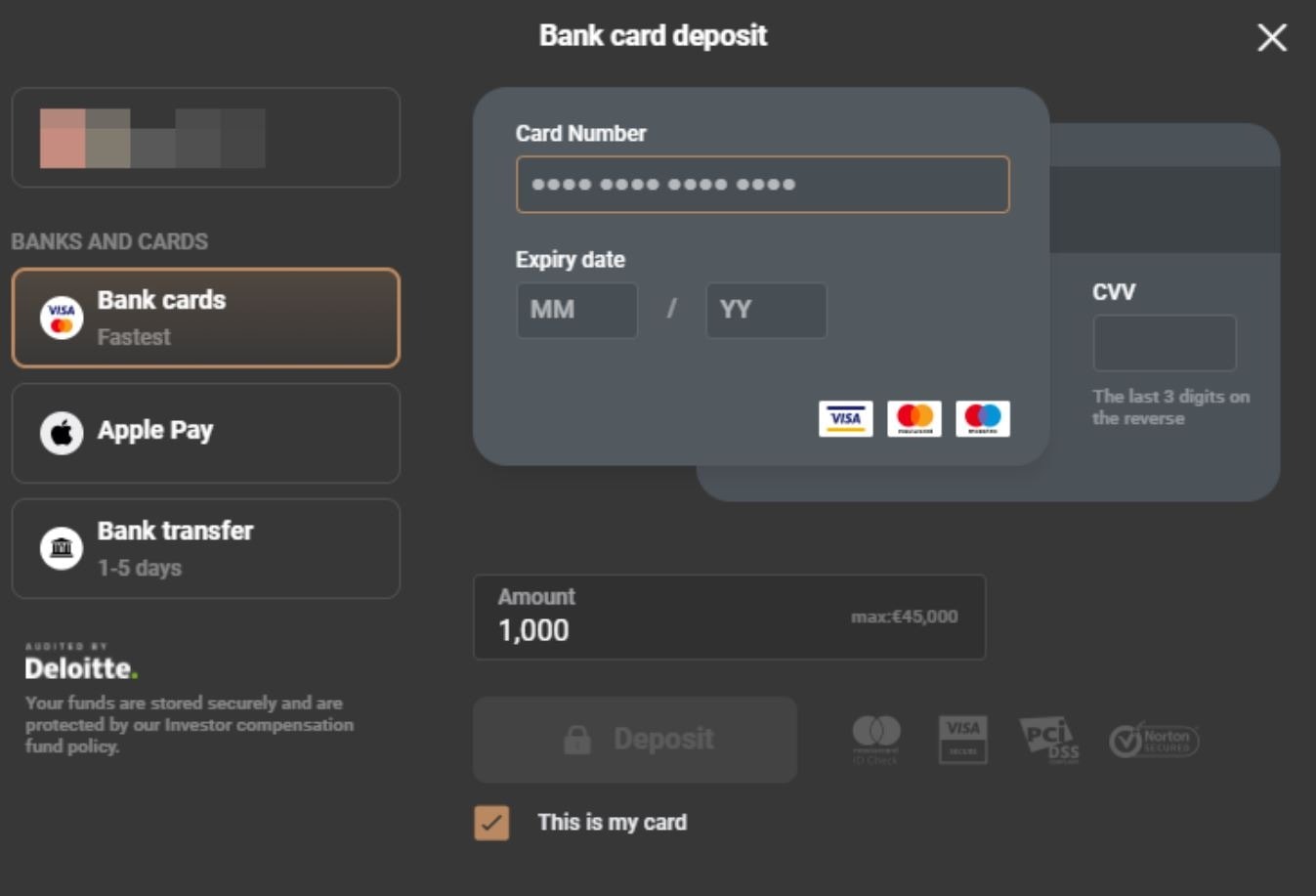 When it comes to supported payment types, Capital.com offers a wide range of options including debit cards, credit cards, Bank Wire Transfer, Sofort, iDeal, Giropay, Multibanko, Przelewy24, QIWI, Webmoney, ApplePay, Trustly, 2c2p, or AstropayTEF. 
Step 4: Search for Sibanye-Stillwater
Type 'Sibanye-Stillwater' into the search bar in the top left corner of the page. Tap 'Buy' when the company appears in the list.
Step 5: Buy Sibanye-Stillwater Shares
Using the order window you can now enter the amount you want to invest in Sibanye-Stillwater shares and choose whether or not to leverage your CFD investment. 
After you've double-checked everything, click 'Place Order' to invest in Sibanye-Stillwater shares with a Capital.com live brokerage account. And the best part is you don't have to pay a single penny in commissions! 
  75.26% of retail investor accounts lose money when trading spread bets and/or CFDs with this provider.
Sibanye-Stillwater Shares Buy or Sell?
Sibanye-Stillwater has recently expanded its global diversification plan to include the battery metals sector by investing in a lithium hydroxide facility in Finland. With the purchase of a 30% stake in Keliber Oy in February 2021, Sibanye-Stillwater now owns a significant stake in the Keliber lithium project, which is now in the development phase in Finland.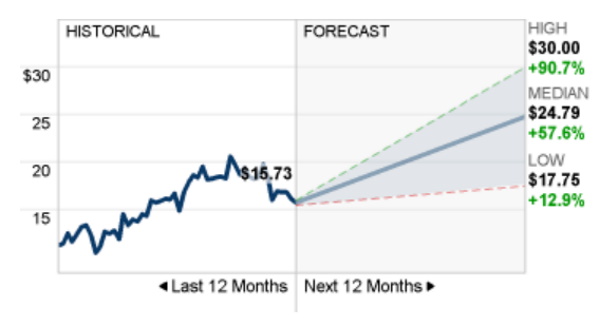 One of the key factors driving the bullish sentiment within the investing community is the reduced risk that Sibanye-Stillwater represents as a result of its diversified portfolio of safe-haven assets such as gold. 
PGMs and gold, for example, accounted for 59 percent and 41 percent of the company's annual metal production in 2018. While increases in the price of gold, platinum, palladium, and rhodium can help the mining company, a sudden drop in the price of these commodities will not be disastrous. 
In summary, the current consensus amongst investors is that Sibanye-Stillwater is a buy opportunity which is a rating held since May, according to CNN Business.  
How to Buy Sibanye-Stillwater Shares in South Africa – Conclusion
Although there are legitimate concerns regarding Sibanye-Stillwater shares, the company does provide a positive risk to reward ratio that most investors will be willing to accept when searching for market exposure to gold spot and PGMs. During a Q3 2019 operating update, the company announced that if it sustained its steady course towards its net debt-to-adjusted EBITDA ratio of 1, it could continue dividend payouts by the end of 2020. It would therefore appear that the mining company hit those targets as the last dividend payout was in March 2021 despite the impact of the coronavirus pandemic. 
Capital.com – Buy Sibanye-Stillwater Shares With Zero Commission

75.26% of retail investor accounts lose money when spread betting and/or trading CFDs with this provider.
Frequently Asked Questions on Sibanye Stillwater Shares
How do I buy shares in Sibanye Stillwater?
Is Sibanye Stillwater stock a buy?
What does Sibanye-Stillwater Mine?
Where is the Sibanye-Stillwater mine?